New England Patriots:

Tavon Wilson
July, 11, 2014
7/11/14
5:00
AM ET
As part of this slow time on the NFL calendar, when we'll be taking a break to recharge for the 2014 season, we introduce the pre-produced "checking the locks" series in which we analyze the players on the Patriots' roster who are "locks" to stick. Today, it's safeties.
[+] Enlarge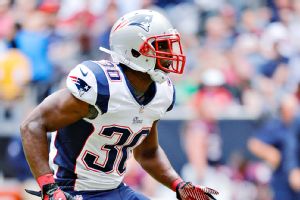 AP Photo/Jim MahoneyDuron Harmon played in more than one-third of the Patriots' defensive snaps in 2013, and that figures to increase in 2014.
Sure-fire locks:
Devin McCourty
,
Duron Harmon
Near locks:
Nate Ebner
,
Jemea Thomas
Trying to get in the door:
Tavon Wilson
,
Patrick Chung
,
Kanorris Davis
,
Shamiel Gary
Analysis:
With the Patriots releasing veteran starter
Steve Gregory
in late February, it opened up a top role on the depth chart next to McCourty, and 2013 third-round pick Harmon is the leading candidate to fill it. Harmon served as the No. 3 safety last year, making three starts and playing on 36.9 percent of the defensive snaps during the course of the season. Special teams figures to play a significant role in which players earn the backup spots, and third-year player Ebner was working as the personal protector on the punt team in spring practices, which is a key role. Depending on how many safeties the Patriots keep, 2012 second-round pick Wilson could be on the outside looking in after his defensive plays dipped from 42.5 percent as a rookie to 1.6 percent in 2013.
November, 7, 2013
11/07/13
10:15
AM ET
New England Patriots
head coach Bill Belichick has talked at length in the past about the critical importance of the offseason for players entering their second NFL season. It often turns out that players experience their biggest jump from one year to the next from their rookie to sophomore seasons.
We saw it with
Stevan Ridley
in 2012, as he became the Patriots' workhorse back and one of the NFL's top rushers.
With the regular season more than halfway over and the bye week upon us, below is a look at how the Patriots' second-year players have performed.
Defensive end Chandler Jones:
When Belichick talked about the development of second-year players, it was likely exactly with what we've seen from Jones in mind. The team's top pick in 2012 has built off his six-sack rookie season to become one of the best pass-rushers in the AFC, totaling 8.5 already. He's firmly entrenched himself as a cornerstone of the defense.
Linebacker Dont'a Hightower:
Another first-round pick in 2012, Hightower is also a key defender for the Patriots. He's taken on a bigger leadership role this season from an on-field communication standpoint, particularly with
Jerod Mayo
out for the season. Hightower is an able run defender, though his speed limitation has shown up in pass coverage.
Cornerback Alfonzo Dennard:
Dennard made the leap into the starting lineup toward the end of his rookie season and has not looked back since. He's developed into a dependable perimeter corner that has shined through the season's first half. He projects as a long-term starter if he stays on his current arc of progression.
Running back Brandon Bolden:
Bolden has figured significantly into the Patriots' running back rotation, often serving as the back within the up-tempo offense. He's played a less prominent role on special teams this season than he did last year, and it will be interesting to see how his offensive role changes when
Shane Vereen
returns.
Safety Tavon Wilson:
The second-round pick out of Illinois in 2012 started off his NFL career as a regular part of the Patriots' defense. He has since become largely a special-teams player. He missed time earlier this season due to a hamstring issue, but he's become among the team's top core special teamers.
Safety Nate Ebner:
Ebner was drafted with the idea in mind of him becoming an impactful special teams player, and he's steadily contributed on coverage units. He has not had a defensive role this season.
Defensive tackle Marcus Forston:
After starting the year on the practice squad, Forston was promoted to the active roster amidst injuries to
Vince Wilfork
and
Tommy Kelly
. He's yet to play much, however, as the team has leaned more on rookies
Joe Vellano
and
Chris Jones
.
Defensive end Jake Bequette:
There was hope that a full offseason would propel Bequette onto the radar this season, but that has not yet been the case. The Patriots turned to rookie defensive end
Michael Buchanan
as their third rusher earlier in the year before more recently signing veteran
Andre Carter
. Bequette is effectively the fifth defensive end on the roster.
October, 19, 2013
10/19/13
11:00
AM ET
Before the New England Patriots play a game, we'll attempt to predict the team's inactive players.

Our best guess on the list for Sunday's road game against the New York Jets:
Danny Amendola
: Receiver sustained a concussion last Sunday, has been held out of practice all week, and is already ruled out by the team.
Chris Barker
: Rookie offensive guard could be active if there are concerns with those above him on the depth chart, Dan Connolly (concussion) and
Marcus Cannon
(shoulder).
Tommy Kelly
: Veteran defensive tackle has missed the last two weeks of practice with a right knee injury and has already been ruled out.
Matthew Slater
: Special-teams captain has been at practice but still has a cast on his left wrist, which makes us think it might be too early to expect him back.
Aqib Talib
: Cornerback missed practices Wednesday and Thursday with a left hip injury and didn't look fully comfortable in his return to practice Friday.
Leon Washington
: Veteran running back missed the last two weeks of practice with an ankle injury and has already been ruled out.
Tavon Wilson
: Reserve safety and core special-teams player has been limited with a hamstring injury and has missed the last two games.
October, 5, 2013
10/05/13
8:21
PM ET
CINCINNATI -- The New England Patriots downgraded safety
Tavon Wilson
(hamstring) to out on their injury report, meaning they will be without one of their core special-teams players for Sunday's game against the Cincinnati Bengals.
Wilson plays on the "Big 4" units -- kickoff coverage, kickoff return, punt coverage and punt return.
Wilson's absence likely prompted the promotion of linebacker Ja'Gared Davis from the practice squad Saturday. Davis could fill part of Wilson's role on special teams.
The Patriots also confirmed that tight end
Rob Gronkowski
has been downgraded to out.
Gronkowski and Wilson were the only players downgraded to out.
August, 31, 2013
8/31/13
10:55
AM ET
The Patriots informed defensive end
Jermaine Cunningham
that he will be released, a source confirms.
Cunningham has been hurt for most of the preseason and didn't play in a game. The move is considered a minor surprise, and also reflects some of the ups and downs the team has had in the second round of the draft, as Cunningham was a second-round pick in 2010.
Tight end
Rob Gronkowski
and offensive tackle
Sebastian Vollmer
are two solid second-round picks, but the list of second-rounders that haven't panned out is quite longer, and includes receiver
Chad Jackson
(2006), cornerback
Terrence Wheatley
(2008), safety
Patrick Chung
(2009), defensive tackle
Ron Brace
(2009), cornerback
Darius Butler
(2009), Cunningham and cornerback
Ras-I Dowling
(2011).
The jury is still out on safety
Tavon Wilson
(2012).
At defensive end, the Patriots currently have
Chandler Jones
,
Rob Ninkovich
,
Justin Francis
,
Michael Buchanan
and
Jake Bequette
.
Pro Football Talk first reported the news on Cunningham.
August, 8, 2013
8/08/13
9:45
AM ET
PHILADELPHIA -- One follow-up from the Patriots' joint practice with the Eagles on Wednesday was at the No. 4 safety spot.
Second-year man
Tavon Wilson
was out. Rookie
Duron Harmon
was in.
It is always dangerous to read too much into one practice, or one breakdown like Wilson had Tuesday when he appeared to make an error on a long touchdown pass (we also saw that twice from Wilson during his 2012 rookie season).
At the same time, Harmon's presence provided an opportunity to watch him against better competition, and learn more about his style of play.
He seems to have good instincts, and when the football is thrown in his direction, good ball skills. At 6-foot-1 and 205 pounds, his movement skills seem more fluid than 6-foot, 215-pound Wilson's.
Safety Devin McCourty was asked about Harmon after Wednesday's practice.
"He's working hard. He's learning the system. I like being in there with him," McCourty said. "Even if he's unsure about something, he's usually moving in the right direction; you tell him one thing and he puts the pieces together and he's out there. I'm encouraged by the effort and the time he puts in."
McCourty is locked into one starting safety spot, with a competition unfolding between
Adrian Wilson
(6-3, 230) and
Steve Gregory
(5-11, 200) for the spot next to him. Wilson offers a bigger, more physical presence, while Gregory is the better coverage player.
Harmon, Wilson and special-teamer
Nate Ebner
are next up on the depth chart. On Wednesday, it was a chance to take a closer look at Harmon.
June, 4, 2013
6/04/13
11:00
PM ET
PAWTUCKET, R.I. -- For
New England Patriots
safety
Tavon Wilson
, throwing out the first pitch at Tuesday night's Pawtucket Red Sox game was not only a change of scenery, but also his first time attending a professional baseball game.
His goal?
"Just try to get it down to home plate," Wilson said.
Things weren't much different on the football field last summer, when Wilson was learning the ropes of the Patriots defense after being drafted in the second round.
"Last year I was just focused on doing my job and knowing what I've got to do," Wilson said. "But now I focus on more what the offense is giving me, and taking more in pre-snap before the play begins. I think that helps a lot."
Wilson saw extensive reps during Tuesday's organized team activity, playing alongside veteran
Steve Gregory
for much of the practice.
"The game has slowed down for me a little bit," Wilson said. "I think as I get better and learn more, it will continue to slow down for me."
Guiding Wilson into his second season is 33-year-old veteran
Adrian Wilson
, although the possibility of the two Wilsons competing for playing time is something worth monitoring.
"I'm very fortunate to have Adrian around and be able to ask him questions. He's been able to answer some of my questions," Wilson said. "But I still have to do things on my own and feel my way through because you can't really trade for experience. The more experience I get, the better I'll be."
The elder Wilson brings a veteran presence to the defense, something that has changed the complexion of the secondary.
"Our group this year is a lot older than it was a year ago. I'm still pretty much one of the younger guys in the group," Wilson said. "I help guys when they come up to me and ask questions but I'm still fairly new myself so I'm still looking up to older guys myself."
May, 25, 2013
5/25/13
5:00
AM ET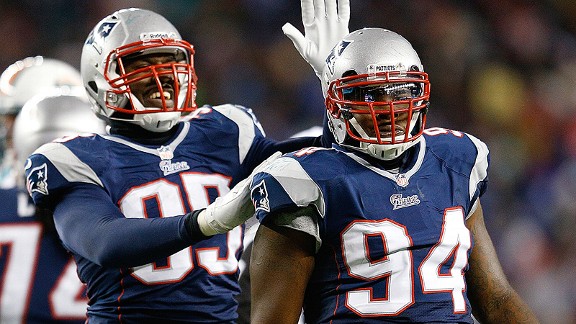 Jim Rogash/Getty ImagesFirst-rounder Chandler Jones impressed as a rookie, as did Justin Francis, who went undrafted.
While there has been no shortage of instant impact rookies in the NFL in recent seasons, there are others who take time to transition into the pro game from the college level. To that point,
New England Patriots
head coach Bill Belichick has said in the past that many players experience the greatest development during their NFL careers between their rookie and sophomore seasons.
In 2012, the Patriots drafted seven rookies in total, six of whom remain on the active roster (
Jeremy Ebert
, a seventh-round receiver from Northwestern, recently signed with the
Jacksonville Jaguars
).
Chandler Jones
and
Dont'a Hightower
, the team's pair of first-rounders in 2012, highlighted the class, as they each became immediate starters and debuted in style by combining for a strip sack and fumble return for a touchdown in a Week 1 win in Tennessee. Overall, the class provided strong results, as those two appear to be defensive cornerstones for the future with other promising members of the class, as well.
Here's an overview of each of the 2012 drafted rookies, with a look at what 2013 could hold for each.
Defensive end Chandler Jones
2012 stats:
45 tackles, six sacks, three forced fumbles
2013 outlook:
Pencil in Jones as a starter on the defensive line, and a good one at that. The question will be how much progress Jones can make to build off of what early in the season looked to be a defensive rookie of the year quality season. After starting the season off with six sacks in eight games, Jones failed to register a sack in his final eight contests (playoffs included). He was billed by some as a draft prospect who would need time to develop into an NFL standout, but it was easy to see why the Patriots targeted Jones in the first round. If he can emerge as a consistent pass-rusher, he'll add a new dynamic to the front seven.
[+] Enlarge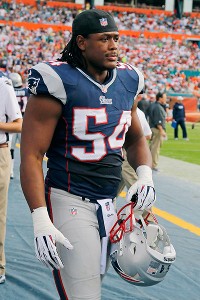 AP Photo/Tom DiPaceDont'a Hightower seems primed to play a key defensive role for seasons to come.
Linebacker Dont'a Hightower
2012 stats:
60 tackles, four sacks
2013 outlook:
Like Jones, it seems like a fair bet to pencil Hightower in as a starter in the Patriots' base defense. He was a consistent presence as a strongside linebacker as a rookie, and he should provide more of the same this season. Hightower was a ready-made prospect coming out of Alabama and showed himself capable of taking on a number of assignments. By all accounts, the staff is high on him, and he could be a starter alongside
Jerod Mayo
for a long time. What will be most interesting regarding Hightower is what role -- if any -- he plays on sub defense. He was removed from the unit late in the 2012 season in favor of
Brandon Spikes
.
Safety Tavon Wilson
2012 stats:
41 tackles, four interceptions
2013 outlook:
Which Wilson will the Patriots see in 2013? The one who was a virtual starter early in his rookie season and produced in the back end of the secondary, or the one who had coverage breakdowns and later was relegated to a sub defensive back role? The team's hope is the former, and Wilson has a terrific set of mentors at his position to learn from in
Adrian Wilson
,
Steve Gregory
and
Devin McCourty
. With McCourty entrenched as a starter on one side, Wilson might have to fight for reps at strong safety. He projects to play extensively on special teams again in 2013.
Defensive end Jake Bequette
No stats accumulated
2013 outlook:
Seems a little crazy to suggest a guy who hardly saw the field in 2012 could be a factor in 2013, right? Well, don't be entirely surprised if Bequette does earn time as a player who can be utilized in a role comparable to
Rob Ninkovich
's in the Patriots' defense. We saw the two working together during the individual drill portion of Tuesday's OTA, and the reality of life in the NFL is some rookies need a "redshirt" season to develop. Bequette might not develop into a starter this season, but he should have a chance to compete for reps at defensive end and might fall into the category of players that Belichick alluded to who undergo substantial growth in between seasons one and two.
Safety Nate Ebner
2012 stats:
14 tackles
2013 outlook:
The unheralded Ohio State product was believed to be a player who could impact the special teams immediately, and that's what Ebner proved to be. He's the kind of guy who can both cover kicks and hold up as a blocker. He flashed ball skills throughout training camp as a safety, but the position is deep again in 2013. Even if Ebner continues to carve out a niche on special teams (akin to the defensive player version of
Matthew Slater
), that's a worthy investment in the sixth round.
Cornerback Alfonzo Dennard
2012 stats:
35 tackles, three interceptions
2013 outlook:
Dennard avoided in-season jail time following a 2012 incident prior to the draft, opening the door for him to pick up where he left off at the conclusion of his rookie season. Dennard helped to stabilize the secondary as a starter opposite of
Aqib Talib
and figures to compete with
Kyle Arrington
for a starting job in 2013. Arrington is more explosive and adds special-teams value, but Dennard is an instinctive zone cornerback who can be physical at the line of scrimmage.
Notable Undrafted Free Agents
Running back Brandon Bolden
2012 stats:
56 carries, 274 yards, two touchdowns
2013 outlook:
Prior to a four-game suspension for a violation of the NFL's performance-enhancing drug policy, Bolden emerged as a backup running back with good between-the-tackles ability. When he returned from an injury/suspension, he became mostly a special-teams player. The feeling here is Bolden will have a chance to earn those carries again in 2013, as he has very good contact strength as a runner and can earn tough yards near the goal line. He'll contribute on special teams, too.
Defensive end Justin Francis
2012 stats:
10 tackles, three sacks
2013 outlook:
Defensive end is a position at which the Patriots have a stable of young bodies in the fold for 2013. Francis leapfrogged Bequette and
Jermaine Cunningham
by season's end in 2012 and should compete for a top reserve job this season. With good natural pass-rushing skills, Francis is a player who can contribute in nickel and dime fronts. His work ethic as a rookie was notable.
Offensive lineman Markus Zusevics
No stats accumulated
2013 outlook:
We don't know much about Zusevics, as he started the season on the Non-Football Injury list. He tore a pectoral muscle at the combine in 2012 after a solid career at Iowa and should compete for a reserve tackle spot in 2013.
Defensive lineman Marcus Forston
No stats accumulated
2013 outlook:
The Patriots recently released both
Kyle Love
and
Brandon Deaderick
, the co-starters opposite of
Vince Wilfork
in 2012. Veteran
Tommy Kelly
and highly touted CFL prospect
Armond Armstead
were added this offseason, but Forston should also have a shot to compete for work. He's a big body who can defend the run in short-yardage situations and adds some interior quickness. A spot on the 53-man roster seems in play again for Forston.
April, 10, 2013
4/10/13
2:02
PM ET
In the first in a series of video segments from our annual
Patriots Draft Special
, ESPN's Mike Reiss,
Tedy Bruschi
and
Trevor Matich
review the 2012 draft class. Here are a few quick hits from the nearly 6-minute segment (embedded above):
* Bruschi on defensive lineman Chandler Jones:
"He started out with a splash. I think that staying healthy and realizing the length of the season and stating to understand how much he'll be depended on (will be important in Year 2). You're the pass rusher, you're the guy, the No. 1 guy that teams will be not only looking to scheme against but the Patriots will be looking to you to be productive in terms of sack numbers."
* Reiss on linebacker Dont'a Hightower:
"The question to me is can he stay on the field on third down? He's a solid defender against the run, first and second down, but when they go to those sub packages, can he hang?"
* Matich on safety Tavon Wilson:
"He'll have an opportunity to either really rise up or really be discarded, depending on whether he can learn (to not make the same mistakes he made last season)."
February, 23, 2013
2/23/13
8:30
AM ET
INDIANAPOLIS -- In a piece now posted on ESPN.com (Insider content), former Colts president Bill Polian shares his opinion on the
top needs of every team at this time on the NFL calendar
.
His view on the Patriots is that it starts at safety. He then puts receiver and cornerback next on the list.
"Despite the Patriots' reputation as a perennial power, there are numerous needs here, with wide receiver and safety appearing the most glaring," Polian writes.

The piece sparked the thought that 2012 second-round draft choice
Tavon Wilson
remains a wild card in the eyes of many.
Wilson, drafted 48th overall, played 42.5 percent of the defensive snaps last season. Because of that, he received some beneficial on-the-job training, much more than we saw
Patrick Chung
receive in his rookie season (20.5 percent) back in 2009. The higher playing-time total for Wilson came as a result of filling in for injured starters and playing the "money" linebacker-type role in the dime package. He finished with 48 tackles and four interceptions, although one of his more notable plays came as part of a deep-field coverage breakdown that led to a last-minute loss to the Seahawks on Oct. 14.
Is Wilson a long-term answer at safety?
The answer will be a significant factor on whether the Patriots view the position as a top need, as Polian does. The club returns starters
Devin McCourty
and
Steve Gregory
, with Wilson third on the depth chart at this time. McCourty thrived at the position after a midseason position switch, while the coaching staff seems to place a high value on Gregory's intelligence.
The 2013 draft is viewed as deep at safety, and one wonders where Wilson -- who was considered by many a surprise pick by the Patriots last year -- would fall in this year's class.
His development ties directly to whether the Patriots draft another safety this year.
November, 17, 2012
11/17/12
1:55
PM ET
Rookie safety
Tavon Wilson
was added to the team's injury report Saturday. He is listed as probable with an ankle injury.
A probable designation, as defined by the Patriots, is a virtual certainty to play.
Wilson, the team's second-round draft choice out of Illinois, is a top backup now that veteran
Steve Gregory
is back from injury. He plays a linebacker-type role in the club's dime defense.
November, 2, 2012
11/02/12
5:00
AM ET
In this week's edition of P.A.T., Mike Reiss speaks with rookie safety
Tavon Wilson
as the Patriots hit the bye week.
August, 9, 2012
8/09/12
11:29
AM ET
FOXBOROUGH, Mass. -- You would think there was a playoff game at Gillette Stadium this week.

In front of a packed house, the
New England Patriots
hosted the
New Orleans Saints
for a pair of high-quality joint practices. Even famous musician Jon Bon Jovi and supermodel (and
Tom Brady's
wife) Gisele Bundchen showed up for a glimpse of the action.
The talent on the practice field was immense. You had future Hall of Famers Brady and
Drew Brees
at quarterback, Pro Bowl tight ends
Rob Gronkowski
and
Jimmy Graham
and two hungry defenses eager to improve. The tempo was fast and intense.
The Patriots could have easily practiced against themselves this week like the rest of the league. But there is a method to Bill Belichick's madness. It's Super Bowl or bust for New England. And even in August, the Patriots want to test themselves as much as possible against another playoff contender.
"We know that there are a lot of other great organizations and teams and players and coaches out there," Belichick explained. "It's a good challenge every week, and certainly the Saints are one of the top teams in professional football. As I said, they're well-coached, they have great talent, good players, good scheme [and] they win a lot of games. We played against them two years ago, practiced against them two years ago in their championship season. There isn't any team we have more respect for than the Saints from top to bottom."
The reigning AFC champions are loaded. Their roster is deeper and more talented than last year's team that finished 13-3. With the easiest strength of schedule in the NFL, the Patriots are expected to match or surpass last season's win total. Some pundits even believe a 16-0 regular season is within reach. But let's not get too ahead of ourselves.
THREE HOT ISSUES
1. How much better is the defense?
The Patriots' defense has improved. New England was ranked 31st in total defense and 31st against the pass in 2011. So the Patriots cannot get much worse.
The Patriots invested all their draft picks except a seventh-rounder in defense. The biggest coups were first-round picks
Dont'a Hightower
at linebacker and defensive end
Chandler Jones
. Both rookies received a lot of reps with the first team this week and appear to be learning fast. They also provide athleticism and aggressiveness to New England's front seven.
Second-round pick and defensive back
Tavon Wilson
also has looked better than advertised. Belichick received a lot of criticism for drafting Wilson that high when most projected him to be a fifth- or sixth-round pick. Free agent
Steve Gregory
also is New England's starting safety and is an upgrade over the rotating door New England had at the position last year.
With a high-powered offense, the Patriots don't need a top-10 defense. But if the defensive-minded Belichick can get this group in the top 20, New England will be very hard to beat.
"We're just trying to be aggressive and be competitive in everything out there," Patriots cornerback
Devin McCourty
said of improving. "From the front all the way throughout the secondary, guys are just trying to develop an attitude. Defense has a lot to do with attitude and how you approach the game, so we're trying to keep attitude and trying to do it day in and day out."
[+] Enlarge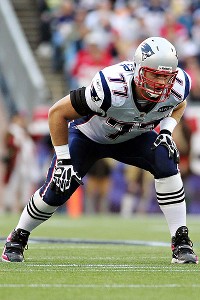 Stew Milne/US PresswireSecond-year left tackle Nate Solder has shined early in Patriots training camp.
2. Who will man the offensive line?
It is difficult to gauge the performance of the offensive line in training camp. About half of training camp practices are in shorts, and that significantly reduces contact in the trenches. But replacements need to be ready because four of New England's starters from last year are injured, retired or contemplating retirement.
New England's offensive line is a M.A.S.H. unit. Starting guards
Logan Mankins
(knee) and
Brian Waters
(personal reasons) have yet to practice with the team, and starting right tackle
Sebastian Vollmer
has a back injury. Longtime starting left tackle
Matt Light
retired, and so did free-agent signee
Robert Gallery
.
The Patriots are trying to find the right combination up front in training camp in preparation for Week 1 of the regular season. So far, the
best lineman in camp
has been second-year left tackle
Nate Solder
, who gained some starting experience last year in his rookie season.
Holdovers such as guard
Dan Koppen
,
Dan Connolly
,
Ryan Wendell
and
Marcus Cannon
are all trying to carve out roles -- at least until starters Mankins, Vollmer and (maybe) Waters return. Brady and the Patriots will pass the football a lot this year, so development of the offensive line is important.
"We're going to play whoever is here, and whatever happens, we're going to be here working hard," Solder said this week.
3. Who will run the football?
Dependable tailback
BenJarvus Green-Ellis
bolted to the
Cincinnati Bengals
in free agency. That leaves second-year tailbacks
Stevan Ridley
and
Shane Vereen
trying to pick up the slack in 2012. Neither player has much experience. Ridley did pretty well in limited playing time his rookie year, amassing 441 yards and a touchdown. Vereen was injured most of his rookie season and wasn't a factor.
Ridley
has the inside track
and has looked impressive. He has good vision and burst. Ball security has been the only question. But Ridley believes he made rookie mistakes that he will fix in Year 2.
"This year I'm going to go and do the best that I can to keep the ball high and tight," Ridley said. "I know that if I can keep the ball in my hands, I'm going to be on the field. So my work is cut out for me."
Backup running back
Danny Woodhead
also will assist Ridley and Vereen, particularly on third downs.
Reason for optimism
This is the best collection of talented skill players Brady has ever had. If everyone stays healthy, I do not see any reason the Patriots cannot be near the top of the league in scoring and passing offense. New England should average at least 30 points per game.
Brady has a Pro Bowl tight end in Gronkowski, a Pro Bowl receiver in
Wes Welker
, a top-five tight end in
Aaron Hernandez
and a much-needed deep threat in
Brandon Lloyd
. The Patriots' passing game should be able to do it all. Brady can go underneath to Welker and Gronkowski or deep to Lloyd and Hernandez. It will be very difficult for opponents to game plan.
"We're not taking anything for granted," Brady said. "We're trying to come out and string practices together."
Reason for pessimism
I'm still not confident in New England's secondary. This was the weakest part of the Patriots last year, and 2012 could be a repeat.
Cornerbacks McCourty,
Kyle Arrington
,
Sterling Moore
and
Ras-I Dowling
all have question marks. The Saints' offense had their way with New England's corners during this week's joint practices. No one among the Patriots' corners made enough plays to really stand out.
Perhaps the biggest problem is New England's corners are not shutdown, man-to-man defenders. That forces New England to play a lot of zone to try to get stops. That leads to a bend-but-don't-break mentality we saw last year.
Expect many opponents to attack New England's cornerbacks until this group proves it can cover and shut down receivers consistently.
OBSERVATION DECK
[+] Enlarge

AP Photo/Robert E. KleinNot many tight ends have the athletic ability to be a punt returner. The Patriots' Aaron Hernandez does.

Speaking of McCourty, he is playing exclusively at corner in training camp. It shows the coaching staff is comfortable that McCourty will bounce back from a shoulder injury and poor play that led to a position change to safety late last season. McCourty is competing hard and trying to get back to his rookie form, when he made the Pro Bowl in 2010.

How athletic is Hernandez? New England is experimenting with its No. 2 tight end at punt return and running back. Hernandez did a good job running the football in the Patriots' playoff win over the Denver Broncos. It was a nice wrinkle added by Belichick. Hernandez is elusive in the open field and has good hands, so returning punts could make sense as another way to get the ball into Hernandez's hands.

I'm not sure why more teams do not have joint practices in training camp. Both the Patriots and Saints gave rave reviews of how well things went this week. It was well organized; both teams got a lot of work done; and there were no injuries. Most importantly, it is a change of pace from hitting your teammates the entire summer. In talking with players, they got a kick out of practicing against an unfamiliar opponent.

The Brady-to-Lloyd combination is still a work in progress. Brady missed Lloyd on several opportunities this week, as the first-time teammates continue to work on their chemistry. Lloyd is the best deep threat Brady has had since Randy Moss. Brady and Moss got on the same page quickly in their first season together. Brady hopes for the same results with Lloyd.

Keep an eye out for undrafted rookie defensive end Justin Francis. I wasn't familiar with the Rutgers product before my training camp visit, but after a few practices, I noticed Francis stood out. Francis has a good motor and athleticism for a defensive end. Francis is a sleeper pick to make New England's 53-man roster, but he must show that he can translate his play on the practice field to the preseason games.

The No. 2 quarterback race between Brian Hoyer and Ryan Mallett favors Hoyer at this stage of camp. Hoyer had a solid week of practice leading into Thursday's preseason opener. Hoyer was more accurate and made some nice throws. Mallett has a lot of physical ability but has a lot to work on. He had trouble with taking some of the velocity off his passes when needed. The preseason games will matter most, but Hoyer has the lead so far.

Linebacker Bobby Carpenter has been a pleasant surprise for New England. The former first-round pick has underachieved at his previous stops in Dallas, Miami and Detroit. But Carpenter has fit in well as a backup linebacker for the Patriots in training camp and is in good shape to make the team. Carpenter even got a little work with the first team this week because of injuries.