New England Patriots:

Ty Law
August, 1, 2014
Aug 1
7:45
PM ET
FOXBOROUGH, Mass. – Cornerback Ty Law's induction into the
New England Patriots
Hall of Fame on Friday was capped with flair, as Law provided owner Robert Kraft a new pair of shoes and the two danced on stage as music blared.
"We're going to do this Ty Law-style!" Law said to the crowd after a lengthy speech that included one moment when Law -- fitted in the traditional red jacket for inductees -- had to gather his emotions while thanking his family.
Of course, this isn't the first time Law and Kraft have busted a move on stage.
[+] Enlarge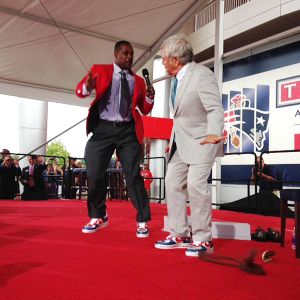 Mike Reiss/ESPNTy Law and Robert Kraft busted out their moves one more time on Friday.
In the Patriots' victory parade following the Super Bowl XXXVI victory over the
St. Louis Rams
, Law famously called for Kraft to dance with him on stage. The two did it again in 2011 at The Tradition, an annual event hosted by The Sports Museum that honors New England greats.
This time, Law handed Kraft a gift box that included red, white and blue shoes, and he called for video to be shown of their previous two dances. Then Law asked for the music to be turned up loud, and the two capped off the 90-minute ceremony with the unique touch.
Law's celebratory dances were unforgettable during his time with the Patriots (1995-2004), and Kraft -- in a humorous introduction speech -- shared the story of how Law gave him an autographed photo from the Super Bowl parade that was signed, "Who says white guys can't dance?" That photo still hangs in Kraft's office.
The Patriots Hall of Fame induction has turned into one of the highlights on the Patriots' annual calendar, drawing thousands of fans who fill the 80-plus steps in the plaza outside the team's hall, while also surrounding the stage. In addition, notable alumni return from all eras, with this year's group consisting of safeties Lawyer Milloy and Rodney Harrison, as well as cornerback Otis Smith, who were three of Law's closest friends during his playing career.
In his speech, Law reflected on how meaningful it was to have always received such a warm welcome from Patriots fans, even when he was "sleeping with the enemy," a reference to his 2005 season with the
New York Jets
.
"I'm very humbled by you, the fans, because it was one of the best feelings in the world to come back and see those 24 jerseys out there still cheering," he said.
Kraft also shared a story from that part of Law's career, detailing how contract negotiations between the team and Law had reached a stalemate after the team's final offer. Kraft said Law stopped him in the locker room and said, "Don't you know who I am? I'm Ty F'ing Law!"
Then Kraft noted how "Ty F'ing Law" signed with the "New York F'ing Jets" and proved it by totaling a career-high 10 interceptions that season. Law was never short on confidence.
"How good was Ty Law? The best," Kraft said in his speech. "And if you don't believe it, just ask him."
That led the crowd, and Law, to erupt in laughter on a memorable night that included a little bit of everything -- laughs, tears, poignant memories and, of course, one final dance.
July, 28, 2014
Jul 28
3:55
PM ET
By
Lee Schechter
| ESPNBoston.com
FOXBOROUGH Mass. -- Soon-to-be Patriots Hall of Famer Ty Law says the 10-year search for the
New England Patriots'
next star cornerback and missing piece to the championship puzzle is finally over with the arrival of
Darrelle Revis
.
[+] Enlarge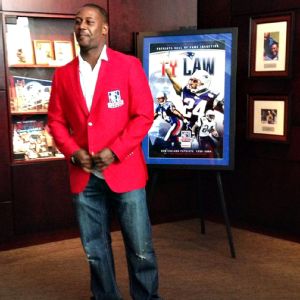 Mike Reiss, ESPNBoston.comTy Law was fitted for his Patriots Hall of Fame jacket on Monday.
"Being an analyst now and looking at the team now, it's like that's what they needed -- a marquee cornerback," Law said to reporters after Monday's jacket fitting for his Patriots Hall of Fame induction on Friday.
"Darrelle is special," Law added. "He is a different level. So when you look at the secondary now, when you look at another 24 out there and that elite of a cornerback and as a football player, you can really see these guys getting over the hump again. And bringing back home the trophy, where I think it belongs because we always strive to be champions."
Here are some other takeaways from Law's analysis of this year's defense:
Best defense in 10 years?
Adding Revis was a major move in Law's eyes, but he is focused on the extra experience and leadership of the rest of the Patriots' defensive personnel in 2014. "I think it is [the team's best defense in 10 years] because you've got to talk about the experience there is -- not only with the secondary because I think that was one of the weaker links in the defense for the last few years -- but you strengthened that five times with Darrelle Revis and you have [Brandon] Browner there," Law said. "[Rob] Ninkovich getting another year of experience, [Vince] Wilfork. There's a different type of leadership.
Chandler Jones
, another year of experience. So it is going to be amazing what these guys can do."
Health is the key to winning a Super Bowl.
Law thinks the Patriots have all of the pieces to win the franchise's fourth Super Bowl, but last year's health issues still raise a red flag. "You can have all the talent in the world but if you can't stay out there on the field, you're going to be hurting your team," Law said. "So if this team can stay healthy and the offense can continue putting up the numbers consistently like they have been doing with
Tom Brady
leading the pack and they can protect him, good things are going to happen."
Law knew all along that Revis was destined for greatness.
Law and Revis both grew up in Aliquippa, Pennsylvania, a small Pittsburgh suburb that produced multiple NFL talents. Despite the age difference, Law saw early on that Revis was a game-changing player. "When you look back and I'm a player in the NFL and this guy [Revis] is still in Pop Warner and I was fortunate to play long enough where he made it to the NFL and we played together on the field as two guys from Aliquippa," Law said. "But seeing it right away -- his agility, his passion, his aggressiveness at such a young age."
Law's Super Bowl pick.
Law may be an analyst these days, but he isn't shy about who he wants and thinks will win it all in 2014. "Hopefully I can still do my job, you know being an analyst, but I'm going for the Patriots every time."
May, 19, 2014
May 19
6:15
PM ET
With Monday's news that cornerback
Ty Law
is this year's inductee to the
New England Patriots
Hall of Fame, it had me reflecting on a story from the early years of his career.
We had an idea at Patriots Football Weekly, the team's long-running official newspaper, to write a cover story on Law in which we followed him around for a day -- from the stadium, to the Dunkin' Donuts drive-thru, back to his home and any other things he had planned.
[+] Enlarge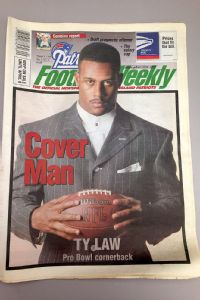 Courtesy of Patriots Football WeeklyThe Patriots Football Weekly cover featuring Ty Law.
The cover shot had Law dressed to the nines in a suit, and it captured the flair and attitude he brought to the job. Like many from his era, Law had great admiration for Deion "Prime Time" Sanders, and the story attempted to capture Law's hopes of becoming one of the franchise's greats.
Congratulations, Ty. Your goal was accomplished.
Law's induction to the Patriots Hall of Fame, which comes in his first year of eligibility, confirms the achievement.
His franchise-record-tying 36 interceptions remind us of his status as one of the all-time great playmakers in team history.
His work against then-Colts QB
Peyton Manning
in the playoffs -- three interceptions in the AFC Championship Game, which was a prelude to the team's second Super Bowl championship -- remind us that Law was a big-game performer.
Those who played with him and coached him always noted that he was a gamer in bringing a level of toughness to the Patriots.
Those are a few things that come to mind about Law's career.
The Patriots Football Weekly story about Law from 1999 was accompanied with the words "Cover Man." The two words summed it up perfectly because he almost always had it well-covered.
Looking at the old pictures from that story, Law looked sharp in his gray pinstriped suit, accompanied with a white pocket square. Now it's time to fit him for the traditional red jacket given to Patriots Hall of Fame inductees.
It might not necessarily be his style, but there's no doubt that the fit is just right.
The "Cover Man" is a Patriots Hall of Famer, and it's well-deserved.
April, 22, 2014
Apr 22
12:05
PM ET
Every Tuesday on ESPNBoston.com, questions from Patriots followers are answered as
part of a weekly mailbag
. This week's mailbag has been posted and includes some of the following topics:
1. Assessing the Patriots' willingness to draft a receiver in the first round.
2. Following up on a free-agent acquisition
Brandon LaFell
.
3. Is it too early to draft a center late in the first round?
4. Shining a spotlight on the voluntary offseason workouts.
5. Quarterbacks in the draft and when the Patriots might consider picking one.
6. Ty Law and the Patriots Hall of Fame.
April, 16, 2014
Apr 16
5:00
PM ET
Cornerback
Ty Law
won three Super Bowls with the
New England Patriots
from 1995-2004, and now that he's a finalist for the team's Hall of Fame he has considered what it would mean to be inducted.
"It will put the icing on the cake as far as my playing career with the Patriots, and some validation to me that I was appreciated by the fans and they still care for me," he said Wednesday on a conference call with reporters. "It just puts the stamp of approval for Patriots Nation. I'm really humbled by that."
Law said he was speechless
when he learned that he was a finalist
along with cornerback Raymond Clayborn and Bill Parcells. He was complimentary of both Clayborn and Parcells.
Law was asked if he might do anything differently when looking back on his Patriots career, in which he tied for the all-time franchise record with 36 interceptions.
"I'll be the first one to admit, now that I'm older, wiser and more mature, that if I could have done something all over again, I would have tried my [best] to stay in New England and finish my career [here]. Not that I have any regrets about the teams that took me in, as far as the
New York Jets
,
Denver Broncos
and
Kansas City Chiefs
, I'm thankful for the opportunity.
"But you know, and I think I've said this early in my career, I would have loved to start and finish my career with the Patriots. Unfortunately, that didn't happen. But if I had to do it all over again, I would have made more effort to stay a Patriot."
April, 16, 2014
Apr 16
9:30
AM ET
Two cornerbacks who are tied atop the
New England Patriots
' all-time list for career interceptions and the coach who helped revive the franchise and invigorate a region's passion for football are this year's finalists for the team's Hall of Fame.
The Patriots announced Wednesday that Raymond Clayborn,
Ty Law
and Bill Parcells have made the cut, as voted on by a panel of 20 members of the team's Hall of Fame committee.
One of the three will be inducted into the Hall later this year based on a month-long fan vote on the
team's official website
.
Clayborn was a three-time Pro Bowl (1983, 1985, 1986) player for the Patriots from 1977 through 1989. His 36 career interceptions tie with Law as the best mark in team history. This is the first time Clayborn has been named a finalist.
Law spent 10 seasons with the Patriots (1995-2004), was a three-time Super Bowl champion, four-time Pro Bowl player (1998, 2001, 2002, 2003) and a two-time All-Pro (1998, 2003) during his tenure with the club. This is his first year of eligibility for the Patriots Hall of Fame.
Parcells served as head coach from 1993-96, inheriting a team that had finished 14-50 in the previous four years, including an NFL worst 2-14 season in 1992. He led the team to the playoffs twice, including a trip to the Super Bowl. He was previously a finalist in 2011 and 2012, and was inducted into the Pro Football Hall of Fame in 2013.
With just three finalists in a stocked field making the cut, some franchise greats such as safety
Rodney Harrison
and defensive end
Willie McGinest
will have to wait another year for consideration. Both Harrison and McGinest were in their second year of eligibility.
April, 2, 2014
Apr 2
4:20
PM ET
FOXBOROUGH, Mass. -- The
New England Patriots
Hall of Fame nomination committee met Wednesday afternoon, and as usual, there was solid discussion on a variety of candidates.
By the end of the day, each committee member cast a ballot with three nominees -- 5 points going to the top choice, 3 points to the second choice, and 1 point to the third choice.
Results will be tallied by team officials and the three finalists will be announced April 15. Fans will then have a month to vote on Patriots.com, and one of the three finalists will be inducted.
My ballot this year was topped by former coach Bill Parcells.
Parcells was a finalist in 2011 and 2012, but didn't make the finalists cut to three last year. Coincidentally, that was the year he was inducted into the Pro Football Hall of Fame.
My strong feelings on Parcells are tied to where the franchise was before his arrival in 1993. I credit him as the driving force/initial spark in making football relevant again in the region, and bringing the Patriots back to respectability.
Two of the players he drafted, cornerback
Ty Law
(first-year eligible) and
Willie McGinest
(second-year eligible), also were high on my Hall list this year.
I'd be surprised if Law isn't the top vote-getter and ultimately this year's inductee, but I kept coming back to this point:
Would he even be here if not for Parcells?
Ditto on McGinest. Safety
Rodney Harrison
(second-year eligible) is also a Hall of Famer in my mind, and I believe his time will also come along with other deserving candidates who were discussed.
But my feeling is that Parcells' time is most overdue and if I could do it over again, I would have had him higher on my ballot last year.
Yes, he was only here for four seasons (1993-1996) and the sticky moments have been well-documented. So, too, have the success stories, and it's telling to me that the last three Patriots Hall of Fame inductees (
Drew Bledsoe
,
Troy Brown
and
Tedy Bruschi
) all were drafted and initially coached by Parcells.
Parcells' career has been deemed Pro Football Hall of Fame worthy in part because of his remarkable work with reclamation projects. We saw it first-hand here from 1993-1996.
Now, we are starting to see some of the players drafted and coached by Parcells land in the Patriots Hall of Fame.
In the process, we shouldn't overlook the person mostly responsible for bringing those players here, and making the team relevant again.
October, 4, 2010
10/04/10
3:00
PM ET
MIAMI GARDENS, Fla. -- The Patriots' young secondary has experienced ups and downs through the first three games of the 2010 season, leading some analysts to wonder if a veteran presence might help settle the group down.
Perhaps someone like
Ty Law
?
Law was a featured guest of ESPN's Chalk Talk luncheon Monday at Sun Life Stadium, reminiscing about his "Monday Night Football" memories and answering questions on whether he'd consider a return to New England, assuming the Patriots were interested.
"At the end of the day, you can't lose there. You're going back home, a dream I've had for a long time," Law told ESPN colleague Tim Graham. "But that's fading. I've been gone for so long. I was [like] 'OK, that's not going to happen.'"
Law believes he could still give a team 15 to 20 plays per game. He said he feels like he could join a club midway through the season and still be effective.
He added that he is not seeking anything out.
"That door is closing and I'm finally at peace with football," he said. "I did everything I could possibly do in football. If I play it would be solely to win a championship and help young guys."
When Law looks at the Patriots' secondary, he sees "some young guys out there with talent. You've got to give them time to grow. Show a little patience, and they'll be fine. At some point, it just has to come together."