September, 15, 2014
Sep 15
5:30
PM ET
METAIRIE, La. --
New Orleans Saints
coach Sean Payton didn't give any indication Monday as to whether he intends to make a permanent change at the cornerback position after starter
Patrick Robinson
was
demoted to the nickel back role
during Sunday's 26-24 loss to the Cleveland Browns.
However, fellow cornerback
Keenan Lewis
offered a passionate defense of his teammate Monday morning, after Robinson took a brunt of the criticism following the defeat.
"I'm going to root for him until the end. That's my brother, and I feel he is one of the best in the league," Lewis said, according to The Times-Picayune.
"A lot of people will sit there and say a 'bad day,' but only thing he gave up was 40 yards one time," Lewis said. "You see guys giving up three or four touchdowns a game. It's a part of football. … Look around on Sunday and there guys who caught 200 yards, three touchdowns. What do you say about those type of guys?"
The biggest play Robinson allowed Sunday was a 19-yard pass interference penalty in the first quarter, though he also committed two other costly penalties in the game (one during a Browns' missed field-goal attempt and one during the Browns' final play that included multiple coverage errors).
"Those guys (the Browns) are professionals too, and they made some good plays," Lewis said. "Just to lean on him and say he had a bad game I would say that ain't fair towards him. And as a teammate I think he is one of the best."
Robinson was not available for comment Monday.
Certainly, neither Payton nor any Saints players pinned Sunday's loss solely on Robinson's shoulders. They talked at length Monday about
several "situational" issues
where the Saints made mental errors or had assignment breakdowns in every unit.
However, Robinson was involved in a handful of those for the second straight week. And his miscues were highlighted by the fact that Payton decided to make the in-game switch.
It was reminiscent of when Payton yanked starting left tackle
Charles Brown
during last season's loss at St. Louis. And Brown never returned to the lineup.
"Listen, it was just based on those early series," Payton said Monday when asked about the cornerback switch. "He ended up playing in nickel, and Corey [White] has been getting a bunch of snaps in the base. So it's something I just felt like it was the best thing to do."
September, 15, 2014
Sep 15
5:00
PM ET
Peterson
METAIRIE, La. --
Adrian Peterson
's return to the football field will come Sunday against the
New Orleans Saints
in the Mercedes-Benz Superdome.
The
Minnesota Vikings
announced Monday that Peterson
will return to work
after he was held out of last Sunday's game following a grand jury indictment on charges of reckless or negligent injury to a child.
"We're gonna have to prepare to play him, along with the rest of the team. That's the only thing," Payton said, keeping the focus strictly on football when asked Monday about the news of Peterson's return to the lineup.
"Obviously from a scheme standpoint, it's significant because of his ability," Payton said of the six-time Pro Bowl running back, who was named the NFL's MVP in 2012. "It's probably better to know that now than later in the week and try to prepare for all the different scenarios."
September, 15, 2014
Sep 15
4:00
PM ET
METAIRIE, La. -- A weekly look at what the
New Orleans Saints
must fix:
The Saints have had a handful of costly errors from every unit during their 0-2 start. The one common bond: They have to be smarter in their home debut Sunday against the
Minnesota Vikings
.
Sean Payton said his biggest disappointment has been the struggles in "situational football," whether it be the blown coverage at the end of Sunday's 26-24 loss to the
Cleveland Browns
, the missed blocking assignment on a sack or an offsides penalty on a field-goal attempt.
"That's the one thing that's stood out now, two weeks in a row," Payton said.
The most maddening yet was the blown coverage in the final seconds, when Cleveland receiver
Andrew Hawkins
broke wide open out of a bunch formation. Cornerbacks
Corey White
and
Keenan Lewis
both covered the same player, while
Patrick Robinson
was flagged for holding another receiver across the field.
"You gotta be able to handle bunch. You gotta be able to handle receiver motion," Payton said. "I mean, shoot, when you play man-to-man like we do, you're gonna get that."
Saints safety
Kenny Vaccaro
agreed, saying, "We've got smart players. It's just disappointing that we're not playing up to our abilities. I put that on us."
September, 15, 2014
Sep 15
3:00
PM ET
METAIRIE, La. -- Two thoughts immediately spring to mind following the news that
New Orleans Saints
running back
Mark Ingram
will be out for at least a month
with a broken hand
:
The negative:
Geez, it sure feels like the Saints are in "anything that can go wrong" mode right now. They're 0-2, and they just lost arguably their most consistent player from the first two weeks.
The positive:
If any team is equipped to handle such a loss, it's the Saints. They have great depth with both
Pierre Thomas
and
Khiry Robinson
available. Both guys are more than capable of filling the void. And because the Saints were in a running back timeshare anyway, Ingram was averaging only 14 touches per game.
Ingram
It seems like a huge disservice to Ingram, however, to suggest the Saints will be OK without him.
After three turbulent years filled with injuries and inconsistency, things were finally coming together for the former Heisman Trophy winner and first-round pick this season.
Not only was Ingram healthy and running great -- did you see some of those cuts he made Sunday at Cleveland? -- he was finally playing the versatile role he has yearned for.
Since the Saints traded
Darren Sproles
in the offseason, Ingram was freed up to play in more versatile packages instead of the base and short-yardage packages to which he was mostly relegated in years past. Both of Ingram's touchdown runs at Atlanta in Week 1 came out of a shotgun formation with four receivers and tight ends split wide.
Ideally, the Saints will have similar success with Thomas and Robinson, both of whom also have played very well in less predictable roles this season.
The Saints' entire run game has been thriving since late last season, when Ingram and Robinson had breakout performances in the playoffs. And coach Sean Payton has shown faith in the run game during the first two weeks. So there's no reason to expect a significant drop-off now.
But hopefully for Ingram, the broken hand doesn't set him back much.
He has been passionate about finally breaking through over the past two seasons. His emotional, competitive nature was on display last year on the field against the
Dallas Cowboys
and
last week on the sideline
against the
Atlanta Falcons
.
And on top of everything else, this is a contract year for Ingram, who's hoping to prove to the Saints and any other prospective employers that he's capable of carrying the load for a team.
September, 15, 2014
Sep 15
12:33
PM ET
New Orleans Saints running back Mark Ingram is expected to miss at least one month with a broken hand he suffered Sunday, a source told ESPN.
Saints coach Sean Payton declined to offer any specifics on Ingram's injury Monday.
"Nothing now," Payton said. "I thought he ran really good [in Sunday's 26-24 loss to the Browns]. Shoot, he played hard. We'll evaluate where he's at. But nothing today with specifics in regards to any of these guys with injury."
Ingram had his hand/wrist area taped by trainers during the first half of Sunday's game but remained in the contest after that and continued to thrive. A source confirmed that Ingram suffered the injury in the first half. He finished with 11 carries for 83 yards and a touchdown, plus three catches for 21 yards.
The injury is a tough blow for Ingram, who was off to the best start yet in his up-and-down four-year career. The former Heisman Trophy winner and first-round draft pick is averaging 6 yards per carry this season, gaining 143 yards on 24 carries with three touchdown runs.
And it's certainly another tough break for a Saints team that has started the season 0-2 on the heels of two last-second losses. Ingram has been one of New Orleans' most dependable players so far this season.
However, the Saints are fortunate to have proven depth in their backfield, with Pierre Thomas
September, 15, 2014
Sep 15
11:52
AM ET
ESPN.com news services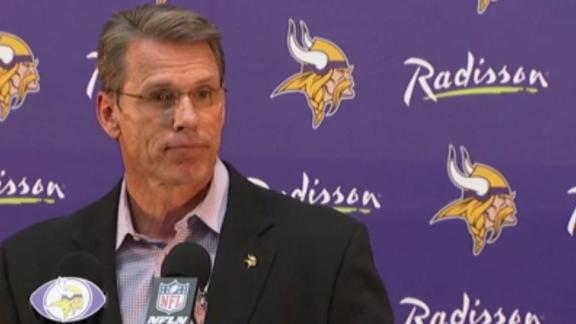 The Minnesota Vikings announced Monday that running back Adrian Peterson will return to practices and meetings this week and is expected to play Sunday against the New Orleans Saints.
Peterson was deactivated for the Vikings' Week 2 game against the New England Patriots after he was indicted by a grand jury on charges of reckless or negligent injury to a child.
"Today's decision was made after significant thought, discussion and consideration. As evidenced by our decision to deactivate Adrian from yesterday's game, this is clearly a very important issue," Vikings owners Zygi Wilf and Mark Wilf said in a statement.
"On Friday, we felt it was in the best interests of the organization to step back, evaluate the situation, and not rush to judgment given the seriousness of this matter. At that time, we made the decision that we felt was best for the Vikings and all parties involved. To be clear, we take very seriously any matter that involves the welfare of a child.
"At this time, however, we believe this is a matter of due process and we should allow the legal system to proceed so we can come to the most effective conclusions and then determine the appropriate course of action. This is a difficult path to navigate, and our focus is on doing the right thing. Currently we believe we are at a juncture where the most appropriate next step is to allow the judicial process to move forward. We will continue to monitor the situation closely and support Adrian's fulfillment of his legal responsibilities throughout this process."
September, 15, 2014
Sep 15
11:00
AM ET
A look at the New Orleans Saints' snap counts in their 26-24 loss at the
Cleveland Browns
in Week 2:
OFFENSE (70 snaps)
Quarterback:
Drew Brees
70
Running back:
Pierre Thomas
26,
Mark Ingram
20,
Khiry Robinson
14,
Travaris Cadet
11
Fullback:
Austin Johnson
22
Receiver:
Brandin Cooks
55,
Marques Colston
41,
Robert Meachem
29,
Kenny Stills
29
Tight end:
Jimmy Graham
56,
Benjamin Watson
34,
Josh Hill
13
Offensive tackle:
Terron Armstead
70,
Zach Strief
70
Guard:
Jahri Evans
70,
Ben Grubbs
70
Center:
Jonathan Goodwin
70
Thoughts:
The one player that stands out on this list is Colston, who played 14 fewer snaps than Cooks while being targeted zero times and catching zero passes for the first time since 2008. I'm not sure what exactly limited Colston's snaps. But obviously the Saints adjusted their game plan to be more run-heavy as the game went along (also evidenced by fullback Johnson's 22 snaps).
DEFENSE (75 snaps)
Cornerback:
Keenan Lewis
74,
Corey White
65,
Patrick Robinson
55
Safety:
Jairus Byrd
75,
Kenny Vaccaro
75,
Rafael Bush
5
Outside linebacker:
Junior Galette
70,
Parys Haralson
25,
Kasim Edebali
5
Inside linebacker:
Curtis Lofton
75,
David Hawthorne
54,
Ramon Humber
24
Defensive end:
Cameron Jordan
66,
Akiem Hicks
48,
Tyrunn Walker
23
Defensive tackle:
Brandon Deaderick
35,
Brodrick Bunkley
30,
John Jenkins
21
Thoughts:
Hawthorne left the game with an undisclosed injury and was replaced by Humber. I'm not sure of the severity or whether it will limit Hawthorne going forward. But that is an area where the Saints do have plenty of depth with Humber and Haralson both able to fill in if needed. ... This week it was defensive end
Glenn Foster
's turn to be the odd man out on the defensive line. Foster was inactive, while the Saints added Jenkins back into their lineup. It's interesting to see that Deaderick has passed up both of those guys in the pecking order, though. Deaderick is useful as a versatile end/tackle. ... Bush played even less snaps than last week as the Saints have clearly made a switch to their nickel package from last season, using three corners instead of three safeties. White began the game as that nickel back but switched places with Robinson after Robinson struggled early. Obviously the Saints will revisit their secondary plans this week after having issues in both losses.
September, 15, 2014
Sep 15
10:12
AM ET
While it's never good to lose two games to start the season, most teams wouldn't hit the panic button if both losses came on the road and by a total of five points. The Saints, having just lost their second straight nail-biter, won't do that either, though there are worrying signs surrounding this club -- particularly on defense.
I'm going to come clean: I had the Saints as my Super Bowl pick from the NFC. So should I now get off the bandwagon?
Just as they likely won't fluster, neither will I. I'll do what I often do in times of stress and make a list of the reasons to stay faithful and another to flee to greener pastures. The bad news: The Saints' negatives outweigh the positives through the first two weeks.
September, 15, 2014
Sep 15
10:00
AM ET
CLEVELAND -- Whatever had
New Orleans Saints
running back
Mark Ingram
so upset on the sideline last week, he seems to have sprinted past it.
Ingram had another terrific performance Sunday as he's off to the best start yet in his four-year career. He ran the ball 11 times for 83 yards and a touchdown and caught three passes for 21 yards in the Saints' 26-24 loss to the Cleveland Browns.
[+] Enlarge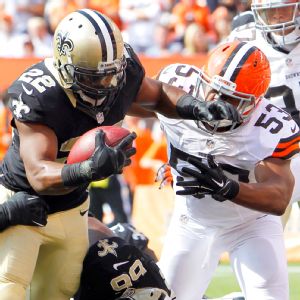 Ron Schwane/USA TODAY SportsMark Ingram is averaging 6 yards per carry over the first two games of the season.
Afterward, Ingram spoke with the media for the first time in more than a week. And though he didn't offer any specific details about what had him throwing his helmet and stalking away from coaches and teammates on the sideline the previous week in Atlanta, Ingram generally explained that it was an example of his competitive nature.
"Just a competitor. I want to win," Ingram said. "It was a back-and-forth game. I just want to win games."
As for his relationship with coach Sean Payton, with whom Ingram appeared to be upset in Week 1: "We're great. Me and coach are great."
One thing we do know: Ingram's performance has been inspired ever since that moment.
At the time, Ingram had four carries for 11 yards on the season, all in the first quarter against the Falcons. Then he was sidelined for nearly two full quarters while the Saints gave
Khiry Robinson
and
Pierre Thomas
more touches.
Since then, Ingram has run for 132 yards and three touchdowns on 20 carries over the past six quarters.
Maybe he's running "angry." Maybe he realizes that he needs to maximize every touch. But Ingram insists that he's playing with the same emotion he always has.
"I'm emotional all the time, although I don't maybe show it all the time," Ingram said. "I just try to harness it and use it to be a positive and not a negative."
Once again on Sunday, it took a little while for Ingram and the Saints' run game to get unleashed. The offense was a mess for much of the first half, with crowd noise and Cleveland's pass defense conspiring to force a turnover, four punts, a botched snap and two unwanted timeouts.
But once the Saints finally diagnosed that Cleveland's defense was sitting back in coverage (sometimes with seven defensive backs on the field at once), they started to feed the run game.
The Saints finished with 174 yards on 27 carries (thanks in part to a 28-yard end-around by receiver
Brandin Cooks
).
Payton shrugged off a question when asked why he kept rotating his backs when Ingram clearly had the hot hand (Robinson finished with 31 yards on eight carries; Thomas 16 yards on three carries). Both Payton and
Drew Brees
suggested they're perfectly content to keep all their backs fresh in a rotation.
And for now, at least, Ingram insists he's content, too.
"I'm just ready when my number's called, do whatever I can to be the best player I can to help this team out," he said. "I just want to win games."
September, 15, 2014
Sep 15
8:00
AM ET
CLEVELAND -- For the first time in 87 games,
New Orleans Saints
receiver
Marques Colston
didn't catch a pass.
Colston
The leading receiver in franchise history had caught at least one pass in every game he played since Week 7 of the 2008 season (when he was limited while coming back from a hand injury).
But in Sunday's 26-24 loss to the
Cleveland Browns
, Colston wasn't even targeted once while playing the entire game.
It's been a rough season so far for Colston, whose overtime fumble led to the
Atlanta Falcons
' game-winning field goal last week. But Colston hardly deserves any singular blame in this one.
The Browns made it their mission to shut down New Orleans' downfield passing game. At times Cleveland had seven defensive backs on the field at once -- a tactic that frustrated
Drew Brees
into a sack and interception in the first half.
Ultimately, the Saints made the Browns pay by running the ball for a total of 174 yards and completing 10 passes for 118 yards and two touchdowns to tight end
Jimmy Graham
. But they had to find a way to do it without their wide receivers.
Fellow receiver
Brandin Cooks
was also held to three catches for 17 yards (after being held to one catch for one yard through three quarters). The Saints' four receivers combined for a total of nine catches for 79 yards.
When Brees was asked why the Saints didn't lean even more heavily on the running game, he offered some interesting insight.
The Saints often script their first 15 plays or so, intentionally mixing formations and personnel groups to gain as much information as possible about defenses. Then they adjust based on where they see chances to exploit weaknesses. It's one of Sean Payton's great strengths.
That happened again Sunday -- it just took a little longer since the Browns' defense was equally multiple with looks and personnel groupings.
"Early on, you're just trying to figure out who's who," said Brees, who said the Saints' early communication problems and mistakes like a bobbled snap and sack "gave them reasons to get them hyped up and get the crowd involved" before the Saints started to "right the ship."
"Here's the thing. We got to it," Brees said of the run game. "It didn't necessarily start off seven DBs. You know, we're varied in our personnel groups. We're bringing in two halfbacks at times, three tight ends, four wide receivers. We do a lot of stuff.
"And then I'd say they were as multiple on defense as we were on offense. There's times where we'd have three tight ends in the game and then another time they'd play nickel and then even dime. You just had to just be aware, have good communication. Then I feel like once we got past the first quarter, we really had a good beat on that. And obviously the game was well within reach."
Sure enough, here's how the Saints' drives ended, in order:
Punt (1 yard)

Punt (-2 yards)

Punt (10 yards)

Punt (24 yards)

Field goal (73 yards)

Interception (12 yards)

Touchdown (85 yards)

Touchdown (57 yards)

Touchdown (80 yards)

Punt (52 yards)

Brees passes Elway:
It's fair to assume Brees didn't relish the fact that he passed John Elway for fourth place on the NFL's all-time passing yardage chart. But I can't say for sure since no one bothered to ask him. Brees has now thrown for 51,651 yards.
It will be a couple years before Brees cracks the top three, though (Brett Favre 71,838,
Peyton Manning
65,475 and counting, Dan Marino 61,361).
Odds against 0-2 teams:
Brees always talks about relishing the idea of defying the odds and doing things teams haven't done before. Well, he's got that chance now that the Saints are 0-2. According to ESPN Stats & Information, only 12 percent of teams that started 0-2 since 1990 made the playoffs (23 of 198).
The Saints have started 0-2 twice since Brees has been in New Orleans -- in 2007 and in 2012 (when Payton was suspended). In both cases, they started 0-4.
I'm willing to bet that won't happen with their home opener coming next week against the
Minnesota Vikings
in the Mercedes-Benz Superdome, where New Orleans went 8-0 last year. It's a should-win game and a must-win game.
Worth noting:
This was the first time with Payton coaching (not counting 2012) that the Saints had lost a game when rushing for at least 150 yards. They're now 21-1.
Saints running back
Mark Ingram
became just the fourth Saints player to score three touchdowns in the first two weeks of a season (Danny Abramowicz 1971, Chuck Muncie 1977, Colston 2009).
September, 14, 2014
Sep 14
10:00
PM ET
CLEVELAND -- As
New Orleans Saints
coach Sean Payton said after Sunday's
26-24 loss
to the
Cleveland Browns
, cornerback
Patrick Robinson
was hardly the only one with "muddy hands."
[+] Enlarge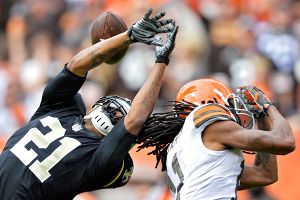 David Richard/AP PhotoSaints CB Patrick Robinson breaks up a pass to Browns receiver Travis Benjamin in the second quarter during Sunday's Week 2 game.
But no individual player will be more under the microscope going forward than the Saints' No. 2 cornerback, who was demoted to the role of nickel cornerback after two blown coverages in the first quarter Sunday.
"He's an easy target. I'm sure there's a ton of stuff he'll want to clean up. But there's a lot of muddy hands just to be singling out one player," Payton said. "He's gonna work to improve, and we've gotta look overall at how we're helping not just him, but the rest of those guys."
Payton later added he understands why the media had questions about Robinson. And the mid-game switch was reminiscent of Payton yanking left tackle
Charles Brown
from the starting lineup late last season.
But when asked if he might make a permanent switch, Payton said, "I'm not gonna discuss changes on Sunday after a game."
The Saints have other options -- but no sure things at a position that has become a much bigger concern than hoped this summer, when Robinson, Champ Bailey and
Corey White
were fighting for the role.
White was the one who replaced Robinson in base defense Sunday -- which could potentially become a permanent switch. And Bailey remains unsigned on the open market, so he can't be ruled out as a possibility.
The Saints have two rookie corners on the roster in
Brian Dixon
and Stanley Jean-Baptiste, though both are still developing players. Jean-Baptiste has been inactive for both games so far, while Dixon has been used on special teams.
Or the Saints could continue to show the faith in Robinson that they showed in him when he beat out Bailey for the starting job in the first place this summer.
Robinson, a first-round draft pick in 2010, has had a roller-coaster career because of inconsistent play and injuries. But players and coaches have always raved about his raw talent and athleticism.
It's Robinson's confidence and consistency that need work. And it's hard to imagine these first two weeks have helped with Robinson's confidence. He also got beat for two deep balls last week at Atlanta.
"Just got to keep working," Robinson said Sunday, according to The Advocate. "You've got to keep working to get it right. Well, I'm not sure it's going to come overnight -- just have to keep working on my assignments, my technique. Simple as that."
Robinson's struggles began on the Browns' second series, when he was flagged for a 19-yard pass interference penalty on a third-and-7 play, even though the pass intended for receiver
Taylor Gabriel
was overthrown. Then, five plays later, Robinson got beat by a double move on a 3-yard touchdown pass to
Miles Austin
.
On the next series, after he had been demoted to nickelback, Robinson was flagged for a neutral zone infraction, which nullified a missed field goal by Cleveland.
Robinson did settle in better for the rest of the game -- at one point making a great play to bat away a deep pass. But he added one more defensive holding penalty on the Browns' final offensive penalty (which would have been more egregious if the Browns hadn't declined the penalty because of an even worse coverage breakdown across the field).
September, 14, 2014
Sep 14
9:15
PM ET
CLEVELAND -- Maybe
Jimmy Graham
has had more impressive days. But the
New Orleans Saints
tight end was never more important than Sunday.
It may seem like a moot point, since the Saints ultimately lost 26-24 to the
Cleveland Browns
in the final seconds. But Graham was the single biggest reason why the Saints were in a position to win after starting in a 16-3 hole.
[+] Enlarge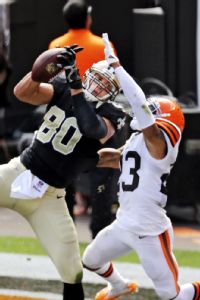 AP Photo/Tony DejakJimmy Graham tied a career high with 10 receptions against the Browns.
Graham didn't have a catch at that point in the game, with less than four minutes remaining in the first half. But he finished with 10 catches (matching a career high) for 118 yards and two touchdowns.
"That's why they're paying him so much money. That's why he's asking for that much, he's that kind of impact player," Browns linebacker
Karlos Dansby
said, referencing the four-year, $40 million deal Graham signed this offseason. "We held him in check for a little, then he got loose and made his plays."
On a day when nothing else seemed to be working for the Saints' passing offense, Graham delivered time and again. No matter who was covering him -- including Cleveland Browns Pro Bowl cornerback
Joe Haden
, whom Graham beat twice for big plays in tight man coverage.
"When you're 6-7, 260 and you can run like a deer and jump out of the gym, you're hard to cover," Saints quarterback
Drew Brees
said. "So obviously you saw him make some plays today. I thought he played exceptionally well."
When asked if he ever gets in one of those zones where he feels like no one can stop him, Graham said, "You know, I'm not that cocky. But I'm confident that if Drew throws it up, I'm gonna try to get it for him."
Graham certainly helped to dispel the myth that he can be taken out of games by a top cornerback.
Two of his biggest plays came when he was being blanketed by Haden – a 9-yard TD pass with three seconds left in the first half and a 20-yard pass to the 3-yard line that set up another TD in the fourth quarter.
The notion that Graham doesn't have the same impact when covered by cornerbacks became popular when the New England Patriots'
Aqib Talib
had success against him last year. And it was oft-mentioned when Graham was trying to be declared a receiver for franchise-tag purposes this summer.
But Graham proved that his size advantage can still prove too much for even top cornerbacks.
When asked if he invites teams trying to cover him that way, Graham said, "Yeah, I guess. If they're gonna cover me with a cornerback, I've gotta find a way to get open."
Graham also added high praise for Haden, who certainly had a successful day aside from those two plays.
The Browns' passing defense did an outstanding job of frustrating Brees and his receivers throughout the day. At times, they had seven defensive backs on the field, leaving no one open -- and sometimes leading to costly results.
That pass coverage led to Brees being sacked against the goal line in the first quarter when he held the ball too long. It led to an interception return for a touchdown in the second quarter when Brees heaved one over Graham's head under pressure. And it kept receiver
Marques Colston
without a catch (or even a single target) for the first time in 87 games.
But the Browns couldn't find an answer for Graham.
"Jimmy Graham is a special player that has a special talent," Haden said. "I ran up to him after the game, and we just both paid homage. He was telling me how good I was at corner, but he is just a really big target. Sometimes it is really hard to make plays on the ball; you have to try and get under him. Once he gets that big frame in front of you, it's kind of hard to hit that ball."
September, 14, 2014
Sep 14
8:19
PM ET
September, 14, 2014
Sep 14
7:30
PM ET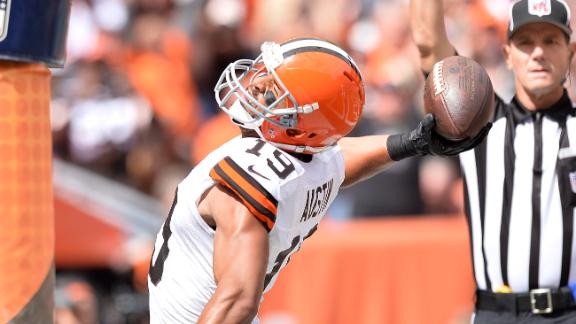 CLEVELAND -- "Finish Strong."
It's one of the most famous expressions in the history of the
New Orleans Saints
-- the slogan for their 2009 Super Bowl season.
Well, it might be time to dust off those old T-shirts again. Because the Saints are a stunning 0-2 after losing each of their first two games in the final seconds.
[+] Enlarge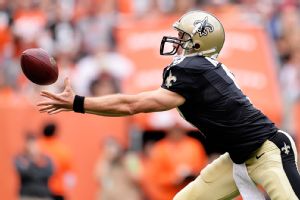 Jamie Sabau/Getty ImagesDrew Brees and the Saints couldn't quite get a handle on the Browns and fell to 0-2.
That word, "finish," was practically the first one out of every player's and coach's lips Sunday after the
Cleveland Browns
kicked a game-winning field goal with three seconds left to cap a 26-24 victory over New Orleans. As quarterback
Drew Brees
said, the Saints are "literally" two plays away from being 2-0.
Yes, everyone recognized that the game was filled with plenty of ugly moments, including cornerback
Patrick Robinson
's early struggles and Brees' interception that was returned for a touchdown and an early 16-3 Cleveland lead.
But for the second straight week, the Saints were leading the game when the clock was down to single digits.
And there were no bigger regrets than the blown coverage that set up Cleveland's game-winning field goal or the sack that knocked the Saints out of field-goal range three minutes earlier.
"There's a fine line between winning and losing. A fine line," said Brees, who pointed out that last year, the Saints also had two up-and-down games to start the season but they made those plays in the final seconds and started 2-0.
"The challenge in this locker room this week is going to be to stay together, to be tight, to understand that the difference between us being 2-0 and 0-2 is making plays at the end. And that's both sides of the ball," insisted veteran offensive tackle
Zach Strief
, who pinned the loss as much on the offense as the defense. "We had opportunities two weeks in a row to close that game out. And we didn't do it either time."
There were no innocents in the Saints' loss Sunday. As coach Sean Payton said when asked specifically about Robinson's series of costly mistakes in the first quarter, "There's a lot of muddy hands to just to be singling out one player."
But in the spirit of not being able to finish, most of the blame from this one will fall on the secondary, which saved its ugliest miscue for last.
Cleveland won the game with a 14-play, 85-yard field goal drive after starting on its own 4-yard line. The dagger was the final pass -- a 28-yarder to wide-open receiver
Andrew Hawkins
with six seconds left at the Saints' 11-yard line.
The Saints went with a blitz and man coverage on the play, which Browns players said surprised them. And at least one Saints defender missed his assignment. Cornerbacks
Keenan Lewis
and
Corey White
both went to cover receiver
Miles Austin
out of a trips formation on the right side.
No one covered Hawkins.
To make matters worse, Robinson was also flagged for defensive holding across the field on the play -- a penalty the Browns declined.
"Little things like that are troubling," Payton said in the understatement of the day.
White said after the game that the Saints were still "trying to figure out" what went wrong on that play, but he didn't shy away from the responsibility.
"When it comes down to the last play, you've got to make it," White said. "It doesn't matter what happens before that. We always talk about, 'Next play.'"
There were some positives for the Saints' defense. Those missed tackles that plagued them last week at Atlanta were cleaned up quickly. And the Saints gave up a total of only 202 passing yards on Sunday.
But 76 of those yards came on the final drive.
"Obviously we've gotta fix something. That's two losses where we didn't finish," Saints safety
Kenny Vaccaro
said. "We've just got to get together and do more, man."