New Orleans Saints:

Atlanta Falcons
January, 29, 2014
Jan 29
8:00
AM ET
Morten Andersen
said it would be "awesome" to be selected for the Pro Football Hall of Fame on Saturday. Not just for himself and those who helped him along the way -- but for the entire kicker fraternity.
Andersen, who spent the majority of his 25-year career kicking for the
New Orleans Saints
and
Atlanta Falcons
, said this week that he's also rooting for fellow finalist Ray Guy to become the first punter enshrined.
[+] Enlarge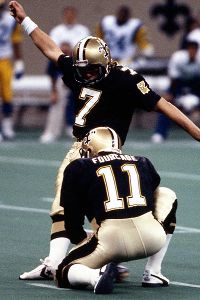 AP Photo/NFL PhotosKicker Morten Andersen is the NFL's all-time leader in points (2,544) and games played (382).
"I think it's due time for a kicker or punter to get into the Hall so Jan Stenerud has some company," Andersen said -- referring to the only true kicker in Canton -- who was enshrined 23 years ago.
"I think the time is right," Andersen said. "I think kickers have been at the forefront for the last number of years, playing at a high level. More games than ever are being decided by three points or less. The position is relevant.
"And it's being talked about. These guys are getting so good that we have to change the rules."
Andersen referenced a handful of rules "tweaks" in recent years, as well as the growing talk about possibly eliminating the extra point -- which, by the way, he is not in favor of. ("That's like messing with apple pie and Chevrolet," Andersen said. "Make it longer maybe, but I just don't think you abolish it.")
"The most important thing," Andersen said of his Hall of Fame hopes -- whether it be himself or Guy or Gary Anderson or
Adam Vinatieri
or someone else kicking down the door, "I want to recognize the position in the context of the history of the game. (Kickers in recent generations) have made a significant contribution and also changed the way the position was viewed.
"I think you can make that argument for Ray Guy. I won't say whether you can make that argument for me -- I'll let you decide. But I think there are several guys who have."
It's not hard to make that argument for Andersen.
The "Great Dane," who came to the NFL by way of his native Denmark and Michigan State, is the NFL's all-time leading scorer with 2,544 points and the league's all-time leader with 382 games played. Andersen scored at least one point in 360 consecutive games -- which is the most in NFL history by nearly 100 games. He was a member of the NFL's all-decade team for both the 1980s and 1990s, a seven-time Pro Bowler and a five-time All-Pro.
Andersen is the leading scorer in both Saints and Falcons history. He was a go-to guy for coaches like Bum Phillips, Jim Mora and Dan Reeves. He was on four Saints playoff teams, and kicked the Falcons into the Super Bowl in 1999 with a 38-yard field goal in overtime of the NFC Championship Game against the
Minnesota Vikings
. Andersen also spent time with the
New York Giants
,
Kansas City Chiefs
and Minnesota Vikings.
And he wasn't just a "compiler." He had one of the game's strongest legs. He set then-records for most 50-yard field goals in a season (eight in 1995) and a career (40).
Andersen's biggest hurdle to Hall enshrinement is probably his accuracy. He was good in that department, but not elite (79.7 percent for his career). That is probably why he didn't make the list of 15 finalists last year in his first year of eligibility. But he's making progress, having cracked the final 15 in Year 2.
When asked what he is most proud of in his career, Andersen said, "I would say consistency over a long period of time."
"Scoring in 360 consecutive games, when the next guy (at the time) had 180-some games, that's sort of a record no one ever talks about. But it's significant. That's a lot of games," Andersen said. "Just the high level of consistency over a quarter-century, that's what I'm most proud of. And then being able to deliver big kicks when they counted, when the game was on the line."
Andersen said he never envisioned a 25-year career when he started out. In fact, he wasn't sure he'd make it past Year 1 after he suffered an ankle injury during his opening kickoff with the Saints as a rookie in 1982. And he only made 2 of 5 field-goal attempts in that strike-shortened season.
"I'm just very fortunate that Bum Phillips gave me a chance to stay around for a couple years," Andersen said. "It didn't start out too well."
Andersen spent his first 13 NFL seasons in New Orleans after arriving as a fourth-round draft pick. Then he spent a total of eight seasons in Atlanta in two different stints with the Falcons.
He now lives north of Atlanta, where he started an international consulting company and remains heavily involved in charity work. But Andersen also still has strong ties to New Orleans. In fact, he'll be in New York for the Super Bowl this weekend, representing New Orleans for the third straight year in the annual Taste of the NFL charity event, along with Commander's Palace chef Tory McPhail.
It's hard for Saints and Falcons fans to imagine that anyone could have such a close bond with both rival franchises. And of course, Andersen has been asked often over the years whom he would represent if he had to choose one in the Hall of Fame. Luckily for him, that is not a concern since there is no helmet on the Hall of Fame busts.
"It would be a nice bridge to cross if I ever get to it. I'll just say that," Andersen said. "But I think most of my body of work was in New Orleans, my formative years were there. I would be hard-pressed not to look at that. ...
"Just being a part of that culture and that team, I realized that no one is bigger than the game. Those fans are so die-hard down there, it's almost like a religious experience, how the people loved the team down there. And becoming a part of a community and working with places like Children's Hospital, you understand what a huge platform you have."
Both cities will celebrate Andersen's induction if it happens. But perhaps neither city will be as proud as his native Denmark.
"Oh, absolutely, they're keeping a close eye, I can tell you that," Andersen said. "It would be front-page news."
November, 21, 2013
11/21/13
7:00
PM ET
By
ESPN.com staff
| ESPN.com
Join our ESPN.com NFL experts for Thursday night football as the New Orleans Saints face off against divisional rivals the Atlanta Falcons.
Contribute your thoughts and questions beginning at 8:30 p.m. ET. See you there.
November, 21, 2013
11/21/13
10:00
AM ET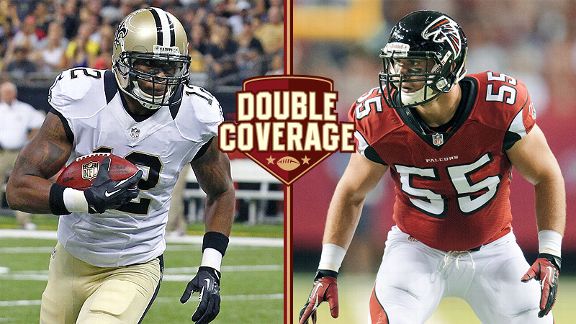 AP PhotoPaul Worrilow, right, and the Falcons defense will try to slow down Marques Colston and the Saints.
Atlanta Falcons
head coach Mike Smith seemed annoyed by the question, but he answered it.
A reporter asked Smith this week if he is concerned about there being more
New Orleans Saints
fans than Falcons fans at the Georgia Dome on Thursday night.
"Absolutely not," Smith said. "Our fans, I think, are the best in the NFL. We've got a great record since we've been here in terms of winning football games. They've been very supportive. I know that they are disappointed and they are discouraged, but there's nobody more disappointed and discouraged … than us here in this building and on this football team.
"We certainly hope that they'll be out there supporting us this week. It's a big division game."
The matchup would be much more intriguing if the 2-8 Falcons were on pace with the 8-2 Saints. But that's a far-fetched scenario now.
ESPN.com Falcons reporter Vaughn McClure and Saints reporter Mike Triplett break down the NFC South clash:
McClure
: Hey Mike, I know the Saints hold a decisive edge going into this game, but this is quite a rivalry and there is much hatred between the teams. Did any of the players give any specific examples of the bad blood that exists when these rivals collide?
Triplett
: No one really mentioned bad blood, but we know it exists from past examples. And no one denies the passion that exists in these annual matchups, even on these rare occasions when one of the teams is out of the playoff race. A few Saints players compared it to a college rivalry, like Stanford-Cal, insisting that the records don't matter when they square off. I think they'd also like to exorcise a few demons from their ugly Thursday night performance at Atlanta last season, so the Falcons shouldn't cling to any hopes that this might be some sort of trap game for New Orleans.
Vaughn, I haven't watched the Falcons too closely this season, but I keep being surprised that the hole gets deeper and deeper (especially after last week's loss to the
Tampa Bay Buccaneers
). Any signs that they're close to putting things together?
McClure
: I don't see the Falcons rebounding this season, not with the Saints,
San Francisco 49ers
,
Green Bay Packers
and
Carolina Panthers
still left on the schedule. They have to start building momentum for next season. I believe Coach Smith has already started the process by giving players such as center
Joe Hawley
, running back
Antone Smith
, tackle
Ryan Schraeder
and safety
Zeke Motta
more playing time. I wouldn't say that the Falcons are tanking it for a draft pick, but having a top-five selection has to be in their minds.
Smith talked about looking at scheme in terms of turning things around. I could see the Falcons running the ball more to balance out the offense. And defensively, they have to consider dialing up more blitzes to generate pressure, because the front four is not getting it done. They'll have a tough time contending with
Drew Brees
. Certainly Brees is itching for the opportunity to pick the Falcons apart, correct?
Triplett
: Yes, Brees should be the Falcons' biggest concern, as usual. He's playing about as well as ever. Even when he hasn't been dominant throughout games, he's been clutch in the fourth quarter. And he's as competitive as it gets, so he certainly hasn't forgotten his shockingly bad performance at Atlanta last season (five interceptions).
I'm not sure it would do much good to blitz Brees. Three of his biggest throws this past week came when the 49ers blitzed. The best formula for slowing down the Saints passing game has been getting physical with receivers at the line of scrimmage to disrupt routes and playing solid man coverage.
The best news for Atlanta is that
Jimmy Graham
and
Darren Sproles
are both a little banged up (Sproles' status is questionable). How will the Falcons match up against Graham in coverage?
McClure
: In watching the last game between the teams, I saw at least three different defenders try to match up with Graham, and Graham had no problem going up against Falcons safety
Thomas DeCoud
. In fact, Graham scored a 7-yard touchdown after DeCoud was late getting over in coverage. It will be hard to match up one-on-one against a player as talented as Graham -- no matter if his foot and elbow are still bothering him -- so I could see some bracket coverage. But I will mention that linebacker
Sean Weatherspoon
, who just returned to the lineup from a Lisfranc foot sprain, did an excellent job covering Graham on at least one play in Week 1. And I saw Weatherspoon working hard last week on his coverage skills coming off the injury.
Mike, I see the Saints lost cornerback
Jabari Greer
for the season with a torn ACL. The Falcons have
Roddy White
back somewhat healthy and have gotten great production from
Harry Douglas
. How will Greer's absence affect the Saints in terms of defending a capable receiving corps?
Triplett
: That's a great question, because the Saints' play at cornerback has really been one of the underrated reasons for their success this season. Their top corner has been
Keenan Lewis
, who is playing at a Pro Bowl level and generally shadows the opponent's top receiver. But Greer has been very reliable as the other starter, allowing the Saints to trust those guys in single coverage quite a bit.
The Saints have decent depth behind Greer. They're going to be counting on second-year cornerback
Corey White
, who has shown a lot of promise but will likely face a few growing pains. His performance will be worth watching, because I'm sure the Falcons will test him out. Of course, it helps the Saints that they don't have
Julio Jones
to deal with, so they won't feel too sorry for themselves.
September, 8, 2013
9/08/13
4:21
PM ET
NEW ORLEANS -- My thoughts on the
New Orleans Saints
'
23-17
win against the
Atlanta Falcons
:


What it means:
It means New Orleans has the early lead in the NFC South race. The Saints held serve. No team has ever repeated as champion in the division since realignment in 2002, which is what the Falcons are trying to do. The Saints have other ideas, especially now that they have coach Sean Payton back. It's early, but the advantage goes to New Orleans.
Stock watch, Part I:
The Saints' defense looked much, much better. You know the deal with the New Orleans defense. It was historically bad in 2012, which cost Steve Spagnuolo his job as defensive coordinator after just one season. Enter former Dallas defensive coordinator Rob Ryan. Even with a decimated linebacking corps, the Saints were able to have an aggressive defense that held its own in coverage, and by midway through the first half they were getting pressure on Atlanta quarterback
Matt Ryan
and his suspect offensive line. The Saints' goal-line stand at the end of the game was the difference between a W and an L.
Stock watch, Part II:
Because of a thigh injury to veteran cornerback
Asante Samuel
, fourth-year cornerback
Robert McClain
started on the outside opposite rookie
Desmond Trufant
, the Falcons' first-round draft pick. That meant fellow rookie
Robert Alford
started as the nickel cornerback (instead of McClain). All three corners were tested early, and Alford had an interception that he basically took away from New Orleans wide receiver
Marques Colston
. The future at cornerback looks bright for the Falcons.
Where was Osi?
Former
New York Giants
defensive end
Osi Umenyiora
was one of the Falcons' big offseason acquisitions, stepping in for
John Abraham
as one of the team's primary pass-rushers. While Smith praised Umenyiora's leadership and locker room presence, Umenyiora was a nonfactor on the field.
What's next:
The Falcons host the
St. Louis Rams
at 1 p.m. next Sunday. The Saints travel to the
Tampa Bay Buccaneers
for a 4:05 p.m. start.
September, 8, 2013
9/08/13
10:00
AM ET
By
ESPN.com staff
| ESPN.com
Join our ESPN.com NFL experts as they break down the Atlanta Falcons' visit to the New Orleans Saints. Contribute your thoughts and questions beginning at 1 p.m. ET. See you there.
September, 5, 2013
9/05/13
1:00
PM ET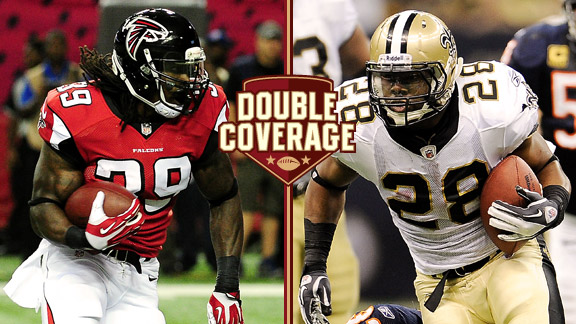 Getty ImagesSteven Jackson and Mark Ingram will try to bring more balance to two pass-heavy offenses.
Sean Payton is back to right the wrongs of last season, when his
New Orleans Saints
went off the rails in his absence. The first test of the season is a fitting one: The Saints open against their hated NFC South rivals, the
Atlanta Falcons
, who ran away with the division last season even though they split with New Orleans.
Have Payton and new defensive coordinator Rob Ryan fixed that horrid defense of a year ago? Will the Saints have much of a running game? Can the Falcons protect their franchise quarterback and give him time to find his myriad weapons?
ESPN.com NFL columnist Ashley Fox and NFC South blogger Pat Yasinskas discuss what Saints and Falcons fans can expect from the latest installment of this heated rivalry.
Fox:
He's back. It is redemption time for Payton after missing a year because of the bounty scandal. I'm sure, given how beloved Payton is in New Orleans, that the Mercedes-Benz Superdome will be so loud it might lift off. I've seen different estimates for Payton's worth. How many wins do you think he's worth to the Saints?
Yasinskas:
I think Payton's presence instantly takes the Saints from a nonplayoff team to a playoff team. His skills as an offensive guru are well known, and that certainly will help. But I think the more subtle benefit to having Payton back is his skill as a motivator. He's a master in that area, and he'll have his team ready for big games. Speaking of changes that came in the offseason, what do you think was the biggest move for the Falcons?
Fox:
To me, the biggest change was the addition of
Steven Jackson
. As you well know, the Falcons struggled to run the ball late last season, when
Michael Turner
clearly had nothing left in the tank. I know Jackson has hit the age when running backs typically decline, but the Falcons don't need him to carry the load. They're going to pass to get a lead and run to win the game. As long as he can stay healthy, Jackson should be able to do that. How effective do you think the Saints' running game will be?
Yasinskas:
That's a very timely question. Several times this offseason, Payton has said he wants more out of his running game. The Saints always are going to be a pass-first team. But if you look back at their Super Bowl year, their running game ranked in the top 10. Payton wants to get back to that, and I believe he has the tools to do that with
Pierre Thomas
,
Darren Sproles
and
Mark Ingram
. I think you'll see more of Ingram this year. He's a guy who needs 10 to 15 carries to get going, and he can bring more balance to the offense. Speaking of balance, the Falcons seem to have plenty of that. How potent is their offense going to be?
Fox:
I think they have a chance to be as potent, if not more so, than last season. The newly signed
Matt Ryan
has all of his toys back --
Roddy White
,
Julio Jones
,
Harry Douglas
and
Tony Gonzalez
. He threw for more than 4,700 yards last season and set career highs for completion percentage, attempts and completions. He could break those again this season. It will be interesting to see if the preseason, when the Falcons were flagged for countless penalties, was an aberration. They were the least penalized team in NFL history last season. As far as setting NFL records, the Saints' defense did last season and not in a good way. Do you think it is going to be any better this season under Ryan?
Yasinskas:
It's hard to imagine the New Orleans defense being any worse than it was a year ago. Things just never worked for former coordinator Steve Spagnuolo. I think there will be improvement with Ryan, but I'm not sure how significant it will be. The Saints are switching from a 4-3 to a 3-4 scheme, and I'm not sure they have all the personnel they need to be successful. Time will tell, but it's more than fair to say the defense is the biggest question mark for the Saints. Speaking of question marks, do the Falcons have any glaring weaknesses?
Fox:
It is the offensive line. If Ryan is worth his salt as a defensive coordinator, he will strike the right side of the Falcons' line. That's where the potential problems are. After 13 seasons and 194 starts, center
Todd McClure
retired after last season.
Peter Konz
, who started nine games as a rookie at right guard, slides back to his natural position at center. Left guard Justin Blaylock and left tackle
Sam Baker
are veteran rocks. That's not the problem. The Falcons let right tackle
Tyson Clabo
walk in free agency. His replacement,
Mike Johnson
, broke his leg during training camp. Johnson's replacement,
Lamar Holmes
, was bad enough in the preseason that the Falcons signed
Jeremy Trueblood
earlier this week. Right guard
Garrett Reynolds
missed the second half of last season with an injury. How do you think Ryan will try to exploit the weakness?
Yasinskas:
I agree with what you said about Atlanta's offensive line. It potentially could be a huge problem, and I'm sure Ryan is well aware of that. I'd look for him to try to exploit the right side of the line as much as possible. But the Saints have had their share of injuries on defense, and it still isn't clear how they'll apply pressure. Defensive end
Cameron Jordan
really is the only proven commodity as a pass-rusher. The Saints have big hopes for outside linebackers
Junior Galette
and
Martez Wilson
, and those guys need to become forces in a hurry. Atlanta has so many offensive weapons that the Saints need to get some pressure on the quarterback. Speaking of Atlanta's offensive weapons, is White completely healthy?
Fox:
The Falcons better hope so. And they say he is, more or less. White sprained an ankle in the second preseason game but finally returned to practice this week. He is Mr. Reliable, having started 128 straight games, and had only two drops last season, according to ESPN Stats & Information. Only Arizona's
Larry Fitzgerald
had fewer among receivers who were targeted at least 100 times. So the Falcons need White to be healthy and productive. What's up with the Saints' third receiver situation?
Yasinskas:
The Saints just brought back
Robert Meachem
, who didn't work out as a free agent in San Diego. I think Meachem can get back to being an impact player as a third or fourth receiver in time. But I think the Saints will open the season with rookie
Kenny Stills
as their third receiver. He has big-time speed, and the Saints need a downfield weapon to go along with
Marques Colston
and
Lance Moore
. Stills is an under-the-radar player who could have a big impact on this game. Do you see any Falcons who fall into that same category?
Fox:
There are two undrafted rookie free agents on defense who won't start but should see plenty of action. One is
Joplo Bartu
, a 6-foot-2, 230-pound linebacker out of Texas State. The other is
Paul Worrilow
, a 6-foot, 230-pound linebacker out of Delaware. Both are unheralded guys who are big and strong and really caught the coaches a little by surprise. Remember those two. OK, so give me a prediction. Who wins?
August, 29, 2013
8/29/13
8:22
AM ET
Time for a quick run through the morning headlines:
ATLANTA FALCONS
D. Orlando Ledbetter writes that the Falcons will be
watching the waiver wire
for help on the offensive line. They should be, because the offensive line hasn't looked good in the preseason. And it remains to be seen if Lamar Holmes is ready to be the starter at right tackle.
NEW ORLEANS SAINTS
Larry Holder tops off his list of five
players to watch
in the final preseason game with receiver Preston Parker. He appears to be in competition with Andy Tanner for the final roster spot. But Parker could have the advantage because he also has ability in the return game.
TAMPA BAY BUCCANEERS
Defensive end Da'Quan Bowers said fans shouldn't be concerned about the team's lackluster showing in the preseason. Bowers said the Bucs intentionally have kept things
bland
and will unveil a lot more flash in the regular season. I think what Bowers said is very true. The Bucs have been very cautious and not shown much in the preseason. They're saving it up for the regular season.
August, 27, 2013
8/27/13
11:10
AM ET
Last week, we made a big deal about how Tampa Bay quarterback
Josh Freeman
had taken so few snaps in the first two preseason games.
Well, that trend changed in the exhibition game against Miami on Saturday night. Freeman played 41 snaps (although he was ineffective for most of the game). That means he now has played 62 snaps this preseason. That leaves Freeman tied for 25th among
the presumed 32 starting quarterbacks
.
Freeman isn't even the least used NFC South quarterback anymore. That honor now belongs to
Drew Brees
, who is No. 27 with 60 snaps.
Carolina's
Cam Newton
is No. 11 with 80 snaps an Atlanta's
Matt Ryan
is tied for ninth at 81.