New Orleans Saints:

2013 Week 11 SF at NO
November, 18, 2013
11/18/13
1:30
AM ET
NEW ORLEANS --
Marques Colston
said he was aware he became the
New Orleans Saints
' all-time leader in receiving yards when he caught his first pass Sunday -- a 14-yarder in the third quarter. But he said at that point in the game, the Saints had more important things to worry about. Like coming from behind to beat the
San Francisco 49ers
,
23-20
.
And true to form, Colston helped them do that. He caught four more passes for 66 yards in the fourth quarter -- including a 20-yard catch with 50 seconds remaining to help set up the game-winning field goal.
"It's obviously an awesome feeling, but it's one that I'll kind of wait until the offseason to reflect on. We've still got a lot of football left to play this year," said Colston, who broke Eric Martin's franchise records for receiving yards and yards from scrimmage.
Colston now has 7,923 receiving yards and 7,930 yards from scrimmage in eight NFL seasons. He also holds the franchise records for receptions (571) and total touchdowns scored (60).
"It's awesome," said Saints quarterback
Drew Brees
, who has thrown all 60 of those touchdown passes to Colston -- the seventh most prolific duo in NFL history. "I thought about this today; I think it is very cool that we have a Ring of Honor now. We had the first three members inducted last week: Archie Manning,
Rickey Jackson
and
Willie Roaf
. I was looking up there at those names and I couldn't help but think of the guys on this team that will be up there. Marques Colston is one of those guys. I'm fortunate to have played with him the last eight years. Hopefully we have quite a few more together."
November, 18, 2013
11/18/13
12:50
AM ET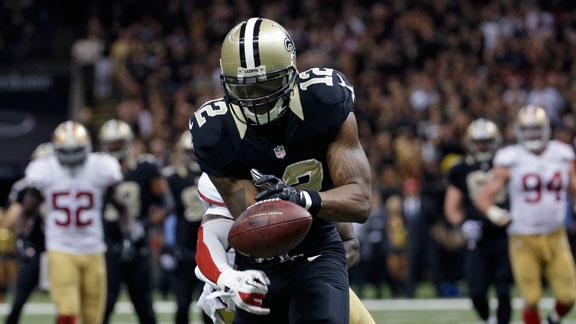 NEW ORLEANS -- You thought the
New Orleans Saints
proved how dangerous they were last week, when they played a nearly perfect game in a blowout victory over the
Dallas Cowboys
?
Well, the Saints took it up another notch on Sunday with a scrappy, sometimes-ugly
23-20 victory
over the
San Francisco 49ers
.
This was the performance that truly showed the Saints' mettle as Super Bowl contenders.
San Francisco was the team that had given the Saints fits in each of the past two years. This was the style of game New Orleans hadn't been able to win consistently enough, including two weeks ago in a sloppy loss to the
New York Jets
. And it's the style of game they'll have to face again, with looming dates on the road against the NFC-leading
Seattle Seahawks
in Week 13 and two games against the NFC South rival
Carolina Panthers
.
"This is the biggest win up to date, I think, at the start of my career," said fourth-year Saints outside linebacker
Junior Galette
, who highlighted another outstanding performance by New Orleans' defense with a sack with 2:01 remaining.
The Saints stood toe to toe with the physical 49ers on Sunday. They absorbed a few big shots (most of them self-inflicted). And they rallied from a six-point deficit in the fourth quarter for their biggest win of the season to date.
"This game means more, the way that we won it," Saints quarterback
Drew Brees
said when asked which of the past two victories was more rewarding. "These are the ones that just sharpen you, just build confidence."
Not that the Saints needed a confidence boost.
It was especially clear from talking to players after Sunday's game that they had expected to win this game. That belief never wavered, even after three ugly turnovers in the first 33 minutes. The attitude was reminiscent, on a slightly smaller scale, of the confident approach the Saints took into Super Bowl XLIV, and the way they didn't waver after trailing 10-0 in that game.
"We were ready for this team," Saints running back
Pierre Thomas
said Sunday. "Nobody on this team was scared, none of the coaches, nobody on that sideline was scared."
"We knew we had to just keep chipping away, chipping away, chipping away at it, and eventually things would go our way," guard
Jahri Evans
said.
"That game had a little bit of an odd feeling to it, in that I felt like the offense was working efficiently, the defense was playing great, and yet we're losing," Saints offensive tackle
Zach Strief
said. "But Coach [Sean] Payton talked all week about kind of pounding away at the rock, kind of wearing someone down."
Players said Payton remained encouraging on the sideline, saying things like, "Let's stay in this," "Let's deal with this adversity" and "Body language."
The Saints' offense and defense both played well, especially in the areas they had preached about all week: stopping the run, staying balanced with their own rushing game and protecting Brees against a punishing defense.
[+] Enlarge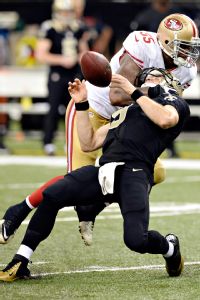 John David Mercer/USA TODAY SportsThis one wasn't easy. Just ask Drew Brees, who was leveled by an Ahmad Brooks clothesline.
The defense was downright dominant, holding San Francisco to 196 yards and notching three sacks. Payton even credited his trust in the defense for an ill-fated decision to go for it on fourth-and-4 early in the third quarter.
"The defense has been playing unbelievable. Each week we gain more and more respect for them," Saints fullback
Jed Collins
said. "They just keep proving they're not only here to benefit the offense, but they're here to win games."
The Saints, however, dug themselves into a hole with three turnovers: a muffed punt return by
Lance Moore
that set the 49ers up for an easy touchdown; an interception return that was fumbled through the back of the end zone by cornerback
Corey White
; and an interception from Brees that set up another easy score for San Francisco.
Eventually, the Saints came up with a game-tying 42-yard field goal by
Garrett Hartley
with 2:06 remaining, a three-and-out by the defense and a game-winning 31-yard field goal by Hartley as time expired.
The rally included a lucky break, when Brees' fumble with 3:18 remaining was nullified by a personal-foul penalty against linebacker
Ahmad Brooks
for clotheslining him on the sack. But there were enough twists and turns and close calls that could have gone either way in this game that the Saints certainly didn't feel like they stole one.
Payton didn't even bother harping on the little things the team did wrong that "could get them beat down the road," as he did in previous games against lesser opponents.
"I just finished telling the guys I'm proud of them, and I thought we fought through some tough breaks," Payton said. "I thought we did all the things we talked about to win this game. … And I just thought they hung in there and deserved to win that game."
Speaking of overcoming adversity, Hartley entered the game on the hot seat after having missed four of his previous six field-goal attempts. But true to his history, he came through in the clutch.
Hartley could have been speaking on behalf of the entire team in his postgame comments when he said, "I would definitely say it tested me. But it was a time to show everyone how thick my skin is."
"We're just on a great level right now," Thomas added. "We have a great attitude. And we're seeing what type of team we can be. And as long as we keep fighting and keep doing what we're doing in practice, we're gonna be a tough out."
November, 18, 2013
11/18/13
12:05
AM ET
NEW ORLEANS -- As if
New Orleans Saints
' kicker
Garrett Hartley
didn't have enough pressure on him already heading into Sunday's game, there he was, facing the game-tying and game-winning field goal attempts in the final 2:06.
And true to his history, Hartley delivered in the clutch, drilling a 42-yarder and a 31-yarder to seal New Orleans' 23-20 victory against the
San Francisco 49ers
.
Hartley
"I would definitely say (this past week) tested me," admitted Hartley, who had missed four of his past six field goals, prompting the Saints to bring in several kickers for workouts this past week to update their emergency list. "And it was time to show everyone, I guess, how thick my skin is."
Hartley said he would have been just as happy if the Saints had won on a safety -- which nearly happened with 1:56 remaining. But he admitted it was funny the way things worked out, that he got to prove himself in such a big moment after such a high-profile slump.
It was similar to the way things worked out in 2009, when Hartley was slumping late in the regular season before making the game-winning kick in the NFC Championship Game and three big kicks in the Super Bowl.
"It was really funny that this happened the way it did today, because on the way to the stadium I was actually on the phone with John Carney, just kind of picking his brain a little bit," Hartley said of the former Saints kicker, who became his mentor. "And the same thing he told me in the NFC (Championship) Game, when it's coming down to the wire, you just take yourself out of it. You can't control anything else other than if you're given the opportunity. And that's just the way things unfolded, and this one definitely is a little bit sweeter than most."
Teammates were happy for Hartley, but they insisted they weren't surprised.
In just six NFL seasons, Hartley has been through more ups and downs than most veteran kickers. He's had a four-game suspension because of a banned stimulant, a performance-based benching and an entire season lost to a hip injury. Each time, he has bounced back.
"I told him that we believe in you and that you are our guy. We all did," saints quarterback
Drew Brees
said of the support throughout the week. "Garrett has had his ups and downs throughout his career, but he has made a lot of big kicks for us. I think that is just the life of a kicker."
Kudos to Saints coach Sean Payton for feeling the same way. Payton insisted this past week, that he remained confident in Hartley based on his history. And he didn't have an itchy trigger finger, like he did with some kickers and punters earlier in his tenure.
That faith paid off in a big way Sunday.
November, 17, 2013
11/17/13
9:24
PM ET
NEW ORLEANS – Observed in the locker room after the
New Orleans Saints
'
23-20 victory
over the
San Francisco 49ers
:
Brees
Rewarding win:
After the Saints beat the 49ers for the first time in three years, some players admitted it mean a lot for them to prove they could win a physical matchup like this. Others insisted they treated it just like any other big game. But everyone agreed that the way this game played out – overcoming adversity to win in the final minutes – was even more rewarding than a game like last week's 49-17 rout of Dallas, when they were nearly flawless. "This game means more," quarterback
Drew Brees
said. "These are the ones that just sharpen you."
Rewarding kicks:
Saints kicker
Garrett Hartley
certainly admitted that his two field goals in the final 2:06 were more rewarding than most after the personal adversity he faced in recent weeks, missing four of his last six kicks. He said he had just been talking to mentor and former Saints kicker John Carney on the way to the game about blocking everything else out and doing his job.
Colston's record:
Naturally, Saints receiver
Marques Colston
didn't overplay the significance of setting the franchise record for receiving yards and yards from scrimmage. He said he'll probably take time to reflect on it after the season. "Obviously there were more important things going on at the time," Colston said.
Greer's injury:
Saints coach Sean Payton said cornerback
Jabari Greer
's knee injury looks serious, but added that the team was awaiting tests to get the final diagnosis.
November, 17, 2013
11/17/13
7:49
PM ET
NEW ORLEANS -- A few thoughts on the
New Orleans Saints' 23-20 victory
over the
San Francisco 49ers
, which moved the Saints to 8-2 on the season.

What it means
: It wasn't always pretty, but it was a huge win for the Saints. They rallied from a six-point deficit in the final minutes to finally get past a team that has caused them fits for three straight years. And it was a confidence-booster for a New Orleans team that is going to have to gut out some more wins like this down the stretch, with physical opponents such as the
Seattle Seahawks
and
Carolina Panthers
(twice) remaining on the schedule.
The Saints made things a lot harder on themselves with three inexcusable turnovers early. But every unit contributed in the rally, including embattled kicker
Garrett Hartley
, who nailed two clutch field goals in the final minutes. Quarterback
Drew Brees
and the Saints' defense were just as clutch.
Stock watch:
What a turnaround for Hartley. He had missed four of his past six field goal attempts coming into the game, and the Saints even tried out a group of kickers during the week to update their "emergency list." But true to Hartley's history, he was clutch when it mattered most. He was 3-for-3 on the night, including a 42-yarder with 2:06 remaining and a 31-yarder as time expired.
Creative, effective "D":
The Saints' defense certainly did its part in the victory, holding San Francisco to a total of 196 yards and 81 rushing yards, with three sacks and a three-and-out in the final minutes. The Saints knew they had to stop the run -- and this time they did. Saints defensive coordinator Rob Ryan was as creative as ever, starting in a 3-5 formation, among several other quirks.
Up next:
For the second year in a row, the Saints have to follow up a physical battle with the 49ers by playing four days later on a Thursday night at Atlanta. The good news this year is the Falcons are having a horrible season (now 2-8 and on a four-game losing streak). Still, the Saints can't afford to play as sloppy as they did in last year's Thursday night dud.
November, 16, 2013
11/16/13
1:00
PM ET
The
New Orleans Saints
(7-2) looked as good as ever last Sunday night in a 49-17 rout of the
Dallas Cowboys
. But now we'll find out what they're really made of.


The Saints are hosting the
San Francisco 49ers
(6-3) -- a physical team that's built to prey on the Saints' weaker points. And the 49ers have done exactly that, with victories over New Orleans in each of the past two seasons.
The Saints are the favorite heading into this game, and rightfully so. If they stay hot at home, the 49ers will have trouble keeping pace offensively. But the Saints need to make sure they don't turn the ball over and that they contain the 49ers' run game -- two things they couldn't do in their most recent loss against the
New York Jets
two weeks ago.
Here's what two watch for:
Brees busters?
The last time Saints quarterback
Drew Brees
faced the 49ers (a 31-21 loss last year), he had a total quarterback rating of 26.2. That's his worst in any home game over the last three seasons, according to ESPN Stats & Information. Brees threw two interceptions that were returned for touchdowns in that game, and he was sacked five times. In the 2011 playoff game (a 36-32 49ers victory), he threw two picks and was sacked three times.
Brees is certainly capable of performing against the 49ers -- as he showed with 462 yards and four touchdowns in a furious rally in that playoff game. But the Saints' offensive line has to protect him (something they've generally done well, except for a few hiccups against top defensive fronts). And Brees can't cough up the ball. The blueprint needs to be similar to New Orleans' patient, error-free victory at Chicago earlier this year.
'Monster' matchup:
The 49ers haven't exactly shut down Saints tight end
Jimmy Graham
in the past two meetings (see his 66-yard touchdown catch in the playoff game). However, San Francisco has done a decent job against him, holding him to four catches for 33 yards last year. And according to ESPN Stats & Information, the 49ers have been the second-best defense against tight ends in the NFL this year, based on total QBR (42.1).
Some teams have resorted to using their top cornerback against Graham this year. But San Francisco has plenty of options, from physical corners to athletic safeties and linebackers.
"They're very, very athletic in the back end. And not only that, but they have some of the most athletic linebackers in the game," Graham said. "
Patrick Willis
, he's a monster. He has the ability to truly cover tight ends one on one, and there's not many linebackers that can. He's really good at mirroring routes. And the reason he is, is because he watches so much film. He's such a smart player. He's very instinctive. He ends up running your route for you. So, I've got to go out and get up on him."
Containing the problem:
Early in the season, the Saints defense was giving up some "leaky" rushing yards here and there. But it never really bit them until two weeks ago, when New York Jets running back
Chris Ivory
torched them for 139 yards, even though they knew it was coming.
Now, the Saints are in a similar situation. They know the 49ers will run the ball with running back
Frank Gore
and mobile quarterback
Colin Kaepernick
. San Francisco ranks fourth in the NFL with 147.7 rushing yards per game and 32nd
in
with 173.9 passing yards per game.
But can they stop it?
"Man, you know, the proof's in the pudding," Saints defensive coordinator Rob Ryan said. "But I'm not flinching on how we've done. We're not flinching there. …
"We weren't happy with the Jet game by any stretch. We had some missed assignments there, and early in the Dallas game, that were quickly fixed. So we'll see. I mean, sometimes teams spring some things on you, and you gotta adjust. And I think we've been able to do that -- and really including the Jet game. You know, we stopped and adjusted there, [but] probably a little late."