New Orleans Saints:

2013 Week 12 NO at ATL
November, 22, 2013
11/22/13
2:59
AM ET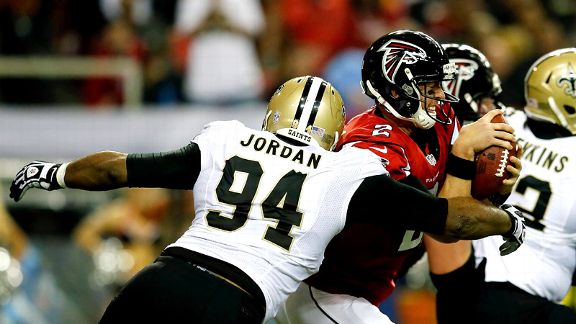 Kevin C. Cox/Getty ImagesCameron Jordan's 2.5 sacks helped the Saints get to 9-2, setting up a showdown in Seattle.
ATLANTA -- Three wins in 12 days. An impressive feat, no doubt, for the
New Orleans Saints
, who scratched out a
17-13 victory
on the road against the rival
Atlanta Falcons
on Thursday night.
Now comes the real test.
A week from Monday night, the 9-2 Saints visit the 10-1
Seattle Seahawks
. The NFC's No. 1 seed is on the line -- not to mention the Saints' reputation as a team that struggles outdoors on the road against physical opponents.
"Listen, they're all big. But obviously we understand the implications of this one," Saints quarterback
Drew Brees
said after Thursday's victory. "'Monday Night Football' at Seattle, it doesn't get any better than that."
The Saints really shouldn't have to prove anything at this point. Not after what they just accomplished over the past 12 days: routing the
Dallas Cowboys
at home in record fashion, surviving a battle against the nemesis
San Francisco 49ers
at home, then avoiding the hangover Thursday night at Atlanta -- where the Falcons certainly didn't play like a 2-9 team.
But that's what we're all going to demand of the Saints, anyway -- relentlessly over the next 10 days -- as the hype machine gets kicked into overdrive. The media will debate whether the Saints can win this type of game against this type of opponent. The public will wonder.
And truth be told, the Saints are eager to see how they handle the challenge, as well. The one thing they haven't accomplished in the Sean Payton-Brees era is winning a road playoff game. So they're going to have to win this game at Seattle now to earn home-field advantage in the playoffs.
Or else they'll likely need to go back and try again in January.
"They're great questions, and these are things we've got to continue to answer the bell on," said Saints safety
Roman Harper
, who was on the field the last time the Saints played Seattle -- an infamous playoff loss after the 2010 season that ended when no one could tackle Seahawks running back
Marshawn Lynch
. "You know, it's a long season, and we've just got to continue to come on. We've got to meet all these challenges that we're gonna get."
"Yep, yep, all those things," Brees said when the list of inevitable storylines was rattled off to him. "You know, here's the thing: The two times that we've gone to Seattle, it's been 'Sunday Night Football' [in 2007] and the playoffs [in 2010]. And now 'Monday Night Football.' So we've played there when the game has been in prime time, it's been important, it's been meaningful. So we're no strangers to the atmosphere.
"We know that 12th Man atmosphere. We try to have that atmosphere in the dome. So we know what it's like to have that home-field advantage. We know what we're walking into."
The Saints offense actually has played great in its previous two trips to Seattle -- despite the fact that CenturyLink Field has earned a reputation as one of the NFL's most overwhelming environments for visiting opponents. The Saints lost that 2010 playoff game 41-36. They won the '07 game 28-17.
But the Seahawks defense has evolved into a dominant unit since then -- one that ranks second in the NFL in yards allowed (293.3 per game), third in points allowed (16.3 per game) and first, according to ESPN Stats & Information, in putting quarterbacks under duress.
The Saints need to prove they can continue to play the kind of patient-yet-opportunistic offense they flashed at Chicago earlier this season, against San Francisco two weeks ago and again in Thursday night's win (when they won the turnover battle 1-0 and ran out most of the clock with two late first downs).
The Saints' run game, which had been the team's biggest weakness early this year, has been coming on strong.
"We really put our foot in the ground and said, 'Hey, enough is enough. Let's get this ground game going and let's be more of a balanced team.'" said Saints running back
Pierre Thomas
, who has been playing so well lately that he's at risk of losing his label of one of the league's most underrated weapons.
Thomas ran the ball 10 times for 73 yards and caught five passes for 57 yards. He and tight end
Jimmy Graham
(five catches for 100 yards and a touchdown) were the Saints' go-to guys on offense -- which will likely remain the case at Seattle.
Thomas said the Saints "definitely" have to prove they can bring that same balance against the Seahawks.
"You know, we showed in '09 that we can win on the road," Thomas said of the Saints' Super Bowl-winning season. "We've got to have that same mindset and that same determination to go out and say, 'Hey, great teams do win on the road, and we are a great team.'"
On the flip side, the Seahawks will have to deal with a Saints defense that has become much feistier than in recent years. The Saints defensive front was once again the driving force behind their win over Atlanta.
Although the Falcons ran the ball well early, then consistently moved the ball down the field with short passes throughout the game, the Saints repeatedly clamped down. The Falcons' only touchdown came on their opening drive, and they were shut out completely in the second half.
Defensive end
Keyunta Dawson
forced a critical fumble early in the fourth quarter when Atlanta got inside the red zone. Then, end
Cameron Jordan
came up with a big sack later in the fourth quarter after Atlanta had reached New Orleans' 29-yard line.
Jordan, who might have punched his ticket to his first Pro Bowl on Thursday night, had 2.5 of the Saints' five sacks.
The Saints will need that physicality up front against a Seattle team that ranks third in the NFL with 147.9 rushing yards per game, still led by the punishing Lynch. And oh, by the way, second-year Seattle quarterback
Russell Wilson
is pretty clutch himself.
"We're going to enjoy this tonight. I think everyone appreciates a few extra days off, and [the Seahawks are] going to be coming off a bye as well," Saints offensive tackle
Zach Strief
said. "It's going to be a tough game. And those are the games that you'll remember forever."
November, 21, 2013
11/21/13
11:40
PM ET
ATLANTA -- A few thoughts on the
New Orleans Saints
' 17-13
win
over the
Atlanta Falcons
, which moved them to 9-2 on the season.
What it means:
This was survival, plain and simple. The Saints didn't necessarily look "sloppy" or "sluggish" on this Thursday night as they did in the same situation last year. Their offense and defense came up with plenty of big plays throughout the night. But New Orleans obviously had to slug this one out against a Falcons team that came out with more energy to start the game.

The Saints will gladly take it. From the day the schedule first came out, they knew this short-week game on the road at Atlanta would be one of the toughest tests of the entire season. And they'll take the win any way they could get it.
Stock watch:
It didn't seem like defensive end
Cameron Jordan
's stock could get much higher during this breakout season. But he was the biggest difference-maker on the field with 2.5 sacks on a night when the Saints needed him badly. Jordan's final sack stalled a Falcons drive after Atlanta had crossed midfield late in the fourth quarter. Jordan now has 9.5 sacks this year and should have punched his ticket to the Pro Bowl on Thursday night.
Go-to guys:
In the process, Jordan stole top billing away from two Saints offensive standouts, tight end
Jimmy Graham
and running back
Pierre Thomas
. Graham caught five passes for 100 yards, including a 44-yard touchdown (when he burned safety
William Moore
on a double move, then dragged him into the end zone the final few yards). This was Graham's sixth 100-yard game of the season, which is tied for most in franchise history, tied for most by any tight end in NFL history and tied for most by any player in the league this year.
The underrated Thomas, meanwhile, was a go-to guy all night with 10 carries for 73 yards and five catches for 57 yards. In the process, he moved into fourth place on the Saints' all-time rushing list with 3,460 yards, moving ahead of Rueben Mayes and Chuck Muncie.
Over the Moon:
Saints quarterback
Drew Brees
was more solid than spectacular, but he was certainly good enough to earn the win. He completed 23 of 33 passes for 278 yards and two touchdowns. In the process, Brees passed Warren Moon for fifth place on the NFL's all-time passing yardage list. He now has 49,566 yards in his 13-year career.
Up next:
The big one! The Saints will take their best shot at the No. 1 seed in the NFC with a Monday night showdown at the
Seattle Seahawks
(10-1). Seattle is always a tough place to play -- especially on a Monday night in early December when weather could be a factor. Not to mention, the physical Seahawks running game and monster defense. Should be a great clash of styles.
November, 21, 2013
11/21/13
4:10
PM ET
When the schedule first came out, the
New Orleans Saints
' Week 12 Thursday night game at the
Atlanta Falcons
looked like it might be the toughest one they would face all year -- on the road on a short week. But the injury-plagued Atlanta Falcons (2-8) have fallen on hard times, losing their last four in a row.


The New Orleans Saints are 8-2, winners of two straight. Perhaps both of their records should be thrown out the window, however, in a rivalry matchup that almost always comes down to the final possession.
Here's what to watch for:
White's promotion:
The Saints have shown this year that they can make up for the loss of injured veterans on defense. But losing cornerback
Jabari Greer
to a season-ending knee injury last week might be the most significant loss to date. He was playing at a high level this year as the team's No. 2 cornerback. And the Saints' ability to trust cornerbacks
Keenan Lewis
and Greer to hold up in single coverage has been a big part of their success.
The good news is that second-year backup
Corey White
has shown a lot of potential as a physical corner and sure tackler. Pro Football Focus has given him a grade of plus-5.9 in coverage this season, ranking him 11th among all 180 cornerbacks in the NFL. But White will probably still face growing pains as a full-time starter.
"It's unfortunate that Jabari went down like that with him being a good leader on and off the field for us. That's tough," White said. "But we always believe in all our teammates here and we believe in the 'next man up.' I'm pretty sure Jabari believes in me and so does every one of my secondary teammates, so we'll see how it goes."
Saints coach Sean Payton and defensive coordinator Rob Ryan both expressed confidence in White this week.
"This Corey White has really been an ascending player. He's been outstanding," Ryan said. "He's a physical player. He's a smart kid. He's just getting better and better. We've had lost some great players along the way and we've been so fortunate to have excellent players behind them. This Corey White has just been begging for an opportunity. And he's gonna be great when he gets in there."
Luckily the Saints don't have to face dynamic Atlanta receiver
Julio Jones
, who is also out for the season. But Falcons quarterback
Matt Ryan
has played well at home his year, receiver
Roddy White
has been getting healthier, and they have depth in the passing game with tight end
Tony Gonzalez
and receiver
Harry Douglas
.
Better Brees:
Last year, under similar circumstances on a Thursday night game at Atlanta, quarterback
Drew Brees
had arguably his worst performance as a Saint with zero touchdowns and five interceptions in a 23-13 loss. Although Brees said he moved past that performance after beating the Falcons in New Orleans in Week 1, you just know it's got to be eating away at him a little bit with his competitive drive.
Although both team played sloppy in that game last year, Brees insisted that his miscues weren't attributed to the short week of preparation.
"There was no rust in that game, honestly," Brees said. "I felt as good going into that game as I've ever felt physically, mentally. For one reason or another, I can look at every one of those throws and say, 'This is what happened on each of them.' I left the ball a little inside on the first one. Tipped off the running back's hands on the second one. Never should've thrown the third one; I tried to force it. The fourth one, we were in two-minute mode, getting my arm hit on one and tried to force the other one. All things that are preventable."
Sproles, Evans questionable:
The two biggest injury questions tonight for the Saints are both significant -- running back
Darren Sproles
(knee/ankle) and guard
Jahri Evans
(ankle). They both returned to the game last week after suffering their injuries, but then they were the only two Saints players held out of practice on this short week. So it's really too hard to predict whether they'll play.
Sproles is obviously one of the Saints' most dynamic weapons on offense, so he'll be missed if he can't play. But the Saints have always shown an ability to absorb the loss of any one weapon in their deep and versatile offense. With or without Sproles in the lineup, I expect a big night for Saints running back
Pierre Thomas
in the matchup against a run-down Falcons defense.
Obviously Evans would be a big loss too. The Saints struggled when he was out of the lineup earlier this year. However, his rookie backup
Tim Lelito
has gained experience as the season has gone on, and he played well as an extra blocker in run formations last week.
Falcons' line dance:
The Falcons are considering a handful of
lineup changes
along the offensive line. They'll have their hands full against a Saints' defensive front that has been outstanding this year. Power rusher
Cameron Jordan
, speed rusher
Junior Galette
and inside force
Akiem Hicks
are all coming off one of their best performances of the season last week.