New Orleans Saints:

2013 Week 13 NO at SEA
December, 3, 2013
12/03/13
3:27
AM ET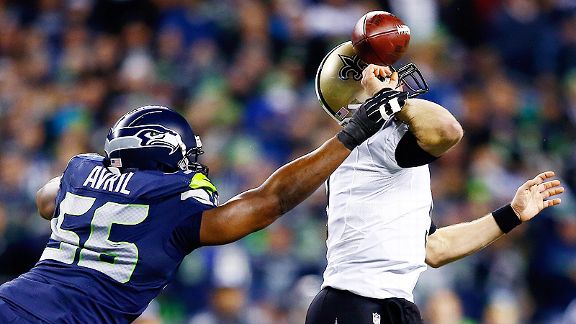 Jonathan Ferrey/Getty ImagesCliff Avril's strip of Drew Brees resulted in a 22-yard Seahawks' score on a bad night for the Saints.
SEATTLE -- Everything about the
New Orleans Saints
' performance in Sunday night's
34-7 loss
to the
Seattle Seahawks
was stunning.
Except for the way they reacted afterward.
No, the Saints (9-3) didn't even pretend to put a positive spin on the dreadful performance that started ugly and stayed ugly.
"The fact of the matter is, we took one on the chin today. I mean, we're used to being on the other end of these types of games," said Saints quarterback
Drew Brees
, who then confirmed the obvious for anyone who might have missed the definitive statement that was made on Monday night.
"As of now, the road to the Super Bowl looks like it's gonna travel through here."
But to a man, everyone in the Saints' locker room scoffed at the notion that their confidence could be dented by coming up so small in such a big game.
"Hell no. No, not us," safety
Malcolm Jenkins
said. "We ain't built like that. We're not soft in our core. We'll take our whupping like men. And we'll go back to work tomorrow."
And they'll have to. Because the Saints don't have any time to lick their wounds with another critical battle for NFC supremacy coming up quickly -- a Sunday night date with the
Carolina Panthers
(9-3) in New Orleans.
The Saints will play Carolina twice in the next three weeks, with the NFC South title and the NFC's No. 2 seed up for grabs. The Panthers are the NFL's hottest team, winners of eight straight, and they present many of the same challenges as the team that just got done putting that whupping on the Saints (a stifling defense, a physical run game and a mobile dual-threat quarterback).
And to add one more degree of difficulty to that looming matchup, the Saints' short week got even shorter when a breakdown with their team plane forced them to spend Monday night in Seattle.
But the Saints' response to everything that happened on Monday night was essentially: challenge accepted.
"I'm going to sleep well knowing we've got everything in front of us," Jenkins explained. Before he knew about the issues with the plane, anyway. "It's tough as a man to lose. We're all competitors, and to lose in this fashion is definitely disappointing. But I don't think anybody is going to lose confidence or doubt this team and what we can do."
The way the Saints lost Monday is what was so shocking.
They managed only 188 total yards -- the lowest of the Drew Brees-Sean Payton era. Brees' 147 passing yards marked his lowest total since 2006.
The Saints did have one incredibly costly turnover in the first quarter, when Brees fumbled during a sack by end
Cliff Avril
and fellow end
Michael Bennett
returned it 22 yards for a touchdown. But that was the game's only turnover.
The rest of the game was just filled with a never-ending series of Seattle's defense shutting down New Orleans' offense -- then the Saints' defense being unable to stop the Seahawks.
When asked when the last time was that he remembered a loss so lopsided, Saints right tackle
Zach Strief
said, "Never."
Strief, who arrived in 2006, said even in the their biggest blowout loss of the era (a 41-10 defeat at Indianapolis in 2007), the Saints at least moved the ball early.
"I don't think I've played in a game like this since I've been here," said Strief, who left early with a left ankle injury but is optimistic about his chances of recovery. "That's disappointing, especially in a big game and big stage like this, a situation that we're usually pretty good. And I really felt like we were ready to play this game. And yet, you have that performance and you don't like to see that, don't like to put that on tape."
What went wrong? You name it.
Four of the Saints' first five drives resulted in three-and-outs, including the turnover. When they took shots deep down the field, Seattle's defensive backs broke up passes. When they tried to run, Seattle's defense swallowed them up. When they finally got some momentum going, they shot themselves in the foot with penalties.
As for the defense, it accomplished its No. 1 goal -- corralling running back
Marshawn Lynch
, who gained just 45 yards on 16 carries. But the Saints didn't stop anyone else.
Seahawks quarterback
Russell Wilson
ran for 47 yards on eight carries, converting three first downs with his feet in the first half. And Wilson torched them with his arm, too, throwing for 310 yards and three touchdowns. He repeatedly burned the Saints when they tried to blitz or got overaggressive while biting on play-action fakes.
He completed a 60-yard pass to wide-open tight end
Zach Miller
, a 52-yarder to receiver
Doug Baldwin
behind Jenkins on a seven-man blitz and a 33-yard strike to receiver
Ricardo Lockette
behind trusty cornerback
Keenan Lewis
.
Wilson even accidentally completed an 8-yard touchdown pass to fullback
Derrick Coleman
after it was tipped by tight end
Kellen Davis
.
"This is a tough atmosphere to come in and play. But obviously we're a much better team than what we put on the field tonight," Brees said. "We know Seattle's a great team. And we know it's a team we've got to deal with in the future. And we've gotta find a way to play better against these guys when that time comes."
Brees and Payton both insisted that the crowd noise and weather conditions were challenges -- but not the reasons why they lost. The Saints said they were prepared for both, and they didn't use either as an excuse.
Saints fullback
Jed Collins
said Payton's message to the team after the game was that he "wants us to remember the sting."
"The message is we hope to get another shot at these guys," Collins said. "But tonight they were the better team."
Payton made similar comments to the media after the lopsided affair.
"We got beat. We got beat good tonight. So it's tough," the Saints' coach said. "We can't just say it didn't happen. But that being said, we have to quickly get focused on Carolina. They're playing as good of football as anyone in the league right now. So we'll do that."
December, 2, 2013
12/02/13
11:59
PM ET
SEATTLE -- A few thoughts on the
New Orleans Saints
' 34-7
loss
to the
Seattle Seahawks
, which moved them to 9-3 on the season.

What it means:
Obviously this ugly loss doesn't bode well for the Saints' Super Bowl hopes. Not only did they get dominated on both sides of the ball in a fashion we haven't seen much in the Sean Payton-
Drew Brees
era, but the Seahawks (11-1) essentially locked up the NFC's home-field advantage. That means the Saints would almost certainly have to come back here in January -- if they make it that far.
But the Saints can't look that far ahead. Not with a huge showdown looming just six days from now against the
Carolina Panthers
(9-3) in New Orleans. The Saints need to win at least one of two December games against the Panthers to win the NFC South. The Saints are obviously a better team than what they showed on Monday night. But they'll still have a tough time against a Panthers team that poses a lot of the same problems as the Seahawks -- a physical, stifling defense, a power run game and a mobile dual-threat quarterback.
Brees shut down:
Saints quarterback Drew Brees had one of his most ineffective games ever as a Saint. He completed 23 of 38 passes for just 147 yards -- his lowest total since 2006. He threw one touchdown pass and didn't throw any interceptions, but his fumble while being sacked in the first quarter was the biggest play of the game. It was returned 22 yards for a Seattle touchdown -- the kind of unforgivable mistake the Saints knew they had to avoid in this matchup. Brees tried to challenge Seattle's outstanding cornerback
Richard Sherman
deep twice, but Sherman broke up both passes. Nothing was working for the Saints on Sunday.
Stock watch:
Just about everybody's stock went down on Sunday night, with the Saints struggling in so many areas. The area that probably stood out most, however, was the Saints' pass coverage. They obviously sold out to stop running back
Marshawn Lynch
in this game (and did a solid job against Lynch). But they got torched repeatedly by deep passes. Seattle quarterback
Russell Wilson
threw for 310 yards and three touchdowns, on passes of 60, 52 and 33 yards. Sometimes the receivers were wide open in coverage breakdowns. Once he beat cornerback
Keenan Lewis
, and once he beat safety
Malcolm Jenkins
.
Up next:
The Saints will host the Panthers, which is good news since the Saints are so much more dominant at home (6-0 this year). But it's never easy for teams to bounce back from Monday night games across the country on a short week -- especially after such a physical matchup. This will be the Saints' first meeting of the year against Carolina, which is the NFL's hottest team with eight straight wins.