New Orleans Saints:

aqib talib
October, 12, 2013
10/12/13
11:45
AM ET
The road just keeps getting tougher for the
New Orleans Saints
(5-0). After an impressive win at Chicago last week, now they're back on the road Sunday against the
New England Patriots
(4-1). The Patriots are 31-3 at home since 2009, but the Saints have the NFL's best road record over that same span (23-11). Here's What 2 Watch 4:
[+] Enlarge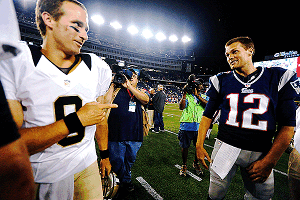 AP Photo/Michael DwyerSaints QB Drew Brees is looking to stay undefeated in matchups against the Patriots' Tom Brady.
Brees vs. Brady:
Does this one need any explanation? Two of the NFL's all-time greatest quarterbacks will go head to head for just the fourth time in their careers and the first time since 2009. Saints quarterback
Drew Brees
has been playing much better than New England's
Tom Brady
so far this year – in large part because injuries have plagued the Patriots' offensive weapons. Brady had a very uncharacteristic performance in last week's 13-6 loss at Cincinnati (18-of-38, 197 yards, no touchdowns, one interception late in the fourth quarter).
But that's just all the more incentive for Brady to bounce back at home in Gillette Stadium. And certainly nobody in Saints camp expects anything less from the future Hall of Famer.
Also, Brady's probably not keeping score since he has more pressing concerns to address. But Brees is actually
3-0 lifetime in these duels,
dating back to his days with the
San Diego Chargers
.
Graham in, Gronkowski out?
It sounds like we might miss out on a showdown between the NFL's two most dynamic tight ends, since New England's
Rob Gronkowski
might not be ready to return yet from offseason back and forearm surgeries. Even if he does play, he'll likely be limited. The Saints'
Jimmy Graham
, meanwhile, has been the most dominant offensive player in the NFL this year, with a league-high 593 receiving yards and six touchdowns. Defenses have tried a little bit of everything against him, but it has barely slowed him down so far. He has four consecutive 100-yard games.
"Certainly, Jimmy Graham is as good as anybody we've seen all year or will see in the passing game," Patriots coach Bill Belichick said. "He is very athletic. He has great athletic ability down the field to come up with the ball. He is fast and quick and is a hard guy to match up to no matter who you put on him. If you put size on him, it's hard to match up to his speed and quickness. If you put speed and quickness on him, it is hard to match up to his size."
And, of course, if defenses focus too heavily on Graham, they're liable to get burned by receiver
Marques Colston
or running backs
Darren Sproles
and
Pierre Thomas
in the passing game. The Saints offense is the biggest matchup headache in the league right now.
Talib on a tear:
One outside-the-box possibility for the Patriots would be using physical corner
Aqib Talib
to help defend Graham at times. Talib (6-foot-1, 205 pounds) has been outstanding this year – arguably the Patriots' best player. He has four interceptions and eight pass break-ups. And the Patriots have used him to shadow opponents' top receivers more than they've done in the past.
The Saints are well aware of the challenges Talib can present since he began his career with the division-rival
Tampa Bay Buccaneers
. But this is probably the best the 27-year-old has played in his career.
"Aqib is someone who has excellent ball skills," Saints coach Sean Payton said. "He is long, so he gets his hands on a lot of passes. You really have to be on target with where you are throwing his way. He also has very good recovery speed and so he can make up a step.
"He is playing at an elite level right now."
Getting to Brady:
Brady took a beating in last week's loss at Cincinnati, getting sacked four times and hit several more times. That's unusual since Brady has been one of the NFL's least-sacked quarterbacks throughout his career, and because New England still has a healthy, veteran offensive line in place. The Saints defense, meanwhile, has done an outstanding job of pressuring the quarterback this year. The four-man front has been great, led by young breakout rushers
Cameron Jordan
and
Junior Galette
. Creative defensive coordinator Rob Ryan also threw some unexpected blitzes at the Bears last week that led to three sacks.
"I think Tom Brady's a hard sack," Galette said. "He just knows, he can feel the pressure. He's real good in the pocket like Drew is. Just get rid of the ball in time. So they haven't really been giving up too many sacks. We'll have to find a way to get there."
October, 11, 2013
10/11/13
12:00
PM ET
.
The
New England Patriots
are coming off their first loss of the season, and questions are mounting about the team's revamped offense. There are no such questions right now for the
New Orleans Saints
, who are 5-0 and have looked like one of the NFL's best teams.
That sets the stage for Sunday's highly anticipated matchup between these teams at Gillette Stadium in Foxborough, Mass.
"They're a good solid football team all the way around. They've been impressive," Patriots coach Bill Belichick said of the Saints. "We're going to have to play a good 60-minute football game on Sunday; that's what it is going to take."
In some ways, the Patriots will see a mirror image of themselves when looking at the Saints.
"I've said this before, when we started in 2006, we tried to look closely at the franchises that were having a lot of success and study closely what they were doing. New England was one of the main ones we looked at," Saints coach Sean Payton said. "These guys have been to five Super Bowls and won three [under Belichick]. That is pretty amazing."
Patriots reporter Mike Reiss and Saints reporter Mike Triplett break it down:
Reiss:
Let's start at the top with this one, Mike, and focus on the coaches. Patriots followers know they have one of the best coaches in the history of the game. Now in his 14th season, Belichick has the Patriots consistently contending. For the Saints, what stands out from here is what a difference it's been to have Payton back on the sideline this season. What is it about Payton that makes him one of the NFL's best coaches, and how has this turnaround from last year's disappointment unfolded?
Triplett:
You're right to start there. It's remarkable how much of an impact Payton's return (and his absence last year) has made on this team. Earlier this season, I would've answer that question by talking more about intangibles. Having Payton in charge clearly gives the Saints a confidence and puts them in a comfort zone that was lost last year. I think that helped them win two early games that came down to the wire. But lately, it's Payton's offensive genius that has been making the biggest impact. He's always stood out as arguably the best schemer and playcaller in the NFL. And that's been on full display the past two weeks – first when the Saints picked apart the
Miami Dolphins
at home on a Monday night, then when they won last week at Chicago with a patient, ball-control game plan. Giving Payton toys like
Jimmy Graham
and
Darren Sproles
in recent years – not to mention quarterback
Drew Brees
– has been almost unfair to the rest of the league.
Since we're on the subject, can you try telling me, in this brief format, what makes Belichick special? The Patriots seem to keep winning even while switching out 50 players on their roster over the years. I know that's something the Saints have always admired and tried to emulate.
Reiss:
Mike, I think the foundation of Belichick's success has been what we remember from the start of Super Bowl XXXVI, in the Superdome, prior to the Patriots' upset victory over the Rams in the 2001 season. The Patriots were introduced as a team before that game, as we all remember. There are obviously a lot of reasons for Belichick's success, and books have been written about it, so it's nearly impossible to narrow it down in a few sentences. But that's where I'd start – the focus on the complete team in a salary-cap era that makes it hard to remain competitive year in, year out. There are many layers to that, and it obviously helps to have a quarterback like
Tom Brady
, but Belichick is also a teacher at heart. So team-first, where the 53rd player has a similar level of importance as a player in the 1-10 range. Then the fact he's a teacher with an incredible knowledge of football.
This week, there has been plenty of teaching as it relates to how they might be able to slow down the Saints' offense. What has been the most effective approach you've seen teams employ against Graham and Sproles?
Triplett:
There haven't been many effective approaches against Graham. The
Chicago Bears
last week followed the formula that has worked best against the Saints over the years – a lot of Cover 2 zone defense that forced the Saints to settle for checkdown passes. But the Saints did a better job than I can ever remember of staying patient, settling for those short throws and avoiding turnovers. And Brees still completed 10 passes for 135 yards to Graham. Tampa Bay's defense rattled the Saints in Week 2 by hitting Brees a lot with a good rush from their front four. But Graham still caught 10 passes for 179 yards and a touchdown. And if a team wants to totally take Graham away, like Miami did in Week 4, the Saints are happy to exploit that, too. Sproles had seven catches for 114 yards in that game before Graham caught a single pass. And Graham still finished with four catches for 100 yards and two touchdowns.
So how do you think the Patriots might approach it? They do have a better defense than most of the ones the Saints have faced this season.
Reiss:
In a flip of the script that we had mostly seen from 2007 to 2012, the Patriots' defense is carrying the team right now. The Patriots rank second in the NFL in points allowed per game (14.0 avg.), and that includes a Week 1 touchdown the Bills scored on a long fumble return. The key, from this view, has been the Pro Bowl-level play of cornerback
Aqib Talib
. As for this specific matchup, I've wondered about the possibility of Talib on Graham, similar to how we saw him almost exclusively cover Buccaneers receiver
Vincent Jackson
(Week 3) and Bengals receiver
A.J. Green
(Week 5). Usually you don't see a cornerback matched up against a tight end, but maybe that outside-the-box thought is something the Patriots consider this week. Regardless, I expect the Patriots to be in their sub defense for most of this game. Their big linebackers don't look like a good matchup against Sproles, so it's imperative to get more speed on the field. I could see their top draft choice, speedy and athletic linebacker
Jamie Collins
, used more this week with Sproles in mind.
Speaking of defense, tell us more about how the Saints are getting it done on that side of the ball.
Triplett:
Obviously a ton of credit goes to new defensive coordinator Rob Ryan. He's been pushing all the right buttons as a schemer and a motivator. Players have loved playing for him for both reasons. It's reminiscent of the years when Gregg Williams was here, when they played with a ton of confidence. And he mixes up formations quite a bit – blitzing on occasion, but also rushing only two or three guys at times. Last week he caught the Bears off-guard early with some blitzes he hadn't shown much yet. Just as key, though, has been the emergence of young pass-rushers
Cameron Jordan
and
Junior Galette
. Jordan is a power-rushing 3-4 end, and Galette a speed-rushing 3-4 outside linebacker. But they've mostly lined up on the edges of a four-man rush. When teams can count on their four-man front as much as the Saints have this season, any scheme will be successful. The talent in the secondary is also solid across the board, especially now that they added veteran corner
Keenan Lewis
and rookie safety
Kenny Vaccaro
.
So what will they be facing in Brady this week? I know he hasn't looked like himself at times, but I'm still expecting him to hold his own in this high-profile duel with Brees.
Reiss:
The Saints will see a frustrated Brady, and that's often a dangerous Brady. The Patriots scored just six points in Sunday's loss to the Bengals, and Brady's streak of 52 straight games with at least one touchdown pass was snapped. That had a Saints tie-in, of course, as Brees holds the record at 54 straight games. Brady is obviously still one of the best quarterbacks in the NFL and is as competitive as they come. I'm sure he's aware that in three previous games in which he's squared off against teams led by Brees, he's 0-3. Brees has thrown eight touchdowns in those games, compared with three for Brady. Furthermore, Brady has thrown three interceptions in those games, while Brees hasn't thrown a single pick. Obviously, the quarterbacks don't face off against each other, but knowing Brady's competitiveness that still doesn't sit well with him. Expect his best, and the potential return of tight end
Rob Gronkowski
would obviously help.
I was curious about your thoughts on how the Saints might look different, if at all, when playing outdoors. Obviously they are awfully tough in the Superdome, but last week's game in Chicago didn't seem to affect them.
Triplett:
The Saints have definitely had a few off-days outdoors over the years, especially in colder weather or rain (playoff losses at Chicago, Seattle and San Francisco come to mind). They've had a lot of good days in those elements, too, though. They have the best road record in the NFL since 2009 (23-11, one more win than the Patriots). And they've got two outdoor wins this season (the Chicago game and an ugly 16-14 win on a rainy day at Tampa Bay). So I don't think it will be some sort of mental hurdle, and it's not like they're lost when they're outside of the Superdome. But it will certainly be a hurdle they have to overcome. They're definitely even more dangerous at home.
I was stunned to see how dominant New England has been at home, by the way (31-3 since 2009). Brees rattled off that statistic Wednesday – obviously it's one that's been drilled into players this week. What makes the Patriots so good at home?
Reiss:
When I think of decisive home-field advantages, with the crowd truly dictating aspects of the game such as false-start penalties, I wouldn't put Gillette Stadium in the same category as a place like Seattle. But like you said, home has been good to the Patriots, and I think the comforts of being in that environment, coupled with having good teams, getting better as the weather gets colder, acing critical situations and playing in a division where the other three teams have fallen on some hard times in recent years has contributed to that as well. I'm guessing that Saints offensive coordinator Pete Carmichael, who grew up in nearby Medway, Mass., might agree with the thought that Sunday has all the elements for what can make this a special time of year in New England for fans of the game: crisp but comfortable fall weather and two talented, well-coached teams playing at a high level going head-to-head. I'm excited for it, Mike. What about the matchup are you most looking forward to?
Triplett:
Easy. Brees vs. Brady. I'm sure I could give a more "under the radar" answer. But watching two of the best quarterbacks of all time going head-to-head is as good as it gets. And I think both of them will be fired up for this one for different reasons. Should be an intense fourth quarter.
.
October, 9, 2013
10/09/13
8:00
AM ET
You might think that the New Orleans Saints' next opponents -- the
New England Patriots
-- need no introduction. They've been one of the most high-profile franchises in the NFL for more than a decade, led by two future Hall of Famers in coach Bill Belichick and quarterback
Tom Brady
.
But beyond those two stalwarts, the Patriots have been constantly reinventing themselves over the years. And now, they're about as unrecognizable as ever. They're 4-1, but for the first time in a long time, the offense has sputtered at times -- hitting its low point in last week's 13-6 loss at Cincinnati.
Brady has been less productive than usual (7 TDs, 3 INTs and a completion percentage of 56.6) while throwing to a group of practical strangers. His longtime favorite target
Wes Welker
is gone, now thriving with the
Denver Broncos
. And his more recent go-to guy
Rob Gronkowski
has been hurt all season -- though Gronk may return Sunday against the Saints. The running backs have also been dinged by key injuries. As a result, the Patriots' offense has been inconsistent, especially in the red zone, where they rank 31st in the NFL.


It's not all doom and gloom, though. New England's offense looked great two weeks ago in a 30-23 victory at Atlanta. And Gronkowski and new top receiver
Danny Amendola
are on the mend.
Meanwhile, the Patriots' defense has been excellent, even with a recent season-ending injury to longtime nose tackle
Vince Wilfork
. New England ranks second in the NFL in points allowed (14.0) and 16th in yards allowed (345.0).
Here are a few more details on the Patriots:
This week's game:
Saints (5-0) at Patriots (4-1), Sunday, 4:25 p.m. ET, Gillette Stadium, Foxboro, Mass.
Series history:
The Patriots lead the all-time series 8-4. The Saints won the most recent meeting, four years ago in a memorable 38-17 Monday night rout in the Superdome during their 2009 Super Bowl run. Before that, the Patriots won three straight, including wins in Foxboro in 2001 and 2005.
Worth noting:
New England has the best home record in the NFL since 2008 (36-6, 2-0 this year). The Saints have the league's best road record since 2009 (23-11, 2-0 this year).
Three players to know on Offense:
1. QB Tom Brady. One of the greatest quarterbacks in NFL history, the 36-year-old has remained elite in recent years. He actually had the two highest yardage totals of his career in 2011 (5,235) and 2012 (4,827) with a combined 73 touchdown passes and 20 interceptions. He's been more inconsistent than usual this year, though -- clearly hampered by the lack of consistency around him. New young receivers have struggled with dropped passes, and injuries have shuffled the lineup at receiver, tight end and running back. Brady has made some mistakes of his own, too, though – including a rare interception late in the rainy conditions at Cincinnati last week.
2. TE Rob Gronkowski. The big, 6-foot-6, 265-pound target has 39 career touchdowns in just 43 career games played. But he's battled injuries for the past two seasons and had a reported five surgeries on his back and forearm since last season. If he comes back Sunday, he should still be limited. But Brady will be especially happy to see him in the red zone.
3. WR Danny Amendola. The 5-11, 195-pounder just returned himself from a groin injury last week, though he was still a bit limited. The Patriots signed Amendola as a free agent from the
St. Louis Rams
this offseason to try and replace Welker as a shifty and sure-handed receiver in the middle of the field. If he's close to 100 percent, he could be Brady's most targeted guy on Sunday.
Three players to know on Defense:
1. CB
Aqib Talib
. The physical 6-1, 205-pound corner has been outstanding this season with four interceptions, a forced fumble and eight pass break-ups. He's been shadowing top receivers more than the Patriots used to do in the past. Talib had some good matchups in the past against Saints receiver
Marques Colston
when he was with the
Tampa Bay Buccaneers
. And it's not completely out of the question that he could spend some time covering tight end
Jimmy Graham
.
2. OLB
Rob Ninkovich
. Too bad the Saints weren't playing a 3-4 defense when they had Ninkovich in camp as both a rookie in 2006 and again in 2009. They never could find the right fit for the 6-foot-2, 260-pounder, even trying him at long snapper. But he has found a home with the Patriots. He has a sack and a forced fumble this year and a total of 19.5 sacks, four interceptions and seven forced fumbles over the past four years.
3. OLB
Jerod Mayo
. A two-time Pro Bowler and former Defensive Rookie of the Year, Mayo has been a tackling machine in his six-year career. He has 49 tackles this year (two shy of the NFL lead). He ranked fourth in the league last year with 147 and led the league in 2010 with 175. The 6-1, 250-pounder also has nine sacks, eight forced fumbles and three interceptions in his career.