New Orleans Saints:

benjamin watson
January, 30, 2014
Jan 30
8:00
AM ET
A position-by-position look at where the
New Orleans Saints
stand heading into the 2014 offseason -- ranked from 1-12 in order of the team's need for upgrades or replacements.
Current depth chart:
TE
Jimmy Graham
. Age 27, unrestricted free agent.
FB
Jed Collins
. Age 27, restricted free agent.
TE
Benjamin Watson
. Age 33, signed through 2015. 2014 salary and bonuses: $1.3 million. 2014 salary-cap number: $1.7 million.
TE
Josh Hill
. Age 23, scheduled to become restricted free agent in 2016. 2014 salary and bonuses: $495,000. 2014 salary-cap number: $496,666.
Analysis:
First of all, the reason that I lumped these two positions together is because the Saints typically lump them together when shaping their roster. A lot of times their backup tight ends serve as backup fullbacks as well.
Secondly, I realize that I screwed up this ranking. I should have either ranked it No. 1 or further down the list at No. 11 or No. 12. I think re-signing Graham is the Saints' No. 1 priority this offseason -- more important than adding reinforcements at any other position. However, I don't think there's any real risk of losing him since the Saints will use the franchise tag to keep him if needed.
And assuming the Saints do keep both Graham and restricted free agent Collins, I think they're pretty well stocked at both positions going forward.
I've written extensively on Graham this month -- on whether he should be considered
a tight end or receiver
; on why I think he's
worthy of "receiver money"
regardless; and on how I think the negotiations
will most likely play out
.
The bottom line is that I consider Graham the second most important player on the Saints' roster behind quarterback
Drew Brees
. So it's essential that they work out a long-term deal that makes everyone happy this offseason (which I believe will eventually happen -- but it may take a while).
I also expect the Saints to lock up Collins. They'll probably have to offer him a one-year restricted free-agent tender worth more than $2 million to guarantee he doesn't get away. But he's worth it, even though the Saints are a pass-first team. Collins was playing exceptionally well down the stretch as a lead blocker in the run game. Perhaps they'll aim for a long-term contract extension instead.
Watson is an ideal backup. He's solid as a receiver, a blocker and a veteran leader -- and most importantly, he comes with an affordable price tag. And the Saints are high on Hill, who played extensively as an undrafted rookie this past season. Hill had his highs and lows during the year. But the team obviously showed trust in him, which bodes well for his future development.
January, 8, 2014
Jan 8
8:00
AM ET
METAIRIE, La. -- I'll admit that I didn't think too much of it when I heard there were
hundreds of fans lined up
in the wee hours of Sunday morning to greet the
New Orleans Saints
when their plane returned from Philadelphia.
I guess I'm used to it by now, after so many years of that being the usual routine among the "Who Dat Nation" after big games -- even losses.
Apparently not everyone is used to it, though. First-year Saints veterans
Benjamin Watson
and
Shayne Graham
both talked this week about how they'd never seen anything like it -- despite a combined 23 years in the NFL.
"In my 10 years in the NFL, I have never witnessed anything like that," Watson said earlier this week. "I've never witnessed anything like when we lose a game, there are still people out there welcoming us back. I knew coming to New Orleans, being that I have my wife and family down here, this is a special place. They love their team, and the team is a part of the community. You are talking about a couple hundred people out there at 4:30 in the morning welcoming a football team back. You just don't see that at a lot of other places. It's a credit to the fans and it is a credit to our team that the guys on this team connect with the community.
"Even though most of us aren't from here when we play here, and I have only been here for a year, you start to feel somewhat of a connection with your neighborhood and the people that come to support you every Sunday."
Added Graham on Tuesday: "I was impressed, shocked really. It was 4:30 in the morning and there was so many people out there, people shooting off fireworks and lining the street. It was a very interesting scene and one that showed the dedication of the fans here. I've never seen anything like that."
Coach Sean Payton, who has seen it many times before, still enjoyed the spectacle.
"It's amazing," Payton said. "You kind of clear the one group, you make a turn and then you have five times as many down the homestretch. It's a pretty cool thing that's unfolded over the years here. We never take it for granted."
Worth repeating:
Saints rookie left tackle
Terron Armstead
, when asked if he still "feels like a rookie" with three starts under his belt: "I don't know what a rookie is supposed to feel like. I'm just going to go out and play hard and play fast."
Worth re-tweeting:
Former Saints defensive end
Bobby McCray
's response when he saw that Payton had the Seahawks logo painted on the Saints practice fields: "I'd be pissed… So therefore Brilliant idea by @SeanPayton"
More Payton ploys:
We wrote about plenty of Payton's motivational tactics last week. But he rolled out another one the day before the game that NBC talked about during the broadcast. Payton showed the team video clips of players like
Drew Brees
and
Darren Sproles
thriving in cold-weather games when they were in college, set to the tune of "Winter Wonderland." And he even brought in dry ice for effect to help continue his week-long approach of embracing/mocking the "Saints can't win in the cold" story line.
Worth a click:
January, 7, 2014
Jan 7
3:15
PM ET
The
New Orleans Saints
broke a lot of new ground in Saturday's 26-24 playoff victory against the
Philadelphia Eagles
. It was the first road playoff win in franchise history. Perhaps even more surprising, the Saints actually ran the ball (36 times) more than they passed the ball (30 times).
Quarterback
Drew Brees
struggled early, but he finished strong. The Saints' run game and offensive line were outstanding throughout.
Here are some observations after reviewing the tape:
Ingram
Unpredictable offense:
I was impressed by many aspects of the Saints' run game -- from the runners themselves, to the offensive line, to the blocks by tight ends and receivers. But I might have been most impressed by the
way
the Saints ran the football throughout the night. Almost all of their runs came with just one back on the field -- with two tight ends or three tight ends.
That made the Saints' run game less predictable, and it gave them the chance to run against more three-man fronts and nickel packages.
Mark Ingram
's 4-yard touchdown run in the third quarter actually came out of the pistol formation, with three receivers bunched to the right and tight end
Jimmy Graham
on the left side of the line.
Darren Sproles
also had a 13-yard gain late in the first half in a four-receiver set.
I've never been one of those believers that the Saints need to stubbornly beat their heads against the wall trying to "establish the run" or "wear down a defense." I'm fine with them being a team that passes first and foremost. But when a team is begging the Saints to run the ball like the Eagles were, the Saints have to take advantage. And they certainly did that Saturday.
As coach Sean Payton and players said after the game, they didn't go in with a run-heavy game plan. But when they saw the way the Eagles were defending them and how effective the run-blocking was up front, they stuck with it.
Watson dominates:
The unsung hero in the Saints' run game was tight end
Benjamin Watson
. He showed up repeatedly when I went back and watched the tape. He's been a solid run-blocker all season, but this was definitely his best performance in that role. The highlight was a big-time crack-back block that helped spring Ingram for an 18-yard gain in the third quarter.
Credit all around:
Several guys deserve credit for the success of the run game. Obviously both Ingram and rookie running back
Khiry Robinson
were exceptional. There were at least two impressive examples of each runner making a guy miss early with a sharp cut, turning a potential negative play into a positive one.
The entire offensive line was impressive -- sometimes zone-blocking and sometimes just plain winning the physical push up front. That was the case when quarterback Drew Brees moved the chains forward on two quarterback sneaks late in the game behind center
Brian De La Puente
and guard
Jahri Evans
(one time with an assist from fullback
Jed Collins
, pushing from behind).
Receivers
Robert Meachem
and
Marques Colston
also had at least two standout blocks each down the field, among others in a total team effort.
The best example of everything coming together on one play might have been Ingram's 17-yard run on the first play of the game. Right tackle
Zach Strief
sealed the edge with a nice block. Watson got out in front with a great lead block. And Ingram made cornerback
Bradley Fletcher
whiff with an impressive burst of speed.
[+] Enlarge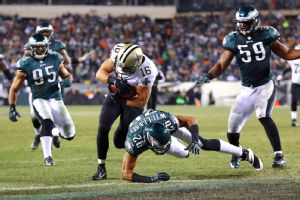 Al Bello/Getty ImagesLance Moore's 24-yard touchdown catch in the third quarter came after a play-action fake.
Play-action payoff:
All of that run success helped set up two of the Saints' biggest plays of the game on play-action fakes. In the third quarter, Brees hit receiver
Lance Moore
with a 24-yard touchdown pass on a play-action rollout. Moore actually appeared to be Brees' third or fourth option on the play. But after he scanned all of the options on the right side of the field, he threw across his body to Moore in the middle of the field. And Moore ran in the final 11 yards.
Then in the fourth quarter, Brees hit Meachem with a 40-yard bomb out of a heavy run set. Meachem burned safety
Patrick Chung
with a fake to the outside before turning back up the field and broke open by a full step.
Hit and miss:
Brees' earlier attempts at deep throws weren't as successful. He overthrew Sproles on the opening drive when Sproles had broken open on a deep route behind linebacker
Connor Barwin
. Then Brees threw an interception on a deep ball intended for receiver
Kenny Stills
later in the first quarter. The ball wasn't too far off-target, but it might have been slightly underthrown since Stills was on the outside and cornerback Fletcher had inside position on him. Stills then tried to cut in front of Fletcher, but the ball sailed over Stills' head and right into Fletcher's arms.
Brees threw another interception in the second quarter that was even more unexpected. He had plenty of time to throw, and he fired a short pass directly into the arms of linebacker
DeMeco Ryans
. Brees was trying to hit Moore with a slant route and must have expected Ryans to go the other way. Instead, Ryans easily came over from the middle of the field to step in front of Moore.
Brees found his rhythm after that second pick, though. He completed 13 of his last 17 passes for 195 yards and a touchdown -- including the touchdown to Moore, the 40-yarder to Meachem, a 27-yarder to Watson, and a pretty 17-yarder to Graham in a tight window.
Graham hassled:
It was obvious that stopping Graham was the Eagles' No. 1 priority. He was double-covered for much of the night, and replays showed a variety defenders taking turns hitting him off the line, trying to disrupt his route. A couple times, he looked like a pinball coming off the line.
Armstead solid:
Rookie left tackle
Terron Armstead
had another impressive performance in his third career start. He repeatedly held up well in a one-on-one matchup against standout pass-rusher
Trent Cole
. One of the best examples came on the 40-yard pass to Meachem, but there were several others.
I only marked down three real negative plays for Armstead (a holding penalty that nullified a third-down completion when he was beaten, a 1-yard sack he allowed to linebacker
Brandon Graham
, and a pressure against him that forced Brees to throw the ball away).
November, 15, 2013
11/15/13
5:00
PM ET
METAIRIE, La. --
New Orleans Saints
safety
Kenny Vaccaro
and tight end
Benjamin Watson
were officially ruled out of Sunday's game against the
San Francisco 49ers
after missing practice all week with concussions. Other than that, the Saints are as healthy as they've been since the start of the season.

Everyone else on the Saints' injury report is listed as probable -- including tight end
Jimmy Graham
(foot/ankle), linebacker
Curtis Lofton
(hamstring/ankle), defensive end
Cameron Jordan
(ankle), safeties
Malcolm Jenkins
(hamstring) and
Roman Harper
(knee) and defensive linemen
Akiem Hicks
(back) and
Tyrunn Walker
(knee).
Jordan was upgraded to full participation in Friday's practice. Only Graham, Lofton and Hicks were limited in team drills.
Vaccaro will be missed, since he's been an every-down player in a versatile role for the Saints this year. But it looks like both Jenkins and Harper will return from extended absences. So depth shouldn't be a problem for the Saints -- even against a physical 49ers team that will require safeties to play a big part in stopping the run.
November, 14, 2013
11/14/13
8:30
PM ET
METAIRIE, La. – Safety
Kenny Vaccaro
and tight end
Benjamin Watson
were held out of practice again for the
New Orleans Saints
on Thursday as they recover from concussions, decreasing the chances that they will play Sunday against the
San Francisco 49ers
.
The outlook is better for the rest of the Saints' roster, though. Linebacker
Curtis Lofton
(hamstring/ankle) and defensive lineman
Akiem Hicks
(back) returned to practice on a limited basis Thursday.
Tight end
Jimmy Graham
(toe/elbow) and defensive end
Cameron Jordan
(ankle) practiced on a limited basis for the second straight day. Everyone else practiced fully – including safeties
Malcolm Jenkins
(hamstring) and
Roman Harper
(knee) and defensive lineman
Tyrunn Walker
(knee).
Jenkins' issue was previously listed as a knee injury, but he said Thursday that it has been a hamstring issue all along. He seems likely to play Sunday, since coach Sean Payton said the team went back and forth on whether to play Jenkins last week.
If both Jenkins and Harper are able to return, the Saints should have enough depth to make up for the loss of Vaccaro. They also have experienced backups in safeties
Rafael Bush
and
Isa Abdul-Quddus
and nickel/dime backs
Corey White
and
Chris Carr
.
October, 18, 2013
10/18/13
1:00
PM ET
A look at the
New Orleans Saints
' tight ends through the first six weeks of the 2013 season:
Graham
Looking back:
Jimmy Graham
was sensational over the first five weeks, doing things no tight end had ever done in NFL history (including winning the NFC Offensive Player of the Month honor). Graham caught 37 passes for 593 yards and six touchdowns. And even after being held without a catch in Week 6 at New England, he's still leading the NFL in receiving yards.
That New England game was rough, though. Not only did the Patriots find a way to shut Graham down defensively with physical cornerbacks and double teams, but Graham also left early with a foot injury. Early indications were optimistic that Graham won't miss much time, if any. But obviously a foot injury is a huge concern for an athlete like him.
Watson
Veteran backup
Benjamin Watson
has been used more as a blocker than a receiver so far -- though the Saints did go to him a few times at New England while the defense was so focused on Graham. Undrafted rookie tight end
Josh Hill
seems to be doing a decent job as a backup blocker and special teamer.
Looking forward:
The Saints could probably survive in the short term if Graham needs a few weeks to get back to 100 percent. Their offense is deep enough to go to other options -- especially if they get receiver
Lance Moore
back soon from a hand injury. And Watson is no slouch. However, a long-term injury would put a serious dent in their offense.
The Saints simply aren't as special without Graham in the kind of "beast mode" he was in for the first five weeks (and throughout 2011). Last year, Graham wasn't quite as dominant while dealing with a wrist injury all season. They're hoping this new injury won't bring him back down to earth in a similar fashion.
Snaps played (out of a possible 415):
Graham 309, Watson 188, Hill 13.
ESPN scouting Insider Matt Williamson's take:
"Everything about Jimmy Graham impresses me. I think he might be the most difficult guy to cover in the league. ...You saw flashes from Watson (at New England). Obviously (Patriots coach Bill) Belichick didn't game plan against Watson. He was able to make plays against linebackers. He's still that guy that if you put a poor coverage player on him, he can hurt you. But you don't want him being a featured player."