New Orleans Saints:

Cam Newton
March, 6, 2014
Mar 6
3:00
PM ET
The most interesting question in
our NFC South roundtable
that posted Thursday morning was about which quarterback we would want for the next three years. I thought it was an easy choice to pick the
New Orleans Saints
'
Drew Brees
, since I'm not expecting any significant drop-off from him in the next couple years.
And I thought the answer would be even more of a no-brainer when I threw it out there to my Twitter followers – since most of them are inclined to root for the Saints, needless to say.
However, I was surprised to see how much of a mixed reaction the question received – with a lot of love being shown for the
Carolina Panthers
'
Cam Newton
(and not much for the
Atlanta Falcons
'
Matt Ryan
). Here's a sampling of the responses I received:
December, 19, 2013
12/19/13
10:00
AM ET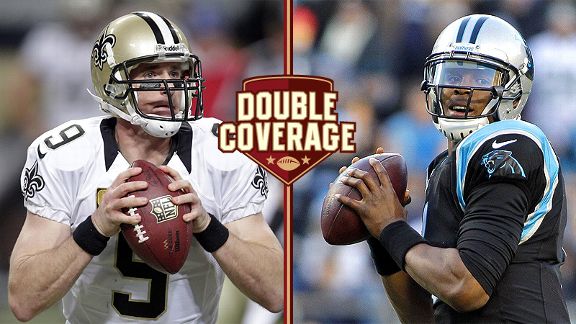 AP PhotoDrew Brees' Saints won the first meeting handily, but Cam Newton's Panthers won't be intimidated.
Round 2 of the NFC South heavyweight battle between the
Carolina Panthers
and
New Orleans Saints
takes place Sunday at Bank of America Stadium.
The Saints won Round 1 by knockout, 31-13 two weeks ago at the Superdome in New Orleans. They made the NFL's second-ranked defense look less than average and totally shut down the Panthers in the red zone, where they had been so effective.
Will this be a repeat? Or will the Saints' road woes continue?
The division title and a first-round bye in the playoffs are on the line between these 10-4 teams, assuming the winner follows up with a win in the regular-season finale. ESPN.com Panthers reporter David Newton and Saints reporter Mike Triplett are here to break it down.
Newton:
So, Mike, as I recall, you said in the press box after the first meeting between these teams that New Orleans should be able to sweep the series. After Sunday's loss to the Rams, a loss that strengthened the argument that the Saints don't play well on the road, has your opinion changed?
Triplett:
Well, David, that game was so long ago that there's no way I can be held to anything I said at the time. Seriously, though, it is tough to make any definitive statements about the Saints right now. They clearly looked like the superior team against the Panthers two weeks ago, but it's impossible to ignore how poorly they've played away from home. And now you have to imagine that their confidence will be shaken when they hit the road again -- even if they don't express that publicly.
I do think the Saints have the higher ceiling among these two teams. And if they both play up to their potential, that means the Saints can win. But when you throw in all the demons they'll be facing (the road, potentially bad weather, a team that can run the ball and force turnovers), it becomes a toss-up.
I'll throw the same question back at you. After the Panthers' Jekyll-and-Hyde display the past two weeks, which team shows up on Sunday?
Newton:
Hmm. So long ago? Interesting bail, Mike. Not sure I'd call it Jekyll and Hyde either, because the Panthers have lost once in their past 10 games. I'd say the Saints are more Jekyll and Hyde with their home-versus-road issues.
But you're right, Carolina was horribly outclassed in the first meeting. The thing about that is a lot of teams have been outclassed in New Orleans. That's why I don't think it was a devastating loss. And the Panthers were able to bounce back, even if it was against the Jets. Where the loss could work in their favor is they know where they have to adjust. They began to adjust in the second half, when they held New Orleans to 10 points. There's no sense of panic or fear they can't turn things around this time. I sense they are relishing the opportunity to prove themselves.
I see the Saints have released their kicker and replaced their left tackle with a rookie. Not really the stuff you expect from a Super Bowl contender at this time of the year. What do you read into that?
Triplett:
It was definitely a unique shake-up at this time of year -- especially the switch at left tackle. And I think both moves are pretty telling of where Sean Payton's mind is at during this playoff push. He was pretty candid after the St. Louis loss, admitting that he still doesn't fully know the makeup of this current team, and that he can't just count on getting the same results as in past years. And all season long, he has been hyper-focused on making sure he's leaving no stone unturned in improving in all areas.
Drew Brees
has made that point a few times when discussing what's different with Payton after his suspension.
I think Payton believes this team has championship potential -- but also sees how close the Saints are to letting a good opportunity slip past them.
How about on-the-field adjustments? What are the one or two areas where you see the Panthers being able to clean up mistakes that doomed them in the first meeting?
Newton:
The biggest cleanup has to be with the secondary. They weren't physical against the Saints' receivers, letting them get into their routes too easily and run free. There also was a bit of miscommunication, particularly in the second quarter, when Brees had the Panthers on their heels with three touchdown passes. The Panthers rectified things a bit in the second half with a few timely blitzes -- more than normal for them -- to force Brees to move in the pocket and get out of his rhythm. I suspect you'll see a bit of that as well this time. But mainly I see them challenging the front four for more pressure, particularly at left tackle, whether it's
Charles Brown
or somebody else.
I'm still perplexed by the wide differential in New Orleans' scoring at home versus the road (32.9 versus 18.4) and the turnover ratio going from plus-5 at home to minus-5 on the road. I've heard the coach-speak explanation. Now I want to hear the Mike-speak.
Triplett:
Wish I were smart enough to figure it out. I think the main difference is that they become a "superhuman" team at home, as former linebacker
Scott Shanle
explained it earlier this year. On the road, they're simply human. They've actually had the best regular-season road record in the NFL dating back to 2009 (24-15). This didn't really turn into an epidemic until this year. But I've got to think it's messing with their confidence now, too, in addition to the crowd noise and the weather conditions they sometimes have to deal with.
This game will be even more of a test than most road games. The Saints have definitely been affected by cold weather and wind and rain over the years, which makes sense since their strength is the passing game. The worse the weather conditions on Sunday, the more it has to favor a Panthers team that can run the ball so effectively.
Earlier this year, I thought the Saints were looking more prepared than ever to win a game like this, thanks to the patient offense we saw in wins at Chicago, against San Francisco and at Atlanta, plus the most physical defensive front they've had in the Payton era. Lately, I'm less certain.
December, 6, 2013
12/06/13
10:00
AM ET
The hottest team in the NFL, the
Carolina Panthers
, will ride an eight-game winning streak into the Mercedes-Benz Superdome on Sunday night to take on the
New Orleans Saints
in a battle for NFC South supremacy.
Both teams are 9-3, and this will be the first of two games between the division rivals in the next three weeks. The division winner almost certainly will be the NFC's No. 2 seed.
The Saints lost their shot at the No. 1 seed Monday night when they got destroyed by the
Seattle Seahawks
34-7. That doesn't bode well for New Orleans because the Panthers are a very similar team to Seattle (stifling defense, strong run game, dual-threat quarterback).
But that loss was on the road. And the Saints are a totally different monster at home, especially in these prime-time games. The Saints have won 12 straight night games at home, including the playoffs, by an average of nearly 20 points per game.
One way or another, somebody's hot streak will have to cool off Sunday night. ESPN.com's Saints reporter Mike Triplett and Panthers reporter David Newton break down the matchup.
Triplett:
David, I don't even know where to begin with these Panthers. It seems like every unit is playing great. I guess the most important question is whether you think Carolina's defense will continue to be so dominant against the Saints' offense inside the Superdome.
The Saints have especially had trouble when defensive backs can get physical with their receivers and
Jimmy Graham
in coverage. What are the Panthers doing so well on defense, and how do you see them attacking the Saints?
Newton:
As former Panthers tackle and current Arizona defensive line coach Brentson Buckner told me a few weeks ago, the Carolina defense is "built to travel." Don't forget this group went to San Francisco and held the 49ers to nine points and 151 total yards. The Panthers likely get sacks leader
Charles Johnson
(knee) back at defensive end and
Chase Blackburn
(foot) back at linebacker, so they should be even more stout than they've been the past few weeks.
I suspect they'll do much the same as Seattle did, pressuring
Drew Brees
as much as they can with the front four and letting linebackers
Thomas Davis
and
Luke Kuechly
try to shut down
Darren Sproles
and Graham. The only weakness this group really has shown is a tendency to occasionally let a receiver get deep, but otherwise, everything you've heard and read is true. The defense is tough to run on and stingy in the red zone.
Speaking of defense, the Saints must have a hangover from what
Russell Wilson
and the Seahawks did Monday night. They have another mobile quarterback coming in
Cam Newton
, who has led the team in rushing three straight games. Are we looking at a repeat?
Triplett:
I have no doubt that Newton will cause problems. He has been a thorn in the Saints' side at times. But I think the Saints will make Newton even more of a priority than they made Wilson (against Seattle, the Saints were focused first on stopping running back
Marshawn Lynch
-- one of the few things they did well).
I'm not sure exactly what to expect in this matchup. The Saints' defense has been hit or miss against similar-style teams (bad against the Seahawks and Jets, good against the 49ers and Bills). However, I trust that defensive coordinator Rob Ryan will have a good plan in place after learning from the mistakes made at Seattle. The Saints' defense has mostly been a strength all season. Monday's loss was a rare flop -- especially when it came to all of the pass-coverage breakdowns.
Tell me more about Cam Newton. I've always seen the talent, obviously. Has he been better than ever during this win streak?
Newton:
I feel like a broken record on this one, but it has been a matter of maturing and learning to take what the defense gives him instead of forcing things and being a one-man show. New offensive coordinator Mike Shula has been great for Newton. Shula is dedicated to having a more traditional running game, even though at times the past few weeks he has had to rely on Newton as his lead rusher because teams have stacked up to stop the backs. But the commitment to the run has helped keep Newton in manageable third-down distances. He has responded with one of the best third-down quarterback ratings in the league. To me, that as much as anything shows how he has grown.
With success has come confidence, and Newton has some of that swagger back you saw when he was in college. When he makes a bad play, he doesn't pout. He moves on and usually makes up for it. He's really developing into a complete quarterback.
As long as we're talking about complete quarterbacks, Brees -- the Seattle game aside -- has been impressive, particularly at home. Has the return of Sean Payton made a big difference?
Triplett:
Payton's return plays a big part, but I think it also helps quite a bit that the Saints have such a vastly improved defense. Brees doesn't feel as if he has to do everything by himself -- which was the case more than ever last year, especially since the Saints were trailing in a lot of games.
Payton and Brees are terrific at exploiting and attacking mismatches and finding the open man. However, this season, I feel like they've also been as smart and patient as ever before -- willing to win the low-scoring, clock-control games when needed. Up until Monday night, Brees was having one of his best and most efficient seasons. I wouldn't be surprised at all to see him bounce back quickly.
But enough about the star players. Tell me about one or two guys who haven't gotten enough attention for the Panthers' turnaround this year -- and who might step up and make an impact in this game. (For the Saints, I'd say the entire defensive line qualifies, with third-year end
Cameron Jordan
heading toward his first Pro Bowl and second-year end
Akiem Hicks
maybe reaching that same level in a year or two).
Newton:
Good question. The Panthers are full of unsung heroes, from running back
Mike Tolbert
and rookie linebacker
A.J. Klein
to safety
Mike Mitchell
and wide receiver
Ted Ginn Jr.
I know you said no stars, but I'll have to go with rookie tackle
Star Lotulelei
. He has really taken this defense to another level with his ability to cause havoc in the middle. When you look at Carolina's success at stopping the run, in many ways it begins with him. He often demands double-teams that free up players who already are stars -- such as linebackers Kuechly and Davis, ends
Greg Hardy
and Johnson. And truthfully, Lotulelei will be a star -- if he isn't already. He should be getting serious consideration for defensive rookie of the year. If he has a big game Sunday night, it will cause Brees and the New Orleans offense a big headache.
Triplett:
Great line. And interesting to note that the Panthers took Lotulelei with the 14th pick in the draft -- one spot before the Saints took safety
Kenny Vaccaro
. Vaccaro hasn't made quite that level of impact, but he has been a big-time asset for them as an every-down player and a versatile weapon who plays all over the field. He'll be one of many guys charged with keeping Newton contained Sunday night.
December, 5, 2013
12/05/13
8:00
AM ET
Remember the New Orleans Saints-Carolina Panthers rivalry? It's been on the back burner all season, but it's about to start boiling over.
The NFC South co-leaders at 9-3 will face each other twice over the next three weeks, starting Sunday night in the Mercedes-Benz Superdome. The Panthers are the NFL's hottest team, having won a franchise-record eight consecutive games.
More than that, Carolina has been the Saints' biggest nemesis in the Sean Payton-Drew Brees era – indeed, going all the way back to the formation of the NFC South in 2002.
Since 2006, the Saints are 6-8 against the Panthers (though they did rest their starters in two of those losses, in the final weeks of the 2006 and 2009 seasons). The Saints have a winning record since '06 against both the Atlanta Falcons (13-3) and the Tampa Bay Buccaneers (9-6).
It's the same story since '02. The Saints are 9-13 against Carolina, 16-8 against Atlanta and 13-10 against Tampa Bay.
To catch up on what the Panthers have been up to this year, ESPN.com's David Newton is
a must-read this week
. He had three interesting pieces Wednesday that are all worth a click:
Panthers safety Mike Mitchell backed away from his comments on a radio show last month in which he referred to Saints quarterback Drew Brees as "soft" for the way he reacted to San Francisco 49ers linebacker Ahmad Brooks' hit.
Panthers quarterback Cam Newton is a man after Saints coach Sean Payton's heart when it comes to gum-chewing – although Newton's vice is Wrigley's Winterfresh, while Payton is a known Juicy Fruit lover.
Even more important to Newton's success this year is his growing trust in his teammates.
Worth repeating:
"If they're winning, it'll be loud. If not, it'll be like a sermon in church." – Panthers receiver Steve Smith on the noise in the Superdome, according to the Charlotte Observer's Joe Person.
"Last I looked, there's still Drew Brees and Jimmy Graham and Pierre Thomas and Darren Sproles and Marques Colston. This is a good football team, so sometimes strange things happen."– Panthers coach Ron Rivera on how he's remaining wary of the Saints, despite their struggles in Monday night's 34-7 loss to the Seattle Seahawks.
Worth noting:
According to the Elias Sports Bureau, the Panthers will become the third team to take a win streak of at least eight games into the Superdome against the Saints. The 1975 Vikings started the season 8-0 and won 20-7 in the Dome en route to a 12-2 season. And the 2012 Falcons started the season 8-0 and lost 31-27 at the Dome en route to a 13-3 season.
MVP watch:
Not surprisingly, Brees traded places with Seahawks quarterback Russell Wilson in Dan Graziano's
weekly MVP Watch
for ESPN.com (Wilson up to No. 2 and Brees down to No. 3). Combined with the fact that No. 1 candidate Peyton Manning and the Denver Broncos just wrapped up another victory over the Kansas City Chiefs, it will be extremely difficult for Brees to pass up both of those guys over the final four weeks of the season. Meanwhile, Carolina's Newton is up to No. 4 on the list, so this will be quite a showdown on Sunday night.
Pro Bowl voting:
Brees remains No. 2 in the NFL in the
fans' Pro Bowl voting
(also behind Manning) with 793,685 votes. Tight end Graham ranks seventh among all NFL players with 534,867 votes.
Warning over counterfeit tickets:
The Saints and the New Orleans Pelicans issued a warning for fans to be extra cautious when buying tickets on the secondary market – especially with marquee games coming up for both teams. According to a statement from the teams, they have been seeing an increase in counterfeit tickets this year, estimating about 100 fans per game being turned away at Saints games.
December, 4, 2013
12/04/13
7:00
PM ET
METAIRIE, La. -- About the only good thing that came out of the
New Orleans Saints
' 34-7 loss to the
Seattle Seahawks
on Monday night was they got a chance to prepare for their next opponent -- the
Carolina Panthers
.
Saints players and coach Sean Payton all agreed Wednesday that the Panthers (9-3) pose a lot of the same kinds of threats as Seattle on both sides of the ball -- starting with the quarterback position.
[+] Enlarge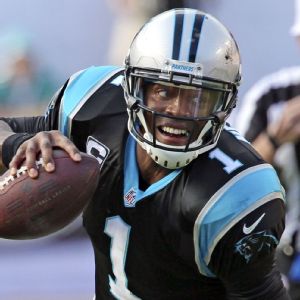 Charles Trainor Jr./Miami Herald/MCT via Getty ImagesCam Newton and the Panthers pose many of the same problems that Seattle did.
Even though Carolina's
Cam Newton
(6-foot-5, 245 pounds) is much bigger than Seattle's
Russell Wilson
(5-foot-11, 206) they pose a similar threat to run the ball -- or to keep passing plays alive by scrambling outside of the pocket.
Their numbers are almost identical (Newton averages 218 passing yards and 37 rushing yards per game; Wilson 223 and 38).
"If you just write down on paper what it is that they do well, they are very similar," Saints safety
Malcolm Jenkins
said. "They can extend plays with their legs, they have a big arm and can throw downfield. They run the ball well as a team and they are very patient. That is what we just faced, and that is what we are going to face this week.
"They run the ball all day and then they hit these big, explosive plays down field. Or if something is not there, you have Cam Newton extending the play by getting out of the pocket, running or someone getting open late in the play and he makes the throw."
Obviously the Saints will need to do a much better job than they did against Wilson, who threw for 310 yards and three touchdowns and ran for another 47 yards in Monday's rout.
But Jenkins said the Saints remain confident in a defense that has played great all year long -- and believes they will learn from their mistakes. Seattle made the Saints pay for devoting too much attention to running back
Marshawn Lynch
with play-action fakes, and Wilson burned the Saints' blitzes with big throws down the field.
"I think we just had a bad outing and we will learn a lot from this game," Jenkins said. "It wasn't just the mobile quarterback that killed us, it was the big plays down field in the secondary that hurt us. And then when we did get some stops, the quarterback would scramble, get a crucial first down and extend the play and the drive. There were a lot of things that we can learn from and obviously help us out going forward."
Likewise, Saints tight end
Benjamin Watson
said he sees a lot of similarities between the Panthers' defense and the Seahawks' defense -- the top-two ranked units in the NFL in both points allowed and yards allowed. Carolina ranks first in the NFL in points (13.1 per game) and second in yards (289.8 per game).
"[Carolina's] defense is playing tremendous football right now," said Watson, who agreed that lessons can be learned from the Seattle loss.
"You definitely don't write it off or flush it, because there's things that you can learn from losses like that -- huge losses as well as close losses and huge victories," Watson said. "We're going to learn from it. At the same time, we do have to move on. And that's why whenever we play there's always the mentality that you enjoy the wins for a day or so and you endure the losses for a day or so, because there's another team coming that you have to play."
Payton also pointed out one area where the Seahawks and Panthers are similar – both teams are playing with a lot of "confidence" right now. Carolina has won eight straight games, more than any current streak in the NFL.
"They are the hottest team in the NFL." Payton said. "They are playing with a lot of confidence and playing well on defense and the kicking game and playing outstanding on offense. Coach [Ron] Rivera and his staff do a great job and you can see that confidence show up on tape."
August, 27, 2013
8/27/13
11:10
AM ET
Last week, we made a big deal about how Tampa Bay quarterback
Josh Freeman
had taken so few snaps in the first two preseason games.
Well, that trend changed in the exhibition game against Miami on Saturday night. Freeman played 41 snaps (although he was ineffective for most of the game). That means he now has played 62 snaps this preseason. That leaves Freeman tied for 25th among
the presumed 32 starting quarterbacks
.
Freeman isn't even the least used NFC South quarterback anymore. That honor now belongs to
Drew Brees
, who is No. 27 with 60 snaps.
Carolina's
Cam Newton
is No. 11 with 80 snaps an Atlanta's
Matt Ryan
is tied for ninth at 81.