New Orleans Saints:

Chris Ivory
November, 4, 2013
11/04/13
7:00
PM ET
METAIRIE, La. -- As I wrote earlier,
New Orleans Saints
coach Sean Payton said it was impossible to single out
any one area that deserved blame
for Sunday's 26-20 loss to the
New York Jets
, since there were fundamental breakdowns across the board.
However, the Saints' run defense was clearly near the top of that list of offenders.
"The thing that's disappointing about yesterday is we knew getting off the bus this is a team that was gonna run the football," Payton said. "They knew they were gonna run the football. I think everyone at MetLife Stadium knew they were gonna run the football. And we weren't able to stop them. That's frustrating, and we've got to figure out why and make those corrections."
[+] Enlarge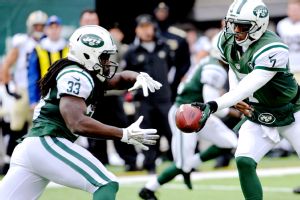 AP Photo/Bill KostrounChris Ivory gained 109 of his 139 yards on three carries against the Saints.
The Saints gave up 198 rushing yards to the Jets. But almost all of the damage came on three plays. Running back
Chris Ivory
busted loose for gains of 52, 30 and 27 yards -- going virtually untouched on all three runs.
When asked how much of that was simply Ivory having a great game, Saints linebacker
Curtis Lofton
wasn't about to surrender any of the blame.
"I wouldn't say that. He had great numbers stat-wise, but there wasn't anything in his way most of the time he ran," Lofton said. "That's more so (our fault). We didn't do our jobs or execute the way we should execute."
The Saints either got blocked out of the way or took poor angles to the runner in every level of their defense. And they got caught over-pursuing on blitzes on the first two runs (the 27-yarder in the first quarter and the 52-yarder in the second quarter).
Those types of breakdowns haven't been a consistent problem for the Saints this year, even though they rank 26th in rushing yards allowed (121.3 per game). They have occasionally let some long gains slip through -- but never to this degree. And never against an opponent that was so obviously planning to run against them all day long.
Payton pointed to the 52-yard run while the Jets were backed up with a second-and-12 from their own 2-yard line as one of the two biggest turning points in the game.
He just as easily could've mentioned Ivory's 30-yard run on third-and-2 late in the third quarter.
"What went wrong was, I'd say it was a couple of things. Misalignment, not being lined up, not having people in the right spots, and just missing tackles, too, which led to big plays and getting gashed," Lofton said. "That's something we haven't done in the previous games and it reared its head this game. We've got to get back to the basics and get ready for Dallas this weekend."
Here's a specific breakdown from the tape of those three runs:
27 yards off right tackle on first-and-10 from the Saints' 48-yard line: The Jets were lined up in the shotgun with two running backs in the backfield, and the Saints stacked eight men in the box. But the Saints got burned with an aggressive blitz. Lofton shot into the line, and outside linebacker Parys Haralson came around behind Lofton on a stunt. When Haralson got to the open hole, he overshot Ivory's path, and Ivory ran untouched deep into the secondary.

52 yards off right tackle on second-and-12 from the Jets' 2-yard line: The Jets were lined up in a base formation, with Ivory behind a fullback in the backfield. Again the Saints blitzed, which took safety Kenny Vaccaro out of the play to the Saints' right side. Meanwhile, Ivory came around to the Saints' left side behind pulling guard Brian Winters. Winters got in Lofton's way, forcing Lofton to try and bring down Ivory with just an arm tackle -- which wasn't going to get it done. Deep safety Rafael Bush wasn't able to get across the field to help out. Luckily, Vaccaro wound up catching Ivory from behind, or else it might have been a 98-yard touchdown run.

30 yards around left end on third-and-2 from the Jets' 27-yard line: Ivory was the lone back next to quarterback Geno Smith in a shotgun formation, with three wide receivers and a tight end. The Saints had eight men in the box, but they didn't blitz. This time, Ivory followed pulling guard Willie Colon around the left end. Colon took out Lofton, and Bush took too shallow of an angle while coming from the deep safety position.
November, 4, 2013
11/04/13
8:00
AM ET
An review of four hot issues from the
New Orleans Saints
' 26-20
loss
to the
New York Jets
on the road in MetLife Stadium:
Missing Ivory?
I focused my postgame stories on the Saints'
inability to stop
former running back
Chris Ivory
and their
inability to establish
a run game of their own. So it's hard to ignore the question: Do they miss Ivory? I still say the answer is no. If he had stayed in New Orleans, he'd certainly have some highlight moments, like he did in the past. But he would also have quiet days, like he did in the past, for a Saints team that doesn't feature the run as often or as well as the Jets.
[+] Enlarge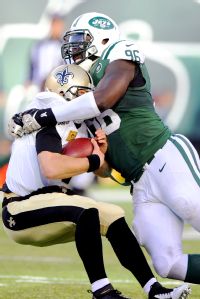 Robert Deutsch/USA TODAY SportsDrew Brees was sacked twice in the final 20 minutes.
The trade made sense for the Saints, since their backfield is still overcrowded and they got good value in return for him (a fourth-round pick). But obviously the Saints need to figure out how to establish a more consistent run game, from their play calling to their blocking to the runners themselves.
Protection breakdown:
The Saints became one-dimensional when they trailed by nine points throughout much of the second half. And the offensive line didn't hold up well under the pressure. Over the final 20 minutes, quarterback
Drew Brees
was sacked twice, guard
Jahri Evans
and center
Brian de la Puente
were flagged for holding, and guard
Ben Grubbs
was flagged for illegal hands to the face. Brees was also pressured into some incomplete passes, and the Saints failed to score a second-half touchdown.
The Jets do have one of the NFL's most disruptive defensive fronts. But the Saints' pass protection has been more up and down than usual this year, with most of the pressure coming up the gut.
Defensive breakdown:
The Saints' run defense also broke down too often Sunday, allowing Ivory to bust loose for gains of 52, 30 and 27 yards. It was obviously unsettling, since the Saints had made it their primary focus to stop the run against a Jets team that doesn't throw the ball very well. The Saints now rank 26th in the NFL in run defense this year, allowing 121.3 yards per game.
However, I still don't see this as a huge area of concern going forward. The Jets are the first team all year that really dominated the Saints with the run game. And most of their damage came on those three long runs. Ivory gained only 30 yards on his other 15 runs.
Hartley's redemption:
One of the best things that came out of the Saints' second-half offensive struggles is that it gave kicker
Garrett Hartley
the opportunity to make two high-pressure field goals from 55 and 43 yards. Before that, Hartley had missed three consecutive field goals -- including a 43-yarder wide left in the first quarter against the Jets. The two made field goals should help him settle back into a groove.
November, 3, 2013
11/03/13
4:30
PM ET
EAST RUTHERFORD, N.J. -- A few thoughts on the
New Orleans Saints
' 26-20
loss
to the
New York Jets
, which moved them to 6-2 on the season.

What it means:
This was a frustrating loss for the Saints because they shot themselves in the foot so often on offense, defense and special teams. After preaching last week that their 35-17 victory against the
Buffalo Bills
was too sloppy, the Saints committed many of the same mistakes this week. Way too many big gains allowed by their run defense against New York's
Chris Ivory
; penalties, dropped passes and interceptions on offense; a missed field goal and big kick return allowed on special teams.
In the grand scheme of things, the Saints can afford one loss -- especially to an AFC team. But they need to prove this was just an "off day" in chilly, windy weather, rather than the continuation of an ugly trend.
Ryan still winless:
No one could have been more disappointed than Saints defensive coordinator Rob Ryan, who is now 0-5 in NFL matchups against his brother Rex, the Jets' head coach. Rob knew this was his best chance yet to beat his brother -- especially with Jets quarterback
Geno Smith
so inconsistent this season. But the Saints' defense couldn't stop the run consistently enough to put Smith in uncomfortable situations.
Stock watch:
The Saints' run defense, which had been up and down all season, definitely did not rise to the challenge against a physical, run-first team. New Orleans allowed a total of 198 yards on 36 carries -- 139 of them by Ivory, the power runner who was traded from the Saints to the Jets this offseason. The Saints left way too many gaping holes and missed too many tackles. Ivory had gains of 52, 30 and 27 yards.
Stock watch II:
Saints second-year receiver
Nick Toon
struggled on a day when he had a chance to play a key role with veteran
Marques Colston
out with a knee injury. Toon dropped two passes -- one of which was tipped up and intercepted. The other could have been a big gain down the left sideline.
Up next:
The Saints will be back in their element next week -- a Sunday night home game against the
Dallas Cowboys
. The Saints have been dominant in prime-time home games, winning 11 straight and 14 of their past 15, dating back to 2008.
November, 3, 2013
11/03/13
2:52
PM ET
EAST RUTHERFORD, N.J. -- The
New Orleans Saints
are trailing the
New York Jets
20-14 at halftime after a sloppy first half on both sides of the ball. Here are a few thoughts on the action so far:
Ivory's revenge
: Former Saints tailback
Chris Ivory
is making the Saints pay for trading him to the Jets this offseason. He has 10 carries for 93 yards, including a 52-yarder, a 27-yarder and a 3-yard touchdown. It's not really a "revenge" game for Ivory, since the Saints did him a favor by trading him to New York's less-crowded backfield. But he's showing them what they missed out on, regardless.
Two picks for Brees
: Saints quarterback
Drew Brees
has thrown two interceptions in this game after throwing just five in the first seven games. Both of them were tipped balls -- the first when he threw too far behind tight end
Benjamin Watson
, the second when receiver
Nick Toon
bobbled a pass. Toon is having a rough day, wasting his chance to step up in
Marques Colston
's absence. He also dropped a deep ball down the left sideline earlier in the game.
The Saints are losing the turnover battle 2-0, flipping the script from the rest of the season. Heading into the game, the Saints had a turnover ratio of plus-8 and the Jets minus-12.
Sproles out
: The Saints lost one of their top playmakers, running back
Darren Sproles
, to a concussion on the first series. He'll be missed today since the Saints are relying heavily on their passing game. The Jets have the NFL's No. 1-ranked run defense, and they've held New Orleans to 16 yards on five carries today.
Graham, Meachem thriving
: Two weapons have been thriving for the Saints today. Tight end
Jimmy Graham
has four catches for 72 yards and two touchdowns. Receiver
Robert Meachem
has three catches for 88 yards, including a 60-yarder. Expect Brees to lean heavily on Graham in the second half.
Hartley misses again
: Saints kicker
Garrett Hartley
missed another 43-yard field goal, wide left, on the opening drive. He's now missed three in a row. He can't afford another miss in a tight game like this.
October, 31, 2013
10/31/13
10:15
AM ET
METAIRIE, La –
New York Jets
running back
Chris Ivory
has said all week that he isn't feeling any extra motivation to play against his former team, the
New Orleans Saints
, on Sunday.
Ivory
There certainly won't be any revenge factor in play -- the Saints did Ivory a favor by trading him to the Jets for a fourth-round draft pick this offseason. Now he's playing in a less crowded backfield for a team that's more committed to the run.
"I didn't ask for a trade … but it was a crowded backfield, so I was happy with the move," Ivory said in a conference call with the New Orleans media Wednesday. "I wasn't upset at all. It was an opportunity for me to come over here. They (the Saints) still have five running backs. They're still playing just three. It was just crowded.
"I think he (Sean Payton) knew coming in there were too many backs to let me sit around. Time was going by. No, I was happy with what he did and now I'm here trying to make great things happen."
In addition to the over-crowded backfield, Ivory's tenure in New Orleans was plagued by a series of injuries. And that's something he hasn't quite been able to escape in New York. Ivory has been dealing with a hamstring injury on and off since the preseason, which has in part limited him to 230 yards and no touchdowns in seven games played this season.
But two weeks ago, Ivory carried the ball 34 times for 104 yards in a victory over the
New England Patriots
.
Ivory laughed when it was suggested that he only got about 34 carries in a full season with the Saints. "Yeah, it was probably about that much," Ivory said.
Actually, he got 40 carries last year in six games after beginning the 2012 season on the physically-unable-to-perform list.
Clearly, if Ivory can stay healthy on a consistent basis, there will be an opportunity for a bigger role with the Jets. And that's his main source of motivation heading into Sunday's game.
Ivory needs to prove he can stay healthy and be versatile enough to protect the passer and catch balls out of the backfield -- two areas that were still in development while he was with the Saints.
"When he's been out there, he's just been a battering ram, as you guys know -- very physical," Jets coach Rex Ryan said in his conference call with the New Orleans media. "And so I love that about him, I love that passion that he brings. I think he's an improved pass-protector as well. He's a tough dude, man -- tough, strong, physical back, and that's what I like best about him."
From a Saints perspective, the trade still makes sense. The Saints still have depth at running back, especially with undrafted rookie
Khiry Robinson
emerging as part of the rotation. Plus, the Saints seem to have made good use of that fourth-round pick they received. They used it to move into the third round to draft rookie nose tackle
John Jenkins
, who has played an impressive role in the Saints' defensive turnaround. Now he'll be one of the guys standing in Ivory's way Sunday.
October, 28, 2013
10/28/13
8:00
PM ET
FLORHAM PARK, N.J. -- Listening to
Chris Ivory
speak Monday, you wouldn't have known whether he was preparing for a meaningless preseason game or readying for the team that traded him this offseason.
Ivory
"No special meaning," Ivory said of facing New Orleans this Sunday. "Just another game that we're trying to get a win."
Ivory downplayed playing the Saints for the first time as a Jet. The Jets acquired Ivory for a fourth-round draft pick after three injury-riddled seasons in New Orleans, and he said he doesn't see this as an opportunity to prove to New Orleans it shouldn't have dealt him.
"I feel like you should treat every game like the same. It's just another game. It's just the team I came from," Ivory said. "I don't feel like I have to prove anything. Go out and play and try to come out with a win."
Ivory had a good rookie season with the Saints in 2010, rushing for 716 yards and five touchdowns, but couldn't stay healthy. He played a combined 12 games the next two years, rushing for a total of 591 yards and three touchdowns. With Ivory's injury history, and the Saints already using
Darren Sproles
,
Mark Ingram
and
Pierre Thomas
in the backfield, Ivory became expendable.
The Jets acquired Ivory, and aside for his performance against the Patriots on Oct. 13, he hasn't provided much thus far. Against New England, he rushed for 104 yards on 34 carries. In his other six games, he's rushed 40 times for 126 yards. He has yet to score.
When asked what his best memories were of his days with the Saints, Ivory was brief: "Making plays."