New Orleans Saints:

Gerald McCoy
October, 9, 2014
10/09/14
8:00
AM ET
The
New Orleans Saints
will take comfort in knowing they don't have to face
Tampa Bay Buccaneers
defensive tackle
Gerald McCoy
or linebacker
Lavonte David
again until Week 17, since that dynamic duo caused them major problems this past Sunday.
The Saints will take even more comfort in the fact that they eventually wore those guys down in a 37-31 overtime victory that included 91 offensive snaps (including penalties).
[+] Enlarge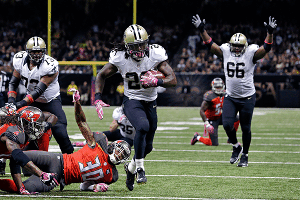 AP Photo/Jonathan BachmanKhiry Robinson benefited from timely blocking during his touchdown run in overtime against the Bucs.
Khiry Robinson
's game-winning 18-yard touchdown run in overtime was a masterpiece by the Saints' entire offense -- maybe their single best effort of the season from design to execution.
It was a stretch run to the left that was sprung by an outstanding crack-back block by tight end
Josh Hill
that took out both end
Michael Johnson
and tackle
Clinton McDonald
. Robinson then turned the corner and found a huge lane behind more perfectly executed blocks by guard
Jahri Evans
(against David), guard
Ben Grubbs
, tackle
Terron Armstead
, fullback
Austin Johnson
and tight end
Benjamin Watson
.
Then Robinson powered through safeties
Bradley McDougald
and
Mark Barron
as if they were bowling pins before high-stepping the final five yards into the end zone.
It was Robinson's fourth consecutive run to close out the drive, and his career-high 21
st
run of the game.
Here are more observations after reviewing the tape:
The screen returns:
The Saints also scored on a vintage 15-yard screen pass to
Pierre Thomas
in the second quarter and a 27-yard toss play to Thomas in the fourth quarter that was set up like a screen pass. Thomas also had gains of 19 and 13 yards on screen passes late in the game. Defenses had gotten wise to the Saints' love for that play dating back to last year. But on a day when the Saints struggled to throw the ball downfield, it was a reminder that you can't take everything away from this offense.
Evans had two outstanding blocks on the 27-yard touchdown run, which also included a nice crack-back block by Watson. Grubbs, Armstead, center
Tim Lelito
and receiver
Brandin Cooks
also had noteworthy blocks on some of those plays, but they weren't the only ones.
One screen late in the fourth quarter did get blown up, though, when Thomas was hit for an 8-yard loss. And sure enough, it was a combination of McCoy slowing down Evans at the line so he couldn't get a block on David, who shot in for the tackle.
Ugly interceptions:
The line was hardly perfect Sunday, which was obvious to anyone watching since quarterback
Drew Brees
was under pressure on two of the uglier interceptions of his career (and had a hand in his face on a third interception). Brees made poor decisions to try and force the first two balls out while he was getting hit.
The second was the worst. Brees was being swallowed up in the pocket after Johnson drove back Armstead and McCoy drove back Evans. Brees was actually pressed against Armstead before he decided to throw the ball, and his pass fluttered into the air after he tripped over Armstead's foot. … McCoy also had Brees by his legs as he threw the first interception after getting a good push against Evans.
On the final interception late in the fourth quarter, Brees wasn't able to fully step into a deep pass that was underthrown for
Robert Meachem
because of late pressure from end
Jacquies Smith
, who came around from the left end and found a path up the middle behind McCoy.
McCoy proved to be a handful for Evans throughout the day, busting through the line four or five other times as well on both run plays and pass plays. When I asked players about McCoy last week, they all said his "get-off" was the most impressive thing about him. He lived up to his reputation.
Brees' good throws:
Brees had one of his more inefficient days overall -- especially when it came to those deep throws, as I've dissected at length this week. But he remained very sharp on a ton of mid-range throws as he completed 35 of 57 passes for 371 yards and two touchdowns.
Among the highlights were a beautiful 36-yard strike that led receiver
Marques Colston
down the middle of the field; a similar 23-yard strike to tight end
Jimmy Graham
in traffic; a perfectly-placed floater to Hill that went for 37 yards; a 13-yard strike to Watson while on the run; a well-placed 16-yarder to Cooks on third-and-10; a 21-yarder to Colston to start overtime; and another 11-yard strike to Watson on third-and-9 in overtime.
Brees' two TD passes were the screen to Thomas and a 5-yard pass to
Travaris Cadet
on third-and-goal after Cadet burned David with a nifty in-and-out cut.
Other highlights:
Thomas bowled over the bigger end Johnson and safety
Major Wright
to turn a potential loss into a 4-yard gain. Robinson also ran hard and decisive, with two or three really sharp cuts on longer gains. … The Saints got very creative with their use of Cooks, though the results were hit or miss as he had nine catches for 56 yards and two runs for 15 yards. My favorite was a fake end-around, in which Cooks reversed course to catch a 9-yard pass.
Other lowlights:
Colston had another costly drop that could have helped the Saints seal the deal late in the fourth quarter. Graham also failed to reel in a short third-down pass in the first half, but Barron made a nice effort to jar it loose. … The run game wasn't perfect either, especially early. Right tackle
Zach Strief
missed a pair of blocks on a Robinson run and a Cooks screen pass. Hill missed one on a run where Robinson lost three yards. Replacement tackle
Bryce Harris
fell down on a 2-yard loss by Robinson. Robinson himself fell down once on a short run that stalled a drive.
October, 3, 2014
10/03/14
9:00
AM ET
METAIRIE, La. -- Every week I choose an opposing player to feature in this space, usually based on a rare talent level or skill set that will cause matchup problems for the
New Orleans Saints
.
This week, however, I couldn't settle on just one guy since Saints players and coaches had such glowing things to say about both
Tampa Bay Buccaneers
defensive tackle
Gerald McCoy
and linebacker
Lavonte David
.
Despite the Buccaneers' overall struggles, these guys have emerged as two of the best young defensive players in the NFL. They were both ranked among the NFL Network's top 35 players this summer (McCoy at 28, David at 35, based on a vote of fellow NFL players). And in ESPN's NFLRank series, analysts rated McCoy as the league's 19
th
best defensive player and David the 25
th
.
McCoy (6-foot-4, 300 pounds) has made the Pro Bowl each of the past two years, living up to the expectations from when he was the third overall pick out of Oklahoma in 2010. He had career highs of 50 tackles and 9.5 sacks last season before being named first-team All-Pro. He has 10 tackles and two sacks so far this year.
David (6-1, 233) was named a first-team All-Pro last year, even though he was somehow snubbed from the Pro Bowl. A second-round pick out of Nebraska in 2012, he has started every game of his career, ranking in the top-7 in the NFL in tackles each season. He had five interceptions and two forced fumbles last year and has two more forced fumbles this year.
Here's what the Saints had to say about Tampa Bay's dynamic duo this week:
McCoy
OT Zach Strief on McCoy:
"Gerald McCoy, to me, is as good of a football player as we see every year. His get-off is as good as anybody in the NFL. I'd like to say that he's cheating sometimes. He's guessing, but he's good at that. I think he's very good at getting a feel for when that guy's going, when the ball's coming out. And he's explosive, as explosive a three technique as you're gonna see. He can essentially take away your greatest advantage as an offensive lineman, which is that we know the snap count and you don't.
"And honestly I think he's a guy that plays the game the right way. I respect him as a player and as a guy. You just kind of get the feeling -- I've never seen him practice, but I'd be willing to bet you he works his butt off in practice. He does things the right way, goes about things the right way. He's a really good athlete, works hard, pursues, penetrates [and is] stout [and] strong. There's probably no other D-lineman I respect in the NFL more than him."
OT Terron Armstead on McCoy:
"About as elite of a get-off that you would see in NFL history, really. I mean this guy's moving before we're moving. So we just have to try to counter that, knock him off his base as much as we can, try to do some things to change up his get-off tempo. That get-off alone, it affects both the run and the pass. I mean, he lives in the backfield. So we gotta get our hands on him quick."
Coach Sean Payton on McCoy:
"McCoy is a huge factor. He does a great job of anticipating the snap."
David
Payton on David:
"I said this a year ago, if there was one player that I thought deserved to be on that Pro Bowl roster based on what I saw, which was a lot of tape, it was him. … He is one of the better inside linebackers that we see, not only in the base but in the nickel.
"He's challenging in that if you're in sub or if you're in your third down or passing situations, he's usually that weak inside linebacker [who's] handling that back or carrying that tight end, depending on the coverage. I think he's a player [who] runs well. He's got instincts. … I think he's an outstanding football player who's got real good awareness in zone [coverage]. In man, he can match up with some of those challenging players. And you can see right away now that nothing has changed [under new Buccaneers coach Lovie Smith]. He's doing a very good job in their scheme."
Armstead on David:
"Anywhere the ball's going, he's going. Wherever you see the ball, that's where he's trying to get to. So if I come in contact with him, I'm gonna try to put my hands on him."
RB Pierre Thomas on David:
"You gotta give it to him. He is good in that open field. That's something we've seen, and we know the type of talent he has. That's a dangerous person when you get him in the open field like that. … Just his knowledge of the game and being at the right place at the right time. That's what really stands out to me."
December, 31, 2013
12/31/13
11:00
AM ET
Some observations on the
New Orleans Saints
' offense after reviewing the tape of their 42-17 victory over the
Tampa Bay Buccaneers
in Week 17:
Run for it:
Although Saints quarterback
Drew Brees
threw four touchdown passes in the first half – three of them from more than 40 yards – the touchdown that really caught my eye was Pierre Thomas' 8-yard run off left tackle on third-and- 7 in the third quarter.
It was an obvious passing situation, and the Saints were lined up in a pass formation, with three receivers spread wide. The Buccaneers were in nickel defense with just four men at the line. And the Saints caught them off guard with the run by Thomas, who cruised into the end zone behind a series of great blocks by linemen
Terron Armstead
,
Ben Grubbs
and Brian de la Puente and receivers
Kenny Stills
and
Lance Moore
.
I never criticize the Saints for passing the ball too much because they're so good at it. Sometimes it seems like they're doing the defense a favor when they line up in a heavy formation and try to run it up the gut for 2 or 3 yards. But these are the situations when I think the Saints should run the ball more – when a defense is practically begging them to do it. The most important aspect of the Saints' run game is keeping defenses honest. That's what happened on this play.
Run for it, part 2:
The Saints' other rushing TD came in the fourth quarter, when Brees scrambled for a 9-yard score. Brees actually took off running from about the 15-yard line, and he had a wide open lane up the middle while five receivers were spreading out around the field. The best part of Brees' touchdown was the dunk afterward, which Brees said tight end
Jimmy Graham
had been on him to do. Graham was clearly pleased afterward when he lifted Brees off the ground to celebrate.
Some nice throws, too:
Before that outbreak of rushing TDs in the second half, we saw a vintage aerial display by Brees in the first half. He threw four touchdown passes before halftime – 44 yards to Moore, 10 yards to Graham, 41 yards to
Robert Meachem
and 76 yards to Stills.
The pass protection was great on all of them, including an impressive performance by Armstead. Armstead and Grubbs did a nice job of picking up Tampa pass-rushers
Adrian Clayborn
and
Gerald McCoy
when they tried to flood Armstead's side on the Moore touchdown. Meanwhile, Moore just cruised past cornerback
Leonard Johnson
in single coverage for an easy score. (Safety
Dashon Goldson
had his eyes on receiver
Marques Colston
instead.)
Brees fired a nice 10-yarder into a tight window to Graham for the second TD. Brees had plenty of time to throw against just a three-man rush on the 41-yard TD to Meachem, who got a step behind cornerback
Darrelle Revis
with a double move. Meachem had to turn and wait for the ball just a bit, but he was in the better position to see it coming, so he made the nice catch around waist level.
Last but not least, Stills broke wide open for his 76-yarder. Brees again had plenty of time to throw against a four-man rush, and the Buccaneers' defense obviously had some miscommunication since nobody followed Stills deep.
Brees had a great game overall. His prettiest throw might have been a perfectly-placed swing pass to
Darren Sproles
over Clayborn in the first quarter that led to a 24-yard gain.
Armstead impressive:
Armstead held up well for most of the day. And he was pretty much on his own the whole time, without much help from double teams or chip-blocks off the line. He mostly faced athletic end Clayborn, but he had to tangle with sensational defensive tackle McCoy a few times, too.
Armstead gave up a half-sack when Clayborn beat him and McCoy got free through the middle in the second quarter. Clayborn also got past Armstead one other time to hit Brees after he threw in the second half. But other than that, Armstead held up very well in pass protection. He had at least one missed block on a negative run. But his run blocking also appeared to be mostly solid.
A true tight end?
There's always a popular debate about whether Graham should be considered a true tight end since he lines up out wide so often (a debate that could come up as he heads toward free agency and a possible franchise tag this offseason). For what it's worth, Graham had a lot of success in this game while lining up close to the line. He motioned inside before the snap on his touchdown. And he was lined up near the line on catches of 33 yards and 17 yards, among others.
'Feast or famine:'
Saints coach Sean Payton described the Saints' run game as a little "feast or famine" since the Buccaneers hit them with so many run blitzes. He was right. There were some negative runs of minus-4, minus-2, minus-1, minus-1 and 0 early in the game. But there were also some breakaway runs like Thomas' touchdown, a 25-yarder and an 11-yarder by rookie back
Khiry Robinson
and a 15-yarder by
Mark Ingram
.
Ingram continued an impressive three-game stretch to finish the regular season, again breaking several tackles (three on that one play alone). And he finished the year with an average of 4.9 yards per carry (78 rushes for 386 yards).
Robinson continued to impress, too, showing great balance after he turned the corner on that long run – and great speed once he straightened out.
Spreading the wealth:
The Fox broadcast pointed out how many Saints players touched the ball throughout the game. Brees completed passes to 11 different receivers. And six players ran the ball (seven if you count backup quarterback Luke McCown's kneeldown).
Still not enough:
It was funny – but telling - to see Brees get mad at himself after he failed to connect with Graham on a third-down pass in the fourth quarter with the Saints leading by 25 points. He's obviously an intense competitor.
McCoy outstanding:
I couldn't help but notice how terrific McCoy was playing time and again, even on such a rough day for the Bucs' defense. He routinely caused problems as a pass-rusher and a run-stuffer. In addition to the sack, he hit Brees once to force an incomplete pass and batted away another pass. He burned guard
Jahri Evans
to get the first penetration on Sproles' 4-yard run loss and beat Grubbs on a 1-yard loss by Thomas.
September, 13, 2013
9/13/13
12:00
PM ET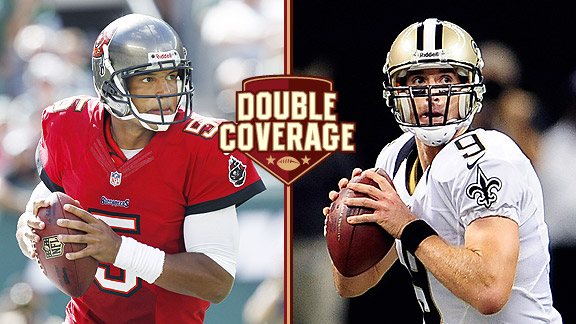 Getty ImagesBucs QB Josh Freeman faces off against Saints QB Drew Brees in a Week 2 division rivalry game.
Two of the biggest stories in the NFC South in Week 1 were that New Orleans played good defense and Tampa Bay never was able to get into an offensive rhythm.
Will that continue as the Saints and Buccaneers play one another?
ESPN's Matt Williamson and Buccaneers team reporter Pat Yasinskas discuss the matchup.
Yasinskas:
Matt, I have to admit I was stunned by the Saints holding the Falcons to just 17 points in the opener. I saw the Saints in training camp and had serious doubts about whether they had the personnel to run the 3-4 defense successfully, and they have endured several major injuries since then. Yet, the Saints kept one of the league's best offenses in check. Was this just a fluke or is the New Orleans defense actually for real?
Williamson:
If I were an optimistic Saints fan, I would take this stand: The Saints' young, talented three-man defensive line, led by
Cameron Jordan
, looks simply exceptional and fits the new scheme very well. Their secondary is also clearly improved from a year ago -- which isn't saying much. If I were taking a more pessimistic view on New Orleans' defense, I would say that
Roddy White
was a shell of himself and completely ineffectual, and the Falcons' offensive line might be among the worst in the NFL right now. The truth is probably somewhere in between, but I also believe that as long as the Saints' defense isn't among the very worst in the league, that this is the team to beat in the NFC South. So, in return, here is my question: Even if the Saints' defense isn't noticeably improved and is closer to the 2012 version than what we saw last week, is
Josh Freeman
capable of exploiting it?
Vincent Jackson
played a great game in New York, but Freeman has looked terrible throughout the preseason and now into regular-season action.
Yasinskas:
After watching Freeman in the New York game, I'm not so sure he's capable of exploiting any defense right now. He never got into any sort of rhythm in the passing game and, at times, look flustered. Over the past few years I've been steadfast in my belief Freeman has what it takes to turn into an elite quarterback. But that hasn't happened yet, and I'm starting to doubt if it ever will. He has plenty of weapons at the skill positions, but it seems like Freeman is regressing, instead of progressing. Speaking of regressing, what's your take on the Saints' running game? Coach Sean Payton has said he wants to run more, but the Saints got very little out of the running game in the opener. Now, they'll play a defense that was No. 1 against the run last season. Can
Mark Ingram
,
Darren Sproles
and
Pierre Thomas
move the ball against the Buccaneers?
Williamson:
That's a great question and I know it is extremely early, but I have forecasted Ingram to have a breakout season in 2013. But I am having second thoughts on that, as he is a volume runner who needs to be fed the ball to be most effective, and I just don't know if that will ever be the case here, as Thomas is such an effective all-around player and Sproles needs to be on the field. I do think Payton believes in balance and he wants to have a physical offense with a very good interior offensive line paving the way, but running against Tampa Bay doesn't seem to be the prudent move. Of course, the Tampa secondary is also vastly improved, but
Drew Brees
is the type of elite passer who just produces no matter the competition ... and can the Buccaneers match up to Sproles and
Jimmy Graham
? I have my doubts they can. Therefore, I say this is a game Payton puts on Brees' shoulders -- which is never a terrible idea. Along those lines, the Buccaneers clearly made a concerted effort to improve their pass defense by using numerous valuable resources to improve their secondary. Mission accomplished there. But this pass rush still has to be a concern, and if Brees is given time, he is going to find someone to his liking to eventually distribute the ball to. Brees is a tough guy to sack, but can the Bucs at least disrupt him in the pocket with some consistency?
Yasinskas:
One of the few encouraging things to come out of the loss to the Jets was that the Bucs recorded five sacks. Four of them came from the linebackers, which shows a willingness to blitz. But the front four can be more productive and several guys have the ability to bring some heat on Brees. End
Adrian Clayborn
and defensive tackle
Gerald McCoy
both have the talent to get to the quarterback. But the real wild card could be
Da'Quan Bowers
. The team wanted him to start, but he didn't play well enough to earn the job in the preseason. For the moment, Bowers is being used as a situational player. But he has more upside as a pass-rusher than anyone on this team, and this game would be a good time for him to start showing. Brees is tough to slow down under any circumstances, but you absolutely have to have a strong pass rush to have any chance. Speaking of Tampa Bay's pass rush, that brings up another question. The Saints let left tackle
Jermon Bushrod
depart as a free agent and they've replaced him with
Charles Brown
. Can Brown be an effective left tackle?
Williamson:
Because of their strengths on the interior and the need for the shorter Brees to have a clean pocket up the middle, the Saints construct their protections schemes from the inside out, which makes life for their offensive tackles easier. And, of course, Brees has a great feel for the rush to go along with underrated, but highly effective pocket movement and athletic ability to elude the rush, particularly from the edges. Bushrod never impressed me much, considering some viewed him as a Pro Bowl caliber left tackle. In fact, I think Brown has more natural ability when it comes to movement skills and length for the position. Brown played quite well in the preseason and that carried over to Week 1. It appears the Saints just might have found their starting left tackle for the foreseeable future.