New Orleans Saints:

Jermon Bushrod
October, 3, 2013
10/03/13
1:10
PM ET
METAIRIE, La. -- Left tackle
Charles Brown
was one of the most talked-about players in
New Orleans Saints
camp through the spring and summer after he replaced Pro Bowler
Jermon Bushrod
in the starting lineup. But since the regular season started, Brown has been virtually ignored.
That's a good thing. There's nothing a NFL left tackle would rather do than go unnoticed.
[+] Enlarge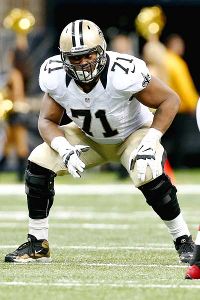 Derick E. Hingle/USA TODAY SportsSaints LT Charles Brown has "improved every week," according to teammate Zach Strief.
Brown hasn't been perfect. He's allowed either two or 2.5 sacks, depending on the stats service, and he's been whistled for three holding penalties (one declined). He has also been part of the run-blocking issues that have plagued the entire Saints offensive line.
But for the most part, Brown has held up well for a passing offense that has started to explode in recent weeks. Quarterback
Drew Brees
has thrown for 1,434 yards and 10 touchdowns on 166 attempts this year -- and the Saints are 4-0.
"I feel good where I'm at right now, the team's doing good. I feel like I'm getting better every week and showing (the coaches) what they want," Brown said, though he balked at the notion that it feels good for him to finally have the starting job locked down after he spent the summer auditioning for the job.
"Honestly, I don't know if I was out of reality, but I never felt like it wasn't my job," said Brown, who easily won the training camp competition over rookie
Terron Armstead
and veteran
Jason Smith
.
Brown does, however, admit it's been a huge benefit for him to play every snap this year. The former second-round draft pick out of USC never had this kind of continuity before as a backup during three seasons that were plagued by injury.
"Definitely. Because then you and your guard (left guard
Ben Grubbs
), you gain this trust for one another. It just keeps things running smoothly," said Brown, who said his biggest improvements so far have come with technique things like hand placement and footwork. "I think I just fine-tuned a little bit of everything. And this week I have a great matchup to see where I'm really at (against
Chicago Bears
star defensive end
Julius Peppers
).
"I'm sure I'll get better after this game."
Both Saints coach Sean Payton and veteran right tackle
Zach Strief
also noted that weekly improvement in Brown. Payton said Brown had his best game this past Monday in a 38-17 rout over the
Miami Dolphins
.
Of course, Brown had three negative plays in that game that stood out (allowing a sack and a run stuff and being flagged once for holding). But again, that's the nature of the left tackle position. It takes a coach to appreciate all the times Brown did his job while Brees was racking up 413 passing yards and four touchdowns.
"I think he's improved every week. I think that he's playing well," Strief said. "Just like all of us, he's got things to work on. We all do. But I think you've seen a guy that's settling in a little bit, that's more comfortable with himself and more confident with himself. I think he's gotten better each week, and when you've got a guy in that's a first-time starter, that's exactly what you want from him."
Bushrod, meanwhile, is earning plenty of praise himself for the job he's doing in Chicago.
The Bears made Bushrod a huge part of their attempts to rebuild a battered offensive line this offseason, signing him to a five-year, $36 million contract as a free agent. The Bears also snagged former Saints offensive line coach Aaron Kromer as their new offensive coordinator under new offensive-minded head coach Marc Trestman. And they drafted two new starters on the right side of their offensive line.
Chicago's line remains a work in progress, but the improvement has been significant. The 3-1 Bears are tied for third in the NFL with just six sacks allowed (either 0.5 or 1 of them credited to Bushrod, based on the stats service).
"Bush has come in here and has been as steady as he could possibly be since the day he walked in," Trestman said. "We're very, very lucky to have him."
The Saints didn't make a strong effort to keep Bushrod in free agency. Although he made two trips to the Pro Bowl during four standout seasons as a starter in New Orleans, the Saints have opted to invest more heavily in their guard positions over the years. They felt like Bushrod's production could be replaced without a huge drop-off, especially with Brees so good at stepping up in the pocket and avoiding trouble.
Bushrod insisted he harbors no ill will toward the Saints for letting him go and considers his new opportunity with another playoff contender to be a "blessing."
"I cherished my time in New Orleans, and I am very appreciative of their organization and the opportunity they gave me to grow and all that stuff. It's a good thing. It's a good position to be in," said Bushrod, who entered the NFL as a fourth-round draft pick out of Towson State in 2007. "Sometimes you just have to take the feelings out of it a little bit. It was tough because New Orleans meant a lot to me, still does being that my wife is from there and I won a Super Bowl there. But this is just another opportunity, another opportunity for my family, another opportunity for us and it is a special situation."
So far, it would be tough to claim that the Saints are much worse off without Bushrod. Although New Orleans has allowed an uncharacteristic 12 sacks this season, much of that has been because of All-Pro right guard
Jahri Evans
' struggles with a hamstring injury.
Pro Football Focus, which assigns grades to each individual player on a play-by-play basis, has Bushrod graded as the 36th best starting tackle in the NFL this year and Brown at No. 41. By PFF's count, they've each allowed 12 quarterback hurries, with three QB hits for Bushrod and one for Brown.
October, 3, 2013
10/03/13
8:00
AM ET
There was no shortage of quality material for the "Worth repeating" section of the
New Orleans Saints
morning report on Wednesday. So that's where we'll kick things off.
Graham hot:
When asked how to defend a unique playmaker like Saints tight end
Jimmy Graham
,
Chicago Bears
defensive coordinator Mel Tucker replied, "How much time do you have?"
"He's a huge challenge. He's a mismatch nightmare," Tucker continued. "He runs like a fast wide receiver, he's got excellent catch radius, he's a fierce competitor, his quarterback looks for him, and he feels like every ball that's thrown to him he should catch it. He's very effective, so whether he's in a core or split out in the slot or the No. 1 receiver out wide, he's everywhere. And they do a great job with formations, just in general in their scheme. Sean [Payton] and those guys do a phenomenal job of shifts and formations and different types of looks, trying to create mismatches. It's a huge challenge for us."
Saints' run game cold:
When asked what's not working in the Saints' run game, Saints offensive tackle
Zach Strief
also replied, "How long do you have?"
Strief said it's been a little bit of everything. Yes, he said, the Saints have had some problems adjusting to the new outside zone blocking scheme they instituted this year. But that's not the only problem.
"I could stand here and say 'yes' to every question," Strief said. "Is there an adjustment? Yes, there's an adjustment. But that doesn't explain 'power' getting blown up for negative-two yards. We've run it since the first day I got here."
Strief did insist, however, that the work is being done off the field and, "We all have faith that it's a matter of time before the work eventually pays off."
Man hugs:
Strief on facing longtime former teammate
Jermon Bushrod
and longtime former offensive line coach Aaron Kromer, who are now with the Bears: "I'm sure we'll do a little man-hug before the game and after the game. And during the game, I'll do everything I can to make sure they're unhappy."
He later added, "I hope Bushy plays his best game of the year in a losing effort."
Mighty Mouse:
Saints quarterback
Drew Brees
on dynamic 5-foot-6, 190-pound running back
Darren Sproles
: "He's pound for pound one of the best football players I've ever played with."
Gym rat:
Bears coach Marc Trestman on Brees: "A gym rat since the day he got there who studies and works and won't take anything but perfection."
WORTH A CLICK:
September, 13, 2013
9/13/13
12:00
PM ET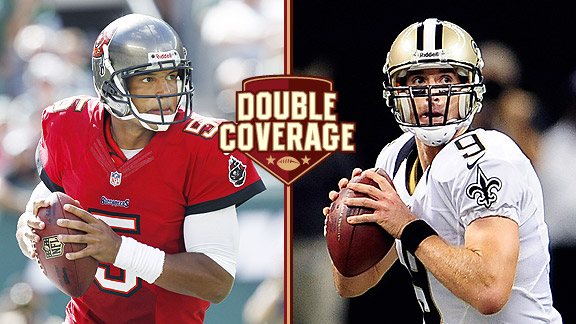 Getty ImagesBucs QB Josh Freeman faces off against Saints QB Drew Brees in a Week 2 division rivalry game.
Two of the biggest stories in the NFC South in Week 1 were that New Orleans played good defense and Tampa Bay never was able to get into an offensive rhythm.
Will that continue as the Saints and Buccaneers play one another?
ESPN's Matt Williamson and Buccaneers team reporter Pat Yasinskas discuss the matchup.
Yasinskas:
Matt, I have to admit I was stunned by the Saints holding the Falcons to just 17 points in the opener. I saw the Saints in training camp and had serious doubts about whether they had the personnel to run the 3-4 defense successfully, and they have endured several major injuries since then. Yet, the Saints kept one of the league's best offenses in check. Was this just a fluke or is the New Orleans defense actually for real?
Williamson:
If I were an optimistic Saints fan, I would take this stand: The Saints' young, talented three-man defensive line, led by
Cameron Jordan
, looks simply exceptional and fits the new scheme very well. Their secondary is also clearly improved from a year ago -- which isn't saying much. If I were taking a more pessimistic view on New Orleans' defense, I would say that
Roddy White
was a shell of himself and completely ineffectual, and the Falcons' offensive line might be among the worst in the NFL right now. The truth is probably somewhere in between, but I also believe that as long as the Saints' defense isn't among the very worst in the league, that this is the team to beat in the NFC South. So, in return, here is my question: Even if the Saints' defense isn't noticeably improved and is closer to the 2012 version than what we saw last week, is
Josh Freeman
capable of exploiting it?
Vincent Jackson
played a great game in New York, but Freeman has looked terrible throughout the preseason and now into regular-season action.
Yasinskas:
After watching Freeman in the New York game, I'm not so sure he's capable of exploiting any defense right now. He never got into any sort of rhythm in the passing game and, at times, look flustered. Over the past few years I've been steadfast in my belief Freeman has what it takes to turn into an elite quarterback. But that hasn't happened yet, and I'm starting to doubt if it ever will. He has plenty of weapons at the skill positions, but it seems like Freeman is regressing, instead of progressing. Speaking of regressing, what's your take on the Saints' running game? Coach Sean Payton has said he wants to run more, but the Saints got very little out of the running game in the opener. Now, they'll play a defense that was No. 1 against the run last season. Can
Mark Ingram
,
Darren Sproles
and
Pierre Thomas
move the ball against the Buccaneers?
Williamson:
That's a great question and I know it is extremely early, but I have forecasted Ingram to have a breakout season in 2013. But I am having second thoughts on that, as he is a volume runner who needs to be fed the ball to be most effective, and I just don't know if that will ever be the case here, as Thomas is such an effective all-around player and Sproles needs to be on the field. I do think Payton believes in balance and he wants to have a physical offense with a very good interior offensive line paving the way, but running against Tampa Bay doesn't seem to be the prudent move. Of course, the Tampa secondary is also vastly improved, but
Drew Brees
is the type of elite passer who just produces no matter the competition ... and can the Buccaneers match up to Sproles and
Jimmy Graham
? I have my doubts they can. Therefore, I say this is a game Payton puts on Brees' shoulders -- which is never a terrible idea. Along those lines, the Buccaneers clearly made a concerted effort to improve their pass defense by using numerous valuable resources to improve their secondary. Mission accomplished there. But this pass rush still has to be a concern, and if Brees is given time, he is going to find someone to his liking to eventually distribute the ball to. Brees is a tough guy to sack, but can the Bucs at least disrupt him in the pocket with some consistency?
Yasinskas:
One of the few encouraging things to come out of the loss to the Jets was that the Bucs recorded five sacks. Four of them came from the linebackers, which shows a willingness to blitz. But the front four can be more productive and several guys have the ability to bring some heat on Brees. End
Adrian Clayborn
and defensive tackle
Gerald McCoy
both have the talent to get to the quarterback. But the real wild card could be
Da'Quan Bowers
. The team wanted him to start, but he didn't play well enough to earn the job in the preseason. For the moment, Bowers is being used as a situational player. But he has more upside as a pass-rusher than anyone on this team, and this game would be a good time for him to start showing. Brees is tough to slow down under any circumstances, but you absolutely have to have a strong pass rush to have any chance. Speaking of Tampa Bay's pass rush, that brings up another question. The Saints let left tackle
Jermon Bushrod
depart as a free agent and they've replaced him with
Charles Brown
. Can Brown be an effective left tackle?
Williamson:
Because of their strengths on the interior and the need for the shorter Brees to have a clean pocket up the middle, the Saints construct their protections schemes from the inside out, which makes life for their offensive tackles easier. And, of course, Brees has a great feel for the rush to go along with underrated, but highly effective pocket movement and athletic ability to elude the rush, particularly from the edges. Bushrod never impressed me much, considering some viewed him as a Pro Bowl caliber left tackle. In fact, I think Brown has more natural ability when it comes to movement skills and length for the position. Brown played quite well in the preseason and that carried over to Week 1. It appears the Saints just might have found their starting left tackle for the foreseeable future.