September, 17, 2014
Sep 17
12:20
PM ET
METAIRIE, La. -- It's impossible to make any sweeping statements about the
New Orleans Saints
' offense after reviewing the tape of Sunday's
26-24 loss
to the
Cleveland Browns
.
For a long while, they couldn't get started. Then for a long stretch, it looked like they couldn't be stopped.
The Saints' impressive rally put them in a position where they just needed one more play to ice the game. But they weren't able to make that one more play.
[+] Enlarge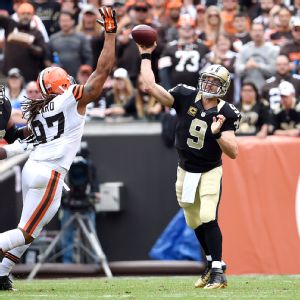 Jason Miller/Getty ImagesAgainst the Browns, Saints QB Drew Brees threw for 237 yards, 2 touchdowns and one interception.
Here are some observations:
Pick-six:
The costliest play by far was
Drew Brees
' interception in the second quarter that was returned 62 yards for a touchdown. Brees overthrew tight end
Jimmy Graham
in the middle of the field because he was hit as he threw by outside linebacker
Paul Kruger
. Kruger beat left tackle
Terron Armstead
on just a four-man rush. Armstead and the entire Saints' line have been very good in pass protection this year, but this was a rare and costly miscue.
I saw some folks on Twitter suggesting Graham should've been able to catch the ball, but that's not how I saw it at all. I think that was an optical illusion from the end-zone replay angle.
Costly sacks:
Brees was sacked twice, and the last one was especially damaging. Facing a third-and-5 on Cleveland's 31-yard line with 3:36 remaining, Browns linebacker
Karlos Dansby
came flying through a gaping hole between center
Jonathan Goodwin
and guard
Ben Grubbs
. Nobody even attempted to block him. It's unclear whose responsibility it was. Brees was seen talking to running back
Pierre Thomas
right afterward. And Dansby said after the game that he heard the Saints' line call and knew they were going to send their protection to the right side.
Brees was also sacked near his own goal line in the first quarter. It could be described as a "coverage sack" since Brees held the ball a beat too long while Kruger eventually shed a block from tight end
Benjamin Watson
.
No one open:
The Browns blanketed the Saints' receivers down the field for most of the game (which is why
Marques Colston
was held without a catch and the receivers combined for a total of nine catches). At one point, the Saints went with an empty backfield, and the Browns actually dropped nine men in coverage, forcing Brees to run for three yards.
However, the Saints eventually adjusted and made Cleveland pay. They wound up running for 174 yards. And Brees had ample time to throw on many passes, allowing him to wait for Graham to work his way open for 10 catches, 118 yards and two touchdowns.
Graham outstanding:
We already noted how Graham beat Pro Bowl cornerback
Joe Haden
for two big catches, using his big body to shield the smaller defender. Those plays were even more impressive on tape, because Haden really did everything he could to try and get physical, tight coverage and swat at the ball at the point of the catch. Haden even had an arm wrapped around Graham's waist on one of the catches. ...Graham also beat the Browns' other starting cornerback,
Buster Skrine
, for at least two catches.
Ingram outstanding:
Watching the tape was a reminder of what a shame it is that running back
Mark Ingram
will miss at least a month with a broken hand. He's playing the best football of his career, and the Saints' entire run game is in sync. Ingram's best effort came after a dump-off pass in the backfield, when he gained 13 yards by beating Kruger around the corner and cutting back to make three other linemen badly overrun him. Then on the next play, Ingram made another great cutback to his left for a 15-yard run.
The run blocking was great, too -- including at least two excellent blocks by Graham, who has continued to impress in that department.
Jet sweep:
The Saints had success for the second straight week using speedy receiver
Brandin Cooks
on the jet sweep play that has become more popular in the NFL lately. Cooks gained 26 yards on the run play in the second quarter after perfect timing on the handoff from Brees. Cooks was split out wide to start the play, then he went in motion and took the handoff in stride. Dansby and linebacker
Chris Kirksey
totally bit on Brees' fake handoff to Ingram -- having not even realized Cooks snagged the ball. Then Cooks blazed past linebacker
Jabaal Sheard
around the corner and followed lead blocks by receiver
Kenny Stills
and Watson.
Later in the game, the Saints tried the play again but only gained three yards.
Screens snuffed:
Credit Dansby for totally recognizing the Saints' screen pass to Thomas on the first play of the game, though, sticking him for no gain. Two plays later, the Browns also snuffed out a screen pass to Cooks to force a three-and-out.
Drive snuffed:
Another disappointing series for the Saints came in the second quarter. They had to settle for a field goal despite having a second-and-2 at Cleveland's 9-yard line. Watson missed a block, allowing
Khiry Robinson
to be stuffed for a 1-yard gain. Then the Saints tried a play-action pass to tight end
Josh Hill
, who was swarmed for a 1-yard loss. Credit Dansby for snuffing that one out, too.
Kickoff returns snuffed:
The Saints had blocking issues on two kickoff returns, with returner
Travaris Cadet
being stopped at the 12-yard line once and the 15 another time. Linebacker
Parys Haralson
appeared to miss a block on the first one.
Meachem bounce-back:
Receiver
Robert Meachem
dropped a tough-but-catchable back-shoulder throw in the end zone in the second quarter. But he immediately responded with an outstanding effort on third-and-10, catching a short pass over the middle, spinning out of one tackle, then pushing through another for the first down. That set up the Saints' first touchdown.