New Orleans Saints:

joe lombardi
October, 16, 2014
10/16/14
11:00
AM ET
METAIRIE, La. -- The
New Orleans Saints
and
Detroit Lions
might have to pull out their secret playbooks when they meet on Sunday -- or at least throw in a few new wrinkles -- since they both have so much inside information on the other's offense.
Former Saints quarterbacks coach Joe Lombardi left this year to become Detroit's offensive coordinator and play-caller. And he is one of eight former Saints coaches or players now in Detroit.
[+] Enlarge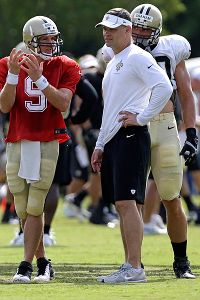 AP Photo/Gerald HerbertJoe Lombardi, right, who spent the past five seasons working with Saints QB Drew Brees, is now Detroit's offensive coordinator.
Saints coach Sean Payton said that might require a few tweaks, like changing the hand signals at the line of scrimmage.
"You're in a loud environment so it's not like they're necessarily hearing (play calls and audibles), but just being mindful of your hand signals that might mean a certain play," Payton said. "And look, based on the offensive film that I I've seen, I think they're gonna want to do the same. In other words, you can see some similar signals."
As I wrote Thursday, the Saints
will play against
their former running back
Reggie Bush
for the first time since he was traded in 2011. They will also reunite with fullback
Jed Collins
, running back
Joique Bell
, safety
Isa Abdul-Quddus
, cornerback
Danny Gorrer
, special teams coordinator John Bonamego and cornerbacks coach Tony Oden.
Lombardi's presence, however, is the one that has really led to comparisons between the offenses. There are indeed some similar tendencies -- and that's by design. Lions coach Jim Caldwell said the team targeted Lombardi and added unique offensive weapons that create matchup problems like free-agent receiver
Golden Tate
and rookie tight end
Eric Ebron
.
"Coming here in a situation where we knew we had an experienced quarterback that certainly had played well (
Matthew Stafford
), we needed a guy that obviously had a good understanding of offensive football and had some diversity to it that would be able to not only direct the quarterback but also the different weapons that we had, like
Calvin (Johnson)
," Caldwell said. "We have so many different types of styles that (we were looking for) a guy that was accustomed to being around an operation that utilized their personnel accordingly and in a diverse way, and obviously a guy that has been around excellence in quarterback play. ... And Joe met all of that criteria. And not only that, he is an excellent person, great teacher, and has a great presence about him."
Saints defensive players have said this week that they see some familiarity in Detroit's offensive style -- safety
Kenny Vaccaro
joked that it will feel a bit like going against Payton in training camp. But it's not an exact replica.
"When you watch film, you definitely see the Saints' flair on them," saints linebacker
Curtis Lofton
said. "But I think Joe Lombardi's done a good job of bringing his own feel to it, too."
March, 19, 2014
3/19/14
2:10
PM ET
ALLEN PARK, Mich. -- His plan had been to stay in New Orleans.
That was what
Jed Collins
had been told by the Saints. He had spent the past three seasons there on the active roster. He was living in the city in the offseason and he and his wife -- who is expecting the couple's first child -- had settled there.
Collins
Yet on Monday night, things changed in the Collinses' world. The Saints made a move on
Erik Lorig
from Tampa Bay and told Collins he would not be returning in 2014. A day later, he was on a plane to Detroit and the day after that, he signed a one-year deal with the
Detroit Lions
.
"I was told throughout the offseason that my home was going to be in New Orleans and I came to find out Monday night that they were moving on and that they felt they had an upgrade at the position," Collins said Wednesday afternoon. "I talked to my family. I've talked to a lot of people and keep telling myself this is the business I'm in. This is, there's no friends in it, this is a win-first and if they feel they got a better player, that's their decision.
"I'm excited about the opportunity to come up here and continue to work on and prove that I'm a top-tier fullback. That's who I believe I am. Even though New Orleans didn't go the way I thought it was going to, sometimes change is the best thing for a person and sometimes it's best for a career."
The Lions were the first team he visited and the only visit he had set up, although he said his agent, Derrick Fox, had been taking calls from other teams. But the Lions made sense to Collins, which is why he signed.
While Collins will be making that change and heading up north, there is a level of familiarity he will have when he arrives for offseason workouts next month.
He knows new Detroit offensive coordinator Joe Lombardi from their time in New Orleans. He had been coached by running back coach Curtis Modkins in Arizona. He knows special teams coach John Bonamego from their mutual time with the Saints.
Essentially every coach he will play for with the Lions, he has been with in some capacity before. So that helped and made Detroit an enticing landing spot when he heard the team would be looking to add a full-time fullback to the roster.
"From the system we had in New Orleans, I think I understand the profile of what they want the fullback to be," Collins said. "Obviously first and foremost, the fullback has to add value to himself everywhere he can, on special teams. Always throughout my career been a special teams guy, get on the field any way possible. But off the field, in the classroom, the fullback has to be a disciplined worker, team-first kind of guy and I try to fit that mold any way I can.
"Offensively, you want the ground-and-pound, you want the tough yards. I think that's what the fullback kind of symbolizes but also a lot of good receivers need a lot of good deep shots and play-action kind of opens that up. So whatever they need, I'm here for, but I know who I am as a player and I think I'm going to fit well."
The Lions clearly did as well, as they brought him almost immediately after he became clearly available. The team had already looked around at other fullbacks, including bringing in
Henry Hynoski
last week, and Collins was the second fullback to visit.
And that familiarity will be everywhere. Beyond the coaches, Collins played with both
Reggie Bush
and
Joique Bell
when they were with the Saints, so even in the same meeting room it will start to look a little bit like New Orleans north.
The playbook might look similar, too, but even from meetings with the staff on Wednesday and his prior knowledge of Lombardi, Collins hinted at changes from what the Saints run.
"He wants to put up points," Collins said. "He wants to control the ball and he wants to have a prolific offense, which he has the skills to do that.
"Will we be the
New Orleans Saints
offense? I don't think so. I think he will have his personal touches that will make it his own."
He will have a familiar blocking back, though, to help implement it.
January, 21, 2014
1/21/14
2:50
PM ET
MOBILE, Ala. -- My reaction to the news that the
Detroit Lions
hired former
New Orleans Saints
quarterbacks coach Joe Lombardi as their offensive coordinator: What took so long?
[+] Enlarge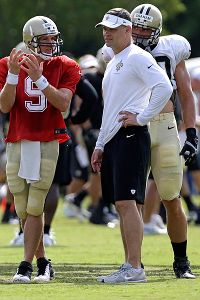 AP Photo/Gerald HerbertJoe Lombardi's new position with the Lions is a reflection of the success of the Saints' organization.
What better pedigree could you ask for in a coach than being the grandson of Vince Lombardi and a longtime apprentice of Sean Payton?
I suppose you could consider it a
plus or a minus that Lombardi worked under Payton and offensive coordinator Pete Carmichael Jr., and worked with quarterback
Drew Brees
. That means Lombardi himself wasn't calling a lot of the offensive shots. But he's been surrounded by a lot of brilliant minds since he first arrived in New Orleans as an offensive assistant in 2007.
I have no doubt that Lombardi is ready to step up into more of a leadership role, and he should be a great mentor for Lions quarterback
Matthew Stafford
. With Jim Caldwell as the Lions' new head coach, Stafford's about to start hearing a lot of stories about how
Peyton Manning
and Brees operate.
And with Lombardi's engaging personality, I wouldn't be surprised at all to see him get on the fast track toward head-coaching opportunities -- much like former Saints defensive backs coach and current
Oakland Raiders
head coach Dennis Allen.
"Joe's a great coach, he's done a great job with us for a long period of time. We're gonna miss him," Saints general manager Mickey Loomis said during Tuesday morning's practice at the Senior Bowl -- just before the word became official. "Whoever hires him is gonna get a great coach and someone who will do a real great job with their offense."
Loomis is confident that the Saints will be able to find a suitable replacement, though -- something they've had to do more and more in recent years as their assistants have gotten opportunities to move up.
In recent years, Allen became the
Denver Broncos
' defensive coordinator before becoming the Raiders' head coach; former offensive coordinator Doug Marrone became head coach at Syracuse then head coach of the
Buffalo Bills
; former receivers coach
Curtis Johnson
became head coach at Tulane; and former offensive line coach Aaron Kromer became offensive coordinator of the
Chicago Bears
.
Loomis said that's "absolutely" a good sign for the organization.
"Yes, because it means two things: It means longevity for your program, and it means that you're hiring the right guys and you've been successful," Loomis said. "It's a natural course of business when you've been successful with a head coach the caliber of Sean Payton. You know, obviously teams want a piece of that. So we've had a number of guys move on and do well. And that's gonna continue to happen.
"And look, we'll go out and well find real good replacements. And then we'll lose them, too."
There was no immediate indication of the Saints' plans for a replacement.
January, 10, 2014
1/10/14
8:00
AM ET
METAIRIE, La. -- The
New Orleans Saints
denied the
Miami Dolphins
permission to interview director of player personnel Ryan Pace for their general manager vacancy, according to FOX's Jay Glazer and later confirmed by ESPN.com. The reasons were not specified -- though teams can generally deny such interviews if the promotion isn't substantial enough. Different teams give different levels of power to their general managers.
Pace is obviously highly valued in the Saints organization. He was promoted this year to his current role, where he oversees all pro and college scouting. Previously, he served as the team's pro scouting director. Before he joined the Saints in 2001, Pace played defensive end at Eastern Illinois from 1995-1999 (coincidentally the same alma mater as coach Sean Payton, since Pace predates Payton in New Orleans).
Pace, who works under longtime Saints general manager Mickey Loomis, has long been in charge of the Saints' evaluation of pro talent available from other teams and in free agency -- as well as scouting upcoming opponents.
Meanwhile, there have been no reports of any Saints coaches being requested for interviews around the league. Offensive coordinator Pete Carmichael Jr. and defensive coordinator Rob Ryan have both been head-coaching candidates in the past, but neither has surfaced as a candidate so far this year.
Ryan is a particularly fascinating candidate since he has such a colorful personality. But considering the remarkable job he has done with the Saints defense, the way he is beloved by players and appreciated by the rest of the organization, he could resurface as a prospect in the near future. He's even shown more restraint than past years with the media -- while remaining an extremely entertaining and insightful interview.
Carmichael, meanwhile, does not have a dynamic public personality. But his offensive mind and pedigree has made him an attractive candidate. And the recent success of similar-style offensive thinkers like Marc Trestman and Joe Philbin can't hurt his chances.
Quarterbacks coach Joe Lombardi got some looks as an offensive coordinator candidate last year, as well. That's a promotion that seems inevitable at some point.
Worth repeating:
Ryan has made no secret about how thrilled he's been to wind up with a winning organization like the Saints this year. He stressed that again Thursday when asked about being in the playoffs for the first time as a defensive coordinator (though he was quick to point out that he had won six playoff games in the past as a linebackers coach with the
New England Patriots
).
"This is a great place to come to work. I have a smile on my face every day," Ryan said, "because I've been on other roads that weren't quite as much fun to get to work to, I can promise you."
Galette the 'Good Guy':
Saints outside linebacker
Junior Galette
was named the 2013 winner of the Jim Finks Good Guy Award -- as voted on by the local media each year. The award recognizes a player for his professionalism and cooperation with reporters in doing their jobs.
Galette was a deserving winner in a locker room loaded with deserving candidates. He's always available during the week, after wins or losses. He's honest. And he's colorful, too, which doesn't hurt. As I wrote about Galette earlier this year, I'm not sure I've ever met a player
as fired up about football
as he has been since the day he arrived as an undrafted free agent in 2010.
Past winners on the current roster include
Zach Strief
,
Malcolm Jenkins
and
Drew Brees
.
Road rituals:
As Saints coach Sean Payton
tweeted on Thursday
, the Saints stuck with many of the new road rituals that served them well on their trip to Philadelphia last week -- with some slight tweaks. The Gatorade bottles in his picture were blue and orange, instead of green. And the travel sweat suits were new. This time they're gray -- and they have a No. 3 on it instead of a No. 4. Clearly, players are eager to earn the sweats with No. 2 and No. 1 on them.
Worth a click:
ESPN.com's Kevin Seifert examines whether or not Payton and the Saints put
too much emphasis
on dealing with the crowd noise in Seattle the last time around.
In this article that
requires Insider access

, ESPN.com's Mike Sando takes a look at what a fearsome player Seattle safety Kam Chancellor is -- and how that affected tight end Jimmy Graham on one play in the first matchup.
ESPN.com Seahawks reporter Terry Blount expects quarterback Russell Wilson to remain
cool under pressure
in his second playoff appearance -- since he was already that way as a rookie last year.