New Orleans Saints:

Josh Hill
August, 27, 2014
Aug 27
2:30
PM ET
The
New Orleans Saints
-- who are a juggernaut at home -- face their toughest road games later in the season: Carolina in Week 9, Pittsburgh in Week 13, Chicago in Week 15 and Tampa Bay in the finale. For that reason, I would consider the Saints' first seven games as their make-or-break stretch. They must take advantage of their soft early
schedule
and start something like 6-1 or 5-2 if they want to ultimately earn the NFC's top seed.
Complete Saints season preview
.
August, 9, 2014
Aug 9
1:20
AM ET
Highlights from Sean Payton's postgame press conference after the
New Orleans Saints
' 26-24 victory over the
St. Louis Rams
:
Not surprisingly, Payton immediately pointed out that there were both highs and lows in the game. His biggest lament was that the Saints committed "far too many penalties" (10 for 104 yards to be exact). He also pointed out that the Saints didn't hit on their opportunities to make big plays on offense and didn't force any turnovers on defense. "A lot of silly mistakes we have to clean up in all areas," Payton said.
Payton declined to specify why running back Pierre Thomas was held out Friday, though he did indicate that it was injury-related. The only injury Payton discussed was the left oblique strain that has kept quarterback Drew Brees out for the past week. "I think he's smart enough," Payton said. "We'll be smart with his recovery, and he's certainly smart enough too. He understands, look it's an area that's affected every time you throw. So it's important that it's 100 percent."
On running backs Mark Ingram and Khiry Robinson: "I was encouraged with our ability to run the ball and their efforts. I thought they played with good pad level. It was good to see from both of them."
On receiver Brandin Cooks: "We've been seeing him progress. He's done some good things. He's quick with the ball in his hands. We were trying to monitor snaps for all of our receivers but also give 'em all a chance for touches. But I thought he played hard, he's smart, he lines up very quickly. We'll keep bringing him along. There's a lot of things he needs to work on still."
On tight end Josh Hill: "He's someone that demonstrated a year ago when he got in here that, A, he's got good speed. He plays on special teams. When you have a tight end that can play in the kicking game like he can and can give you snaps aside from just on offense, because he's athletic, because he can run, because he can jump ... It was nice to see a couple big plays."
Payton didn't seem too happy about kicker Shayne Graham's missed extra point, even though it came on a 33-yard attempt because of the NFL's experiment with longer extra points during the preseason. Payton said the idea of changing the extra point "makes sense" because they have become so automatic. "But I like to think we could hit a field goal when the ball's on the 15-yard line," Payton said.
April, 15, 2014
Apr 15
6:00
PM ET
The
New Orleans Saints
are sitting somewhat comfortably under the salary cap after their flurry of offseason moves. They have about $3.6 million in space, though they will still need to save about $2 million to sign their draft picks. Remember, only the top 51 salary-cap figures count against a team during the offseason.
Here is a breakdown of where the Saints are allocating their resources this year on offense:
Quarterback
Percentage of salary-cap space: 16.34
Total cap charge: $19.53 million
NFL average: $11.67 million
Biggest cap hit:
Drew Brees
, $18.4 million
Biggest bargain:
Ryan Griffin
, $495,000
Brees
Thoughts:
Brees' five-year, $100 million deal was worth every penny two years ago, when he became the highest-paid player in NFL history. Now that he's the fourth highest-paid quarterback in the league, it's even more worth it. ... Heck, with the league-wide salary cap finally starting to grow, Brees is practically a bargain.
The Saints obviously aren't investing heavily in their backups. They're intrigued by Griffin's potential -- (possibly the next
Chase Daniel
?) It's still too early to invest heavily in a future replacement for Brees since he should remain at a high level for at least three or four more years.
Wide receiver
Percentage of salary-cap space: 9.43
Total cap charge: $11.27 million
NFL average: $13.56 million
Biggest cap hit:
Marques Colston
, $8.3 million
Biggest bargain:
Kenny Stills
, $543,613
Colston
Thoughts:
The Saints have suddenly become very young at this position with Colston as the only veteran on the roster. At age 30, Colston is still playing at a high level, though he had more quiet stretches last season than ever before. The Saints will certainly monitor his progress closely to see how well he ages, since he's due another $7 million in salary and bonuses in 2015 and $7.8 million in 2016.
Chances are, the Saints will draft another receiver in the early rounds this year as they continue to reload their depth at the position.
Tight end
Percentage of salary-cap space: 7.71
Total cap charge: $9.22 million
NFL average: $6.12 million
Biggest cap hit:
Jimmy Graham
, $7.035 million
Biggest bargain:
Josh Hill
, $496,666
Graham
Thoughts:
Graham will likely sign a mega-deal this summer worth upwards of $10 million per year. And he'll be worth it as the Saints' most dangerous offensive weapon. His 2014 cap figure shouldn't be affected much. In fact, it could even decrease, depending on how the Saints structure the deal.
The Saints like Hill's potential after he played a minor role as an undrafted rookie last season. If he shows significant growth, he could compete for a No. 2 role in the future -- a job currently manned by affordable veteran
Benjamin Watson
.
Running back/fullback
Percentage of salary-cap space: 5.06
Total cap charge: $6.05 million
NFL average: $7.75 million
Biggest cap hit:
Mark Ingram
, $2.36 million
Biggest bargain:
Khiry Robinson
, $495,333
Ingram
Thoughts:
The Saints are loaded with candidates for the "biggest bargain" category here, with
Pierre Thomas
and
Travaris Cadet
also costing less than $2 million against this year's cap. That depth is why they decided they could afford to trade away veteran
Darren Sproles
this offseason.
I didn't love the Sproles move because I think he's such a unique talent. But there is no doubting the amount of talent still on the roster, and it's understandable why the Saints didn't want to spend too heavily on this position group.
Ingram will have to prove he can build on last year's strong finish as he's due to become an unrestricted free agent after this season. Thomas signed a three-year deal this offseason (that included a slight pay cut for this year) after he arguably had his best season to date in 2013. But he'll also be evaluated on a year-by-year basis since he turns 30 in December.
Offensive line
Percentage of salary-cap space: 21.13
Total cap charge: $25.26 million
NFL average: $21.45 million
Biggest cap hit:
Jahri Evans
, $11 million
Biggest bargain:
Terron Armstead
, $679,359

Evans
Thoughts:
The Saints are devoting a ton of money to guards Evans ($7.5 million in salary and bonuses this year) and
Ben Grubbs
($6.1 million in salary and bonuses; $9.1 million cap cost). They were both Pro Bowlers in 2013 after strong finishes. But the Saints need them to keep playing at that level consistently since they're both under contract through 2016.
The Saints also re-signed veteran right tackle
Zach Strief
through 2018. But it will be essential for them to develop future replacements across the board -- starting with second-year left tackle Armstead and second-year center/guard
Tim Lelito
.
I think the Saints can field a solid starting five with that core this year -- and maybe even the exact same starting five next year. But there is a little more uncertainty surrounding this group than usual.
January, 30, 2014
Jan 30
8:00
AM ET
A position-by-position look at where the
New Orleans Saints
stand heading into the 2014 offseason -- ranked from 1-12 in order of the team's need for upgrades or replacements.
Current depth chart:
TE
Jimmy Graham
. Age 27, unrestricted free agent.
FB
Jed Collins
. Age 27, restricted free agent.
TE
Benjamin Watson
. Age 33, signed through 2015. 2014 salary and bonuses: $1.3 million. 2014 salary-cap number: $1.7 million.
TE
Josh Hill
. Age 23, scheduled to become restricted free agent in 2016. 2014 salary and bonuses: $495,000. 2014 salary-cap number: $496,666.
Analysis:
First of all, the reason that I lumped these two positions together is because the Saints typically lump them together when shaping their roster. A lot of times their backup tight ends serve as backup fullbacks as well.
Secondly, I realize that I screwed up this ranking. I should have either ranked it No. 1 or further down the list at No. 11 or No. 12. I think re-signing Graham is the Saints' No. 1 priority this offseason -- more important than adding reinforcements at any other position. However, I don't think there's any real risk of losing him since the Saints will use the franchise tag to keep him if needed.
And assuming the Saints do keep both Graham and restricted free agent Collins, I think they're pretty well stocked at both positions going forward.
I've written extensively on Graham this month -- on whether he should be considered
a tight end or receiver
; on why I think he's
worthy of "receiver money"
regardless; and on how I think the negotiations
will most likely play out
.
The bottom line is that I consider Graham the second most important player on the Saints' roster behind quarterback
Drew Brees
. So it's essential that they work out a long-term deal that makes everyone happy this offseason (which I believe will eventually happen -- but it may take a while).
I also expect the Saints to lock up Collins. They'll probably have to offer him a one-year restricted free-agent tender worth more than $2 million to guarantee he doesn't get away. But he's worth it, even though the Saints are a pass-first team. Collins was playing exceptionally well down the stretch as a lead blocker in the run game. Perhaps they'll aim for a long-term contract extension instead.
Watson is an ideal backup. He's solid as a receiver, a blocker and a veteran leader -- and most importantly, he comes with an affordable price tag. And the Saints are high on Hill, who played extensively as an undrafted rookie this past season. Hill had his highs and lows during the year. But the team obviously showed trust in him, which bodes well for his future development.
December, 20, 2013
12/20/13
4:00
PM ET
METAIRIE, La. -- There are no surprises on the
New Orleans Saints
' official injury report heading into Sunday's game at the
Carolina Panthers
. Backup safety
Rafael Bush
(ankle) was the only one to miss practice throughout the week, and he is officially listed as doubtful.
Linebacker
Keyunta Dawson
(calf) and tight end
Josh Hill
(hamstring) are listed as questionable after being limited during the week. Safety
Roman Harper
is no longer listed on the injury report after being limited by a hip injury on Wednesday.
Running back
Travaris Cadet
also missed practice Friday for non-injury reasons and is listed as probable.
Obviously that's a great injury report for a team this late in the season. The Saints will have every starter full-go for Sunday's game.
December, 12, 2013
12/12/13
7:50
PM ET
November, 20, 2013
11/20/13
10:00
AM ET
METAIRIE, La. – Believe it or not,
New Orleans Saints
quarterback
Drew Brees
did something last Sunday that he's never done before. He completed passes to 11 different receivers during the Saints' 23-20 victory over the
San Francisco 49ers
. According to the Elias Sports Bureau, that was a first in Brees' 13-year career.
It didn't seem that rare since Brees has always been willing to spread the ball around so generously. It's one of the things that makes the Saints' offense work so well. Just three weeks earlier, Brees connected with 10 different receivers in the Saints' victory over the
Buffalo Bills
.
Brees
But then on Sunday, in a moment that would make the band Spinal Tap proud, Brees found a way to crank his performance up to 11.
"We're equal-opportunity," Brees said. "Whoever's getting open, whoever's got the matchup, whoever's got the hot hand. We kind of feel that and see that as the game is going on. Guys kind of know that if it's not this week or next week, it might be the following week, as you see. Also everybody knows that, 'Hey, my opportunity could come at any moment and I've got to be ready.'"
Brees completed 30 of 43 passes for 305 yards on Sunday. Fittingly, his only touchdown pass was thrown to undrafted rookie tight end
Josh Hill
– the first TD of Hill's career.
Brees has now completed passes to 13 different receivers this season, with 10 of them catching touchdowns.
When asked if that much sharing is unique in the NFL, Brees said, "Yes, but we've got a great group of guys. We've got just completely unselfish … everybody buys into the system and what we're trying to do."
Hill's touchdown came on a well-designed play, when he started out as a blocker but released into the flat for a 3-yard catch while receiver
Robert Meachem
lured three defenders into the back of the end zone.
When asked if Hill was his No. 1 option on the play, Brees said, "Yeah. … For the most part."
November, 19, 2013
11/19/13
12:35
PM ET
Some observations on the
New Orleans Saints
'offense after reviewing the tape of their 23-20 victory over the
San Francisco 49ers
in Week 11:
Bad break/good call:
First of all, my thoughts on the biggest and most controversial play of the game -- the personal foul penalty called against 49ers linebacker
Ahmad Brooks
in the fourth quarter. I think it was an extremely bad break for the 49ers. And maybe the NFL should consider changing the rules for what's considered a penalty and what isn't. But under the current rules, it didn't surprise me one bit that they threw the flag. I actually would have been shocked if they didn't, based on what we see on a weekly basis in this league. I think back to the two penalties called against Saints cornerback
Corey White
a few weeks ago, for instance, and there are countless other examples.
Although Brooks' first contact against Brees was in the shoulder area, his momentum quickly took his arm up into Brees' neck area. And he almost wound up slamming Brees helmet-to-helmet, as well. In today's NFL, it's a risk for defensive players to aim that high against quarterbacks or defenseless receivers. It's too bad that such a great effort by Brooks turned into a negative play for the 49ers. But pass-rushers have to realize by now that they're risking those flags when they take such a high angle.
[+] Enlarge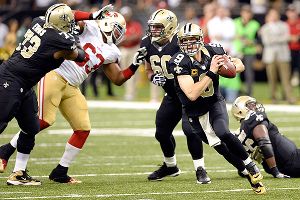 John David Mercer/USA TODAY SportsDrew Brees and the Saints showed off their patience in a close victory against the 49ers in Week 11.
Lucky break for Saints:
No matter where you stand on that controversial decision, you have to agree it was an extremely lucky break for the Saints. Although the Saints' pass protection was very good throughout the game, right tackle
Zach Strief
got torched by Brooks on the play -- with just a straight speed rush around the corner while the 49ers were blitzing with a total of five rushers. Brees never saw Brooks coming. And, in fact, Brees even slid a half-step toward Brooks before the hit (maybe one of the reasons Brooks overshot?) It was a great play by Brooks, who forced a fumble that was recovered by 49ers linebacker
Patrick Willis
.
Blitz busters:
Other than the play above, the Saints did an outstanding job of picking up blitzes throughout the game. The 49ers didn't blitz often, but the Saints made them pay when they did. Brees connected with receiver
Robert Meachem
on passes of 44 and 34 yards when the 49ers blitzed five men. And Brees' best throw of the day came against a six-man blitz with 50 seconds remaining, when he hit
Marques Colston
with a 20-yard pass to put New Orleans in field goal range.
The Saints had seven blockers on the play, and running back
Darren Sproles
and guard
Ben Grubbs
did just enough to keep linebackers Willis and
NaVorro Bowman
at bay. Brees fired a perfect throw down the field to Colston right before absorbing a hit.
Spreading the wealth:
It dawned on me as I was watching the tape that it felt like Brees was hitting a different receiver on almost every play. Sure enough, he completed passes to 11 different receivers -- including the first career touchdown pass for undrafted rookie tight end
Josh Hill
on a beautifully-executed 3-yard pass in the first quarter.
Hill helped sell the play-action fake by blocking Brooks at the line of scrimmage. Then Hill released into the flat after Meachem lured three defenders into the back of the end zone.
Solid run-blocking:
The Saints' offensive line didn't blow giant holes through the 49ers' front like they did a week earlier against the
Dallas Cowboys
. But in some ways, this performance was just as impressive since the 49ers' defense is so stout. The Saints consistently rattled off 5- and 6-yard runs throughout the day to help move the chains. Running backs
Pierre Thomas
,
Mark Ingram
and Sproles combined for 90 yards on 20 carries (4.5 yards per carry).
I thought fullback
Jed Collins
had another exceptional day. Grubbs consistently stood out, as well (despite a holding penalty on a run play). And the Saints even used backup linemen
Tim Lelito
and
Bryce Harris
as up-backs (something I haven't seen much in the past). Lelito made nice blocks in that role on a 15-yard run by Ingram in the first quarter and a 10-yard run by Thomas to the 49ers' 1-yard line in the second quarter.
Meachem also made an outstanding crack-back block in Ingram's 15-yard run. The all-around blocking has really been coming together for the Saints over the past month or so.
Biggest blunders:
Two huge blunders nearly cost the Saints the game. The first was receiver
Lance Moore
's fumbled punt return in the second quarter. Moore's view may have been blocked by 49ers safety
C.J. Spillman
, who was hovering nearby after Moore signaled for a fair catch. But Moore still should have caught it. The ball bounced right off his hands after he crouched and tried to cradle it.
The second was Brees' ill-advised interception/gift to Brooks in the third quarter, when Brees tried to float the ball over Brooks' head to tight end
Jimmy Graham
while throwing off his back foot.
When watching the game live, I thought it looked like a horrible decision by Brees and that he should have thrown the ball away on the third-and-4 play. But watching the tape, I at least understood what Brees saw. Graham had gotten wide open behind Brooks after the play had broken down and Brees scrambled to buy extra time. If Brees had put more zip on the pass, maybe it would have been a big gain. But he didn't.
Tough day:
Although the 49ers' defense didn't "dominate" the Saints physically, they still lived up to their reputation as a physical unit. Saints left tackle
Charles Brown
got beat a handful of times (twice leading to Brees getting hit to the ground after he threw, and once leading to a 1-yard loss by Ingram). San Francisco lineman
Justin Smith
made that tackle on Ingram and had a few nice disruptions up front during the game.
The 49ers' secondary also played physical in coverage. Safeties
Donte Whitner
and
Eric Reid
, especially, contested several throws -- including a fourth-and-4 pass attempt to Hill in the third quarter. And this time, Saints receiver
Kenny Stills
was unable to win a jump ball in the end zone like he's done so often in recent weeks because cornerback
Eric Wright
had him so well-covered.
The Saints did a good job of staying patient and settling for underneath throws throughout the game (similar to their victory over the
Chicago Bears
earlier this year).
November, 3, 2013
11/03/13
9:20
PM ET
EAST RUTHERFORD, N.J. – While former
New Orleans Saints
running back
Chris Ivory
was running wild against them Sunday in the
New York Jets
'
26-20 victory
, the Saints' own running game was practically nonexistent.
The Saints ran the ball well, when they did;
Pierre Thomas
and
Mark Ingram
and fullback
Jed Collins
combined for 50 yards on 11 carries, an average of 4.5 yards per carry. But the Saints (6-2) never stuck with the run game for a handful of reasons.
Ingram
Thomas
For one, the Saints went into Sunday's game with a plan to attack the Jets' secondary, which was a no-brainer since the Jets have struggled to stop the pass, whereas they boasted the NFL's No. 1-ranked run defense. And that plan was mostly successful early, with
Drew Brees
throwing for 230 yards and two touchdowns (and also two interceptions) in the first half.
For another thing, the Saints kept putting themselves into long-yardage situations with too many penalties in the second half (a total of seven offensive penalties for 49 yards).
And lastly, the Saints were forced to play catch-up, down by nine points for much of the second half.
"When we ran it, I thought we did some pretty good things," Saints coach Sean Payton said. "We knew they were going to be a good run front coming in, but I thought we did some things that helped give us some balance. But overall, late in the game, all of a sudden you find yourself [with a first-and-20, a second-and-15 and a second-and-19 on the final three drives]. Those are the types of things that I think just make it difficult. They make it difficult for the quarterback, I know that."
Offensive tackle
Zach Strief
added: "I think, for one, we became one-dimensional because of mistakes that we made."
In hindsight, maybe the Saints wish they had tried a traditional run play when they failed to convert a third-and-1 and fourth-and-1 in the fourth quarter. But the Saints didn't do too much second-guessing on that series of plays.
They actually tried a belly handoff to Collins on third-and-1, which appeared to gain a yard – but the play was nullified when the Jets were awarded a last-second timeout. On the play that counted, the Saints went with a pass to Collins, which also would have worked easily, but Collins dropped the ball.
Then on fourth-and-1, the Saints tried an exotic trick play that failed miserably – an end around to tight end
Josh Hill
that lost 8 yards. Payton and players all defended the play call, saying they installed it this week and felt confident it would work. But they credited the Jets' defense for staying disciplined instead of selling out to stop the run.
"I've been here eight years. I've seen reverses work, I've seen reverses score," guard
Jahri Evans
said. "We tried to just catch then in an aggressive situation, and they made a play."
November, 3, 2013
11/03/13
6:10
PM ET
EAST RUTHERFORD, N.J. -- Observed in the locker room after the
New Orleans Saints
' 26-20
loss
to the
New York Jets
:
Lofton
Saw it coming:
The Saints' defense was obviously frustrated after letting the Jets run for 198 yards. They said New York did exactly what they expected -- but the Saints just didn't execute. They let
Chris Ivory
break off runs of 52, 30 and 27 yards.
"We didn't really make the rookie quarterback (
Geno Smith
) do anything, just hand the ball off," linebacker
Curtis Lofton
said.
Ryan's quick exit:
This was obviously a grueling loss for Saints defensive coordinator Rob Ryan, who is now 0-5 in NFL matchups against brother Rex. After the game, they met for a brief hug, but it lasted only a few seconds before Rob walked on. Rob wasn't available for comment after the game, but players said he didn't react any different than their previous loss.
"You saw his face during that last loss?" safety
Malcolm Jenkins
said, referencing Ryan's anguished grimace that was caught on camera at New England.
Trick play no treat:
The Saints didn't beat themselves up too much for their failed trick play on fourth-and-1 midway through the fourth quarter. They attempted an end-around with tight end
Josh Hill
that lost eight yards. They installed the play this week because they thought it would catch the Jets off guard. But they credited New York's defense for staying home.
The Saints' offense was more upset about the repeated penalties that kept backing them up -- a problem for the second straight week.
September, 25, 2013
9/25/13
6:00
PM ET
The
New Orleans Saints
have used six undrafted rookies in their lineup this season after defensive end
Glenn Foster
and tailback
Khiry Robinson
made their debuts last Sunday. (The others are guard
Tim Lelito
, tight end
Josh Hill
, linebacker
Kevin Reddick
and cornerback
Rod Sweeting
.) According to ESPN Stats & Information, that's tied, with Cleveland, for the most in the NFL.
But that's nothing new around New Orleans during the Sean Payton era. The Saints have never been shy about throwing undrafted rookies into the mix – including two of their longtime offensive stars, receiver
Lance Moore
(began with the Browns before joining the Saints in 2006) and tailback
Pierre Thomas
(signed by the Saints after the draft in 2007). As Payton likes to say, the Saints don't care where their players came from. They go by what they see on the field.
The Saints currently have 23 players on their 53-man roster who were undrafted when they came into the NFL, including veteran starters such as cornerback
Jabari Greer
and linebacker
David Hawthorne
who played for other teams before joining the Saints.
According to ESPN Stats & Information, the Saints have used a total of 64 undrafted players since 2006, the third most in the NFL. The league average is 47 during that span. And dating back to 2008, the Saints have had undrafted players take 22.3 percent of all offensive or defensive snaps, the fifth most in the NFL.
Here's the complete list of players on the Saints' 53-man roster who were not drafted (* denotes a starter):
Offense
*WR Lance Moore, *RB Pierre Thomas, *C
Brian de la Puente
, *FB
Jed Collins
, RB
Travaris Cadet
, RB Khiry Robinson, G Tim Lelito, T
Bryce Harris
, TE Josh Hill
Defense
*CB Jabari Greer, *LB David Hawthorne, *LB
Junior Galette
, S
Rafael Bush
, S
Isa Abdul-Quddus
, CB
Chris Carr
, LB
Ramon Humber
, DE
Tom Johnson
, DE
Tyrunn Walker
, DE Glenn Foster, LB Kevin Reddick, CB Rod Sweeting
Special teams
*K
Garrett Hartley
, *LS
Justin Drescher