New Orleans Saints:

kasim edebali
December, 12, 2014
Dec 12
7:30
PM ET
METAIRIE, La. -- Cornerback
Terrence Frederick
and outside linebacker
Kasim Edebali
could see expanded roles for the
New Orleans Saints
this week -- for two different reasons.
Frederick told The New Orleans Advocate that he's been mixing in with the first-string defense during practice, though he does not know if he'll start against the
Chicago Bears
on Monday night. And Edebali could see increased snaps if starter
Junior Galette
is out or limited
by a knee injury
.
[+] Enlarge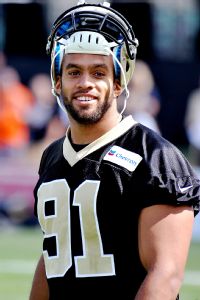 AP Photo/Chris TilleyDon't be surprised if Kasim Edebali sees more action for the Saints this week.
Frederick could be part of a wider change throughout the Saints' secondary.
Corey White
also told The Advocate that he has been spending some time at safety as well as cornerback in practice. And
Kenny Vaccaro
's role is
expected to change
in some way this week, which could mean a new starting strong safety as well.
The 24-year-old Frederick is a third-year pro who joined the Saints late last season, then spent the first half of this season on the practice squad.
The 5-foot-10, 187-pounder has only appeared in two career NFL games -- with the
New York Giants
as a rookie in 2012. But Saints coach Sean Payton said he's been impressed by what he's seen over the past year and called him a "pleasant surprise."
"No. 1, he is smart, so he has good instincts," Payton said. "When we brought him up (to the active roster) a couple weeks back, he very seldom is surprised defensively with what the coverage, what the front is, and what the call is. So he can align himself quickly. He's experienced. I think he's got real good hands. I think his football IQ is real high. And we saw it in training camp, and then he got nicked up a little bit. So he's been kind of a pleasant surprise."
Edebali (6-foot-2, 253 pounds) is reminiscent of Galette in many ways -- an undrafted rookie (from Germany via Boston College) who earned his way onto the 53-man roster with a high motor. He's rotated in for about 10 snaps per game this season, totaling 17 tackles, two sacks and a forced fumble.
Payton said Edebali is still growing through "growing pains with his rush and certain things" -- including an offsides penalty before a punt that drew Payton's ire last week against the
Carolina Panthers
. "But he goes hard," Payton said.
"I like his motor," Payton said. "He's someone I think pursues well, and he has given us some good energy in his backup snaps. He's also someone that can play in the kicking game in all four phases. That's a big plus."
Edebali played a career-high 32 snaps last week in the wake of Galette's injury and actually performed well on a few read-option snaps (which otherwise caused New Orleans' defense fits). Edebali said he had the advantage of recently playing in college, where he saw the read-option all the time.
Edebali said he "definitely" prides himself on that high motor Payton referenced.
"As a little kid, I think the first thing I learned playing this game was just go all motor, run 'til the whistle blows. So every snap I try to do the best job I can," said Edebali, who said he'll embrace whatever role the Saints have for him. "When your jersey number's needed, you gotta step up. That's how it's been this whole season."
As for his penalty and Payton's admonishment last week, Edebali said "it was rough." But he said everybody on the team has his back, and he just needs to, "learn from it, fix the mistake and don't do it again."
November, 4, 2014
Nov 4
8:00
AM ET
Thanks for submitting your
New Orleans Saints
questions to me on Twitter. There was enough good material this week for two installments.
Click here for Part 1
(the
Mark Ingram
edition). And send your questions anytime
@MikeTriplett
.
@MikeTriplett Do you feel signing Byrd was a mistake or that he will look better when he returns next year with more time in Robs scheme?

— Joel Hines Jr. (@JoelHinesJr) October 31, 2014
@MikeTriplett:
I don't think it was a mistake. Although safety
Jairus Byrd
struggled to make an impact for the first four weeks, the entire defense struggled. If he stayed healthy, I think he would've gotten his act together just like the rest of the defense. Byrd proved over the course of five years how talented he is. Four bad weeks doesn't erase that.
The only counter-argument would be that the injury risk in the NFL is so great that it's a gamble to spend that kind of money on anyone. But I applauded the move when the Saints made it because I think they have a Super Bowl-caliber roster that should be going all-in to win while
Drew Brees
is still in his prime.
As for the salary-cap ramifications, I think the Saints will continue to manage as they have in recent years. They'll have to keep getting creative with the way they structure new deals and restructure old deals. They'll ask some guys to take pay cuts. And they'll release veterans that they don't think are worth the value anymore. But they won't let the cap stop them from investing in core players, like they have with Brees, Byrd,
Jimmy Graham
,
Junior Galette
,
Cam Jordan
(on a one-year 2015 option) and
Keenan Lewis
in recent years.
Technically the Saints' 2015 cap number is already more than $158 million with just 41 players on the roster, per ESPN Stats & Information. But a bonus clause in Galette's deal will automatically be restructured to drop that figure by $10 million. And the Saints can choose one of those three options above for guys with big cap figures like
Jahri Evans
($11 million),
Marques Colston
($9.7 million),
Ben Grubbs
($9.6 million),
Curtis Lofton
($9 million),
Brodrick Bunkley
($6.1 million) and
David Hawthorne
($6 million), among others.
The NFL cap is expected to rise well above $140 million next year and keep going up from there.
@MikeTriplett Predictions for the #rest of the Saints schedule?

— Gabe (@Gabe888000) November 1, 2014
@MikeTriplett:
As if we didn't know it before, the Saints have proven this year that it's a futile exercise to try and predict wins and losses on a game-by-game basis. They always lose one or two they're not supposed to. And when they're at their best, they can beat anyone on the schedule, home or away.
On a week-to-week basis, I'll probably keep picking the Saints to win the rest of their home games -- and maybe even two or three of the road games at Pittsburgh, Chicago and Tampa Bay. But realistically, I expect them to go 6-2 or 5-3 overall in the second half. That would make them 10-6 or 9-7, and either should be good enough to win the NFC South.
@MikeTriplett are the saints finally getting last year's pressure from the DL??? Or is that a product of facing poor OL? WhoDat WhoDat!!!

— Peter Krueger (@loudMOUTHpeter) November 1, 2014
@MikeTriplett:
It's a combination of the two, but they're definitely on the right track. Carolina's offensive line was really struggling because of injuries. Their rookie left tackle had an especially rough night. But it was a good sign that the Saints were able to take advantage, continuing the rise we've seen from Junior Galette, Cam Jordan and
Akiem Hicks
since late in their Week 5 win over Tampa Bay.
That group's quiet production was arguably the biggest disappointment of the first four weeks since expectations were so high. If they can consistently get back to the level they were at last year, then the Saints will be serious contenders.
@MikeTriplett I am loving what I'm seeing from Edebali. First move is lightning. What's his story? Could he be Gallete no.2? #WhoDat

— P.W. (@BigandRedV) October 31, 2014
@MikeTriplett:
That's obviously a lofty best-case scenario. But it's a good comparison since Galette and rookie
Kasim Edebali
are both undrafted underdogs, they're almost the exact same size (6-foot-2, around 255 pounds), and most of all because Galette has eagerly taken Edebali under his wing. Not only did we see Edebali flash as a pass-rusher with two sacks against Green Bay, but he also stood out twice as a run defender when I watched the Carolina tape back.
Obviously he's got a long way to go, though. Galette gradually improved until his breakout came in his fourth season.
As for Edebali's backstory, he's a German native who didn't move to the United States until he graduated high school, and he played at Boston College. For more, check out
this story from training camp
.
November, 3, 2014
Nov 3
12:00
PM ET
The most valuable contributor to the New Orleans Saints' dominant defensive performance on Thursday night was probably
Carolina Panthers
quarterback
Cam Newton
. Man, was he off target as he airmailed receivers throughout the Saints' 28-10 victory.
But New Orleans' defenders did plenty of good things themselves in their best performance to date.
I gave my game ball on Thursday night to cornerback
Keenan Lewis
, who helped shut down top receiver
Kelvin Benjamin
, but he was one of many Saints' defensive backs who did a good job of contesting passes.
[+] Enlarge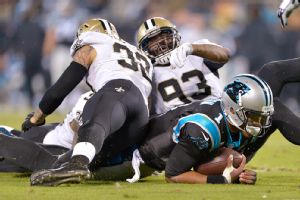 Grant Halverson/Getty ImagesThe Saints were able to get consistent pressure on Cam Newton and sacked him four times.
And this was probably the strongest I've seen defensive ends
Cam Jordan
and
Akiem Hicks
all season as they joined
Junior Galette
to provide a consistent pass rush.
Here are more thoughts after reviewing the tape:
Group effort:
The play of the game -- and one of the biggest of the season -- was Galette's sack-fumble in the second quarter. He had a lot of help from his friends. Jordan beat right tackle
Nate Chandler
to flush Newton forward in the pocket, and Newton had nowhere to go because Saints end
Tyrunn Walker
was also getting a big push up the middle against guard
Fernando Velasco
.
Walker took a swipe at Newton, and when Newton backed away, Galette was waiting to pounce from behind after beating rookie left tackle
David Foucault
.
Then to top things off, Saints linebacker
Curtis Lofton
made as big of a play as anyone by recognizing that the ball had squirted loose out of a pile and diving on it.
Other sacks:
Galette repaid the favor to Jordan later in the second quarter, when he was the driving force behind Jordan's sack. Galette drove Foucault straight into Newton, who backed into the pressure from Jordan on the other side.
Galette also beat Foucault for another sack late in the fourth quarter (leading to what appeared to be Galette's version of Newton's Superman celebration). And Hicks destroyed Foucault later on the same drive when he and Galette ran a stunt. Hicks dove for Newton's legs before he could escape and flipped him up off his feet.
Lewis clutch:
Lewis was credited for three pass breakups, and all were clutch. Two came against Benjamin (one on a deep ball and one near the end zone). The other came when Lewis left Benjamin and flew across the field to break up a deep floater that was almost caught by
Jerricho Cotchery
.
Newton tested Lewis more than any quarterback has all season, mostly because he kept locking in on Benjamin, who finished with just two catches for 18 yards on 10 targets. There were a couple times where it looked like Benjamin had a step or inside position on Lewis, including a slant in the end zone. But Newton wasn't able to fire the ball in tight enough.
More stingy coverage:
Cornerback
Patrick Robinson
also had two impressive rejections, and safety
Rafael Bush
and cornerback
Corey White
had one apiece.
Ironically, though, the biggest play by the secondary came after poor coverage. White gave up a huge cushion to receiver
Brenton Bersin
on a comeback route (White actually stumbled forward and ran into Bush). But Bersin wasn't able to catch the bullet from Newton, and the ball tipped up into the air and into White's waiting arms for an interception.
One of the few lowlights for New Orleans' secondary was a 47-yard pass to Cotchery late in the third quarter. He broke wide open behind safety
Marcus Ball
and caught the pass before Bush could get over to help. Someone probably missed an assignment.
Newton's escapes:
The Saints' only problem Thursday was losing containment on Newton several times -- whether he was escaping pressure or running by design. He had seven carries for 43 yards, including a 10-yard touchdown run on third-and-goal in the third quarter.
It's hard to blame the pass rushers too much since you want them to stay aggressive, though Galette did get burned once by a fake handoff. Another time, Galette might have been held a little. I was more surprised that the Saints didn't keep a linebacker or safety closer to the line of scrimmage on some of those plays. Once Newton got past the line, he often had tons of room to run, which allowed him to easily shake Lofton once and Bush once in the open field. Then again, if the Saints were too obsessed with Newton's running threat then maybe their pass defense wouldn't have been so impressive.
I'll have more on this subject in Tuesday's "Film Don't Lie" installment since the Saints have another run-threat QB coming up this week in the San Francisco 49ers'
Colin Kaepernick
.
Other notables:
The Saints' run D was hit or miss, but I noted some standout efforts in that department from Hicks, Lofton, Jordan, Galette and
Kasim Edebali
. … A Saints blitz got burned by a 30-yard screen pass to running back
DeAngelo Williams
. He used a nasty cutback to elude Bush in the open field. … Bush's pass interference penalty was a similar close call to the one he drew against
Reggie Bush
in Detroit two weeks ago. He hooked his arm around the receiver just a little too much as he broke up a pass.
August, 30, 2014
Aug 30
7:00
PM ET
Once again, the
New Orleans Saints
lived up to their reputation as a team that doesn't care where you came from. They kept two undrafted rookies on the 53-man roster -- outside linebacker
Kasim Edebali
and cornerback
Brian Dixon
.
Last year, the Saints wound up with a total of seven undrafted rookies on their roster. And their recent history is littered with undrafted success stories, like running backs
Pierre Thomas
,
Chris Ivory
and
Khiry Robinson
and outside linebacker
Junior Galette
.
Meanwhile, the Saints decided to cut one of their draft picks -- offensive tackle
Tavon Rooks
, who was drafted in the sixth round.
Rooks and many other youngsters who didn't make the cut should be able to stick on the Saints' practice squad, as well. Thanks to a new NFL rule, teams can now keep 10 players on the practice squad -- including two with at least two years of NFL experience. Teams can begin signing their practice squad once players clear waivers Sunday.
Among some of the other likely candidates to stick on the practice squad are safety
Pierre Warren
, cornerbacks
Trevin Wade
and
Terrence Frederick
, linebacker
Todd Davis
, receivers
Brandon Coleman
,
Charles Hawkins
and
Seantavious Jones
, guard
Marcel Jones
, tight end
Nic Jacobs
, running back
Derrick Strozier
and center
Matt Armstrong
.
August, 28, 2014
Aug 28
10:55
PM ET
NEW ORLEANS -- The
New Orleans Saints
missed their chance to finish undefeated in the preseason for the first time in franchise history, losing
22-13
to the
Baltimore Ravens
on Thursday night inside the Mercedes-Benz Superdome.
Obviously that doesn't matter a lick, considering quarterback
Drew Brees
and about a dozen other starters sat out the final exhibition game.
So what did matter? I can't say that any jobs were obviously won or lost on Thursday night. But here are the clues that stood out most:
August, 28, 2014
Aug 28
12:00
PM ET
Two of the NFL's four undefeated teams in the preseason will square off Thursday when the
New Orleans Saints
(3-0) host the
Baltimore Ravens
(3-0) in the Mercedes-Benz Superdome. It will be the final exhibition game for both teams.
1. Griffin still in play?
Honestly, I'm not sure if the Saints' backup quarterback job is still up for grabs. For most of the offseason, I predicted they'd go with second-year pro
Ryan Griffin
as long as he could prove trustworthy in the role. But the Saints have played veteran
Luke McCown
ahead of Griffin in every preseason game so far. So maybe they've already made up their minds to go with the more proven veteran. … Either way, Griffin will get one last chance to sway them against Baltimore. He's expected to play most of the game, though coach Sean Payton hasn't announced who will start. Payton also hasn't announced whether or not starting quarterback
Drew Brees
will play.
2. Jobs on the line?
There are a handful of starting jobs still up for grabs, including at kicker (
Shayne Graham
vs.
Derek Dimke
), center (
Jonathan Goodwin
vs.
Tim Lelito
), cornerback (
Patrick Robinson
vs.
Champ Bailey
vs.
Corey White
) and fullback (
Austin Johnson
vs.
Greg Jones
). Of that group, I'd bet the only one that can truly be influenced by Thursday night's performances is the kicker battle. It's close enough that a bad night could doom either guy. As for the others, I'm guessing we'll see Goodwin, Robinson and Johnson starting in Week 1, though any extreme highs or lows tonight will certainly be taken into account.
3. Room for undrafteds?
My latest
53-man roster projection
didn't include any undrafted rookies – which would be rare for the Saints, who wound up with a total of seven on their roster last year. But as I wrote Wednesday, I think outside linebacker
Kasim Edebali
has
a chance
after the Saints cut some experienced linebackers this week. Others on the bubble include safety
Pierre Warren
, tight end
Nic Jacobs
and cornerback
Brian Dixon
. A big night from any of them – especially on special teams – could earn a roster spot.
August, 27, 2014
Aug 27
8:00
AM ET
Linebacker
Kasim Edebali
seemed like a considerable long shot to crack the
New Orleans Saints
roster at the start of training camp.
But the 25-year-old German native has never let long odds stand in his way.
Edebali moved to the United States at age 18, played two years of high school football, earned a scholarship to Boston College and eventually signed with the Saints this year as an undrafted rookie free agent.
[+] Enlarge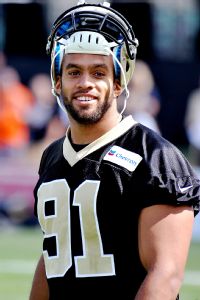 AP Photo/Chris TilleyGerman-born Kasim Edebali, an undrafted rookie out of Boston College, has impressed this summer.
The 6-foot-2, 253-pounder has impressed this summer as a pass-rusher -- and more importantly, on special teams. And he suddenly seems to have a realistic chance to make the roster after the Saints released linebackers
Victor Butler
and
Kevin Reddick
on Tuesday.
Edebali insisted that he's not getting caught up in the number-crunching as the final set of roster cuts looms at the end of the week. He said he just "attacks" each day, focusing on waking up and "trying to have the best practice I've ever had in my life."
He said that's been his approach ever since he first started seeing American football games on TV when he was about 10 years old.
"German sports channels, pretty much 24 hours a day they used to played soccer. Then they had football out there and I was like, 'Wow, this looks amazing. I want to play this,'" recalled Edbali, who started out with five years of flag football before he was allowed to start tackling. He eventually played on an all-star team that included
Indianapolis Colts
first-round draft pick
Bjoern Werner
.
Edebali then came to America after he graduated high school because he wanted to pursue football. He needed two more years of high school in New Hampshire as he learned to speak more fluent English. Then he went to Boston College, where he racked up 11 career sacks (9.5 of them as a full-time starter last year).
Along the way, Edebali also got to meet his father and his "American family" for the first time.
Edebali was raised by his mother, who is from Germany. He never knew his father, an American G.I. who had been stationed overseas.
"When I was 21 years old, he saw me on TV," said Edebali, who said he never had any hard feelings about waiting so long to meet him. "This is how life went. I wasn't mad at him or anything. It was great meeting him and my whole American family -- my grandma. I have a half-sister and a half-brother. It was a special moment, another chapter in my life. I feel blessed about that."
Now in New Orleans, Edebali has also added a new big-brother type to his life in Saints linebacker
Junior Galette
-- a similar-style player who took the same path as an undrafted rookie.
Galette was signing Edebali's praises the other day as someone who has stood out both through his play and his passion.
Edebali has had two sacks this preseason. And more important for his roster chances, he was on the starting kickoff and kick return units during the Saints' game against the Indianapolis Colts last Saturday.
Saints coach Sean Payton mentioned Edebali first when asked about a group of young linebackers hoping to crack the roster, describing him as "a guy that has been productive and around the ball."
August, 26, 2014
Aug 26
5:00
PM ET
Most significant move:
Releasing linebacker
Victor Butler
was a small surprise, but a huge shame. I was one of many analysts who thought the pass-rush specialist could have a huge impact when he joined the
New Orleans Saints
last year, following defensive coordinator Rob Ryan from Dallas. Unfortunately, Butler missed all of last season with a torn ACL, then he missed three weeks of training camp this year with an ankle injury. In the meantime, the Saints continued to develop two other breakout pass-rushers in
Cameron Jordan
and
Junior Galette
. Hopefully Butler can get healthy and get another opportunity somewhere, because he's an energetic, well-liked guy who showed a ton of promise before the injuries.
One-year wonders:
I was equally surprised to see the Saints release second-year linebacker
Kevin Reddick
, who had been a mainstay on all of their special teams units last season and this preseason. But it goes to show how much depth the Saints have at linebacker. This probably guarantees that guys such as
Keyunta Dawson
and
Kyle Knox
will make the team and maybe open up a spot for undrafted rookie
Kasim Edebali
. ... Cornerback
Rod Sweeting
also got cut after spending all of last season on the roster as an undrafted rookie. And 2013 sixth-round pick
Rufus Johnson Jr.
got waived as well -- less surprising after both had fallen behind in the pecking order throughout the summer.
What's next:
Two of the most compelling battles that will be decided by week's end are at backup quarterback (
Luke McCown
vs.
Ryan Griffin
) and kicker (
Shayne Graham
vs.
Derek Dimke
). It's starting to look more and more like McCown will win the backup job. If that happens, the Saints will probably keep three quarterbacks since they like Griffin's long-term potential. ... I don't anticipate any more veteran surprises, but you can never rule them out. If I had to make my final roster projection right now, I'd have four guys battling for the last three spots (McCown, Edebali, safety
Marcus Ball
and defensive lineman
Brandon Deaderick
).
Saints' cuts:
LB Victor Butler, LB Kevin Reddick, DE Rufus Johnson Jr., CB Rod Sweeting, S
Ty Zimmerman
, DE
George Uko
, WR
Andy Tanner
(injured), QB
Logan Kilgore
, TE Travis Beckum, OT
Manase Foketi
, OT
Ty Nsekhe
(injured).
August, 19, 2014
Aug 19
7:45
PM ET
METAIRIE, La. -- A daily review of the hot topics coming out of
New Orleans Saints
training camp:
The Saints got some good news on the injury front Tuesday when safety Jairus Byrd was cleared to do full-contact work. But there were still a handful of key players missing. Cornerback Keenan Lewis was held out of practice, though he did some exercises off to the side with trainers. Guard Ben Grubbs was absent after leaving with an undisclosed injury during Monday's practice. Receiver Brandin Cooks was absent for the second straight day with a stomach virus (coach Sean Payton said he still had a fever). Cornerback Patrick Robinson, linebackers Victor Butler and Khairi Fortt and fullback Erik Lorig were also among a group of players who remained sidelined with unspecified injuries. Defensive end Akiem Hicks and cornerback Champ Bailey participated in a walk-through but didn't do any team drills.
Veteran defensive lineman Brandon Deaderick replaced Hicks with the starting defense – another sign of Deaderick's versatility and possible value to the Saints. The 6-foot-4, 305-pounder spent most of the summer lining up as the Saints' second-string nose tackle while John Jenkins recovered from a pectoral surgery, and that's where Deaderick was lined up when he recovered a fumble in last Friday's preseason game against the Tennessee Titans. Deaderick, 27, spent his first three seasons with the New England Patriots and one year with the Jacksonville Jaguars. He's right on the roster bubble, but he's making a strong case.
Speaking of that roster bubble, another undrafted rookie that belongs on your radar is outside linebacker Kasim Edebali, a German native who played at Boston College. The main reason I haven't touted Edebali much when I do my weekly 53-man roster projections is because I feel like that position is so overcrowded that it will be tough to crack. But the 6-2, 253-pounder has flashed some impressive athleticism and pass-rush ability at times. Saints analyst Bobby Hebert was just touting Edebali on Monday. Then on Tuesday, Edebali got a ringing endorsement from fellow former undrafted linebacker Junior Galette. When asked if he's been impressed by any undrafted guys, Galette said, "One guy I'd point out, Kasim Edebali. You know he's not really a rookie, I feel like. He's up there in age, 25 years old [as of Sunday]. He's a lot more mature than I was as a rookie. And the guy gets off the ball and he can play."
Some of the on-field highlights Tuesday: Rookie cornerback Stanley Jean-Baptiste went up high to break up a pass from Drew Brees to Marques Colston in the end zone, one of Jean-Baptiste's best efforts to date. … Cornerback Corey White forced a fumble against running back Khiry Robinson in seven-on-seven drills, one of White's many nice plays in camp. … Tight end Jimmy Graham continued to serve as a go-to target in Tuesday's practice, continuing a stellar camp. And after Graham scored a TD on Tuesday, he celebrated with an emphatic (and legal) spike. … Brees kept the ball to himself, tucking it and running it in for a score to cap a red zone drill at the end of practice.
The Saints will take their practice show on the road Wednesday night for a rare practice across the lake at Mandeville High School. The session, from 7-9 p.m. CT, will be free and open to the public, weather permitting. Payton said the team will be in helmets, shoulder pads and shorts instead of a fully-padded session.
May, 20, 2014
May 20
5:50
PM ET
The
New Orleans Saints
placed former Tulane safety Devon Walker on the reserve/retired list Tuesday. The Saints
signed the inspirational Walker
to an official NFL contract over the weekend, despite the fact that he was paralyzed from the neck down by an on-field collision in college.
The Saints also officially added undrafted rookie outside linebacker
Kasim Edebali
to their 90-man roster. Edebali, from Boston College, was announced among the original list of rookies that had agreed to terms with the Saints last week, and he participated in the team's rookie minicamp. But his signing didn't become official until Tuesday.