New Orleans Saints:

Kenyon Coleman
March, 5, 2014
3/05/14
8:00
AM ET
The
New Orleans Saints
have 13 players scheduled to become unrestricted free agents on March 11, plus the three players they released last month. Here's a breakdown of their defensive reserves:
LB Will Herring: Age 30. Height/weight: 6-3, 241.
Scouting report: Herring has spent the last three years in New Orleans as a core special teams player and backup linebacker. He was named a special teams captain last year and played more special teams snaps than anyone on the team (81.9 percent). He has never earned consistent playing time on defense during his time with the Saints, though, making a total of three starts with a total of 35 tackles, two interceptions and one forced fumble. Herring spent his first four seasons in Seattle.
Projection: The Saints could bring back Herring in a similar role, since he's been such a valued special teams leader and would probably come at an affordable rate. However, it's possible they could look to get younger at those positions.
LB Ramon Humber: Age 26. Height/weight: 5-11, 232.
Scouting report: Humber's bio is almost an exact replica of Herring's. He has spent the past four years in New Orleans as a backup linebacker and core special teams player. He played the second-most snaps on special teams last year (74.3 percent). And he has made six "spot starts" over the past four years, with a total of 63 tackles, 1.5 sacks and no forced turnovers. He had a career-high 29 tackles last year while starting three games for the Saints. Humber began his career with Indianapolis for a season and a half.
Projection: Humber is even more likely to re-sign with the Saints or find work elsewhere. He looked very solid in his cameo appearances on defense last year – especially as a run defender. Plus, he's still young without too much wear on the tires.
S Jordan Pugh: Age 26. Height/weight: 5-11, 210.
Pugh played in only one game with the Saints last year. They signed him just before their season-ending playoff loss at Seattle to add some special teams help. But he had plenty of NFL experience before that as a solid backup and special teamer with the
Carolina Panthers
and
Washington Redskins
for four years. I could see the Saints inviting him to camp this summer to compete for a similar role.
DE Kenyon Coleman: Age 34. Height/weight: 6-5, 293.
Coleman
plans to retire
after missing all of last season with a torn pectoral muscle.
February, 21, 2014
2/21/14
7:10
PM ET
UPDATE:
Veteran defensive end
Kenyon Coleman
plans to retire after missing all of last season with a torn pectoral muscle, according to his agent Jordan Woy. Coleman signed a one-year deal with the
New Orleans Saints
last offseason but never played with the team after suffering the injury in training camp.
Coleman, 34, began his career as a fifth-round draft pick with the Oakland Raiders in 2002. He eventually became a full-time starter for the
New York Jets
,
Cleveland Browns
and
Dallas Cowboys
during his 12-year career -- earning a reputation as a standout run defender. The 6-foot-5, 293-pounder finished with 361 tackles, 13.5 sacks and two forced fumbles.
Coleman followed new Saints defensive coordinator Rob Ryan to New Orleans last year after playing under Ryan in Dallas and Cleveland. Ryan touted him last summer as "the best run defender in football as a 3-4 end." He was projected to start as a 3-4 defensive end and play as a run-defense specialist in base packages. However, young backup
Akiem Hicks
emerged as a standout starter in his place.
Young backup ends
Glenn Foster
and
Tyrunn Walker
also impressed in small doses last year. The Saints also reportedly
don't plan to offer a tender
to backup lineman
Tom Johnson
-- a restricted free agent.
Loomis on cap:
In other Saints news Friday, general manager Mickey Loomis said the Saints' plans won't be affected by a recent ESPN report that the salary cap is expected to be close to $130 million this year. According to The Times-Picayune and The Advocate, Loomis said during a break at the NFL scouting combine in Indianapolis that, "We have an expectation of what the number is going to be, [and] there's been nothing to change that expectation other than all of a sudden there's this report, which I don't even know where that got generated."
Asked if the Saints anticipate parting ways with any more veteran players, Loomis declined to specify the team's plans.
"We've got some work to do," he said. "What form that takes remains to be seen."
Loomis also declined to comment on contract talks with free agent tight end
Jimmy Graham
.
January, 28, 2014
1/28/14
4:00
PM ET
A position-by-position look at where the
New Orleans Saints
stand heading into the 2014 offseason -- ranked from 1-12 in order of the team's need for upgrades or replacements.
Current depth chart:
Akiem Hicks
. Age 24, signed through 2015. 2014 salary and bonuses: $582,500. 2014 salary-cap number: $718,225.
Brodrick Bunkley
. Age 30, signed through 2016. 2014 salary and bonuses: $4.5 million. 2014 salary-cap number: $6.1 million.
John Jenkins
. Age 24, signed through 2016. 2014 salary and bonuses: $515,000. 2014 salary-cap number: $656,890.
Tom Johnson
. Age 29, restricted free agent.
Glenn Foster
. Age 23, scheduled to become restricted free agent in 2016. 2014 salary and bonuses: $495,000. 2014 salary-cap number: $497,333.
Tyrunn Walker
. Age 23, scheduled to become restricted free agent in 2015. 2014 salary and bonuses: $570,000. 2014 salary-cap number: $571,000.
Kenyon Coleman
. Age 34, unrestricted free agent.
Analysis:
Since the Saints run a hybrid between a 3-4 and 4-3, I decided to label the guys up front as either interior linemen or edge rushers. And I think this particular group is in good shape going forward.
Bunkley's future is uncertain since he's due to make so much money and since he shares time at the nose tackle spot with promising 2013 rookie Jenkins. Based on my weekly film studies, I believe Bunkley was playing better down the stretch of this past season than any other point in his two years with the Saints. He's a very strong and stout run defender. But I think it would take a pay cut to keep him in New Orleans.
Even if Bunkley leaves, I think this position is in good shape. Hicks is an outstanding young talent, with a great combination of power and athleticism. He could be playing at a Pro Bowl level sooner than later. And you can pencil in Hicks and Jenkins as starters (in a 3-4 or 4-3).
Foster and Walker are solid young backups with a potential to be even better as they continue to develop. Johnson is also a reliable backup if the Saints decide to bring him back as a restricted free agent. And they could add a veteran backup at an affordable price if needed -- perhaps bringing back Coleman, who missed all of last season on injured reserve.
I'm not saying the Saints will cross this position off their draft list completely. If the highest-graded player on their board in Round 1 is a defensive tackle, they'll probably take him and trust that innovative defensive coordinator Rob Ryan can find a good use for him. … It just won't be a "must-fill" spot this offseason.
September, 28, 2013
9/28/13
8:00
AM ET
METAIRIE, La. – The
New Orleans Saints
didn't plan to start a youth movement or some kind of extreme roster makeover on their defense this season. In fact, they worked hard to restructure the contracts of core veterans such as
Will Smith
,
Jonathan Vilma
and
Roman Harper
because they wanted them to be part of their revitalized defense.
But the Saints and new defensive coordinator Rob Ryan have been forced to continually adapt as six projected starters have gone down with injuries.
[+] Enlarge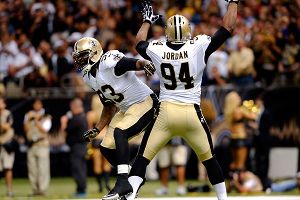 AP Photo/Bill FeigYoung players such as Junior Galette and Cameron Jordan, with five sacks between them, have emerged to help turn around the Saints defense.
The result? The Saints are 3-0, and a defense that last season set the NFL record for most yards allowed now ranks as the fourth-toughest in the league (295.7 yards allowed per game).
Although no one around Saints camp is claiming they're better off without those missing veterans, there is obviously some sort of mojo that has developed while dynamic young playmakers such as linemen
Cameron Jordan
and
Akiem Hicks
, outside linebacker
Junior Galette
and safety
Kenny Vaccaro
have started to emerge.
"I gotta start by saying it's very unfortunate that we had so many pivotal parts of our defense go down. One guy that sits right next to me in this locker is Will Smith, and that's something that can't be replaced," Hicks said. "But there's definitely an energy, and we can use that. So it's been working out."
The Saints lost three projected starters to season-ending injuries this summer – outside linebackers Smith and
Victor Butler
and end
Kenyon Coleman
. Then inside linebacker Vilma was placed on short-term injured reserve after he had minor knee surgery in training camp (he could return at midseason). And in recent weeks, safety Harper and tackle
Brodrick Bunkley
have been sidelined by injuries, and nickel cornerback
Patrick Robinson
suffered a season-ending knee injury in Week 2.
Yet none of those injuries has seemed to faze the Saints. If anything, the circumstances have empowered some of the young players who are stepping into more prominent roles.
Coach Sean Payton said that kind of injection of youth and energy can benefit a team – but only if the players "earned those positions."
"In other words, I don't think by design you go out and say, 'We're going to keep all these young players and cut the veterans,'" Payton said. "One thing that we try to do is just keep the best players. And the young players that earned spots we felt like were players that earned spots. And the veteran players that made the roster we felt like earned those spots. So, like you said [when the question was posed], it wasn't by design."
It hasn't just been young players stepping up to fill the void. Veteran linebacker David Hawthorne has played well as a replacement for Vilma. And the Saints traded for veteran linebacker Parys Haralson to help replace Smith.
And the most important change the Saints made to their defense this offseason came on the coaching staff -- which
was
by design. Payton fired former defensive coordinator Steve Spagnuolo after just one year on the job and replaced him with Ryan -- whose versatile schemes and energetic personality clearly have resonated much better with Saints players.
"Anything but the old defense, I would have got excited regardless," said Galette, who has never been shy about voicing his displeasure with Spagnuolo's system, which he felt was too rigid and reactive rather than unpredictable and aggressive. "But Rob, just meeting him as a person off the field, his character and his personality just kind of sinks in with everybody else, and he still feels like he's young and he brings a lot of energy himself.
"Anything but Spags would've been great. But Rob is just a plus."
The players have been feeding off of each other as well. As veteran inside linebacker
Curtis Lofton
said, that amped-up energy level is especially noticeable along the defensive front, where young guys such as Jordan, Galette, Hicks,
Martez Wilson
,
Tyrunn Walker
,
John Jenkins
and
Glenn Foster
have taken turns rising to the challenge – and cranking up friendly rivalries among themselves.
For instance, when Galette (two sacks) was asked who's having the better season so far between him and Jordan (three sacks), he said, "C'mon, are you serious right now? That's not a serious question. Who do you think?"
"There's no days off. We get to the film room, and it's like, 'OK, I got off the ball faster than you.' You're competing. And that's that competitive nature that I feel like we lacked in past years," Galette said – though he was quick to point out that he doesn't think the Saints are better off without their injured veterans.
"Obviously it would help if Will and Victor were here. But we can't worry about that right now," Galette said. "This is who we have right now, and this is what we're gonna keep rolling with."
It may not be how the Saints drew it up in the playbook, but sometimes the best thing a team can do is call an audible.
August, 29, 2013
8/29/13
11:00
PM ET
Thoughts on the
New Orleans Saints
'
24-21 loss
to Miami on Thursday night:

What it means:
The Saints came up a little short of a perfect preseason, finishing 3-1. But they are far from a perfect team. They head into the regular season needing to replace three guys (defensive end
Kenyon Coleman
and linebackers
Victor Butler
and
Will Smith
) who were expected to be starters but have been lost to injuries.
Ingram's role?
Running back
Mark Ingram
had a nice 8-yard touchdown run. But the mere fact Ingram was getting nine carries in the final preseason game makes me wonder if he's bound to spend another year buried on the depth chart behind
Pierre Thomas
and
Darren Sproles
. Rookie running back
Khiry Robinson
got mop-up duty, but finished with 165 yards of total offense. Robinson isn't a lock to make the roster, though, because he fumbled twice.
What's next:
The Saints open the regular season against Atlanta on Sept. 8 at the Mercedes-Benz Superdome.
August, 26, 2013
8/26/13
3:14
PM ET
At a time when they're switching their defensive scheme to include an extra linebacker, the
New Orleans Saints
are running out of players to play the position.

Outside linebacker
Will Smith
reportedly will
miss the season
after injuring his knee in Sunday's preseason game with Houston.
That comes after the Saints lost
Victor Butler
, a projected starter at the other outside linebacker position, to injury in June. Outside linebackers
Martez Wilson
(elbow) and
Junior Galette
(leg) also have missed significant time in the preseason. Inside linebacker
Jonathan Vilma
also has been sidelined after having knee surgery. Defensive end
Kenyon Coleman
also is out for the season with a pectoral injury.
Vilma's space is being filled by
David Hawthorne
. But the outside linebacker positions are a bigger concern. The Saints are hoping Wilson and Galette can get healthy. Veteran backup
Jay Richardson
could be in the mix for more playing time. Rookies
Rufus Johnson
and
Eric Martin
have done some good things in the preseason, but I'm not sure they're ready to be starters.
The Saints might have to comb the waiver wire for linebacker help in the coming days.