New Orleans Saints:

lesean mccoy
January, 3, 2014
Jan 3
12:30
PM ET
METAIRIE, La. -- One of the elements that has burned the
New Orleans Saints
on the road this year is lapses in their run defense. Generally, their run defense has been solid this season. But some breakaway runs by the likes of
Chris Ivory
,
Zac Stacy
and
DeAngelo Williams
have been killers.
Now, the Saints will be facing the best running back they've faced all season -- the Philadelphia Eagles'
LeSean McCoy
-- on Saturday night.
[+] Enlarge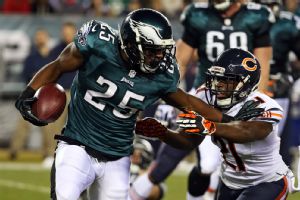 Brian Cassella/Chicago Tribune/MCT/Getty ImagesEagles RB LeSean McCoy led the league in all-purpose yards with 2,146.
McCoy led the NFL by more than 200 rushing yards this year with 1,607 of them. He averaged 5.1 yards per carry. He also caught 52 passes for 539 yards and scored 11 touchdowns.
He led the league in all-purpose yards (2,146) without returning a single kick.
Obviously the Saints will have their hands full with the shifty back. Not only is he dangerous on his own accord, but the Eagles' unconventional, up-tempo offense thrives on creating defensive breakdowns. The Saints will especially need their safeties
Malcolm Jenkins
,
Roman Harper
and
Rafael Bush
to be sound and disciplined in the open field to prevent those long runs -- a problem that has crept up from time to time.
Here's what the Saints have been saying this week about "Shady" McCoy:
OLB Junior Galette:
"This guy is explosive. It's scary what it reminds you of. It reminds me of, like,
Barry Sanders
, as much as I hate to say it. This guy is an amazing athlete, his footwork, and he knows what hole he wants to get to. … You've got to be gap sound. You can't just jump out your gap and do your own thing on the run, or he's gonna exploit that. A 3-yard loss could turn into a 50-yard gain."
S Roman Harper:
"They really like to put Shady McCoy in space, and he definitely is a great space player. He gets out there one-on-ones and he makes everybody miss. That just plays right into what he wants to do. He's going to be a tough tackle. You're not going to get this guy down one-on-one, from my experience or anybody else's in the league right now."
ILB Curtis Lofton:
"What makes him great is he tests every level of the defense, from linebackers and the D-line to cornerbacks and safeties. Usually when you play a running back, you see on film, 'Oh, he likes to cut, or he's a bounce or a cut-back runner.' With him, he does it all. He'll run downhill, he'll cut, he'll bounce. So we have to be disciplined in all areas when we're going against him."
OLB Parys Haralson:
"You don't want to overrun the play because he can cut it back. Sometimes if you don't get there fast enough, he'll outrun you."
OLB Victor Butler
(on injured reserve this year, but faced McCoy frequently in the past as a NFC East rival with the
Dallas Cowboys
): "He's a hell of an athlete. I think we just group tackle -- get a lot of guys to the ball -- which we've done a good job of this year. We're not looking for big hits on him. You just want to bring a guy like that down. ...
"[In the Eagles' new offense under coach Chip Kelly], it's a little sprinkle of the same old same. They're putting him in a position to thrive, and he's taking advantage of it. But I think they're just kind of getting out of his way and letting him be him."
January, 3, 2014
Jan 3
11:25
AM ET
The way things have gone for the
Philadelphia Eagles
this season, you half expected to hear that
Drew Brees
fell down an elevator shaft or was hit by some space junk. But no, the
New Orleans Saints
' superb quarterback will not go the way of
Aaron Rodgers
,
Adrian Peterson
and
Tony Romo
the week before their teams played the Eagles.
Of course, that doesn't mean anyone knows which Brees will show up for the first-round playoff game Saturday night at Lincoln Financial Field. Will it be the Brees with the 8-0 record at home, or the Brees who has gone 3-5 on the road this season?
In search of the answer to this and other questions, ESPN.com reporters Mike Triplett in New Orleans and Phil Sheridan in Philadelphia exchanged insight and info.
Phil Sheridan:
Let's start with the obvious: the disparity between the Saints at home and on the road. Is it mostly Brees? The fast track at the Superdome versus grass fields elsewhere? Exposure to electromagnetic waves in the outdoors? Some combination?
Mike Triplett:
Shoot, if I had the answer to that question, I'd probably be interviewing for some of these head-coaching vacancies around the league. It really is a mystery. Of course, the most obvious answer is that it's harder for all teams to play on the road -- especially when weather conditions become a factor. And the Saints have had some road struggles in the past (including an 0-3 playoff record with Sean Payton and Drew Brees). But even in those playoff losses, their offense showed up. We've never seen a season quite like this, where they've had so much trouble scoring points on the road.
Honestly, it's really come down to the football stuff: Early turnovers that put them in a hole, drive-killing penalties, an inability to stop the run. I expect their offense will still put up plenty of yards and points in this game, but I'm curious to see if they can avoid those costly turnovers -- and if they can find a way to contain
LeSean McCoy
. Those are the trends they must reverse from their previous road losses.
While we're dwelling on the negative, what could be the Eagles' fatal flaw? If something goes wrong for them in this game, what do you think it will be?
Sheridan:
The Snowball Effect. While the Eagles' defense has done a remarkable job of keeping points low -- 11 of the past 12 opponents have scored 22 or fewer -- there is a persistent suspicion that the smoke could clear and the mirrors could crack.
Matt Cassel
hung 48 points on them two weeks ago, the most since
Peyton Manning
put up 52 in Week 4. Even Sunday night,
Kyle Orton
was only a couple of slightly better throws away from scoring another touchdown or two. Brees is obviously capable of making those throws. If the Saints can move the ball the way many teams have, plus translate the yards into points, it could force the Eagles to play catch-up. And we haven't really seen
Nick Foles
in a shootout-type game yet.
Jay Cutler
didn't show up two weeks ago when the Bears came to town, and a freak snowfall took Detroit's
Matthew Stafford
and
Calvin Johnson
out of their game.
The stats say Rob Ryan has transformed the Saints' defense from a farce into a force. Does that align with what you see when you watch them? Does Ryan have the scheme and the personnel to be physical with the Eagles' receivers while getting pressure on Foles?
Triplett:
That's absolutely true, Phil. Ryan has been an outstanding fit for this team. I know Philly fans didn't see his best results with the
Dallas Cowboys
the past two years. But it must have been a perfect storm here, where the Saints' defense had just given up the most yards in NFL history under former coordinator Steve Spagnuolo in 2012. The players were ready for a change -- and Ryan is all about change. He constantly adapts his approach from week to week, building around his players' strengths and tailoring game plans for certain opponents.
Several young players are having breakout years -- including pass-rushers
Cameron Jordan
and
Junior Galette
(12 sacks each this season) and cornerback
Keenan Lewis
, who is a true No. 1 corner. He's physical with long arms and plays well in man coverage. I imagine he'll be matched up a lot against
DeSean Jackson
.
From what I've read about Chip Kelly, it seems as though he's a kindred spirit of both Ryan and Sean Payton -- trying to create confusion and mismatches. Is it possible for you to boil down his philosophy to one or two paragraphs?
Sheridan:
Force the issue. That's the underlying principle. It's behind the no-huddle, up-tempo approach, and it drives many of the unusual things he does with formations and blocking schemes. Kelly wants to spread the field horizontally and vertically, forcing defenses to account for every offensive player and every square foot of grass. He'll line right tackle
Lane Johnson
out like a wide receiver, or left tackle
Jason Peters
at tight end on the right, or DeSean Jackson in the backfield, just to see how the defense responds. If he sees a mismatch, he'll exploit it until the defense corrects it.
It must be said that Kelly inherited a lot of offensive talent that was pretty darn good under Andy Reid. The line has been outstanding and, just as important, healthy. Jackson, McCoy and the other skill players are exceptional. The X factor has been the way Foles has mastered what Kelly wants to do. There are a lot of quick reads and decisions for the quarterback to make -- whether it's a zone-read or a package play with run/pass options -- and Foles has translated Kelly's dry-erase board to the field very well, leading the Eagles to a 7-1 record since they were 3-5 at the midway point.
Payton is a similar creative offensive mind with an NFL pedigree. The first time I met him, he was the Eagles' quarterback coach on Ray Rhodes' late 1990s teams, trying to win with Bobby Hoying and various Detmers. Is he any different or more driven since serving his one-year suspension? Is there a sense the Saints are back where they belong and determined to make a deep run?
Triplett:
I think it's a great comparison. Although the offenses don't look identical, the philosophies are the same -- create, identify and exploit mismatches. The Saints will actually rotate in a ton of different personnel groupings early in games, as well as mix up their formations, to see how defenses react.
Payton hasn't changed drastically this season. One of the things that stood out to me most early in the season was his patience in games -- how he'd stick with a methodical attack, settling for a lot of check-down passes, etc., to win games against teams such as Chicago and San Francisco. Lately, Payton's been a little stumped in similar-style games on the road, though.
Overall, the idea with him is that he is hyperfocused on every detail that can help this team win. Brees keeps saying Payton's leaving no stone unturned. It started with switching defensive coordinators on his second day back on the job, then things such as changing the team's conditioning program, then recently switching out the left tackle and kicker heading into Week 16.
I'll leave you with a quick question, Phil. Who are the one or two players we haven't talked about much who could have a big impact on this game? From my end, the answer would probably be those young pass-rushers, Jordan and Galette.
Sheridan:
I'm going to go with the Eagles' key pass-rushers, too --
Fletcher Cox
,
Trent Cole
and
Connor Barwin
. The Eagles didn't sack Orton at all Sunday night in Dallas. Orton is no Brees, but he does get the ball out quickly. So it might not result in many sacks against the Saints, but the defense has to disrupt Brees' rhythm as much as possible. Cole had eight sacks in the second half of the season. Cox has been outstanding at collapsing the pocket. Barwin is as likely to jam
Jimmy Graham
at the line of scrimmage as rush the passer.
But somebody from that group -- or maybe it will be
Brandon Graham
or
Vinny Curry
-- has to make Brees feel uncomfortable, or it's going to be a long night for the Eagles. As you pointed out, the Saints have made more mistakes on the road than at home. Forcing some of those mistakes, preferably early, could make the air feel colder and the wind feel sharper.
.
December, 30, 2013
12/30/13
12:25
AM ET
Three things to know about next Saturday's NFC wild-card playoff game between the
New Orleans Saints
and the
Philadelphia Eagles
:

1. Road woes:
The Saints (11-5) have to reverse a trend that has gotten uglier as the season has progressed. They finished 3-5 on the road, including three straight road losses in December (at Seattle, St. Louis and Carolina). There's no great explanation for why the Saints have been such a different team away from home. They've struggled to score points and hit on deep passing plays. They've turned the ball over too often early in games. And they've had trouble stopping the run. All of those things are curable, in theory. But the Saints need to prove it on the field; they came close at Carolina in Week 16 but still managed only 13 points. Weather could be a factor, but early forecasts seem somewhat manageable (temperatures in the 20s or 30s, with no precipitation).
2. Eagles on fire:
The opponent might even be scarier than the location. The Eagles (10-6) are one of the NFL's hottest teams, having won six of their last seven.
Nick Foles
has been a revelation since taking over as the starting quarterback, with 27 touchdown passes and just two interceptions. And Philadelphia has by far the No. 1 rushing offense in the NFL, led by dangerous running back
LeSean McCoy
. The Saints will need their safeties to step up and be sure tacklers -- a bigger challenge now that rookie
Kenny Vaccaro
is out for the season. Increasing the degree of difficulty is the fact the Eagles are an unfamiliar foe for the Saints, led by rookie coach Chip Kelly and his unconventional offense.
3. Saints on fire:
Of course, the Saints are no slouches themselves on offense. Although they've struggled to bring their show on the road, it's still some of the most dazzling theater in the NFL at times.
Drew Brees
just threw for another 381 yards and four touchdowns in Sunday's 42-17 win over Tampa Bay (three of the TDs for 40 yards or more). And he just wrapped his fourth 5,000-yard passing season, with 39 touchdowns to boot. That will put a scare into the Eagles' defense, which ranks in the bottom five in the NFL. The Saints finished the season ranked No. 4 on offense and No. 4 on defense. Despite their low seeding, they have one of the highest ceilings of any playoff team.