New Orleans Saints:

mario williams
October, 25, 2013
10/25/13
10:00
AM ET
METAIRIE, La. -- The
New Orleans Saints
are well aware of the challenge they'll face Sunday when
Buffalo Bills
pass-rusher
Mario Williams
comes to town. The Saints got to know the 6-foot-6, 292-pounder up close and personal during his years with the
Houston Texans
from 2006-2011.
During that span, they faced Williams twice in the regular season and four times in the preseason. The Saints and Texans also got together for a week of joint practices in three straight preseasons from 2008-2010.
Veteran players and coach Sean Payton all agreed, however, that Williams is playing as well as ever now in his eighth NFL season. Williams has already racked up 10 sacks -- including a game-changer last week that forced a fumble and led to the Bills' come-from behind win over the
Miami Dolphins
.
Here's what the Saints have been saying about Williams this week:
Payton:
"You know, he plays that weakside/outside linebacker position which can put him right or left based on your formation in the base. In the nickel snaps, he's more to our right and to his left. He's had an exceptional season. He's had sacks from inside. He's had sacks from outside. He's someone who is comfortable on either side of the tackle. So you've seen that production. He's healthy. He's long. Certainly he is a player that you have to account for because he changed the game last week, we saw in the final snaps. He's really playing well."
Offensive tackle Zach Strief:
"The scouting report? He's really big. He's a really good athlete for a guy with that kind of size. He's moving well, he's really productive this year. I think you see him, he's given a couple teams a lot of trouble. So he's a guy, you don't want him to get going.
"Obviously he's highly talented, and I think they're putting him in good positions out there to rush the passer. And he's responded. I think he's a better rusher from their left, and he's been more productive there. And obviously there's a lot of things you can do games-wise, movement, to get a guy in a good matchup, to keep him away from double teams. They've done a good job with that. And at the end of the day, he's beat a lot of blockers.
"And I think it's probably nice for him to be healthy. I think last year he dealt with some things. I think you're seeing someone playing healthy, and that helps a lot."
Saints quarterback Drew Brees:
"Yes (this is the best he's looked). We played against him a lot, practiced against him a lot when he was with the Texans at those training camps and we played against him, that type of thing. He's always been a physical presence, but over time you just develop certain skills and techniques and master certain things. And I definitely think he's gotten better as the years have gone on. He's always had that big physical presence, but he has the tools to go along with it and you see the results."
Guard Jahri Evans:
"Oh, man, he's one of those guys like (Julius) Peppers, man. He's a freak of nature. Just one of those guys who can really dominate up front and do a lot of things well. And I think it's showing in their play this year. He's just a great competitor."
October, 24, 2013
10/24/13
12:00
PM ET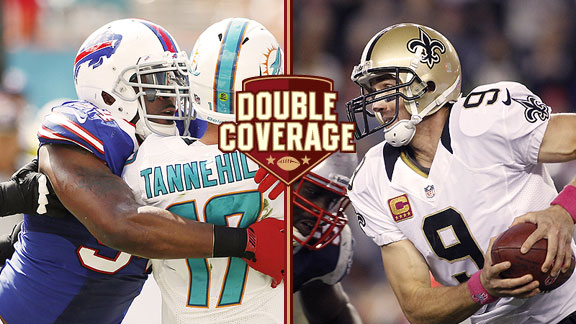 USA TODAY SportsMario Williams and the Bills' defense will attempt to slow down Saints QB Drew Brees.
The
New Orleans Saints
(5-1) are one of the NFL's most dominant home teams (3-0 this year, 32-11 since 2008). They've also won four straight games following bye weeks. So Sunday's matchup against the
Buffalo Bills
(3-4) certainly seems like a favorable one.
However, the Bills have proven to be a tough out. They're coming off of a 23-21 victory at Miami. All but one of their games has been decided by a touchdown or less. And they'll bring one of the NFL's most disruptive pass rushes into the Superdome, led by
Mario Williams
.
Injuries will be a key issue, especially on offense. Saints tight end
Jimmy Graham
(foot) and Bills running backs
C.J. Spiller
(ankle) and
Fred Jackson
(knee) all are battling ailments.
ESPN.com Saints reporter Mike Triplett and Bills reporter Mike Rodak break down the matchup:
Triplett:
I saw that Williams and the Bills' pass rush certainly delivered last week with a game-changing sack and forced fumble in the fourth quarter to beat the Dolphins. How good is that pass rush? And do you think the Bills' defense overall is capable of slowing down
Drew Brees
and the Saints' high-powered offense?
Rodak:
Mike, the pass rush has been the strength of what has been a banged-up defense. Williams has 10 sacks this season and the Bills are disrupting 20.1 percent of opponent dropbacks (measured by sacks, passes defensed, interceptions and batted balls), which is second to the 7-0 Chiefs (26.5 percent).
As for facing the Saints' offense, I think the Bills are better equipped for the challenge now than they would have been earlier this season. With
Jairus Byrd
and
Stephon Gilmore
back from injuries and being eased into action, the Buffalo defense will have its best playmakers on the field. Still, we're talking about a middle-of-the-pack defense that has yet to have everything click. The run defense has struggled and the Bills have shown a tendency to give up the big play at times. The Saints will have their chances.
I haven't had a chance yet to watch the Saints live this season, but I can tell you that those who were left in the Ralph Wilson Stadium press box two weeks ago had their eyes glued to that Saints-Patriots thriller. If the Saints pull that out, they're 6-0. Can we attribute their success early this season entirely to Sean Payton's return, or is there more to it?
Triplett:
Payton's return is a huge part of it. Essentially, the Saints have been proving that their 7-9 season in 2012 was a fluke. I think many people nationally forgot just how good this offense was in 2011, when Graham and
Darren Sproles
emerged as weapons for them. They went 13-3 that year and set the NFL record for yards gained. Now, they're back in their comfort zone with Payton back as one of the NFL's best game planners and motivators.
This year, the biggest surprise is how well the defense has been playing after such an abysmal performance in 2012. New defensive coordinator Rob Ryan, young pass-rushers
Cameron Jordan
and
Junior Galette
and the entire secondary have been huge for them. And I think it's legit.
Speaking of coaches, Mike, I have to ask about the impact Doug Marrone is making there. He has ties here after serving as Payton's first offensive coordinator and offensive line coach from 2006-08.
Rodak:
Indeed, Marrone does have ties to New Orleans, not only as a coach, but also as a player. He was asked about it Monday and, probably trying to keep the focus on this week's game, didn't wax nostalgic about his time there, but simply said it was a good experience in his progression to becoming an NFL head coach.
As far as what he has done in Buffalo, I'd say it's so far, so good. But naturally as a first-year coach, the jury is still very much out on him. A lot will depend on how
EJ Manuel
performs when he returns this season and then beyond. But most importantly, Marrone has been able to avoid distractions or controversy, like what we saw with the Greg Schiano-
Josh Freeman
situation after Schiano made the jump from the college game. This seems to be a tight-knit locker room and a team that has closely contested each of its games this season.
Mike, there's a pair of recent first-round picks in
Kenny Vaccaro
and Jordan who have helped anchor the new-look Saints defense under Ryan. Tell me about what they've done, but also about what holes on defense the Bills might exploit.
Triplett:
Jordan has been the Saints' defensive MVP so far. In fact, he was probably their defensive MVP last year, too. But this year he's starting to gain national attention for the impact he's making as a power pass-rusher and standout run defender. He's a big athlete at 6-foot-4 and about 290 pounds. So he's a good fit at 3-4 end but also at 4-3 end, where he's essentially lined up for most of this year since they play so much nickel and dime. Jordan has five sacks, a forced fumble and 24 hurries, according to Pro Football Focus.
Vaccaro, meanwhile, has been fun to watch since Ryan moves him around so much (deep safety, in the slot, blitzing, sometimes even at linebacker and corner). It's similar to the way the
Pittsburgh Steelers
use
Troy Polamalu
, though Vaccaro is obviously not at that level yet. He's still developing, but he's played almost every snap this year and has made several impact plays.
If the Bills' run game is going strong, that could give the Saints a few problems. Their run defense hasn't been their strength. But it's something they've been willing to sacrifice while making it a priority to prevent big plays. The Bills need to keep this game close so they're not forced to play catch-up -- which is no easy task. Do you think they've found some stability with
Thad Lewis
at quarterback? Or might we see
Matt Flynn
instead this week?
Rodak:
They've definitely found some stability with Lewis at quarterback. While I don't think there's much of a chance that Lewis remains the starter when Manuel returns, it's not a stretch to say that Lewis has actually played better than the rookie. He has shown better accuracy on some of his passes and also seems more willing to drive the ball downfield when he needs to. His statistics haven't blown anyone away -- he ranked in the bottom third of the NFL in QBR in each of his two starts -- but the Bills seem more than happy with what they're getting out of him.
Flynn was inactive Sunday against the Dolphins, six days after arriving in Buffalo. I think the Bills would ideally like to have him as their backup instead of undrafted rookie
Jeff Tuel
. But as far as surpassing Lewis, I think that would take a collapse by Lewis over the next few games and an impressive showing by Flynn in practice.
Mike, how do you see this game playing out? Do you expect Graham to be available for the Saints?
Triplett:
I think Graham will be highly questionable all week. I wouldn't be surprised at all if he's out or limited, which would obviously put a dent in the Saints' offense. But I still think Brees has enough weapons -- starting with Sproles,
Marques Colston
and
Pierre Thomas
in the passing game -- to move the ball and put up close to 30 points or more.
If New Orleans scores early and forces Buffalo to play catch-up, the Bills could really be in trouble. And if the Saints are the ones who have to play catch-up, they've proven they can do that. Buffalo's best chance is to control the clock with its run game, win the turnover battle and force the Saints to settle for field goals.
October, 21, 2013
10/21/13
11:40
AM ET
A home date with the
Buffalo Bills
(3-4) certainly seems like a favorable matchup for the
New Orleans Saints
(5-1). But the Bills have proven to be a tough out this year -- even while dealing with a barrage of injuries at key positions like quarterback, running back and in the secondary. All but one of their games has been decided by seven points or less.
The Bills just pulled out a come-from-behind 23-21 victory at Miami this past Sunday. Fittingly, the turning point came when defensive end
Mario Williams
sacked Dolphins quarterback
Ryan Tannehill
and forced a fumble. Williams has been the Bills' best player with 10 sacks this year, and Buffalo's pass rush has been the strength of the team.


The Bills' offense has been more hit or miss. But fourth-year journeyman quarterback
Thad Lewis
has done an admirable job keeping the team competitive the past two weeks after rookie starter
EJ Manuel
suffered a knee injury. Lewis will likely start again Sunday, but recently-signed veteran
Matt Flynn
is also a possibility.
Here are a few more details on the Bills:
This week's game:
Bills (3-4) at Saints (5-1), 1 p.m. ET, Mercedes-Benz Superdome, New Orleans
Series history:
The Saints lead the all-time series 5-4, and they haven't lost to Buffalo since 1998. The Saints have won three straight, including their last meeting in Buffalo in 2009, 27-7. ... This will actually be the first time they've played in the Superdome since that 1998 game. The last "home game" for the Saints in the series was in San Antonio's Alamodome in 2005, where the Saints had evacuated after Hurricane Katrina.
Worth noting:
First-year Bills coach Doug Marrone spent three seasons as the Saints' offensive coordinator/offensive line coach from 2006-08 before going back to college to become Syracuse's head coach. Marrone was part of Sean Payton's first staff in New Orleans in '06 and helped build the foundation for their Super Bowl squad.
Three players to know on offense:
QB Thad Lewis:
A former undrafted free agent from Duke, Lewis spent time with the
St. Louis Rams
,
Cleveland Browns
and
Detroit Lions
before being traded to Buffalo in late August. He took over as the Bills' starter in Week 6 and kept them close in a 27-24 overtime loss to the
Cincinnati Bengals
with two touchdown passes, zero interceptions and a touchdown run.
Lewis suffered a foot injury in that game, and he wasn't quite as effective in the win over Miami, with no touchdowns and one interception. The 6-foot-2, 200-pounder is known as a mobile quarterback with a strong arm. He has thrown for 418 yards with two touchdowns and zero interceptions and run for 30 yards with one TD this season.
RBs C.J. Spiller and Fred Jackson
: Spiller is a dynamic athlete who was expected to be the Bills' featured weapon this year as a runner and receiver. But a nagging ankle injury has limited him to 362 rushing yards, 36 receiving yards and one total touchdown. Meanwhile, the 32-year-old Jackson has found the fountain of youth -- even while dealing with a nagging knee injury of his own that was aggravated during the win over the Dolphins. Jackson has run for 380 yards and five touchdowns, while catching 25 passes for 215 yards.
New England Patriots
defensive end
Rob Ninkovich
recently used the duo as a comparison for the Saints' versatile tailbacks,
Darren Sproles
and
Pierre Thomas
. However, the Bills are more of a run-first team. They rank fifth in the NFL with 140.4 rushing yards per game.
Three players to know on defense:
DE Mario Williams
: The former No. 1 pick in the NFL draft by the
Houston Texans
is off to the best start of his eight-year career. His 10 sacks are the most in Bills history through seven games -- one better than Hall of Famer Bruce Smith's best start. And his sack-fumble in the final minutes Sunday at Miami led directly to a victory. The 6-foot-6, 292-pound athlete had a decent season last year (10.5 sacks) after signing a blockbuster free-agent deal with the Bills that was reportedly worth up to $100 million. But this year, he's really starting to pay dividends.
LB Kiko Alonso
: The second-round draft pick out of Oregon is making a strong case for the NFL's Defensive Rookie of the Year honor. The 6-3, 238-pounder is tied for the league lead with four interceptions and ranks third with 70 tackles. He also has a sack, a forced fumble and a fumble recovery.
S Jim Leonhard
: The ninth-year veteran wasn't able to crack the Saints roster at a deep position this summer. But it's no surprise he quickly found a home. The active 5-8, 188-pounder has three interceptions this season, all in the past five games. He has started three of the past four games. He has also been a part-time punt returner.