New Orleans Saints:

mike glennon
December, 26, 2013
12/26/13
7:20
PM ET
METAIRIE, La. – The
Tampa Bay Buccaneers
offense is practically unrecognizable compared to the last time the
New Orleans Saints
faced them – and that was just earlier this season.
Since their first meeting in Week 2, the Bucs (4-11) have a new quarterback, new running back, new No. 2 receiver and new tight end. Obviously the biggest change of all, however, was the switch at quarterback – where the Buccaneers switched from longtime starter
Josh Freeman
to rookie
Mike Glennon
.
Glennon (6-foot-6, 225 pounds) is even more of a pocket passer than Freeman, who was always a threat to either scramble or throw on the run. And naturally, Glennon has gone through his share of highs and lows while compiling a 4-8 record as the starter.
Glennon has completed 60 percent of his passes for 2,389 yards, 17 touchdowns and eight interceptions. He has also been sacked 38 times – including seven last week at St. Louis and 21 over the past five games. He also hasn't thrown for more than 180 yards in any of the past four games, while going 1-3 over that stretch.
Here's what the Saints are saying about Glennon heading into Sunday's matchup:
Coach Sean Payton:
"We've had them a lot on tape versus teams we've been playing the last, seems like three or four weeks. He certainly is someone that looks very decisive. He's got a big arm. They've done a really good job complementing what they're doing offensively with their shot plays and their running game. That is the one thing that was apparent, but he's a guy that we liked coming out [of North Carolina State]. He is very smart. And that transition oftentimes for a young player seems to be happening fairly quickly. Certainly there are bumps with it, but he gets the ball out. He has a good, live arm. He is smart. …
"His coach at North Carolina State is someone I had worked with before, and he spoke very highly of him. He kind of battled a little bit of that prototype that he was almost too tall, which I think is not true. But I think when you watch his footwork and you watch his athleticism, he makes quick decisions. And those are the things that we saw on college tape. We saw his accuracy and his competitiveness."
S Malcolm Jenkins:
"He's given that team a little bit of juice. I think they've kind of rallied behind him. It's kind of like a fresh start. You now, they've really got a whole bunch of players and everybody's kind of out to prove something. And I think you can see that on tape. ... Really the only mainstay out there is (receiver Vincent) Jackson. And he's kind of the quarterbacks' go-to guy, their safety blanket, and he's having a great year. …
"I think (Glennon) is accurate, he stays in the pocket. He'll take a hit, he'll make a tough throw. He's patient, he doesn't really force too many things. He's definitely different than Freeman. He's not a scrambler, doesn't really extend the plays with his legs much. But he makes good decisions and he's patient. And he's accurate when he has time and stays in the pocket. So it's a little bit of a change-up than what we played last time."
DE Akiem Hicks:
"Big, tall, great arm. It's a new team. That's something that we've focused on. It's definitely a new team coming in. We can't prepare the same way that we've prepared, and (Saints middle linebacker/captain)
Curtis Lofton
has done a great job of keeping us focused and making sure that we're doing the right things coming into this week."
CB Keenan Lewis:
"I like him. I feel as though he's going to be a stud. The more he plays, he gets better and better. You can tell he's getting more comfortable in that offense. So it will be a good little matchup. Even though he's a rookie, you can see progress. …
"He trusts in his receivers. So when you've got guys like that, as a cornerback, you've got to stay on your game. Because even if you've got them covered sometimes, they've got
Vincent Jackson
, who's a good receiver, and other guys he'll just throw it up there and they'll make a play."
December, 26, 2013
12/26/13
10:00
AM ET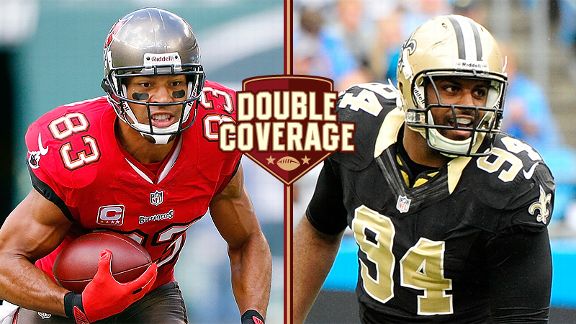 Getty ImagesVincent Jackson and the Bucs would love to keep Cameron Jordan's Saints out of the playoffs.
Technically, Sunday's regular-season finale between the
New Orleans Saints
and
Tampa Bay Buccaneers
is meaningful for only one team.
The Saints (10-5) haven't clinched a playoff berth yet, and they still have an outside shot at the No. 2 seed in the NFC. Coach Sean Payton and players have said they plan to treat this like a playoff game. And they certainly need to get some momentum back after back-to-back losses at St. Louis and Carolina have threatened to derail their playoff hopes.
However, the Buccaneers (4-11) would love to end their season on a high note by playing spoiler against their NFC South rivals inside the Mercedes-Benz Superdome. The Bucs have a history of doing that, with December wins at New Orleans in 2009 and 2010.
ESPN.com Saints reporter Mike Triplett and Buccaneers reporter Pat Yasinskas break down the matchup.
Triplett:
Tell me what kind of effort you expect from the Bucs in this one. Are they still passionate about winning this late in the season? Fired up about the chance to possibly keep New Orleans out of the playoffs? Fighting for coach Greg Schiano's job?
Yasinskas:
Mike, the one thing the Bucs haven't done this season is quit. Even during the 0-8 start, the effort was still there. I don't know that the players are playing to try to save Schiano's job as much as they are simply playing for pride. I have no doubt they'll show up on Sunday. The Bucs aren't big fans of the Saints, and they'd love to play the role of spoiler. That said, I don't know that the Bucs can hang with the Saints in the Superdome.
Do you think the Saints will be playing with anger because they're in this position?
Triplett:
It's hard to guess what kind of emotions will be most prevalent. There could be anger. There could be determination, knowing they can't afford another loss. Or there could be a deflated feeling, since they never expected to be in this position. One way or another, though, they'll have to figure out a way to channel those emotions. As receiver
Lance Moore
said, if the Saints can't bring their best effort to this game, they don't deserve to be in the playoffs. And it obviously helps that they'll be back in the Superdome, where they're 7-0 this season -- often dominating opponents.
How do you think
Mike Glennon
will handle that dome atmosphere? Has he reached that stage yet where people like to say he's "not a rookie anymore"?
Yasinskas:
About a month ago, people were starting to say Glennon didn't look like a rookie. But that's changed in recent weeks. He has had some rookie moments in the past four games and his numbers have dipped. I don't think Glennon is regressing. I think he just ran into some good defenses and struggled against them, and he has received no help from the running game. The deck would seem to be stacked against him coming into the Superdome against a New Orleans team with a lot on the line.
Mike, tell me about the New Orleans defense. Before you joined us and I was still covering the whole NFC South, I visited Saints camp this summer and had very real doubts that they had the right personnel to run Rob Ryan's defense. As it turns out, this is a very good defense. Why has Ryan's defense worked so well?
Triplett:
How could you not have seen this coming?! Obviously, you're right -- the Saints' defense has been one of the biggest surprises in the NFL this season, especially considering all the injuries you witnessed in summer camps. The success is due to a combination of Ryan's coaching and talent emerging. End
Cameron Jordan
is having a bona fide Pro Bowl season as a power rusher. Cornerback
Keenan Lewis
is a true No. 1 corner who was a great pickup in free agency. Outside linebacker
Junior Galette
, end
Akiem Hicks
and safety
Kenny Vaccaro
are young players who have emerged (though Vaccaro is now out for the season).
But Ryan deserves a ton of the credit. He's creative and adaptable, switching from a true 3-4 defense to build around his best players. And he mixes things up from week to week and even snap to snap. Players love that, because they're all involved in certain packages. And they love his personality and attitude, saying he has made the game "fun."
Tell me about the evolution of the Bucs' defense. I thought they lived up to the hype when I saw them give the Saints all they could handle in Week 2 (with both legal and illegal hits). How are they playing heading into this game?
Yasinskas:
The defense is the least of Tampa Bay's problems. An anemic offense is what held Tampa Bay back all season. Overall, the defense has played very well.
After finishing last in the NFL against the pass last year, the Bucs went out and got cornerback
Darrelle Revis
and safety
Dashon Goldson
, and they have made the secondary respectable. But I think the two best players on this defense are in the front seven. Linebacker
Lavonte David
and defensive tackle
Gerald McCoy
are having huge seasons. These guys have what it takes to be Pro Bowl regulars, and this defense should only keep getting better. Still, facing the Saints in the dome is a tough task for any defense.
The thing I've always admired about
Drew Brees
and Sean Payton is how much they spread the ball around. How have the receivers beyond
Marques Colston
and Moore panned out this season?
Triplett:
The Saints' receivers have actually been more up and down this year than at any other time in the Payton-Brees era. At times, Colston and rookie
Kenny Stills
have had some big moments, and Stills looks like a great find who has actually supplanted Moore as the Saints' No. 2 receiver. And the Saints still have good depth with Moore and
Robert Meachem
. But they rely most on tight end
Jimmy Graham
and backs
Pierre Thomas
and
Darren Sproles
in the passing game.
Some defenses have done a good job of getting physical with the Saints' receivers and Graham downfield (including Carolina last week) -- which is the best way to slow down New Orleans' offense. But all bets are off inside the dome. Almost all of those quiet receiving days came on the road.