New Orleans Saints:

New Orleans Saints
November, 26, 2013
Nov 26
12:00
PM ET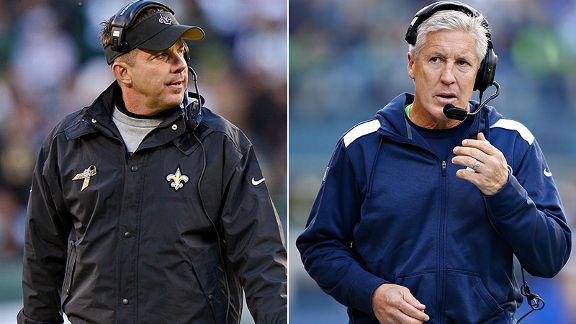 Getty ImagesSean Payton and Pete Carroll say their teams do not struggle on the road.
The road to the Super Bowl could run through Seattle or New Orleans. It's no secret that both the
Seattle Seahawks
and the
New Orleans Saints
have an edge when playing at home.
ESPN.com Seahawks reporter Terry Blount and Saints reporter Mike Triplett break down what winning Monday night's matchup might mean for each team.
Seattle Seahawks, CenturyLink Field:

Considering that the Seahawks have an NFL best 13-game home winning streak, which also is a franchise record, home-field advantage in the playoffs couldn't be more important for Seattle.
At least that's how most people perceive it. But the Seahawks' reputation as a bad road team is ancient history. Well, maybe not ancient, but it hasn't been true since December.
Seattle is 8-2 on the road since a 23-17 victory at the
Chicago Bears
on Dec. 2, 2012. That includes a 24-14 playoff win at the
Washington Redskins
.
The Seahawks are 5-1 away from home this season, which already has tied a franchise record. A victory in either of the last two road games -- at the
San Francisco 49ers
on Dec. 8 or the
New York Giants
one week later -- would produce the most road wins in a season in team history.
"I think that's a big accomplishment," Seahawks coach Pete Carroll said of the team's 5-1 road record. "We were 2-3 on the road last year at this time. I think that's a big improvement on a football team. I can totally feel it and see it in the way we approach it, the way we show up on game day and in the way we have played.
"It's been a much more consistent mentality, and it's given us a chance to win the games that have been very hard. We get stronger, we get smarter, and we have more resolve, I think, as we move forward."
The only two road losses since December were a playoff game at the
Atlanta Falcons
, a 30-28 defeat on a Falcons field goal with 23 seconds to play, and a 34-28 defeat at the
Indianapolis Colts
this season when Seattle led 28-23 in the fourth quarter before Colts quarterback
Andrew Luck
engineered a late comeback.
The Seahawks have outscored their opponents 259-180 in those 10 road games. And there's one other key point to bring up here. The road curse for the Seahawks over the years was games that started at 10 a.m. PT. Entering this season, Seattle was 19-34 in those games since 2001.
But the Seahawks are 3-1 in those games this season. Clearly, this is a different Seattle team on the road than the ones of the past. So having to play a playoff game on the road isn't a guaranteed season-ender that some people might think.
If the road to the Super Bowl goes through New Orleans, the Seahawks lost the last time they played there -- 34-19 in 2010.
Everyone knows the Saints are tough to beat at home, but no team has a home-field advantage like the Seahawks, something the Saints may find out the hard way Monday night. During the 13-game home winning streak, Seattle has outscored its opponents by an average of 30-13.
The Seahawks can win anywhere, but for this team, there's no place like home.
-- Terry Blount
New Orleans Saints, Mercedes-Benz Superdome:

Saints coach Sean Payton bristles at the notion that his team struggles away from home.
"I think it's a typical stereotype with a dome team," said Payton, who knows the topic will come up often this week as the Saints prepare for a Monday night road game in chilly weather against the Seahawks. "Someone needs to do a little research on it so that we don't spend time answering dumb questions."
The research shows that Payton is partly right. The Saints actually have the best regular-season road record in the NFL since 2009, at 24-13.
But they're 0-3 on the road in the playoffs in the Payton-
Drew Brees
era. And they're 5-7 overall in outdoor games in December and January when their starters have played.
The Saints aren't a bad road team. They're just a lot more human.
Meanwhile, it's obvious that the Saints are an entirely different monster inside the Superdome, where they routinely rout opponents -- especially in prime-time games. The Saints have won 12 straight home night games, including the playoffs, by an average score of nearly 20 points per game.
Thanks to the volume and the passion of the Saints' rabid fan base, it might be the best home-field advantage going in the NFL today -- unless that honor belongs to Seattle. Which makes this race for home-field advantage in the NFC playoffs doubly important for these two teams.
One of the Saints' three playoff losses infamously took place in Seattle three years ago, when the Seahawks sneaked into the postseason with a 7-9 record. The Saints weren't really done in by the weather or the crowd noise. Brees still threw for more than 400 yards. But New Orleans' defense broke down too many times in a 41-36 loss.
The Saints' other road playoff losses came at Chicago after the 2006 season and at San Francisco after the '11 season. The 49ers game was the same story as the Seattle game. The Saints still put up some monster numbers on offense, but they couldn't overcome early turnovers and late defensive breakdowns in a 36-32 loss.
The regular-season outdoor games have been a mixed bag: Since 2009, wins at Washington in '09, Cincinnati in '10 and Tennessee in '11; losses at Baltimore in '10 and at the New York Giants in '12.
Weather doesn't automatically shut down the Saints' precision passing attack. But clearly wind and rain can cause problems. (Some games at Tampa Bay come to mind, including a narrow 16-14 win earlier this year.) Especially frigid temperatures can also affect receivers' hands.
And although the Saints have been running the ball a lot more consistently over the past month, Seattle has been the better rushing team of the two this season.
I certainly think the Saints are capable of winning at Seattle -- either next week or in January, if needed. And I believe the confidence of guys like Payton and Brees, who insisted earlier this month, "It's not like we dread going on the road. Not one bit."
But it's pretty obvious why the degree of difficulty will skyrocket for either road team in this matchup.
-- Mike Triplett
November, 3, 2013
Nov 3
11:30
AM ET
By
ESPN.com staff
| ESPN.com
Join our ESPN.com NFL experts as they break down the New Orleans' visit to the New York Jets. Contribute your thoughts and questions beginning at 1:00 p.m. ET. And, be sure to visit our
NFL Nation Blitz page
for commentary from every game, as well as fan photos and the latest buzz from Twitter. See you there.
October, 29, 2013
Oct 29
2:00
PM ET
A weekly examination of the New Orleans Saints'
ESPN.com Power Ranking
:
Preseason:
14 |
Last Week:
5 |
ESPN.com Power Ranking since 2002

The
New Orleans Saints
(6-1) stayed put at No. 5 after a 35-17 victory over the
Buffalo Bills
. Apparently the ESPN.com voters weren't any more impressed by the performance than the Saints (who admitted the sloppy start
didn't meet their high standard
).
Opinions are a bit mixed on the Saints right now. Among the six members of the panel, the Saints received votes for third, fourth, fifth and sixth place.
They'll have a chance to separate themselves from the pack over the next month, though, if they continue to win against better opponents. The next five games: at the
New York Jets
, home against Dallas and San Francisco, at Atlanta on a Thursday night and at Seattle on a Monday night.
The Saints have to feel good about where they are as the season nears its midpoint. They have the hunger of a team that still believes it hasn't consistently reached its peak on offense. Yet the Saints can still turn it on when needed, as quarterback
Drew Brees
showed with five touchdown passes against the Bills. And weapons like
Jimmy Graham
and
Lance Moore
should continue to get healthier.
October, 28, 2013
Oct 28
7:30
PM ET
FLORHAM PARK, N.J. --To
New York Jets
coach Rex Ryan, the work of two opposing defensive coordinators stand out to him this year.
One is former Jets assistant head coach/linebackers coach and current Chiefs defensive coordinator Bob Sutton. The other? It's not too hard to guess.
"I think the two guys in my opinion that are doing the best job in this league are Bob Sutton in Kansas City and then my brother [Rob Ryan] in New Orleans. I don't think it's even close," Rex said. "He took a team that was historically bad, the most yardage in the history of the National Football League, and now I think they're almost a top-10 defense yardage wise, fourth in scoring, with the same players, and some players are out. He's done a phenomenal job. He really has."
The Saints allowed the most yardage in the NFL history last year, but have made a drastic turnaround around Rob. Before Monday's Seahawks-Rams game, the Saints ranked 12th in yards allowed per game, and have allowed the fourth-fewest points. The defensive revival is a big reason why the Saints are 6-1 entering Sunday's game just one season after failing to reach the playoffs.
With a different insight into his brother's system than most, Rex will try to do whatever he can to give his offense an advantage on Sunday. We've already seen in the past he will don a wig and puff out his stomach to imitate his brother.
Rex is 2-0 against Rob with the Jets.
"I know my brother well so if there's any insight or whatever I'll certainly be there to give it," Rex said. "When you look at the job he's done and things like that, they're so multiple. It's a challenge. There is no doubt. It's going to be a big challenge. They are always like one of the best red zone teams in the league, that's a trademark of my brother. He's doing a great job."
October, 4, 2013
Oct 4
12:00
PM ET
This matchup represents a barometer for how the
Chicago Bears
handle adversity coming off their first loss of the season with new head coach Marc Trestman, while the
New Orleans Saints
try to remain arguably the hottest team in the NFL.
In this series, the home team came out victorious in five of the last six games overall, with Chicago taking a 20-17 win at Tiger Stadium in Baton Rouge, La., in 2005 as the lone road-victory triumph in that span. But we get the feeling none of the history matters in this one.
Interestingly, Trestman and offensive coordinator Aaron Kromer have worked in the past with New Orleans head coach Sean Payton, while Bears left tackle
Jermon Bushrod
played for the Saints from 2007-12.
ESPN.com's Bears reporter Michael C. Wright and Saints reporter Mike Triplett take a look at the matchup.
Michael C. Wright
: Mike, with the way the Saints are playing after a rough go in 2012, you can't ignore the impact Payton's presence makes on this team. How much of a difference has it made to have him back?
Mike Triplett
: Obviously, it's been huge. I'm not sure that Payton alone equals four wins in four weeks. (The Saints started 0-4 last year, 4-0 this year.) But that's more than just coincidence.
For starters, I think Payton is the best offensive schemer in the NFL today, and I'm not alone.
Darren Sproles
, who was frustrated by a heavy dose of bracket coverage last year, said the reason he and others are having more success this year is because Payton knows what he's seeing on the field and what to exploit. "He's a genius," Sproles said. Others credit Payton for his strength as a motivator and his ability to put the focus on what matters most in each game. More than anything, I think it's clear they've regained their confidence, that they know Payton will put them in a position to win, whether they're jumping to early leads or coming from behind late.
Payton's not the reason for New Orleans' defensive turnaround, which has been huge. But he did recognize a change was needed, firing former defensive coordinator Steve Spagnuolo just days after he returned from suspension and bringing in Rob Ryan.
I see the Bears are right back on top of the NFL in takeaways again this year, but they've still been giving up some yards on defense. Do you think they're equipped to slow down the Saints' passing offense right now?
Wright
: Honestly, no. The whole rush-and-cover concept tells the story. The Bears continue to struggle rushing the passer, which puts the secondary in a bind where the group is running with receivers way too long. Compounding matters is the loss of franchise defensive tackle
Henry Melton
. Before Melton suffered a torn ACL, the Bears were already struggling to rush the passer. Now they have to find a way to do it with
Stephen Paea
and
Nate Collins
at defensive tackle and ends
Julius Peppers
and
Corey Wootton
. The Bears sacked Detroit's
Matthew Stafford
only once, and the week before against Ben Roethlisberger -- who typically holds onto the ball too long -- the club managed three sacks by blitzing linebackers.
Drew Brees
gets rid of the ball so quickly that I don't see the Bears getting to him. Chicago's defense won't stop New Orleans' passing game. The Bears will have to try to keep the Saints off the field by playing ball-control offense.
Brees said after Monday's win over the Dolphins that the Saints haven't yet played their best football. That's a scary proposition. What does he mean?
Triplett
: I actually believe Brees when he says that. The Saints have an extremely high standard when it comes to their passing offense. And when you see the level that Brees,
Jimmy Graham
, Sproles and
Marques Colston
were playing at Monday night, 38 points probably felt like the minimum for them. The Saints haven't been perfect on offense this year; the run game has been practically nonexistent. But those top weapons are in peak form. I'm curious to see how hot they'll stay on the road after a short week.
Everyone here in New Orleans is very familiar with the Bears' efforts to improve their offensive line, since they snagged former Saints offensive line coach Kromer and left tackle Bushrod. How is that working out so far?
Wright
: It's working out well. Kromer brought in the same blocking concepts utilized by the Saints, and that's made a world of difference. Several of the veterans talk now about how much Kromer has changed the way they view the position. Through four games last season, Cutler took 13 sacks. So far, he's been sacked just six times. Obviously, Bushrod is a big part of that, as well as better-than-expected play from rookies
Kyle Long
and
Jordan Mills
, who man the right side guard and tackle positions, respectively.
Let's talk about New Orleans' offense. With the team's struggles running the ball, how can it still be able to do so much damage in the passing game when it's playing a somewhat one-dimensional game?
Triplett
: The key to the Saints' success is that even when they throw the ball on every down, they're still far from "one-dimensional." They're great with screen passes and swing passes and check-downs to Sproles and
Pierre Thomas
that serve the same purpose. And when they get into four- and five-wide sets, they're tough to match up with one-on-one. Their best runs are draw plays out of those same passing sets (like the one Sproles scored on last week). In other words, they're hard to defend even without a traditional power-run game. But it is something they're eager to improve, especially when they need it on short-yardage downs and late in games.
How about Marc Trestman? His approach is obviously reminiscent of Payton's -- trying to out-scheme opposing defenses. Is it working? And most importantly, does it suit
Jay Cutler
?
Wright
: Early on, there was concern as to whether Cutler would take to Trestman's coaching because of his propensity to try to do things his way. But Cutler has definitely taken to Trestman's tutelage, and he believes strongly in what the coach wants to do offensively. So the pairing has been good, not only for Cutler, but all of the team's skill-position players. Instead of being told simply what to do, they're learning why they have to do things a certain way to make the plays work. That approach has increased the players' desire to learn because they see that the concepts work. My guess is Payton got the guys in New Orleans to buy in the same way.
Speaking of Payton, how much does he miss receiver
Lance Moore
? What do the Saints miss with Moore out of the mix, and when will he be back?
Triplett
: Moore must be the best No. 4 option in the NFL. He had a 1,000-yard season last year. Yet the passing offense didn't miss a beat without him on Monday. That's been true of most the Saints' weapons over the years, though. They're deep enough to absorb the loss of any one of them, even Graham and Colston. Moore is a small, shifty receiver with great hands who works the middle of the field in a similar way to
Wes Welker
(without the volume of targets, obviously). The Saints definitely want him back soon, but it seems unlikely that he'll be back Sunday. Rookie receiver
Kenny Stills
(a similarly shifty option), deep threat
Robert Meachem
, physical receiver
Nick Toon
and veteran tight end
Benjamin Watson
are other guys they could lean on. Like I said, they have a deep arsenal.
It's still early in the season, but this game has the feel of two NFC playoff teams jockeying for position. Do you see the Bears staying in that playoff picture all season?
Wright
: I do, but only if the defense improves. The offense is doing its part, and the Bears are averaging 31.8 points per game. Before the loss to the Lions, the Bears owned a 12-0 record the past two years when they had scored 18 points or more in a game. Throw in the loss at Detroit, and the Bears are 29-4 over the past four years when they score 18 or more. But that winning mark in those circumstances is consistently attainable only when the defense is playing up to standard. When the Bears surrender 18 points or more, they are 17-13 since 2010, and through the first four games they haven't held an opponent to fewer than 21.
How are the Saints different defensively now as opposed to in the past with Ryan as the defensive coordinator?
Triplett
: Night and day from last season under Steve Spagnuolo. But a lot of Ryan's approach feels familiar around here because it's reminiscent of Gregg Williams' approach, which was very successful from 2009-11. Ryan loves to mix up his formations and looks, some 4-3, some 3-4, a ton of nickel and dime, sometimes all 11 guys will stand up. He does a good job of putting individual players in roles that suit them best (something players have clearly appreciated). The corners (the underrated veteran duo of
Jabari Greer
and
Keenan Lewis
) play a lot of man-to-man, which seems to suit them much better. And players say Ryan makes things "fun."
But by far the biggest difference on the field is that the Saints have been generating a consistent pass rush with just their front four -- without needing to blitz much. End
Cameron Jordan
and outside linebacker
Junior Galette
are having breakout seasons as pass-rushers, and several young defensive tackles have been stepping up. Any coordinator will look like a genius if he can get this kind of production from the front four.
If the Bears are able to win this game, how do you see it playing out? Who would be their MVP?
Wright
: Mike, I don't have a ton of faith in Chicago's defense at this point, and I don't see the Bears scoring off New Orleans turnovers. So the Bears will need to win this game playing ball-control offense to keep Brees off the field. That means the Bears need to give the Saints a heavy dose of
Matt Forte
and
Michael Bush
to have a legitimate shot. New Orleans is allowing 5.5 yards per rush so far. But its opponents haven't really been able to exploit that because the Saints jump out to leads so fast they put teams in passing mode as they play catch-up. So if the Bears win this game, they'll do it with the rushing attack, and Forte will have to be the MVP.
.
September, 27, 2013
Sep 27
12:00
PM ET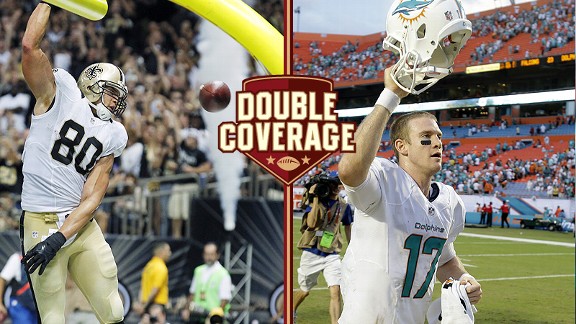 AP PhotoJimmy Graham has as many touchdown catches (4) as Ryan Tannehill has TD throws.
One team is the biggest surprise in the NFL. The other has worked its way back to prominence after the return of its Super Bowl-winning head coach.
That leads to a monumental matchup of undefeated teams when the
Miami Dolphins
travel to face the
New Orleans Saints
on ESPN's "Monday Night Football." This is the only matchup of unbeatens in Week 4.
Is Miami ready for prime time? Can the Saints stay hot?
ESPN.com's Dolphins reporter James Walker and Saints reporter Mike Triplett weigh in.
James Walker:
Mike, I don't know whether we can have this discussion without starting at the top with the head coaches of both teams. Joe Philbin in Miami and Sean Payton in New Orleans have done a tremendous job through three games. Dare I say we could be looking at two early coach of the year candidates if the Dolphins and Saints maintain their winning ways. For Philbin, I've really been impressed with his game planning and his attention to detail in his second year. Miami has committed just two penalties for 13 yards in the past two games. This is a team that doesn't beat itself. Miami also is outscoring opponents 41-16 in the second half, a credit to the coaching staff's ability to make halftime adjustments. Mike, you saw the impact of Payton when he was suspended in 2012. How much has Payton meant to New Orleans' fast start?
Mike Triplett:
Well, let's start with those two traits you just mentioned: game planning and attention to detail. I think Payton has been the best game planner and offensive schemer in the league during his tenure in New Orleans, especially exploiting mismatches in the passing game. Also, when asked that same question you just posed, players such as quarterback
Drew Brees
have said Payton's attention to detail and ability to focus on what's most important are what make him stand out. But I think, more than anything, there is just a confidence and comfort level that has returned along with Payton. The Saints believe that Payton is going to put them in the right situations to win -- and have an answer when things aren't working. I think that played a big part in their down-to-the-wire victories over the
Atlanta Falcons
and the
Tampa Bay Buccaneers
in Week 1 and Week 2.
I have to imagine that "trust" and "confidence" are some words that are starting to be used to describe Philbin and quarterback
Ryan Tannehill
around Miami. I'll admit that from afar I didn't expect this much out of Tannehill in his second season. What's working so well?
Walker:
I've seen Tannehill up close and personal from his first minicamp in 2012 after he was drafted, and even I'm surprised with how well he is playing in Year 2. If you told me before the season that Tannehill would have a better passer rating (94.3) than Brees (91.4) after three games, I would have thought you were crazy. But there really are not a lot of quarterbacks playing better football right now than Tannehill. He has outdueled
Andrew Luck
and
Matt Ryan
in back-to-back weeks. On top of that, he has made key drives in the fourth quarter in both games, something I did not see from Tannehill in his rookie year. His growth involves more than statistics. Tannehill's confidence has skyrocketed, and the game appears easier and is slowing down for him. But a big concern has been pass protection. Miami has allowed 14 sacks and faces an aggressive Saints defense. How do you view that matchup, Mike?
Triplett:
The Saints' young defense has been just as surprising -- especially the way it has been able to generate consistent pressure with its four-man front. The Saints have eight sacks (four of them last week). End
Cameron Jordan
and outside linebacker
Junior Galette
have been particularly disruptive. And players are clearly responding to new coordinator Rob Ryan's versatile schemes (a mix of 3-4 and 4-3). They're still a work in progress, but, if Miami's pass protection is suspect, the Saints sure look prepared to exploit it.
Tell me about the Dolphins' defense. I know it's been solid, but will it have answers for matchup problems such as
Jimmy Graham
,
Darren Sproles
and
Marques Colston
?
Walker:
I'm not sure Miami has a lot of answers for New Orleans defensively. That's why I think the Saints are a tough matchup for the Dolphins. Miami has had trouble for years defending tight ends. It was one of the reasons the Dolphins upgraded at linebacker in free agency, signing
Dannell Ellerbe
and
Philip Wheeler
. But Miami still struggled until the second half last week against
Tony Gonzalez
of Atlanta. Graham's athleticism over the middle could be a nightmare for the Dolphins.
Brent Grimes
has been terrific for Miami and has a good track record against the Saints. But New Orleans could have a lot of success attacking the Dolphins' second and third corners. I think Miami's best chance to disrupt the Saints is with its pass rush. Pro Bowl defensive end Cameron Wake's (knee) status is up in the air, but the Dolphins' blitz packages have been a strength. How would you assess New Orleans' offensive line, and can it improve?
Triplett:
The Saints' pass protection has been surprisingly porous. Brees has been sacked 10 times, the most in any three-game stretch since he arrived in 2006. The Saints have actually allowed the fewest sacks in the NFL over that stretch -- so it's a problem I think they'll correct. It will be huge for them if they can get All-Pro right guard
Jahri Evans
back healthy. While he was out last week with a hamstring injury, his rookie backup
Tim Lelito
allowed three sacks. But the rest of the line is still solid, including new left tackle
Charles Brown
. And Brees and Payton are savvy enough to keep him clean. The bigger issue for the Saints' offense has been its lack of a consistent run game. I think it'll still be pretty pass-heavy this week against Miami. Sounds like the run game has been an issue for the Dolphins, too?
Walker:
The only way I can describe Miami's running game, Mike, is sluggish. It just hasn't looked good, and various parts aren't on the same page. Sometimes, it's the offensive line missing blocks. Other times, it's the running backs not eluding tacklers. The play calling on runs, too, has been predictable. Add this up and you have a Dolphins team averaging 3.2 yards per carry. Miami running backs
Lamar Miller
and
Daniel Thomas
still have a lot to prove. They haven't showed much in three weeks, but Monday's game is a good opportunity. The Saints' defense has allowed 5.3 yards per carry. It's the one hole I've seen so far in the New Orleans defense. Look for Miami's offense to try to grind out yards on the ground and control the clock to some degree. That will be big playing on the road. Speaking of which, a big topic in Miami this week is playing in the Mercedes-Benz Superdome. The Dolphins are 2-0 on the road, but this could be their biggest challenge to date. How much will home-field advantage affect this game, especially in front of a rowdy Monday night crowd?
Triplett:
The Saints' home-field advantage is no joke, especially for these prime-time night games. The Saints have won 10 straight night games at home, including the playoffs, and 13 of their past 14. Whatever advantage you can get from a loud dome and a frenzied crowd, the Saints obviously seem to feed off it. I asked new Saints tight end
Benjamin Watson
about it earlier this year, and he said the loudest game he ever played in was a regular-season Monday night game in the Dome when he was with the
New England Patriots
in 2009. And you hear that kind of stuff quite a bit from visiting players. At least some folks in the crowd will be cheering for NOLA native
Mike Wallace
, though.
All right, speed round. If the Dolphins win Monday night, who will get the game ball?
Walker:
It would have to come down to Miami's defense. I don't see the Dolphins beating the Saints on the road in an offensive shootout. Someone in the secondary must have a big game for Miami to pull this out. The top two candidates are probably Grimes and safety
Reshad Jones
. Brees is going to throw the ball in the Superdome -- a lot. Someone such as Grimes or Jones probably has to get a big turnover or two to give the Dolphins momentum. Jones believes he's one of the NFL's top young safeties, and he's being paid like one after his summer contract extension. This is the type of national game to prove it, especially when matched up against Graham. Which key player could thrive for New Orleans?
Triplett:
I'm cheating if I say Brees or Graham, right? I'll give you two other names, as well -- Sproles on offense and Galette on defense. I think Sproles looks as dynamic as ever as a runner/receiver, so it might be his turn to bust out if the Dolphins concentrate too much on stopping Graham. And Galette is the Saints' speed-rusher who could best exploit the Dolphins' pass-protection issues.
.
September, 25, 2013
Sep 25
6:55
PM ET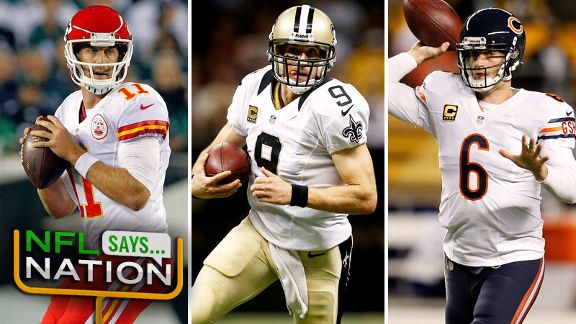 Getty ImagesAlex Smith, Jay Cutler and Drew Brees have led their teams to a 3-0 start.
The danger in getting excited about a 3-0 start is that pesky little thing known as "The Other Thirteen Games." Victories in the first three weeks can lead to a 15-1 season, as they did for the
Green Bay Packers
in 2011. Or they could mean a 2-11 finish and a fired coaching staff, as the
Arizona Cardinals
found out last year.
So let's keep our wits as we analyze the seven teams that have started this season 3-0. It has been four years since that many teams were still perfect after three weeks. The 2009 season offers another lesson in early conclusions: One of the seven (the
New Orleans Saints
) won the Super Bowl but two finished 8-8 and missed the playoffs altogether (the
New York Giants
and
Denver Broncos
).
So who is this year's version of the 2009 Saints? Are there any candidates to emulate the 2012 Cardinals? NFL Nation has some thoughts.
If there is anything to glean from the first three weeks of this season, it's the emergence of two early powerhouses. The
Seattle Seahawks
and the Broncos have outscored opponents by a combined 213-98, and their individual point differentials of 59 and 56, respectively, are by far the best in the NFL. (The next best is the
Kansas City Chiefs
at 37).
The Seahawks' path to Super Bowl XLVIII seems clear: Clinch home-field advantage at CenturyLink Field, where they have won 10 consecutive games, and book their ticket to New York. The Broncos, meanwhile, have scored the second-most points through three games in NFL history and only figure to improve as defensive stalwarts
Von Miller
(suspension) and
Champ Bailey
(injury) return to the lineup.
What about the rest?
Has Andy Reid built an instant Super Bowl contender in Kansas City, or will his Chiefs level off? Has
Ryan Tannehill
really developed into a championship-caliber quarterback for the
Miami Dolphins
?
Are the
Chicago Bears
for real after two fourth-quarterback comebacks followed by two defensive touchdowns in their victory over the
Pittsburgh Steelers
? The
New England Patriots
are fortunate to be 3-0, right? And has Sean Payton restored the Saints' magic? Let's take the pulse of NFL Nation.
Which 3-0 teams are legitimate Super Bowl contenders?
The Saints should definitely be considered as legitimate Super Bowl contenders, based on their offensive track record under coach Sean Payton and quarterback Drew Brees. Not only did they win the Super Bowl in 2009, but their offense was even better in 2011, when they finished 13-3 and set the NFL record for yards gained in a season (7,474). I don't expect an exact repeat this year, but I think that's closer to the norm than last year's 7-9 season.


Especially with tight end
Jimmy Graham
healthy again and back to being one of the most difficult matchups in the league. Clearly, however, the Saints need to improve a run game that has been practically non-existent to keep defenses honest and keep Brees upright.
Meanwhile, the Saints' young defense has been one of the biggest surprises in the NFL this year under new coordinator Rob Ryan. I still expect a few growing pains before the season is over. But they don't need to be dominant for the Saints to succeed. And I think they can continue to come up big in some big moments. Players are clearly responding to Ryan's energetic approach and versatile schemes. And they have some bona fide talent to work with in every unit -- including emerging young pass-rushers
Cameron Jordan
and
Junior Galette
. That was the biggest question mark heading into this season. If the defense can keep playing anywhere near this level, the Saints could run away with the NFC South title.
The undefeated Miami Dolphins are arguably the biggest surprise in the NFL.

But can the Dolphins be serious Super Bowl contenders? Let's temper those expectations. The Dolphins absolutely have playoff potential. This is a franchise that hasn't made the postseason since 2008. Ending that streak and having a winning season should be Miami's primary goals.


A 3-0 start is terrific, especially after beating the talented
Indianapolis Colts
and
Atlanta Falcons
in back-to-back weeks. But the Dolphins certainly have holes.
Depth is an issue in several areas and will be tested. Miami could be without several defensive starters -- defensive end
Cameron Wake
(knee), defensive tackle
Paul Soliai
(knee) and cornerback
Dimitri Patterson
(groin) -- against the
New Orleans Saints
on "Monday Night Football." The Dolphins also face issues such as pass protection (14 sacks allowed) and having the 28th-ranked rushing attack.
In addition to the undefeated Saints, Miami has tough games against the defending champion
Baltimore Ravens
(2-1),
New England Patriots
(3-0) and
Cincinnati Bengals
(2-1) before the end of October. The Dolphins cannot rest on their early success. They must continue to improve.
The health and production of second-year quarterback
Ryan Tannehill
is the biggest key. However, the Dolphins have a lot to prove over the course of 16 games.
Miami has a perfect record, but it's far from perfect.
Judging strictly from the numbers, the Kansas City Chiefs are legitimate Super Bowl contenders. They are No. 1 in the AFC in scoring defense, No. 2 in the conference in scoring differential and, most importantly, tied for first place with a 3-0 record.


But it's another number, one that will be impossible to sustain, that's feeding the Chiefs' success and threatens to reveal them as pretenders once it begins its inevitable correction.
The Chiefs are leading the league in turnover differential at plus-9. They are one of two NFL teams yet to commit a turnover. That's a statistic capable of making a good team look great as long as it lasts. The trouble is, it never does last, at least not at this rate. Once their turnover differential starts to balance out, here is the advantage the Chiefs will lose:
The Chiefs have started 10 possessions on their opponents' end of the field. Their opponents have started one in Kansas City's territory, and even that drive began at the Chiefs' 49.
Such consistently favorable field position can make life easy for a team, and credit to the Chiefs for enjoying the ride while it lasts.
It won't forever. When it ends, the Chiefs will have to make their own way.
Their defense looks capable of doing that, but their offense needs a boost. When it doesn't get one, the Chiefs will suddenly look mortal.
This 3-0 team is better than the Bears squad from 2012, which started 7-1, and is a legitimate Super Bowl contender for a variety of reasons. The Bears have already scored three defensive touchdowns, but the major difference is the club is getting contributions from both sides of the ball and special teams.

Chicago provided evidence of that with quarterback Jay Cutler engineering back-to-back, come-from-behind victories over Cincinnati and Minnesota to start the season, before coming through in the clutch on the road Sunday, bailing out a struggling defense to clinch a victory against the Pittsburgh Steelers.


The Bears racked up nine defensive touchdowns last season, which tied for the second most in NFL history. But at this juncture last year, the unit had only one score, yet basically carried the entire team through its impressive first half.
Through the 7-1 start in 2012, skepticism existed because the Bears simply hadn't played good teams. This year, the combined record of the teams first three opponents is 2-7. But don't be fooled, this is a better Bears team.
Cutler is one of the main reasons for that. He's matured. He's accepted the coaching. He's putting in more time to sharpen his craft, while shedding the enigmatic gunslinger persona for a more controlled approach. His protection is better. The front office has surrounded him with more weapons and an offensive-minded coach in Marc Trestman, who is the architect of a system Cutler believes in.
If there has been one constant of Bill Belichick-coached Patriots teams since 2000, it's that they usually get better as the season progresses. Surely, there have been exceptions (2009 comes to mind), but there are no indications this year's team is headed down that path at this point.


The defense has exceeded expectations through three games, although a lingering question is how much of the unit's success is a result of playing weaker competition. Sunday night's game on the road, against the fast-starting
Atlanta Falcons
, should tell us more about the unit. And while the offense has struggled to find its groove, the return of tight end
Rob Gronkowski
should provide a boost and with
Danny Amendola
saying he envisions being 100 percent shortly, big-time reinforcements are on the way.
So if you're judging on the present picture, it's understandable that one would say this team isn't a Super Bowl contender. In a game against the
Denver Broncos
, right now, you would have to pick the Broncos. But this is about projecting what the Patriots could be, and at this point, there's no reason to think they won't evolve as past Belichick teams have. Many of those clubs have been Super Bowl contenders.
September, 19, 2013
Sep 19
12:00
PM ET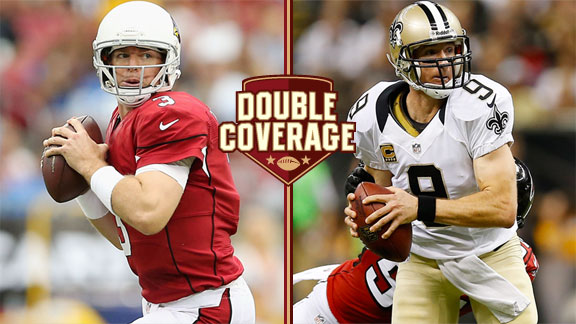 Getty ImagesBig arms will be on display Sunday in the Big Easy, as Carson Palmer faces off with Drew Brees.
Both the
Arizona Cardinals
and
New Orleans Saints
are riding the winning wave into Sunday's showdown in the Mercedes-Benz Superdome.
And both teams are starting fresh on the sidelines. The Saints welcomed back coach Sean Payton from a one-year suspension; the Cardinals are adjusting to life with first-year coach Bruce Arians. One thing both these men have in common is a love of yards.
This will be a matchup of the long ball, as New Orleans quarterback
Drew Brees
and Arizona slinger
Carson Palmer
like putting up big numbers with a deep passing game. Which team will continue its winning ways?
Cardinals reporter Josh Weinfuss and Saints reporter Mike Triplett break down Sunday's matchup.
Josh Weinfuss:
How much has Payton's return to the Saints been felt so far this season?
Mike Triplett:
Payton made a ton of changes in the offseason, from a dramatic overhaul of the defense to the team's conditioning program to the run-blocking schemes. But so far during the Saints' 2-0 start, I think the No. 1 area where his return has made an impact is in the team's confidence. They've pulled out two gutty victories -- one which required a last-minute goal-line stand against the
Atlanta Falcons
and one which required an improbable game-winning field goal drive in the final seconds at Tampa Bay.
Neither performance was perfect, but the Saints were incredibly resilient in both games. Last season, they became unsure of themselves -- especially as the losses started to pile up during their 0-4 start -- something rarely evident in previous years. Now, you can see they've got some of that classic "swagger" back.
Of course, the Saints have a huge advantage in the confidence department because they've got a Hall of Fame quarterback in Brees leading the way. ... Have the Cardinals started to develop some new confidence of their own in their new signal-caller, Palmer?
Josh Weinfuss:
They have, and it's quite obvious. For the past few seasons, the Cardinals haven't had consistency under center, and it's showed with significant losing streaks. With the addition of Palmer, who's not just an accomplished quarterback but a talented one at that, the Cardinals' offense feels it can make plays it hasn't made in years. There have been a few examples already, such as a fade to
Larry Fitzgerald
for a touchdown in Week 1 or a 36-yard wheel route to
Andre Ellington
last Sunday. The receivers know they only have to worry about getting to where they're supposed to be and Palmer will find them -- about a 180-degree change from last season, when Cardinals receivers would hope the ball would be close enough for them to make a play. And that confidence on offense carries over to the defense. Last year, the defense believed it had to score for the team to win. This year, it feels like all it has to do is get the ball back to the offense to win a game.
While we're talking defense, what kind of major changes did Rob Ryan make when he was hired as defensive coordinator, and how are the Saints responding?
Mike Triplett:
Ryan has changed the defense significantly in everything from scheme to attitude. For starters, he's a 3-4 guy, while Steve Spagnuolo was a 4-3 guy. But Ryan doesn't really stick to one scheme or alignment -- and he's had to get especially creative, because the Saints had so many injuries on the defensive line and at outside linebacker this summer. He'll often use three or four safeties on the field together, moving them around from snap to snap. Sometimes he'll have four down linemen. Sometimes he'll have no down linemen, with all 11 guys standing up in an "amoeba" formation.
Ryan is very reminiscent of former New Orleans coordinator Gregg Williams in that sense. And the Saints players have clearly responded well to that approach under both coordinators. What they like best is that they feel like Ryan tries to put them in positions and matchups that play to their strengths. And, sure, this much variety can lead to mental errors (a criticism that has dogged Ryan in past stops) -- but the players at least feel they're being aggressive and attacking rather than sitting back in read-and-react mode. As I said, that seems to have brought out their confidence and their fire so far this season.
Speaking of a little "fire" on defense, what kind of early impact has New Orleans native
Tyrann Mathieu
made in Arizona? The Cardinals have done a pretty good job of plucking defensive players from down here at LSU.
Josh Weinfuss:
Mathieu has been a pleasant surprise for everybody except the Cardinals. They expected him to come in and play at the very high level at which he's playing -- which is why they took the risk of drafting him in the third round in April while every other team all but ignored his presence. Palmer has compared Mathieu's closing speed to
Troy Polamalu
's; Mathieu's football IQ draws locker-room raves. And his presence on the field is that of a veteran, not of a rookie ... and definitely not of someone who missed a full year of football. Mathieu made the jump to the second team early in organized team activities and minicamp, and he was a starter in the Cards' nickel package by training camp. He's proven himself in coverage, making the game-ending tackle against Detroit's
Nate Burleson
last Sunday. And Mathieu has lived up to the Honey Badger persona, which he's gracefully re-adopted this year. He tried to distance himself from it, but neither the fans nor his play allowed for that. That includes the play of the game in Week 1, when Mathieu tracked down Rams tight end
Jared Cook
to punch the ball out of his hands and prevent a touchdown. Big plays is what this kid does.
How long can Brees maintain his own high level of play, and are the Saints a legitimate 2-0 team?
Mike Triplett:
I think Brees, at 34, is still very much in his prime, and I don't really see him slowing down anytime soon. He had an uncharacteristically sluggish performance at Tampa Bay but rallied to lead a brilliant last-minute field goal drive. He's the No. 1 reason the Saints always have a chance to win. And if the Saints can improve the defense and run game around him this season, I think he'll be back in more of a comfort zone and not feel like he has to do everything himself as he did last season (5,177 passing yards, 43 touchdown passes, 19 interceptions).
As for the Saints overall, they're very legitimate. They were obviously lucky to beat Tampa Bay after a sloppy offensive performance. But for the second week in a row, the improved D bailed them out. And we know the offense will get rolling sooner or later, making New Orleans a very dangerous team. The Saints need to fix their run game and their red zone offense. But we've already seen great flashes from go-to playmakers like
Jimmy Graham
,
Darren Sproles
and
Marques Colston
.
The Mercedes-Benz Superdome will be a tough environment for the Cardinals to come into on Sunday. Will they at least have their best weapon, Fitzgerald, at their disposal?
Josh Weinfuss:
Short answer? Yes. But there's a caveat. I think Fitzgerald will definitely play, but the question is how effective he will be. He's likely looking at a limited week in practice to ensure he doesn't re-aggravate that balky left hamstring, but the chances of Fitzgerald missing this game are slim. As he said last week, if he can't be effective as a receiver, he can at least be a decoy. The Saints will have to plan for him, because the second they don't pay attention to Fitzgerald, hurt or healthy, he'll make sure he makes them pay.