New Orleans Saints:

Percy Harvin
January, 10, 2014
Jan 10
12:00
PM ET
SEATTLE -- Six weeks ago, the
New Orleans Saints
came to Seattle in a big Monday night showdown with the Seahawks to see which team would gain the upper hand in homefield advantage for the playoffs.
The Seahawks steamrolled past the Saints 34-7 that night. So here the Saints are again, back in Seattle with hopes of a different outcome in the playoffs.
ESPN.com Saints reporter Mike Triplett and Seahawks reporter Terry Blount take a detailed look at how these two teams match up for Saturday's NFC divisional round game at CenturyLink Field:
Blount:
Mike, the Saints took it on the chin at Seattle six weeks ago. How much of a motivational factor do you think that is this week for the team?
Triplett:
I'd say this game is about as big as it gets in the motivation department. That was really one of the two or three most humbling defeats in the Sean Payton-
Drew Brees
era. I might rank it No. 1 considering how high the expectations were going into that game. But more important than those emotions is the fact that this is the second round of the playoffs -- which is pretty good motivation for any team. The Saints haven't advanced past this point since their 2009 Super Bowl season. And a big win here would instantly erase all the little regrets from earlier this season.
I'll also say this: The Saints are a very confident bunch. I think they expected to get back in this situation at some point, and they relish the opportunity. They certainly respect the Seahawks, but I think they're fully expecting a much more competitive game. As am I.
On the flip side, Terry, do you see a repeat performance coming from the Seahawks? They were pretty lights-out that night, especially
Russell Wilson
.
Blount:
I certainly don't see a repeat performance if you mean a 27-point Seattle victory. It's hard to beat any team twice in the same season, much less two blowouts. But I do see Wilson having another strong performance. He's coming off a good game in the season finale against St. Louis and he typically plays at a much higher level at home. Obviously, having
Percy Harvin
on the field would help, but Wilson is battle-tested with two tough playoff games last year when he really showed a lot of people what he can do.
Mike, Wilson had one of his best games of the season against the Saints with three TD passes and 310 yards passing. He burned the Saints a couple times on their blitzes. Do you think they will have a different approach this time?
Triplett:
They'll definitely tweak the approach. But I think the execution is even more important. That night, it was pretty obvious that the Saints' top priority was containing
Marshawn Lynch
-- which they did a good job of. But they got burned too often by play-action fakes (big pass plays and big runs by Wilson). I've never seen them have so many undisciplined breakdowns, before or since. They've been much better playing in similar-style games against the
Carolina Panthers
and
Philadelphia Eagles
since. They were outstanding against both
LeSean McCoy
and
DeSean Jackson
last week.
The Saints defense is much better than what people saw that night -- though they did lose talented safety
Kenny Vaccaro
to a season-ending ankle injury since then, which hurts against both the pass and run.
A two-part question for you: When defenses have had success against Seattle's offense this year, what have they done to cause problems? And how much do you think the Saints will have to worry about Harvin in this game?
Blount:
In the late-season losses to the 49ers and the Cardinals, both teams did a great job of keeping Wilson in the pocket. If Wilson was going to run, they wanted to make him run up the middle, and it worked. They didn't blitz a lot, but they made sure to cut off Wilson's outside angles. Both teams also stacked the box and did a good job of stopping Lynch and limited the running game.
If Harvin is on the field, that changes a lot of things. Seattle free safety
Earl Thomas
told me last week that if he had to play against Harvin, he would need to account for him on every play because of Harvin's exceptional speed. So if Harvin's out there, even if he isn't 100 percent healthy, he changes the way a defense plays. You have to pick your poison. Load the box to stop Lynch and you risk Harvin beating someone one-on-one. Pay more attention to Harvin and Lynch might break a big run. Either way, it makes things better for Wilson.
Mike, I thought a big factor in the victory at Philadelphia was New Orleans' success at running the ball with
Mark Ingram
. How confident are you they can repeat that performance against the Seahawks?
Triplett:
The Saints are still a pass-first, pass-often team. But I think they've been even better this year than usual at staying patient and "taking what the defense gives them." Last week, the Eagles were practically begging the Saints to run the ball, so they did. They'll still take their shots down the field, but they're smart enough to attack the matchups they find most favorable in any given game. It's also a pick-your-poison offense with so many versatile weapons like
Jimmy Graham
,
Darren Sproles
,
Marques Colston
,
Lance Moore
,
Kenny Stills
and a deep group of running backs.
Graham, however, said Seattle's defense causes a lot of problems because the defensive backs and linebackers are all so fast (not to mention physical). Are there any weaknesses the Saints might be able to exploit?
Blount:
Honestly Mike, I just don't see it. The front seven held the Rams to 13 yards rushing in the season finale. The secondary is the best I've seen in 30 years. However, one man who had a big impact in the Monday night game six weeks ago was linebacker
K.J. Wright
, who did a superb job covering Saints tight Graham.
Wright is out for this game after undergoing foot surgery.
Malcolm Smith
has played lights out in his place, but Smith is only 6 feet tall. I can't see him covering the 6-7 Graham the way Wright (a lanky 6-4) was able to do. Strong safety
Kam Chancellor
likely will get those duties, but Graham might make some big plays he didn't make in the first meeting.
January, 9, 2014
Jan 9
6:30
PM ET
METAIRIE, La. -- With receiver
Percy Harvin
back
in the lineup
, the
Seattle Seahawks
' offense is now even more versatile and dangerous than it was when the
New Orleans Saints
faced Seattle last month.
It is a scary thought, considering the Saints' defense already had more problems against the Seahawks in that 34-7 loss in Week 13 than it has had against any other offense all season. The teams meet again Saturday in the playoffs.
"I know he's an elite player when he's healthy, so absolutely [he adds a degree of difficulty]," Saints defensive coordinator Rob Ryan said of Harvin, a fast and elusive receiver who has played in only one game this season because of a lingering hip injury. "He's had a couple weeks to get healthy and get back with [offensive coordinator Darrell] Bevell and that offense, and they do a great job. And they do a hell of a job of using all of his talents. One time he's lining up at running back and at receiver. And hell, they'll put him at center, probably, and hike the ball. So he's all over the place.
[+] Enlarge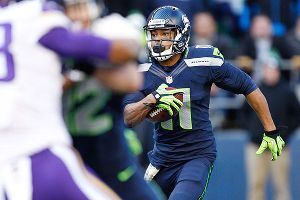 Joe Nicholson/USA TODAY SportsThe Saints know they will have to keep track of versatile Seattle receiver Percy Harvin on Saturday.
"We know who he is, and we'll have him identified, and we'll do a great job."
Added Saints safety
Malcolm Jenkins
: "He definitely adds a lot of unknown to their offense. And he accounts for a lot of explosive plays when he's in there. So I'm sure we'll see something exotic with him."
Saints outside linebacker
Junior Galette
, however, insisted that he isn't worried about Harvin's presence, because he has so much faith in the way cornerback
Keenan Lewis
has performed against top receivers throughout this season. Lewis is expected to play Saturday, despite suffering a concussion last week.
"We have Keenan Lewis, who's been shutting guys down all year," Galette said. "So we probably won't see much of [Harvin]."
With or without Harvin, the Seahawks create some of the most unique challenges in the league for opposing defenses.
Quarterback
Russell Wilson
is elusive, and he is just as dangerous throwing outside of the pocket as he is running the ball -- a painful lesson the Saints learned time and time again in that first meeting, when he threw for 310 yards and three touchdowns, and ran eight times for 47 yards.
Meanwhile, the Seahawks also feature one of the league's most punishing runners in
Marshawn Lynch
, who breaks a ton of tackles and becomes even harder to stop once he reaches the second level of the defense (another painful lesson the Saints learned, this time during the infamous "BeastQuake" run in their Jan. 8, 2011, playoff meeting).
The Saints admittedly focused too much on containing Lynch in the first meeting this season. They did hold him to 45 yards on 16 carries, but they overreacted to him at times and made more discipline errors than they have in any other game this season. A lot of the Seahawks' big plays came off play-action fakes or when the Saints overpursued in the backfield.
"We had aggressively planned on attacking their run game, which we did for the most part," Ryan said. "But anything other than that, we did not execute very well."
When asked what the Saints learned from that first meeting, Ryan said, "Pretty much everything."
"We really didn't play our style of game at all," Ryan said. "I think that's really the only game that I just don't think we were ourselves at all. Whatever it was, we made mental mistakes, we made fundamental mistakes, some technique things. We pride ourselves on playing the game the right way. I don't think we really did that.
"Obviously the execution of their quarterback was something to be seen. Hopefully he doesn't have that type of game against us again, or we're in big trouble."
Galette said the Saints did learn from those mistakes. He said it was a confidence boost for the Saints when they played much more disciplined and effective against the
Carolina Panthers
and quarterback
Cam Newton
in Weeks 14 and 16 (a 31-13 victory and a 17-13 loss).
November, 29, 2013
11/29/13
12:00
PM ET
For a Monday night game in early December, this is as good as it gets. The 10-1
Seattle Seahawks
play host to the 9-2
New Orleans Saints
in a game that could decide home-field advantage for the NFC playoffs.
The last time these teams faced each other was in a playoff game following the 2010 season, which Seattle won 41-36.
Drew Brees
passed for 404 yards and two touchdowns for the Saints, and
Marshawn Lynch
rushed for 131 yards, including the legendary 67-yard "Beast Quake" touchdown run in the fourth quarter for the Seahawks.
If this game is anything like that one, it will be one heck of a show.
The Seahawks will have to try to stop Brees with a reworked secondary after a week in which two Seattle cornerbacks (
Walter Thurmond
and
Brandon Browner
) ran afoul of the NFL's substance-abuse policy. Thurmond was replacing Browner as a starter due to Browner's groin injury.
The whole suspensions issue put a damper on a big week. Now everyone will see whether the Seahawks can overcome it or whether Brees will make them pay.
ESPN.com Seahawks reporter Terry Blount and Saints reporter Mike Triplett look at the key issues entering the game:
Blount:
Mike, this is a great matchup between the veteran Brees and a young quarterback who idolized him in
Russell Wilson
. Wilson always saw Brees as someone he could emulate, a player who, like him, wasn't tall but had a great arm and great leadership qualities. As someone who sees Brees every week, how do you compare them?
Triplett:
I don't know that much about Wilson, but I certainly see why he would choose Brees to emulate. It's remarkable how Brees, at just 6-foot, has been able to not only succeed in the NFL but truly dominate. It would take me too long to rattle off all the reasons why Brees is so successful. For one thing, he's as competitive and driven as any athlete I've ever been around. That shows in his work ethic both in the offseason and during the season. He also sees the field (through passing lanes since he can't peek over the top) and anticipates things about as well as any quarterback who has ever played the game. He's not as mobile as Wilson, but he's elusive in the pocket and avoids sacks. I'd say both guys are proof that those intangible qualities count for a lot in the NFL, even if you don't have prototypical size.
I haven't seen the Seahawks' offense light up scoreboards in the few games on national TV this season, especially early in games. Can Wilson keep pace if the Saints are able to put points on the board?
Blount:
Most of the time, he hasn't needed to because the defense has played so well. However, after watching him now for two seasons and seeing his growth, I believe Wilson is capable of doing whatever he needs to do to win football games. He has proven it over and over. Three times this season he has led the team to a fourth-quarter comeback, and he's done it seven times in his brief NFL career. Wilson never is going to be the type of guy, like Brees, who puts up huge passing numbers. That's not what they want him to do in an offense that wants to run the football with Lynch. But Wilson has demonstrated he can adjust the game plan to fit the needs of the moment. Frankly, he is one of the best I've ever seen at finding a way to win.
The Seahawks have a lot of weapons on offense, and now have added
Percy Harvin
to the mix. Obviously, Rob Ryan has a done a good job in getting New Orleans' defense back on track. How do you see him approaching this game against Seattle's power running game with Lynch and a mobile quarterback in Wilson?
Triplett:
I know this: Ryan will definitely have a plan. He is one of the league's most innovative game-planners. Former player Scott Fujita described him as a "mad scientist." We saw that quality more than ever two weeks ago when the Saints played the
San Francisco 49ers
. Ryan unveiled two new packages for that game, including a five-linebacker formation to corral the 49ers' run game and the threat of the read-option. We may see the same thing this week, or maybe a new wrinkle since he likes to be unpredictable. I know the Saints' defensive players will be amped to prove they're just as good as the more-hyped Seahawks defense. Ends
Cameron Jordan
and
Akiem Hicks
, outside linebacker
Junior Galette
and cornerback
Keenan Lewis
are having breakout years, in particular.
Seattle's defense has obviously been outstanding this year as well. How do you think they'll hold up against the Saints' versatile offense? Who might match up against tight end
Jimmy Graham
and running back/receiver threats
Darren Sproles
and
Pierre Thomas
, among others?
Blount:
The first thing to watch is how the backups in the secondary handle going against a wily veteran like Brees. No doubt he's going to test
Byron Maxwell
and
Jeremy Lane
. And Graham is a major concern. The Seahawks have struggled at times this season against tight ends. In this case, they might have cornerback
Richard Sherman
shadow Graham as much as possible. And this is a big test for strong safety
Kam Chancellor
. The key for the Seahawks is the defensive line, much improved over last year, getting to Brees and taking some of the pressure off the depleted secondary.
Mike, if you had to name one area in which the Saints must outplay the Seahawks in order to win the game, what would you pick?
Triplett:
Easy one: turnovers. I know you could say that about every team in every game. But it's especially huge in this matchup. For one, the Seahawks lead the NFL with 26 takeaways. I imagine that's why they're second in the NFL in points scored (27.8 per game) even though they don't have a prolific offense. The Saints need to set the pace in this game and try to force Seattle to keep up with their offense. They can't afford to give away any freebies or short fields. And based on what we've seen from the Saints this season, I think they can do that. Their run game started slowly but has improved. And they showed a patient offensive approach in a Week 5 victory at Chicago and in their last two wins against San Francisco and Atlanta. The Saints have turned the ball over just 13 times, and they lead the league in average time of possession.
Terry, how do you think the Seahawks will handle this game if they don't set the tone? To be honest, I expected a bit of a sophomore slump from Wilson and the Seahawks, since we see it so often in the NFL. Why have they been able to avoid that? And do you think there's any risk of the pressure affecting them in a game of this magnitude?
Blount:
None whatsoever, Mike. In fact, Wilson thrives on games like this. He is at his best when things seem their worst, along with playing at a high level in the most difficult situations and the high-pressure games. That character trait is what makes Wilson such an exceptional athlete. He never gets rattled. Seattle fullback
Michael Robinson
said Wilson has the one trait all great quarterbacks need: "A short memory."