New Orleans Saints:

Reggie Bush
October, 16, 2014
Oct 16
8:00
AM ET
METAIRIE, La. -- It's almost impossible to define
Reggie Bush
's tenure with the
New Orleans Saints
-- except to say he was one of the most memorable players in franchise history.
Bush certainly didn't live up to the immense hype, but how could he? The former USC Trojan was supposed to be the next Gale Sayers and Barry Sanders rolled into one.
[+] Enlarge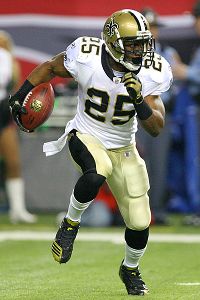 Brett Davis/USA TODAY SportsReggie Bush arrived in New Orleans following a 3-13 season in which the Saints relocated to San Antonio following Hurricane Katrina.
At the same time, it wouldn't be anywhere close to accurate to describe Bush as a "bust." He finished his five-year stretch from 2006-10 with more than 2,000 rushing yards, more than 2,000 receiving yards and a total of 38 touchdowns, including the playoffs. There were frustrating bouts with injuries and inconsistency. But there were also plenty of jaw-dropping moments as a runner, receiver and punt returner -- including some of his greatest during the Super Bowl run in 2009 and the NFC Championship Game run in 2006.
Statistically speaking, Bush has had more success with his current team, the
Detroit Lions
, and with his previous team, the
Miami Dolphins
-- averaging more than 1,000 rushing yards per season since 2011.
But unless Bush winds up leading a Super Bowl parade through the streets of Detroit, it's hard to imagine him making a bigger impact anywhere else.
"[Former
New York Giants
general manager] Ernie Accorsi said it once, 'When you win a world championship, at that moment it validates every selection and decision and signing that brings you to that point,'" Saints coach Sean Payton said. "[Bush] being included, obviously. He was very good in that game (Super Bowl XLIV). And in the years that he spent with us, he was very instrumental in what we became. From the minute he was drafted, for those people that were here at that time, that was a significant step for us."
The Saints will face Bush on Sunday at Detroit for the first time since they mutually decided to part ways in 2011 with a trade to Miami.
"He's probably one of the best athletes I've ever seen play the game. He's one of those guys that you tell your kids about as far as his athleticism," said Saints quarterback
Drew Brees
, who arrived in New Orleans less than two months before Bush as a free agent in 2006. "I'm not sure if there has been a player where there was as much hype and excitement for coming out in the draft as Reggie Bush. Maybe you could argue 'Johnny Football' this year. But he was the man."
Brees recalled the elation throughout the Saints organization -- and the entire New Orleans community -- when Bush unexpectedly fell to the No. 2 pick in 2006 after the
Houston Texans
decided to draft pass-rusher
Mario Williams
on the eve of the draft.
That was on the heels of arguably the worst season in franchise history, when the Saints had to relocate to San Antonio following Hurricane Katrina and finished 3-13 before dumping coach Jim Haslett and quarterback Aaron Brooks.
"Sean and I have had conversations about this, about just him being in the room and realizing that moment when it happened that Reggie Bush just fell in our lap. 'Are you kidding me?'" Brees said. "Not only the type of player that he was, all of the things that he could do on the field, but I think what this city needed was somebody like that to be drafted here and the excitement that that brought, lifting everyone's spirits and giving them hope. That was huge."
The divorce also worked out for both teams. The Saints quickly replaced Bush with free agent
Darren Sproles
, who was even more electrifying in that 2011 season in a similar runner/receiver role.
And Bush got his wish to become more of a featured runner in Miami, where he had his first 1,000-yard rushing season in 2011 and has followed with at least 986 yards every year since.
Perhaps most importantly, Bush has stayed healthy over the past four years (though he's ironically nursing an ankle injury this week that he's expected to play through).
But Bush, now 29, has also matured as runner, showing better vision and patience inside instead of wanting to turn his runs outside and use his speed around the corner.
"I think he's definitely matured from my times playing against him when he was here. He's become an all-around running back instead of just being treated as a wide receiver or a gimmick guy," said Saints linebacker
Curtis Lofton
, who used to face Bush as a member of the rival
Atlanta Falcons
.
"With a player like him, we knew going into the game how he was going to be used. So it made it, I wouldn't say easy to game-plan for him, but we knew what he was going to be doing," Lofton said. "Now when he's in the backfield at running back, you don't know what he's going to do. He can run it downhill, he could run a reverse, can line up as a wide receiver, so I think that makes their offense very multiple by using him in those ways."
October, 15, 2014
Oct 15
7:15
PM ET
METAIRIE, La. –
New Orleans Saints
coach Sean Payton said he's very guarded with the term "elite" and doesn't use it often to describe a player. But Payton said it applies to both
Detroit Lions
receiver
Calvin Johnson
and Saints tight end
Jimmy Graham
.
So yes, Payton said, significant adjustments would need to be made by both teams if either player is held out of Sunday's game between the Saints and the Lions.
Graham (shoulder) and Johnson (ankle) are both highly questionable for Sunday's game at Detroit. But neither has been ruled out yet.
[+] Enlarge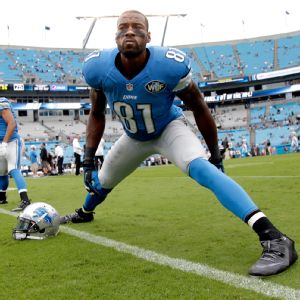 AP Photo/Bob LeveroneThe Saints will prepare as if the Lions' Calvin Johnson will play Sunday, and will adjust if he isn't playing.
"Any time you take an elite player -- and I use that term very guarded or not often – obviously that changes things. And it would be the same thing with regards to Jimmy," Payton said. "And yet I think we know when you play in this league long enough that each week you're going to have to make those adjustments. And we've had to do that as well, take a guy like
[Jairus] Byrd
, who we consider to be an elite-level safety. You make those changes.
"We've gotta prepare for [Johnson] and make sure we're ready in the event he plays and go into the game expecting that."
Believe it or not, Johnson hasn't been the go-to guy in the Lions' offense this season as he has battled the lingering ankle injury.
Although Johnson has a respectable 22 catches for 348 yards and two touchdowns, it's newcomer
Golden Tate
that leads Detroit with 38 catches for 495 yards and a touchdown. Running back
Reggie Bush
also has 20 catches for 142 yards.
The Lions will look to get both of those dynamic playmakers in open space and stretch the field as wide as they do deep – much like the Saints' offense. That's no coincidence, as the Lions' first-year offensive coordinator is former Saints quarterbacks coach Joe Lombardi.
And that will put the Saints' defense to the test, since they've struggled throughout the year to make tackles in the open field and stay disciplined in their assignments.
"They're definitely gonna space you out. They're gonna shift. If they're anything like our offense, it's gonna require a lot of discipline," Saints safety
Kenny Vaccaro
said. "Some teams that just stand around make it easier on you. But this team is gonna have a complex scheme, and it's gonna be kind of like training camp with Coach Payton."
The Lions will likely try to feature some short, quick throws to keep quarterback
Matthew Stafford
out of trouble. Stafford has been sacked 21 times this year, which ranks as the third-most in the NFL.
The Saints would love to get him in some third-and-long situations by stopping the run (something they did great two weeks ago against Tampa Bay, but horrible three weeks ago at Dallas). The Lions' rushing offense hasn't done much this year, led by former Saints runners Bush and
Joique Bell
and former Saints fullback
Jed Collins
. Detroit ranks 29th in the NFL with 86.3 rushing yards per game.
March, 19, 2014
Mar 19
2:10
PM ET
ALLEN PARK, Mich. -- His plan had been to stay in New Orleans.
That was what
Jed Collins
had been told by the Saints. He had spent the past three seasons there on the active roster. He was living in the city in the offseason and he and his wife -- who is expecting the couple's first child -- had settled there.
Collins
Yet on Monday night, things changed in the Collinses' world. The Saints made a move on
Erik Lorig
from Tampa Bay and told Collins he would not be returning in 2014. A day later, he was on a plane to Detroit and the day after that, he signed a one-year deal with the
Detroit Lions
.
"I was told throughout the offseason that my home was going to be in New Orleans and I came to find out Monday night that they were moving on and that they felt they had an upgrade at the position," Collins said Wednesday afternoon. "I talked to my family. I've talked to a lot of people and keep telling myself this is the business I'm in. This is, there's no friends in it, this is a win-first and if they feel they got a better player, that's their decision.
"I'm excited about the opportunity to come up here and continue to work on and prove that I'm a top-tier fullback. That's who I believe I am. Even though New Orleans didn't go the way I thought it was going to, sometimes change is the best thing for a person and sometimes it's best for a career."
The Lions were the first team he visited and the only visit he had set up, although he said his agent, Derrick Fox, had been taking calls from other teams. But the Lions made sense to Collins, which is why he signed.
While Collins will be making that change and heading up north, there is a level of familiarity he will have when he arrives for offseason workouts next month.
He knows new Detroit offensive coordinator Joe Lombardi from their time in New Orleans. He had been coached by running back coach Curtis Modkins in Arizona. He knows special teams coach John Bonamego from their mutual time with the Saints.
Essentially every coach he will play for with the Lions, he has been with in some capacity before. So that helped and made Detroit an enticing landing spot when he heard the team would be looking to add a full-time fullback to the roster.
"From the system we had in New Orleans, I think I understand the profile of what they want the fullback to be," Collins said. "Obviously first and foremost, the fullback has to add value to himself everywhere he can, on special teams. Always throughout my career been a special teams guy, get on the field any way possible. But off the field, in the classroom, the fullback has to be a disciplined worker, team-first kind of guy and I try to fit that mold any way I can.
"Offensively, you want the ground-and-pound, you want the tough yards. I think that's what the fullback kind of symbolizes but also a lot of good receivers need a lot of good deep shots and play-action kind of opens that up. So whatever they need, I'm here for, but I know who I am as a player and I think I'm going to fit well."
The Lions clearly did as well, as they brought him almost immediately after he became clearly available. The team had already looked around at other fullbacks, including bringing in
Henry Hynoski
last week, and Collins was the second fullback to visit.
And that familiarity will be everywhere. Beyond the coaches, Collins played with both
Reggie Bush
and
Joique Bell
when they were with the Saints, so even in the same meeting room it will start to look a little bit like New Orleans north.
The playbook might look similar, too, but even from meetings with the staff on Wednesday and his prior knowledge of Lombardi, Collins hinted at changes from what the Saints run.
"He wants to put up points," Collins said. "He wants to control the ball and he wants to have a prolific offense, which he has the skills to do that.
"Will we be the
New Orleans Saints
offense? I don't think so. I think he will have his personal touches that will make it his own."
He will have a familiar blocking back, though, to help implement it.