New Orleans Saints:

rod sweeting
August, 26, 2014
Aug 26
5:00
PM ET
Most significant move:
Releasing linebacker
Victor Butler
was a small surprise, but a huge shame. I was one of many analysts who thought the pass-rush specialist could have a huge impact when he joined the
New Orleans Saints
last year, following defensive coordinator Rob Ryan from Dallas. Unfortunately, Butler missed all of last season with a torn ACL, then he missed three weeks of training camp this year with an ankle injury. In the meantime, the Saints continued to develop two other breakout pass-rushers in
Cameron Jordan
and
Junior Galette
. Hopefully Butler can get healthy and get another opportunity somewhere, because he's an energetic, well-liked guy who showed a ton of promise before the injuries.
One-year wonders:
I was equally surprised to see the Saints release second-year linebacker
Kevin Reddick
, who had been a mainstay on all of their special teams units last season and this preseason. But it goes to show how much depth the Saints have at linebacker. This probably guarantees that guys such as
Keyunta Dawson
and
Kyle Knox
will make the team and maybe open up a spot for undrafted rookie
Kasim Edebali
. ... Cornerback
Rod Sweeting
also got cut after spending all of last season on the roster as an undrafted rookie. And 2013 sixth-round pick
Rufus Johnson Jr.
got waived as well -- less surprising after both had fallen behind in the pecking order throughout the summer.
What's next:
Two of the most compelling battles that will be decided by week's end are at backup quarterback (
Luke McCown
vs.
Ryan Griffin
) and kicker (
Shayne Graham
vs.
Derek Dimke
). It's starting to look more and more like McCown will win the backup job. If that happens, the Saints will probably keep three quarterbacks since they like Griffin's long-term potential. ... I don't anticipate any more veteran surprises, but you can never rule them out. If I had to make my final roster projection right now, I'd have four guys battling for the last three spots (McCown, Edebali, safety
Marcus Ball
and defensive lineman
Brandon Deaderick
).
Saints' cuts:
LB Victor Butler, LB Kevin Reddick, DE Rufus Johnson Jr., CB Rod Sweeting, S
Ty Zimmerman
, DE
George Uko
, WR
Andy Tanner
(injured), QB
Logan Kilgore
, TE Travis Beckum, OT
Manase Foketi
, OT
Ty Nsekhe
(injured).
May, 28, 2014
May 28
12:00
PM ET
The
New Orleans Saints
entered the next stage of offseason workouts with the start of OTAs on Tuesday. Over the course of four weeks, they're scheduled to have a total of 15 full-team practice sessions during OTAs and minicamp.
The media will have access to eight of those sessions, starting with Thursday's OTA practice.
Click here for a breakdown
of the early camp battles I'm most interested in watching on offense.
Here are the top battles to watch on defense:
1. Cornerback:
This will be the most fascinating position to watch on the entire roster this summer.
Keenan Lewis
is entrenched as the No. 1 guy. Then there are a number of intriguing options battling for the other starting job and backup roles.
Bailey
As I mentioned in
Wednesday's buzz video
, I'm looking forward to seeing future Hall of Famer
Champ Bailey
in action – especially matching wits with a fellow super-duper-star like quarterback
Drew Brees
.
I'm also very curious to see how
Patrick Robinson
bounces back after missing all of last season with a knee injury. I think
Corey White
is being overlooked as a serious contender for the other starting job now that he has some experience under his belt. Likewise, I think second-year pro
Rod Sweeting
is being even more overlooked in this crowded field of contenders. And rookie
Stanley Jean-Baptiste
is an interesting project because of his rare size for the position.
Even the next tier of contenders is filled with some solid roster candidates (
Trevin Wade
,
Terrence Frederick
,
A.J. Davis
,
Derrius Brooks
). Here's
how I handicapped the field
following the draft.
2. Outside linebacker:
Junior Galette
is also entrenched as the Saints' top outside linebacker/edge rusher. But there are more intriguing contenders for the other starting spot and backup jobs now than there were a year ago.
Veteran
Parys Haralson
should resume his part-time starting role as a proven run defender. But it's possible the Saints will feature more true 3-4 alignments this year now that they have some more pass rushers at their disposal.
Veteran
Victor Butler
is back after missing all of last season with a torn ACL, and hopes were very high for him last summer. Second-year pro
Rufus Johnson
spent most of last year on the practice squad but has a year of experience under his belt now. Rookie
Ronald Powell
may take time to develop, but he has great athletic potential. A few new undrafted rookies will also challenge for roster spots, along with returning backups
Keyunta Dawson
and
Kyle Knox
.
We won't get a great feel for these guys until we start to see full contact in the preseason and some training camp drills. But we'll at least get a glimpse of how and where they line up in practices.
3. Inside linebackers:
Veterans
Curtis Lofton
and
David Hawthorne
are set as the starters, and veteran
Ramon Humber
is a good bet to make the roster as backup and special teams standout. But I'm interested to see if the young guys push for some early playing time. Second-year pro
Kevin Reddick
, fourth-round draft pick
Khairi Fortt
and Powell (at the strong-side outside linebacker spot) all could be dynamic enough to force their way into the rotation sooner than later.
4. Special teams:
Those guys mentioned above could also make their mark on special teams. The same goes for the guys fighting for backup safety spots like rookie
Vinnie Sunseri
and Canadian Football League transplant
Marcus Ball
.
And that's not to mention this year's crop of undrafted rookies, who will undoubtedly use special teams as their best path to the big leagues. You may have noticed that the Saints aren't afraid to give undrafted rookies a serious shot at cracking the roster.
5. Nose tackle:
This is only mildly interesting since I figure veteran
Brodrick Bunkley
and second-year pro
John Jenkins
will split snaps pretty equally this year at a position where the Saints like to rotate players and keep them fresh. But it will be noteworthy to see if Jenkins pushes Bunkley enough to become "1A" in that rotation this summer.
The rest of the defensive line roles seem pretty clear with Cam Jordan and
Akiem Hicks
as the starting ends and
Glenn Foster
and
Tyrunn Walker
as the top backups. But an undrafted rookie or two could certainly fight their way into the rotation, as well.
May, 22, 2014
May 22
1:18
PM ET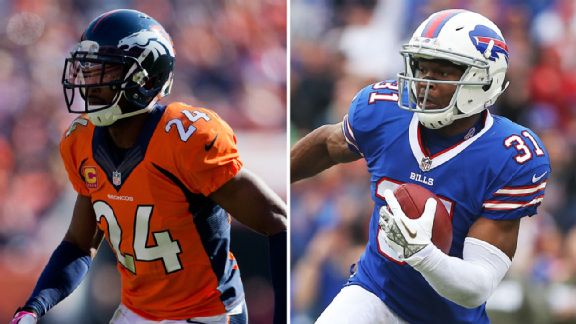 Getty ImagesChamp Bailey, left, and Jairus Byrd further solidify an already talented Saints secondary.
METAIRIE, La. -- The
New Orleans Saints
' defensive backs stand out as a competitive bunch. So it should come as no surprise that they didn't wait for organized team activities next week to find a way to start battling each other on the field.
Spearheaded by cornerback
Keenan Lewis
, who is from the west bank of New Orleans, the Saints' DBs have been getting together this offseason for group workouts at local parks.
That group has included big-name newcomers
Champ Bailey
and
Jairus Byrd
in a secondary that is now jam-packed with talent. But, as Bailey said, that won't do the Saints any good if it doesn't translate onto the field.
"It can look good on paper. I love our potential, but we've got a lot of work to do," said Bailey, a future Hall of Famer with 15 seasons and 12 Pro Bowls under his belt. "We don't want to get ahead of ourselves. We've got to find out how to work together and mesh and improve. Because that's really what wins you games is playing together and being a great team."
So far, though, Bailey said he likes what he has seen from his new teammates.
"A young group. Hungry. I haven't met one guy that didn't work hard or didn't want to be great. So that spells some great things for us," said Bailey, who said his belief in the Saints' championship potential has been strengthened by his early impressions of his new teammates.
"Absolutely," Bailey said. "Everybody carries themselves in a championship manner here. You know, I've been around some good teams. I was on a pretty good team last year [the
Denver Broncos
]. We came up short, and I just want another opportunity. And I think this is a great place for me."
After spending the past 10 years with the Broncos, Bailey said it has been interesting to get to know a whole new group of guys and their personalities.
None has stood out more than Lewis -- again, not surprisingly.
Lewis himself admitted, "Those guys think I'm real funny because I talk a lot. But I just want everybody to feel comfortable in the locker room and, you know, as a family. And we've got one goal we've got to reach."
Bailey laughed when he heard that and said, "He does [talk a lot]. He gets his share of words in. But it's all good stuff. He's a great, positive guy. He works harder than anybody on the team. So it's great to be around a group of guys like that."
Lewis is arguably the most competitive of the bunch, as he made clear last year when he didn't hide his disappointment over being snubbed for his first Pro Bowl. This year, Lewis said he is aiming for his first All-Pro selection instead.
However, Lewis said he is keeping his goal of seven interceptions the same as last year, because he knows it will be tougher with interception-magnet Byrd now roaming the back of the secondary.
"I'm scared to have him back there. I hope he just don't get in the way and take all the interceptions," Lewis said. "That's a ball-hawk type of guy, great to work with. I had the opportunity to play [against] him in college [when Lewis was at Oregon State and Byrd was at Oregon]. So I'm glad to have him as a teammate."
Second-year cornerback
Rod Sweeting
-- who insists that he won't step aside quietly in the competition with veteran corners like Lewis, Bailey,
Corey White
and
Patrick Robinson
-- said the offseason workout sessions have brought out the competitiveness in everyone.
"We have [18] DBs here, so we're all just competing, having a good time, enjoying each other," Sweeting said. "You know, when somebody does something better than the other, then the other one tries to match that."
Lewis said he has been playing the role of quarterback in many of those sessions. "I'm another
Drew Brees
," he joked.
But he said the main focus has been working on those interceptions. Last year, forcing turnovers was the one area where the Saints defense fell short, despite ranking No. 2 in the NFL in pass defense and No. 4 overall.
"We definitely got better," Lewis said. "I wouldn't say we've added the pieces that we missed, because I didn't feel like we had no pieces missing. But we got some guys who can help. ... I'm pretty sure we'll be ready, competing to be one of the best in the league."
Vaccaro healing:
Safety
Kenny Vaccaro
-- another ultracompetitor in the Saints secondary -- was unavailable to the media during teammate Ben Grubbs' charity softball game Wednesday night, when the other defensive backs spoke. But it was worth noting that Vaccaro didn't have any covering over the ankle that he fractured late last season.
It is unclear if Vaccaro will be limited during OTAs next week, but he is expected to be fully healthy in plenty of time for the season.
May, 15, 2014
May 15
8:00
AM ET
Of all the position battles on the
New Orleans Saints
' roster, I think the cornerback free-for-all is the hardest to project -- and the most fascinating.
Starter
Keenan Lewis
is a lock. The only question mark with him is whether he'll break through for his first Pro Bowl in 2015.
After that: tons of question marks. Guys with high ceilings and low floors.
Champ Bailey
,
Corey White
,
Patrick Robinson
,
Stanley Jean-Baptiste
and
Rod Sweeting
could all wind up being significant contributors this year. And the guys behind them aren't exactly slouches (
Terrence Frederick
,
Trevin Wade
,
A.J. Davis
and
Derrius Brooks
).
Here's how I rank their chances of making the roster, though I'll admit it's still very early in the evaluation process:
1. Keenan Lewis.
No explanation needed
2. Stanley Jean-Baptiste.
I DO NOT expect him to win the other starting job starting in Week 1. But he's the only other guy on this list that I'm 100 percent sure will make the 53-man roster since the Saints invested a second-round pick in him and his upside is so high.
I actually think Jean-Baptiste will be fourth or fifth in the pecking order to start the season since I think the other guys on this list could all have nice bounce-back years in 2014. He's got a ton of potential, though, with his big, long frame – as all of the pre-draft comparisons to Seattle's
Richard Sherman
suggest.
3. Champ Bailey.
No, he's not in his prime anymore. But you've got to give some benefit of doubt to the Saints and assume they have a solid vision for him. The Saints cut ties with a lot of their own aging veterans this offseason, making cold but calculated decisions about whether they could still help. The fact that they went out and added Bailey speaks volumes.
Bailey is still good in press coverage and still good at contesting passes in the air. The Saints probably plan to use him in a specific role in their defense, which often features five or six defensive backs on the field at once.
4. Corey White.
White had some highs and lows down the stretch last year after he took over as the Saints' No. 2 starter when Jabri Greer got hurt. But I didn't think the lows were ever disastrous. White lost some tough jump balls against the Seahawks and gave up a series of short, underneath throws at Atlanta in two of his more high-profile struggles. I think both can be corrected with more experience and confidence.
I don't think the Saints are ready to give up on White just yet. But he'll need to have an excellent camp to remain in a prominent role.
5. Patrick Robinson.
The Saints have already proven that they aren't ready to give up on Robinson yet after they decided to keep his $1.3 million salary on the books despite their salary-cap limitations. Robinson struggled mightily in 2012 then missed all of last season with a knee injury. But New Orleans is hoping he can deliver on the promise he showed in 2011.
That faith makes sense. Robinson's one bad year came in 2012 when the Saints' entire defense struggled miserably. He's a former first-round pick with terrific speed. If he can show signs that he's playing with confidence and running strong on that knee, he could leap-frog everyone on this list other than Lewis.
However, if Robinson looks ordinary, that salary could be a factor in whether or not he makes the final cut.
6. Rod Sweeting.
One of the Saints' standout undrafted free agents last year, Sweeting looked great in training camp but didn't play much on defense during the regular season. He seems buried on the depth chart for now, but Year 2 is when players often take their biggest leap. So it's entirely possible Sweeting could outshine some of the veterans higher on this list. He's probably the most underrated of an underrated bunch.
7-10. Frederick, Wade, Davis and Brooks.
Frederick and Wade made cameo appearances on the roster late last year because of the Saints' injury issues. The Saints obviously like Davis' potential since they keep inviting him back to training camp. Brooks has an impressive body of work in the Canadian Football League. All of them are long shots for the active roster, though, barring injuries. (I believe all of them besides Wade are eligible for the practice squad).
April, 2, 2014
Apr 2
1:00
PM ET
A look at the
New Orleans Saints
' projected defensive depth chart as it stands today:
DE1 –-
Cameron Jordan
,
Tyrunn Walker
DE2 –-
Akiem Hicks
,
Glenn Foster
NT –-
Brodrick Bunkley
,
John Jenkins
OLB1 –-
Junior Galette
,
Keyunta Dawson
,
Kyle Knox
OLB2 –-
Parys Haralson
,
Victor Butler
,
Rufus Johnson
SILB –-
Curtis Lofton
,
Ramon Humber
WILB –-
David Hawthorne
,
Kevin Reddick
CB1 –-
Keenan Lewis
,
Rod Sweeting
,
A.J. Davis
,
Trevin Wade
CB2 –-
Corey White
,
Patrick Robinson
,
Terrence Frederick
,
Derrius Brooks
SS –-
Kenny Vaccaro
,
Rafael Bush
FS –-
Jairus Byrd
Thoughts:
There aren't too many glaring holes here. I keep ranking cornerback as the Saints' top defensive need because they could use a more proven starter opposite Keenan Lewis. But they obviously have plenty of depth at the position.
Conversely, the Saints don't have much depth at safety. But if they sign a veteran corner such as
Champ Bailey
, they could use him as a pseudo-safety in nickel and dime packages. They could potentially do the same thing with White, who played safety in college.
The one position I really think the Saints need to address at some point in the draft is linebacker. They could use young backups who can play special teams right away and eventually push to replace veterans such as Hawthorne and Haralson.
And as coach Sean Payton said last week, teams are always on the lookout for more pass-rushing help -- though they should be improved in that area with Victor Butler returning from injury and Rufus Johnson having another year to develop.
February, 5, 2014
Feb 5
1:00
PM ET
A position-by-position look at where the
New Orleans Saints
stand heading into the 2014 offseason -- ranked from 1-12 in order of the team's need for upgrades or replacements.
Current depth chart:
Keenan Lewis
. Age 27, signed through 2017. 2014 salary and bonuses: $3.35 million. 2014 salary-cap number: $4.55 million.
Jabari Greer
. Turns 32 next week, signed through 2015. 2014 salary and bonuses: $4.5 million. 2014 salary-cap number: $6.825 million.
Corey White
. Age 23, signed through 2015. 2014 salary and bonuses: $570,000. 2014 salary-cap number: $614,125.
Patrick Robinson
. Age 26, signed through 2014. 2014 salary and bonuses: $1.36 million. 2014 salary-cap number: $2.8 million.
Rod Sweeting
. Age 23, scheduled to become a restricted free agent in 2016. 2014 salary and bonuses: $495,000. 2014 salary-cap number: $496,666.
Trevin Wade
. Age 24, exclusive rights free agent.
Terrence Frederick
. Age 23, scheduled to become a restricted free agent after three accrued seasons. 2014 salary: $420,000.
[+] Enlarge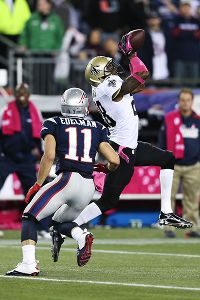 Rob Carr/Getty ImagesKeenan Lewis played at a Pro Bowl level in 2013, but the Saints could still use some help at cornerback.
Analysis:
This was an easy No. 1 for me since I think the Saints need both immediate help and long-term help at a position that is absolutely critical in today's pass-happy NFL. And that's more about basic common sense than the idea of trying to copy the Seattle Seahawks' model. … But either way, it's the right idea.
The good news is that New Orleans found a bona fide No. 1 cornerback in Lewis last year in one of the best free-agent signings anywhere in the league. He's a bigger, long-armed cornerback with good speed, and he was able to lock down the best receivers in the league on a weekly basis last year. He should have made the Pro Bowl -- something I imagine will be corrected in the near future.
Beyond Lewis, however, there are several question marks. Greer was also playing very well last year before he suffered a major knee injury in November that now leaves his future in doubt. I think Greer has been maybe the most underrated star of the Saints' golden era since 2009, and I'd love to think he can come back for more quality seasons. But he's in the midst of a significant rehab, he's about to turn 32, and he's due to make a lot of money for the cap-strapped Saints. So I think Greer would have to agree to a pay cut to get that opportunity. And even then, it's unclear if he can get back close to 100 percent by the start of the season.
Robinson is a question mark for many of the same reasons after missing all of last season with a torn ACL. Robinson struggled as a starter in 2012, but I have to imagine the new defense under Rob Ryan would be a better fit for him (like it was for just about everyone else last year). I still think the speedy former first-round draft pick has potential. But Robinson's salary is just big enough to make him a potential cap casualty if the Saints decide they can't afford to gamble on that potential this offseason.
White was decent as a replacement starter for Greer this past season. The physical second-year pro had some rough games, but he also gained some valuable experience. I think he should still be a good fit as part of the rotation going forward. And he'll get a chance to compete for a full-time starting job -- though he might fit better as a nickel/slot corner.
Sweeting is another young guy who could bloom into a greater role after impressing enough to earn a roster spot as an undrafted rookie last season. Wade and Frederick were late-season signings that we never got a real good feel for. I could see both of them back in camp this summer, along with young guys on the current expanded roster like Derrius Brooks and
A.J. Davis
.
So the young depth is decent, but I think the Saints definitely need to add at least one more starting-caliber player.
January, 6, 2014
Jan 6
4:40
PM ET
The
New Orleans Saints
' defense did an outstanding job of containing the
Philadelphia Eagles
' big-play threats -- at least until cornerback
Keenan Lewis
left with a head injury late in the third quarter. Although it got a little too close for comfort late in the game, the Saints' defense deserves a ton of credit for keeping the game close in the first half before New Orleans' offense finally got rolling in a
26-24 victory
.
Here are some observations after reviewing the tape:
[+] Enlarge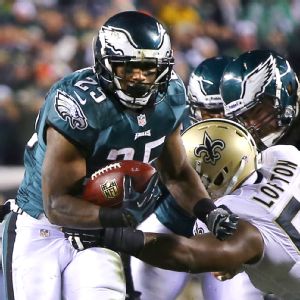 Al Bello/Getty ImagesSaints linebacker Curtis Lofton tries to contain Eagles running back LeSean McCoy in the first quarter of their wild-card playoff game.
Containing McCoy:
Every week it seems like Saints defensive coordinator Rob Ryan comes up with a new approach for each specific opponent. This week, it was clear the Saints' goal was to keep a wide perimeter around
LeSean McCoy
to limit his chances for big gains. The Saints rarely blitzed all day (just five times on passing plays, according to ESPN Stats & Information). And their linebackers and safeties often hovered back behind the line of scrimmage rather than attacking downhill. The last thing they wanted to do was have one of McCoy's vintage cutbacks break him into the open field.
It worked great -- especially early. During the first 40 minutes, McCoy gained just 38 yards on 12 rushes and 10 yards on two receptions. His longest gain during those first 40 minutes was an 8-yard run. … The Saints were willing to live with some of his 5-yard gains, as long as he didn't bust loose. And sometimes they swarmed him for negative plays -- like a 4-yard loss in the first quarter when both edge rushers
Cameron Jordan
and
Junior Galette
got to McCoy deep in the backfield.
Three other run defenders who stood out on multiple plays were nose tackle
Brodrick Bunkley
, end
Akiem Hicks
and inside linebacker
Curtis Lofton
-- though everyone from the line to the secondary really deserves credit for the disciplined group effort.
McCoy did have a couple of highlight plays. He cruised into the end zone for a 1-yard touchdown on fourth-and-1 in the third quarter when the Eagles' blockers did a great job of sealing off the right edge. That left linebacker
Will Herring
stuck in no man's land on the read-option play. Herring hesitated while looking at quarterback
Nick Foles
and couldn't get to McCoy. (Later, however, Herring shut down Foles to force a zero-yard pass on a similar play near the goal line. So Foles was likely his primary assignment).
McCoy also had a couple nice gains when he flashed some of those nasty cutbacks. One time, he made Lofton slip and safety
Roman Harper
dive and miss during an 11-yard gain.
Containing Jackson (for a while):
Saints cornerback Keenan Lewis finally made his strongest case yet for making the Pro Bowl this year -- when he left the game. Lewis did such a solid job in pass coverage against dynamic Eagles receiver
DeSean Jackson
that Jackson had zero catches and only one target in the first 40 minutes. Lewis wasn't overly physical with Jackson at the line, but he did a good job of getting close to him early, then staying close to him down the field.
However, after Lewis suffered a head injury (while making a nice, hard pass break-up against receiver
Jason Avant
), Foles suddenly got brave. Foles hit Jackson with a 40-yard bomb against cornerback
Corey White
on the very next play. And later in the fourth quarter, White was penalized another 40 yards for pass interference on a deep ball to Jackson. Both led to touchdowns.
White's coverage wasn't awful. He did a decent job of running downfield after the faster Jackson. And both throws were actually a little underthrown. But both times, Jackson did a better job of locating the ball in the air and positioning himself to make a catch. He "boxed out" White to win a jump ball the first time. And the second time, White got too grabby while they both turned to go after the ball. Clearly, White never had the chance to locate the ball on that one since he was running full speed to catch up to Jackson.
Foles also picked on rookie cornerback
Rod Sweeting
a few times after Lewis left the game. He hit receiver
Riley Cooper
for back-to-back comeback routes of 8 and 14 yards. However, Sweeting did a nice job on Cooper later on a third-and-6 play, forcing Foles to check down to a 5-yard pass and settle for a field goal.
Other pass plays:
The rest of the Saints' pass coverage was hit and miss. Foles had a lot of time to throw against mostly three- and four-man rushes. Sometimes he couldn't find an open receiver (once taking a sack by Jordan against a three-man rush). Other times, Foles was able to wait for guys to get open in little pockets of coverage. That was the case on his 10-yard touchdown pass to Cooper in the second quarter (a gorgeous throw over the head of a lunging Harper). That was also the case on a 3-yard TD pass to tight end
Zach Ertz
in front of linebacker
David Hawthorne
in the fourth quarter. And it was the case on a 24-yard pass to tight end
Brent Celek
and a 22-yard pass to Cooper earlier in the game.
The Saints dodged a huge bullet early in the third quarter when Cooper dropped an easy pass while he was wide open with tons of open space in front of him. The Eagles successfully executed a pick on that play, with Celek running into Harper in the middle of the field to spring Cooper.
Earlier in the game, Harper had a nice physical pass break-up against Celek on a third-down stop that flirted with pass interference, but didn't go too far.
A little pressure:
The Saints got to Foles a few times. When they did blitz, it was very effective. The highlight was an all-out, seven-man blitz in the third quarter that forced an intentional grounding penalty on Foles. Then on the next play (on third-and-17), Jordan and Hicks busted through on a four-man rush for a sack. Hicks torched right guard
Todd Herremans
with an athletic swim move, and Jordan came around right tackle
Lane Johnson
to hit Foles from behind.
Jordan's sack in the first half was unusual. Foles held the ball forever against the three-man rush and should have gotten rid of it long before Jordan got to him. Jordan did use a nice move to get free against a double-team, though. He faked a spin move to the outside, which actually made guard
Evan Mathis
turn his head and look away to see if anyone else needed help. Then Jordan shot between Mathis and left tackle
Jason Peters
.
Galette also had several highlights early in the game, including two hits on Foles to blow up plays. Both times Galette beat Peters. The first time he forced an incomplete pass. The second time, he forced Foles to throw early across the field to Celek on a toss-back play. And Lofton was all over Celek to tackle him for an 8-yard loss.
Big return:
The Saints' special teams were very good on Saturday overall. But they did have one breakdown when Jackson returned a punt 29 yards to set up a field goal in the fourth quarter. The replay didn't show any egregious mistakes. The first three guys down the field all got taken out by nice solo blocks. Then Jackson found a lane next to the sideline, and the other Saints' defenders weren't able to cut across traffic to get to him right away.
Big compliment:
When talking about the Saints' loss of safety
Kenny Vaccaro
to a broken ankle last month, NBC analyst Cris Collinsworth said he thought Vaccaro was the best defensive rookie in the NFL this year.
September, 25, 2013
9/25/13
6:00
PM ET
The
New Orleans Saints
have used six undrafted rookies in their lineup this season after defensive end
Glenn Foster
and tailback
Khiry Robinson
made their debuts last Sunday. (The others are guard
Tim Lelito
, tight end
Josh Hill
, linebacker
Kevin Reddick
and cornerback
Rod Sweeting
.) According to ESPN Stats & Information, that's tied, with Cleveland, for the most in the NFL.
But that's nothing new around New Orleans during the Sean Payton era. The Saints have never been shy about throwing undrafted rookies into the mix – including two of their longtime offensive stars, receiver
Lance Moore
(began with the Browns before joining the Saints in 2006) and tailback
Pierre Thomas
(signed by the Saints after the draft in 2007). As Payton likes to say, the Saints don't care where their players came from. They go by what they see on the field.
The Saints currently have 23 players on their 53-man roster who were undrafted when they came into the NFL, including veteran starters such as cornerback
Jabari Greer
and linebacker
David Hawthorne
who played for other teams before joining the Saints.
According to ESPN Stats & Information, the Saints have used a total of 64 undrafted players since 2006, the third most in the NFL. The league average is 47 during that span. And dating back to 2008, the Saints have had undrafted players take 22.3 percent of all offensive or defensive snaps, the fifth most in the NFL.
Here's the complete list of players on the Saints' 53-man roster who were not drafted (* denotes a starter):
Offense
*WR Lance Moore, *RB Pierre Thomas, *C
Brian de la Puente
, *FB
Jed Collins
, RB
Travaris Cadet
, RB Khiry Robinson, G Tim Lelito, T
Bryce Harris
, TE Josh Hill
Defense
*CB Jabari Greer, *LB David Hawthorne, *LB
Junior Galette
, S
Rafael Bush
, S
Isa Abdul-Quddus
, CB
Chris Carr
, LB
Ramon Humber
, DE
Tom Johnson
, DE
Tyrunn Walker
, DE Glenn Foster, LB Kevin Reddick, CB Rod Sweeting
Special teams
*K
Garrett Hartley
, *LS
Justin Drescher