New Orleans Saints:

ronald powell
August, 13, 2014
Aug 13
12:45
PM ET
WHITE SULPHUR SPRINGS, W.Va. --
Drew Brees
took yet another small step toward returning to action Wednesday when he participated in some individual passing drills with the quarterbacks and receivers for the first time. But it still seems extremely unlikely that the
New Orleans Saints
quarterback will play in Friday's preseason game against the
Tennessee Titans
.
Brees
Saints coach Sean Payton declined to say whether Brees will play. But Payton has consistently said the team will be smart and cautious with Brees, who strained his oblique on Aug. 1.
Either way, Brees definitely appears as though he'll be healthy in plenty of time for the start of the regular season. He has increased his workload on a daily basis, including a return to the lineup during the team's afternoon walk-through on Tuesday, followed by his appearance in individual drills on Wednesday.
Plus, Brees showed some impressive agility while sliding across a makeshift slip-and-slide during
his ALS ice-bucket challenge
Tuesday.
In other Saints injury news:
August, 8, 2014
Aug 8
10:15
AM ET
Rookie receiver
Brandon Coleman
has been the clear choice for the
New Orleans Saints
' "Most Improved" player from organized team activities to training camp.
And since the 6-foot-6, 225-pounder was already among the fan favorites in this year's undrafted rookie class, Coleman will be one of the most compelling reasons to watch the second half of tonight's preseason opener against the
St. Louis Rams
.
[+] Enlarge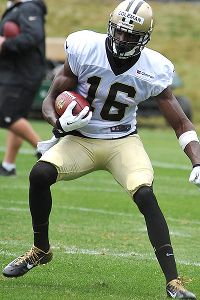 AP Photo/Chris TilleyRookie receiver Brandon Coleman on his preseason play: "It's my job to get the coaches to notice me."
"Right now, the fans can say all they want. But it's my job to get the coaches to notice me," Coleman said when asked about the attention he has received from fans so far.
It's easy for Coleman to stay humble after he admittedly struggled during OTAs in minicamp, dropping too many passes and showing some hesitancy in his route-running.
Over the past two weeks, however, the former Rutgers standout has made several nice catches while playing at a faster speed.
"Just the tempo of the game and just how to play at the pace," Coleman said when asked where he has made the biggest strides. "Just how to be a pro on and off the field. I took that, went home with it for three weeks and then came back and tried to just incorporate that into this camp."
Coleman was the most highly touted of the Saints' undrafted rookies for two reasons. One, he's a massive target, which will make him a unique offensive weapon if he can realize his potential. Secondy, he was highly rated by many scouting analysts heading into the draft for that reason.
Obviously NFL teams didn't feel the same way, though, after Coleman showed a dip in production between his sophomore and junior seasons (before he opted to leave school early). Saints coach Sean Payton has said there were also concerns about the knee injury Coleman suffered last spring (torn meniscus) that seemed to have a lingering effect on him.
When asked if the knee injury was affecting him during OTAs, Coleman said, "You could say that or you could look at the film and make your opinion about it. But I'm just gonna keep working at it and keep working to strengthen it so it won't be a problem on the field."
The Saints' receiver position is awfully crowded right now, with more experienced guys
Robert Meachem
,
Nick Toon
,
Joe Morgan
and
Andy Tanner
all fighting for the fourth and fifth receiver jobs. So I don't expect Coleman or fellow rookie
Seantavius Jones
to be able to leapfrog all those guys and crack the actual rotation this season.
However, it is possible that the Saints could keep Coleman on the active 53-man roster as a weekly inactive in a sort of "redshirt" capacity. That is something they have done in the past with talented young playmakers. But to get there, Coleman will have to keep earning that "Most Improved" title throughout the preseason.
Obviously Coleman won't be the only rookie worth watching tonight since so many of them should get a ton of work.
All eyes will be on first-round pick
Brandin Cooks
, a receiver who has been a highlight reel waiting to happen throughout training camp.
Fellow draft picks like cornerback Stanley Jean-Baptiste, linebackers
Khairi Fortt
and
Ronald Powell
, and safety
Vinnie Sunseri
have started to pick things up and make more plays in recent days.
Much like Coleman, those rookies have talked about being able to play at a faster speed now that they're not thinking as much on the field.
"It's a lot of growth," Powell said. "Whenever you enter this league, there's gonna be a lot of things that you don't know. And I'm learning every day about the little things, getting more comfortable."
Then Powell quickly added the refrain we hear daily from every young player we talk to: "The biggest thing for me right now as a rookie is special teams."
Coleman and Sunseri made similar comments this week. It proves that they have all been listening to Payton, who keeps stressing that they just need to earn their way onto a bus on game days, and the special teams bus is their best bet.
July, 28, 2014
Jul 28
4:00
PM ET
WHITE SULPHUR SPRINGS, W.Va. -- Undrafted rookie safety
Pierre Warren
continued to "flash" on the
New Orleans Saints
' practice field Monday morning -- this time diving to intercept a pass that was dropped by receiver
Brandon Coleman
in full-team drills.
Earlier in camp, Warren also forced and recovered a fumble against running back
Derrick Strozier
. The former Jacksonville State standout has also made a handful of nice pass break-ups over the past few days.
And the 6-foot-2, 200-pounder clearly showed coaches something they liked long before this week -- because he spent all of organized team activities and minicamp working with the second-string defense (taking advantage of starter
Jairus Byrd
's injury absence).
Obviously it's way too early to grant Warren a spot on the 53-man roster based on a handful of highlights. He's probably had his share of low moments, too, that aren't always visible to the naked eye. (For instance, Warren was involved in a secondary breakdown Sunday that left a receiver wide open, but it was unclear who missed the assignment).
But the Saints do have a history of giving opportunities to undrafted rookies who shine in training camp. And it certainly won't hurt Warren to keep showing up on the practice field like he has so far.
Warren, who turned pro after his junior year, led the Gamecocks last season with five interceptions (one returned for a touchdown) and finished second on the team with 76 tackles.
So far he has been working alongside fifth-round draft pick
Vinnie Sunseri
with the second string, ahead of Canadian Football League transplant
Marcus Ball
and fellow undrafted rookie
Ty Zimmerman
.
Coach Sean Payton said he took note of Warren's nice play Monday. However, Payton quickly stressed that for all of those roster hopefuls, it is what they do on special teams this summer that will likely make the biggest impact.
"I just finished talking about this with the whole team: when you're looking at the safety position, linebacker, tight end ... all of these players that are trying to make an impression are having a chance to do that now," Payton said. "Certainly they're going to have to do that when we start the preseason games. Every year there are going to be two guys that make it because of the kicking game. Either they cover kicks, they block a kick, they're smart and know where to be. He's a player that would fall into that category.
"He has good ball skills and it appears to be good reactions and someone who's beginning to pick up what we're doing. We just keep giving him reps, giving all these guys work. He's one of those players, though, where the kicking game is going to be important."
At least one young player has certainly received Payton's message loud and clear.
As I was walking away from Payton at the podium, I came across fifth-round draft pick
Ronald Powell
in mid-sentence in a separate interview, and he was saying:
"... a lot of things I don't know. But one thing I do know is that special teams is very important."
July, 23, 2014
Jul 23
3:00
PM ET
A position-by-position look at the New Orleans Saints' 90-man roster heading into the start of training camp. Players report on Thursday and will hold their first practice Friday at The Greenbrier resort in West Virginia.
Current depth chart:
Outside linebacker:
Junior Galette
,
Parys Haralson
,
Victor Butler
,
Keyunta Dawson
,
Ronald Powell
,
Kyle Knox
,
Chidera Uzo-Diribe
,
Kasim Edebali
,
Marcus Thompson
Inside linebacker:
Curtis Lofton
,
David Hawthorne
,
Ramon Humber
,
Kevin Reddick
,
Khairi Fortt
,
Todd Davis
Gone from last year:
OLB
Will Smith
, ILB
Jonathan Vilma
, ILB
Will Herring
Key roster battles:
Lots of them! This is among the toughest position groups to project on the entire roster since it's so deep now with Butler returning from injury and Fortt and Powell being added in the draft. At least one or two very good linebackers won't make the team. But it's still too early to predict whether that could be a proven veteran or a young talent.
Technically, you could say that Haralson and Butler are battling for the No. 2 starting job at outside linebacker across from Galette. But they really play different roles, with Haralson more of a run defender and Butler more of a pass-rush specialist. The bigger question I have is whether we'll actually see four linebackers on the field together much this year now that the Saints have so many more options.
Last season, the Saints essentially used a 4-2-5 formation as their base package, and I expect a lot of the same this year. But if Butler delivers on his potential as a dynamic pass-rusher -- or if young athletes Powell and Fortt earn significant playing time early -- we could see some tweaks.
May, 28, 2014
May 28
12:00
PM ET
The
New Orleans Saints
entered the next stage of offseason workouts with the start of OTAs on Tuesday. Over the course of four weeks, they're scheduled to have a total of 15 full-team practice sessions during OTAs and minicamp.
The media will have access to eight of those sessions, starting with Thursday's OTA practice.
Click here for a breakdown
of the early camp battles I'm most interested in watching on offense.
Here are the top battles to watch on defense:
1. Cornerback:
This will be the most fascinating position to watch on the entire roster this summer.
Keenan Lewis
is entrenched as the No. 1 guy. Then there are a number of intriguing options battling for the other starting job and backup roles.
Bailey
As I mentioned in
Wednesday's buzz video
, I'm looking forward to seeing future Hall of Famer
Champ Bailey
in action – especially matching wits with a fellow super-duper-star like quarterback
Drew Brees
.
I'm also very curious to see how
Patrick Robinson
bounces back after missing all of last season with a knee injury. I think
Corey White
is being overlooked as a serious contender for the other starting job now that he has some experience under his belt. Likewise, I think second-year pro
Rod Sweeting
is being even more overlooked in this crowded field of contenders. And rookie
Stanley Jean-Baptiste
is an interesting project because of his rare size for the position.
Even the next tier of contenders is filled with some solid roster candidates (
Trevin Wade
,
Terrence Frederick
,
A.J. Davis
,
Derrius Brooks
). Here's
how I handicapped the field
following the draft.
2. Outside linebacker:
Junior Galette
is also entrenched as the Saints' top outside linebacker/edge rusher. But there are more intriguing contenders for the other starting spot and backup jobs now than there were a year ago.
Veteran
Parys Haralson
should resume his part-time starting role as a proven run defender. But it's possible the Saints will feature more true 3-4 alignments this year now that they have some more pass rushers at their disposal.
Veteran
Victor Butler
is back after missing all of last season with a torn ACL, and hopes were very high for him last summer. Second-year pro
Rufus Johnson
spent most of last year on the practice squad but has a year of experience under his belt now. Rookie
Ronald Powell
may take time to develop, but he has great athletic potential. A few new undrafted rookies will also challenge for roster spots, along with returning backups
Keyunta Dawson
and
Kyle Knox
.
We won't get a great feel for these guys until we start to see full contact in the preseason and some training camp drills. But we'll at least get a glimpse of how and where they line up in practices.
3. Inside linebackers:
Veterans
Curtis Lofton
and
David Hawthorne
are set as the starters, and veteran
Ramon Humber
is a good bet to make the roster as backup and special teams standout. But I'm interested to see if the young guys push for some early playing time. Second-year pro
Kevin Reddick
, fourth-round draft pick
Khairi Fortt
and Powell (at the strong-side outside linebacker spot) all could be dynamic enough to force their way into the rotation sooner than later.
4. Special teams:
Those guys mentioned above could also make their mark on special teams. The same goes for the guys fighting for backup safety spots like rookie
Vinnie Sunseri
and Canadian Football League transplant
Marcus Ball
.
And that's not to mention this year's crop of undrafted rookies, who will undoubtedly use special teams as their best path to the big leagues. You may have noticed that the Saints aren't afraid to give undrafted rookies a serious shot at cracking the roster.
5. Nose tackle:
This is only mildly interesting since I figure veteran
Brodrick Bunkley
and second-year pro
John Jenkins
will split snaps pretty equally this year at a position where the Saints like to rotate players and keep them fresh. But it will be noteworthy to see if Jenkins pushes Bunkley enough to become "1A" in that rotation this summer.
The rest of the defensive line roles seem pretty clear with Cam Jordan and
Akiem Hicks
as the starting ends and
Glenn Foster
and
Tyrunn Walker
as the top backups. But an undrafted rookie or two could certainly fight their way into the rotation, as well.
May, 16, 2014
May 16
6:10
PM ET
The
New Orleans Saints
announced they have signed three of their draft picks to four-year contracts -- fifth-round safety
Vinnie Sunseri
, fifth-round linebacker
Ronald Powell
and sixth-round offensive tackle
Tavon Rooks
. Terms were not disclosed.
That means the Saints are already halfway done signing their draft picks as they head into this weekend's rookie minicamp.
That's common around the NFL. Since the rookie wage scale was introduced in 2011, rookies' contract figures are essentially pre-determined, so lengthy holdouts are rare.
May, 10, 2014
May 10
9:00
PM ET
METAIRIE, La. -- The
New Orleans Saints
didn't make much of a splash on the final day of the draft Saturday. No big-name players. No quarterbacks. Probably no one that will come in and compete for a starting job right away.
But by my count, the Saints did wind up addressing five of their top six needs in this year's draft class. Not bad.
Here's how I had them ranked heading into the draft:
1. Receiver:
Check. The Saints traded up to snag dynamic Oregon State receiver
Brandin Cooks
in Round 1. I obviously loved the pick, based on my previous recaps.
2. Cornerback:
Check. They drafted a big, long-armed corner in Nebraska's
Stanley Jean-Baptiste
in Round 2.
3. Center/guard:
Nope. That's the one spot the Saints missed out on. Coach Sean Payton said it wasn't a deep class for centers, and the grades just never matched up. The Saints are high on
Tim Lelito
's potential, though, and there's still a strong chance they'll bring in veteran
Jonathan Goodwin
for competition.
4. Outside linebacker:
Check. They drafted Florida's
Ronald Powell
in Round 5. He's not purely a pass-rush specialist, but that's one of his skills. And Payton said they envision him as a strong-side outside linebacker to start with (
Parys Haralson
's current job). Powell is a tremendous athlete who was rated as the No. 1 high school player in America by ESPNU four years ago before battling some inconsistency and a torn ACL in 2012. His upside is intriguing.
5. Inside linebacker:
Check. Cal's
Khairi Fortt
in Round 4. Payton said the Saints envision him as a weakside inside linebacker (
David Hawthorne
's current role). He's another guy who is still more potential than production after missing the 2012 season because of knee surgery (not an ACL, and not expected to be a lingering issue). But he's another impressive athlete who can help on defense and special teams.
6. Offensive tackle:
Check. Kansas State right tackle
Tavon Rooks
(Round 6) wasn't high among scouting analysts heading into the draft. But the Saints liked what they saw from his athleticism and his potential to grow into his frame. He'll be battling backups such as
Bryce Harris
and
Marcel Jones
for a roster spot.
BONUS:
I didn't rank special teams coverage as an individual category. But the Saints got a nice boost in that area with all four of their defensive draft picks -- especially Alabama safety
Vinnie Sunseri
in the fifth round. Sunseri is a strong-safety type who could also potentially see the field in a role similar to former Saints/Alabama safety
Roman Harper
as a blitzer and in run support.
May, 10, 2014
May 10
7:15
PM ET
»
NFC wrap-ups
:
East
|
West
|
North
|
South
»
AFC
:
East
|
West
|
North
|
South
METAIRIE, La. -- A wrap-up of the
New Orleans Saints
' draft.
Click here
for a full list of Saints draftees.
Best move:
Trading up for dynamic receiver
Brandin Cooks
with the 20th pick in Round 1. Normally, I preach fans shouldn't expect too much from any draft pick in year one, but Cooks sure looks like he could make a huge impact right away for a Saints offense that suddenly needed some more juice after parting ways with veterans
Darren Sproles
and
Lance Moore
.
[+] Enlarge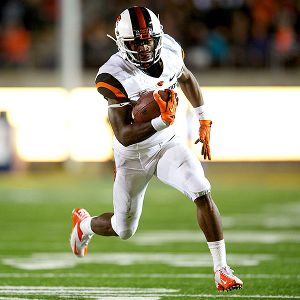 Matt Cohen/Icon SMIThe New Orleans Saints gained one of the more polished receivers in this draft class in Brandin Cooks, per ESPN's Scouts Inc. profile.
Cooks' combination of college production (128 catches for 1,730 yards last season at Oregon State) and dynamic speed (4.33 seconds in the 40-yard dash) makes the 5-foot-10, 189-pounder another matchup nightmare for coach Sean Payton to play with. Cooks could also take over the Saints' punt-return role -- another area in which they need some help.
But Saints general manager Mickey Loomis said that's more of a bonus than the reason Cooks got drafted.
"Obviously, we were aware of his skill [as a returner]," Loomis said. "But he also had 120-some catches. We're pretty happy with him as a receiver."
Riskiest move:
The same answer. The Saints had to trade away a third-round pick to move up from No. 27 to No. 20. Obviously, I think Cooks was worth that risk, but it's really the only move the Saints made that could qualify as a gamble. Many NFL teams cherish those midround picks.
Loomis, however, has always shown a willingness to trade up when the Saints have a conviction on a player, which was clearly the case in this instance. And he said the Saints' success with undrafted free agents has made them more willing to trade picks over the years.
Loomis said that third-round choice was "not inexpensive," and it would have been "a hard pill to swallow" to give up more than that. That's why the Saints didn't move higher into the teens ahead of the
New York Jets
, for example.
Most surprising move:
Not drafting a center or guard. It wasn't a huge shock -- I ranked receiver and cornerback as the Saints' top two needs, and that's where they went in Rounds 1 and 2 with Cooks and
Stanley Jean-Baptiste
. But I did expect New Orleans to add an interior lineman at some point in the draft. Payton explained the Saints considered a handful of centers but never came close to drafting one. He said it wasn't a deep draft at the position in general, and the grades never lined up when New Orleans was on the clock.
That leaves the center position as the Saints' biggest question mark right now, but they're high on second-year pro
Tim Lelito
. I still think there's a strong chance they'll sign free-agent veteran
Jonathan Goodwin
to compete for the job.
File it away:
What a change for Florida linebacker
Ronald Powell
to come into this draft as an unheralded fifth-round pick (No. 169 overall). Four years ago, Powell was rated as the No. 1 high school player in the country, according to ESPNU, but he never quite lived up to that potential and missed the entire 2012 season with a torn ACL that required two surgeries.
Powell is still an enticing athlete -- and he insisted those setbacks will only serve as motivation.
"I think he is hungry. It's very important to him. You get that sense specifically with that player," Payton said. "For every one of these guys, it's important. But every once in a while, you talk with one of these players, and that just stands out."