New Orleans Saints:

Russell Wilson
January, 27, 2014
Jan 27
11:00
AM ET
When
Drew Brees
led the
New Orleans Saints
to their first Super Bowl championship four years ago,
Seattle Seahawks
quarterback
Russell Wilson
was cheering him on. Wilson has been
an unabashed admirer
of Brees for years. He even used to wear a Saints hat when he was in college.
Wilson
Brees
And now that Wilson has graduated on to the game's biggest stage himself, he turned to his idol for a little advice.
"We've been in communication over the past week, just about the experience," Wilson said when asked about Brees on Sunday after arriving in New Jersey for Super Bowl XLVIII. "Like I said, he knows I look up to him. He's a great individual and he was just talking about the experience, and it's no different. The biggest thing is taking care of all tickets and taking care of all family early in the week last week, which I was able to do last Monday and just focus on the game."
Wilson said his father first turned his attention toward Brees when Wilson was in middle school and Brees was at Purdue. Wilson naturally gravitated toward Brees at a young age because they share one obvious trait in common -- their height. Brees (6-foot) and Wilson (5-11) are currently the NFL's two shortest starting quarterbacks.
Wilson said in the past that he has studied just about every throw Brees has ever made in the NFL, trying to learn from him and pattern his game after him. But obviously it's the other traits they share in common that have brought them both to this level -- leadership, determination and work ethic, an uncanny ability to see the field and make quick decisions under fire.
That's why Brees has quickly become an admirer of his younger challenger, as well, after they first met at last year's Pro Bowl -- even though it was Wilson's Seahawks that kept the Saints from getting back to the Super Bowl this year.
January, 17, 2014
Jan 17
10:00
AM ET
There was a lot to like about the
New Orleans Saints
' defense in their 23-15 playoff loss to the
Seattle Seahawks
. They held Seattle to 277 yards, 103 passing yards and just 13 first downs. I was particularly impressed by defensive end
Cameron Jordan
and safety
Roman Harper
(more on them later).
However, I have to start this season's final film study with what went wrong on
Marshawn Lynch
's two long touchdown runs -- which ultimately sealed the Saints' fate for the 2013 season:
Beast Quake, the Sequel:
Lynch's 31-yard touchdown that essentially clinched the game in the final minutes was awfully reminiscent of his legendary 67-yard "Beast Quake" touchdown run against the Saints three years ago. The only differences were that this time Lynch cut back around the left end instead of cutting inside to the right, and this time he only made one defensive back (
Keenan Lewis
) look silly in the open field.
[+] Enlarge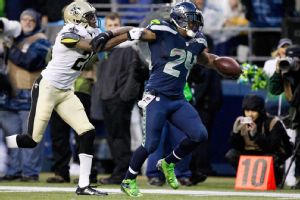 Joe Nicholson/USA TODAY SportsThe Saints weren't able to contain Marshawn Lynch when they had to in the fourth quarter.
In the Saints' defense, they couldn't afford to give up any more ground to Seattle in that situation (down by 8, 2:48 remaining, no timeouts left and the Seahawks entering field goal range). So they probably sold out more than they should have to try to stuff Lynch for a loss or no gain. The Seahawks were in a jumbo package, and the Saints had 10 men in the box. Jordan actually got great penetration up the middle, forcing Lynch to cut outside to the left. But Lynch's cutback was nasty, and it gave him tons of open space since linebacker
David Hawthorne
, safety
Malcolm Jenkins
and Lewis had all cheated toward the inside.
Seattle's blocking was huge, too. Tight end
Zach Miller
stood up outside linebacker
Junior Galette
at the line of scrimmage. And receiver
Jermaine Kearse
took out Jenkins with a perfectly executed crack-back block. Lewis eventually caught up with Lynch around the 14-yard line, but he didn't have a great angle, and Lynch didn't budge as he easily batted away Lewis with a stiff-arm.
More Lynch:
The Saints did a nice job against Lynch at times, but he burned them often enough as he racked up 140 yards on 28 carries. Lynch's first big highlight was a 15-yard touchdown run in the second quarter. This time, the Seahawks were in more of a passing formation, and the Saints were in their nickel defense. But the result was the same when Lynch used another nasty cutback to the right side to make several Saints defenders over-pursue (including Hawthorne, cornerback
Corey White
and safety
Rafael Bush
). Harper then missed a tackle from the side near the end of the run.
Lynch made just about every Saints defender look foolish at least once. He's known for his power, but his speed on those cutbacks was even more impressive in this game. Hawthorne, Jenkins, Galette and
Akiem Hicks
each whiffed on him once in the open field (Hicks and Galette on the same play in the fourth quarter).
Jump balls:
The other play that stood out as an absolute killer for the Saints was receiver
Doug Baldwin
's 24-yard catch on third-and-3 on the play right before Lynch's last touchdown. The Saints' defense had been completely shutting down Seattle's offense throughout the entire second half. But on this play, Wilson essentially tossed one up for grabs, and Baldwin went up and got it over White. Baldwin then made a fantastic effort to hang on to the ball and stay in bounds as White tried to jar the ball loose.
White's coverage was decent, but he was a step behind after jamming Baldwin off the line of scrimmage. So Baldwin had the chance to turn and locate the ball, while White did not. Wilson completed an almost-identical jump-ball pass to receiver
Percy Harvin
against White for a 16-yard gain on third-and-8 in the first half, which led to a field goal.
[+] Enlarge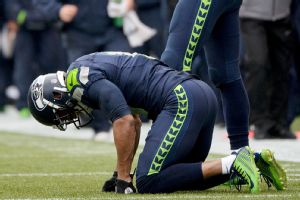 Harry How/Getty ImagesPercy Harvin was shaken up after a collision with Rafael Bush. Harvin would eventually leave the game with a concussion after another rough hit.
Big shots:
Another big passing play for the Seahawks came on their opening drive, when Saints safety Bush was flagged for unnecessary roughness against Harvin while breaking up a third-down pass. It was the right call, since their helmets collided at full speed. But it was a tough break since Bush was leading with his shoulder and Harvin appeared to crouch down into the hit as he braced for impact. That's the risk that safeties like Bush take in today's NFL, though, when they launch above the strike zone.
Harvin later had to leave the game after another brutal hit when his head struck the ground after an incomplete pass in the end zone. This time the Saints weren't penalized, though. Safety Jenkins came over and shoved Harvin as he was coming down, but Jenkins appeared to ease up a bit and led with his hands. Their helmets never made contact.
Wilson's best:
Wilson didn't have a great game, but he showed off what makes him so dangerous on back-to-back plays in the second quarter. On second-and-15, he scrambled away from pressure. And just as he was about to cross the line of scrimmage, he tossed a pass to wide-open receiver Kearse for a 25-yard gain. It was exactly the kind of play that Saints defenders had warned about before both meetings with Seattle this year, but Lewis and Hawthorne both got burned by abandoning their coverage to run up toward Wilson.
It can be a no-win situation for a defense, though. Because on the next play Wilson appeared to be in even more trouble deep in the pocket, but he scrambled free and turned on the jets for a 7-yard gain.
Jordan sensational:
Jordan had a lot of monster performances this year, as he earned his first trip to the Pro Bowl. But this one ranks up there with his best. He was outstanding all game long, both as a pass-rusher and run defender. At different points, he chased down both Wilson and Lynch in the open field (earning a 0-yard sack on the play against Wilson and stuffing Lynch for a 4-yard loss). He stood up tight end Miller to force no gain by running back
Robert Turbin
. He forced a holding penalty on another run play. And he pressured Wilson into at least two key incomplete passes, among other highlights.
Two of the plays mentioned above (a forced incompletion and the sack) came on back-to-back plays inside New Orleans' 10-yard line, forcing Seattle to settle for a field goal.
Harper's best for last?
Harper's future with the Saints is in doubt since the 31-year-old has become more of a part-time player, and he is due $3.15 million in salary and bonuses. But as I've written in the past, I wouldn't be shocked to see him come back at a reduced rate. And Saturday's performance against the Seahawks makes that possibility even more attractive. Harper had probably his best performance of the season, flying around as fast and aggressively as he did in his Pro Bowl prime.
Among his highlights: blowing up left tackle
Russell Okung
to disrupt Lynch and force a 2-yard loss on third-and-6 in the third quarter; chasing down Wilson in the open field and pulling him down by his shoulder (narrowly avoiding a horse-collar penalty) for an 8-yard gain on third-and-10 in the fourth quarter; crashing down on Harvin after a quick out pass for a 1-yard loss in the first quarter; and sticking Baldwin in the open field for a 6-yard gain on third-and-9 in the first quarter.
Other highlights:
That goal-line stand in the second quarter started with a first-and-goal from the 3-yard line. But the entire Saints defense swallowed up Lynch for a 5-yard loss -- starting with safety Jenkins and followed by Hicks and Jordan. … Defensive tackle
John Jenkins
was credited with a sack when he snagged Wilson as he tried to scramble up the middle. … Lewis had a nice pass break-up against receiver
Golden Tate
on a third-and-2 stop in the fourth quarter. … Linebacker
Curtis Lofton
and defensive tackle
Brodrick Bunkley
also stood out on a handful of solid run stops and pressures.
January, 10, 2014
Jan 10
1:00
PM ET
METAIRIE, La. -- In their first meeting with the
Seattle Seahawks
last month, the
New Orleans Saints
essentially decided to take away Seattle running back
Marshawn Lynch
and force quarterback
Russell Wilson
to beat them.
And he did.
Wilson had one of the best games of his young NFL career in Seattle's 34-7 rout, throwing for 310 yards and three touchdowns and running for 47 yards. The Saints talked a lot before that matchup about how dangerous Wilson is outside of the pocket -- both running the ball and throwing the ball after he starts scrambling. But they've since admitted that he was even better than they expected at doing that against them.
This time around, containing Lynch and Wilson will be priorities 1A and 1B.
Here's what the Saints have been saying this week about Wilson:
S Malcolm Jenkins:
"I would call him an elite quarterback. And the reason I say that is because he's not just -- him being mobile is not the only dimension. He actually goes through his reads. He changes protections. He can scramble. And then when he does scramble he's not just trying to run, he's trying to buy time to throw down the field. And that progression is unique. Most people who scramble usually read one or two receivers, then they're trying to get out of the pocket.
"He's reading, scrambling, and then going back to reading down the field. And that presents a huge problem for a secondary guy when you've got to cover him for four or five seconds. My grandmother can get open under that time. And I think that's what makes him elite. He's really the only person that has that whole package, I think, in the NFL. I think he does it better than anybody."
OLB Junior Galette:
"I think that was the first time we really played a quarterback like Russell. I personally didn't know that he was that small and really that elusive. ... You can get to him, but it's finishing the job. So right now, we're more concerned about just keeping him in that little pocket and making him play like he's 5-9 or however tall he is (actually 5-11)."
Defensive coordinator Rob Ryan:
"He was exceptional. My previous experience against him was the second week he ever started (when Ryan was with Dallas in 2012). So obviously he's come a long way from there. I see him as a premier quarterback in this league. We all see it. And we have to be excellent and at the top of our game to slow this guy down."
DE Cameron Jordan:
"Of course, you have to be aware of Russell Wilson and his ability to make plays longer and really get out of the pocket and not even scramble for more yards, but make plays down the field. He's a great quarterback and we have to be aware of that. ... That's going to primarily be our job, not only keep pressure on him but keep him in the pocket."
Ryan:
"I think we have to get pressure on him. We've got to attack the pocket. And we have to do a better job of keeping him contained. A lot of that was on me, how we went through some three-man rush, and he definitely exploited that. And then when we came with all-out pressure, he made the throws, and we didn't quite execute the coverage. So it made for an awfully long evening out there. And we're looking to do better than that, and we will."
Galette:
"I feel like playing him the week before Carolina helped us, knowing that Cam (Newton) was just as explosive and elite (with his) running style, and we did a good job on him. So that boosts our confidence."
January, 10, 2014
Jan 10
12:00
PM ET
SEATTLE -- Six weeks ago, the
New Orleans Saints
came to Seattle in a big Monday night showdown with the Seahawks to see which team would gain the upper hand in homefield advantage for the playoffs.
The Seahawks steamrolled past the Saints 34-7 that night. So here the Saints are again, back in Seattle with hopes of a different outcome in the playoffs.
ESPN.com Saints reporter Mike Triplett and Seahawks reporter Terry Blount take a detailed look at how these two teams match up for Saturday's NFC divisional round game at CenturyLink Field:
Blount:
Mike, the Saints took it on the chin at Seattle six weeks ago. How much of a motivational factor do you think that is this week for the team?
Triplett:
I'd say this game is about as big as it gets in the motivation department. That was really one of the two or three most humbling defeats in the Sean Payton-
Drew Brees
era. I might rank it No. 1 considering how high the expectations were going into that game. But more important than those emotions is the fact that this is the second round of the playoffs -- which is pretty good motivation for any team. The Saints haven't advanced past this point since their 2009 Super Bowl season. And a big win here would instantly erase all the little regrets from earlier this season.
I'll also say this: The Saints are a very confident bunch. I think they expected to get back in this situation at some point, and they relish the opportunity. They certainly respect the Seahawks, but I think they're fully expecting a much more competitive game. As am I.
On the flip side, Terry, do you see a repeat performance coming from the Seahawks? They were pretty lights-out that night, especially
Russell Wilson
.
Blount:
I certainly don't see a repeat performance if you mean a 27-point Seattle victory. It's hard to beat any team twice in the same season, much less two blowouts. But I do see Wilson having another strong performance. He's coming off a good game in the season finale against St. Louis and he typically plays at a much higher level at home. Obviously, having
Percy Harvin
on the field would help, but Wilson is battle-tested with two tough playoff games last year when he really showed a lot of people what he can do.
Mike, Wilson had one of his best games of the season against the Saints with three TD passes and 310 yards passing. He burned the Saints a couple times on their blitzes. Do you think they will have a different approach this time?
Triplett:
They'll definitely tweak the approach. But I think the execution is even more important. That night, it was pretty obvious that the Saints' top priority was containing
Marshawn Lynch
-- which they did a good job of. But they got burned too often by play-action fakes (big pass plays and big runs by Wilson). I've never seen them have so many undisciplined breakdowns, before or since. They've been much better playing in similar-style games against the
Carolina Panthers
and
Philadelphia Eagles
since. They were outstanding against both
LeSean McCoy
and
DeSean Jackson
last week.
The Saints defense is much better than what people saw that night -- though they did lose talented safety
Kenny Vaccaro
to a season-ending ankle injury since then, which hurts against both the pass and run.
A two-part question for you: When defenses have had success against Seattle's offense this year, what have they done to cause problems? And how much do you think the Saints will have to worry about Harvin in this game?
Blount:
In the late-season losses to the 49ers and the Cardinals, both teams did a great job of keeping Wilson in the pocket. If Wilson was going to run, they wanted to make him run up the middle, and it worked. They didn't blitz a lot, but they made sure to cut off Wilson's outside angles. Both teams also stacked the box and did a good job of stopping Lynch and limited the running game.
If Harvin is on the field, that changes a lot of things. Seattle free safety
Earl Thomas
told me last week that if he had to play against Harvin, he would need to account for him on every play because of Harvin's exceptional speed. So if Harvin's out there, even if he isn't 100 percent healthy, he changes the way a defense plays. You have to pick your poison. Load the box to stop Lynch and you risk Harvin beating someone one-on-one. Pay more attention to Harvin and Lynch might break a big run. Either way, it makes things better for Wilson.
Mike, I thought a big factor in the victory at Philadelphia was New Orleans' success at running the ball with
Mark Ingram
. How confident are you they can repeat that performance against the Seahawks?
Triplett:
The Saints are still a pass-first, pass-often team. But I think they've been even better this year than usual at staying patient and "taking what the defense gives them." Last week, the Eagles were practically begging the Saints to run the ball, so they did. They'll still take their shots down the field, but they're smart enough to attack the matchups they find most favorable in any given game. It's also a pick-your-poison offense with so many versatile weapons like
Jimmy Graham
,
Darren Sproles
,
Marques Colston
,
Lance Moore
,
Kenny Stills
and a deep group of running backs.
Graham, however, said Seattle's defense causes a lot of problems because the defensive backs and linebackers are all so fast (not to mention physical). Are there any weaknesses the Saints might be able to exploit?
Blount:
Honestly Mike, I just don't see it. The front seven held the Rams to 13 yards rushing in the season finale. The secondary is the best I've seen in 30 years. However, one man who had a big impact in the Monday night game six weeks ago was linebacker
K.J. Wright
, who did a superb job covering Saints tight Graham.
Wright is out for this game after undergoing foot surgery.
Malcolm Smith
has played lights out in his place, but Smith is only 6 feet tall. I can't see him covering the 6-7 Graham the way Wright (a lanky 6-4) was able to do. Strong safety
Kam Chancellor
likely will get those duties, but Graham might make some big plays he didn't make in the first meeting.
December, 5, 2013
12/05/13
12:50
PM ET
Some observations on the
New Orleans Saints
' defense after reviewing the tape of their
34-7 loss
to the
Seattle Seahawks
in Week 13:
Blown assignments:
Basically, the Saints' struggles on Monday night boiled down to a horrible combination. Seattle quarterback
Russell Wilson
was sensational, throwing perfect strikes even when he was on the run or being blitzed (more on that below). The Saints' defense, meanwhile, was completely out of sorts at times.
It felt like the Saints blew more assignments in coverage and containment than we saw in the first 11 games combined. A lot of that had to do with the unique threat Seattle's offense poses. And Wilson took advantage of the fact that the Saints were focusing so heavily on stopping dangerous running back
Marshawn Lynch
.
Here are some of the lowlights:
[+] Enlarge

Steven Bisig/USA TODAY SportsTight end Zach Miller burned the Saints defense for a 60-yard gain in the first quarter.

The first real sign that it was going to be a long night for the Saints' defense came when Seattle tight end Zach Miller broke wide open for a 60-yard catch on third-and-1 late in the first quarter. The Saints sent five rushers out of their five-linebacker formation, leaving only two defenders in coverage on Miller's side of the field -- cornerback Keenan Lewis and linebacker David Hawthorne. But both of them chased after running back Robert Turbin on a short passing route, leaving Miller uncovered (about 6 yards behind New Orleans' defense). My best guess is that Lewis should have followed him, but I don't know that for certain. … Wilson got the throw off just before being hit by outside linebacker Junior Galette.

In the second quarter, the Saints were again torched by a 52-yard pass from Wilson to receiver Doug Baldwin. This one wasn't as much of a blown assignment as it was a burned strategy. The Saints sent an all-out eight-man blitz, but no one got to Wilson immediately. And he had time to throw a gorgeous deep ball to Baldwin, who beat safety Malcolm Jenkins down the center of the field.

Later in the second quarter, Baldwin broke wide open for a 4-yard touchdown pass against another blown coverage while the Saints sent six pass-rushers. Baldwin and receiver Jermaine Kearse ran crisscrossing routes. But Lewis opted to follow Kearse, while cornerback Corey White opted to stay on his half of the field instead of following Baldwin. Again, it's unclear who blew the assignment -- but someone obviously did.

The Saints were just as flummoxed by several read-option plays. Wilson gained 10 yards on one keeper and 3 yards on another keeper on third-and-3. Both times, Galette crashed down too hard on Lynch, giving Wilson a wide open lane to run. Then later in the first half, Lynch gained 14 yards on a read-option run when Galette hesitated and spied on Wilson.

Even when the Saints tried to use a spy on Wilson in the second quarter, it didn't work. Late in the second quarter, Saints defensive tackle Akiem Hicks hovered back at the line of scrimmage instead of rushing the passer. But he couldn't catch Wilson when Wilson took off running to his right for a 15-yard gain.
Something new:
Saints defensive coordinator Rob Ryan rolled out another unique new package Monday night -- one with seven defensive backs -- to mixed results. It worked the first time the Saints used it, when Seattle had a third-and-12 inside the red zone. The Saints had only one player lined up at the line of scrimmage (Galette), while end
Cameron Jordan
was essentially lined up as a middle linebacker and
Parys Haralson
at outside linebacker. Wilson dumped off a short pass to Lynch -- who was immediately swarmed. And safety
Kenny Vaccaro
, who was the fifth player in on the tackle, forced a fumble with his helmet. The Seahawks recovered but had to settle for a field goal.
The package was less effective as the game went on, though. The Seahawks gained 17 yards on a wide receiver screen to
Golden Tate
on third-and-13 against that alignment. Lynch's 14-yard run also came against that defense, as did a 12-yard run by Turbin. In each case, the Seahawks were able to get their blockers out on the smaller defenders.
[+] Enlarge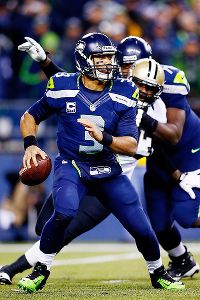 Jonathan Ferrey/Getty ImagesRussell Wilson has completed over 72 percent of his passes in each of his past four games, including Monday night's win over the Saints.
Wilson superb:
This was one of the best performances I've seen from a quarterback since I began doing these film breakdowns last year. Saints quarterback
Drew Brees
has had a few similar days, and I believe
Peyton Manning
had a special day last year against the Saints if memory serves. But, man, Wilson was impressive.
It wasn't just the run plays, which were tough to stop. As a pure passer, Wilson was throwing darts, even while throwing on the run several times. As Saints defenders warned, he's terrific at scrambling to buy time and find a man open down the field.
Wilson's 52-yard pass to Baldwin was gorgeous -- even though he had to rush it against the heavy blitz and couldn't step fully into it. His 21-yard rollout pass to fullback
Michael Robinson
on the opening drive was a perfect strike. So was his deep comeback pass to Kearse for 19 yards on a third-and-9 play, a 14-yard rollout pass to Baldwin and a 33-yard deep ball to receiver
Ricardo Lockette
against Lewis that beat another blitz.
Wilson's first TD pass, a 2-yard TD to Miller, also came against a blitz. And he nearly pulled off his best play of the day in the second quarter when he scrambled away from a six-man rush and fired on the run into the end zone for Kearse. But Kearse couldn't hang on to make the diving catch.
Bad bounces:
Maybe this game wouldn't have spiraled so far out of control if a few balls had bounced the Saints' way. First was the forced fumble by Vaccaro that was recovered by Seattle. Then on the first play of Seattle's second drive, White got both hands on an overthrown deep ball by Wilson, but he couldn't hang on for the interception.
Later in the second quarter, a replay showed that Wilson was sacked by defensive tackle
Brodrick Bunkley
before he got off a shovel pass to Lynch (which lost 5 yards anyway). But the officials didn't see it, and the Saints didn't challenge. Perhaps those extra yards would have stopped Seattle from churning out a two-minute touchdown drive.
In the third quarter, Hicks pressured Wilson into an incomplete pass on third-and-2. But Hicks was flagged 10 yards for roughing the passer when his swinging arm came down on Wilson's helmet.
Then last but not least, the Seahawks scored a touchdown two plays later via a tipped ball on an 8-yard pass. Tight end
Kellen Davis
dropped the pass, popping it up into the air right over the head of Jenkins and into the arms of fullback
Derrick Coleman
.
Something good:
The Saints did do a solid job against Lynch, which was their top priority heading into the day. He gained just 45 yards on 16 carries and caught three passes for a total of 12 yards.
Middle linebacker
Curtis Lofton
made a handful of nice stops on Lynch. Galette and Jenkins avoided blocks to help shut him down for a 2-yard loss on the opening drive, which helped force Seattle to settle for a field goal. Hawthorne and linebacker
Ramon Humber
each had a nice stop against Lynch, as well. And Jordan made a great tackle against Turbin for a 1-yard loss.
December, 1, 2013
12/01/13
8:00
AM ET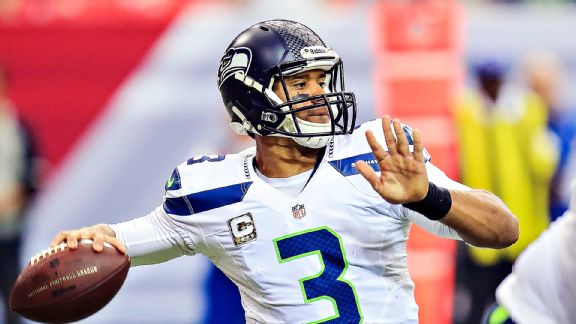 Daniel Shirey/USA TODAY SportsThe Saints know they have their work cut out for them in defensing Russell Wilson.
METAIRIE, La. --
Seattle Seahawks
quarterback
Russell Wilson
's numbers aren't all that flashy. Except for the win total, of course. The second-year pro is 22-7 as a starter, including the playoffs, and a perfect 14-0 at home.
Wilson's idol
is
New Orleans Saints
quarterback
Drew Brees
, since they're both proud members of the 6-foot-and-under club. And like Brees, the 5-foot-11, 206-pound Wilson excels at all of the intangible things -- work ethic, leadership, on-field awareness and confidence. His former college teammate and current Saints receiver
Nick Toon
called him "borderline obsessive" about his craft.
Wilson isn't as prolific a passer as Brees, but he's more versatile as a passer and runner. He has thrown for 2,362 yards and 19 touchdowns and run for 409 yards and one touchdown this season.
Here's what the Saints players and coaches have said about Wilson this week as they head toward a "Monday Night Football" matchup at Seattle -- where they'll try to be the first team to finally top him on his home field.
Brees:
"Listen, there's plenty of things that that guy can do that I could never dream of doing athletically. ... He's so versatile. He's a, what should I call it, a triple threat? Anything you would need from the quarterback position. He can throw the long ball, he can execute the intermediate passing game. That read option that they run, he's as big of a threat running the ball as
Marshawn Lynch
. ... You get
Russell Wilson
on the perimeter in the run game and he's extremely effective. Then he scrambles around and can launch the ball 60 yards down field, or he can get a 20-yard scramble for a big first down. There's just so much he can do that can hurt you."
Defensive coordinator Rob Ryan:
"I think we played him when it was his second game he ever played quarterback in this league [when Seattle beat Ryan's former team, the
Dallas Cowboys
, 27-7 last year]. And right now that guy is one of the star quarterbacks in the league. He does so many excellent things with his feet, first of all. And then you can see the intelligence out there. I mean, I know it's documented how smart he is. But it looks like he loves to play the game. But he is so accurate, especially when he's on the move, running around like he does, and making plays. You know, he's tremendous at that. He's probably the best scrambler in football, in my [opinion]. I think the guy's outstanding."
S Roman Harper:
"He's a very smart guy, he's an accurate quarterback. He has a great deep ball. He throws the ball extremely well, going to his left, going to his right. And it's amazing, they don't really call a lot of just run plays for him. But he makes a lot of plays by just scrambling around, receivers breaking their routes off. They make a lot of plays that way. You look at him and say, 'Man, it's almost like they're planning this.'"
S Malcolm Jenkins:
"The thing I see with Russell Wilson is, of all the mobile quarterbacks in the league right now, he's probably the best at getting outside of the pocket and making plays happen. He's quick to get out of it, but it's not to run or it's not that he's frantic. He gets out with a lot of poise in his eyes and still downfield and he's making throws. And he runs very efficiently. He's not trying to get the big play, he's just getting what he can get and then he's getting down. ... He won't get hit like some of these other mobile quarterbacks that when they do run, you look forward to getting a shot on him. He'll just slide or simply get out of bounds. He's playing smart to keep his team in it, to keep it close, and they're putting up points when they need to."
Coach Sean Payton:
"You see in Russell a very competitive, driven player who has, No. 1, a very gifted skill set. And then No. 2, certainly a guy who would prepare tirelessly and work tirelessly to be as good as he can. I think he is a guy that knows how to win. ... I found over the years that with that position, the really, really good one comes in different shapes and sizes. Certainly there are measurables you look for, and yet there are certain things that need to be measured first."
Brees:
"You watch the way he plays, you see the intensity and focus which he plays with, and he's won a lot of big games in his early career thus far. ... I love what he has overcome throughout his career and kind of the road he has traveled. I couldn't have more respect for the guy. The way he has handled it, too, I think is even more impressive. He's one of those guys that you want to root for and are happy for any type of success that comes his way."
November, 29, 2013
11/29/13
12:00
PM ET
For a Monday night game in early December, this is as good as it gets. The 10-1
Seattle Seahawks
play host to the 9-2
New Orleans Saints
in a game that could decide home-field advantage for the NFC playoffs.
The last time these teams faced each other was in a playoff game following the 2010 season, which Seattle won 41-36.
Drew Brees
passed for 404 yards and two touchdowns for the Saints, and
Marshawn Lynch
rushed for 131 yards, including the legendary 67-yard "Beast Quake" touchdown run in the fourth quarter for the Seahawks.
If this game is anything like that one, it will be one heck of a show.
The Seahawks will have to try to stop Brees with a reworked secondary after a week in which two Seattle cornerbacks (
Walter Thurmond
and
Brandon Browner
) ran afoul of the NFL's substance-abuse policy. Thurmond was replacing Browner as a starter due to Browner's groin injury.
The whole suspensions issue put a damper on a big week. Now everyone will see whether the Seahawks can overcome it or whether Brees will make them pay.
ESPN.com Seahawks reporter Terry Blount and Saints reporter Mike Triplett look at the key issues entering the game:
Blount:
Mike, this is a great matchup between the veteran Brees and a young quarterback who idolized him in
Russell Wilson
. Wilson always saw Brees as someone he could emulate, a player who, like him, wasn't tall but had a great arm and great leadership qualities. As someone who sees Brees every week, how do you compare them?
Triplett:
I don't know that much about Wilson, but I certainly see why he would choose Brees to emulate. It's remarkable how Brees, at just 6-foot, has been able to not only succeed in the NFL but truly dominate. It would take me too long to rattle off all the reasons why Brees is so successful. For one thing, he's as competitive and driven as any athlete I've ever been around. That shows in his work ethic both in the offseason and during the season. He also sees the field (through passing lanes since he can't peek over the top) and anticipates things about as well as any quarterback who has ever played the game. He's not as mobile as Wilson, but he's elusive in the pocket and avoids sacks. I'd say both guys are proof that those intangible qualities count for a lot in the NFL, even if you don't have prototypical size.
I haven't seen the Seahawks' offense light up scoreboards in the few games on national TV this season, especially early in games. Can Wilson keep pace if the Saints are able to put points on the board?
Blount:
Most of the time, he hasn't needed to because the defense has played so well. However, after watching him now for two seasons and seeing his growth, I believe Wilson is capable of doing whatever he needs to do to win football games. He has proven it over and over. Three times this season he has led the team to a fourth-quarter comeback, and he's done it seven times in his brief NFL career. Wilson never is going to be the type of guy, like Brees, who puts up huge passing numbers. That's not what they want him to do in an offense that wants to run the football with Lynch. But Wilson has demonstrated he can adjust the game plan to fit the needs of the moment. Frankly, he is one of the best I've ever seen at finding a way to win.
The Seahawks have a lot of weapons on offense, and now have added
Percy Harvin
to the mix. Obviously, Rob Ryan has a done a good job in getting New Orleans' defense back on track. How do you see him approaching this game against Seattle's power running game with Lynch and a mobile quarterback in Wilson?
Triplett:
I know this: Ryan will definitely have a plan. He is one of the league's most innovative game-planners. Former player Scott Fujita described him as a "mad scientist." We saw that quality more than ever two weeks ago when the Saints played the
San Francisco 49ers
. Ryan unveiled two new packages for that game, including a five-linebacker formation to corral the 49ers' run game and the threat of the read-option. We may see the same thing this week, or maybe a new wrinkle since he likes to be unpredictable. I know the Saints' defensive players will be amped to prove they're just as good as the more-hyped Seahawks defense. Ends
Cameron Jordan
and
Akiem Hicks
, outside linebacker
Junior Galette
and cornerback
Keenan Lewis
are having breakout years, in particular.
Seattle's defense has obviously been outstanding this year as well. How do you think they'll hold up against the Saints' versatile offense? Who might match up against tight end
Jimmy Graham
and running back/receiver threats
Darren Sproles
and
Pierre Thomas
, among others?
Blount:
The first thing to watch is how the backups in the secondary handle going against a wily veteran like Brees. No doubt he's going to test
Byron Maxwell
and
Jeremy Lane
. And Graham is a major concern. The Seahawks have struggled at times this season against tight ends. In this case, they might have cornerback
Richard Sherman
shadow Graham as much as possible. And this is a big test for strong safety
Kam Chancellor
. The key for the Seahawks is the defensive line, much improved over last year, getting to Brees and taking some of the pressure off the depleted secondary.
Mike, if you had to name one area in which the Saints must outplay the Seahawks in order to win the game, what would you pick?
Triplett:
Easy one: turnovers. I know you could say that about every team in every game. But it's especially huge in this matchup. For one, the Seahawks lead the NFL with 26 takeaways. I imagine that's why they're second in the NFL in points scored (27.8 per game) even though they don't have a prolific offense. The Saints need to set the pace in this game and try to force Seattle to keep up with their offense. They can't afford to give away any freebies or short fields. And based on what we've seen from the Saints this season, I think they can do that. Their run game started slowly but has improved. And they showed a patient offensive approach in a Week 5 victory at Chicago and in their last two wins against San Francisco and Atlanta. The Saints have turned the ball over just 13 times, and they lead the league in average time of possession.
Terry, how do you think the Seahawks will handle this game if they don't set the tone? To be honest, I expected a bit of a sophomore slump from Wilson and the Seahawks, since we see it so often in the NFL. Why have they been able to avoid that? And do you think there's any risk of the pressure affecting them in a game of this magnitude?
Blount:
None whatsoever, Mike. In fact, Wilson thrives on games like this. He is at his best when things seem their worst, along with playing at a high level in the most difficult situations and the high-pressure games. That character trait is what makes Wilson such an exceptional athlete. He never gets rattled. Seattle fullback
Michael Robinson
said Wilson has the one trait all great quarterbacks need: "A short memory."