New Orleans Saints:

thomas davis
December, 5, 2014
Dec 5
7:00
PM ET
METAIRIE, La. – Sean Payton didn't agree with the notion that the
New Orleans Saints
were actively trying to run up the score late in their 31-13 victory over the
Carolina Panthers
last year – as coach Ron Rivera and linebacker
Thomas Davis
both
suggested on Thursday
.

Payton
But Payton stressed that the Saints don't apologize for continuing to try and move the football late in games, knowing how quickly comebacks can occur in the NFL.
"Listen, I've read some of it. I think that, honestly, I really can't look at situations where I felt like [it happened]," Payton said. "I mean, what's that score? In our league, what is it? I've seen a 28-point lead turn into a loss when I was at New York in the wild-card game at San Francisco (actually 24 points following the 2004 season).
"And so, you're wanting to function with your guys in there. Now, sometimes that might mean running the ball and sometimes that might mean throwing the football. But I can't ever recall just looking at something saying, 'Well, it's a division rival or something and we want to …' We're not in the business of doing that. We're in the business of being smart, obviously our players being healthy, all those things. And so it's too important. ...
"Each scenario's different. But we're trying to move the football. And that's something we're not apologizing for. And yet, I think each game is different. You know, paying attention to the game and how it's unfolding."
It's unclear what exactly got the Panthers so riled up about last year's game. The Saints were leading 24-6 when they took over possession with 13:38 remaining – which seems way too early to expect them to run out the clock. The Saints went on an eight-play touchdown drive to increase their lead to 31-6.
Then after Carolina closed within 31-13, the Saints took over with 5:14 remaining. After running for zero yards on first down, quarterback
Drew Brees
was sacked on second down. After a delay of game penalty, Brees threw a dump-off pass on third-and-24. Perhaps that's the series that bothered the Panthers.
If the Saints needed proof of why it's dangerous to let up, they got it last week at Pittsburgh. The Saints were leading 35-16 late in the fourth quarter before the Steelers scored 16 points in the final 2:34 to close the gap to 35-32.
November, 7, 2014
Nov 7
5:10
PM ET
Graham
Davis
Carolina Panthers
linebacker
Thomas Davis
was fined $16,537 for an illegal hit against
New Orleans Saints
tight end
Jimmy Graham
that the officials missed on the field during last Thursday's 28-10 Saints victory.
Davis blasted Graham with a helmet-to-helmet shot under Graham's chin away from the action after Saints quarterback
Drew Brees
threw a pass toward another receiver. That pass wound up being intercepted in a double-whammy moment for the Saints. Graham was unable to make a tackle because he was laid out on the ground.
Davis was fined for unnecessary roughness for unnecessarily striking an opponent away from the play.
Graham said later that
he was fired up
by the way the Panthers were attacking him, and he showed that emotion on the field (hurdling safety
Roman Harper
on the next series) and off (head-butting the bench on the sideline). Graham finished the game with seven catches for 83 yards and a touchdown.
December, 24, 2013
12/24/13
5:00
PM ET
I can understand why the
New Orleans Saints
offense felt some pride in their effort during Sunday's 17-13 loss to the
Carolina Panthers
. It was a rough day for them – battling both a physical Panthers defense that wasn't giving up any easy yards downfield and some weather elements. Yet they continued to bounce back after an early flurry of sacks and two interceptions, playing their best football in the fourth quarter.
However, it's even easier to understand why there was so much disappointment and frustration after the Saints' total of 81 plays and 365 yards resulted in just 13 points and a gut-wrenching last-minute defeat.
And one more thing – Carolina linebackers
Thomas Davis
and
Luke Kuechly
are both awesome players.
Here's a breakdown of all the highs and lows (and there were a lot of each, so settle in for an extra-long read):
[+] Enlarge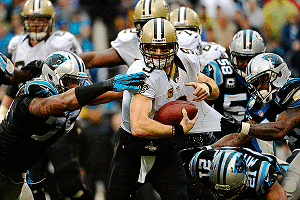 Bob Donnan/USA TODAY SportsDrew Brees was under consistent pressure this past Sunday in the Saints' loss to Carolina.
The interceptions:
Both interceptions came on third-and-long, but they both hurt on a day when field position was paramount. The first came on third-and-6 from New Orleans' 36-yard line late in the first half when Davis made a terrific leaping grab to snag a pass from
Drew Brees
. Davis originally lined up like he was going to blitz, then he dropped back in coverage. Brees wasn't under any pressure when he made the throw, intended for receiver
Kenny Stills
on a crossing pattern behind Davis. It wasn't clear if Brees never saw Davis or just thought he could throw the ball over his head. Either way, Davis' athleticism won out.
The second interception came when the rain was at its heaviest in the third quarter – and it looked like the ball might have slipped out of Brees' hand since it was a bit underthrown for tight end
Jimmy Graham
. Brees had time to scan the field and step up in the pocket on the third-and-10 play from New Orleans' 36-yard line (though he was eventually hit slightly by defensive tackle
Kawann Short
, which didn't appear to affect the throw). Kuechly also deserves a ton of credit for his instincts on the play. Graham made a sharp cut behind Kuechly in zone coverage, but Kuechly read Brees' eyes and made his own sharp cut to step in front of the pass.
The touchdown drive:
I would have led with this if the Saints had won. But that's the fine line between winning and losing …
The biggest offensive play of the game was Brees' 46-yard pass to Graham on second-and-7 from New Orleans' own 6-yard line early in the fourth quarter. The Panthers blitzed seven men on the play (five at first, two on a delay). But the Saints' pass protection did an excellent job of picking them all up with just six blockers. Brees was able to step into his throw to Graham, who caught it just outside of cornerback
Drayton Florence
's reach about 10 yards down the field. After that, Graham had no one behind him as he gained about 36 yards after the catch.
Later on that drive, Brees also fired an 11-yard pass to Graham against a six-man blitz on a second-and-9 and finished with a 5-yard alley-oop pass to Graham in the end zone under pressure on third-and-goal. Graham had a step on safety
Quintin Mikell
and leaped for the high pass uncontested.
That 11-play, 97-yard touchdown drive was very balanced and efficient, with great pass protection and run blocking throughout. It also included a 13-yard pass to
Pierre Thomas
on a second-and-9 and runs of 7 and 6 yards by running back
Khiry Robinson
.
The sacks:
Brees was sacked six times – tied for the most since he joined the Saints in 2006. Five of them came in the first half, and three of them came against rookie left tackle
Terron Armstead
.
Armstead was burned badly twice by Carolina's standout pass-rusher
Greg Hardy
. Once, Hardy started inside as a defensive tackle but burned Armstead by going outside while the Panthers were running a misdirection "game" up front that also allowed defensive tackle Short to break through the line. The second time Armstead got beat, Hardy was lined up on the edge and beat him with an inside-outside move.
Armstead could also be credited for a third sack, though Brees admittedly held on to the ball too long on that one before end
Mario Addison
eventually cut in front of Armstead while Brees tried to step up in the pocket. Addison shared that sack with Hardy, who came from the inside to help finish off the tackle.
It's also possible that Armstead missed an assignment on the costliest sack of the game – when the Saints had a second-and-goal in the second quarter. The Panthers blitzed, and nobody blocked Hardy on the left edge of the Saints' line. Both Armstead and guard
Ben Grubbs
went after the same guy inside. Running back Pierre Thomas came over to block Hardy (which may have been by design). But that left blitzing safety Mikell free to come and hit Brees unblocked from the other side.
The other two sacks also came on heavy blitzes – once when cornerback
Captain Munnerlyn
shot around the corner before Thomas was able to pick him up, and once when Munnerlyn forced Brees to step up in the pocket and Hardy finished him off while starting in the middle and running wide around the right side unblocked.
More on Armstead:
Armstead had three other noteworthy miscues. He got beat by Hardy on another outside-in move in the third quarter on a second-and-19 play, which almost turned into a disaster. Brees made the risky decision to throw the ball away while being hit by Hardy – and he was lucky to avoid a fumble or an intentional grounding call. … Armstead also got flagged for two false start penalties in the second half.
But despite all those miscues, I can also see why there was some optimism surrounding Armstead's performance. He wasn't repeatedly getting torched throughout the game – and the Saints weren't really helping him with too many double teams throughout the day (though Brees did get rid of the ball quickly to avoid pressure quite a bit). Armstead especially held up well in the second half. All told, I had Armstead with three blatant breakdowns and one eventual beat. That's not egregious considering the Saints dropped back to throw 51 times in the game.
Good pickups:
Since we broke down all the breakdowns, it's worth crediting the Saints for their terrific blitz pickups on that 56-yard pass to Graham, as well as a 22-yard pass to tight end
Benjamin Watson
in the first quarter and a 35-yard pass to receiver
Marques Colston
in the second quarter.
Good runs:
One more thing that worked often for the Saints on Sunday – runs by
Mark Ingram
, who had his second straight impressive performance. Ingram carried the ball 13 times for 83 yards – including a 34-yarder when he did an outstanding job of bouncing outside of heavy traffic and following fullback
Jed Collins
around the right end. Guard
Jahri Evans
had a terrific block on the play, and extra tackle
Bryce Harris
did a nice job sealing the edge.
Screens go nowhere:
The Panthers repeatedly shut down one of New Orleans' go-to plays – the screen pass – thanks in large part to the great athleticism and instincts of Davis and Kuechly. The Saints ran five screen passes that gained negative-1, 6, 0, 0 and negative-5 yards on the day. Davis blew up two of them, and Kuechly blew up two of them. The last two seemed especially predictable, and coach Sean Payton was seen on the sideline mouthing the words, "That's on me" after the 5-yard loss.
The Saints also lost five yards on the previous play when they attempted an end-around to receiver
Robert Meachem
that didn't fool end
Charles Johnson
one bit.
Getting physical:
The Panthers were very physical in pass coverage, jamming Graham and Colston at the line of scrimmage and getting as handsy as the officials would allow. That's always key to stopping the Saints' passing offense. Kuechly really pushed the envelope while grabbing Graham on an incomplete third-and-goal pass in the second quarter. But it worked since no flag was thrown. I marked down at least five other plays where Carolina's physical coverage led to an incomplete pass – plus at least one occasion where Brees took the sack because he couldn't find an open receiver.
Weather related?
Brees had three off-target throws in the game that may have been attributed to weather conditions. One was the interception described above. Another was an off-target short throw to Colston just after the rain stopped that also may have slipped a little. And during the second quarter, Brees missed a deep throw to receiver Kenny Stills when he didn't lead him enough. It's possible the wind was a factor.
Tough call:
One of the costliest moments of the game was a questionable 15-yard unnecessary roughness penalty against offensive tackle
Zach Strief
when the Saints were cruising down the field early in the third quarter. The penalty came at the end of a 6-yard run on first down that took New Orleans to Carolina's 26-yard line. Strief shoved safety Quintin Mikell to the ground at the tail end of the play just as it was being whistled dead. It was a very shaky call. It looked bad to the naked eye at full speed. But the replay showed that Mikell might have over-dramatized his fall a little bit to make it look worse than it was. Mikell had just shoved aside Saints center Brian de la Puente in a similar fashion, so Strief may have been overzealous in his decision to shove Mikell – but it wasn't a hard or malicious shove. … The officials did give one back to the Saints later with a questionable formation penalty against the Panthers during a Saints punt in the fourth quarter, though.
Gambles break even:
The Saints' two big gambles in the game had mixed results. First was a perfectly-executed surprise onside kick in the first half. Punter
Thomas Morstead
did a great job with his delicate kick that rolled straight forward. Linebacker
Ramon Humber
did a great job of wrapping it up after it traveled 10 yards. And linebacker
Kevin Reddick
was an unsung hero on the play, delivering a great block against linebacker
Jason Williams
to shield Humber.
However, the fake field goal attempt in the third quarter never had a chance. The Saints made the odd decision to shift into an offensive formation on the fourth-and-12 play, giving Carolina plenty of time to react and get lined up defensively. Backup quarterback
Luke McCown
threw deep for Graham, but the pass was off target and Graham was well covered.
December, 6, 2013
12/06/13
1:30
PM ET
METAIRIE, La. – About a month ago, when I was asking
New Orleans Saints
players for an ESPN poll to name the most underrated player in the NFL (outside of their own team), offensive tackle
Zach Strief
chose
Carolina Panthers
middle linebacker
Luke Kuechly
. But Strief quickly warned, "he won't be underrated for long."
Sure enough, last year's NFL Defensive Rookie of the Year has been gaining more and more national attention as he has continued to rack up tackles and the Panthers
(9-3) have continued to rack up wins. Kuechly is being widely recognized as the leader of Carolina's remarkable defensive surge and might even wind up as the NFL's Defensive Player of the Year.
"I think he's everything you look for in a middle linebacker," Strief said of the 6-foot-3, 235-pounder. "He's instinctual. He flies around, plays with great effort, he's tenacious. He's got speed to cover out of the backfield. He's got size to match up with bigger tight ends. And you know, he just seems to play with a lot of passion."
[+] Enlarge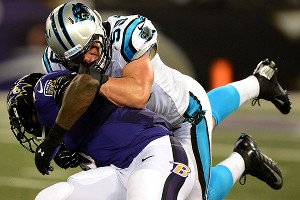 Jeff Siner/Charlotte Observer/Getty ImagesThe Saints say there's more to admire about Carolina linebacker Luke Kuechly than just his tackling ability.
Kuechly has 102 tackles this season after leading the NFL with 164 last year. He also has three interceptions and a sack.
He had one of his best games last season against the Saints in a Week 17 Panthers victory, with 13 tackles and two pass breakups. After doing my film study of that game, I credited Kuechly as the co-player of the game (along with tailback
DeAngelo Williams
, who had a monster performance) because Kuechly showed up so often in so many ways. He was even effective defending speedy receiver
Lance Moore
at times.
This will be the first time the Saints have seen Kuechly since that game – and the first time Saints coach Sean Payton has ever seen him in person. Payton has clearly been impressed by what he's seen on tape, though.
"I think he's obviously playing extremely well," Payton said. "He's very active. He's around the football on every play. He's got great instincts, great awareness. You can see him key in and diagnose formationally as well as anyone. See formations and understand what he's gonna have to defend. He's a great tackler. He's playing outstanding."
Kuechly, who was drafted with the ninth overall pick out of Boston College in 2012, is also bringing some attention back to the middle linebacker position. It's not as much of a glamour position in today's NFL, which is such a pass-happy league now. But Kuechly is following in the line of guys like Brian Urlacher and
Patrick Willis
, who have become stars by doing a little of everything well against the run and the pass.
"I think the game has changed so much from when you think back to the days of Dick Butkuses, those types of players, it was a different game," Strief said. "You don't hear about middle linebackers as much. But he's a difference maker for them. And you watch a lot of games that he can kind of take over."
The one problem Kuechly has had this season is drawing occasional flags in pass coverage (including the infamous one that got picked up when he was clearly holding Patriots tight end
Rob Gronkowski
in the end zone on the final play of Carolina's Monday night victory last month). But Kuechly is still effective in coverage and may match up against tight end
Jimmy Graham
at times on Sunday night.
And Kuechly's not alone. Fellow linebacker
Thomas Davis
is also having an outstanding season for the Panthers with 94 tackles, four sacks, an interception, a forced fumble and seven pass defenses. Davis (6-1, 235) is a converted safety.
Together, they will give the Panthers a better chance than most defenses to match up with versatile Saints weapons like Graham and running back
Darren Sproles
.
"Yeah, they're fast and physical. Smart, too," said Sproles, who said he can tell just by watching Kuechly on tape that he obviously studies a lot of film.
"Thomas Davis and Luke Kuechly are two of the best in the game, especially as a tandem," Saints quarterback
Drew Brees
said.
Good linebacker play is effective in trying to slow down the Saints' offense. They saw that last week when Seattle's linebackers popped some balls loose in coverage and made some nice open-field stops.