New Orleans Saints:

tom johnson
March, 20, 2014
Mar 20
8:00
AM ET
New Orleans Saints free-agent center Brian de la Puente is exploring other options.
He visited with
the Washington Redskins on Wednesday. And there will be "more visits coming" if de la Puente doesn't sign there, according to ESPN NFL Insider Adam Caplan.
I don't think the Saints have ruled out the idea of bringing back de la Puente. But clearly there's a strong chance he could get away.
If de la Puente signs elsewhere, one name that looms as a perfect fit is Jonathan Goodwin. The former Saints center is now a free agent again after spending three years with the San Francisco 49ers. He could step right back into the starting lineup and give the Saints a chance to develop a future replacement.
It's also possible that a young guy could win the job this year. The Saints like the potential of second-year pro Tim Lelito, though his only experience last year came at the guard position. They could draft a center in the early to middle rounds.
Saints moving on:
Two former Saints found work elsewhere Wednesday after the Saints didn't retain them as restricted free agents -- fullback Jed Collins with the Detroit Lions and defensive lineman Tom Johnson with the Minnesota Vikings.
Collins told ESPN.com Lions reporter Michael Rothstein that he
expected to stay
in New Orleans -- even up until Monday night, when he was informed the Saints were going in another direction with new fullback Erik Lorig. Fortunately, Collins landed in a great spot, reuniting with former Saints quarterbacks coach and current Lions offensive coordinator Joe Lombardi up there in "New Orleans North."
Also Tuesday, Caplan reported that former Saints offensive tackle Charles Brown will visit with the New York Giants.
And veteran cornerback Chris Carr, who spent much of last season in New Orleans, announced his decision to retire on Twitter. Check out his farewell messages at @TriplCarr, including his note to NOLA: "it was a splendid experience playing for the Saints; rich culture, great food, and extremely supported fan base."
Gleason's birthday
: Sean Payton and the Saints' staff
came out in full force
to celebrate Steve Gleason's 37
th
birthday on Wednesday, presenting him with a framed No. 37 jersey. And @TeamGleason received some celebrity submissions for their contest asking fans to re-enact Gleason's famous blocked punt:
This entry
from Scott Fujita and family; and
this from
Pearl Jam's Mike McCready, with help from family and friends.
The past year has been the most difficult, most excellent year of my life. Thanx 4 the birthday luv! I believe next year will b even better!

— steve gleason (@TeamGleason) March 20, 2014
Byrd incentives:
ESPN reporter Field Yates passed on a small but interesting detail of safety Jairus Byrd's new six-year, $54 million
contract with the Saints
. Technically, $1.5 million could be counted as incentives. Byrd needs to either earn two Pro Bowl invitations of two first-team All-NFL selections between 2014-16 to receive the maximum value of his deal.
It's essentially a Pro Bowl incentive in reverse. If Byrd doesn't get any Pro Bowl or All-Pro recognition during the next three years, his base salary will deescalate by $500,000 per year over the final three years. If he's honored only once, his salaries will de-escalate by a total of $1 million.
QB guessing game:
Saints quarterback Drew Brees is mentioned in this intriguing piece by ESPN.com Vikings reporter Ben Goessling on
why it's so difficult
for NFL teams to evaluate quarterback prospects.
March, 6, 2014
Mar 6
8:50
PM ET
The
New Orleans Saints
made a qualifying offer to restricted free-agent safety
Rafael Bush
at the lowest tender level of $1.4 million, according to a league source.
That means the Saints will have the right to match any other offer Bush might sign with another team. But they would receive no draft-pick compensation if they allow Bush to leave.
That's a little risky, since Bush showed his value as a part-time starter for the Saints last season and could be in line to move up into more of a full-time role this year. But it would have cost the Saints around $2.2 million to move up to the second-round compensation level.
Bush, 26, has been an underrated asset for the Saints over the past two years on both defense and special teams. He played about two-thirds of the Saints' defensive snaps when he was healthy last year, since they featured so many three-safety packages. Used primarily as a deep safety, he had a career-high 42 tackles.
His role could expand since the Saints released veteran safety
Roman Harper
, and fellow veteran
Malcolm Jenkins
is scheduled to be an unrestricted free agent.
The Saints have three other restricted free agents –-- fullback
Jed Collins
, receiver
Joe Morgan
and defensive lineman
Tom Johnson
. They need to make qualifying offers to them by Tuesday to keep them from being unrestricted free agents.
Sources have already indicated that the Saints don't plan to re-sign Johnson. But they will likely try to keep both Collins and Morgan -- whether they offer them tenders or work out contract agreements.
February, 27, 2014
Feb 27
8:00
AM ET
The
New Orleans Saints
have four restricted free agents this year -- fullback
Jed Collins
, receiver
Joe Morgan
, safety
Rafael Bush
and defensive lineman
Tom Johnson
.
Based on the NFL rules for restricted free agents, the Saints will need to make a qualifying offer to each player by March 11 to secure the right to match any other offers the players may sign elsewhere. And if the Saints' qualifying offer is high enough, then other teams will also be required to give up draft picks as compensation to sign the players away.
A league source has already indicated the Saints don't plan to re-sign Johnson. But they will have to make a decision on how much to offer the other three.
Since all four of the Saints' restricted free agents went undrafted out of college, the Saints will essentially have four choices to make with each of them:
Offer a one-year deal worth a projected $2.2 million (which comes with a second-round draft pick compensation if they sign elsewhere).
Offer a one-year deal worth a projected $1.4 million (which comes with no draft pick compensation).
Actually sign the player to a new contract -- which could be for less money or for more (like what the Saints did last year when they signed RFA Junior Galette to a long-term extension).
Don't make any offers, allowing the player to become an unrestricted free agent.
Here's a breakdown of the players:
FB Jed Collins: Age 27. Height/weight: 6-1, 255.
I definitely expect the Saints to keep Collins -- either by offering the second-round tender or by working out a long-term extension that works for both sides. Although the Saints only used Collins on about 40 percent of their offensive snaps last year, they value him in that role. He has played at a high level for New Orleans for the past three years -- as both a lead blocker and occasional pass catcher. He was especially good as a blocker during the second half of last season.
Collins has a total of 39 receptions for 174 yards and four touchdowns over the past three years. Last year, he also ran the ball a career-high 15 times for 45 yards and a touchdown. Before that, he had just four career carries (though two of them went for touchdowns).
Collins found a home in New Orleans after bouncing around with a whopping seven different teams from 2008-2010 as an undrafted free agent out of Washington State, mostly on practice squads.
S Rafael Bush: Age 26. Height/weight: 5-11, 200.
I expect the same thing with Bush -- either the second-round tender or a new long-term extension. The Saints valued him quite a bit last year as a backup safety and a special teams standout. And he could push for an even bigger role this year with
Malcolm Jenkins
' future uncertain.
Bush played about two-thirds of the Saints' defensive snaps when he was healthy last year, since they featured so many three-safety packages. Bush was primarily used as a deep safety. He had a career-high 42 tackles last season. He had an interception and a forced fumble in 2012.
The Saints picked up Bush off waivers during the first week of the 2012 season after he was released by the
Denver Broncos
.
WR Joe Morgan: Age 25. Height/weight: 6-1, 184.
I also think the Saints will try to keep Morgan -- but they may go with the lower tender or try to work out a more affordable contract. Morgan seemed poised for a big year last season as the Saints' No. 3/deep threat receiver. But he missed the entire season after tearing his ACL early in training camp.
The speedy Morgan showed signs of a breakout in a limited role in 2012 with 10 catches for 379 yards and three touchdowns. The Saints could certainly use that kind of dynamic playmaking ability to stretch the field if Morgan proves he can bounce back from his injury this summer. But the Saints may also consider drafting a fast receiver.
DL Tom Johnson: Age 29. Height/weight: 6-3, 288.
The Saints have apparently decided to move on from Johnson because of their young depth at the defensive line (including backups
John Jenkins
,
Glenn Foster
and
Tyrunn Walker
). But Johnson was a solid backup for them over the past three years as both a 4-3 tackle and a 3-4 end. He should definitely get an opportunity elsewhere.
Johnson, whom the Saints plucked from the Canadian Football League's Calgary Stampeders, had 55 tackles, five sacks and a forced fumble in his three years with New Orleans.
February, 21, 2014
Feb 21
2:00
PM ET
The
New Orleans Saints
reportedly aren't planning to make a tender offer to restricted free agent defensive lineman
Tom Johnson
, according
to USA Today's Tom Pelissero
.
Johnson
That's not a huge surprise, since the minimum one-year tender for restricted free agents is projected to be around $1.4 million this year. It's unclear if the Saints will consider bringing back Johnson on a more affordable deal.
Johnson, 29, has been a solid backup at both tackle and end for the Saints over the past three years since they snagged him from the Canadian Football League's Calgary Stampeders. The 6-3, 288-pounder has 55 tackles, five sacks and a forced fumble in his career.
The Saints, however, have some nice young depth at their interior line positions, led by
Cameron Jordan
,
Akiem Hicks
,
John Jenkins
,
Glenn Foster
and
Tyrunn Walker
, in addition to veteran tackle
Brodrick Bunkley
.
The Saints will likely make a stronger push to re-sign their other three restricted free agents -- fullback
Jed Collins
, safety
Rafael Bush
and receiver
Joe Morgan
.
They'll likely use the second-round tender on Collins (meaning a team would have to give up a second-round pick to sign him away). That tender is projected to cost $2.1 million or more. They may need to use the same tender on Bush, since he could move into a starting role for the Saints this year.
Morgan is tougher to predict since he has shown great potential as a deep-threat receiver, but he also missed last season with a knee injury. They could offer the $1.4 million tender, which comes with no draft-pick compensation, or try to work out a deal for less.
RFA tenders must be made before the start of the new league year on March 11.
January, 28, 2014
Jan 28
4:00
PM ET
A position-by-position look at where the
New Orleans Saints
stand heading into the 2014 offseason -- ranked from 1-12 in order of the team's need for upgrades or replacements.
Current depth chart:
Akiem Hicks
. Age 24, signed through 2015. 2014 salary and bonuses: $582,500. 2014 salary-cap number: $718,225.
Brodrick Bunkley
. Age 30, signed through 2016. 2014 salary and bonuses: $4.5 million. 2014 salary-cap number: $6.1 million.
John Jenkins
. Age 24, signed through 2016. 2014 salary and bonuses: $515,000. 2014 salary-cap number: $656,890.
Tom Johnson
. Age 29, restricted free agent.
Glenn Foster
. Age 23, scheduled to become restricted free agent in 2016. 2014 salary and bonuses: $495,000. 2014 salary-cap number: $497,333.
Tyrunn Walker
. Age 23, scheduled to become restricted free agent in 2015. 2014 salary and bonuses: $570,000. 2014 salary-cap number: $571,000.
Kenyon Coleman
. Age 34, unrestricted free agent.
Analysis:
Since the Saints run a hybrid between a 3-4 and 4-3, I decided to label the guys up front as either interior linemen or edge rushers. And I think this particular group is in good shape going forward.
Bunkley's future is uncertain since he's due to make so much money and since he shares time at the nose tackle spot with promising 2013 rookie Jenkins. Based on my weekly film studies, I believe Bunkley was playing better down the stretch of this past season than any other point in his two years with the Saints. He's a very strong and stout run defender. But I think it would take a pay cut to keep him in New Orleans.
Even if Bunkley leaves, I think this position is in good shape. Hicks is an outstanding young talent, with a great combination of power and athleticism. He could be playing at a Pro Bowl level sooner than later. And you can pencil in Hicks and Jenkins as starters (in a 3-4 or 4-3).
Foster and Walker are solid young backups with a potential to be even better as they continue to develop. Johnson is also a reliable backup if the Saints decide to bring him back as a restricted free agent. And they could add a veteran backup at an affordable price if needed -- perhaps bringing back Coleman, who missed all of last season on injured reserve.
I'm not saying the Saints will cross this position off their draft list completely. If the highest-graded player on their board in Round 1 is a defensive tackle, they'll probably take him and trust that innovative defensive coordinator Rob Ryan can find a good use for him. … It just won't be a "must-fill" spot this offseason.
November, 12, 2013
11/12/13
6:30
PM ET
Some observations on the
New Orleans Saints
' defense after reviewing the tape of the team's 49-17 victory over the
Dallas Cowboys
in Week 10:
Lewis
Lewis jams Bryant:
Click here for
my extended look
at Saints cornerback
Keenan Lewis
' standout performance against dangerous Dallas receiver
Dez Bryant
– one of the biggest keys to New Orleans' success.
Amoeba stands tall:
The Saints had great success when they rolled out the "amoeba" defensive front that coordinator Rob Ryan likes to use from time to time – with all 11 defenders standing up before the snap. On the two snaps where all 11 men were standing up, the Saints were able to create pressure with just a four-man rush. The first time, outside linebacker
Junior Galette
and end
Glenn Foster
pressured
Tony Romo
into a throwaway on third-and-8. The second time, Foster broke through the line to bat away a pass on first-and-10.
Later, the Saints used a similar formation on two more snaps, with just one player with his hand in the ground. The first time, ends
Cameron Jordan
and
Tom Johnson
forced an intentional-grounding penalty on second-and-10. The second time, Romo threw an incomplete check-down pass, though he wasn't under heavy pressure, on third-and-21.
More heat:
Foster, Johnson and outside linebacker
Parys Haralson
all had sacks in the second half – all of them coming on four-man rushes (the Saints didn't blitz often Sunday). Johnson's was the most impressive individual achievement. He used a spin move to get around right tackle
Doug Free
on second-and-8. Haralson and end
Keyunta Dawson
both collapsed the pocket on the very next play for Haralson's sack on third-and-18. Foster also got an assist on his sack from Jordan, who flushed Romo out of the pocket on a third-and-9.
In the first quarter, Jordan also forced a holding penalty in the red zone on third-and-6 that was declined after Romo threw incomplete.
'Signature' coverage:
There were plenty of third-down stops in this game, since the Cowboys went 0-for-9 on third down. Another one came in the third quarter, on third-and-5 when cornerback
Jabari Greer
nearly intercepted a pass intended for
Jason Witten
. Greer started on the outside but snuck over to jump the route, and Romo never saw him coming. NBC analyst Cris Collinsworth described the play as "signature Rob Ryan coverage."
White
Humber
Humber, White stand out:
I was repeatedly impressed by linebacker
Ramon Humber
, who played more than usual with starter
David Hawthorne
limited by injury. Humber made two big-time stops on the Cowboys' first two plays – stopping running back
DeMarco Murray
for a 1-yard loss and sticking tight end
James Hanna
in the open field. He later stopped Hanna for a 1-yard loss on a screen pass. And he was part of a wall that stopped Murray for a 1-yard loss, along with defensive linemen
Brodrick Bunkley
and
Akiem Hicks
.
Cornerback
Corey White
also had a nice game. He batted away passes on back-to-back plays in the second quarter. And the Saints trusted him to fill in on coverage against Bryant when Lewis was out for a series in the third quarter.
Big mistakes:
It wasn't a perfect day for the Saints' defense. They gave up three explosive plays that allowed Dallas to score twice.
Early in the game, the Cowboys burned the Saints with the run, including a 35-yard run, a 12-yard run and a 7-yard touchdown run by Murray on the same drive. The 35-yard run was mostly due to great blocking by tight ends Hanna and Witten on the left side. They chipped Jordan and Humber off the line, and then finished with strong blocks against Humber and safety
Kenny Vaccaro
.
The touchdown run (a draw play out of a passing formation) was also well blocked – including a lunging block by Free to stop linebacker
Curtis Lofton
from making a tackle in the backfield. Then linebacker
Will Herring
missed a chance at a tackle after Murray turned the corner. The good news on those runs is that safety
Rafael Bush
made open-field stops on the first two – an improvement after he took some poor angles on
Chris Ivory
's long runs for the
New York Jets
the previous week.
The other two explosive plays were back-to-back passes of 44 and 21 yards in the third quarter. On the first one, Bryant beat Lewis for his only catch of the day by pushing away from Lewis' attempted jam at the line of scrimmage. On the second one, receiver
Terrance Williams
badly burned Greer on a double move to get wide open in the end zone.
Not special:
The Saints had two miscues on special teams. First, linebacker
Kevin Reddick
got away with a shove against
Dwayne Harris
as he was running out of bounds on a kick return that easily could have been called a penalty (it was close, but not worth the risk). Then in the third quarter, the Cowboys recovered a surprise onside kick. Saints safety
Isa Abdul-Quddus
was the first player to the ball, but he overran it. Reddick got clobbered by a block, and Herring tried to pounce on the loose ball but couldn't hang on.
October, 21, 2013
10/21/13
3:25
PM ET
A look at the
New Orleans Saints
' defensive line through the first six weeks of the 2013 season:
Looking back:
The Saints' defensive line play has been outstanding this season -- especially considering how many young players have stepped up through a barrage of injuries. They've arguably been New Orleans' most valuable unit during the team's 5-1 start.
End
Cameron Jordan
was excellent last season, but he's been even better in his third NFL season, earning a lot of national attention for his play. A power rusher and a standout run defender, he has five sacks and a forced fumble this season. According to Pro Football Focus, Jordan also has five quarterback hits and 24 hurries.
[+] Enlarge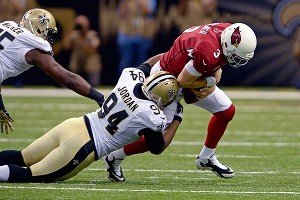 AP Photo/Bill FeigCameron Jordan has led an early season surge by New Orleans' defensive line.
Second-year end
Akiem Hicks
and rookie nose tackle
John Jenkins
have also been very good as the primary starters in the Saints' three-man front. Both are stout run-stuffers, but they've also shown an ability to push the pocket back on passing downs, sometimes leading to sacks on the edges. Hicks has one sack of his own. Backup ends
Tyrunn Walker
,
Tom Johnson
and
Glenn Foster
have taken turns producing while rotating in and out of the lineup because of injuries. They each have one sack this season. And veteran nose tackle
Brodrick Bunkley
just returned in Week 6 from a Week 1 injury.
Looking forward:
It's hard to imagine we'll keep seeing the same level of dominant production that we saw from this group in September -- especially now that the secret is out around the league. But there is nothing fluky about the individual performances. Jordan has been on this steady rise since his rookie season. Hicks and Walker showed flashes of this kind of talent as rookies last season. And Jenkins and Foster showed signs of this type of ability in the summer. Now that all of the injuries are healing, the Saints are suddenly overloaded with depth.
It will also help the pass rush if they keep things unpredictable. After relying heavily on a four-man rush in the first four games, defensive coordinator Rob Ryan caught offenses off guard with more frequent blitzes over the past two weeks.
Snaps played (out of a possible 375):
Jordan 349, Hicks 238, Jenkins 207, Foster 93, Johnson 65, Walker 59, Bunkley 14, defensive end
Keyunta Dawson
11.
ESPN scouting Insider Matt Williamson's take:
"I love their defensive line. I think Jenkins was a find (in the third round out of Georgia). Hicks has come on strong in his second year. Jordan is a star in the making. They have depth. Bunkley is a good player. And they're better suited to a 3-4. I think it's one of the better 3-4 defensive lines out there, and they're really the unsung heroes of this whole success story."
October, 4, 2013
10/04/13
4:30
PM ET
METAIRIE, La. -- The
New Orleans Saints
officially ruled out receiver
Lance Moore
(hand), running back
Mark Ingram
(toe), safety
Roman Harper
(knee), defensive linemen
Brodrick Bunkley
(calf) and
Tyrunn Walker
(knee) for Sunday's game against the
Chicago Bears
.
The only mild surprise on that list is Bunkley, who practiced on a limited basis the past two days. The others were all held out of practice all week. Cornerback
Keenan Lewis
(hip) and defensive end
Tom Johnson
(hamstring) are listed as questionable after practicing on a limited basis all week.
None of the injuries should be too harmful to the Saints, who dominated the
Miami Dolphins
38-17 last Monday night without Moore, Harper, Ingram, Bunkley and Johnson in the lineup. The Saints have so far proven to be deep enough in each position group to absorb those losses -- though they'll be especially thin on the defensive line if Johnson is not back near 100 percent.
With Moore out last week, the Saints continued to rely heavily on top targets
Jimmy Graham
,
Marques Colston
and
Darren Sproles
. Backup receivers
Kenny Stills
and
Nick Toon
each played slightly bigger roles, with the rookie Stills catching a career-high four passes for 38 yards and Toon catching his first NFL passes for 18 yards on a key third-and-12 play in the first quarter. Tight end
Benjamin Watson
also caught his first touchdown pass since he joined the Saints this summer (a 4-yarder in the third quarter).
That was Watson's only catch in the game, though. And deep threat receiver
Robert Meachem
had zero catches. So even with Moore out of the lineup and quarterback
Drew Brees
throwing for 413 yards, the Saints still didn't have enough balls to go around for everybody in their deep offense.