New Orleans Saints:

Trent Dilfer
January, 9, 2014
Jan 9
3:10
PM ET
METAIRIE, La. -- As expected, ESPN analyst Trent Dilfer had a lot of insightful thoughts on the upcoming rematch between the
New Orleans Saints
and
Seattle Seahawks
-- from the reasons why he thinks Seattle's defense gets away with being so physical in coverage to his belief that the Saints should speed up their offensive tempo the second time around.
Dilfer was in the stadium for the first "Monday Night Football" meeting between the Saints and Seahawks last month. So I was eager to get his thoughts during a Thursday conference call on what he expects the second time around. Here are the highlights from our Q&A:
On whether the Seahawks are as good as any team in the NFL today at disrupting receivers' routes:
Dilfer
: "Yes, Pete [Carroll] and his staff have done a great job in kind of bringing back the '80s secondary play. And I know they're gonna deny this, but there's no denying it -- they're convinced that the refs are only gonna throw about 15 flags a game. And they're not gonna throw all 15 of those in the secondary. So they might get four to six thrown on 'em. But they figure, if a team's gonna throw the ball 40 times and we're gonna get physical 40 times, they're not gonna call more than six [penalties]. So they're really playing the odds with how they play in the secondary.
"I mean, it is a lot of roughhousing -- a term we use in the war room, Tom Jackson, [Tim] Hasselbeck and myself. 'A lot of roughhousing.' Which is good. I mean, it's brilliant what they've done. But it makes it very difficult, very frustrating for the quarterback and the wide receivers."
On whether he expects a better effort from the Saints this time around:
[+] Enlarge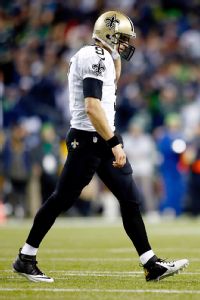 Jonathan Ferrey/Getty ImagesDrew Brees was limited to 147 yards passing during the Saints' last meeting with the Seahawks, his lowest total of the season.
Dilfer
: "I think the Saints can play better -- I know they can play better. They have some matchups that are in their favor. In fact, I was talking to John Lynch last night, who's calling the game with Fox, and we were kind of going over notes. And we both agree that the Saints have some really favorable matchups. It's whether they can get to them.
"And what the Seahawks do in Seattle is that crowd noise is so intense. … In my opinion, it [affects] the brain clutter more than anywhere else. Not just the noise, but the brain clutter. It's so overwhelming, it's hard to hear yourself think. You lose poise because you're focusing so hard on trying to hear yourself think and communicate with others, you get frustrated. And they feed off that. And the crowd's pretty smart. The crowd builds in the moments where they kind of feel the offense panicking a little bit.
"I say all that because I really believe, here's what I would do if I was the playcaller. I would come out -- especially if I had a quarterback like
Drew Brees
-- I would come out with a small package of plays, maybe five runs, five passes, a few simple formations, and I would play fast. I would play college, up-tempo, turbo speed at the line of scrimmage early in the game. What that would do is, one, you don't have to communicate a lot. The snap count isn't an issue … you're not under center most of the time, you spread the defense out sideline to sideline. But better than anything else, the crowd isn't gonna stay at their peak level of craziness for an extended amount of time. … If you're at the line of scrimmage playing fast, getting play off after play off after play off, they can't maintain that level. I think it would let the offense kind of say, 'OK, we're dictating terms instead of you're dictating terms.'
"It would not surprise me if the Saints came out and played that way. The mistake they made the first time was they came up and they tried to do all this on-the-line-of-scrimmage, kill system, multiple-play audibles. There was almost an arrogance to it, to say, 'Hey, we don't care about the crowd noise. We're good enough, we're going to be able to handle it. You can't play that way in Seattle. So I think they make some corrections, they have some matchups that are favorable, and they can have some success."
On which matchups are favorable for the Saints' offense:
Dilfer
: "I said this the first time, obviously I looked like a fool, but I still stand by it. Seattle has a very difficult time covering the tight end. Whether it's man, their man coverage matchups aren't very good,
Kam Chancellor
on the tight end, their linebackers on the tight end, especially with
K.J. Wright
out. And then they play this coverage that's been pretty well-documented, where it's zone with the linebackers and the corners play a man technique as long as possible. When you play that, then in a single high safety look, you expose yourself big-time from that hashmark-to-number area on deep crossing routes.
"Now, [an offense has] to protect long enough to get those deep crossing routes off, I understand that. You've got to do some things to get the tight end the ball. But there's gaping holes, both in man and zone, to get the tight end involved or to get slot-type receivers on crossing routes involved. So I look for things crossing the field by tight ends or slot receivers. But they've made up for it by complementary performances by other players -- defensive linemen not letting the quarterback get the ball off, a re-route ... manhandling the receiver 12 yards down the field that's not getting called. So they're very, very smart at knowing what their weakness is and defending against it."
November, 21, 2013
11/21/13
9:30
AM ET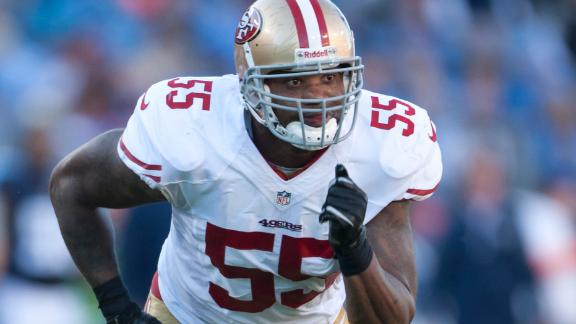 Ahmad Brooks
did just about everything the NFL can expect from a modern pass-rusher Sunday at the Mercedes-Benz Superdome. On one of the game's most important plays, Brooks approached
Drew Brees
with the combination of ferocity and caution that should have allowed him to navigate the league's extensive rules to protect quarterbacks.
Brooks, the
San Francisco 49ers
linebacker, blew past
New Orleans Saints
right tackle
Zach Strief
and aligned his head behind Brees. To initiate contact, Brooks slammed his right shoulder into Brees' right shoulder, and to wrap up, he extended his right arm across Brees' chest.
Brees' upper body snapped back, including his head in a whip-like fashion. In the process, Brooks' arm slid slightly in the direction of Brees' neck.
The ruling from referee Tony Corrente: Personal foul against Brooks, whose slight slip of the arm had violated Rule 12, Section 2, Article 9(c) -- which was amended last spring to specify that a penalty for a hit to the neck of a passer could be called even if the initial contact began below it. The penalty reversed a turnover and gave the Saints 15 yards on the way to a game-tying field goal. Brooks had hit neither Brees' head nor his knees, but he and the 49ers still feel victim to a technicality within the NFL rule labyrinth.
Did the play signify a turning point in the league's efforts to protect quarterbacks? Has it gone too far with its rules in the pocket? Is it unfairly penalizing hits like Brooks' when most quarterback injuries this season
have resulted from scrambles or designed runs
?
Speaking to reporters later, Brooks said he "basically bear-hugged" Brees and added: "That's just how football is played."
The NFL confirmed that sentiment, fining Brooks $15,575 for the play.
Brees, meanwhile, implied the penalty was justified because it was violent and left him with a bloody mouth.
"I don't think what Ahmad Brooks did was intentional at all," Brees told reporters. "I think he's a heck of a football player and a clean football player. A hard-nosed, clean football player. But you look at the result of that … and again in real-time … You can slow it down all you want and watch it and say, 'Look where the [arm is].' But I can tell you how I felt when I got hit. It felt like I got my head ripped off. And I get up and I've got a mouth full of blood. So there was no doubt in my mind that, 'Hey, it's gonna be a penalty.'"
Brees' reaction enraged earlier generations of NFL players, who saw nothing but a standard football play. ESPN analyst
Trent Dilfer said on ESPN Radio
that the penalty was an example of how "the NFL product sucks" and suggested that "roughhousing" is now illegal in the NFL.
Dilfer called Brees a "dear friend" but added: "You're not preventing Drew Brees from getting a concussion by making that call. You're preventing him from getting a bloody lip.
"I was insulted when he came into the presser and said, 'I expected to get the flag thrown.' I can't tell you how many retired quarterbacks texted me … We played a game where we had to stay in the pocket and get hit in the face. We're not saying we're as good as Drew Brees. We're not saying he's soft. We're not saying the guys he is playing with are soft. But part of the badge of honor of playing quarterback in the NFL was standing in there and taking shots in the face and throwing a 20-yard dig route. That's what separated you from the other guys. Now that's just not part of the game."
Has the NFL gone too far? Has it substantively changed the game even as quarterbacks find new ways to get injured? ESPN's NFL Nation asked quarterbacks and defensive players to address the topic.
"I think the most important thing is that the league is protecting all players and making sure of the players' safety. The quarterbacks are in one of the most vulnerable positions and whatnot so they definitely deserve that. And that's what it really comes down to, player safety."
-- Detroit Lions DT
Ndamukong Suh
, as told to ESPN.com Lions reporter Michael Rothstein
---
"It makes it extremely difficult for pass-rushers and I think safeties. Especially I'd say guys going after the quarterback, because there's so many compromising positions that guys are in. You know, you're battling a guy, and all of a sudden the quarterback's there. And a lot of times, they're swiping at the ball and they catch a part of your head. I mean, there's things like that that are, 'OK, that's just a glancing thing. That was unintentional. No big deal.' I think it's the 'lead with the head' or 'explode up through your head/chin area' [that they're trying to prevent]. And again, I don't think what Ahmad Brooks did was intentional at all. I think he's a heck of a football player and a clean football player. A hard-nosed, clean football player. But you look at the result of that, and again it's in real time. You can slow it down all you want and watch it and say, 'Look where the ...' But I can tell you how I felt when I got hit. It felt like I got my head ripped off. And I get up and I've got a mouth full of blood. So there was no doubt in my mind that, 'Hey, it's gonna be a penalty.'"
-- New Orleans Saints QB
Drew Brees
, as told to ESPN.com Saints reporter Mike Triplett
---
"Quarterbacks are the bread and butter of the league. I guess you have protect your investment. It's definitely not easy, but I guess you have to play within the rules. As a pass-rusher, I saw nothing wrong with [Brooks' hit on Brees], but there was a flag and whatever else came along with that, it did. It's tough, but we to play within the confines of the rules."
-- Indianapolis Colts LB
Robert Mathis
, as told to ESPN.com Colts reporter Mike Wells
---
"No. I mean, I'm the wrong guy to ask, but no. They're trying to protect all the players, I think. No one wants to see injuries, no matter what position you play. But no team wants to see its quarterback get hurt. That's the way it goes. I'm sure San Francisco doesn't want to see their quarterback get hit either. Most defenses won't like it, but I'm sure every coach, every GM and every owner will appreciate what they're doing to protect quarterbacks."
-- New York Giants QB
Eli Manning
, as told to ESPN.com Giants reporter Dan Graziano
---
"I feel there's a strike zone running from the shoulders to the knees for a quarterback. If you go down to the knees of a quarterback, you're going to get called. You go up to the head, you're going to get called. It's tough. You're playing full speed and at the last second we're trying to avoid a tackle and duck and move. Sometimes, things happen."
-- Kansas City Chiefs QB
Alex Smith
, as told to ESPN.com Chiefs reporter Adam Teicher
---
"Yup. They are. They definitely are doing way too much, going way overboard to protect quarterbacks, and it's crazy, because we can't play the way we want to play. There's nothing you can do. You can change the way you play, but they're just going to make another rule."
-- New York Giants DE
Jason Pierre-Paul
, as told to ESPN.com Giants reporter Dan Graziano
---
"Yes. I think if you look at the play, I didn't see any helmet-to-helmet [contact]. I'm not an expert on the rulebook. But from looking at the rulebook, you're not supposed to hit the quarterback with your helmet or lunge or torpedo. But I didn't see any of that happen on that play. And of course as a defensive person, they do overdo it when it comes to quarterbacks. They're playing football just like we are. I always think about it: When am I defenseless? I don't think I'm ever defenseless on the field. But you can't hit [quarterbacks] too low, you can't hit him too high, you can't hit him too hard, don't slam him too hard, don't touch his helmet, don't hit his arm. Play football."
-- Miami Dolphins defensive end
Cameron Wake
as told to ESPN.com Dolphins reporter James Walker