New Orleans Saints:

zach mettenberger
April, 9, 2014
Apr 9
11:34
PM ET
BATON ROUGE, La. – It sounds like a novel idea in today's NFL. But if a team is actually willing to draft a quarterback and give him a full year to develop before thrusting him into the starting lineup, then LSU's
Zach Mettenberger
might just be their guy.
Six months, at least.
Mettenberger certainly wouldn't agree with this idea. He's so adamant to prove that he'll be NFL-ready as a rookie that he went out and
performed a grueling and impressive pro day
workout Wednesday just 13 weeks after having surgery to repair a torn ACL.
[+] Enlarge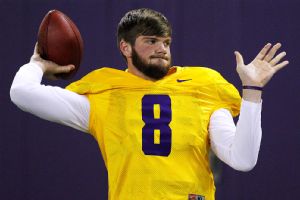 AP Photo/Jonathan Bachman"You can win a world championship with Zach Mettenberger," LSU offensive coordinator and ex-NFL coach Cam Cameron said on Wednesday.
Mettenberger insisted he'll be 100 percent by next month's rookie minicamps and ready to compete for a job by training camp.
Maybe he's right. It's hard to doubt him after the grit he showed on Wednesday, throwing roughly 125 passes in a fast-paced workout that many NFL talent evaluators said would have been impressive even without the injury.
But even if Mettenberger and his supporters – including LSU offensive coordinator and longtime former NFL coach Cam Cameron – are being overly optimistic, then Mettenberger could still be worth a second- or third-round pick for a team that believes he has the potential to be a starter in 2015 and beyond.
ESPN analyst Ron Jaworski certainly feels that way. He tabbed the strong-armed, 6-foot-5, 224-pounder as the second-best QB prospect in this year's entire class, behind only Central Florida's
Blake Bortles
. Jaworski is one of many who has compared Mettenberger to the Baltimore Ravens'
Joe Flacco
– including Cameron, who has coached both of them.
"I think his skill set translates extremely well to that league," Cameron said. "Some guys want 'em taller or [some want] more athletic. But the bottom line is a guy's gotta be tough, football-smart, distribute the ball to everyone on the team under pressure, in tight windows. Zach can do that.
"You can win a world championship with Zach Mettenberger. That I know. And that becomes the final evaluation. You don't draft a guy unless you think this guy can ultimately lead our organization to the Super Bowl. Not just win games. And he is on par with guys that I've known since his age that have won Super Bowls."
LSU coach Les Miles echoed that confidence, describing Mettenberger as "a guy that can really play in a very high level in the NFL."
Still, there are some question marks about Mettenberger that have nothing to do with his surgically-repaired left knee.
He only had one great year in a turbulent college career, which required a lot of maturing both on and off the field.
Mettenberger started out at Georgia, but was dismissed from the team after an arrest for two misdemeanor counts of sexual battery. After a year in junior college, he transferred to LSU. But he didn't really shine as a backup his sophomore year or as a starter his junior year. He was sometimes criticized as too laid back, as both a leader and a decision-maker.
Last year, however, Mettenberger showed rapid development in Cameron's first year on the job. He thrived in a pro-style offense (and throwing to pro-caliber receivers like
Odell Beckham Jr.
and
Jarvis Landry
). He threw for 3,082 yards, 22 touchdowns and eight interceptions before suffering the injury in LSU's regular-season finale.
"When he showed up here and really did not play a lot, he was kind of in the background. Not necessarily did we feel his presence," Miles admitted. "When we turned to him and he became that player, he really stepped into a role of leadership.
"Really, we felt like he needed to take on more of a position of team leader than necessarily quarterback. He did that. He's one of the toughest guys on our team. He continued to improve through his last snaps."
Cameron hinted at a similar assessment, saying, "We're all maturing, hey, to some degree. And he's no different."
"It's been refreshing to me coming back to college and watching how much these guys can mature in six months, a year," Cameron said. "And remember, Zach's still a young guy. He's not even two-thirds the way to where he's gonna be at some point in time. And I think his game translates extremely well to the NFL."
Mettenberger said his first two individual workouts with teams are scheduled for this week – the
Jacksonville Jaguars
on Thursday and the
Detroit Lions
on Saturday – with more to come after that.
Cameron said teams have picked his brain, but he said they don't have too many pressing questions.
"The film speaks for itself," Cameron said. "The one thing I know about scouts, they're gonna look at the film first. Theyre gonna look at the game at Georgia or the game at Alabama. The games against quality opponents on the road. Zach obviously played extremely well.
"Some may ask, 'Is there anything about him we wouldn't know?' And I tell them he's one of the best, if not the best practice players I've been around. Just like [Landry and Beckham], because of the standard Les sets here."
Mettenberger might not be ready to immediately lead his next team into the playoffs as a rookie like fellow big men Flacco and
Ben Roethlisberger
have done in recent years.
But if his growth in 2013 was a true indication of his potential, then he might well develop into one of the better investments in this year's draft class.
April, 8, 2014
Apr 8
6:30
PM ET
The
New Orleans Saints
are packing in a lot of draft research this week at one of their top positions of need -- wide receiver.
On Tuesday, USC's
Marqise Lee
was at the Saints' practice facility for a pre-draft visit. On Wednesday, the Saints will travel an hour up the road to Baton Rouge for LSU's pro day, where they'll get a closer look at Tigers receivers
Odell Beckham Jr.
and
Jarvis Landry
, among others.
The Saints always bring their full contingent of coaches and scouts to LSU's pro day because of the proximity and their close relationship with the school. But they might be even more interested this year than most because of the receiver duo.
[+] Enlarge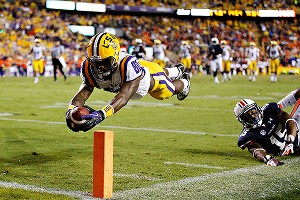 Chris Graythen/Getty ImagesLSU's Jarvis Landry ran the 40-yard dash in 4.77 seconds at the NFL combine in February. He'll try to improve on that time at LSU's pro day.
Buzz around Beckham:
Beckham would seem to be an ideal fit for the Saints, since he could add a much-needed explosive element to both their offense and their punt return game. The only problem is that Beckham probably won't last to New Orleans' first-round pick at No. 27.
Beckham (5-foot-11, 198 pounds) cemented his status as a first-round pick -- and possibly even a top-20 pick -- with an impressive performance in February at the NFL scouting combine. He ran the 40-yard dash in 4.43 seconds.
Chances are, Beckham will stand on most of his workout numbers there and simply use the afternoon at LSU's campus as a meet-and-greet session.
ESPN draft analyst Mel Kiper Jr. said Beckham has a lot going for him. In addition to being an "explosive talent" who causes problems for defenses because of his ability to accelerate, Kiper Jr. said everything from Beckham's "hands, his character, his attitude, his approach is outstanding."
Beckham caught 59 passes for 1,152 yards and eight touchdowns last season, setting the LSU single-season record with 2,222 all-purpose yards.
Lee under the radar?
While the buzz seems to be growing with Beckham, it has seemed to fade around Lee ever since his sensational sophomore season of 2012.
That year, Lee was a first-team All-American and the winner of the Biletnikoff award as the nation's top receiver. He caught an astounding 118 passes for 1,721 yards and 14 touchdowns two years ago, while also serving as an explosive kickoff returner.
However, the 5-11, 192-pounder had a quiet junior season in 2013, in part because of a nagging left knee injury that sidelined him for three games. Lee caught just 57 passes for 791 yards and four touchdowns last season, and struggled at times with dropped passes.
Then Lee posted a decent but not-so-dynamic time of 4.52 seconds in the 40-yard dash at the combine, which seemed to move him a few spots down in everyone's mock drafts.
The Saints would probably love it if Lee fell to them at No. 27 -- though that still seems like a long shot based on what Lee has proven he can do on the field. He has drawn comparisons to the New York Giants'
Victor Cruz
.
"Lee is the kind of receiver you draft with slight questions on ceiling but a high degree of certainty regarding immediate impact," Kiper Jr. wrote.
Another receiver expected to be drafted in the mid-to-late first round is Oregon State's
Brandin Cooks
, another dynamic speedster who projects as more of a slot receiver because of his size (5-10, 189).
And Florida State's bigger, more physical receiver
Kelvin Benjamin
(6-5, 240) is projected by many analysts as a first-round possibility.
If the Saints don't land a receiver in Round 1, however, LSU's Landry could be an attractive option at the end of Round 2.
Big day for Landry:
Landry (6-0, 205) was the first receiver Kiper Jr. mentioned when asked about second-round possibilities on a recent conference call.
Landry hurt his stock when he ran the 40-yard dash in 4.77 seconds at the combine. But he showed a good combination of speed and physical toughness in college and was actually more productive than Beckham last season, with a team-high 77 catches for 1,193 yards and 10 touchdowns.
Landry will certainly use today's showcase as a chance to run a faster 40-yard dash and try and raise his stock heading into next month's draft. ESPN analyst and former general manager Bill Polian said during the combine that it would be important for Landry to do so.
"It'd be hard for me to believe that's his real time, having seen him play," Polian told The Advocate at the time. "That aside, it's only important if he doesn't come back and do a lot better at his pro day."
Mettenberger on display:
The biggest buzz from LSU's pro day will likely be generated by quarterback
Zach Mettenberger
. The 6-5, 224-pounder will show off his big arm in front of scouts and coaches for the first time since his January surgery to repair a torn ACL.
Mettenberger isn't completely recovered yet, but he hopes to impress teams with how well he's progressing. And he could help boost his chances of becoming a second-round draft pick. Stay tuned for reports from his workout Wednesday.