December, 8, 2014
Dec 8
6:45
PM ET
METAIRIE, La. --
Zach Strief
said he could feel the lack of energy in the locker room before the
New Orleans Saints
' 41-10 loss to the
Carolina Panthers
on Sunday.
And that was the one thing above all others that made him both "angry" and "embarrassed" as a captain and veteran leader.
"Because if there's one thing that should be consistent, it's energy and readiness," said Strief, who spent a long time Monday explaining what he and other veteran leaders described after the game as an "unprofessional" performance.
[+] Enlarge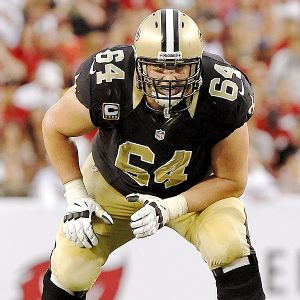 Kim Klement/USA TODAY Sports"I think a lot of it is the expectation that showing up and playing is enough. It's not," Zach Strief said.
"I think a lot of it is the expectation that showing up and playing is enough. It's not," Strief said of an issue he said has crept up more than once this year. "'OK, I put my uniform on, I look good, I walk out on the field. And now that we're here and we're the Saints and we have this history where we'll win games, now we're just gonna win this game.' And that's not the reality of this league.
"The teams that created that perception here, it wasn't like that. It wasn't that we expected, or they expected, to show up and they just win. There was that sense of urgency, that emotion, that energy that you have to have."
Strief insisted that doesn't mean he's pointing the finger at younger players -- "I refuse to do that," he said. Strief
also specified that he wasn't
referencing
Junior Galette
, who made controversial comments last week about former teammates.
In fact, Strief said he was just as disappointed in himself for recognizing that feeling in the locker room and not figuring out a way to change it.
Strief said different players create that energy level in different ways. He himself is not a yeller and screamer. But he pointed to former Saints fullback
Jed Collins
as an example of a guy who fires himself up by yelling and jumping around after the national anthem.
"The second you don't go out and have everything that you've got to put on the field, that's exactly what's gonna happen," Strief said of Sunday's drubbing. "I don't think it's intended. I don't think its guys walking in like 'I don't care.' I don't think that's what it is. I think it's not realizing how up you have to be for every game to be successful."
Strief also insisted that he doesn't have any problem with the way players have practiced and prepared during the work week -- something which coach Sean Payton and other players in the locker room agreed with. They all said they've liked the attitude and approach during practice.
As for the pregame atmosphere Strief described, Payton said that's probably easier for a player to recognize. Though Payton pointed out that the Saints' game at Detroit earlier this year was an example of one where he felt everybody was "ready to play and play hard." (They had their best start of the year in that game before a late collapse).
There were a lot of varying interpretations from Payton and other players on Monday about whether the problem has been a lack of energy, a lack of effort, a lack of execution or some combination of all three.
Payton and safety
Kenny Vaccaro
both stressed that they didn't see guys loafing on the field. But as Vaccaro put it, "you can be doing your job real fast -- and real wrong."
Payton said one of the disturbing trends he's recognized is, "I don't know how mentally tough we've been when we've gotten hit in the mouth. And when you play in this league, you're going to have to be able to collect yourself, get on to the next play."
Overall, though, nobody who spoke to the media Monday disagreed with the assessment from veteran leaders like Strief,
Drew Brees
and
Benjamin Watson
that Sunday's performance was unprofessional.
"Everybdoy's gotta be a pro," defensive lineman
Tyrunn Walker
said. "I learned that from guys like Drew, (Marques) Colston, Strief, learned it from (Jonathan) Vilma, Will (Smith). It comes with the territory, you gotta learn to be a pro."
"I don't take offense," said Vaccaro, a second-year player. "I prepare hard all week, I watch all the tape, I take all the notes. So that doesn't (offend) me. But we are (struggling) as a group. So it is what it is, (they're) right.
"They laid the foundation, those guys that were here before us. They're the reason why our expectation level is so high, and we've gotta uphold that. And that's the standard that's expected. I wasn't here when they won the whole thing. And that's the standard. So whatever I gotta do to get to that, I'll do it."