New York Giants:

Andre Brown
November, 8, 2013
11/08/13
3:50
PM ET
EAST RUTHERFORD, N.J. -- It's almost here for
Andre Brown
.
His season debut. His first carry of 2013. His first home game. It's all so close for the running back.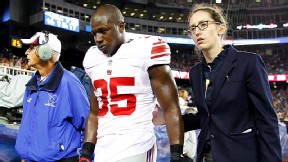 Jared Wickerham/Getty ImagesBrown broke his leg against the Patriots in the preseason.
"Very excited. Can't wait. Anxious. Nervous. Just looking forward to it," Brown said. "And I can't wait."
Brown will play in his first game since Nov. 25, 2012, when the Giants host the Raiders on Sunday at MetLife Stadium. Brown is returning from a broken left leg he suffered during the preseason.
"There's no pressure. I'm just looking forward to looking good coming off an injury. Make a couple of plays and help this team go out there and get a win. That's what it's about," Brown said. "My performance -- I understand it's going to be the first game back, and whatever happens, happens. I just know it's going to be 100 percent, full-throttle, and that's what I can guarantee."
The expectation coming into the year was Brown would handle most of the third-down work and passing downs, as well as goal-line work. That plan never came to fruition, though, as Brown broke his left leg in the final preseason game against the Patriots. Since Brown did not need surgery, the Giants placed him on IR with the return designation, using up their lone exemption on him.
Last season, Brown had his best year as a pro as he rushed 73 times for 385 yards and eight touchdowns. His season ended prematurely as he broke his left fibula against the Packers in late November. Brown held out hope he could return for the Super Bowl, but the Giants didn't make the playoffs.
Without Brown, and with
David Wilson
struggling before landing on IR, the Giants' running game hasn't been able to get going this season. The Giants are 29th in rushing yards per game, and they have used five different starters at running back thus far. Brown could make it six, but he said he does not know yet whether he will start Sunday, as that is usually determined the day before.
"I'm preparing for anything," Brown said. "I've been practicing for a couple of weeks. In shape and ready to go."
Since being drafted by the Giants back in 2009, it's been a rough journey for Brown in the NFL. He's been waived by five different teams, including the Giants, and has dealt with various injuries, including an Achilles tendon tear his rookie season. His broken leg is yet another example of the misfortune he's had.
Giants coach Tom Coughlin appreciates the resiliency Brown has shown.
"It's obvious how important it is to him. He did everything he could to get back out here and he's had three really good weeks of practice where he's gotten better each day out here," Coughlin said. "I mean he hasn't played in a while. You always think, No. 1, you've got to take care of the ball. He hasn't been hit and he hasn't been tackled, so you've got to take care of the ball. But hopefully he'll be able to do that."
August, 4, 2013
8/04/13
5:09
PM ET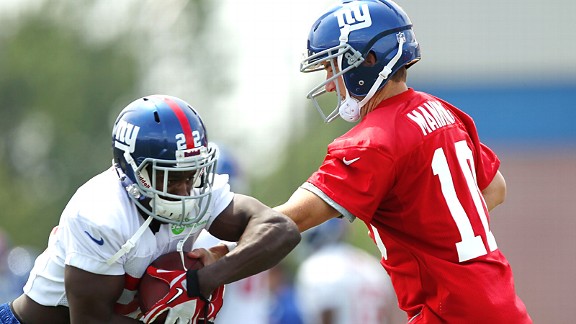 John Munson/The Star-Ledger/USA TODAY SportsDavid Wilson is expected to share carries with Andre Brown in the Giants' two-back system.
EAST RUTHERFORD, N.J. –- On the
New York Giants
' unofficial depth chart, there is just one position that has two starters listed for one spot.
David Wilson
and
Andre Brown
are both listed as the starting running back. Even though the depth chart is "unofficial," it's an indication of how both backs will play a significant role this season.
"We're both going to contribute," Wilson said before Sunday's practice. "The depth chart is a political thing, something that they have to put out there so the fans and other teams will know. You know, like I said, it's mostly for the media."
No matter who starts, Wilson and Brown should see their share of carries and opportunities. Tom Coughlin has indicated that he will ride the hot hand and will go with a two-back system. If Coughlin has his way, the coach would have a third back to sprinkle in like he did when he had
Brandon Jacobs
,
Ahmad Bradshaw
and
Derrick Ward
.
Right now, the Giants have two backs who bring two different skill sets. Wilson, the expected starter, is the explosive and elusive speedster who can bust a touchdown run on any carry. And Brown is the bigger back who can run with a nice combination of power and speed. He also is expected to resume his role of being the goal-line back, which he played before he broke his leg late last season.
[+] Enlarge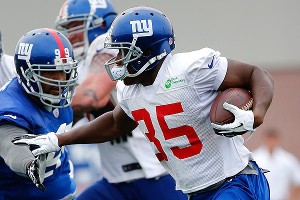 Jim O'Connor/USA TODAY SportsAndre Brown will help David Wilson carry the load.
"David is a different style of back than we've ever really had here at the Giants over the years," quarterback
Eli Manning
said. "A lot of speed and explosiveness. We got to see what's the best way to use him. He might have a little different runs that help use his talent to his best ability.
"Both of them are different style runners," Manning added. "And we'll kind of understand that and put them in to do things that they are best at."
The coaching staff trusts the veteran Brown. But the coaches also understand Wilson's home run ability and the different dimension he adds to the offense. Wilson has pretty much been getting the first carries in practice and his goal is to consistently improve on a different area of his game throughout camp. Wilson has to prove that he can consistently protect Manning on passing plays.
He's eager to prove he is up to the task and hopes to show his biggest strength in a preseason game and avoid tackles for real instead of being tagged in non-tackling practices.
"I'm just looking forward to full speed contact," Wilson said. "Out here in practice, you get tagged up and you think to yourself, 'He wouldn't have made that tackle.' Even if we did it 10 times over again. You just have to live with it that you got tagged but in a game you can actually break a tackle and get yards after contact."
And it's in those preseason games when Wilson hopes to show more of the electric flashes he displayed last year as a rookie. Wilson may not get many touches in the preseason, but he is expected to start the preseason opener on Saturday at Pittsburgh.
"I have the chance to be the starting tailback for the New York Giants," Wilson said. "The Super Bowl is here this year so my main focus this season is going in, wherever and whenever I can contribute. And whenever I'm on the field, I definitely want to have an effect on the game in a positive way so we can win as many games as possible and make that run for the Super Bowl."
December, 17, 2012
12/17/12
6:56
PM ET
EAST RUTHERFORD, N.J. -- The Giants might not have not looked like Super Bowl contenders on Sunday against the
Atlanta Falcons
, but
Andre Brown
has no choice but to keep the faith.
The running back, who broke his leg on Nov. 25 and was placed on short-term injured reserve, is eligible to come off only if the Giants make it back to the Super Bowl.
"I have confidence in the guys," Brown said. "I know they're going to pull it out and I know I'm going to be playing in the postseason. I just hate waiting and hate not being able to help. We'll see. We'll see."
Brown, wearing a Super Bowl hoodie, said Monday he's moving around pretty well. It's been three weeks since he had the surgery and he is now out of the walking boot. He was told the recovery period is about four to five weeks and he thinks he might be running next week.
The running back had been enjoying a career year with the Giants before he suffered the injury on Nov. 25 against Green Bay. Brown had 385 rushing yards and eight touchdowns on the season, emerging as the team's goal-line back. He even shined in extended duty, showing the team his versatility and making him a staple in the backfield.
It's been tough for Brown to have to sit out and watch the Giants try and make the playoffs. He said the team has been involving him in the meetings recently and he's back to being a part of the squad. He described the first week out as " a little emotional" but it's improved.
"Especially after going through what I went through (being cut seven times) and actually having a good season going on, to be out there and to get hurt, it sucks," Brown said. "But, you know, I've been through it before and I'm pretty sure I'll go back through it and come back on top."
As Brown watched the Giants get dismantled on Sunday, he said he wished he had been able to go out there and help. He's still hoping to suit up once more again this season, and hoping his teammates can deliver.
"I told them that if they get me, there I'll take care of the rest. I'm going to run like a bat out of hell," Brown said. "Just get me there, guys. I'm hungry. I want it. That's why I'm working so hard to get back out there."
November, 25, 2012
11/25/12
11:38
PM ET
EAST RUTHERFORD, N.J. -- The bye did wonders for the
New York Giants
as the refreshed defending champs
steamrolled the Packers 38-10
at MetLife Stadium.
What it means:
The Giants made a statement coming out of the bye that they are not going to be fully entrenched in another midseason swoon. They put an end to a two-game slide in big-time fashion by routing Green Bay.
Eli Manning
and the offense are clicking again, and the defense and pass rush has come to life.


The Giants (7-4) also created much-needed breathing room in the NFC East over Washington (5-6) and Dallas (5-6).
Quick start:
The Giants got creative with their personnel and play calling. On their first drive,
Ahmad Bradshaw
had a 59-yard catch-and-run on a screen after a fake end around to
Victor Cruz
that set up an
Andre Brown
touchdown on the opening drive.
Manning also put an end to his three-game touchdown drought with two scoring passes in the first half. He did miss an opportunity to potentially connect on a touchdown bomb with
Hakeem Nicks
, underthrowing him in the first half. But Manning sent a message early when he lowered his right shoulder into
Tramon Williams
on a 13-yard scramble in the first quarter.
Manning threw a touchdown pass to Nicks in the third quarter to pass
Phil Simms
for the franchise lead.
Kenny back -- and then injured:
Kenny Phillips
played for the first time since injuring his right MCL against Philadelphia on Sept. 30.
Phillips, though, had to leave at the end of the third quarter with an injury to his right knee. He remained on the sideline after the injury and did not go into the locker room.
Prior to the injury, defensive coordinator Perry Fewell went back to his three-safety look with Phillips,
Antrel Rolle
and
Stevie Brown
, who emerged in Phillips' six-game absence.
With three safeties on the field, the Giants were able to use Rolle closer to the line of scrimmage. He moved around, covering
Jermichael Finley
and
Randall Cobb
at times when he wasn't helping against the run.
Fewell definitely tinkered with his personnel, even using backup safety
Will Hill
with his three other safeties on the field at times.
Aaron Rodgers
rarely looked comfortable, often scrambling. He was sacked three times in the first half, including a strip sack by
Osi Umenyiora
that set up a Bradshaw touchdown that put the Giants up 31-10 just before halftime.
Giant injuries:
Besides losing Phillips, the Giants also lost right tackle
David Diehl
to a burner and running back Brown to a lower-leg injury.
Diehl suffered the burner in the first half and returned to watch the game on the sideline in the second half. Brown went to the locker room in the fourth quarter to be examined after his injury. Tight end
Martellus Bennett
also took a shot in the end zone and slowly walked off the field near the end of the game.
What's next:
Perhaps the biggest divisional game of the season for the Giants as they travel to Maryland to face
Robert Griffin III
. They needed a 77-yard touchdown to beat him in the first meeting and now get him on his turf in his Monday night debut.
November, 25, 2012
11/25/12
8:00
AM ET
EAST RUTHERFORD, N.J. -- For
Andre Brown
, being a goal-line back is all about attitude.
"You got to go out there and hit it hard and give them hell," Brown said.
As the season has progressed, Brown, who is averaging six carries a game, has emerged as the team's goal-line back. Brown has scored a touchdown in four straight games, with all four of those scores coming from no more than two yards out.
"I'm the biggest back, that's basically what it is," Brown said. "Be a big back and go in there short yardage and goal line and go there and make sure I get short-yardage situations. I go in there and just want to stay consistent and go out there and produce."
With his size advantage over his fellow running backs
David Wilson
and
Ahmad Bradshaw
, it's easy to see why the Giants rely on Brown near the end zone. Brown is the tallest back and has 15 pounds on Bradshaw and 25 on Wilson. Tom Coughlin likes Brown for his power and speed and being a north-south runner, which is needed near the goal line.
"You just got to get that one or two yards, get in the end zone, stick it in there and it's different down there because everybody knows what's going to happen," Brown said. "Splits are cut tighter, defenses are rearing back because they know what's about to go down."
The Giants haven't phased Bradshaw out of work inside the 10, as he had a one-yard touchdown run against Washington on Oct. 21 and has gotten work inside the red zone, but they seemingly preferring to pound it in with Brown. Bradshaw has four rushing touchdowns on the year, but hasn't been able to get one since his one-yard score vs. the Redskins.
In the past three weeks, the Giants have rushed the ball nine times inside the opponent's 10-yard line, with Brown holding a slim 5-4 lead in carries. The difference, though, is Bradshaw's carries have all come from five yards out or deeper, while Brown's carries have been from no more than four yards out. In fact, four of Brown's carries, three of which went for scores, have come from the two-yard line or closer.
"That's my package so I'm going to go in there and get it," Brown said.
While Brown might get the touchdowns, he's not nearly getting as many carries as Bradshaw. After a hot start to the year while Bradshaw was injured, Brown's carries aren't that frequent. Against Dallas on Oct. 28 he had just two, and against Cincinnati on Nov. 11, all of Brown's carries came in the second half and predominantly while the Giants trailed by a few scores.
Brown is OK with any role the team has for him.
"Whatever I can do to help," Brown said. "When it comes down to it, whatever my role is on the team I'm going to put my all into it."
November, 11, 2012
11/11/12
10:37
PM ET
By
Kevin Goheen
| ESPNNewYork.com
CINCINNATI – Running back
Andre Brown
got his first start Sunday since Week 3 but, like everything else the Giants attempted, it did little to spur the offense.
The final rushing numbers: 20 carries for 129 yards and the only New York touchdown of the day came mostly in the fourth quarter when they trailed by 25 points. Brown rushed for 65 yards on seven carries, including a 29-yard gain that led to his 2-yard rushing score with 2:46 remaining. He had rushed for 113 yards and two touchdowns at Carolina in his only previous start.
Ahmad Bradshaw
had 10 carries for 57 yards but fumbled at the Cincinnati 27 after he had picked up a first down on an 11-yard rush on a toss sweep play to the left. The Giants trailed 17-6 at the time but the fumble was the first of three straight turnovers by New York.
"I was just fighting for more yards," said Bradshaw. "I was able to break a couple of tackles. I had two guys and I tried to get around them."
Cornerbacks
Leon Hall
and
Adam Jones
were those two guys. Hall was tackling Bradshaw when Jones came in and stripped the ball free. Defensive end
Carlos Dunlap
recovered for the Bengals.
The Giants had just six rushing attempts in the first half out of their 30 plays. They were down 14-0 before five minutes had gone off the clock but that's usually not enough to get a team to abandon the run game. However, picking up only two first downs on your first four possessions does make it hard to establish a run game.
The Giants ran the ball just three times out of 11 total first down plays in the first half and gained just nine yards.
"We weren't getting many first downs, so we were taking what they were giving us," said quarterback
Eli Manning
. "It all depends on what the defense is doing, and they were mixing things up really well."
Bradshaw said Brown got the start because the Giants wanted to open the game up in a no-huddle package. Manning completed a 5-yard dump-off to Brown on first down but then threw two straight incompletions to bring on the punt team.
November, 4, 2012
11/04/12
10:07
PM ET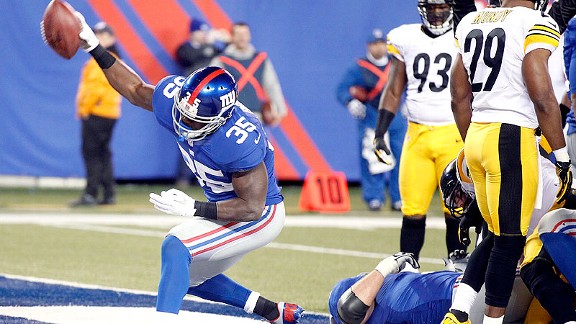 William Perlman/The Star-Ledger/US PRESSWIREAndre Brown celebrates his rushing TD, one of the few highlights for the Giants' ground attack.
EAST RUTHERFORD, N.J. — A terse
Ahmad Bradshaw
quickly prepared to leave MetLife Stadium after a 24-20 loss to the Steelers after a week that was anything but normal, but he wouldn't take the easy out. Hurricane Sandy, he said, had nothing to do with the Giants struggles in the running game or anywhere else, and the problem has been going on for a while.
"It wasn't just today," Bradshaw said. "It's been the last couple weeks and we're going to find a way to get something done."
Bradshaw had 15 carries for 48 yards and backup
Andre Brown
added seven carries for 20 yards and a touchdown. For the mathematically challenged, that's a total of 68 yards for the rushing game.
So what is the issue?
"We don't know yet," Bradshaw said. "That's what practicing all week does, helping us prepare for the next team and then get better and find our issues."
Kicker
Lawrence Tynes
pinpointed the last complete game the Giants played to Week 6.
"Probably since that San Francisco game when we had a good all three phases game," Tynes said. "We really haven't duplicated that. We've played in spurts, won some close games but we have not really dominated all three phases probably since San Fran."
For offensive lineman
David Diehl
, the loss could be hung on the inability of the Giants to get the running game going, especially when Bradshaw has had several 100-plus yard rushing games, and Brown had 113 yards against Carolina.
"As an offense, you've got to abe able to establish the rushing game to be able to keep your defense fresh and keep that team off the field," Diehl said.
For Steelers linebacker
LaMarr Woodley
, stopping the Giants run was the first thing he mentioned when asked about the keys to the gameplan against New York.
"Our front did a good job of stopping the run," Woodley said. "Our secondary did a great job of getting interceptions, knocking down passes, and getting us enough time to get to the quarterback to put some pressure on him."
That's not the way the Giants want to be approached by NFL opponents. If the running game becomes a consistent weakness, that's something sure to be exploited in the second half of the season.
"Especially when you're down in the red zone you have to score touchdowns and not settle for field goals against good football teams," Diehl said. "Because when you're up against good teams it comes down to the wire like this and nobody likes to be on this side of it."
October, 12, 2012
10/12/12
4:43
PM ET
By
Mike Mazzeo
| ESPNNewYork.com
EAST RUTHERFORD, N.J. --
New York Giants
running back/kick returner
Andre Brown
was not fined by the NFL for in-game tweeting in the locker room after sustaining a concussion in last Sunday's 41-27 victory over the
Cleveland Browns
.
"Everything is OK," Brown tweeted after he was taken into the locker room for evaluation by the team's medical staff.
Brown suffered the injury while returning a kickoff in the first quarter. He will not play in Sunday's game against the
San Francisco 49ers
due to the concussion.
NFL rules state that players can only tweet up to 90 minutes before kickoff, and postgame after media interviews.
September, 28, 2012
9/28/12
9:53
AM ET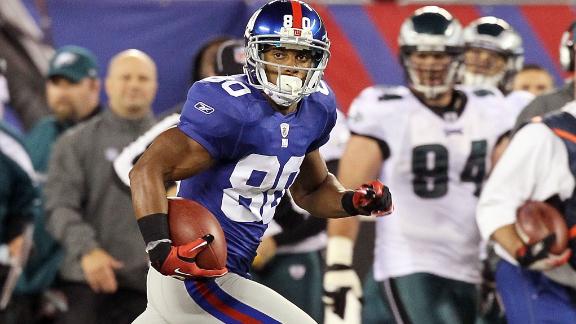 The Giants and Eagles renew their rivalry on Sunday night before a nationally televised audience. The next time they face each other, the NFC East very well could be on the line in the regular-season finale at MetLife Stadium.
So whoever wins this game will have a crucial head start.
Kickoff is scheduled for 8:20 p.m. Here's what to watch for:
Killer B's:
Ahmad Bradshaw
makes his return from a neck injury which he has described as a "bulge" and an "inflamed disk." During his absence,
Andre Brown
has been a stud, rushing for 184 yards and two touchdowns in the last two games.


Both Tom Coughlin and offensive coordinator Kevin Gilbride said Brown has earned a role and that the Giants will ride the hotter hand of the two. It will be interesting to see how the carries are divided. The more those two can run, the more time
Michael Vick
and
LeSean McCoy
spend on the sideline.
Shady Gaga:
Round 1 of the 2012 season between McCoy and
Osi Umenyiora
begins on Sunday night. And we can hardly wait!
Umenyiora and McCoy's beef is an entertaining one that spills over to Twitter and beyond. They talk trash like they are WWE rivals. Umenyiora has referred to McCoy as Lady Gaga and "she," while also wishing the running back a happy Mother's Day. McCoy has responded by calling Umenyiora a "ballerina."
Hopefully Andy Reid will run McCoy to Umenyiora's side when the defensive end is in the game.
Salsadelphia:
Victor Cruz
returns to Philadelphia, the birthplace of his salsa touchdown dance. It was here in Week 3 last sesason that Cruz broke out with two touchdowns and debuted the salsa celebration at
Nnamdi Asomugha
's expense.
In two games against the Eagles last year, Cruz totaled nine receptions for 238 yards and three touchdowns.
Hakeem Nicks
is out, so the Giants will need Cruz to have a big night against the Philadelphia secondary.
Stick Vick:
The Giants had success last season against Vick by hitting him every chance they got. They wanted to make sure he felt each hit.
Vick has taken a beating early on this season and has been sacked a total of nine times and he has thrown six interceptions while fumbling five times, losing three. Last Thursday, the Giants got some licks in on
Cam Newton
and the second-year quarterback never seemed to get comfortable.
They cannot afford to let Vick get comfy on Sunday night.
Renew the rivalry:
Lately, the Eagles-Giants rivalry has been lopsided with the Eagles taking seven of the last eight meetings, including their playoff game during the 2008 season.
The Giants have to start making the clutch plays in the fourth quarter. They do have what the Eagles don't: Super Bowl rings. But if they don't find a way to beat the Eagles this season, the defending champs might not win the NFC East. And with the toughest schedule in the NFL, the Giants likely need to win the division to get into the playoffs and defend their title.
September, 26, 2012
9/26/12
5:31
PM ET
EAST RUTHERFORD, N.J. --
Andre Brown
is coming off the best game of his football career ... and is headed back to the bench.
Well, not exactly. But he won't be starting when the Giants face the Eagles in Philadelphia on Sunday night.
Ahmad Bradshaw
will be, now that he has been cleared to resume practicing. Coach Tom Coughlin confirmed that Wednesday.
But he also confirmed Brown has earned a more significant role in the Giants' offense going forward. "Yeah, definitely," Coughlin said.
[+] Enlarge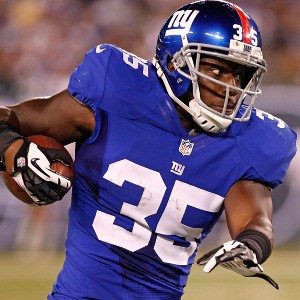 Debby Wong/US PRESSWIREAndre Brown
That's still a step up for Brown, who had just two carries in his first three years in the NFL. When Bradshaw went down with a neck injury against the Buccaneers in Week 2, Coughlin turned to Brown, as opposed to first-round draft pick
David Wilson
. And Brown rewarded him, carrying the ball 13 times for 71 yards and a touchdown in the Giants' 41-34 comeback win.
Against the Panthers last week, he was even better. Playing in front of family and friends in his home state of North Carolina, Brown had 20 rushes for 113 yards and two touchdowns in a 36-7 blowout victory.
But now, just two weeks after getting his big break, he takes a backseat to Bradshaw -- which can't be easy.
"Coach told me just continue to be prepared, and whatever happens, happens," Brown said Wednesday. "That's all I can do."
Is there room for more than one running back to make a big impact on this team? Sure. Recall the 2008 Giants, who featured a pair of 1,000-yard rushers --
Brandon Jacobs
(1,089) and
Derrick Ward
(1,025) -- plus Bradshaw, who added 355 yards in his second year in the league.
That trio earned the nickname "Earth, Wind and Fire" -- even featured on T-shirts by the end of that season.
"That'd be nice," said Brown, when the 2008 trio was mentioned to him. "All I can do is just go out there and prepare. Ahmad's the starter, Dave [Wilson], we got
Da'Rel (Scott)
. We just go out there and work hard and let everything else fall into place."
Coughlin said the team will have a plan about how they're going to use both Bradshaw and Brown -- although he wouldn't tip his hand to reporters. "Well, at this point in time, it'll be according to however we plan to use them," said Coughlin, when asked about divvying up the carries. "(But) naturally, we reserve the right (to go with) who has the hot hand."
Brown has been the "hotter" of the two running backs so far this season -- averaging 5.6 yards per carry, compared to Bradshaw's average of 4.3. But Bradshaw has much more of an NFL track record, including a 1,235-yard season in 2010.
Brown admitted that it will be a challenge, continuing to be as productive when getting fewer opportunities. "Playing running back, once you get three carries, four carries, you get in a groove of things," Brown said.
But he'll be happy with any opportunities he gets, after spending three years on the bench, waiting for his chance to play.
"I just feel like, if we're splitting the carries, I'm just gonna have to take advantage of every carry," Brown said. "I just wanna stay out there and try to take advantage of every carry I get."
September, 25, 2012
9/25/12
2:51
PM ET
Giants running back
Ahmad Bradshaw
, who missed the team's 36-7 win over the Panthers last week, is planning to play Sunday night against the Eagles.
"You can guarantee it. You can guarantee I'll be there," Bradshaw said Tuesday, speaking with Stephen A. Smith and Ryan Ruocco on ESPN New York 98.7 FM.
Bradshaw suffered a neck injury in the Giants' Week 2 win over the Buccaneers. Backup
Andre Brown
has thrived in Bradshaw's place, with 184 rushing yards and three touchdowns -- including 113 yards against the Panthers. But Bradshaw expects to regain his starting role.
"I don't expect anything different," Bradshaw said. "Andre's a great back. Against the Panthers, he helped our team out a whole lot. I expect him to get his carries and help me out as much as possible.
"I don't know the game plan for the Giants with me and Andre yet, but so far it's just the same," Bradshaw added. "I'm just planning to go out and run the ball like I've been doing."