New York Giants:

Denver Broncos
January, 28, 2014
Jan 28
8:15
PM ET
By
Lyle Crouse
| ESPNNewYork.com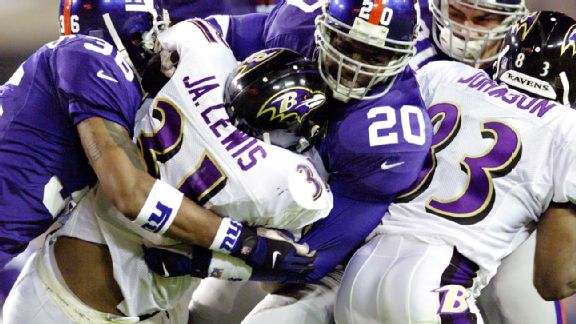 Brian Bahr/ALLSPORT Sam Garnes (20) and the Giants fell behind quickly and never recovered in Super Bowl XXXV.
NEWARK, N.J. --
Sam Garnes
is trying to help the
Denver Broncos
win a Super Bowl, yet he was asked Tuesday about his experience losing the NFL's championship game.
And the former safety didn't backpedal from the line of questioning.
"No, no," he insisted. "That's
real
."
In five trips to the Super Bowl, the
New York Giants
have lost only once. Garnes, a Bronx native, was the starting strong safety for that team, which fell 34-7 to the
Baltimore Ravens
in January 2001.
So Garnes, Denver's assistant secondary coach, imparts a clear message to the Broncos as they prepare for Super Bowl XLVIII against the
Seattle Seahawks
: You don't want to know what it feels like to lose this game.
[+] Enlarge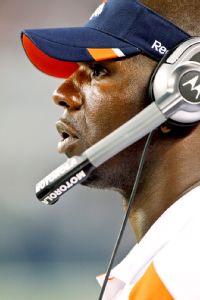 AP PhotoGarnes is in his third year on the Broncos' coaching staff.
"I tell my players, we're not interested in having fun for two weeks between the AFC Championship Game and the Super Bowl," Garnes said at Super Bowl media day. "We want to have a great time for several months [afterward]."
That approach has remained constant for Super Bowl teams through the years. Other aspects of the experience have changed, including media day.
"It's amazing. You've got fans here," he said as he surveyed the scene. "We didn't have fans in Tampa Bay's stadium [13 years ago].
"And now we're playing a cold-weather game, which at that time was unheard of."
Ah, yes, the cold-weather Super Bowl in East Rutherford, N.J. Cold, hot, whatever -- Garnes, 39, is just happy to be home.
"Selfishly, I wanted to be here when they said the Super Bowl was in New York," said Garnes, who attended DeWitt Clinton High School in the Bronx and played for both the Giants and
New York Jets
during his seven-year playing career.
"Selfishly, I wanted to be here, and I will admit that, because this is a place I love. All my players and coaches, they know much I love where I'm from."
Garnes -- who was quick to clarify that the Super Bowl is in the "Greater New York area; there's no disrespect to Jersey" -- looks forward to making the short trip to the Bronx from the Broncos' hotel in New Jersey.
"Right now we're busy," he said, "but as the week winds down, I'll have time to go over there and get me some of that good ol' Bronx pizza and get me some Chinese food."
He'll likely get a warm welcome wherever he goes. "I have a lot of family still in the area," he said. It's the perfect setting for Garnes' return to the NFL's marquee event.
"To come back to your home area and be a part of the Super Bowl," he said, "is a great feeling."
January, 26, 2014
Jan 26
7:45
PM ET
JERSEY CITY, N.J. -- As brothers who are NFL quarterbacks,
Eli Manning
and
Peyton Manning
compare notes. With older brother Peyton and the
Denver Broncos
in New Jersey this week to play the Super Bowl in the
New York Giants
' home stadium, little brother Eli has said he's trying to offer as much local-knowledge help as possible. But when the topic turns to how to beat the
Seattle Seahawks
, Peyton joked Sunday, Eli's not going to be much use to him.
"Yeah, he told me he couldn't help much with Seattle," Peyton Manning said in his news conference shortly after the Broncos arrived Sunday afternoon. "That wasn't one of the Giants' best games."
Eli Manning threw five interceptions in a 23-0 Giants loss to the Seahawks at MetLife Stadium in Week 15.
September, 13, 2013
9/13/13
2:00
PM ET
Sunday's Manning Bowl is the matchup of the weekend and a lot of folks are comparing the two decorated quarterbacks. In a head-to-head battle, most people would chose Peyton over little brother Eli based on pure talent.

But what if we gave Eli a head start? As we know, the younger Manning has two Super Bowl rings to big brother's one.
The Broncos look destined for playoff glory this season, but Peyton needs one more ring just to catch up to Eli -- who has come to be known as a clutch quarterback in the postseason. So who will finish his career with more? It's the question we asked on
Twitter Thursday night
. We chose our favorite answers and posted them below.
You can still weigh in using the hashtag #Manningvote or vote in our handy SportsNation poll.
And in case you missed it, check out some more of our coverage of the Manning Bowl:
September, 12, 2013
9/12/13
4:29
PM ET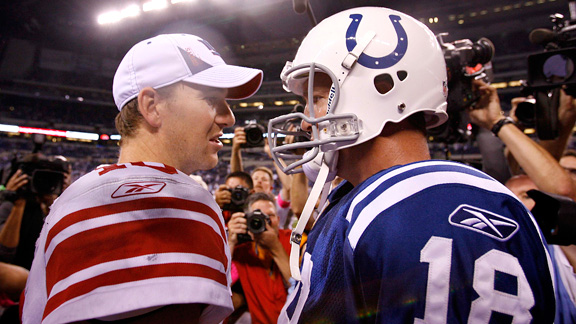 Brian Spurlock/US PresswireBrothers Eli (left) and Peyton Manning last met on the field during the 2010 season.
ENGLEWOOD, Colo. -- There is plenty in life's tapestry that
Champ Bailey
and
Peyton Manning
have in common.
Both were raised in the South, consistently credit their parents for showing them the importance of doing things the right way, played in the football-mad Southeastern Conference, and belong to the ultra-exclusive list of players who have been named to 12 Pro Bowls. Oh, and each understands what it is to look across a football field, with thousands in the seats around him and the last notes of the national anthem echoing in his ears, and see his brother on the other sideline.
"I've always said there's a lot of pride in that," Champ Bailey said of facing teams his brother, Boss, played on. "Family is family. Our thing was you don't drift apart; you play hard that day, in that game, because you want to win. You always want to win, to be the best, but it's hard to explain to people because it's never, 'I've got to beat you' -- because when the game was over, we were still brothers."
Boss and Champ Bailey were even teammates with the
Denver Broncos
for the 2008 season -- a year in which Boss Bailey played only six games because of injuries in what turned out to be the last season of Mike Shanahan's Denver tenure. The Bailey brothers felt the interest and dealt with the questions, but they weren't quarterbacks.
They weren't Super Bowl-winning quarterbacks. And they weren't Super-Bowl winning, "Saturday Night Live"-hosting quarterbacks who also happen to be two of corporate America's favorite pitchmen. So when football nation wants to see all there is to see, hear all there is to hear about a game that includes
Peyton Manning
and
Eli Manning
, it's a little different deal.
So much so that when Peyton was asked this week about what his parents -- Archie and Olivia -- think about all that will come with watching two of their sons in Sunday's nationally televised affair between the Denver Broncos and
New York Giants
, the Broncos' QB said:
"I don't think they enjoy it all that much."
Since the Giants made the draft-day trade with the
San Diego Chargers
in 2004 to acquire Eli, this will be the third, and perhaps because of NFL schedule rotations, last meeting between the brothers. Peyton's
Indianapolis Colts
won the previous two -- in 2006 and 2010. The 2006 game was the season opener for both teams.
"Well, I think the best part about this one is that it's not the opener," Eli said. "It's much better when it's the second game -- or later -- just because you don't have to be asked about it for three months. You get a week of questioning that you have to deal with."
Peyton was asked this week if Sunday's game was one he had been thinking about through the offseason, and he did what he usually does when the well-honed deflector shields are up -- he tried to move on to something else.
"We knew we were going to play them, and based off of last year I knew we'd probably be on TV," Peyton said with a laugh. "So when it was, where it was, Week 2 or whatever -- I'm glad we only have to talk about it for one week. … But I did the New York conference call and there was not one question about the Giants' defense. I had to force it in there myself."
Yes, he did, in the traditional conference call with the opponent's media. After several questions about facing Eli, Peyton simply said:
"I haven't been asked one question about the Giants' defense. That's where the focus is for me as a quarterback and for our offense. It's a good defense. They were put in some tough spots due to some turnovers against Dallas, but they were outstanding last year in creating turnovers, outstanding in the red zone, and so those are things that they're very capable of and that's where our focus is, is getting ready to play a tough defense on the road. At the same time, you do know because of their explosive offense, they're capable of scoring some points, so you better be on top of your game from an offensive standpoint."
It could all be a product of a wired world and 24/7 news cycles, with so many in the populace armed with cellphone cameras, but the Mannings publicly wrestle with this game. They are brothers, they are close, and they spend a great deal of time together. They talk plenty, though not about football this week, and they have even stood pop culture on its ear together with a little football on your phone. In short, they live with the idea, as Champ Bailey put it, that "family is family."
And even as they have tried to keep the rarity of it all at arm's length, to live in the week-to-week moments of the NFL, they both say they have taken time to appreciate the rarity of what has happened in the past -- it is unprecedented for quarterbacks of their stature in the game -- and will take a moment Sunday night to appreciate it once again.
"The past two times we have, for whatever reason, lined up across from each other during the national anthem," Peyton said. "So you do take a moment to realize that it is your brother over there that is a quarterback for the New York Giants in the NFL, and it is the same person that you grew up with. So it is unique, and I think you do take a moment to realize that it is special. But once the game gets started, all week the focus is on their defense, and you can go out there and just play."
"When I look back at the times we played against each other, I think you remember the national anthems and looking over and nodding at your big brother, talking to him before the game a little bit, the handshake after the game," Eli said. "Those things are special moments. … I'm proud of Peyton and his football career, also just proud of the way he's handled himself off the field and all the great things he's done. He's my big brother and one of my best friends."