New York Giants:

Minnesota Vikings
October, 18, 2013
10/18/13
5:38
PM ET
EAST RUTHERFORD, N.J. -- There's a little more excitement for Giants linebacker
Jon Beason
when he goes against one of the best running backs in football.
Enter Minnesota's
Adrian Peterson
on Monday night.
"That's how you define yourself," Beason said. "It's all about what you do against 'the man.' If he's the standard, then you want to see where you measure up."
If the Giants want to win their first game Monday, they're going to have to slow down Peterson, the reigning NFL MVP. Peterson enters the game fourth in the league with 483 rushing yards, while the Giants are one of the worst teams in the NFL against the run -- 26th, to be exact, allowing 123.3 yards per game.
"He's a great back," linebacker
Spencer Paysinger
said. "Almost say a perfect package of a back."
Peterson isn't producing like he did last season, when he rushed for 2,097 yards and almost single-handedly propelled the Vikings to the playoffs, but he's still been quite good. Despite shaky quarterback play, Peterson is averaging more than 96 yards a game and has five rushing touchdowns.
Giants defensive coordinator Perry Fewell said Peterson is the most dangerous back in the league, and Paysinger complimented Peterson for his elusiveness. The linebacker said Peterson has great power and speed, and he can make great cuts and hit the edge as well as any of the fastest backs in the NFL.
The Giants also complimented Peterson for his ability to break off long runs with ease.
"I see guys hit him, tackle him, punch him and he just keeps coming. He's got an iron wheel, and he's a strong runner, and he's got a great determination to make those yards," Fewell said. "We'll all have to be on the same page. We'll all have to swarm tackle, gang tackle. See what we hit and hit what we see."
Peterson is coming off his worst game of the season, a 10-carry, 62-yard effort against the Panthers last week, but the Giants are expecting they will see a heavy dose of him Monday as the Vikings break in new quarterback
Josh Freeman
. Freeman, who quarterbacked the Buccaneers earlier this year, signed with the Vikings on Oct. 8, giving him less than two weeks to learn the playbook.
The Giants' rush defense has done well in holding marquee backs like
LeSean McCoy
,
Jamaal Charles
and
Matt Forte
in check, but they still have allowed more than 100 yards in each of their past five games.
"Everyone knows Adrian Peterson is a special player. I like to tell people he should be playing on the defensive side of the ball with his determination, the way he plays every down like it's his last," Beason said. "I love to watch him play football. It's a big challenge, but it's an opportunity to do something great."
One Giants defender, though, wasn't singing Peterson's praises. Cornerback
Terrell Thomas
, who has torn his ACL three times, told Newsday he didn't find inspiration in watching Peterson tear his ACL in December of 2011 and win the MVP the following season.
"I was happy for his success, but it didn't help me," Thomas told Newsday. "What he went through, I already did that. I came back off an ACL. Came back and had a great year. Came back in four months and ran a 4.3, blah blah blah. I did all that."
October, 18, 2013
10/18/13
12:00
PM ET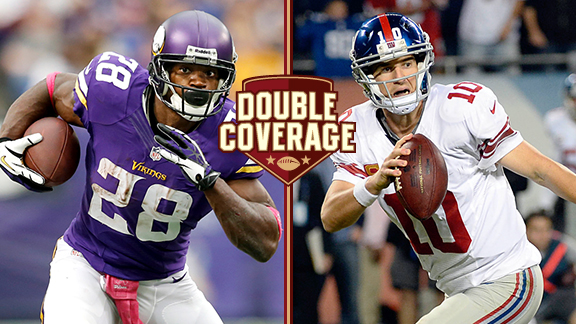 USA TODAY SportsAdrian Peterson and Eli Manning will likely have to carry the offenses on Monday night.
This time last year, the
New York Giants
and the
Minnesota Vikings
were both 4-2 and headed for winning seasons. But as they get set to square off on "Monday Night Football" at MetLife Stadium, the Vikings are 1-4 and the Giants an even more miserable 0-6.
ESPN.com Giants reporter Dan Graziano and ESPN.com Vikings reporter Ben Goessling break down the matchup of NFC disappointments.
Dan Graziano
: Ben, the Giants only have four interceptions and five sacks, so I imagine there were a lot of people in the Vikings locker room interested in playing quarterback in this game. Why did the Vikings pick newcomer
Josh Freeman
, and what do you expect their offense to look like with him running it for the first time?
Ben Goessling:
A lot of this, I think, is an attempt to make a quick-course correction after things with
Christian Ponder
didn't pan out. If it works, GM Rick Spielman can make people forget about the Ponder pick, the Vikings might win a few games to keep coach Leslie Frazier's job and they could have a solution to their quarterback problem for next season. If it doesn't work? They're only out $3 million.
As for Monday night, I'd expect the Vikings to try to limit how much they put on Freeman, so I expect we'll see plenty of
Adrian Peterson
(not that we wouldn't anyway). Considering how bad the Giants have been at stopping the run, that could be a good approach for the Vikings. They're always better when they can get a lead and let Peterson go to work, and they haven't done a good job of controlling the clock so far this season. This matchup might give them a shot to do that.
Now back to the quarterbacks: We know
Eli Manning
has a tendency to turn the ball over, but this has been strange even by his standards. What has been his biggest problem?
Graziano
: Yeah, 15 interceptions in six games is stone-cold ridiculous, and I think it speaks to a general lack of comfort for Manning, who for years has thrived on comfort and routine and familiarity. The Giants started the season with major problems on the offensive line, and they have continued (and in some cases worsened) as the year has gone along.
The inability to establish any kind of run game, combined with the early-season failures in pass protection, rattled Manning, and even though the protection has improved overall and
Brandon Jacobs
managed to rush for 106 yards against Chicago, Manning still just doesn't seem right. He's not making those great, deep sideline throws he used to make, he's missing too many easy throws, and even when he's throwing well, he's staring down receivers and isn't setting his feet. He's just been erratic, and the result the past couple of weeks has been interceptions in the worst possible spots. The Bears didn't really pressure him that much, but he coughed it up anyway in the clutch. Just not himself.
Will he have a chance to get comfortable at all Monday night? How's that Minnesota pass rush these days?
Goessling
: It hasn't been up to the Vikings' normal standards, which has been one of their biggest issues on defense. In the past, the Vikings have been able to survive because their pass rush generated enough pressure to mask issues in the linebacking group and the secondary. But the Vikings have just 10 sacks this season, and what's worse, they've had to bring pressure to get some of them -- three of the 10 are from linebackers
Chad Greenway
and
Erin Henderson
. They shouldn't have to bring extra pressure with
Jared Allen
,
Brian Robison
,
Everson Griffen
& Co. on the defensive line, and having to do so exposes a porous secondary, which might be even worse this week with
Harrison Smith
battling turf toe. So, yeah, I think this might be a good week for Manning to get on track.
The Vikings also haven't been as good as they're accustomed to being against the run. Is Jacobs in line to hurt them, or do you see his game against the Bears being a fluke?
Graziano
: Got to be a fluke, Ben. The Bears are down to third-stringers in the middle of that defensive line, and the Giants' game plan wisely took advantage of it for Jacobs' throwback-to-2008 game. His 106 rushing yards against Chicago represent 26 percent of the Giants' team total for the season. And, perhaps, most importantly, both he and
Da'Rel Scott
injured their hamstrings in that game. Scott has been released, and Jacobs didn't practice Monday. Even if he does play, they may not want to work him as hard as they did in Chicago.
The backups are rookie
Michael Cox
, who doesn't have an NFL carry yet, and
Peyton Hillis
(yeah, same guy), who signed Wednesday and is no sure thing to even get a uniform for this game. New fullback
John Conner
looked to be an asset as Jacobs' lead blocker in Chicago, so it's possible things are getting better for the Giants in the run game. But based on their options for carries, this has to come down to Manning and the passing game getting on track.
But I'd like to get back to something you said in your last answer. Ten sacks! That's twice as many as the Giants have. Oddly, in spite of the overall yardage totals, one thing they have done well on defense is stop the run up the middle. They're allowing just 3.9 yards per carry and have held
Matt Forte
,
LeSean McCoy
and
Jamaal Charles
to 67, 46, 65 yards, respectively, in the past three weeks. Peterson is obviously his own special case, but he didn't have a big game Sunday. Do you think the off-field tragedy was or could be a factor in his performance?
Goessling
: I didn't see that as a huge issue on Sunday, though I'm sure it was on his mind. It had more to do with the Panthers' stout run defense and the inability of an offensive line that was pretty good last season to open holes for Peterson. As a result of that, he has gotten anxious at times, trying to turn every run into a big play, and he just hasn't looked as fluid this year as he did last season. Missing
Jerome Felton
, his Pro Bowl fullback, for the first three games didn't help, but now that Felton is back, Peterson has everything he had last year.
If the Giants have been able to hold the point of attack up the middle, Peterson might not have as much success as I would have initially thought. He's obviously capable of breaking a big run at any time (he has touchdown runs of 78 and 60 yards this season), but we're still waiting for him to control a game like he did so often last season.
To wrap this up, complete this sentence for me: The Giants will win on Monday if they ...
Graziano
: Get some pressure on Freeman and don't turn the ball over more than once. I'm not holding my breath. Thanks, Ben. This has been fun. See you Monday night.
.