New York Giants:

Perry Fewell
January, 1, 2013
1/01/13
12:25
PM ET
Osi Umenyiora
said he believed that Sunday was likely his last game as a Giant.
The fans voting in ESPNNewYork.com's
Take 'Em or Trash 'Em poll
would like that to be the case.
Despite Umenyiora's stellar career with the Giants, 77 percent of early voters want him to take his talents elsewhere next season. The 77 percent disapproval rating is the highest so far for any Giants player.
Umenyiora isn't the only one feeling the wrath of fans on the defensive side of the ball, though. After watching him give up long touchdowns all season, the fans have voted to ship veteran
Corey Webster
out of town at a 62 percent clip. Like Umenyiora, Webster helped the Giants win two Super Bowls -- but fans would like to see some changes made to a struggling unit.
Defensive coordinator Perry Fewell, whose defense in the regular season has been among the worst in the NFL the past two seasons, is also getting heat, with 56 percent of the fans wanting him gone. Fewell is the only member of the team's coordinators so far to fail with the fans, as special-teams coordinator Tom Quinn has 83 percent of the take vote and Kevin Gilbride has a 55 percent approval rating.
Overall, Giants fans seem to believe this team doesn't need a huge makeover after missing the playoffs for a third time in four seasons. Just four players overall are receiving more trash votes than take, with
David Diehl
being the only player on offense getting voted out. Diehl, who has often drawn the ire of fans, has received 72 percent of the trash vote after another rough season.
Tight end
Martellus Bennett
, a free agent, won over fans in his first season in New York, as 92 percent would like to see him back. Fans also hope that
Kenny Phillips
will get re-upped, as 77 percent would like to see the oft-injured safety back in New York. In something of a surprise, all five linebackers (
Michael Boley
,
Chase Blackburn
,
Jacquian Williams
,
Mark Herzlich
and
Keith Rivers
) have received more take votes, with Herzlich leading the way.
December, 21, 2012
12/21/12
9:35
PM ET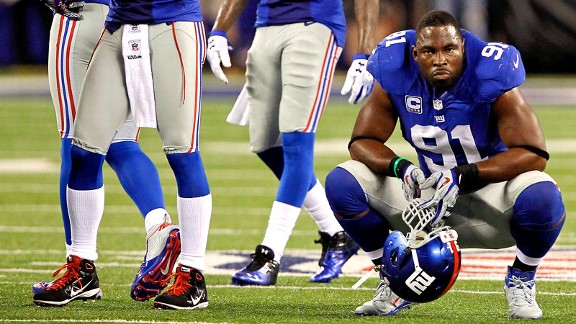 Noah K. Murray/THE STAR-LEDGER/US PRESSWIREFormer teammate Antonio Pierce can't put his finger on it, but he's not seeing the same Justin Tuck.
As
Antonio Pierce
wrapped up his career in 2009, teammate
Justin Tuck
was developing into one of the top young defensive ends in the league.
Now, as the once-vaunted Giants pass rush has seemingly regressed, Pierce sees a noticeable difference when he analyzes the Giants' defensive captain.
"I played with Justin Tuck and have a tremendous respect for him. But he has not been the same player emotionally, mentally or his play in the last three years. It's just the facts," Pierce said on The Michael Kay Show on ESPN 98.7 FM on Friday. "He came on late last season and once
Antrel Rolle
and a couple of other guys said he had to pick it up, but for the most part, he's a situation, third-down, passing situation defensive end."
As the Giants pass rush has faltered this season, as the Giants are tied for 16th with just 32 sacks, Tuck's inefficiencies have been magnified as the Giants head into their final two games. After registering 28 sacks from 2007-09, Tuck has just 19 1/2 sacks the past three years, including eight the past two seasons. This year, he has just three.
Pierce played with Tuck from 2005-09, and doesn't believe Tuck's playing good football for the defending champions at the moment. Tuck has dealt with injuries over the past two years, including a shoulder injury that might sideline him this week against Baltimore, but he hasn't approached the level he played at in 2010 when he had 11 1/2 sacks.
Pierce couldn't put his finger on what exactly he believes is the difference in Tuck, but he has noticed that Tuck isn't showing the same fire he showed several years ago. Tuck did talk last season about considering retirement because of personal and family hardships.
"For me, the guy I played with, when he was there, a lot of energy, a lot of passion, brought it each and every play, each and every snap, loved to play the game," Pierce said. "I heard him mention it last year before the run [that] he didn't know where his mind was at, or if he was into the game. His comments this week, the same thing. As much as I want to give the answer, that's really a question he has to answer."
He added: "When you watch him on Sundays, you do not see the energy, you do not see the fire he used to play with. And I don't know why. I don't know if it's personal stuff going on or maybe he's physically tired."
While Tuck's play has been dissected, the team's scheme also has come under fire. Giants defensive coordinator Perry Fewell has led top sack units with the Giants, but he can't push the right buttons this year. Pierce wondered if the coordinator was doing enough to allow his players to be successful.
"Has Perry Fewell adapted? Has he gone above and beyond scheme-wise and trying to move these guys around, standing them up, coming up with different looks?" Pierce said. "You see it every once in a while. But not enough."
December, 6, 2012
12/06/12
6:15
PM ET
EAST RUTHERFORD, N.J. -- The Giants coordinators met with the media on Thursday. Here are some of the highlights:
OFFENSIVE COORDINATOR KEVIN GILBRIDE
• The Giants offense controlled the clock, racked up yards and moved the ball at will at times against the Redskins Monday night, but only ended up with 16 points. Gilbride pointed to the starting field position as a reason for why they didn't score more.
The best field position the Giants had was their own 24-yard line and they began five drives within their own 15-yard line. In the second half, their best starting position was the 20.
"You have to be just about perfect to put it in; the percentages (aren't high) ... ," Gilbride said. "That's why there's defenses and a lot of defensive coaches in the league that premise their defense on that strategy: you can't drive without making a mistake."
DEFENSIVE COORDINATOR PERRY FEWELL
• In three of the Giants five losses this year (Dallas, Pittsburgh and Washington), the defense has been unable to get the ball back for the offense. Throw in the Philadelphia loss, when the team gave up the go-ahead field goal on the Eagles' final possession, and the Giants have struggled in those final few minutes when they need a stop.
Just like head coach Tom Coughlin said last year, Fewell preaches that the defense needs to be able to finish. Washington was able to pick up three first downs in the final 3:51.
"Obviously we want to close out and be able to finish games. The opponents executed better than we have, so my frustration is our execution," Fewell said. "I think we've been in position to make plays to get off the field and do that, and we have not executed and we have been in position to execute. I think it just comes down to our whole theme, which is: finish. We know how to, we're just not consistent at finishing."
• Fewell believes
Antrel Rolle
's claim that the Giants need to be nastier was a way to try to rally the team for the final four games.
"I think he's trying to send a message that it's time to get going, boys, it's December and we have to do a much better job than we've been doing," Fewell said.
SPECIAL TEAMS COORDINATOR TOM QUINN
• Quinn said that receiver
Domenik Hixon
, who has had success as a return man in the past, could see work as a kickoff or punt returner in the future. He said Hixon could potentially be used more on kickoffs if
David Wilson
sees an increase in play time on offense.
• NFL Commissioner Roger Goodell is considering eliminating kickoffs, according to a TIME Magazine article. Quinn doesn't see a need to make any change.
"It's a good part of the game," Quinn said. "I think kicking off from the 35 has decreased the number of injuries, and we'll continue to see that trend."
November, 19, 2012
11/19/12
6:41
PM ET
EAST RUTHERFORD, N.J. -- Giants safety
Kenny Phillips
hopes to play against the Packers on Sunday after missing the past six games with a sprained MCL. The safety had planned to be back against Pittsburgh on Nov. 4, but couldn't recover in time.
"I felt good about Pittsburgh. I feel a lot better about this one," Phillips said with a laugh. "I haven't practiced yet, but I still feel pretty good (about playing)."
Phillips participated in the team's practice on Monday, describing his involvement as the team allowed him to run around on his own and participate in the drills. He said he hopes to do the same on Tuesday, and then practice with the team on Wednesday as they prep for Green Bay.
Phillips injured his knee against Philadelphia on Sept. 30, and the original timetable was four to six weeks. The veteran didn't think he would be out for that much time and pushed himself to get out there. He came closest to returning against Pittsburgh, as he practiced all week leading up to that game and said he would play, but he was ultimately held out. The Giants were 4-2 in his absence, winning the first four games.
"My intention was (to be) playing. I went through the week practicing, but right before the game I didn't feel I could help the team," Phillips said. "Probably would have hurt them more than I would have helped, and I definitely would have hurt myself. We got another MRI and we just decided to take some time off."
Phillips said that the MRI taken after the Pittsburgh game showed he was healing fine, and he and the training staff decided that rest would be the best remedy. Each week they had tried something different, be it the effort he put into his running or the type of running he did, but it didn't make a difference. Phillips believes he made the right decision in sitting out as his health has improved.
"It feels a whole lot better," Phillips said. "The trainers and myself felt like some of the things we were doing really wasn't working out so we kind of switched the game plan and tried some new things. Thus far, it feels pretty good. Hopefully, when I get out there Wednesday I'll be able to practice and play this week."
When Phillips comes back, the Giants will try to utilize their three-safety package that was so successful last year. Backup
Stevie Brown
has played well in Phillips' absence with all his turnovers and has made it hard for the coaches to take him off the field.
"We like to think we can," Giants defensive coordinator Perry Fewell said last week about the three-safety look. "Obviously, we'd like to get Kenny back to practicing and see how we can incorporate that package. That's in my plans. That was in my plans a couple of weeks ago. I'm looking forward to when he can come back and we can actually put that together."
November, 18, 2012
11/18/12
8:00
AM ET
EAST RUTHERFORD, N.J. -- At times,
Kenny Phillips
can be the comic book superhero. Just as easily, he can be the sidekick.
Just ask Giants safeties coach David Merritt.
"You don't have to have all Batmans. You got to have some Robins. And the thing about Kenny is he's one of those guys that he can be a Batman, but at the same time, Kenny's a very good Robin," Merritt said last Monday. "That guy who doesn't have to be in the media all the time.
"He's a tremendous talent we do miss."
The Giants are hoping to have their strong safety back after the bye as they embark on their final six games of the regular season. Phillips has missed the team's last six games with a MCL sprain he suffered against the Eagles. During his absence, the team has received strong play from backup
Stevie Brown
.
"We miss Kenny, because (he's) a guy that has played well for us and he has been consistent for us over the years," Merritt said. "To be able to find out about Stevie Brown with these past five or six games, that has been a breath of fresh air."
Phillips suffered his injury against the Eagles on Sept. 30, but it appeared he would be able to return before the team's bye. He practiced all week leading up to the game against Pittsburgh on Nov. 4, even saying he would be playing, but instead was inactive. The team held him out of the following weekend's loss to Cincinnati, as he wasn't ready to play yet.
While Brown has played well filling in, not having Phillips has affected the team in how it has matched up against tight ends. Cowboys tight end
Jason Witten
had 18 catches for 167 yards against the Giants on Oct. 28. Cincinnati's
Jermaine Gresham
caught a touchdown.
"We miss him in more ways than one. Not only in the post or in the half, but his athletic talent to cover a guy like Jason Witten or Gresham," Giants defensive coordinator Perry Fewell said. "It's a big loss when you have a talented player like that."
Having Brown step up and play well in Phillips' absence has been a blessing for the Giants. He earned Defensive Player of the Week honors for his efforts in a victory at Dallas, and has been fantastic at creating turnovers. When Phillips comes back, the team will look to use the three-safety set it used so successfully last season during its run to the Super Bowl.
"We like to think we can," Fewell said. "Obviously, we'd like to get Kenny back to practicing and see how we can incorporate that package. That's in my plans. That was in my plans a couple of weeks ago. I'm looking forward to when he can come back and we can actually put that together."
November, 8, 2012
11/08/12
6:27
PM ET
EAST RUTHERFORD, N.J. -- Giants offensive coordinator Kevin Gilbride, defensive coordinator Perry Fewell and special teams coordinator Tom Quinn all met with the media Thursday. Here's some of the highlights of what they had to say as the Giants prepare to face the Bengals on Sunday.
GILBRIDE
• The Giants offense has struggled in recent weeks, putting up back-to-back underwhelming efforts against the Cowboys and Steelers. The offensive coordinator acknowledged that not having wide receiver
Hakeem Nicks
and running back
Ahmad Bradshaw
healthy has affected the offense.
"You have, these are the plays you like, and you like them because your players perform them, and defensively, this is what they're vulnerable at," Gilbride said. "The problem is now, certain guys can't do those things, even though you intellectually say, that's the way the scheme (works) and they're vulnerable. It's good, but guess what, he can't do it. Whether it's through injury or a guy that does different things well, there's no question that it impacts, no question about it."
•
Eli Manning
has come under fire recently for his play, as he has thrown just one touchdown in the past 14 quarters and has struggled in the past three games. Gilbride wanted to take some of the heat off his quarterback for the team's stagnant offensive play.
"He gets way too much credit when things go well; he gets way too much blame when things don't go well because that position only performs as well as the guys around them. It's not just him, it's all of us, trust me," Gilbride said. "We all have to do a better job. Of course, it falls on my shoulders. We need to make sure we get those guys in position, that we're asking them to do things where they can be successful."
FEWELL
• Tom Coughlin ripped the Giants' rush defense in Sunday's loss, saying the defense looked soft. The defensive coordinator pointed to lapses in fundamentals
"I thought that we didn't shed well and we didn't tackle well. That was my impression of how we played," Fewell said. "We could've tackled a hell of a lot better. We could've shed a hell of a lot better in that football game to make some football plays."
• The current Giants defense might not be a throwback to the Giants defense of the 1980s, but Fewell believes this group embodies what a Giants defense has historically represented.
"Eleven to the ball, hard-hitting defense. Never say die," Fewell said. "Obviously, we want to take the football away, turn the football over. We want to be relentless in our pursuit and swarm to the football."
QUINN
• After getting gashed by the Steelers in the return game last Sunday, the Giants special teams unit was not too pleased with its effort.
"We're (ticked) about that. The defense bailed us out, take our hats off to them, but we have to do our job," Quinn said. "We didn't do our job, we weren't physical enough, weren't fast enough down the field and we didn't get off any blocks."
• Quinn is pleased with the job
Rueben Randle
has done as the team's punt returner, but would also like to see some more aggressiveness. Randle has just 10 returns on the season for 69 yards, compared to 12 fair catches. The team averages 6.7 yards per punt return.
November, 1, 2012
11/01/12
7:30
PM ET
EAST RUTHERFORD, N.J. --
Stevie Brown
is bringing back the three-safety look to the Giants.
Brown, originally a backup, has been starting alongside
Antrel Rolle
and leads the league in takeaways. Regular starting strong safety
Kenny Phillips
will return this week from a sprained knee.
"Really because Stevie has emerged and come on like this, it gives me more ideas to have the three-safety package," Giants defensive coordinator Perry Fewell said. "And now we can go forward with that."
As the Giants made their run to the Super Bowl last year, the team used a three-safety package of Rolle, Phillips and
Deon Grant
. It proved to be quite successful and helped cover up for some of the team's inefficiencies at other areas of the defense. Rolle played in the slot, Grant played in the box and Phillips played deep.
The team tried to incorporate that package earlier this season, with linebacker
Jacquian Williams
alternating as a big safety, but he has missed the last two weeks with a knee injury.
Brown, who has five interceptions, has made it difficult for the Giants to take him off the field. Throw in Phillips' return and the Giants have a package, so they don't have to choose between which of their three safeties they want off the field on any play.
"Our plans can totally focus on, hey, we have a three-safeties package with three good players in there," Fewell said.
Brown, who has seven takeaways, believes having three safeties on the field could work for the team. Ever since taking over for Phillips in October, Brown has had a knack for finding the ball in key spots, including big interceptions in the wins over Cleveland, Washington and Dallas. He had two picks and a fumble recovery last week against Dallas.
"I feel like we can all run, we can all cover well, we can all do different things so you might never know what's coming," Brown said. "We could be in man coverage, we could be coming out in different-type zones, we could be blitzing, and I feel like we all are interchangeable."
October, 13, 2012
10/13/12
3:00
PM ET
By
Mike Mazzeo
| ESPNNewYork.com
EAST RUTHERFORD, N.J. -- Giants defensive coordinator Perry Fewell said Thursday he likes linebacker Jacquain Williams' ability to match up with
San Francisco 49ers
elite tight end
Vernon Davis
.
But when asked about covering Davis on Friday, Williams responded, "that's not my role."
Regardless, the key to a Giants' victory this Sunday in San Francisco will likely be containing (since you can't stop) Davis -- and it's up to Fewell to figure out how to do so.
In last season's NFC title game, Davis torched the Giants for 112 yards and two touchdowns, but Big Blue was still able to prevail. The 28-year-old is coming off a season-high 106-yard receiving effort against the
Buffalo Bills
last week.
The Giants have had success covering tight ends in 2012. Only Carolina's
Greg Olsen
has gone off -- snagging seven passes for 98 yards in Week 3.
Looking at New York's roster, putting Williams on Davis seems to make the most sense. Williams covered the 49ers tight end in last season's regular-season game, but not in the playoffs. Williams certainly has the speed to keep up with Davis.
But maybe Fewell will decide to put one of his other linebackers on Davis with safety help from
Antrel Rolle
or Stevie Johnson over the top. Maybe he'll go with Rolle. Maybe he'll go with a mix of defenders, since the 49ers like to put Davis all over the field in different formations.
It's going to be intriguing to see just how exactly Fewell schemes against Davis.
October, 11, 2012
10/11/12
6:38
PM ET
EAST RUTHERFORD, N.J. -- Giants offensive coordinator Kevin Gilbride and defensive coordinator Perry Fewell speak with reporters on Thursdays.
Here are the highlights from this week's session with each:
GILBRIDE
• In the NFC Championship Game back in January, the 49ers roughed up
Eli Manning
, sacking him six times and hitting him on six other occasions as well.
Gilbride was asked about the 49ers' front seven, and why they're so tough to block: "Ability. That's it. They have great players. They're tremendous, they're tough. They have great speed on the outside,
(Justin) Smith
is a beast on the inside -- he's strong, he does as good a job (as anybody) of grabbing a hold of offensive linemen and allowing those twists to take place. He never gets called for it so he gets away with murder.
"That, in conjunction with the ability level they have, makes them as formidable as anybody we go against, and we go against some pretty good ones in Dallas' and Philadelphia's. They're as good as anybody up front."
The Giants have only allowed Manning to be sacked five times in five games so far this season. The 49ers have nine sacks, tied for 19th in the league.
• Gilbride doesn't sound too concerned about the fact that two former Giants -- WR
Mario Manningham
and RB
Brandon Jacobs
-- are now with the 49ers and able to share information about Big Blue:
"You certainly wish it didn't happen, but many of the things we do are predicated on what you do defensively. If you're going to sit down because, 'Hey, this is where it's supposed to go,' guess what, we're not sitting down because you're not where you're supposed to be. Most of our big plays take advantage of situations where guys are trying to overplay or cheat on a route. That's when our big plays happen.
"It really doesn't matter what you do -- if we're doing it well enough, we're going to have a chance to get open. It still comes down to, are you good enough to beat a defender and are you good enough up front to provide sufficient time for the quarterback to make those decisions, to sit and see who's open?"
FEWELL
• Through five games, the Giants have just eight sacks as a team -- tied for 24th in the NFL.
Osi Umenyiora
has just two sacks,
Jason Pierre-Paul
just one-and-a-half, and
Justin Tuck
has been shut out so far.
When asked about the D-linemen, Fewell expressed confidence in them, despite the slow start: "They'll get sacks, they'll get hits. I have a lot of confidence in those guys. They'll play, they'll be fine."
Fewell elaborated on the topic later on: "The way the offenses are attacking us right now, sometimes that limits their opportunities. The ball does come out pretty quick on us. The way people are playing us, it doesn't matter. We give them a number of opportunities to do what they do best. Obviously yes, we have to figure out and make the game more one-dimensional. If we do a better job in the run game, we can help them by letting them do what they do best."
• The 49ers lead the NFL in rushing, averaging 196.2 yards per game on the ground.
"They present you a lot of different runs and blocking schemes, a lot of different personnel groups with the formations and adjustments," Fewell said. "They are a little bit unique in what they do."
The Giants are currently ranked 16th in the league in rushing defense, giving up an average of 111.4 yards per game.
• With DT
Rocky Bernard
likely out again this Sunday, Fewell was asked about second-year pro
Marvin Austin
and rookie
Markus Kuhn
, who played in Bernard's absence last week.
Kuhn got 27 snaps against the Browns (47 percent), while Austin got 20 (40 percent).
"I thought Markus Kuhn performed pretty well," Fewell said. "I think Marvin is still a work in progress. He still needs a lot of work; he still needs a lot of reps. The talent is there."
October, 6, 2012
10/06/12
1:32
PM ET
By
Mike Mazzeo
| ESPNNewYork.com
EAST RUTHERFORD, N.J. -- The Giants forced no turnovers and recorded just two sacks in their 19-17 loss to the Eagles last Sunday night.
They likely can't afford their totals in those categories to be that low this Sunday -- even against the 0-4 Browns.
[+] Enlarge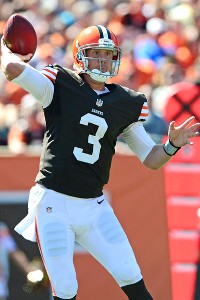 Andrew Weber/US PresswireRookie QB Brandon Weeden has thrown seven interceptions for the winless Browns.
Giants defensive coordinator Perry Fewell and coach Tom Coughlin must figure out how to make life miserable for Cleveland's rookie quarterback,
Brandon Weeden
. And they won't have rock-solid safety
Kenny Phillips
(knee) on the field.
"Containment has been an issue for us," frustrated defensive end
Justin Tuck
said earlier this week. "There's just certain things you can't do with the guys like
(Michael) Vick
and
Cam Newton
when you don't have Trel (
Antrel Rolle
) or you don't have KP (Phillips) back there.'"
Regardless, the Giants' defense needs to play with a chip on its shoulder and step up. Phillips won't be in the lineup, but reserve
Stevie Brown
played well in his absence in Philadelphia.
"To be put in that position and that type of situation, he really didn't have any major errors. He came in and he tackled well," Fewell said of Brown. "Obviously, we would've loved to have Kenny in there because we have some things that we like to do with Kenny specifically. (But) it wasn't that much of an alteration."
In his first four games, Weeden, 28, has thrown seven interceptions. The Giants must find a way -- whether it be with exotic blitzes, stunts or multiple coverages -- to force Weeden to make mistakes. And the Giants must capitalize off of them.
So far,
Jason Pierre-Paul
,
Osi Umenyiora
and Tuck have combined for 3.5 sacks. Even if they're seeing more attention than they ever have, that's not good enough.
"You know, anytime that you've had success and you haven't been able to build on that success early in the season, you're going to be frustrated somewhat," Fewell said. "When teams counter and do something to take you out of your game, you're going to be a little frustrated, but it's a long season.
"The thing we have to make sure is that we play within the framework of our defense, we play within the framework of the team. We're not selfish, we go out and play how we're supposed to play. When you whip somebody, you have to whip them and make a play. Again, we're going into the fifth game of the season. Those things will come, I'm very confident about that."
There's no reason Fewell shouldn't be. Still, this game is essentially a must-win for the 2-2 Giants. And with a brutal schedule on the horizon, their defense has to rise to the occasion and figure out how to make life miserable for Weeden on Sunday.
October, 4, 2012
10/04/12
7:10
PM ET
EAST RUTHERFORD, N.J. -- The defending Super Bowl champs are off to a tough start, and their best defensive player isn't a happy camper.
"I'm gonna go out there and have fun like I had last year,"
Jason Pierre-Paul
said Thursday. "I haven't been having fun this year."
Those are startling words coming from one of the most happy-go-lucky guys in the New York Giants' locker room. But Pierre-Paul placed the blame squarely on himself.
"I just gotta go out there and run around like a little kid, and just be happy that you're out there," he said. "Cause I feel like when I make the plays, I'm just like, 'OK, that's a good play, on to the next one.' [I need to] have that energy like I had last year."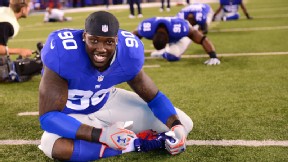 AP Photo/David DrapkinJason Pierre-Paul admits he's not having as much fun this year as he's had in the past.
Philadelphia Eagles in prime time last Sunday, a hard-fought contest against a bitter rival that came down to a missed field goal attempt in the final seconds. They also lost to the Dallas Cowboys, another division rival, on national TV in the NFL's regular season opener.

In between, the Giants managed victories over the Tampa Bay Buccaneers and Carolina Panthers. But the team's vaunted pass rush -- a driving force behind the team's championship run a season ago -- has been underwhelming thus far in 2012.

Through four games, the defensive-end trio of Pierre-Paul, Justin Tuck and Osi Umenyiora -- three former All-Pros -- has a combined total of 3.5 sacks, after recording 30.5 in last year's regular season alone.

Pierre-Paul -- who had 16.5 sacks by himself last season, fourth-best in the NFL -- has just 1.5 so far this year. Tuck is still looking to get on the board.

"I can just say this, I am not having that much fun either," Tuck said Thursday. "When I find out the cause of why I am not having as much fun, I will let you know."

Both the players and coaches say that opposing teams are using different approaches this season, trying to neutralize the Giants' defensive line.

"You're getting formations -- if you saw last week's game, you're getting multiple tight ends, what I call a 'box formation' over there. That's all to reduce the ability of the defensive end to just rush up the field to get to the quarterback," said head coach Tom Coughlin. "When you see those types of formations, typically on passing downs, you're aware of the fact that there is concern."

"When I watch the film on every team, every team is changing the way they play us," said Pierre-Paul. "We could go over something this week -- but the next week, that week we play them, it's totally different. We just gotta come out there and adjust to it."

"Oh yeah, people are doing some different things to try and protect against us," said defensive coordinator Perry Fewell. "They're getting the ball out quick, but you know, no matter what, you have to play the game."

"Each team has been different this year," Fewell added. "Sometimes you just have to whip somebody's ass and make a play."

Injuries haven't helped matters any. The Giants have had more than their fair share -- especially in the secondary, where three of their four starters are currently banged up, including both safeties.

But maybe a little extra effort will make all the difference. At least one player thinks so.

"Even though it looks like I'm doing my job, only you know if you're going hard all those plays -- which I do, but I know I can go even harder, to help my team out," Pierre-Paul said. "And that's what I'm looking for this year. I haven't been doing that the first four games, I've just been going hard. But I want to go even a little bit harder."