New York Giants:

Steve Weatherford
February, 3, 2013
2/03/13
12:42
PM ET
By
Ian Begley
| ESPNNewYork.com
New York Giants
punter
Steve Weatherford
adamantly denies claims made by Mitch Ross that he supplied Weatherford with hologram stickers known as "performance chips."
[+] Enlarge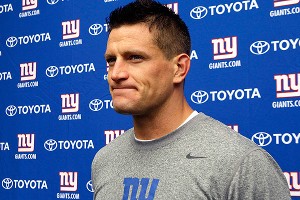 AP Photo/Kathy WillensSteve Weatherford
Ross is co-owner of a company called Sports With Alternatives To Steroids (S.W.A.T.S) and says he supplied
Ray Lewis
with deer-antler spray -- which reportedly contains IGF-1, a substance that is banned by the NFL. Sports Illustrated reported Tuesday that Lewis sought help from Ross' company while rehabbing from a torn triceps injury during the regular season.
"I've never met Mitch Ross, I've never taken any of his products, I've never taken an illegal substance and his claims were totally unsubstantiated. And I've contacted legal council regarding his slanderous statements," Weatherford said at halftime of the Knicks-Kings game on Saturday.
Weatherford said he would like Ross to recant his statement and offer a public apology. Ross told reporters at the Super Bowl that Weatherford was one of his clients.
Performance chips aren't banned by the NFL. Their purpose, according to Sports Illustrated, is to "encode radio waves emitted near them" -- the kind of radio waves you might expect in a stadium full of cell phones. But an electrical engineering profession told the magazine the performance chips "appear to just be stickers."
November, 26, 2012
11/26/12
11:11
AM ET
September, 16, 2012
9/16/12
10:28
PM ET
Here are my grades for the Giants' Week 2 win over the Buccaneers:
August, 21, 2012
8/21/12
5:18
PM ET
May, 18, 2012
5/18/12
3:08
PM ET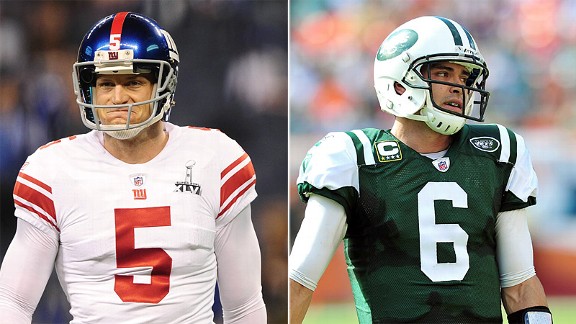 US PresswireSteve Weatherford and Mark Sanchez.
Mark Sanchez
has received a lot of criticism this offseason, the latest coming from an unlikely source -- the punter.
Wait, make that the ex-punter.
New York Giant
Steve Weatherford
, whose 15 minutes of fame have lasted five months, questioned Sanchez's maturity this week during an NFL.com podcast.
"I like Mark -- I think he's a very talented quarterback -- but from my standpoint, I haven't seen a lot of maturation," said Weatherford, making the media rounds this week because the Giants received their Super Bowl rings. "When you're a quarterback and you come in, and you're expected to be the face of the franchise, and you're expected to lead the team.
"That's a lot to take on as a rookie. But as the years go on, I think you're expected to mature, skill-wise, and also mature as a leader, and to be honest with you, as much as I like the guy, I just haven't seen that."
Weatherford has been removed from the Jets for a year. He was Sanchez's teammate in 2009 and 2010, when they reached back-to-back AFC Championship Games, but the Jets decided not to re-sign Weatherford last offseason. He landed with the Giants and, lo and behold, he was a pivotal player in their championship run, landing a new contract.
Weatherford also was critical of Jets special teams coach
Mike Westhoff
at various points during the season.
February, 8, 2012
2/08/12
1:49
PM ET
Considering the Giants' 7-7 start this season, GM Jerry Reese may need to tweak things a bit. Do you have any recommendations?
Vote here
in our Take 'Em or Trash 'Em poll.
February, 6, 2012
2/06/12
1:59
AM ET
INDIANAPOLIS
--
Steve Weatherford
capped his season of redemption with a fantastic punting performance Sunday night in Super Bowl XLVI.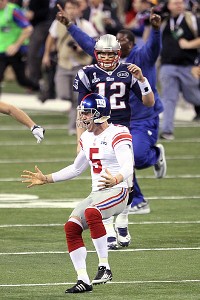 Jeff Gross/Getty ImagesSteve Weatherford's season ends with a Super Bowl title, at Tom Brady's expense.
Weatherford, cast aside by the Jets after two seasons and trashed by special-teams coach
Mike Westhoff
, helped the Giants win the field-position battle by putting three of his four punts inside the 9-yard line. In a close game, that was huge.
After the Giants' 21-17 win over the Patriots, Weatherford was asked about Westhoff.
"That's the furthest person from my mind right now," he said. "Actually, I appreciate the decision he made."
The Jets decided not to re-sign Weatherford because he slumped at the end of last season. But he was on his game against the Patriots. His first punt, to the 6, led to a safety when
Tom Brady
was flagged for intentional grounding in the end zone.
"In my game, it's all confidence," Weatherford said. "The more fun I have, the more confidence I have. It's just a game. Granted, there's only a billion people watching, but it's a game. I went out there and had fun and was able to execute."
It was a storybook night for Weatherford, who grew up an hour away in Terre Haute. He's an unrestricted free agent, but you can bet he won't be returning to the Jets.