New York Giants:

Travis Beckum
November, 2, 2012
11/02/12
3:34
PM ET
EAST RUTHERFORD, N.J. -- Tight end
Travis Beckum
practiced all week but there is no update on his status, according to Giants head coach Tom Coughlin. The tight end is on the PUP List after tearing his ACL in the Super Bowl, and is in the second week of a three-week period in which the team has to decide whether to activate him.
"I'm just waiting," Beckum said.
Beckum had to sit out the first six weeks before a three-week window began for him to start practicing. Once he did, the team had another three-week window to decide if they want to activate him. If they choose not to, the Giants would then put him on IR or release the fourth-year tight end.
The tight end said his knee feels great and isn't sure if
Bear Pascoe
being questionable for the game with an ankle sprain affects him for Sunday. The Giants currently have three tight ends on the roster -- Pascoe, starter
Martellus Bennett
and rookie
Adrien Robinson
. Beckum has 26 career catches for 264 yards and three touchdowns.
"It's been good (working back)," Beckum said. "The week before last week, I conditioned the whole week and then I practiced last week and this week."
October, 15, 2012
10/15/12
8:37
PM ET
Both
Chris Canty
and
Travis Beckum
are eligible to return to practice this week after spending the first six weeks on the Physically Unable to Perform list.
Canty will be back on the field, but Beckum will not.
NFL rules state that players on PUP have a three-week window to resume practice before a determination must be made to add them to the roster.
The Giants will have to make a corresponding move on the 53-man roster to make room for Canty, if they choose to activate him.
It is unclear if Canty will be ready to play Sunday against Washington.
He has missed training camp and the preseason, so his conditioning may be an issue.
But the veteran defensive tackle recently expressed confidence that he will be ready to play as soon as he starts practicing.
"The knee does feel better than if I had been activated at the start of the season," Canty said last week. "At the start of the season, my knee was significantly better than it was during the regular season and playoffs, and now it is even better than that. I lost a little weight, leaned out a little bit. I am excited to see what I can do out there."
The 6-7 Canty should provide depth for a Giants defensive line that broke through for a six-sack performance against the
San Francisco 49ers
on Sunday.
Beckum, who tore his ACL last season during Super Bowl XLVI, is not ready to start practicing, according to Coughlin.
Beckum would add depth at tight end but the Giants seem to be doing just fine with free-agent pickup
Martellus Bennett
.
PHILLIPS UPDATE:
The Giants appear to be taking a cautious approach with
Kenny Phillips
(knee). They will wait until Tuesday before making a determination on how much he can do during practice this week.
"He's going to get some more opportunities to practice," Coughlin said. "I don't know how far we can go with him. We're going to have to, again, asses where he is, and that determination probably comes Tuesday afternoon."
Phillips suffered an MCL injury and has sat out the past two games.
DIEHL ROLE UNCLEAR:
Lineman
David Diehl
had started all 142 regular season games with the Giants prior to Sunday's game against San Francisco.
The veteran was activated on Sunday after having missed three weeks with an MCL injury. The Giants opted to start
Sean Locklear
at right tackle and
Will Beatty
at left tackle with the line playing well.
So instead of lining up at tackle, Diehl played 13 snaps as jumbo tight ends.
Coughlin said Diehl did "OK" on Sunday.
"He came into the game and it was good for him to play, it was good for him to work and be in the competitive aspect of it,'' Coughlin said. "I think it answered a lot of questions for him."
But Coughlin was noncommittal when asked if Diehl would return to his starting role on Sunday against Washington.
"I haven't thought about that just yet," the coach said.
October, 9, 2012
10/09/12
3:04
PM ET
Chris Canty
has lost 10 to 15 pounds.
His body and legs are as fresh as they've ever been. And, most important, his surgically repaired knee is feeling much better than it did last season or even at the start of this season.
[+] Enlarge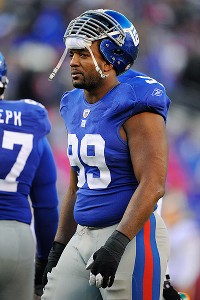 Rich Kane/Icon SMIChris Canty
Canty has been on the physically unable-to-perform list but has been working to get back. Canty and tight end
Travis Beckum
are eligible to begin practicing next Monday and could be activated for the Giants' Week 7 game against Washington. The Giants will have to make a roster move for each player if they activate Canty and Beckum for a game.
Canty says he definitely will practice next week.
"The knee does feel better than if I had been activated at the start of the season," Canty said. "At the start of the season, my knee was significantly better than it was during the regular season and playoffs, and now it is even better than that. I lost a little weight, leaned out a little bit. I am excited to see what I can do out there."
The Giants can use the 6-7 Canty. The defensive line has not been as effective as it is used to being. Sacks have been hard to come by and opposing running backs have had success running against the Giants.
"I feel like what I bring to the table for our defensive line, that will bode well," Canty said. "It is kind of like when you have all your pieces in place, something about the chemistry of it, understanding how each one of us works together. We got used to it last year.
"We had to make some adjustments on the fly because you don't have certain guys available," Canty added. "Hopefully, when I come back we can kind of get things back to the way they used to be around here."
Canty admits he was extremely frustrated when the Giants placed him on the PUP list to start the season. But he has helped younger defensive tackles like
Markus Kuhn
and
Marvin Austin
while working to get back stronger.
"Shifting my attention to something that is productive, which is working," Canty said of overcoming his frustration of being on the PUP list. "Being frustrated is not productive -- working is. You work hard enough you eventually get the results that you want."
Canty, though, wishes he was eligible to play this week against San Francisco instead of next weekend.
He hopes to play against Washington but the decision will not be up to him.
"We'll find out," Canty said of playing against the Redskins. "I can't make any promises. I can't make any guarantees. All I can say is I feel great and look forward to getting back on the practice field."
February, 8, 2012
2/08/12
1:49
PM ET
Considering the Giants' 7-7 start this season, GM Jerry Reese may need to tweak things a bit. Do you have any recommendations?
Vote here
in our Take 'Em or Trash 'Em poll.
February, 6, 2012
2/06/12
4:37
PM ET
INDIANAPOLIS -- The Giants won their fourth Super Bowl because of patience, fourth-quarter mettle and, yes, some luck. They caught some huge breaks in their 21-17 win over the Patriots. They also got some help from Bill Belichick, who made a couple of questionable tactical decisions.

Let's break down the Xs and Os, with help from ESPN Stats & Information:

PATIENCE: Belichick was determined not to get beat by the quick strike, so he played Cover-2 most of the game. Instead of forcing the ball into the two-deep zone, which some quarterbacks might do, Eli Manning kept throwing underneath. Eleven of his 30 completions went to tight ends and running backs.

Manning was razor sharp. In fact, he completed 28 of 32 passes on throws under 15 yards. That's not easy to do, especially in the crucible of a championship game. Some quarterbacks (not mentioning any names) can't go 28-for-32 in a seven-on-seven drill.

Also, kudos to offensive coordinator Kevin Gilbride for his patience. With the Patriots in Cover-2 for much of the game, the Giants faced seven-man fronts, so Gilbride stayed with the run. Result: The Giants' time of possession was 37:05, compared to 22:55 for the Patriots.

ONE SHOT: Manning waited almost 57 minutes to take his deep shot, and it paid off with one of the great pitches and catches in Super Bowl history -- the 38-yard strike to WR Mario Manningham. But here's the amazing thing about that play: Until that completion, Manning had gone 0-for-9 on passes of 31+ yards to Manningham all season.

They had no chemistry, in large part, because Manningham tends to get sloppy with his routes. He did it earlier in the game, showing no awareness on a similar route and botching what should've been a long completion. But when it matttered most, Manningham turned into Jerry Rice.

KILL BILL: For some reason, the Patriots got away from their no-huddle. Made no sense. In their first two post-season games, they ran 72 plays out of the no-huddle and tore up opponents, especially on the ground. On Sunday night, they used it for only 10 plays -- only three drives, two of which ended in TDs.

The no-huddle would've been a great weapon against the Giants. It would've caused fatigue and would've created matchup advantages for the Patriots, but Belichick made the ill-advised decision to bail on it.

Another Belichick faux pas: He changed his defensive game plan at halftime, going to a 4-3 base in the second half. Not many teams have the versatility to go from 3-4 to 4-3, but here's the deal: It didn't work. They allowed almost twice as many yards out of the 4-3 (6.8 and 3.6 per play) and more than doubled the rushing average (6.4 and 2.5). Belichick outsmarted himself; he should've gone back to the 3-4 to stayed with it.

TIGHT SITUATION: Because of injuries to TEs Travis Beckum and Jake Ballard, the Giants had to adjust their personnel packages. They went to a '20' grouping -- two RBs, 0 TEs, 3 WRs -- in the fourth quarter. Afterward, Gilbride said they hadn't practiced running plays out of the package in four years. Football is all about overcoming adversity and making changes on the fly, and the Giants did that.

Manning was deadly with his three-receiver package in the game, completing 19 or 26 passes for 205 yards, one TD and no interceptions.

LADY LUCK: They might not want to admit it, but the Giants benefitted from some fortunate bounces. RB Ahmad Bradshaw and WR Hakeem Nicks both had fumbles, but they were recovered RG Chris Snee and FB Henry Hynoski, the balls bouncing to them as if controlled by some sort of magnetic force.

There should've been a third fumble, and this one was recovered by the Patriots, but Victor Cruz's fumble was nullified because the Patriots were penalized for having 12 men on the field. It was one of the key plays in the game because, one play later, Cruz scored to make it 9-0.

SPEAKING OF LUCK ...: Manning's 2-yard TD pass to Cruz was one of the weirdest scores you'll ever see. He threw a quick slant to Cruz, who beat S James Ihedigbo out of the slot (can you say 'mismatch'?), but Manning never saw ILB Jerod Mayo.

Mayo read the play perfectly, clogging the passing lane, but he actually read it too well. He over-ran it, and Manning's bullet whizzed behind him. He never adjusted. Touchdown.

CRUNCH TIME: The Giants played their best in the fourth quarter, the Patriots played their worst. Ditto, the quarterbacks: Manning went 10-for-13, 118 yards; Brady 6-for-15, 64 yards. As I wrote last week, Brady's reputation as a clutch QB is overstated. The man is 6-6 in his last 12 post-season games.

In fairness, Brady was victimized by two fourth-quarter drops, as his famous, potty-mouthed wife told the world on video. WR Wes Welker has been one of the most prolific receivers in the game over the last few years, but he cracked under pressure, dropping a wide-open pass with four minutes to play. He picked the worst possible time for his first drop of the year on a pass of 10+ yards. If he had held on at the Giants' 20, it was game, set, match.

THE BRADY HUNCH: The Giants generated pressure on Brady on 30 percent of his dropbacks, actually a better ratio than Super Bowl XLII. For the most part, Brady handled it better than he did in 2008, but he still experienced some hiccups (see the first-quarter intentional grounding/safety).

The Giants packed their coverage into the middle of the field and did a nice job of limiting Brady's effectiveness between the numbers. Not having TE Rob Gronkowski at 100 percent clearly hurt the Patriots, as he played a season-low 73-percent of the snaps and was targeted only three times.

The Giants also took away the deep ball, holding Brady to 0-for-5 on passes of 20+ yards, but that wasn't particularly difficult. The Patriots are a dink-and-dunk passing team, the opposite of the Giants. The Giants stepped outside their comfort zone and adapted; the Patriots didn't.

And that's why they dropped yet another Super Bowl to the Giants.