New York Giants:

Alex Smith
July, 28, 2014
7/28/14
1:55
PM ET
EAST RUTHERFORD, N.J. -- Look, I'm not saying he can and I'm not saying he can't. I have nothing but respect for
Eli Manning
's abilities and the things he can do. He can beat
Tom Brady
in the Super Bowl, and if you didn't believe that after the first time, he did it again for good measure. The
New York Giants
' quarterback is largely underrated and underappreciated, and he's perfectly capable of having a great season even though he's coming off his worst season.
However.
If Manning completes 70 percent of his passes this year in Ben McAdoo's new offense, as quarterbacks coach Danny Langsdorf said Monday
he'd challenged Manning to do
, then McAdoo, Langsdorf and anyone else who had a hand in it should have their choice of NFL head-coaching jobs next January. And they can ride unicorns with Santa Claus and the Easter Bunny to the interviews.
Start with the very short list of quarterbacks who've ever hit that number in a full NFL season. It's basically
Drew Brees
(twice, in 2009 and 2011), Joe Montana (1989) and Steve Young (1994). Langsdorf said the list he gave Manning also included Sammy Baugh, Ken Anderson and
Alex Smith
. But Baugh played only eight games in the 1945 season in which he hit the mark (the league played a 10-game season that year). Anderson's 1982 season was only nine games long due to a players strike. And Smith put up his 70.2 mark in 10 games in 2012 before losing his job to
Colin Kaepernick
.
So if Manning is to hit this goal over a full season, he'll be doing something only three other players -- two of whom are in the Hall of Fame, and one of whom surely will be -- have done. The fact that it's a nearly impossible achievement is the first and best reason to doubt it. Manning's career completion percentage is 58.5, and his career high for a single season is 62.9, set in 2010. He would have had to complete an additional 69 passes in 2013 to get to 70 percent from the dismal 57.5 at which he finished. That's 4.3 more completions per game. Even in 2010, he would have needed 39 more completions, or 2.4 per game. May not sound like a lot, but it is when you think about what it means.
Secondly, as much as we've written about the Giants' new offensive scheme, there are still legitimate concerns about whether they have the personnel to run it effectively. The offensive line isn't set yet. Their wide receiver group is littered with question marks after
Victor Cruz
. They do not have a reliable pass-catching tight end on the roster. And as much as they want to stress high-percentage plays and completion percentage, it's tough to imagine they'll throw to the running backs all season.
Which kind of leads me to my final point: Eli Manning, risk-taker. Manning's calling card as a quarterback has always been, to me, his fearlessness. He has the confidence to try any throw, no matter how risky, because (a) he believes he can make it, and (b) he has an uncommon ability to put mistakes behind him and not let them affect his performance as the game goes along.
It's inconceivable to think that McAdoo and Langsdorf could change this about Manning even if they wanted to, and it's inconceivable to believe they would want to. Manning's ability to deliver an uncanny throw in a huge spot is one of the few things you can point to right now in this Giants offense that might have a chance to set it apart from others in the league. Their challenge is to install an offense that's more efficient and less turnover-prone while still making use of what Manning does best. So there's still going to be plenty of downfield stuff, and that stuff will come with more risk.
Now, OK. I understand about coaching and motivation. If Langsdorf sets a goal of 70 percent and Manning aims for it but falls 5 percent short, he'd still obliterate his career high and improve on last year by 7.5 percent. The Giants would surely take that. But hearing Langsdorf say this Monday brought home the ideas of (a) how much different this offense is going to be than it has been for the past decade, and (b) how hard it's going to be for the Giants to be proficient in their new offense in its first season.
November, 7, 2013
11/07/13
4:55
PM ET
EAST RUTHERFORD, N.J. -- There are six quarterbacks in the NFL who have rushed for at least 250 yards already this year. The
New York Giants
have played three of them, and the other three are on the schedule. But the one with the most is the
Oakland Raiders
'
Terrelle Pryor
, and stopping him will be the Giants' assignment starting at 1 p.m. ET on Sunday at MetLife Stadium.
"He's a 4.4 (40-yard dash) guy. He's built like the power forward on a basketball team. I'm impressed with him on tape," Giants defensive coordinator Perry Fewell gushed Thursday. "We're going to have to bring our A-game against this guy, because he can hurt you."
[+] Enlarge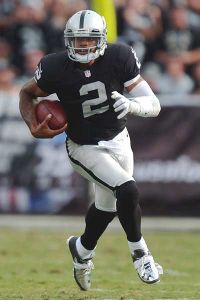 Kirby Lee/USA TODAY SportsCan the Giants keep Raiders QB Terrelle Pryor from adding on more rushing yards to the 485 he has already this season?
Pryor was a surprise choice as the Raiders' starting quarterback in the preseason, but Oakland felt he had a higher ceiling and offered them the potential for more options on offense than
Matt Flynn
did. To this point, though the Raiders are a disappointing 3-5, the choice has looked like the right one. Pryor leads all NFL quarterbacks -- and all but 14 NFL running backs -- with 485 rushing yards this year on just 63 carries. Eight of those 63 carries have picked up 20 or more yards, including a 93-yard touchdown run on the first play of the Raiders' Week 8 victory over the Steelers. He's also, perhaps more surprisingly, completing better than 60 percent of his passes, though his nine interceptions to five touchdown passes linger as an indication of how raw he still is.
"He's not going to stay in the pocket for long," Giants defensive end
Justin Tuck
said. "He understands how gifted he is as an athlete, and considering that the people chasing after him aren't as fast as he is, he has an advantage and he's used it to pretty good success. I don't know if he's necessarily looking to run, but when the opportunity is there, he's not hesitating."
The Giants have performed well as a defense against between-the-tackles running backs, including some of the best ones in the league. But they have been vulnerable to running quarterbacks. Carolina's
Cam Newton
ran for 45 yards and a touchdown against them in Week 3. Philadelphia's
Michael Vick
picked up 79 yards on seven carries in Week 5 before pulling his hamstring in the second quarter. Kansas City's
Alex Smith
ran for 37 yards on seven carries. Even Chicago's
Jay Cutler
managed 20 yards on three rushes. Opposing quarterbacks are averaging 5.42 yards per carry against the Giants this year. Pryor is averaging 7.7.
"I don't really go into the game thinking about running," Pryor said Wednesday. "I saw that (NFL Network) special on Randall (Cunningham), and his coach was telling him to run first and pass second. I can't really go in thinking like that. If something happens where I have to get out and make a play, so be it. But I want to sit back and see if I can find some guys downfield and get some explosive gains in the passing game."
The Giants likely would be pleased if that was all they had to worry about with Pryor. No offense to his arm, which is formidable, but it's Pryor's footspeed that makes him a challenging matchup for a defense. Sometimes when they face running quarterbacks, the Giants will use a "spy," assigning one defensive player to account for the quarterback in case he takes off and runs. Sometimes they prefer to play it straight-up. The players this week made it sound as though they prefer and expect the latter.
"I don't think it's gotten that serious yet, to where we need a spy," cornerback
Prince Amukamara
said. "I like the way the guys in our secondary and our linebackers make adjustments, and I think we can trust ourselves to make the right ones."
If there is to be a "spy," a strong candidate would be speedy linebacker
Jacquian Williams
, who was a big part of the defensive game plan two weeks ago against the Eagles and is likely to be one again this week. Fewell called Williams "one of our better assets" against Pryor due to his speed, and Williams said it was a role he'd be happy to play if asked.
"Judging from film, he's a bigger guy and faster than the running quarterbacks we've seen so far," Williams said. "For me, being one of the faster players on our defense, that's something they could maybe look for me to handle. But whatever I'm called on to do, I'll be happy to try it."
Pryor's the kind of player who's likely to force the Giants to change what they do a lot during the course of Sunday's game. The key will be to stay fast and loose and alert, and try to limit the damage done by the big runs of which the Raiders' exciting young quarterback is capable.
September, 30, 2013
9/30/13
12:30
PM ET
An examination of four hot issues from the
New York Giants
' 31-7
loss
to the
Kansas City Chiefs
:
[+] Enlarge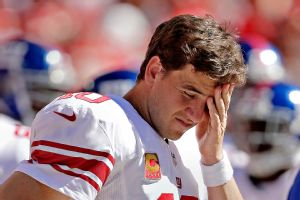 AP Photo/Charlie RiedelAside from a Victor Cruz touchdown the Giants failed to get inside the red zone all game.
The fourth-down call:
The initial call was first down -- that the Giants had converted a third-and-17 with a pass from
Eli Manning
to
Victor Cruz
over the middle. But the Chiefs challenged the call and won, which brought up fourth down and less than a yard to go for the Giants on their own 30-yard line. With 1:55 left in the third quarter and the Giants trailing just 10-7, Giants coach Tom Coughlin decided to punt instead of going for it. "If I would have gone for it on fourth down and didn't make it at that point in the game, it would have been a foolish error," Coughlin said, and he was right. He'd effectively have been handing the Chiefs at least three points. But it says a lot about where the Giants are with their offense, making Coughlin's call the obvious and easy decision. Coughlin talked about the offense being unable to get into a rhythm, and perhaps if he felt it was, he'd make a different call there. But given how tough it's been for the Giants to gain yards, this was an easy decision. It just looked really bad when
Dexter McCluster
ran the punt back 89 yards for a touchdown.
On a related note:
Earlier in the third quarter, the Giants had a third-and-1 at their own 45 and called a play on which running back
David Wilson
bounced out to the right behind three tight ends. But none of the tight ends could make a single block to free Wilson, who was tackled for no gain, and the Giants had to punt then too. Just another example of an offense that has no reason to feel it can get a yard when it needs to get one. The Giants were 1-for-14 on third downs.
Looks like a misprint, but isn't:
The official stat sheet shows the Giants 0-for-0 on red zone attempts, and it's true. They didn't run a single play that began inside the Chiefs' 20-yard line. Other than Cruz's 69-yard touchdown catch, the closest they got to the end zone all day was the 26, from which
Josh Brown
missed a field goal at the end of the first half. Only eight of the Giants' 61 offensive snaps came in Kansas City territory.
How about the defense?
The Giants did force three turnovers from a Chiefs team that had none in the first three weeks. But where's the pressure? Their one "sack" was a
Spencer Paysinger
tackle of
Alex Smith
at the line of scrimmage on a Smith scramble. They hit Smith just three times all game.
Jason Pierre-Paul
has one sack in his last 11 games. When the Giants don't pressure the quarterback -- and it's been quite some time -- they have a poor defense.
October, 15, 2012
10/15/12
12:17
AM ET
By
Kevin Lynch
| ESPNNewYork.com
SAN FRANCISCO -- Giants safety
Antrel Rolle
got a tour of the 49ers' Santa Clara facility in April 2005, when the team considered taking Rolle in that year's draft.
Eight seasons later, Rolle was a nightmare for the player the Niners did pick with the first choice that year -- quarterback
Alex Smith
.
[+] Enlarge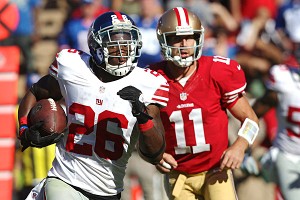 Zumapress/Icon SMIAntrel Rolle takes off with an interception while Niners quarterback Alex Smith gives chase.
Rolle picked off Smith twice in the third quarter as the 49ers were trying to erase a 17-3 deficit. On the first one, Smith was attempting to thread a tight pass to former Giant
Mario Manningham
. Smith threw high and Rolle made a spectacular, one-handed pick that set up a
Lawrence Tynes
30-yard field goal.
Once the 49ers got the ball back, Rolle was at it again, stepping in front of
Michael Crabtree
with his second interception of Smith in a span of three passes.
"The first one was Cover 3, and I was able to read the quarterback," Rolle said.
On the second one, Rolle was first in a Cover 3 look and then he came down to blanket Crabtree on a crossing route. When Crabtree didn't make a sharp cut, Rolle sped in front of him to pick off the pass.
After the game, Rolle complimented the coaching staff and defensive coordinator Perry Fewell. It was a switch from last year, when Rolle said Fewell was not taking advantage of Rolle's ball-hawking skills.
"Perry Fewell and the rest of our defensive coaches did a tremendous job getting us ready, getting us prepared for this game," he said. "The coaches, they just really emphasized the little things this week."
Rolle and the rest of the Giants' defense were able to rattle Smith one week after he posted his best game statistically of his career. Smith was clearly confused by the shifting Giants secondary and the pressure from the front four.
"I could tell at times we had him rattled," Rolle said. "But every quarterback is going to get rattled sometimes, depending on how you disguise your coverage and things of that nature."
October, 14, 2012
10/14/12
7:27
PM ET
SAN FRANCISCO –- Tom Coughlin said nobody gave the
New York Giants
a chance to win. But they left Candlestick with another victory over the favored
San Francisco 49ers
,
26-3 on Sunday
.
What it means:
The Giants wanted to see how they measured up to an NFC contender. When it was over, the Giants reminded everyone who the defending Super Bowl champions are and how good this team can be when it is motivated and healthy.


The Giants made a statement by dominating the Niners on their own turf. The defense came up with its best performance of the season, suffocating the Niners' offense.
Eli Manning
and the offensive line were sensational. The Giants moved the offense against perhaps the best defense in the NFL.
More importantly, this is the kind of win that can propel the Giants to a solid winning streak. The Giants have won two straight and will roll into two critical division games with a ton of momentum.
The ball hawk:
The Giants got the sacks they wanted, but they also collected something even better –- three rare interceptions of
Alex Smith
.
Smith came into this game having thrown just one interception on the season. But
Prince Amukamara
picked off a pass in the first half and
Antrel Rolle
intercepted Smith twice in the third quarter, helping to set up two Giants field goals.
Rolle said last year that he often was not put in position to be the ball hawk that he wants to be. He certainly harassed Smith on Sunday.
No Vernon:
Vernon Davis
scored three touchdowns against the Giants in two games last season. On Sunday, he was invisible when the game was on the line. He made just two catches for 13 yards in the first three quarters.
O-line:
The Giants' offensive line felt as if it had something to prove after giving up six sacks and 12 official quarterback hits to the Niners defense in the NFC title game. This time, Manning's jersey was kept clean and
Ahmad Bradshaw
broke the 100-yard barrier for the second straight Sunday, this time against an elite run defense.
Salsa time:
After all the back and forth about the salsa with
Carlos Rogers
last week, Rogers had to watch
Victor Cruz
do it at his expense in the first half.
Cruz caught a Manning bullet over the middle in the back of the end zone and delivered his patented salsa celebration. Rogers initially said he might mimic the salsa again if he made a play. But after finding out that Cruz dedicated the salsa to his late grandmother, Rogers said he wouldn't do it.
Diehl comes off bench:
David Diehl
was active for the first time since Sept. 16 when he injured his MCL against Tampa Bay.
He came in as the extra blocker. The Giants opted to keep
Sean Locklear
at right tackle and
Will Beatty
at left tackle with the offensive line doing well. Diehl had started all 142 regular-season games he played in for the Giants.
Special-teams miscues:
The Giants had a field goal blocked near the end of the first half, but the Niners helped the Giants' cause with two missed field goals.
David Akers
missed from 43 and 52 yards.
What's next:
The Giants get their first taste of
Robert Griffin III
next Sunday at home. At 0-2 in the division, the Giants need an NFC East victory.
October, 11, 2012
10/11/12
8:38
PM ET
By
Michael Bonzagni, Evan Kaplan
and
Kimberly Meyer | ESPN Stats & Info
The Giants head back to San Francisco on Sunday for the first time since their 20-17 win over the 49ers in last season's NFC Championship Game. Both teams will be coming off dominating offensive performances in Week 5, where each put up more than 40 points.


The Giants trailed 14-0 in the first quarter against the Browns, but behind three
Eli Manning
touchdowns and 243 rushing yards, their most in a game since the 2008 season, they outlasted Cleveland for a 41-27 win. The 49ers are coming off a 45-3 win over the Bills in Week 5, where
Alex Smith
threw three touchdowns in a game for just the fifth time in the last three seasons.
Here are some areas to keep an eye on:
• The Giants' rushing game came alive against the Browns in Week 5, especially with runs designed outside the tackles. The Giants got to the edge, rushing for 97 of their 243 yards outside the tackles, after gaining 63 total yards on such runs in the first four weeks of the season.
Ahmad Bradshaw
fumbled early in last week's game, but rebounded, rushing for 200 yards, with 93 of those yards coming on rushes outside the tackles.
While the Giants were finally able to have some success rushing outside the tackles, the 49ers' offense has been the best team in the league on those rushes all season. The Niners lead the NFL with 497 rushing yards and 8.3 yards per rush outside the tackles. San Francisco will be facing a Giants defense on Sunday that has struggled to defend rushes outside the tackles all season, allowing 7.5 yards per rush, the second-most in the NFL.
• The Giants' offensive line will have to protect Manning from the 49ers' pass rush in order to win this game. In two games against the Giants last season, the 49ers sent five or more pass rushers against Manning on 26.7 percent of his dropbacks. As a result, they were able to sack Manning seven times, with six coming on a five-plus man pass rush. During the NFC Championship Game, the 49ers sacked Manning five times on 15 dropbacks when sending five or more pass rushers. However, when Manning wasn't sacked facing such pressure, he went 16-of-21 passing for 185 yards and two touchdowns.
• Manning was under duress or sacked on 21 of his 62 dropbacks in last season's NFC Championship Game, his second-most in any game since the start of the 2009 season. Manning was sacked six times in that game (second-most since 2007) and under duress or hit on 15 additional throws, completing six of those passes. The Giants' offensive line has done a good job of protecting Manning this season, allowing just four sacks through the first five weeks, the third-fewest in the league among qualified quarterbacks. On Sunday the Giants will have to deal with the 49ers pass rush, which has sacked quarterbacks when rushing four or fewer pass rushers on eight of its nine sacks this season.
• In comparison to the 49ers' successful pass rush, the Giants have struggled when sending four or fewer pass rushers. Through the first five weeks, the Giants have recorded just three sacks when sending four or fewer rushers, down from the 13 they had achieved at this point in 2011. Additionally, the Giants have also allowed over twice as many touchdowns in such situations (two in 2011, five in 2012) and opposing quarterbacks' completion percentage has also risen (61.7 in 2011, 65.5 in 2012).
The Giants' pass rush must get to Smith because when he is under duress or hit this year he is completing an NFL-worst 21.4 percent of passes and averaging just 1.1 yards per attempt with a 1.3 Total QBR.
January, 18, 2012
1/18/12
4:58
PM ET
As a veteran,
David Carr
is a big believer in the effect of coaching.
When he takes a look at the rise of his former team, the 49ers, and former teammate
Alex Smith
, the Giants' backup quarterback believes their success stems from first-year head coach
Jim Harbaugh
. The Giants meet the 49ers on Sunday at 6:30 p.m.
"I went out there because they had a very talented football team and the only thing they were missing was they had to bring it all together. And Harbaugh has done that, and that's the reason why they're in the NFC Championship Game," Carr said. "It's not a surprise to me that they're here, it's not a surprise that Alex is in the game. They were always talented. They were always a good football team."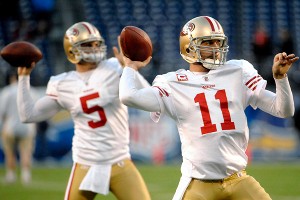 AP Photo/Denis PoroyDavid Carr (5) and Alex Smith were teammates last season in San Francisco.
Carr spent the 2008 and 2009 seasons with the Giants before leaving to join the 49ers. When he re-joined the Giants this summer, Carr said that he was brought to San Francisco under the assumption he would be competing for the starting job, but when the team changed general managers that opportunity was not available. He only played in one game with the 49ers.
Ultimately, the 49ers changed coaching regimes for this season and brought in Harbaugh, who led the team to the No. 2 seed in the NFC. The 49ers cut Carr in July and he re-signed with the Giants, winning the backup job to quarterback
Eli Manning
. Carr has not played in a game this season but had to take first-team reps on Wednesday with Manning's sickness.
Carr said Wednesday that his one year with San Francisco was a rough situation for everyone involved, even mentioning how Smith went from being the starting quarterback to being demoted to the backup during the year.
"Now you see where [Smith] is at, we're both in different positions but we're both in the NFC Championship Game. They got a great head coach, they're rolling, I'm happy where I'm at, so it's a totally different world from where we were all at a year ago," Carr said.
As the 49ers went 13-3 this season, one of the biggest reasons was the play of Smith, the often-criticized quarterback. Smith, the No. 1 pick in the 2005 draft, struggled to put it all together before finally having a career year this season. A former No. 1 pick himself, Carr said that he roots for Smith and is happy for him.
"I think we all kind of have a bond, quarterbacks in general. You never want to see a guy struggle, never want to see a guy have tough times. He's had enough of both," Carr said. "I think that to where he's come out the other end is a testament to his mental toughness. Being with him for a year I think that's his strongest quality I took away from him, how mentally tough he is and how he can kind of just shrug things off and keep going the course. It's pretty impressive."
November, 11, 2011
11/11/11
1:31
PM ET
»
NFC Final Word
:
East
|
West
|
North
|
South
»
AFC
:
East
|
West
|
North
|
South
Five nuggets of knowledge about Week 10:
DeMarco tough to bring down:
One of the things that's made
Dallas Cowboys
rookie running back
DeMarco Murray
a success in his past three NFL games is his ability to break tackles. According to the ESPN Stats & Information Group, Murray is averaging 3.1 yards per rush after contact, which is the best figure in the league among players with at least 40 rush attempts. The Saints'
Darren Sproles
and the Texans'
Ben Tate
are tied for second on that list at 2.8 yards per carry after contact. It doesn't appear as though
Felix Jones
will play this week, so Murray has the Cowboys' backfield duties all to himself for another game and should retain the lion's share of the carries even once Jones returns.
[+] Enlarge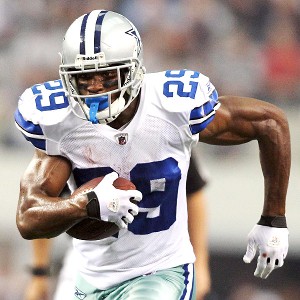 Tim Heitman/US PresswireDallas rookie DeMarco Murray has rushed for 466 yards in his past three games.
Redskins' O is a no-go:
The
Washington Redskins
have scored a total of 11 points over their past two games. They've also punted 11 times. That's not a good ratio of points to punts, 1-to-1. You want that ratio to come up a little bit if you're going to do something like win. The Redskins have five turnovers, four failed fourth-down conversions, a missed field goal, a made field goal and a touchdown over those two games. And of course you know that
John Beck
is 0-7 in his career as an NFL starting quarterback. The first 0-4 of that came with Miami in 2007. He's hoping his first career win can come in his return to South Beach.
Taking the fourth:
If NFL games had just three 15-minute periods, the
Philadelphia Eagles
would be among the best teams in the league. They have outscored their opponents by 57 points in the first three quarters of games this year, which is the fourth-best figure in the NFL. But in fourth quarters, they've been outscored by a total of 36 points. They've held fourth-quarter leads in four of their five losses, making them the third team in league history to blow fourth-quarter leads and lose in at least four of their first eight games. The others were the 1954 Packers and the 1999 Saints. So if the Eagles go into the fourth quarter with a lead Sunday against the Cardinals... you know... don't change the channel.
Comeback kids:
Speaking of fourth quarters,
New York Giants
quarterback
Eli Manning
leads the NFL with five game-winning drives in the fourth quarter this year. 49ers quarterback
Alex Smith
, the Giants' opponent this week, is second in the league with three of them. So whichever team takes a lead into the fourth quarter Sunday in San Francisco... you know... don't change the channel.
Second half start:
The Giants are in first place with a 6-2 record at the midpoint of their season. But as every Giants' fan can tell you, the second half of the season is where things get interesting. Since Tom Coughlin took over as their head coach in 2004, the Giants' second-half record is 24-32, which ranks 24th in the league. The Giants would love to get the second half kicked off the right way with a big win over a potential playoff opponent in San Francisco.