New York Giants:

alfred morris
December, 2, 2013
12/02/13
10:00
AM ET
LANDOVER, Md. -- Special teams have been a problem for the
New York Giants
for much of this season, but a huge play the punt-return team made Sunday night led directly to the drive that put the Giants on top for good in their 24-17 victory over the
Washington Redskins
.
With a minute and a half left in the third quarter and the Redskins leading 17-14,
Justin Tuck
sacked
Robert Griffin III
to force the Redskins to punt from their own 38-yard line. The punt snap was bad, and Redskins punter
Sav Rocca
dropped it, and when he picked it back up to kick it, Giants special-teams disruptor
Damontre Moore
was there to get a hand on it. The ball fluttered out down the middle of the field and settled at the Giants' 44 -- an 18-yard punt that set the Giants up with good field position.
They needed four plays to take the lead. The first was an
Eli Manning
pass to
Victor Cruz
for 8 yards. The second was a Manning pass to tight end
Brandon Myers
for 18. The third was a brilliant Cruz catch in traffic that looked, initially, to have been a touchdown catch. But Cruz was ruled down at the 1-yard line, and
Andre Brown
ran it in on the next play for a touchdown that put the Giants up 21-17.
The sequence was critical because it functioned as something like a turnover, and the Redskins had just scored a field goal off of a Manning interception. Having the lead early in the fourth quarter enabled the Giants to lock in on Griffin, as their defense already had running back
Alfred Morris
bottled up and the Redskins were going to have to throw while playing from behind.
December, 2, 2013
12/02/13
8:00
AM ET
LANDOVER, Md. -- An examination of four hot issues from the
New York Giants
' 24-17
victory
over the
Washington Redskins
:
[+] Enlarge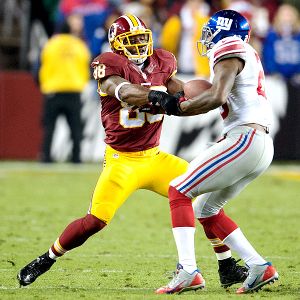 Harry E. Walker/MCTWill Hill ripped the ball from Pierre Garcon to seal New York's win.
The play that sealed it:
Safety
Will Hill
said that cornerback
Terrell Thomas
was hollering all game, "We need a turnover! Who's going to get a turnover?" So when Hill saw Redskins wide receiver
Pierre Garcon
holding the ball out away from his body on his fourth-down catch with a minute and a half left in the game, Hill figured it might as well be him. He ripped the ball out of Garcon's hands and stumbled forward eight yards knowing he'd locked down the game. "All I could think was about getting that ball to Eli so he could take a knee and we could get out of here with that W," an elated Hill said. Quarterback
Eli Manning
did indeed take two knees, and the Giants had beaten the Redskins.
Stopping the run:
Giants linebacker
Jon Beason
called running back
Alfred Morris
the "cowbell" of the Redskins offense. And while Beason meant "bell cow," he can be forgiven for misspeaking after his 17-tackle performance helped limit Morris to 26 yards on 11 carries. Beason said the Giants believed the Redskins could win if quarterback
Robert Griffin III
had a poor game while Morris had a good one, but not if it was vice versa. So the Giants committed to stopping the running back who came into the week third in the league in rushing. As they have against so many of the league's other top rushers this year, they succeeded.
Efficiency in the passing game:
Manning was under pressure all night, and pressure led to his one interception. But for the most part he did a good job managing a low-key passing game. He completed 22 of 28 passes for 235 yards and one touchdown. Tight end
Brandon Myers
, who caught the touchdown, was the Giants' second-leading receiver behind
Victor Cruz
with five catches and 61 yards. The ability to find Myers and running back
Andre Brown
in short range in the middle of the field helped Manning keep the pressure off enough to move the ball.
Tuck's huge night:
Justin Tuck
had four sacks, total, in the 2012 season. He had 2.5 sacks, total, in the first 11 games of this season. He had four sacks Sunday night. Tuck is a free agent at the end of this season, which means he may have just begun his final month as a Giant. But he says he hasn't been thinking about his contract situation all year, and it's easy to believe him. Tuck has been playing well this year, but it hadn't shown up in the sack totals. As he worked his way through the list of the other Giants (
Lawrence Taylor
,
Pepper Johnson
,
Michael Strahan
and
Osi Umenyiora
) who'd had four sacks in a game, he seemed to be relishing his place on the list. It was a satisfying night for a decorated Giants veteran.
December, 1, 2013
12/01/13
9:58
PM ET
LANDOVER, Md. -- All week, the
New York Giants
warned us not to judge
Robert Griffin III
and the
Washington Redskins
' offense on last Monday night's miserable performance against the
San Francisco 49ers
. The Giants remembered struggling twice last season with a dynamic, multifaceted Washington offense they found difficult to solve. And regardless of the struggles the Redskins had last week, the Giants believed them capable of a rebound.

As if on cue, the Redskins started Sunday night's game hot, employing an up-tempo, no-huddle style off the opening kickoff and driving 73 yards in 14 plays for their first opening-possession touchdown since Dec. 9 of last year. After possessing the ball for 11:22 of a possible 15:00 in the first quarter, the 3-8 Redskins added a second-quarter touchdown for a 14-0 lead and appeared to have the 4-7 Giants on their heels. They were dominating on offense as well as on defense, where Giants left tackle
Will Beatty
was having a terrible time with Redskins pass-rusher
Brian Orakpo
, and on special teams, where
Santana Moss
was performing well on punt returns and
Sav Rocca
had one of his own punts killed at the Giants' 1-yard line.
Though they wobbled early, the Giants have recovered with a couple of nice touchdown drives of their own.
Andre Brown
capped a 74-yard drive with a 23-yard touchdown run, and an
Eli Manning
touchdown pass to tight end
Brandon Myers
covered 22 yards to cap an 81-yard drive with 35 seconds left in the first half. The Giants have come back to tie the score at
14-14
and will get the ball to open the second half.
So, a fair amount of good as well as bad so far, and here are a few things I've noticed:
As tough a time as the offensive line has in pass protection, it's doing a truly exceptional job of run-blocking for the second week in a row. The Giants have 73 rushing yards on 11 carries for an average of 6.6 yards per carry.
Peyton Hillis
broke a 27-yarder earlier in the drive that resulted in Brown's 23-yarder, and the Giants' best bet for keeping the pass rush off of Manning is likely to continue to show they can pick up big chunks of yardage against the middle of the defense.
There could be a huge number of passing yards in the second half, because right now no one is stopping anyone in the passing game. Manning is 10-for-12 for 101 yards, and Griffin is 16-for-17 for 149 yards. The Redskins' secondary has been a problem for them all season (and last season, too), and the Giants are very thin at cornerback with both
Corey Webster
and
Trumaine McBride
inactive for the game. If the quarterbacks can get time to throw, as Griffin has all night and Manning did in the second quarter, this could be a shootout the rest of the way.
Run defense continues to be a Giants' strength. They've done a good job all season against top running backs, and in the first half tonight they have held Washington's
Alfred Morris
to 11 yards on nine carries. They have depth and quality at defensive tackle and are very tough in the middle of the defensive line. Defensive end
Justin Tuck
also has been strong against the run. The Giants' defensive line isn't generating a pass rush, and without the injured
Jason Pierre-Paul
they should continue to struggle to do so. But if they can take away Morris, they could frustrate Griffin by limiting his options.
Hakeem Nicks
is active after sitting out last week's game with his abdominal injury, and he looks fine, but he hasn't had many opportunities. The Redskins are sticking cornerback
DeAngelo Hall
on him and occasionally shading a safety to his side, and his one catch so far was a jump-ball for which he barely out-fought Hall. He continues to struggle to get separation, and Manning does not appear to be looking his way early in the progressions. Manning has targeted Myers four times, Brown three times,
Victor Cruz
twice and no one else more than once.
The ESPN.com boxscore credits Giants middle linebacker
Jon Beason
with 10 solo tackles already, which is insane, but Beason is flying around out there and managed to run down Griffin on one play to force him out of bounds short of the first-down marker on third down. The Giants aren't great, but no one can say they're not playing hard.
The Giants seem to be using a safety on
Pierre Garcon
's side, as well as sticking top cornerback
Prince Amukamara
to him. Which would be smart, since the Redskins don't have any scary receiving options after Garcon. Tight end
Jordan Reed
is inactive for the second game in a row because of a concussion, and
Josh Morgan
isn't showing much. Garcon has caught all four passes thrown his way, but for only 32 yards. The Giants have done a good job bringing him down after the catch.
December, 1, 2013
12/01/13
7:25
PM ET
LANDOVER, Md. -- No surprises on the
New York Giants
' list of inactive players for Sunday night's game against the Redskins here at FedEx Field. Defensive end
Jason Pierre-Paul
, running back
Brandon Jacobs
and cornerbacks
Corey Webster
and
Trumaine McBride
were all ruled out Friday, quarterback
Ryan Nassib
is always inactive and the other two are backup offensive lineman
Stephen Goodin
and tight end
Adrien Robinson
, who's been inactive all year.
Jayron Hosley
starts at the left cornerback spot that used to be Webster's and has been McBride's in recent weeks.
Mathias Kiwanuka
starts at right defensive end in place of Pierre-Paul, though you can probably look for rookie
Damontre Moore
to get into the mix at defensive end at some point. And with centers
David Baas
and
Jim Cordle
both on injured reserve and out for the season,
Kevin Boothe
will start at center while
James Brewer
replaces Boothe at left guard.
Peyton Hillis
, inactive the past two weeks, will replace Jacobs as the backup running back when starter
Andre Brown
needs a break.
The issues in the secondary, where the Giants' only healthy cornerbacks are Hosley,
Prince Amukamara
,
Terrell Thomas
and raw rookie
Charles James
, could be helped by the injury issues the Redskins are having on offense. Dynamic rookie tight end
Jordan Reed
, who missed last week's game with a concussion, was initially expected to play tonight but was ruled inactive after experiencing a pregame headache. And fullback
Darrel Young
, an unsung key to the running game and the success of
Alfred Morris
, is also inactive due to a hamstring injury.
Evan Royster
is listed as the starter at fullback in Young's place, but that likely means the Redskins will change some things about the way they call plays in the run game.
Reed is the No. 2 target of quarterback
Robert Griffin
III in the passing game, and his absence means the Giants should be able to commit extra attention to top wideout
Pierre Garcon
due to the lack of scary options behind him.
Much more as the night progresses here at FedEx Field.
November, 28, 2013
11/28/13
2:00
PM ET
EAST RUTHERFORD, N.J. -- It would have been pretty tough to watch
Robert Griffin
III and the
Washington Redskins
on Monday night and come away too scared. The
San Francisco 49ers
destroyed them, instantly arriving in the backfield on basically every play, choking off the passing game and keeping Griffin in the pocket where they could tee off on him. It was a dream defensive game plan against an offense that doesn't look much like the one that was rolling toward a division title at this time last year.
But the
New York Giants
, who travel to Washington this weekend to play the Redskins on Sunday night, aren't taking them lightly. At 4-7, the Giants can't take anyone lightly. Plus, no matter what they see on their 2013 game film, the memories of how tough Griffin,
Alfred Morris
and the Redskins were to stop last year are still too fresh.
"I think we all know what he's capable of and what he can do in this league," Giants safety
Antrel Rolle
said of Griffin.
For all of their supposed struggles, the Redskins still rank seventh in the NFL in yards per game at 391.9 and second in the NFL in rushing yards per game at 150.2. Griffin may not be running as much as he did last year, but Morris is third in the league with 970 rushing yards so far.
"He's very hard to tackle for lost yardage," Giants defensive end
Justin Tuck
said of Morris. "He's a positive-yardage guy. He's a downhill runner, which is Mike Shanahan's type in that zone-blocking scheme. You can hit him at two yards and he ends up getting six. I think they're getting yards a little differently than last year, but we've still got to be on our game. They present a lot of problems, especially for a defensive end. As a defensive end, you're going to see every block known to man. It requires a lot of preparation."
Tuck is in good shape and having a nice season, especially against the run. But
Jason Pierre-Paul
at the other defensive end is struggling seriously with a shoulder injury that kept him from even playing half of the team's defensive plays Sunday. Giants coach Tom Coughlin said the team was "trying" to work rookie
Damontre Moore
into the pass rush rotation more, but Moore hasn't advanced as quickly as the team would like, and so
Mathias Kiwanuka
is being asked to do more up front.
In the secondary, cornerback
Trumaine McBride
may have to miss the game with a groin injury, but
Corey Webster
is back practicing and could slide back into his old starting cornerback role to help
Prince Amukamara
handle big, physical Redskins receiver
Pierre Garcon
. The Giants will be prepared for the best of the Redskins' offense, and they'll hope they can make it look as bad as San Francisco did this past week.