New York Giants:

Anthony Spencer
March, 17, 2014
3/17/14
8:30
AM ET
If you felt as though the New York Giants weren't being active enough in free agency, Sunday should have made you feel a good bit better. The day began with the announcement of two signings -- cornerback Walter Thurmond and kick returner Quintin Demps. Around lunchtime, news broke that the Giants were meeting with former Cowboys pass-rusher Anthony Spencer. Long about dinnertime, we learned they had set up a meeting with their own former wide receiver Mario Manningham. And then a bit before bedtime, Adam Schefter reported that cornerback Dominique Rodgers-Cromartie was spending the night and taking a physical today.
We chronicled and analyzed it all for you move by move, as is our wont here on ESPN's NFL Nation. Here are the links:
We will of course keep you posted throughout the day on further developments. Also, feel free to catch me at 3:30 p.m. ET on "NFL Insiders" on ESPN. Maybe I can sneak in a Giants note there, too.
March, 16, 2014
3/16/14
2:10
PM ET
Free-agent pass-rusher
Anthony Spencer
, late of the
Dallas Cowboys
, was visiting the
New York Giants
on Sunday. The Giants are looking to add depth at defensive end after
Justin Tuck
signed with the Raiders and their Tuesday deal with
O'Brien Schofield
fell apart over the physical. Spencer had 11 sacks for the Cowboys in 2012, so on paper he surely qualifies.
Spencer
But I don't know. This one feels like a stretch, and my first reaction is that Spencer only makes sense for the Giants if he's some kind of excellent bargain. He's 30 years old and missed all but one game of the 2013 season with a knee injury that required microfracture surgery. He played the first six years of his career as a standup outside linebacker in a 3-4 front, and because of the injury no one got to see how he'd translate to 4-3 defensive end when the Cowboys switched to that front last year. Until 2012, he'd never had more than six sacks in a season, though he always was known as a strong run defender, which was a Tuck calling card as well.
To me, if you're going to sign Spencer, the question is why not just re-sign Tuck, who's only 10 months older, is coming off a healthy 11-sack season of his own, knows the scheme, was one of your defensive captains and wanted to stay?
The only answer I can think of that would make sense is that Spencer comes dirt-cheap because of his injury. It's worth it for the Giants to find out if he'll take a small prove-it kind of deal and slot into the pass-rush rotation along with
Damontre Moore
and
Mathias Kiwanuka
opposite
Jason Pierre-Paul
. But if the price isn't right, there are more reasons to pass on this guy than there are to stretch to sign him.
March, 10, 2014
3/10/14
10:00
AM ET
Here are the top 15 free agents, followed by their rankings, entering Tuesday's signing period as compiled by NFC East reporters Dan Graziano, Todd Archer, Phil Sheridan and John Keim. There are some strong options at the top, but there is not a lot of depth in the NFC East when it comes to free agency. And if Dallas'
DeMarcus Ware
gets released, he vaults to a top spot on this list. As always, ESPN's free-agent tracker will keep you updated during this period.
1. LB Brian Orakpo, 8.5:
The Redskins used the franchise tag on him, so barring a surprise, he'll be back. It's a controversial move among fans, but the Redskins need his pass rush and promise to unleash him more often. His career best for a single season is 11 sacks.
2. DT Linval Joseph, 8:
A very big, strong and young (25) interior run-stuffer who has also shown the ability to create pressure from the interior, Joseph could be available because of the Giants' depth at defensive tackle and their many needs.
3. DT Jason Hatcher, 8:
He is coming off an 11-sack season, but he turns 32 in July and Dallas doesn't have much cap space.
4. LB Jon Beason, 7:
The Giants are working hard to sign him before free agency opens, as his leadership and high-energy play at middle linebacker helped transform their defense during the 2013 season.

Nicks
5. WR Hakeem Nicks, 7:
This grade is based on talent and past accomplishments, and a feeling that he was being overly careful in 2013 in order to hit free agency healthy. Lacks his early career speed, but knows how to play the position as well as anyone.
6. WR Jason Avant, 7:
For a team in need of a third-down possession guy, the sure-handed Avant will be a great value.
7. P Donnie Jones, 7:
The Eagles are expected to re-sign Jones, who was an underrated contributor to their NFC East title team.
8. DE Anthony Spencer, 6:
He is coming back from microfracture surgery, so the cost won't be high.
9. LB Perry Riley, 6:
The Redskins need to re-sign him because they already have a hole at inside linebacker after
London Fletcher
retired. But they won't break the bank for Riley, who needs to improve in coverage.
10. DE Justin Tuck, 6:
Coming off an 11-sack season that came out of nowhere after two down years, Tuck turns 31 later this month but is a locker-room leader and a 4-3 defensive end who can set the edge against the run.
Vick
11. QB Michael Vick, 6:
With
Nick Foles
' ascension, Vick is looking for a chance to start elsewhere.
12. RB Andre Brown, 5:
He played very well in his first few games back off a broken leg, but faded down the stretch and fumbled too much in the final few games. He is likely not a guy who can be relied on as a starter, but potentially a valuable piece.
13. TE Brandon Myers, 5:
A huge disappointment in New York after catching 79 passes as a Raider in 2012, Myers also contributed little as a blocker. The Giants are likely to let him go. He could fit better with a different system.
14. CB Terrell Thomas, 5:
He played all 16 games after missing the previous two seasons because of ACL tears in the same knee. Thomas believes he can hold up as a starter off a real offseason, and would like to cash in.
15. S Danny McCray, 5:
He is a core special teamer only, so the Cowboys could find value here.
February, 27, 2014
2/27/14
9:15
AM ET
With projections for the 2014 salary cap continuing to rise into the low $130 millions, we have discussed the ways in which the perennially cap-strapped
New York Giants
could benefit. According to
this chart Kevin Seifert put together
, the Giants currently project to have $18,288,183 in cap space if the cap comes in at $132 million when it's announced next week. That puts them right in the middle of the NFL pack, and third in the NFC East. Here's a look at where the division's other teams stand in the current projections. You'll note that the
Dallas Cowboys
appear to be in massive trouble.
Washington Redskins: $28,684,986.
After two straight offseasons in which they were penalized $18 million worth of cap room for their spending behavior during the uncapped 2010 season, the Redskins are ready to get to work rebuilding their secondary. They also need money to re-sign pass-rusher
Brian Orakpo
.
Philadelphia Eagles: $25,674,804.
The Eagles always manage the cap well, and they're already at work
locking up their current players
on long-term deals to maintain flexibility and continuity. Left tackle
Jason Peters
got his deal Wednesday, and it sounds as though center
Jason Kelce
and wide receiver
Riley Cooper
are next in line. If they spend in free agency, it likely will be on defense, where they could use some fresh pieces.
Dallas Cowboys: -$18,920,690.
Yeah, that's a minus-sign there. The Cowboys are nearly $19 million over the projected cap at this point, which means they probably can't retain free agent defensive linemen
Jason Hatcher
and
Anthony Spencer
and have some other tough choices to make. They have already made some noise about possibly having to cut
DeMarcus Ware
, which sounds crazy but would wipe out a huge chunk of the debt.
February, 25, 2014
2/25/14
12:00
PM ET
New York Giants
general manager Jerry Reese said last week at the NFL scouting combine that he expects defensive end
Justin Tuck
to test the free-agent market. Should Tuck find what he's looking for there, he could leave the Giants after spending the first nine years of his career in New York.
Tuck turns 31 in March, and his 11-sack 2013 season came on the heels of two injury-plagued and disappointing years from an individual standpoint. So while he's an all-time great Giant coming off a big year, it's not as though the team can't make the case to let him go if he's offered more from someone else than they think he's worth. However, if he leaves, he will need to be replaced in a pass-rush rotation that's grown a bit thin in recent years.
The starter at the other defensive-end position is
Jason Pierre-Paul
, a superstar talent who's struggled terribly with injuries the past two seasons and is therefore a question mark going forward. The in-house candidates to replace Tuck at this point would be
Mathias Kiwanuka
, who's better as a rotational substitute than as a starter and is a candidate to be cut for cap reasons anyway, and
Damontre Moore
, the 2013 third-round pick who played sparingly as a rookie. It's safe to say that, if Tuck leaves, the Giants will need to find at least one pass-rusher in free agency or the draft to replace him.
There are some intriguing free agents:
[+] Enlarge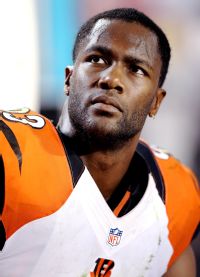 AP Photo/Paul SpinelliCincinnati's Michael Johnson has 26.5 career sacks and has missed just one game in five seasons.
Greg Hardy, Carolina
. He had 15 sacks in 2013 and doesn't turn 26 until late July. He's the top pass-rusher on the market unless
Dallas is really crazy enough
to cut
DeMarcus Ware
. I doubt Carolina lets Hardy hit the market, even if that means franchising him.
Michael Johnson, Cincinnati.
The Bengals franchised Johnson last year and likely can't afford to do so again. He only had 3.5 sacks in 2013, but 11.5 the year before, and just turned 27 this month.
Michael Bennett, Seattle
. After signing for one year and $5 million and winning the Super Bowl with the Seahawks, the 28-year-old Bennett wants to get paid. The Giants employed his brother, tight end
Martellus Bennett
, two years ago. There is chatter in league circles that Bennett wants to sign with Chicago to play with his brother.
Anthony Spencer, Dallas.
We never got to find out what Spencer looked like as a 4-3 defensive end because the former 3-4 outside linebacker got hurt early in the first year of Dallas' transition to the 4-3. He's 30 years old and was great two years ago in the 3-4. Likely too big a question mark for the Giants.
Jared Allen, Minnesota
. Big name, yeah, but he'll be 32 in April and is slowing down. If they'd be willing to sign Allen, why wouldn't they just re-sign Tuck instead?
Lamarr Houston, Oakland.
He turns 27 in June and is well-regarded as a do-it-all defensive end who can play the run as well as rush the passer. Oakland is trying to keep him off the market.
DeMarcus Ware, Dallas.
Have to throw him in here, right? I still think Jerry Jones is just blowing smoke and there's no chance he'll cut Ware for cap reasons. But if he does, this is a Hall of Fame talent who recorded at least 11 sacks in each of the seven seasons prior to 2013. The Giants (and many other teams) would be nuts not to at least kick the tires.
September, 25, 2013
9/25/13
8:00
AM ET
Your daily morning check-in on news and notes about and of interest to the New York Giants
The news of the day
: The Giants return to practice this morning, still searching for answers for how to fix all that's gone wrong during their 0-3 start. We will be looking for specific information on injury issues regarding offensive linemen
Chris Snee
,
David Baas
and
David Diehl
, as well as fullback
Henry Hynoski
, who could well be out for the season with a fractured shoulder. I'm curious especially about Diehl, who had thumb surgery five weeks ago. At that time, the team said Diehl would be out six weeks, so that timetable is nearing completion. Even if they want to leave
Justin Pugh
at right tackle, Diehl could help at either guard spot if Snee needs a break or if Baas has to miss time and
Kevin Boothe
has to move back to center.
Behind enemy lines:
One thing the Giants have done well this year is tackle at the second and third levels of the defense, and that's going to be important again Sunday if
this note from Adam Teicher
holds up. Adam writes that 58 percent of Kansas City's passing yardage has come after the catch.
Around the division:
The only good team in the NFC East so far is the
Dallas Cowboys
, but they suffered a serious loss with the news that defensive end (and franchise player!)
Anthony Spencer
is out for the year following microfracture knee surgery. Dallas has been doing a fine job of
collecting sacks
with its defensive front four even without Spencer, but knowing he's not coming back is a lot different than getting by for a time without him.
Around the league:
The teams that have beaten the Giants so far this year rank second, 15th and 21st in the latest edition of our
ESPN.com Power Rankings
. The Chiefs, who the Giants play Sunday, rank eighth. The 0-3 Giants rank 29th. There aren't any easy outs for them right now. And as you survey the schedule looking for potential wins, it's important to remember that, to the Minnesotas and Oaklands of the world, the Giants right now look like one of their best chances for a win, too.
September, 6, 2013
9/06/13
8:00
AM ET
Your daily morning check-in on news and notes about and of interest to the New York Giants:
The news of the day:
There was a time when you had to wonder whether Antrel Rolle would last in New York, as his relationship with Tom Coughlin had some rocky times early. That Rolle was
voted one of five team captains
Thursday, Coughlin said, speaks volumes about what he's come to mean to the Giants as a player and one of their defensive leaders. Rolle's an interesting guy, sometimes prone to saying over-the-top and kind-of-silly things on his radio appearances or in group media interviews. But he's got that kind of easy confidence about him that rings genuine to teammates. He's shown versatility and a willingness to move in and out of different roles as the team has required. And when he talks, teammates listen. My sense is he drew a good bit from veteran Deon Grant when Grant was with the team in 2010 and 2011. Grant was the kind of guy who wasn't scared to say what was on his mind when he felt something needed to be said, and he was the kind of guy teammates took seriously.
Behind enemy lines:
Sounds like a broken record, but the fact is the Dallas Cowboys just keep getting thinner on the defensive front. With starting defensive tackle Jay Ratliff already out and starting defensive end Anthony Spencer's chances of playing looking slimmer by the missed practice, reserve defensive tackle Ben Bass got
hurt in practice Thursday
. That could leave the Cowboys with only three defensive tackles, total, for the game. At a position where rotating players is vital, that's not enough. The Giants would do well to consider running the ball up the middle and wear down the few defensive tackles the Cowboys have.
Around the division:
If you were wondering when Riley Cooper was going to get into a fight with a teammate in practice, the answer turned out to be Sept. 5. Cooper, who made headlines last month when he was caught on tape using an angry racial slur,
scuffled
with known hothead cornerback Cary Williams. Cooper says it was nothing, but to me it says more that Williams didn't want to talk about it. I think the Eagles are going to be a mess, but I thought that before this happened.
Around the league:
Eli Manning's big brother threw for 462 yards and a league-record-tying
seven touchdown passes
Thursday night in the NFL's season opener against the team that had the No. 17 pass defense in the league last year and won the Super Bowl. The Giants had the No. 28 pass defense in the league last year and did not qualify for the playoffs. Peyton Manning and the Broncos will be at MetLife Stadium nine days from now to face the Giants. I'm not saying, I'm just saying.
September, 3, 2013
9/03/13
8:00
AM ET
Your daily morning check-in on news and issues about and of interest to the New York Giants.
The news of the day:
The Giants are off today, but they had a short practice Monday morning, and the big news was of course
the return
of wide receiver
Victor Cruz
to the practice field after two missed weeks due to a heel bruise. Talking to Cruz after practice, you couldn't be 100 percent sure he'd be playing Sunday night in Dallas, but all of the signs are encouraging. We will, of course, monitor this throughout the week. If he's practicing Wednesday and Thursday, you're probably OK to put him in your fantasy lineup. ... Defensive end
Jason Pierre-Paul
, recovering from back surgery, also worked some in practice, but he seems
less likely
to play in the opener. Same with fullback
Henry Hynoski
, whose return is vital to the run game with the offensive line banged up. ... Speaking of fantasy,
here's a post from Tom Carpenter

on Giants No. 3 receiver
Rueben Randle
as a potential sleeper in 2013.
Behind enemy lines:
As they prepare to face the Giants in Sunday night's season opener, the
Dallas Cowboys
are having
serious problems with their defensive line
. That's a strong unit if the four starters are healthy, but right now they're not.
Jay Ratliff
is definitely out, and as of now it looks as though it'll be a stretch for
Anthony Spencer
to play in the opener. They are crucial elements to the Cowboys' pass rush, and while
DeMarcus Ware
and
Jason Hatcher
still pose significant threats, it's easier to defend those guys when you only have backups to worry about at the other two spots. Welcome news for a banged-up Giants offensive line.
Around the division:
The
Washington Redskins
announced that quarterback
Robert Griffin III
, who had reconstructive knee surgery in January, would
start their Monday Night Football season opener
six days from now against the
Philadelphia Eagles
. Griffin didn't practice at all in minicamp or organized team activities, didn't practice in full until very late in training camp and didn't play at all in preseason games, so obviously it'll be fascinating to see how he looks in his first game action since he crumpled on the field in that playoff loss to the Seahawks. Griffin's not the Giants' problem until December, since the Giants don't play the defending champs in the first three months of the season.
Around the league:
Not a huge news day Monday. One item of note was the new
five-year, $55 million contract
the Bengals gave defensive tackle
Geno Atkins
. The Giants'
Linval Joseph
is not the same level of superstar player, obviously, but he's a very good one, and you can bet he smiled at the news of a defensive tackle getting a big-money deal as he himself heads into the final year of his four-year, $4.16 million rookie contract. Joseph's salary this year is $630,000.
August, 30, 2013
8/30/13
8:00
AM ET
Your daily morning check-in on New York Giants-related news and notes:

The news of the day:
Giants running back Andre Brown
fractured his left leg
in the second quarter of Thursday night's preseason finale in New England. Obviously rotten news for Brown, who broke the same leg last November, but also for the Giants, who were planning to use him as a significant part of their running game this season. While they have high hopes for second-year back David Wilson, the Giants listed the pair as co-starters on their depth chart and had been using Brown exclusively on passing downs and at the goal line this preseason. He's a better pass protector than Wilson is, and the departure of Ahmad Bradshaw has left a major hole in that area. Brown's physicality and understanding of the Giants' blocking schemes are assets on which they planned to rely.
Brown will obviously miss a significant amount of time, if not the whole season, so the question is about replacements. My guess is that Wilson would take over the goal-line duties since it was Brown's proficiency in that area, rather than any deficiency on Wilson's part, that led to the arrangement in the first place. But as for who'll play on third downs and in critical pass-protection situations, it's not so clear-cut. I know they like former Redskins running back Ryan Torain -- who was the next running back into the game after Brown got hurt -- as a pass protector. And Da'Rel Scott got significant action Thursday night for the first time this preseason and looked good as a runner. Rookie Michael Cox has impressed as a runner and a kick returner, but he likely has more to learn in protection. Veteran free-agent options still available include Michael Turner and Willis McGahee, each of whom has a good reputation for pass protection, and more guys will become available in the coming days. But it's entirely possible the Giants roll with what they already have at running back.
Around the division:
Washington Redskins quarterback Robert Griffin III says, with typical dramatic flourish, that he's been
cleared to play
following offseason knee surgery. Redskins coach Mike Shanahan declined to say for sure whether Griffin would start in the "Monday Night Football" opener in Week 1 against Philadelphia. Have to believe Shanahan's just playing some Shanahan-style mind games here with the Eagles. Regardless, Griffin and the Redskins aren't the Giants' problem until December. ... The Giants' Week 1 opponents, the Dallas Cowboys, are dealing with injury issues on the defensive line. Defensive tackle Jay Ratliff is on the PUP list and out for at least the first six weeks, and it sounds as though defensive end Anthony Spencer may be
a question mark for the opener
as well. So the Giants aren't the only ones who are worried about being at full strength nine days from now when the games count.
Around the league:
Giants owner John Mara is
happy with the settlement
of the concussion litigation against the league, which you'd expect him to be, because it's fantastic for the league and the owners that the thing got settled. But while the settlement is good for the league, my belief is that it could end up being bad for the game of football. Much of what the league has done in recent years in terms of its emphasis on player safety and health has been motivated by fears stemming from the possible consequences of the concussion litigation. With that fear removed, can we be sure the league will still be proactive on player-safety issues? Less accountability for the NFL and its owners is probably not a good thing. They got what they wanted here, which was for the thing to go away. But keep an eye out going forward to see what effect their relief has on their concern for player safety.