New York Giants:

Atlanta Falcons
March, 23, 2013
3/23/13
6:17
PM ET
Osi Umenyiora
may be nearing a new deal soon and he hopes it is with the
Atlanta Falcons
.
The
Falcons are making a strong push
to sign Umenyiora and could try to wrap up a deal before the end of the weekend, a league source told ESPN NFL Insider Adam Schefter on Friday.
[+] Enlarge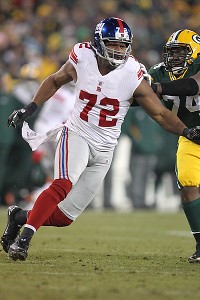 Matthew Emmons/US PresswireOsi Umenyiora, who has a home in Atlanta, likes the prospect of winning a title there.
"There was nothing better than being able to win there [in New York]," the free agent pass rusher said on Friday on Atlanta's 92.9 The Game. "The only thing I can think of, for myself personally, [better] than being able to win in New York would be if I was able to win here at home in Atlanta. So we'll see how that plays out. Hopefully, it will work out in a positive direction."
Umenyiora has a home in Atlanta and has visited with the Falcons, who could use a pass rusher to replace
John Abraham
. Umenyiora appears to be a good fit for the Falcons.
"I live here so I just drove up there and visited with them," Umenyiora said. "It was very good. Very productive meeting. Hopefully, things will work out."
The Falcons are trying to add pieces to reach the Super Bowl after losing in the NFC title game to San Francisco. Umenyiora saw just how good Atlanta is when the Giants were waxed, 34-0, in Atlanta late in the regular season.
"From afar, I've never seen a team that has this much talent, especially offensively," Umenyiora said. "With the weapons they have out wide, a good quarterback, a good solid offensive line ... they added
Steven Jackson
, one of the best backs in football.
"Very talented," he continued. "The sky is the limit. Defensively, they were very good. I think Abraham was a very good player. Obviously they released him, so he's going to find employment elsewhere. They have all of the makings of a very good football team. They just need a couple of key pieces here and there and I think they'll be OK."
Umenyiora has had to wait in free agency as the market for defensive ends has been slow. But pass rushers like
Dwight Freeney
, Abraham and Umenyiora could find jobs very soon.
"To be honest with you it was kind of expected," Umenyiora said of the wait. "When you have a guy like an Abraham or a Freeney or myself, obviously, we are all like 30-years-old or plus. ... Teams want to wait us out and they weren't trying to pay $12 million a season for a pass rusher. They were just going to wait until people got desperate and then make their move. Actually, right now a lot of teams are making their moves now."
March, 20, 2013
3/20/13
7:28
PM ET
[+] Enlarge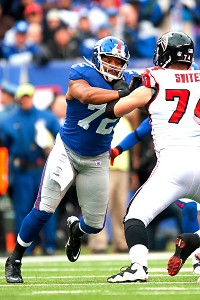 Rob Tringali/SportsChrome/Getty ImagesOsi Umenyiora earned two Super Bowl rings and two Pro Bowl trips during his Giants career.
Free agency got off to a slow start for
Osi Umenyiora
. But that's likely about to change for the free-agent defensive end.
Umenyiora visited with the
Atlanta Falcons
on Wednesday, according to USA Today. ESPN NFL insider Adam Schefter reported that Umenyiora underwent a physical with the team, according to a league source.
The Falcons likely are on Umenyiora's wish list because they can use a pass-rusher. Umenyiora also has a home in Atlanta.
Umenyiora, 31, is seeking one more big payday and a starting job after playing out his contract with the
New York Giants
. The Miami Herald reported that the Dolphins have also contacted Umenyiora's camp.
The market for pass-rushers has likely not been what Umenyiora hoped for. Other defensive ends looking for jobs include
Dwight Freeney
,
Elvis Dumervil
and
John Abraham
.
We'll have to see what Umenyiora finds on the market. He left the door open for a return to the Giants, but they have limited funds and Umenyiora would still be part of a defensive end rotation.
January, 17, 2013
1/17/13
10:20
AM ET
As the playoffs move into the conference championship weekend, we take a look at five games that cost the Giants an opportunity to defend their title in the postseason.

The Giants finished 9-7 this season but needed one more win to get back into the playoffs. Today, we examine the their 34-0 loss in Atlanta in Week 15.
What went wrong:
What
didn't
go wrong?
On the second play of the game,
Eli Manning
was picked off by
Asante Samuel
, who returned it to the Giants' 16. Four plays later, the Falcons scored to go up 7-0 less than three minutes into the game.
[+] Enlarge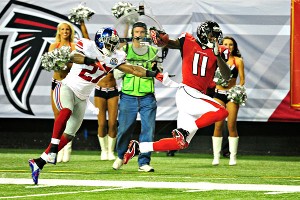 Scott Cunningham/Getty ImagesJulio Jones' touchdown grab in the third quarter put the game out of reach.
The Giants couldn't do anything right after that.
Lawrence Tynes
missed a 30-yard field goal, the offense was stopped on fourth down three times and the defense was never able to make
Matt Ryan
uncomfortable.
Turning point:
You could easily say it was Manning's interception at the start of the game or Tynes' early miss that set the tone for the Giants.
But you can also make an argument that
Julio Jones
' 40-yard touchdown catch on rookie
Jayron Hosley
sealed the game. Even though the Giants were shut out in the first half, they only trailed 17-0 and there was still hope for a second-half comeback.
But Jones ran past Hosley for a touchdown with 11:31 remaining in the third quarter to put the game out of reach and completely deflate the Giants.
Giant regret:
The Giants could not convert on three third-and-shorts in the first half.
On a third-and-3 at the Falcons' 12, Manning threw an incomplete pass to
Domenik Hixon
. Tynes then missed his 30-yard attempt.
In the second quarter, the Giants had a third-and-2 at the Falcons' 33 when
Kregg Lumpkin
gained just one yard on a run. Tom Coughlin opted to go for it on fourth-and-1 with 6:08 left in the half, but
David Wilson
was stuffed for no gain.
Later, with 1:23 left, the Giants handed off to Lumpkin again on a third-and-1 on Atlanta's 11-yard-line but were stopped for no gain. After a timeout with 1:14 left, Coughlin went for it again down 17-0 but Manning could not connect with
Victor Cruz
.
What if?
The Giants were pretty much out of this game from the start. Coughlin had hoped his team would respond emotionally, not only because of its slim division lead and the potential playoff spot that was on the line, but also because this was the first game after the Sandy Hook Elementary School tragedy.
If they had taken care of business against a team they owned 24-2 in the wild card a season earlier, the Giants likely would be in the playoffs. Instead, the Giants lost sole possession of first place in the NFC East and eventually were on their way to missing the postseason.
Tell us where you think the Atlanta debacle ranks among the Giants' most costly losses of the season below.
December, 16, 2012
12/16/12
3:55
PM ET
ATLANTA –- The NFC wild-card playoff rematch between the Giants and Falcons was a complete mismatch as
Atlanta destroyed the defending champs 34-0
.
What it means:
The Giants continued their maddeningly inconsistent ways by following up their big win over the Saints with an embarrassing loss at Atlanta.


The defense had no answers for the Falcons' offense, got little pressure on
Matt Ryan
and couldn't cover
Julio Jones
.
Eli Manning
threw two picks in the first half,
David Wilson
couldn't get going and the Giants were stopped cold on fourth-and-short three times.
The NFC East is now officially up for grabs.
Ugly start:
Manning threw two interceptions in the first half, one on the second offensive play of the game when
Asante Samuel
picked him off at the Giants' 22 and returned it 6 yards to set up a
Michael Turner
touchdown run.
On the Giants' next drive,
Lawrence Tynes
missed a 30-yarder and the Falcons made them pay again. Ryan hit
Tony Gonzalez
on a touchdown pass to push the Falcons up 14-0.
In the second quarter, Tom Coughlin went for it on fourth-and-1 twice and was denied both times. At the Falcons' 32, Wilson ran to his left side only to be stuffed. Then with less than two minutes left, the Giants went for it again at the Falcons' 11, only to see Manning's pass to
Victor Cruz
get broken up.
The Falcons were able to go into the half with a 17-0 lead.
The Hokie rookie I:
Jayron Hosley
started at corner for the injured
Prince Amukamara
and had a tough day. He bit on a Ryan pump fake that led to a 37-yard pass to
Harry Douglas
. Hosley pulled up lame and injured his ankle on that play but returned.
He had a nice breakup on a deep pass to
Roddy White
but later gave up a 40-yard touchdown to Jones, who ran right by him to put the Falcons up 24-0 with 11:31 to go in the third quarter.
Jones beat
Corey Webster
on his second touchdown, in the fourth quarter.
The Hokie rookie II:
Wilson started for
Ahmad Bradshaw
(knee) and ran as hard as he could, but there wasn't a lot of running room.
Wilson also didn't get a huge workload because the game slipped out of the Giants' hands. On the second play of the game, Wilson was practically flattened by linebacker
Sean Weatherspoon
while blocking on the play in which Manning threw a pick.
Backup
Kregg Lumpkin
saw a good amount of action, being used on several draw plays.
Wilson remained the kickoff returner but couldn't do much on kickoffs, either. Atlanta made sure to keep the explosive Wilson in check.
Wilson finished with 55 yards on 12 carries. Lumpkin rushed eight times for 42 yards.
Paying tribute:
The Giants wanted to do what they could to honor the victims of the Sandy Hook Elementary School shooting.
Coughlin spoke to his team about the tragedy during his Saturday night meeting, and the players had "SHES" on their helmets. Coughlin had it written on his hat, as well.
Cruz paid tribute to 6-year-old Jack Pinto. After learning that Pinto was a Cruz fan, the receiver spoke to Pinto's parents. They told him that they had been contemplating burying their son in a Cruz No. 80 jersey. Cruz had the words "Jack Pinto 'My Hero'" written on his cleats and "Jack Pinto 'This One is 4 U'" on his gloves.
What's next:
The Giants travel to Baltimore for a slugfest with the Ravens.
December, 16, 2012
12/16/12
2:38
PM ET
By
Matt Winkeljohn | Special to ESPNNewYork.com
ATLANTA -- There wasn't much positive to take out of the first half of the Giants' game in the Georgia Dome, where the Falcons rolled to a 17-0 lead by intermission with big-time assistance coming in the form of two interceptions of
Eli Manning
.
The game is important to each team for different reasons. The Giants (8-5) are fighting for their playoff lives while the Falcons (11-2) want to prove that last Sunday's loss to the Panthers was an aberration.
The Giants will enter the second half hoping the first was an aberration.


Eli wasn't right:
Manning's first pass was intercepted when Atlanta cornerback
Asante Samuel
stepped in front of a throww intended for
Hakeem Nicks
. That set up the Falcons' first touchdown. Manning's second pass was tipped at the line, but
Victor Cruz
caught it for a short gain. His third pass sailed way over Cruz's head.
In the second quarter, Falcons safety
Thomas DeCoud
stepped in front of another pass intended for Nicks and picked that one off. That led to a 17-0 Atlanta lead. Manning cranked it up a bit later in the second quarter, but not enough to score.
Field position has been brutal.
Matt Bosher
's first kick was 6 yards deep in the end zone, and Giants rookie
David Wilson
was able to return it out just to the 13-yard line. Two plays later, Manning was intercepted by Samuel to set up Falcons' first touchdown. Bosher's second, third and fourth kickoffs were touchbacks.
Meanwhile, the Falcons started their first drive at New York's 16-yard-line, and their fourth drive at the Giants' 27. Those possessions -- coming after Manning's interceptions -- led to 10 points for the Birds.
The Giants' fifth and final possession of the first half began at their own 10 after a holding penalty as they were receiving a punt.
Wilson's not the problem.
The absence of running back
Ahmad Bradshaw
hasn't had much to do with this so far. Wilson rushed six times for 47 yards in the first quarter, including a 25-yard jaunt. He finished the half with 46 yards on eight carries, and backup/relative newcomer
Kregg Lumpkin
added 42 yards on seven carries. The Giants out-rushed the Falcons 88 yards to 42 in the first half.
Wilson, however, was stuffed on fourth-and-1 at the Atlanta 32 in the middle of the second quarter.
Did head coach Tom Coughlin opt against what would have been a 49-yard field goal try because his team trailed 17-0, or because
Lawrence Tynes
had earlier missed a 30-yard field goal wide left? You decide.
Good time for a sack.
New York mustered a total of one sack over the previous two games, and the Giants rarely got close to Atlanta quarterback
Matt Ryan
as he completed his first eight passes.
But shortly after New York's failed fourth-down try,
Chris Canty
dropped Ryan to leave the Falcons with third-and-15. After a false start, Atlanta managed just a short completion and that forced a punt.
About that second fourth-down try ...
Manning led the Giants 79 yards from their own 10 to the Falcons' 11 in the waning moments of the half, only to once again meet fourth-and-2. After a timeout, Coughlin opted against a field goal try and went for it.
Again, the Giants failed as Manning threw on the run to Cruz only to have Samuel arrive at the same time. The ball fell incomplete, and the Falcons then ran out the clock to end the half.
Actually, Giants fans probably thought Samuel arrived a moment before the ball. Close call.
December, 16, 2012
12/16/12
2:02
PM ET
By
Matt Winkeljohn | Special to ESPNNewYork.com
ATLANTA -- Giants right guard
Chris Snee
left the field with an injured hip early in the second quarter, with his team trailing 14-0. His return to the game is questionable.
He was replaced by
Jim Cordle
, who is also the backup center.
Eli Manning
threw his second interception of the game on the play after Snee's injury. After Atlanta's
Matt Bryant
kicked a 38-yard field goal for a 17-0 lead, Cordle took the field once the Giants began their next drive.
UPDATE:
Snee returned to action early in the third quarter.
December, 15, 2012
12/15/12
7:52
PM ET
With
Prince Amukamara
sidelined this weekend with a hamstring issue, the Giants suddenly have a gaping hole in their secondary. Amukamara had arguably been the team's best player in the secondary this season, showing why the team drafted him in the first round last year.
Earlier this week, Giants defensive coordinator Perry Fewell said rookie
Jayron Hosley
will be the man to fill that spot on the outside, but a big decision is going to have to be how the Giants use Hosley during the game.


After getting off to a hot start this year, Hosley struggled in the middle of the season. He had a rough go against Dallas'
Miles Austin
, and then gave up the game-clinching first down against Pittsburgh. The Giants used Hosley as the nickel corner, and as to be expected, there were some growing pains.
This week, Hosley will be on the outside and have to match up with
Roddy White
and
Julio Jones
, two of the premier wide receivers in the league. They can give fits to any corner in the league, let alone a rookie. It's a tall task for Hosley, one he is embracing along with his defensive coordinator.
The Giants are likely to keep a close eye on Hosley, and that's where their decision comes in. How long a leash do they give him? Do they isolate him in coverage, as they would do with Amukamara? Do they change the coverages to try and help him? They're all critical decisions.
With Amukamara and safety
Tyler Sash
both out, the Giants are thin in the secondary. They only have five active corners and three safeties, so they won't have the opportunity to rotate in and out if anyone struggles. The Giants are going to need Hosley to step up and play well or it could be a long afternoon.
December, 14, 2012
12/14/12
2:00
PM ET
By
Michael Bonzagni, Evan Kaplan
and
Kimberly Meyer | ESPN Stats & Information
The Giants head to Atlanta on Sunday to face the 11-2 Falcons in a matchup of two of the NFC's top teams.
The teams met in the NFC Wild Card playoffs last season, with New York prevailing, 24-2.
The Giants were able to disrupt
Matt Ryan
in that game, sending four or fewer pass rushers on 37 of his 44 dropbacks and either sacking or putting him under duress 10 times. Ryan completed 58.8 percent of his passes against such pressure, but the Giants pass rush forced him to keep his throws short, as he averaged 5.2 yards per attempt.
Eli Manning
threw for 277 yards and three touchdowns in that game, and completed 71.9 percent of his passes. Manning was effective with the short passing game, averaging 6.6 air yards per attempt, his lowest rate of the season. But the Giants receivers were able to capitalize on those throws with 158 yards after the catch, their most in any playoff game during last year's Super Bowl run. Here are some areas to keep an eye on in the teams' Week 15 matchup:
• The Giants are relying more on their four-man pass rush over the last six games, which has yielded positive results for their defense. When sending four or fewer pass rushers during their last six games, the Giants have allowed a Total QBR of 47.5, considerably lower than the 83.2 they allowed in their first seven games.
They are sending standard pressure on 83.0 percent of dropbacks over the last six games, including a season-high 90.9 percent against the Redskins in Week 13. In last year's playoff game the Giants sent four or fewer pass rushers on 83.7 percent of Matt Ryan's dropbacks, and both of their sacks came when sending standard pressure.
• One of the biggest differences between Manning and Ryan in 2012 has been their success with play-action passing. Ryan has excelled in such situations, garnering the second-highest completion percentage among qualified quarterbacks. Manning, on the other hand, has the fifth-lowest percentage.
Ryan is averaging a touchdown every 14.8 attempts while Manning is averaging one every 20.3 attempts.
• Manning's struggles on play-action passing may continue on Sunday. The Falcons' defense has only allowed two touchdowns all year against play-action, tied for fewest in the league. They have also allowed the second-fewest 30+ yard plays (2) and the fourth-lowest QBR in the league (39.8).
•
David Wilson
made a major impact in the run game against the Saints, rushing for 100 yards and two touchdowns on 13 carries.
However, all of his rushes came on first and second downs. Wilson was on the field for only one third down -- a pass play with 49 seconds left in the first quarter. During the third down, Manning was forced to throw the ball away due to pressure.
For Wilson to reach his full potential as a feature back, he must get better in pass protection so he can contribute on every down.
• Wilson not only contributed to the rushing game, but he was also a huge part of a kick return and kickoff unit that was responsible for 3.04 Expected Points Added, the Giants' highest contribution by the kickoff team since Week 2 of 2010. Wilson leads the league in kick return yards (1,321) and already has more return yards than any other Giant in the last 12 seasons.
December, 13, 2012
12/13/12
6:28
PM ET
EAST RUTHERFORD, N.J. – The New York Giants' vaunted defensive line is underperforming when it comes to sacks -- and the players know it.
"At the end of the day, sacks is what everybody looks at, so we have to find a way to get more," defensive end
Osi Umenyiora
said Thursday.
Last season, the Giants were tied for third in the NFL, with 48 sacks. Through 13 games this season, they have 31 -- tied for 12th in the league.
The Giants had just one sack in last week's victory over the
New Orleans Saints
, and were shut out the week before in a loss to the
Washington Redskins
.
[+] Enlarge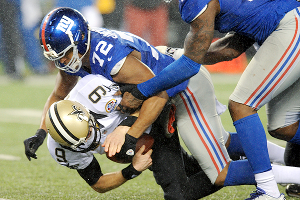 AP Photo/Bill KostrounOsi Umenyiora has just six sacks this season.
"It could have been better," said Umenyiora, of the D-line's performance against the Saints. "They do an outstanding job in the way they protect and the things that they're able to do. I think we did OK. We won the game, which is the most important thing, but I think this week we'll be better."
Defensive coordinator Perry Fewell, however, came to his players' defense Thursday.
"Our guys are very cooperative," Fewell said. "It took a lot for them to do what I asked them to do last week. It wasn't the most sack-friendly game (plan) for them, but it was the way we felt like we had to win that football game."
When asked to be more specific about the plan, Fewell said, "I won't reveal that. It's a game-plan thing."
Umenyiora used a baseball analogy when describing the situation regarding the D-line of late.
"It's just like a guy who's a slugger, and every single time, they're throwing him balls," Umenyiora said. "They're trying to walk him. Then you ask him why he's not hitting home runs? They're trying to walk him. If they pitch him the ball, he's gonna hit a home run."
"We're not getting pitches. It's really that simple," Umenyiora continued. "When we get the pitches, whenever we get ahead, whenever we get one-on-one blocks, we're gonna take advantage of them. But we're just not really seeing them right now."
Umenyiora, who had the Giants' lone sack against the Saints, now has 6 on the season.
Jason Pierre-Paul
leads the team with 6.5, while
Justin Tuck
has 3.
That trio combined for 30.5 sacks in the 2011 regular season.
The Giants' defense does have fond memories when it comes to their next opponent, though. New York dominated the
Atlanta Falcons
in a wild-card playoff game at MetLife Stadium last January, shutting the Falcons' offense out in a 24-2 win.
Those two teams meet again Sunday afternoon at the Georgia Dome, and Umenyiora thinks the D-line will get their cracks at Falcons quarterback
Matt Ryan
.
"We'll have opportunities to get there," Umenyiora said. "We just have to take advantage of them."
December, 12, 2012
12/12/12
6:19
PM ET
EAST RUTHERFORD, N.J. -- The Falcons are 11-2, the best record in the NFC and tied with the Texans for the best record in the NFL. But they're rarely mentioned as Super Bowl contenders -- not nearly as often as teams with less glitzy records, like the Giants (8-5).
"That's not something I'm concerned with. I really don't worry about how we're perceived or the media's perception of us," Falcons quarterback
Matt Ryan
said Wednesday, on a conference call with New York reporters. "I think we have a locker room where guys are just focused on trying to play well and play our best, week in and week out.
"Anybody can really have their opinion of us. We have our own. We're confident in ourselves and we play that way; we play with a lot of confidence. I think that's what's important to focus on."
[+] Enlarge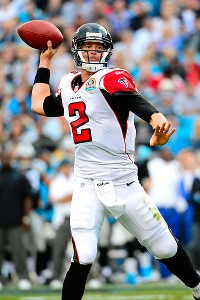 Bob Donnan/USA TODAY SportsMatt Ryan has passed for 3,932 yards and 24 TDs this season.
Why are some people down on the Falcons, despite their gaudy record? Maybe it's because they haven't won a playoff game since 2004, including blowout losses against the Packers (49-24) and Giants (24-2) the past two years. Or that seven of their 11 wins this season have been by seven points or less.
Ryan, who has yet to win a playoff game in his five-year NFL career, said Wednesday that revenge is not on his mind, following last season's embarrassing playoff loss to the Giants at MetLife Stadium.
"Last year is done," Ryan said. "Obviously they had a great run last year in the playoffs and were carrying a lot of momentum. I think they're a different football team this year; we're a different football team this year. That's more of where my focus is."
The Falcons are definitely different this year -- much more reliant on the passing game. In 2011, the Falcons were eighth in the NFL in passing yards per game (262.0), and 17th in rushing yards per game (114.6). This season the Falcons are fourth in passing (289.2) and 28th in rushing (86.9).
"There's been a transition in terms of what we have on the offensive side of the ball and we have a lot of guys that really deserve an opportunity to touch the football," said Falcons coach Mike Smith, also on a conference call. "We're very transparent in that we have not run the ball as effectively as we would like to, and as consistently as we'd like to through the first 13 games."
Running back
Michael Turner
has 689 rushing yards and eight touchdowns, but is averaging just 3.7 yards per carry. The strength of this team is Ryan and his top three receivers: wideouts
Roddy White
(77 catches, 1,140 yards) and
Julio Jones
(63 catches, 997 yards), and tight end
Tony Gonzalez
(81 catches, 831 yards).
The Falcons are also the least-penalized team in the NFL. (The Giants are second-best in that category.) And they've won 10 straight games at the Georgia Dome. But they're coming off a 30-20 loss to the 4-9
Carolina Panthers
last Sunday.
"We didn't play very well last week against Carolina," Smith said. "We've got to make the corrections like we do when we win football games."
"We played poorly in the first half," Ryan said. "I think if you look around the league, everybody has a half of football where they don't play their best. That's what happened. We need to move on, move forward and I think everybody's done a good job with that and focus on trying to play better this week."
December, 12, 2012
12/12/12
4:36
PM ET
EAST RUTHERFORD, N.J. -- The Giants began preparing in earnest for their critical Week 15 matchup against the Falcons with six starters on the sidelines, including four on the defensive side of the ball.
Defensive end
Jason Pierre-Paul
(back), linebacker
Michael Boley
(back), cornerback
Prince Amukamara
(hamstring) and safety
Kenny Phillips
(knee) sat out practice, as did running back
Ahmad Bradshaw
(knee/foot) and wide receiver
Hakeem Nicks
(knee). (Reserve safety
Tyler Sash
also did not practice, because of a hamstring injury.)
Coach Tom Coughlin announced that Bradshaw is suffering from a sprained knee, and his status for Sunday's game is unknown. "I'm not going to speculate -- because of the toughness of this young man -- on how long it would be," Coughlin said.
Coughlin also commented on Amukamara's injury, calling it "tricky." And he said he expects Nicks to practice later this week, "but we're probably going to have to slow down a little bit, not do much, with him."
Here's the full injury report from Wednesday:

GIANTS
Out
None
Did Not Participate In Practice
CB
Prince Amukamara
(hamstring)
LB
Michael Boley
(back)
RB
Ahmad Bradshaw
(knee/foot)
WR
Hakeem Nicks
(knee)
DE
Jason Pierre-Paul
(back)
S
Kenny Phillips
(knee)
S
Tyler Sash
(hamstring)
Limited Participation In Practice
None
Full Participation In Practice
C
David Baas
(shoulder)
TE
Travis Beckum
(knee)

FALCONS
Out
None
Did Not Participate In Practice
DT
Jonathan Babineaux
(ribs)
S
William Moore
(hamstring)
WR
Roddy White
(knee)
Limited Participation In Practice
T
Sam Baker
(hand)
G
Justin Blalock
(elbow)
WR
Harry Douglas
(ribs)
CB
Asante Samuel
(shoulder)
Full Participation In Practice
None
January, 8, 2012
1/08/12
3:59
PM ET
Recap
|
Box score
|
Photos
EAST RUTHERFORD, N.J. -- The
New York Giants
talked all week long about how they have Super Bowl potential, and their confidence is swelling after they smothered the
Atlanta Falcons
24-2.


What it means:
The Giants won their third straight game with their most dominant performance of the season. They got off to a slow start, but the defense never let up on
Matt Ryan
.
Eli Manning
threw three touchdowns, and Atlanta never recovered. Atlanta led the game 2-0 on a second-quarter safety but was outscored 24-0 afterward.
Now the Giants, bursting with confidence, head to Green Bay for a rematch with
Aaron Rodgers
. This team feels that it can play with anyone right now, and a lot of that started with the Giants' 38-35 loss to Green Bay here last month.
Hakeem the dream:
Victor Cruz
has been the Giants' biggest playmaker in the passing game this season. But
Hakeem Nicks
reminded everyone just how dangerous he is by scoring two touchdowns, including a 72-yard catch-and-run that saw Nicks sprint through practically the entire Atlanta secondary, which was without cornerback
Brent Grimes
.
Getting defensive:
The Giants' defense continues to get better each week. The Giants held the Jets and Cowboys to 14 points each to make the playoffs. Perry Fewell's unit then suffocated Atlanta.
The Giants had key stops on two fourth-and-1s that deflated the Falcons. In the first half, the Giants stuffed a fourth-and-1 quarterback sneak at the Giants' 24 to start the second quarter.
The Falcons tried a quarterback sneak with Ryan again on a fourth-and-1 at the Giants' 21 and were stuffed with 4:16 to go in the third quarter.
The Giants contained running back
Michael Turner
and even sometimes used three defensive tackles (
Rocky Bernard
,
Chris Canty
and
Linval Joseph
) up front.
Falcons wide receivers
Roddy White
and
Julio Jones
were largely quiet for most of the afternoon.
Corey Webster
did a good job on White all day. And veteran tight end
Tony Gonzalez
wasn't a factor, either.
Giants injuries:
Cornerback
Aaron Ross
and RB
D.J. Ware
both were forced out of the game with concussions, according to the team.
With Ross out, rookie
Prince Amukamara
came in to defend Jones.
Rush, rush:
The Giants' running game got off to a slow start, but
Brandon Jacobs
provided a spark with a 34-yard run that eventually helped set up a 4-yard touchdown pass from Manning to Nicks in the second quarter.
As has been the case in the past two weeks, the Giants' offensive line got better as the game progressed, and Jacobs and
Ahmad Bradshaw
did more damage in the second half.
What's next:
The Giants will head to Green Bay for a rematch with the Packers, who beat the Giants 38-35 last month at MetLife on a last-second field goal. The Giants lost 45-17 at Lambeau last season. But they won the NFC championship there in frigid conditions during the 2007 season, 23-20 in overtime.
January, 2, 2012
1/02/12
6:21
PM ET


Giants defensive end Justin Tuck is aware that the Atlanta Falcons' offensive line does not have a stellar reputation. The Falcons have drawn criticism from opposing teams this season for supposedly playing dirty and playing beyond the whistle during games.

"We know they have that quote unquote reputation," Tuck said when asked on Monday about the reputation of Atlanta's offensive line. "But in a way it kind of is exciting. Most people, you would call them dirt bags. But it is what it is. We got to make sure we do our job and if we are doing our job well, then they will be upset and they will be trying to do things to get us off our game and we got to take that as a compliment. But in the same sense you got to protect yourself and hopefully the referees have 20-20 vision this week."

Atlanta's offensive line came under fire twice in a span of three weeks early this season for its supposed dirty play against a pair of NFC North opponents.

Following Atlanta's 25-14 home loss to the Packers on Oct. 9, several Packers players were not happy with Atlanta's play, according to the Milwaukee Journal Sentinel.

"Great teams don't indulge in the kind of cheap stuff the Falcons do," Packers nose tackle B.J. Raji said according to the paper. "We're the champions and we play that way. We walk away from the stuff they pull. These guys are coached to play after the whistle.

"I don't know what the deal is. I think it's a lack of talent on their part. We didn't worry about any of that. We came out and played our game."

Just two weeks later, Atlanta's offensive line once again had teams calling it out for perceived dirty play. Detroit defensive tackle Ndamukong Suh said that it was karma that Atlanta's quarterback Matt Ryan was injured in the Falcons' 23-16 win over Detroit, referencing what he saw as bad stuff from the Falcons' offensive line in the past.

"There are many, many plays that I could go back to that I watch on film all week that their offensive line has done," Suh said according to ESPN.com, "and that they've been coached to do, as far as I know. It's not anything that's been said, it's not anything that's new."

The article also added that lineman Cliff Avril told the Lions' team website that Atlanta's offensive lineman run 20 to 30 yards down the field and are trying to cut players.