New York Giants:

Baltimore Ravens
February, 5, 2013
2/05/13
10:00
AM ET
So is there anything we learned from the Ravens winning it all on Sunday night and dethroning the Giants as Super Bowl champs?
From the game? No. Baltimore's win only reminded me of how good the Giants can be when
Eli Manning
has two healthy playmakers at receiver, the Giants have their heads on straight, the chemistry is strong and the defense plays together and makes timely clutch stops -- all things the Giants did at the end of their 2011 season.
But what I want to know is this: Now that the Ravens are Super Bowl champs, does that in any way lessen the pain of the Giants' 33-14 loss at Baltimore in Week 16 and make Giants fans feel a bit better about the way their season ended?
Remember, the Giants pretty much missed the playoffs because they lost 34-0 at Atlanta and then were routed in Baltimore in consecutive weeks. Do I think those two teams were that much better than the Giants, based on those scores? No. The Giants played poorly in both games.
But does it make it any better to know that the final defeat of the season, which cost the Giants the playoffs, came at the hands of the reigning Super Bowl champs?
Tell us your answer below.
February, 4, 2013
2/04/13
6:30
PM ET
When Scott Brunner first started working with
Joe Flacco
to prepare the Delaware quarterback for the 2008 NFL combine, he wanted to work on Flacco's mobility.
[+] Enlarge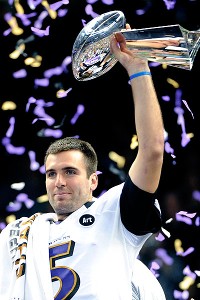 Robert Deutsch/USA TODAY SportsJoe Flacco capped his fifth NFL season with a Lombardi Trophy.
So Brunner, a former New York Giants quarterback (1980-83), was proud when he watched Flacco make big plays with his arm and feet to win Super Bowl XLVII MVP honors on Sunday night.
"I am most proud of the fact that we kind of debunked the myth that he wasn't a mobile quarterback and he couldn't get out of his own way if he had to," Brunner said by telephone on Monday. "Many times, he escaped the pressure and showed his athleticism. He may not be the guy that breaks the 50-yard run, but he can make plays."
Brunner and the rest of the country watched Flacco complete 22 of 33 passes for 287 yards and three touchdowns with no interceptions. In the postseason, Flacco passed for 11 touchdowns and no picks.
Flacco, who is from Audubon, N.J., attended the University of Delaware, like Brunner did. So it seemed only natural for Brunner to mentor Flacco early on.
Brunner helps train quarterbacks and offensive players at TEST Football Academy. Brunner and Flacco trained at the Martinsville, N.J., location.
Brunner hopes the whole conversation about whether Flacco is an elite quarterback is over now. And he expects Flacco, a free agent, to be paid like an elite quarterback.
[+] Enlarge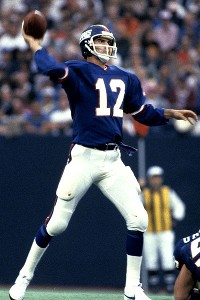 Ronald C. Modra/Getty ImagesScott Brunner spent four seasons with the Giants (1980-83).
"I think the elite QB thing is really overdone," said Brunner, who also is a partner at a firm called Net Worth Management Group. "Certainly, the way he played … it was typical Joe. He remained unflappable throughout the game, executed early and made some great plays. And when it looked like things were sliding away in the second half, he kind of hoisted the team on his back."
"Some people, those doubters who don't want to believe that he is a top-notch quarterback, will continue to find flaws in his game," Brunner added. "And people who are fans of Joe Flacco will point to his strengths. I think, more than anything, his playoff record stands on its own. Nobody has more playoff wins than him in the last five years."
Looks like all that work over five years ago paid off.
"We got him started in the right direction," Brunner said. "That is what I am most proud of."
December, 25, 2012
12/25/12
1:00
AM ET
The Ravens had several drives that could be classified as drive of the game.
Baltimore's first drive -- a 14-play, 73-yard touchdown drive that ate up more than five minutes -- set the tone and made it clear that the Ravens were going to have their way with the Giants' defense.
[+] Enlarge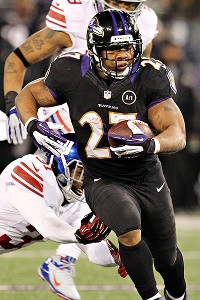 Mitch Stringer/USA TODAY SportsRay Rice's 27-yard catch and run sent the Ravens into the half with a 24-7 lead.
But the possession of the game was Baltimore's last scoring drive of the first half.
The Giants were only down 17-7 when they had to punt to the Ravens. Taking over at their own 24-yard-line with 3:15 remaining, the Ravens started the drive with
Joe Flacco
hitting
Torrey Smith
on a 21-yard gain. After a pair of 4-yard runs by
Ray Rice
, Flacco hit
Anquan Boldin
for three yards coming out of the two-minute warning. The completed pass was reviewed and upheld, giving Baltimore a first down at the Giants' 44-yard-line.
Flacco then hit Boldin again for 12 yards to get down to the Giants' 32. The Giants were on their heels. Flacco threw a short pass to Rice for a 5-yard gain. Then the Ravens delivered a dagger when Flacco saw Rice singled up against
Michael Boley
on the left side of the line.
Rice blew by Boley and caught a pass over the middle, broke tackles by
Will Hill
and
Stevie Brown
, and scored on a 27-yard touchdown that blew open the game. Instead of potentially going into the half down 10, the Giants trailed 24-7 at halftime. And that proved to be too big of a deficit to overcome.
What did you think was the turning point of the game? Tell us below.
December, 19, 2012
12/19/12
8:00
PM ET
EAST RUTHERFORD, N.J. --
Baltimore Ravens
coach Jim Harbaugh had very little to say about his injured players, namely
Ray Lewis
.
"Nothing has changed with Ray," Harbaugh said on a conference call with reporters.
According to the Baltimore Sun, Lewis worked on Wednesday and could be activated off the injured reserve with a designation to return against the Giants. Lewis, who has been sidelined with a torn right triceps, has been practicing for the past couple of weeks.
[+] Enlarge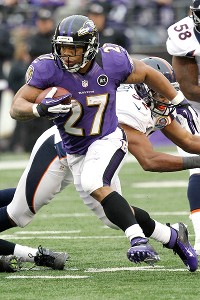 Mitch Stringer/USA TODAY SportsRunning back Ray Rice had 1,621 yards from scrimmage last year.
"I haven't thought about that," Harbaugh said of Lewis playing this weekend. "I'm just thinking about getting our team ready for the Giants right now and being the best we can be. Obviously, Ray is preparing, he's been preparing for the last couple weeks. We'll just have to see."
One Ray who will definitely be on the field is running back
Ray Rice
. The former Rutgers standout said he sees the defending champions when he looks at the Giants, and not a team that just got waxed 34-0 by the Falcons.
"First off, you see a very physical bunch," Rice said. "Obviously, they have premier pass-rushers, they have smart linebackers and they have physical safeties. I mean, when that team puts it all together, there's a reason as to why they're Super Bowl champs. You don't just become the Super Bowl champs by surprise or by accident. That's a really good football team over there."
Rice's carries have been a topic surrounding the Ravens, who recently fired offensive coordinator Cam Cameron and replaced him with former Colts coach Jim Caldwell. Rice only had 12 carries for 38 yards and three catches in a 34-17 loss to Denver last week under Caldwell as offensive coordinator.
"Looking at how we played, I know I get my touches when we're executing on third down," Rice said. "Obviously last week, we played against a great defense. I try to make the best of my touches, but we didn't execute well. That's something that we have to do better."
While the Giants need to win out to make the playoffs, the Ravens have already clinched a playoff spot. But Baltimore (9-5) is looking to halt a three-game skid.
"There's definitely a lot of urgency," Rice said. "We lost three in a row. That's the most I've lost since I've been a Raven. Obviously, there's got to be urgency for us to go out there and play a great game of football."
December, 10, 2012
12/10/12
7:00
PM ET
The Giants' game at Baltimore on Dec. 23 will be flexed to 4:25 p.m. on FOX.

The game was originally scheduled for a 1 p.m. kickoff. The NFL has "flexible scheduling" during Weeks 11-17 to have quality games during prime time.

The only other time the Giants might be impacted by flexible scheduling is during the final week of the regular season. While the Giants-Eagles game on Dec. 30 likely will remain a 1 p.m. start, the Redskins-Cowboys season finale could always be moved to later if there is still a lot riding on that game.
August, 3, 2011
8/03/11
12:33
AM ET
The Baltimore Sun has reported that the Ravens would be interested in
Osi Umenyiora
.
The Sun is reporting that
the Giants have lowered their demand of a first-round pick
to a second-rounder and that the Ravens are interested.
As of late last night, a source told us that the Giants have
not
lowered their price. But it certainly appears that the Ravens are in if the price is right for Umenyiora. The Sun reports that several Baltimore officials are urging GM
Ozzie Newsome
to trade for the defensive end. So it's possible the Giants could have called the Ravens and told them directly that they have lowered the price. Earlier this week, the Giants gave Umenyiora's agent,
Tony Agnone
, the green light to pursue a trade.
ESPN NFL senior writer
John Clayton
tweeted earlier that perhaps the Seahawks would be interested in dealing TE
John Carlson
and a pick for Umenyiora after signing TE
Zach Miller
. That would likely mean free-agent TE
Kevin Boss
was on his way somewhere else. Boss said in an interview with Sirius NFL radio recently that he'd be intrigued by the Raiders if they lost Miller.
As for Umenyiora, NFL Network's
Jason La Canfora
reports that if the Giants lower their demand from a first-rounder, the Ravens, Seahawks, Patriots and possibly Falcons would be interested.
Meanwhile,
Perry Fewell and the Giants defense wait
.
Stay tuned.