New York Giants:

Brandon Carr
January, 15, 2014
1/15/14
11:30
AM ET
The
New York Giants
' 2013 season started taking on an ugly shape right away. So as we continue with our little five-part series on moments that shaped the season, we flash all the way back to the Week 1 loss in Dallas.
No. 3: A Carr wreck
Three turnovers in a season opener is enough to cost you a feel-good Week 1 win and get your coaches' stomachs churning. Four turnovers in a season opener is a straight-up disaster worthy of extra film work and a week of misery. Five turnovers in a season opener is almost incomprehensible, and would be a sign that something is seriously wrong.
But when you go ahead and turn the ball over six times in your opener? Man, that's just... well, it's not good.
The Giants needed all six of them to lose the Week 1 Sunday night game to the Cowboys, too. They were down by only six points and had the ball at midfield with two minutes left in the game. At this point,
Eli Manning
's reputation as a comeback king was still prominent in the minds and memories of Giants fans, players, coaches and opponents, so when he hit
Rueben Randle
for 26 yards on third-and-five to get the ball to the 48-yard line, there was hope for the game and for the season.
But on the next play, Dallas cornerback
Brandon Carr
intercepted a screen pass intended for running back
Da'Rel Scott
(who was in the game because
Andre Brown
had broken his leg the week before in a preseason game and
David Wilson
had fumbled twice already in this game) and ran it back 49 yards for the touchdown that sealed the game.
The full ledger of Week 1 turnovers included three Manning interceptions, one of which was returned for a touchdown, the two lost fumbles by Wilson, one of which was returned for a touchdown, and a muffed punt return by
Trumaine McBride
. The first play of the game was an interception of a Manning pass by Cowboys defensive end
DeMarcus Ware
. The numbers were made all the more difficult to take in light of the fact that the Cowboys had only forced 16 total turnovers the entire 2012 season.
An angry Tom Coughlin fumed after the game about what he believed was an anomaly to be corrected. Instead, it was a horrifying preview of what was to come.
October, 24, 2013
10/24/13
8:00
AM ET
Your daily morning check-in on news and notes about and of interest to the New York Giants.
The news of the day
: Lots of talk around the Giants about wide receiver Hakeem Nicks and the tough year he's having. Tom Coughlin said Wednesday that Nicks needs to
be more reliable
. And while Nicks said he thinks his game is the same as it ever was and people are just focusing on him more because he's in a contract year and has been mentioned in trade rumors, it seems obvious to anyone watching that Nicks isn't the same player he was before the leg injuries of 2012. Maybe he gets better as the year goes along. Maybe the legs never come back. Either is a possibility, as are several outcomes along the middle part of that spectrum. Whatever happens, assuming they don't trade him by Tuesday, Nicks remains
one of the big issues
facing the Giants for the remainder of this season and into the offseason. ... In other news, the Giants placed starting center David Baas on season-ending injured reserve with a knee injury, meaning Jim Cordle takes over as the
starting center
. Cordle has improved since the start of the season, and has started as many games this year as the injury-plagued Baas has, but the Giants are struggling against defensive pressure on the interior of the offensive line, and they would prefer a healthy Baas. They just don't have one, and likely won't ever again.
Behind enemy lines:
Giants coaches and players spoke Wednesday about how much improvement they believe the Eagles have shown on defense since they played them in Week 5, but one of the Eagles' starting cornerbacks is
missing practice time this week
with an injury. Bradley Fletcher wasn't the most exciting free-agent signing of the offseason, but he's covered pretty well and is a key aspect of the Eagles' improved ability to limit opponents.
Around the division:
The Cowboys are feeling good about themselves these days as they've won a couple of games in a row and moved into first place in the NFC East. But they have a big test of a game this week against the Detroit Lions, and one of the biggest keys will be the ability of Dallas defensive back Brandon Carr to
limit the damage
done by Lions star receiver Calvin Johnson.
Around the league:
Greg Garber's look at the
NFL trade deadline
was a fun read, and he proposed some potential doozies, including
this off-the-wall idea
of the Giants trading for Minnesota's Adrian Peterson. Don't sweat it, Giants fans. Not possible, for salary cap and a whole bunch of other reasons. Probably fun to imagine, though.
September, 9, 2013
9/09/13
10:00
AM ET
The drive of the game didn't turn out to be a drive, but the
New York Giants
certainly thought it could have been. They trailed the Cowboys 30-24 with 2:41 left in the game, and in spite of having turned the ball over five times and been thoroughly dominated in time of possession, they were giving the ball back to two-time Super Bowl MVP
Eli Manning
and asking him to win it for them.
Manning
Manning was humming along, locked in with all three of his wide receivers. He'd led an 80-yard drive and a 90-yard drive already in the second half to get the Giants back into the game, and the Giants on the bench were thinking about that Super Bowl season two years ago, in which felt as though Manning delivered in this exact same spot every time. And when Manning's third pass of the drive converted a third-and-5 with a 26-yard completion to
Rueben Randle
that moved the ball to the Giants' 48-yard line, that old feeling started to feel justified.
But it wasn't meant to be. The next pass was a screen to running back
Da'Rel Scott
, who was only in the game because
Andre Brown
broke his leg in the final preseason game and
David Wilson
had fumbled twice already in this game. Manning hasn't thrown a lot of screen passes to Scott in practice. They're not used to each other. Not in sync. Manning threw it to a spot. Scott broke to a different spot. Scott couldn't catch the ball cleanly. He batted it up into the air and Dallas cornerback
Brandon Carr
hauled it in at the 49 and ran it all the way back to the end zone for the touchdown that put the game away for the Cowboys.
Five turnovers, the Giants might have been able to survive. The sixth was too many.
September, 8, 2013
9/08/13
11:43
PM ET
ARLINGTON, Texas -- A few thoughts on the
New York Giants
' horrific season-opening
loss
to the
Dallas Cowboys
on Sunday night.


What it means for New York:
The Giants have begun the season with a Week 1 loss to the division-rival Cowboys for the second year in a row, and this one was downright putrid. They turned the ball over six times against a Cowboys team that forced just 16 turnovers in the entire 2012 season. And while it was encouraging that quarterback
Eli Manning
and electric wideout
Victor Cruz
brought them back in the second half with a chance to win it, those hopes went out the window when
Brandon Carr
returned a Manning interception for a touchdown with 1:50 to go.
Stock watch:
Falling,
David Wilson
. The Giants' second-year running back entered this game with the highest of expectations after he had a strong preseason and had his role in the offense increased following the injury to
Andre Brown
. But Wilson, who famously fumbled against the Cowboys in last season's opener, fumbled twice in this one and ended up getting benched in the third quarter for
Da'Rel Scott
. He also missed a block on a
George Selvie
sack in the first quarter. The Giants believe in Wilson, and he'll get more chances, but this was a terrible way for him to start such a promising season.
Bright spots
: Obviously, Cruz didn't look as though his bruised heel was bothering him. Fellow receiver
Hakeem Nicks
also looked to be operating at full-strength.
The man needs help:
Yes, Manning threw three interceptions. And yes, he will take responsibility for that. But the problems for the Giants on Sunday were widespread, from an offensive line that couldn't protect him to a basically useless running game to a defense that's softer in the middle than (big) bleu cheese. The Giants are still asking Manning to do it all, and he can't do it all every time.
What's next:
The Giants host
Peyton Manning
and the
Denver Broncos
in their 4:25 p.m. ET home opener Sunday at MetLife Stadium. Peyton Manning tied an NFL record with seven touchdowns Thursday night in Denver's season-opening victory over the Super Bowl champion Ravens. This will be the third time that brothers Peyton and Eli Manning have faced each other in an NFL game. Peyton won the first two, both with the
Indianapolis Colts
.
September, 5, 2012
9/05/12
10:14
AM ET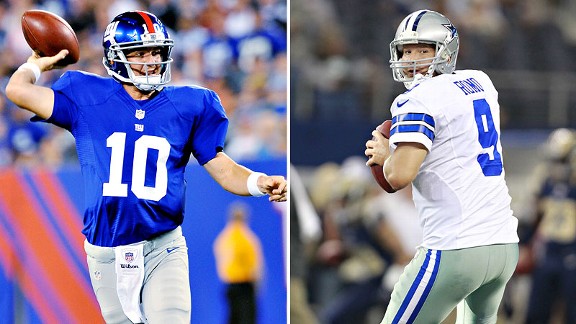 US PresswireThe performances of Eli Manning, left, and Tony Romo will go a long way in deciding the outcome of Wednesday's season opener.
The
Dallas Cowboys
and the
New York Giants
are set to kick off the NFL season on Wednesday night at MetLife Stadium in East Rutherford, N.J. It's a rematch of last year's regular-season finale, which the Giants won to clinch the NFC East title before going on to win the Super Bowl. As always, both teams enter the season with high expectations. But which of these two division rivals is primed to have the better year? ESPN.com NFC East blogger Dan Graziano and ESPNDallas.com's Todd Archer debate.
DAN GRAZIANO:
Well, Todd, we've got to stop meeting like this. It doesn't seem that long ago that the Cowboys rolled in on New Year's Day with hopes of winning the division title, only to give up the first 21 points and help launch the Giants on a Super Bowl run. They tell me the Cowboys have fixed their defense, and given what they spent on their two new cornerbacks, they'd better hope so. But when I look at these Giants, what I see reminds me a lot of last season. They're really strong at quarterback, wide receiver and pass-rushing defensive end but have questions elsewhere on the roster. Their hope, once again, is that
Eli Manning
and that pass rush are good enough to overcome their deficiencies. The division picks I made last week had the Giants going 12-4 and repeating as division champs, and the Cowboys finishing in third place at 8-8. So it's clear what I think about it. Both of these teams have flaws; I just feel like the Giants have shown they're better at overcoming flaws and adversity better than other teams are.
TODD ARCHER:
Wow, 12-4 and you see a team with questions? There can't be that many questions to finish 12-4. But it's hard to go against the Giants just because of their two Super Bowl wins in the last five years. They've done it and they get the benefit of the doubt. The Cowboys haven't done it and they don't get the benefit of the doubt. Winning at MetLife Stadium is difficult anyway, but it will be even more difficult because of what happened in training camp. Maybe
Jason Witten
and
Jay Ratliff
play, but that's pushing it.
Miles Austin
didn't play in the preseason.
Dez Bryant
missed the last week-plus in camp. The offensive line hasn't taken a snap together. So, other than that, the Cowboys are in great shape. But I'm not sure I see the Giants finishing 12-4. I think the Cowboys go 10-6 and make a wild-card run, but I'll admit I felt better about it before camp started.
DG
: When I look at the Cowboys, the last thing I worry about is the Austin/Bryant/Witten crew. If any of those guys is out, they're in big trouble anyway. My thing with them is that I don't think they're strong enough on the offensive line, or up front on defense, to overcome a significant injury to one of their star players. They feel a little flimsy to me in too many spots still. And I'm not 100 percent sold on the idea that the improvements at cornerback will automatically help the pass rush. I feel like it works better in the other direction -- i.e., a great pass rush supports the secondary. I think the Giants are built on that philosophy, and that they really lean hard on those strengths, especially in big games.
TA:
Man, I hate having to agree with you on this, but I think the Giants and other teams have shown a pass rush can cover up for an average/mediocre secondary. I can't think of too many great secondaries that make a pass rush. But that's the way the Cowboys have gone in signing
Brandon Carr
, trading up for
Morris Claiborne
and keeping
Mike Jenkins
. Carr was great in the preseason and he gives the Cowboys a physical presence on the outside that they have lacked. The Cowboys' offensive line is a huge question and I know I'm going to commit heresy in your eyes here, but
Tyron Smith
had some issues at left tackle this summer. The interior is a huge question, too, but the Cowboys believe in Bill Callahan. He has a great reputation and I think eventually the line is OK this year. Maybe not versus the Giants, though. But I will say this: The Giants' line is a little suspect, too, so that could be a push if Rob Ryan has figured out a way to defend
Victor Cruz
and
Hakeem Nicks
.
DG:
No doubt the Giants' line is suspect, and where that really shows up is in the run game, which ranked 32nd in the league last season. I don't see how it's improved, which means once again it'll be up to Manning and the receivers to get it done on offense. I know from talking to Redskins people, after they beat the Giants twice last year, they feel you have to shut down one side of the field against Manning and limit his range of decisions, or else he'll pick you apart. You think these Cowboys are built to do that this year? At the very least, I can't imagine we see too many Giants fullbacks hurdling Cowboys cornerbacks this time around.
TA:
I was surprised
Henry Hynoski
was not invited to the Olympic hurdle trials after what he did in January, but, yes, I think the Cowboys are better suited at cornerback to shut off one side of the field this year. Doesn't mean they're going to do it, but they have a better chance to do it. And I think Nicks' foot injury helps them, too. He's not going to be 100 percent for this game and not moving as well as he usually moves. But Cruz in the slot could be a major issue, as he was last January. I can still see his leaping grab on third-and-7 after the Cowboys made it interesting there for a bit. One guy who will make a difference for the Cowboys this year won't even take a snap. It's secondary coach Jerome Henderson. To me, he has future head coach written all over him. He has changed the attitude of this secondary. Defensive backs were more aggressive in camp. Maybe it's because Dallas has Carr, who likes to play press coverage, but I think Henderson has brought a swagger built on productivity and not just bravado.
DG
: Good point on Nicks, and if he's limited that not only helps the Cowboys but probably gives them the advantage at wide receiver (assuming, of course, that both of their guys are healthy). I'm also interested to see whether Witten plays and, if he does, how he looks after his spleen injury. But I think this is a big game for
Tony Romo
. Last year's opener, when he turned the ball over against the Jets, just fed into his (I believe largely unjustified) reputation as a guy who can't get it done in big games. A win here against the champs would at least delay the "same old Romo" stuff for a few weeks, if not set him on the path to wiping it out. Manning doesn't have to worry about such things after his second Super Bowl MVP award, but games like these are the ones Romo has to win if he wants to combat the popular perception of the kind of quarterback he is.
TA:
I have a column up on Romo talking about
how he can change the narrative
so many have of him by winning, specifically his lack of leadership. I don't believe there is a player who catches more grief in the NFL than Romo. Everything gets distorted with the guy. I asked Manning on the conference call if he is aware of all the garbage Romo receives and, paraphrasing, he said yeah and you have to ignore all of the outside voices. I think Romo does a good job of that. If the Cowboys beat the Giants, then Romo will get a reprieve, but it'll be short lived if they lose at Seattle. He has to walk a tightrope that other quarterbacks don't. But if you're asking me who wins this one, I have to go with the Giants, but it'll be closer than people think.
DG:
I'm taking the Giants to win this game, too, but the only thing we know about an NFL season before it starts is that we don't know anything. I think everyone can agree that it'll be great to see a real game again after so long, and that the NFL picked a pretty juicy matchup to start its season. I know I'm looking forward to it and you are, too. Thanks for the chat, and I'll see you in the press box in a few hours.
July, 3, 2012
7/03/12
12:54
PM ET
SportsCenter has been running prime-time specials previewing the 2012 season for each NFL division. Tuesday at 7 p.m. on ESPN, they will do their one-hour show on the NFC East. To help you gear up, we take a look at each of the four teams and the reasons why you should like their chances to finish on top ... and why you shouldn't.
New York Giants

Why they'll win the East:
Quarterback
Eli Manning
has established himself as one of the best in the league, and the most clutch. Armed with two great wide receivers in
Hakeem Nicks
and
Victor Cruz
, Manning makes the Giants a threat to win any game that's close in the fourth quarter. They have a dominant pass rush that makes life miserable for opposing quarterbacks, even the very best ones. It's a passing league, and the Giants pass the ball and disrupt the opponent's passing game as well as anyone.
Why they won't:
The Giants' up-and-down 2011 regular season had a lot to do with inconsistency on the offensive line and an inability to control the game with the run. Neither the line nor the run game appears to have been improved over last year, and that could lead to inconsistency again, in spite of the outstanding talent they have at other key positions. Also, it's not their turn. This division has had three different winners over the last three years, and no one has repeated as NFC East champ since the Eagles won the division four years in a row from 2001-04. Every team in the division has improved, so the task of repeating is not an easy one.

Philadelphia Eagles
Why they'll win the East:
Everything went wrong last year, and they still missed by only one game. They went 5-1 against division opponents. The depth they have on the defensive line may actually be more impressive than the Giants' depth there (though, without the championship rings), and they tied for the league lead last year in sacks. Assuming he stays healthy, quarterback
Michael Vick
is a multi-faceted weapon.
LeSean McCoy
is one of the best running backs in the league. And
DeSean Jackson
and
Jeremy Maclin
are super-speedy potential stars in the receiving game.
Why they won't:
Almost everything rides on Vick, and he hasn't shown that he can be trusted to be (a) healthy or (b) consistently responsible in his decision-making. Even if you assume improvements on defense and in the wide receiving corps, Vick still has the potential to devastate the team with mistakes or a serious injury. They have very little behind him, and the loss of star left tackle
Jason Peters
for the year with a torn Achilles' tendon will make him more difficult to protect.

Dallas Cowboys
Why they'll win the East:
They had it in their hands last year with five games to go, but lost four of those, including two to the Giants. The main culprit for the collapse was a secondary that's been overhauled with the additions of
Brandon Carr
and
Morris Claiborne
at cornerback. And assuming running back
DeMarco Murray
comes back and remains healthy, he and
Tony Romo
lead an offense capable of big things.
Why they won't:
They remain questionable at safety, at guard and at center. Those are structural issues that could undermine the ability of the Cowboys' great skill-position players to put up their big numbers. The Cowboys' hope is that camp competition brings out the best at those positions, but they are areas in which Dallas could conceivably struggle all year.

Washington Redskins
Why they'll win the East
: The Redskins haven't won this division since the 1999 season, and they were so fed up that they dealt four high draft picks to get quarterback Robert Griffin III. If he can be half as dazzling in his rookie NFL season as he was in his final season at Baylor, the Redskins could be a surprise contender. Upgrades to the receiving corps and an imposing front seven bolstered by the return of 2011 second-rounder
Jarvis Jenkins
from injury also offer reasons for optimism, as does last year's 2-0 record against the Super Bowl champs.
Why they won't:
Still too many question marks, particularly on the back end of that defense and in the jumbled running game. They'll need some of their safeties, cornerbacks and running backs to play over their heads if they want to contend in this very tough division race, and they'll also need their rookie quarterback to play like a veteran. Everybody loves Griffin, and for good reason, but he is a rookie, and rookies struggle to adapt.