New York Giants:

Brian Orakpo
March, 10, 2014
Mar 10
10:00
AM ET
Here are the top 15 free agents, followed by their rankings, entering Tuesday's signing period as compiled by NFC East reporters Dan Graziano, Todd Archer, Phil Sheridan and John Keim. There are some strong options at the top, but there is not a lot of depth in the NFC East when it comes to free agency. And if Dallas'
DeMarcus Ware
gets released, he vaults to a top spot on this list. As always, ESPN's free-agent tracker will keep you updated during this period.
1. LB Brian Orakpo, 8.5:
The Redskins used the franchise tag on him, so barring a surprise, he'll be back. It's a controversial move among fans, but the Redskins need his pass rush and promise to unleash him more often. His career best for a single season is 11 sacks.
2. DT Linval Joseph, 8:
A very big, strong and young (25) interior run-stuffer who has also shown the ability to create pressure from the interior, Joseph could be available because of the Giants' depth at defensive tackle and their many needs.
3. DT Jason Hatcher, 8:
He is coming off an 11-sack season, but he turns 32 in July and Dallas doesn't have much cap space.
4. LB Jon Beason, 7:
The Giants are working hard to sign him before free agency opens, as his leadership and high-energy play at middle linebacker helped transform their defense during the 2013 season.

Nicks
5. WR Hakeem Nicks, 7:
This grade is based on talent and past accomplishments, and a feeling that he was being overly careful in 2013 in order to hit free agency healthy. Lacks his early career speed, but knows how to play the position as well as anyone.
6. WR Jason Avant, 7:
For a team in need of a third-down possession guy, the sure-handed Avant will be a great value.
7. P Donnie Jones, 7:
The Eagles are expected to re-sign Jones, who was an underrated contributor to their NFC East title team.
8. DE Anthony Spencer, 6:
He is coming back from microfracture surgery, so the cost won't be high.
9. LB Perry Riley, 6:
The Redskins need to re-sign him because they already have a hole at inside linebacker after
London Fletcher
retired. But they won't break the bank for Riley, who needs to improve in coverage.
10. DE Justin Tuck, 6:
Coming off an 11-sack season that came out of nowhere after two down years, Tuck turns 31 later this month but is a locker-room leader and a 4-3 defensive end who can set the edge against the run.
Vick
11. QB Michael Vick, 6:
With
Nick Foles
' ascension, Vick is looking for a chance to start elsewhere.
12. RB Andre Brown, 5:
He played very well in his first few games back off a broken leg, but faded down the stretch and fumbled too much in the final few games. He is likely not a guy who can be relied on as a starter, but potentially a valuable piece.
13. TE Brandon Myers, 5:
A huge disappointment in New York after catching 79 passes as a Raider in 2012, Myers also contributed little as a blocker. The Giants are likely to let him go. He could fit better with a different system.
14. CB Terrell Thomas, 5:
He played all 16 games after missing the previous two seasons because of ACL tears in the same knee. Thomas believes he can hold up as a starter off a real offseason, and would like to cash in.
15. S Danny McCray, 5:
He is a core special teamer only, so the Cowboys could find value here.
February, 27, 2014
Feb 27
9:15
AM ET
With projections for the 2014 salary cap continuing to rise into the low $130 millions, we have discussed the ways in which the perennially cap-strapped
New York Giants
could benefit. According to
this chart Kevin Seifert put together
, the Giants currently project to have $18,288,183 in cap space if the cap comes in at $132 million when it's announced next week. That puts them right in the middle of the NFL pack, and third in the NFC East. Here's a look at where the division's other teams stand in the current projections. You'll note that the
Dallas Cowboys
appear to be in massive trouble.
Washington Redskins: $28,684,986.
After two straight offseasons in which they were penalized $18 million worth of cap room for their spending behavior during the uncapped 2010 season, the Redskins are ready to get to work rebuilding their secondary. They also need money to re-sign pass-rusher
Brian Orakpo
.
Philadelphia Eagles: $25,674,804.
The Eagles always manage the cap well, and they're already at work
locking up their current players
on long-term deals to maintain flexibility and continuity. Left tackle
Jason Peters
got his deal Wednesday, and it sounds as though center
Jason Kelce
and wide receiver
Riley Cooper
are next in line. If they spend in free agency, it likely will be on defense, where they could use some fresh pieces.
Dallas Cowboys: -$18,920,690.
Yeah, that's a minus-sign there. The Cowboys are nearly $19 million over the projected cap at this point, which means they probably can't retain free agent defensive linemen
Jason Hatcher
and
Anthony Spencer
and have some other tough choices to make. They have already made some noise about possibly having to cut
DeMarcus Ware
, which sounds crazy but would wipe out a huge chunk of the debt.
December, 29, 2013
12/29/13
11:55
AM ET
EAST RUTHERFORD, N.J. -- If you're the
New York Giants
, you find good news on both sides of the inactives list for Sunday's season finale against the
Washington Redskins
. Not only are wide receiver
Rueben Randle
and guard
David Diehl
, who missed time last week with injuries, both active for the game, but Redskins pass-rusher
Brian Orakpo
, who sacked
Eli Manning
twice in the Dec. 1 game in Washington, is inactive with a groin injury.

Diehl missed last week's game with a knee injury but practiced all week and is ready to go for what could be the final game of his 11-year Giants career. It's possible Diehl could be back next year as a backup on a drastically reduced salary, but re-signing him isn't likely to be a high priority for the Giants this offseason. He'll start at right guard Sunday with
James Brewer
at left guard.
Randle missed some practice time this week with a knee injury of his own and had been listed as questionable for the game. But he's good to go. With
Victor Cruz
out with a knee injury, Randle will start opposite
Hakeem Nicks
, and
Jerrel Jernigan
will work the slot.
Orakpo is replaced in the Redskins' starting lineup by backup
Rob Jackson
, who's a good, fast pass-rusher but not the same kind of all-around player Orakpo is. Orakpo gave Giants left tackle
Will Beatty
all kinds of problems in the first matchup, and Beatty said a few days later that he was looking forward to this game to try and redeem himself. He'll have to wait until next year.
The full inactives lists:
Redskins: QB
Robert Griffin
III, WR
Josh Morgan
, CB
Chase Minnifield
, C
J.D. Walton
, G
Josh LeRibeus
, LB
Adrian Robinson
, LB Brian Orakpo
Giants: DE
Jason Pierre-Paul
, WR Victor Cruz, TE
Adrien Robinson
, G
Brandon Mosley
, QB
Ryan Nassib
, OL
Eric Herman
, LB
Allen Bradford
December, 27, 2013
12/27/13
10:00
AM ET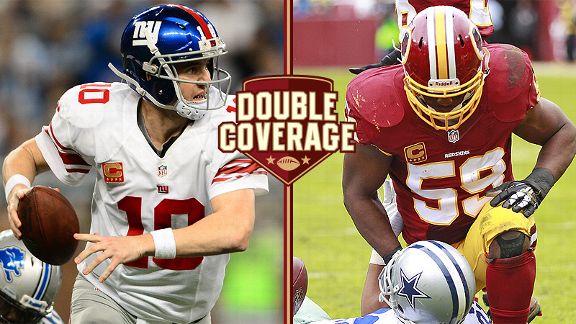 AP Photo, Getty ImagesThe Giants' Eli Manning, left, and Washington's London Fletcher hope their teams end on a high note.
For die-hards only, the 6-9
New York Giants
will play host to the 3-12
Washington Redskins
in a 1 p.m. ET game Sunday at MetLife Stadium in East Rutherford, N.J. The game will do each team the favor of completing its season. ESPN.com reporters Dan Graziano (Giants) and John Keim (Redskins) break down the matchup.
Graziano
: The extent to which things have imploded in Washington since we were there a month ago is awe-inspiring. How do you think all of the controversy is affecting the mood in the locker room and the performance on the field, if at all?
Keim
: It's probably the most frustrated locker room I've covered just because of the preseason expectations, followed by the colossal failure and mixed with the stories of the day. For a lot of the young players, it has taken a big toll, especially if this is their first taste of major NFL disappointment. Most have never experienced anything like this, with the rumors and job-security stories, and the losing. It's also their job, so they know that, if the head coach who brought them here is fired, their NFL lives might change. The older players, especially those who have been around Washington a little while, have experienced craziness here in the past. But even for them, this is a tough one.
On the field? Hard to say. I've seen a couple of players give less-than-stellar efforts, but for the most part they've played hard (with one horrible game, a loss to Kansas City). Sadly for them, they continue to lose for the same reason they have all season: They're bad. It's not as if this is a comatose locker room all the time, however. It's a pretty loose bunch, just like last season. I think, in the past couple of weeks, the countdown to the end of the season began, and some can't wait to get away.
Why have the Giants escaped this sort of drama?
Graziano
: Well, the Giants seem to work hard to avoid it. Although I get the sense that Mike Shanahan likes drama in his life for some reason and Dan Snyder sort of attracts this type of nonsense, Tom Coughlin and John Mara pride themselves on cutting it all out and focusing on the week and the game at hand like a laser beam.
Where the Redskins turn over coaches like crazy, Coughlin is in his 10th year. It also helps that this is the Giants' first losing season since Coughlin's first year, in 2004, so they don't have the "same old, same old" feeling I imagine the fans and a lot of the players probably have in Washington. But the short answer is leadership. The Giants lean on established leaders at the coach and quarterback positions, and obviously there is a lot of instability in those spots right now in Washington.
Speaking of quarterback, how has
Kirk Cousins
looked to you in the two games since he took over as the starter for
Robert Griffin III
?
Keim
: Cousins looked pretty good against Atlanta and rather ordinary against Dallas. He does not yet look like a player who will fetch a high draft pick, but he also does not look overwhelmed being a starter. He has been sacked only once in his two starts, compared with Griffin's 24 in his past five starts. Part of the reason stems from Cousins' ability to get rid of the ball faster and make more decisive throws.
Cousins has done a decent job in the pocket, but he's prone to interceptions, with three in two games. He has thrown eight in his career, averaging one every 19.25 throws. Lately, they have just come off bad throws -- his past three were behind the target; as a rookie, there were some bad decisions. Cousins led Washington on a late touchdown drive against Atlanta, although he missed on the two-point conversion throw. He managed just 23 yards in the fourth quarter against Dallas. So, it has been mixed for him.
How are the Giants able to function with all the injuries they have at running back and along the line, let alone win?
Graziano
: I honestly have
no idea
how they won that game Sunday in Detroit. They couldn't do a thing on offense in the second half while down to third-stringers and fourth-stringers at guard, but they hung around and got that
Will Hill
interception return for a touchdown to tie it and send it into overtime, then
Eli Manning
managed to make enough big throws to get them in field goal range.
You've got to credit the Giants for not quitting on a lost season. They're practicing what Coughlin preaches about focusing on the game at hand and playing for pride, and you can see it in the effort. They're outmanned most weeks, and they looked it against San Diego and Seattle. But they haven't shut it down.
The pass-protection problems are real, though, and they're not going away. They're still playing backups at guard, and left tackle
Will Beatty
is having a rough season.
Brian Orakpo
toyed with Beatty a couple of weeks ago, and Beatty promised he'd be better this time. How is Orakpo physically, and do you think the Skins will be able to get their pass-rushers after Eli again?
Keim
: Orakpo will be day-to-day with a strained groin that forced him to leave last week's loss to Dallas early in the fourth quarter. He says he wants to play, but he also said it was bothering him pretty bad. Plus, he's a free agent after the season. Players always say that is not an issue, but you don't want to make an injury worse while playing for a 3-12 team and about to hit the open market for the first time in your career.
Then again, after the first game against Beatty, Orakpo could look at this as a good chance to increase his sack totals. He beat Beatty inside a couple of times, even when the tackle had help outside -- how do you get beat inside in that situation? But if Orakpo doesn't play, considering what New York has at the guard spots, I'd expect some A-gap blitzes and more stunts up the middle. Any pressure, too, will be dependent on the coverage. Quarterbacks have picked apart the Washington zone coverage all season, and they haven't always forced quarterbacks to hold the ball, giving the rush more of a chance.
The Giants' defense ranks 12th in the NFL in total yards allowed but 20th in scoring. How would you rate its performance this season? And what are one or two key questions for this group entering the offseason?
Graziano
: The disparity you cite has something to do with the four touchdowns (and a safety) the Giants have allowed on offense, and the four they have allowed on special teams -- not to mention the degree to which their league-leading 41 turnovers have routinely shortened the field and made things easier for opposing offenses. I think the defense has been more or less all right this season. The Giants don't cover very well, and they still don't pressure the quarterback enough, but they have played smart and tackled well and have been able to limit the damage done by big plays. They have consistently played
hard
, even when undermanned and not necessarily playing
well
. And when you stack them next to the offense, they look like Pro Bowlers.
Always good to catch up with you, John. See you Sunday.
.
December, 26, 2013
12/26/13
8:00
AM ET
Your daily morning check-in on news and notes about and of interest to the New York Giants:
The news of the day
: The Giants held a "jog-thru" on Wednesday, as opposed to a full practice, so the injury report only projects the extent to which injured players would or would not have participated in a real practice. The report did list running backs Andre Brown and Peyton Hillis as limited participants, though, and that has to be counted as a good sign for their progress in recovery from their respective concussions and their chances to be available to play Sunday. The league's concussion protocol mandates various tests throughout the week, so it could be a few days before either is fully cleared to play. The Giants also placed safety Cooper Taylor on injured reserve with a hamstring injury and signed guard Eric Herman from their practice squad. Guard David Diehl was listed as a limited participant and guard Brandon Mosley did not practice due to a broken hand, so the Giants need coverage at that spot.
Behind enemy lines
: Giants left tackle Will Beatty had a terrible time with Redskins pass-rusher Brian Orakpo in the Week 13 game in Washington. Beatty swore after that game that things would be different the next time he got a shot at Orakpo, but that may not come this week after all. Orakpo is dealing with a
groin strain
and may not play in Sunday's season finale at MetLife Stadium. He was listed as a limited participant on Washington's simulated injury report Wednesday.
Around the division:
The Cowboys will need a miracle, or perhaps a series of them, to avoid losing their third straight Week 17 NFC East title game Sunday night. Already without quarterback Tony Romo due to a back injury, they're
also going to continue to be without
perpetually injured middle linebacker Sean Lee.
Around the league:
In case you missed it, enjoy
the final MVP Watch column
of the 2013 season. I did have a blast writing it all year, and I hope it brought some non-Giants sunshine into your week every now and then.
December, 2, 2013
12/02/13
5:10
PM ET
The
New York Giants
will have a lot of areas to address once their season is over, a lot of problems to correct. But the biggest and most important remains their ability to protect quarterback
Eli Manning
. The offensive line has suffered through a ton of injuries and changes this season, and they've evolved into a strong run-blocking unit in spite of it all. But Manning still faces way too much pressure. And as we look ahead to the 2014 offseason and start prioritizing problem areas, pass protection looms as the one that should command the bulk of GM Jerry Reese's attention. The 31 sacks Manning has taken this year are already a single-season career high, and there are still four games to go.
[+] Enlarge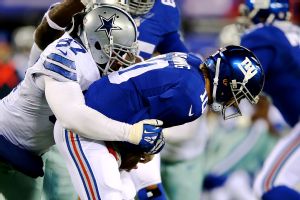 Photo by Al Bello/Getty ImagesThe Giants haven't been providing quarterback Eli Manning with the pass-protection he needs to be successful.
"We're not real pleased with that, but it's not just the line," Giants coach Tom Coughlin said on his Monday afternoon conference call. "It's your tight ends. It's your backs. It's your ability to get into the right protections. We've had our share of issues. We're doing the best we can to try and straighten that out. And it's not always the newer guys that have entered into the picture."
Coughlin's point about backs and tight ends is important not to overlook. Since the offseason, we have been discussing in this space the extent to which the Giants might miss the peripheral blocking helpers who were on last year's team but not this year's. Running back
Ahmad Bradshaw
, who was cut in the offseason for salary and medical reasons, and tight end
Martellus Bennett
, who got a big free-agent deal from the Bears, are two of the very best blockers in the league at their positions. The Giants weren't necessarily wrong to let either of them leave, but they didn't do a good enough job replacing that element of their respective games.
That said, there are lots of ways they can go about finding a tight end who can block and a running back who can pick up the blitz. When the Giants are thinking about where to commit their major resources this offseason -- their first-round draft pick, for example -- they need to think about the offensive line. They went 13 years without spending a first-round pick on an offensive lineman before taking
Justin Pugh
this year, but they would do well not to start another streak.
As of right now, the Giants hold the No. 14 pick in the draft. That can obviously change, in either direction, but assuming they stay in that range, they're not likely to get an instant franchise-changer or be able to deal the pick for very much to a quarterback-hungry team looking to move up. No. 14 would be a good spot from which to target a top tackle prospect, and drafting one would help them in a number of short-term and long-term ways. It would improve their depth of talent on the line, which this year's injuries have proven to be an issue worth addressing. It would allow them to consider (either right away or down the road) moving Pugh to an interior line position, where he might develop into a truly dominant player, if they decide that's the best way to use him. And even if this as-yet-unnamed prospect had to start at right tackle, he could conceivably offer a fallback position at left tackle if
Will Beatty
continues to struggle over there.
And Beatty is struggling. He had a big year in 2012 and got a five-year contract out of it, but he's had some very bad games this year, including the whipping he took Sunday night from Washington's
Brian Orakpo
. Beatty isn't a classic mauler at left tackle, so he relies on his athleticism and technique to be successful. Too many times this year, his technique has been sloppy, and when that happens he can be a liability.
"It was against an outstanding rusher, but Will got beat inside," Coughlin said. "And yeah, you can characterize that as technique. You can't over-set."
On the right side, Pugh has shown steady improvement and has formed a strong run-blocking tandem with his veteran mentor, right guard
David Diehl
. Prior to the draft, most projections had him as an NFL guard and not a tackle. The Giants liked him because they didn't know what their offensive line needs would be next year and beyond, and they believed Beatty could play either guard or tackle. So he likely offers some flexibility down the road.
Pugh also has an understanding of the importance of the line improving. Manning was sacked three times Sunday night, and his interception came on a ball thrown while under serious pressure. Pugh said the line takes responsibility for many of Manning's turnovers this year.
"There are times when we're putting guys in Eli's face, or we're not picking up guys the right way and he's got to get rid of it," Pugh said. "So some of it's definitely on the offensive line, and we've got to get better."
Chris Snee
could return from his hip problems at right guard next year, but that's no guarantee. Center
David Baas
is likely gone and will need replacing. Left guard
Kevin Boothe
, who's been their best and most consistent lineman this year, is eligible for free agency. There are a lot of questions for the Giants to answer on the line, and a lot of work to do to make Manning's protection better. Of the many issues they will confront when their offseason begins, this should be the most important.
December, 1, 2013
12/01/13
11:24
PM ET
LANDOVER, Md. -- A few thoughts on the
New York Giants
'
24-17 victory
against the
Washington Redskins
on Sunday night at FedEx Field:

What it means
: As we have been saying since they were winless in mid-October, these Giants aren't going to roll over on their lost season. Even down 14-0 in the second quarter Sunday night, they were fighting and determined to win a division game on the road. Expect it to continue, regardless of results, the rest of the way. Many of the positives from this Giants' season were on display in this one --
Andre Brown
at running back,
Jon Beason
at middle linebacker, the strong run defense and solid work by members of an undermanned secondary winning their one-on-one coverage and tackling battles. The Giants are 5-7 and two games behind a first-place tie between teams against which they went a combined 1-3. They're cooked. But they're not playing like it, and if you're a Giants fan that's all you can ask at this point.
Stock watch, UP:
Defensive end
Justin Tuck
. On the first day of what many have long thought would be his final month as a Giant, Tuck recorded four sacks and helped lock down the defense in the second half against
Robert Griffin
III and the Redskins. Tuck has had a fine season overall, but that hadn't been showing up in the sack numbers, as he only had 2.5 in the team's first 11 games. Healthy and productive, he could be making a push for either a big free-agent deal or to convince the Giants to keep him -- if that's what he wants.
Stock Watch, DOWN
: Left tackle
Will Beatty
. On the flip side, Beatty struggled mightily in pass protection against Redskins linebacker
Brian Orakpo
, who's making a free-agent contract push of his own. Orakpo had two sacks, and pressure from him helped force
Eli Manning
into a third-quarter interception. Beatty has been erratic in this, the first year of the five-year free-agent deal he signed with the Giants last offseason.
What's next:
The Giants are back on the road next week, as they travel to San Diego for a 4:25 p.m. ET Sunday game against the 5-7 Chargers, who lost at home to the Bengals this week.
August, 20, 2012
8/20/12
1:30
PM ET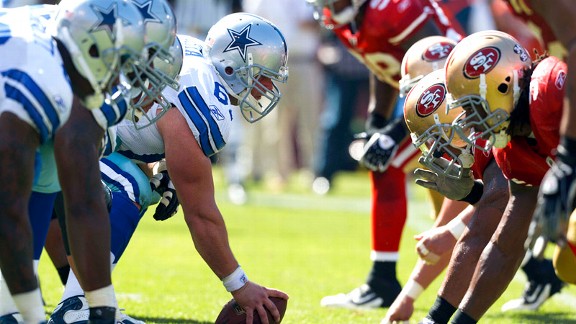 Jason O. Watson/US PresswireLike its NFC East rivals, Dallas is shuffling and searching for ways to solidify its offensive line.
The NFC East leads the league in hype. The huge media markets in which the teams play, the history of success, the rivalries ... all of it combines to create a perception that the NFC East is the best, most competitive and toughest division in the NFL. That the defending Super Bowl champion
New York Giants
play in it -- and are not the clear-cut favorites to win it again this season -- only adds to the perception, as does the growing excitement over an NFL regular-season opener between the Giants and the
Dallas Cowboys
16 nights from tonight.
But while Giants-Cowboys is fun, and each of those teams has something pretty intense going with the division's other two teams -- the Giants' recent struggles with the
Philadelphia Eagles
and the Cowboys' longstanding rivalry with the
Washington Redskins
-- the stats don't back up the NFC East as the league's toughest division anymore. The division is, by many measures, coming off its worst season ever. Last season was the first regular season in NFC East history in which no team won at least 10 games. Only the Giants finished over .500, and they gave up more points than they scored. Their Super Bowl run might have saved the division's honor, but it also disguised the troubling fact that the NFC East is no longer the Beast it used to be.
A large part of the reason for this, I believe, is the state of the division's offensive lines. We all know offensive line play is important, but in the NFC East these days, concern about the lines affects too many things. Teams that are strong on the line can control games. Teams that aren't cannot.
Eli Manning
and the Giants have been talking for months about wanting to not have to come back in the fourth quarter as much as they did last season, and the best way to avoid that is to control games from the start. Given the issues with their offensive line, they could find that a challenge once again.
But they're not alone. As we look ahead to 2012 and start assessing everyone's biggest questions, offensive line stands out as an issue for each of the NFC East's four teams. To wit:
The NFC has no shortage of star power. It has three great quarterbacks and one, Washington rookie
Robert Griffin III
, who's getting as much hype as any of the other three these days. It has some of the great wide receivers in the league in veterans such as
Hakeem Nicks
,
Miles Austin
and
DeSean Jackson
as well as rising stars such as
Victor Cruz
,
Dez Bryant
and
Jeremy Maclin
. The Eagles'
LeSean McCoy
ranks with the game's great running backs. And on defense, of course, the division is known for its great pass-rushers. Each team can rattle off names that give opposing quarterbacks heartburn.
DeMarcus Ware
.
Jason Pierre-Paul
.
Justin Tuck
.
Trent Cole
.
Jason Babin
.
Brian Orakpo
.
All of that makes the NFC East very exciting. But very often in the NFL, excitement and hype can conceal issues of quality. And if the NFC East really wants to be the best division in football again, it's not the quarterbacks or the wide receivers or even the pass-rushers that will bring it there. The NFC East's teams all need to start paying more attention to their offensive lines, because as those continue to erode, so will the division's annual claim to Beastliness.