New York Giants:

charles brown
August, 10, 2014
Aug 10
10:00
AM ET
EAST RUTHERFORD, N.J. -- There's no sugarcoating the fact that the
New York Giants
' offense looks lousy right now. Other than a gorgeously blocked 73-yard
Rashad Jennings
touchdown run, the first-team offense did nothing in Saturday's 20-16 preseason victory over the
Pittsburgh Steelers
.
Quarterback
Eli Manning
was 0-for-2 throwing the ball in four series.
Victor Cruz
is without a catch through two preseason games. The tight end situation is a mess, the wide receivers (other than
Corey Washington
in the fourth quarter) aren't getting the ball and the whole thing looks like a disorganized mess.
From the outside, that is.
The Giants' players and coaches honestly believe things are getting better for their brand-new offense, even though they admit it doesn't look that way when you watch them in practice or in these preseason games.
[+] Enlarge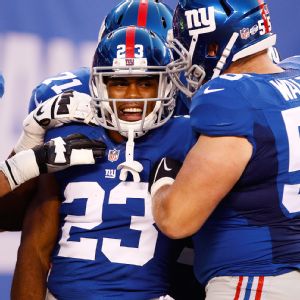 William Perlman/The Star-Ledger/USA TODAY SportsRashad Jennings, who scored on a 73-yard run against the Steelers, believes the Giants' new offense is coming together slowly but surely.
"It's like when you build a house," Jennings said late Saturday night. "First you have to get the wood, then you get the hammers and put it all together. Then, when it's all up and ready, that's when you start putting the furniture in. And that's where we are right now. We can see it starting to come together, and that's why we're upbeat about it."
Results matter not one bit this time of year, and the Giants have enough veterans on their roster and their coaching staff to know that. They will watch film Sunday and Monday and see things you couldn't see from your seat in the stadium or in front of the television. The new, West Coast style offense coordinator Ben McAdoo is helping install is based so much on timing and the quarterback's footwork that it can show progress in ways that don't necessarily translate into results. And the Giants on Saturday believed that was the case.
"We timed some of the routes up better," coach Tom Coughlin said. "Some weren't as good as others. We still think the ball needs to go out in front of people when they have an opportunity. So I would say maybe a little bit better, but still not to the extent that you'd like."
The Giants still have three preseason games and four weeks of practice before they play a game that counts, so panicking based on what little you've seen so far is a mistake. I think part of the problem is that they have a major liability at left tackle with
Charles Brown
filling in for a still-rehabbing
Will Beatty
, and between that and the still-improving
Brandon Mosley
at right guard, they're worried that taking too many shots in the passing game right now would expose Manning to too much danger.
"They need to play," Coughlin said of the starting offensive line, which played 22 snaps together Saturday. (Manning played only 12.) "Those people need to play. They need to work together. They need to communicate. The idea of a set lineup right now is really not there. They need to play."
Then there's the idea that this offense is new and may not want to show the rest of the league much in preseason games. Coughlin admitted to that to some extent, but basically the point here is that this is still a work in progress.
"Overall, what you're seeing is that it's very early in training camp installations, and you really don't do a lot of game-planning for these games," Coughlin said. "You just say, 'OK, here's what's in at this point in time, this is what we'll run in this game.' And as you continue through preseason, you have more installations and that's what you see during the games."
So the message here is that it's too early to panic based on results. You're more than welcome to wonder, as I do, whether the Giants have sufficient personnel on offense to run the offense they're trying to run. I think the wide receiver corps is a mess of question marks after Cruz. There's no reliable tight end on the roster. Jennings looks great, but he's never had to hold up for a season as a starting running back, and they're thin behind him. And we've already addressed the question marks on the line.
But the Giants' players and coaches believe in the players they're running out there, because they have no choice. So what they're focused on is the idea that things feel as though they're getting better -- even if it doesn't look that way to those of us who are watching.
"I feel very confident in the offense, in our ability," Manning said. "It's preseason and we're not putting everything out there, but I think over these next few weeks, we'll start to get a little bit more aggressive and see if we can make some plays."
That would make everyone watching from the outside feel better about things. But if you're looking for something to make you feel better in the meantime, know that the Giants aren't as worried about what they're seeing out there as you are.
June, 25, 2014
Jun 25
8:30
AM ET
Veteran guard
Chris Snee
, who's coming off two hip surgeries in two years, missed minicamp practices last week because his surgically repaired elbow was bothering him. Snee seemed in good spirits about it and insisted he'd be ready for training camp. The 32-year-old guard joked that the
New York Giants
were treating him the way the NBA champion
San Antonio Spurs
treated their veterans during the season, getting them extra rest so they'd be fresh for the games that count.
Snee
Offensive line coach Pat Flaherty said he saw Snee in the building the next day and said to him, "You feel like
Tim Duncan
? That's great, because I feel like Gregg Popovich a little bit."
Joking aside, Flaherty and Snee are playing the long game. The Giants know they need Snee back healthy at right guard to get the most from their offensive line this year, and they aren't worried about the missed time costing Snee time in the new offense. They think his health is more important.
"Activity out there could help him, sure, but I don't think it's as vital as, for example (rookie center)
Weston Richburg
, or someone like (Brandon) Mosley when he was a rookie," Flaherty said. "I think Chris will be fine, if the medical staff and his health holds up. That's the only reason to say 'if.' He's going to be fine in terms of the football part of it."
Health on the offensive line is a major issue around the Giants after what happened last year. Snee and center
David Baas
went down in Week 3 with injuries. Backup center
Jim Cordle
didn't make it through the year, forcing the Giants to move
Kevin Boothe
to center and play
James Brewer
at guard. When
David Diehl
, who replaced Snee, was hurt later in the year, the Giants started the untested Mosley, who then got hurt himself and left them even thinner.
"It's probably the second round of injuries that show up and make you say, 'Whoa, how deep are we?'" Flaherty said. "I don't know if anybody's that deep, unless you have, in the last five years, drafted offensive linemen in the first round for five years in a row. Then you have pretty good depth. So every team is looking for that guy to step in. Now, the guy that has to step in for the guy that stepped in? You have to create that and work hard on that each and every day. And I think that might have affected us in certain positions last year."
The Giants believe they added quality veteran depth in free agency with tackle
Charles Brown
and guard
John Jerry
. But Jerry missed minicamp and organized team activities with a knee injury, and Brown lined up as the starting left tackle during the spring because regular starter
Will Beatty
is still working his way back from the leg injury he suffered in Week 17. Beatty swears he'll be ready for training camp, but Flaherty admitted that, as of this moment, the Giants don't know who their starting left tackle is.
"As of today, no, we probably don't," Flaherty said. "But we're not playing today. We have some time. But as we get closer to training camp and we get into training camp, as the old saying goes, the walls are closing in."
Training camp starts July 22. By that point, the Giants are hoping to be healthier on the offensive line than they were in the spring. And if they can't be that this year, they'll hope they're better set up to handle offensive line injuries this year than they were in 2013.
June, 17, 2014
Jun 17
9:30
AM ET
EAST RUTHERFORD, N.J. -- The
New York Giants
begin a three-day mandatory minicamp today.
We wrote Monday
about certain things that will be worth watching in the final practices before training camp starts next month.
One place I'm sure my eye will go this week is left tackle, where starter
Will Beatty
remains out of action as he continues to rehab the serious leg injury he suffered in the final game of the 2013 season. Free-agent acquisition
Charles Brown
is the most likely candidate to work in Beatty's place at left tackle, and it could be very important for Brown to get up to speed in the new offense.
Beatty's injury was a significant one, and Beatty's injury history indicates that he doesn't tend to recover quickly in the first place. The team doesn't seem interested at this point in moving second-year right tackle
Justin Pugh
to the left side (though they have said in the past that's something they could consider), and Brown is the only player on the team besides Beatty who was a starting left tackle in the NFL last year. If Beatty isn't ready for the start of the season, Brown could well have to handle the job.
The Giants are heavily invested in Beatty for at least one more season. They could conceivably get out of his contract with little pain by making him a post-June 1 cut in 2015. If he struggles again with injuries or ineffectiveness, it's something they could consider down the road. Their hope is that he bounces back and plays the way he played in 2012 and they don't have to make that decision. But in the short term, they're going to need someone besides him to play it, and I'm curious to see how that works.
What are you curious to find out this week in Giants minicamp?
May, 3, 2014
May 3
10:35
AM ET
You ask the questions (and use the #nygmail hashtag) on Twitter, I answer them here. And we all have a lovely weekend.
April, 7, 2014
Apr 7
2:20
PM ET
The New York Giants have been the NFL's most active team so far this offseason, adding 14 free agents from outside their organization and re-signing 10 of their own. But free agency is no cure-all, as we've all heard countless times. So each day this week, we'll take a look at one question that still remains following the Giants' spring splurge. Today we kick it off with:
Did they do enough to improve the offensive line?
The Giants signed
Geoff Schwartz
to start at left guard and
J.D. Walton
apparently to start at center. They also signed guard/tackle
John Jerry
and tackle
Charles Brown
for depth. They lost
Kevin Boothe
, who started all 16 games for them last year at either center or guard, and
Jim Cordle
and
David Baas
, who were the other two centers they used in 2013.
David Diehl
retired. Veteran
Chris Snee
decided to come back after missing the bulk of 2013 following a second hip surgery (one on each hip!) in two years. So the projected starting offensive line looks like this:
LT:
Will Beatty
LG Schwartz
C: Walton
RG: Snee
RT:
Justin Pugh
Brown and Jerry are on the bench as backups with a good amount of starter experience in the NFL. Either could play tackle if Beatty doesn't make it back in time for camp or Week 1 from the broken leg he suffered in the final game of 2013. Jerry could play guard if Snee can't answer the bell. The backup center, in the event that Walton can't get healthy or get the job done, appears to be
Dallas Reynolds
, but that may be a spot where they do some more work before it's all said and done.
Brandon Mosley
could factor in at some point, and they still have
James Brewer
for a snap or two if they need him, but those guys may have to fight for roster spots in camp.
The issue, to me, is not how much they've done but how far they had to come. If you count a healthy Snee as an "addition," which I think is fair since he played only three games last year, then you can say they turned over three of the five starting spots. They needed to, but they weren't just below-average on the offensive line last year. The Giants' 2013 offensive line was a season-sinking wreck, one of the absolute worst in the entire NFL. Improving isn't enough, because they could improve dramatically from last year and still be below-average.
There are still questions at three of the five spots. Snee is 32 and has had surgery on each hip, no guarantee to be able to handle a full workload. Walton hasn't played since September of 2012 because of an ankle injury and wasn't very good prior to that as the Broncos' starting center. Beatty is a question mark not just because of his leg but because he was terrible in 2013 in his first full season as a starting left tackle. Even Pugh has to be looked at as a question mark, because he's only one year into his career. He played better in 2013 than expected, but there are aspects of his pass protection work that need improvement, and his continued development will determine the extent to which they can count on him short-term and long-term. That makes Schwartz, the new guy, the most solid-looking part of this whole thing. And that's unsettling.
It's hard to imagine the Giants being any worse on the offensive line than they were in 2013. And the additions of Jerry and Brown are smart because one of their biggest problems last year was a lack of capable backups once the starters got hurt. Whatever else Jerry and Brown were in their previous stops, their experience is something the Giants' line reserves didn't have in 2013. So if the starters can't get it done this year, the Giants have reason to believe the dropoff won't be as bad.
My question is whether the starting five is good enough, and my first inclination is to say no, and expect that they will have to work on it again next offseason to get it all the way right. There's no shame in this. The amount of work that needed doing in this area was significant, and to fix all of the problems in one month is not a realistic goal. But I don't think you can look at the Giants' offensive line and expect that it'll be a strength of the team in 2014.
What do the rest of you think?
April, 2, 2014
Apr 2
12:00
PM ET
Stop me if you've heard this one before: The free agent with whom the
New York Giants
agreed to terms Wednesday is 28 years old, was a high draft pick not too long ago, and has shown some quality flashes while not living all the way up to expectations so far in the NFL. The Giants were able to get him at a relatively low price, which is important given the remarkably high number of free agents they've had to sign this offseason to replenish their roster. He adds depth at a position of need, and if the light goes on and he plays to his pre-draft potential, they could really have something here.
When you put it that way, defensive end
Robert Ayers
sounds like almost every other free agent the Giants have signed in the past three weeks.
[+] Enlarge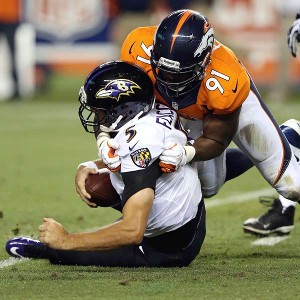 Paul Spinelli/AP PhotoThe Giants have added Robert Ayers, a former first-round pick, to their defensive line rotation.
Ayers is the 23rd free agent the Giants have signed so far, the 12th from another team and the fourth who was once a first-round draft pick. He was the No. 18 overall pick in the 2009 draft by the
Denver Broncos
, a highly regarded pass-rusher out of Tennessee. He's never really developed as an NFL pass-rusher, recording just 12 sacks in five professional seasons. But his 5.5 sacks in 2013 were a career high, and he's well regarded as a run defender.
Ayers is not a
Justin Tuck
replacement, per se. Tuck had 11 sacks just last season; you don't replace him with a guy who has only had 12 in five years. But as an edge rusher who can play the run, he could be a valuable part of the rotation at defensive end. Heck, it's not ridiculous to think that, with a good training camp, he could beat out veteran
Mathias Kiwanuka
and 2013 third-round pick
Damontre Moore
for the starting defensive end spot opposite
Jason Pierre-Paul
. He isn't Tuck, but he's younger and cheaper, and the extent of the Giants' free-agent roster overhaul this offseason has been predicated on those two traits.
It's also worth pointing out a bit of a trend in these bargain-bin guys the Giants have picked up. Ayers is like center
J.D. Walton
and tackle
Charles Brown
in that he was regarded well enough out of college to be a relatively high pick but hasn't produced the way his original team had hoped. Adding guys like that -- who have talent but haven't put it all together -- can be a smart way of playing the bargain end of free agency, especially when the players are still young, as these three are. (You could add
Dominique Rodgers-Cromartie
to this list, since he's played well as a pro but is thought to have elite talent, but he was a big-money signing and thus more of a gamble.)
There are worse bets to make than one on a former first-round pass-rusher (or former third-round center, or former second-round tackle) who has experience as a starter in the league. And if you make three or four such bets, and you believe in the abilities of the people on your coaching staff, your odds of hitting on one or two of them are pretty good. We'll see which of the Giants' signings work out and which don't. But at worst, the Ayers signing continues at least the following theme: The Giants had a hole and filled it with what they believed was the best option available at this point in free agency. It will be months before we can accurately judge which of their many holes they've filled well and which will need filling again next March and April.
April, 1, 2014
Apr 1
4:35
PM ET
Charles Brown
was the Saints' starting left tackle last season until a dreadful Week 15 performance against
Robert Quinn
and the Rams led to his benching for the final two games of the regular season and the playoffs. The Saints decided this offseason to move on from Brown, who was their second-round pick in the 2010 draft out of USC.
Hoping that one team's trash is another team's treasure, the
New York Giants
on Tuesday announced that they have signed Brown to a free-agent contract.
Interesting signing, especially because Brown doesn't even turn 27 until next week and has 22 games' worth of experience as a starting NFL tackle. Given the state of the Giants' offensive line at the end of the 2013 season, there's no number of offensive line additions that I would consider excessive. So far this offseason they have added guard
Geoff Schwartz
, center
J.D. Walton
, guard/tackle
John Jerry
and now Brown, and they believe they'll have
Chris Snee
back from his hip injury.
But they still have some degree of concern about starting left tackle
Will Beatty
's (a) timetable to return from his broken leg and (b) overall effectiveness in light of his disappointing 2013 season. They still can't be certain that Snee will be healthy, Jerry won't be suspended for his role in the Dolphins bullying scandal or Walton will be any good. So, the more depth the better on the line, where they fell so pitifully apart last year.
And if you're going to add depth pieces on the line, I have no issue with taking a flyer on a still-young guy with some experience who once showed enough promised to be drafted in the second round. Brown could be a valuable backup at a couple of positions, and in the best-case scenario could develop into a starter at one of the tackle spots for a long period of time. Given what free agents cost at this point in the market, there's no doubt it's a worthwhile move to make.