New York Giants:

Charles Woodson
November, 15, 2013
11/15/13
10:00
AM ET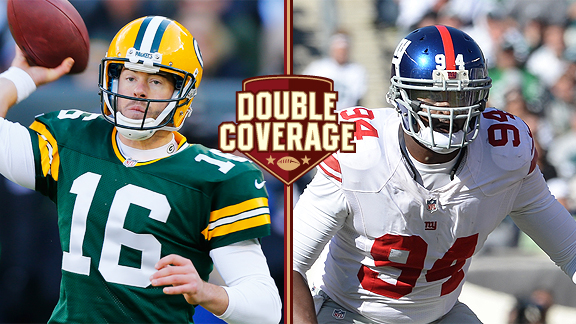 Gregory Shamus/Getty ImagesNew Packers quarterback Scott Tolzien will face Mathias Kiwanuka and an improved Giants pass rush.
The
New York Giants
will be looking for their fourth win in a row following an 0-6 start. The
Green Bay Packers
will be trying to snap their first two-game losing streak since 2010. The two teams square off Sunday at MetLife Stadium in East Rutherford, N.J.
ESPN.com Giants reporter Dan Graziano and ESPN NFL Insider Matt Williamson (filling in for Packers reporter Rob Demovsky) break down the matchup for you.
Dan Graziano:
Hey, Matt. Thanks for filling in while Rob's on the inactive list this week. The big question the Giants have this week is: Who is
Scott Tolzien
and what can we expect to see from him? So let's start with that one.
Matt Williamson:
Well, Dan, that's a good question! I don't think we really know the answer, but he did move the team well in relief of an injured
Seneca Wallace
and was generally a smart distributor of the football. And we know Green Bay has weapons to get the ball to. We don't have a lot of tape to evaluate, but I think the Packers are better off with Tolzien over Wallace while
Aaron Rodgers
recovers from a broken collarbone.
While we are talking quarterbacks, what on Earth is going on with
Eli Manning
? Despite this winning streak, he really has not played well.
Graziano:
Matt, my theory on Eli is that the protection issues at the beginning of the season were so egregious that he just fell into this zone of discomfort from which he's been unable to extricate himself. He just doesn't look right back there, and while the protection issues have improved some, they're still present. The Giants have had no blocking help from the tight-end position at all. They're vulnerable in the middle of the line, and I'm not sold on either tackle, to be honest. They haven't had reliable blitz pickup help from the running backs.
Downfield,
Hakeem Nicks
isn't playing wide receiver the way he used to play it. A lot has gone on around Manning to make him far less comfortable with his surroundings, and I'm not sure what it's going to take before he starts playing with that old Eli confidence again. Great quarterbacks make the best of bad situations, and Manning has not done that this year. As the Giants' situation improves, they will need him to play much better if they're really going to make this miracle run they still believe they can make.
They get another break this week with Rodgers out and Tolzien in, but they are already talking about that improved Packers running game. What do you see from
Eddie Lacy
& Co. and how do you think they'll attack the Giants, who have generally been pretty good against opposing running backs this season?
Williamson:
This Packers' running game is terrific and should continue to excel even with less of a passing threat. The left side of the offensive line is playing great, but isn't healthy on the right side and has had to do a lot of shuffling of personnel there. Still, the rushing attack isn't easy to prepare for, as the Packers can run a wide variety of plays out of a wide variety of personnel groupings and formations. Lacy is quick to get downhill and is a punishing runner who can wear a defense down, and he also excels at reading his blocks and showing patience with the ball in his hands -- rare traits for a rookie running back. The Packers' ability to run the ball will probably be the most crucial component of this game.
Along those lines, I feel like the Giants might actually have a respectable rushing attack of their own now with
Andre Brown
carrying the rock. Do you agree?
Graziano:
Yeah, the 30 carries and 115 yards for Brown on Sunday in his first game back off a twice-broken leg were eye-opening. I think the workload they gave him showed that the Giants knew just how much they were missing this season at running back.
David Wilson
never got going and then got hurt, and they patched it together with
Brandon Jacobs
and
Peyton Hillis
. But watching Brown run with vision and power and gain yards after contact Sunday, it was obvious that he's the Giants' best option going forward and the best they've had all season.
The injury risk has to be considered, given Brown's history, but at this point the Giants need to win pretty much every game, and they're going to have to lean hard on Brown to do it. Even if he can't be as productive every week as he was against the Raiders, the legitimate threat he poses on film should open up the play-action passing game as a way for Manning to combat those protection issues.
So the Giants feel they can offer a balanced offensive attack against a Packers defense that couldn't get the ball back from the Eagles in the final 9:32 of Sunday's game. Was that a
LeSean McCoy
issue, or are the Packers really struggling on defense right now?
Williamson:
The Packers are struggling on defense and allowing too many big plays. I expected last week's return from injury by
Clay Matthews
to pay off much more than it did. However, we know Matthews is a great player, and maybe he just needed a week to get back into the swing of things. I still expect Matthews to torment the Giants' tackles this week.
On the inside of their defensive line, the Packers have a lot of sheer mass and power with guys like
B.J. Raji
,
Johnny Jolly
and
Ryan Pickett
. I also expect the Giants' interior offensive line to have a difficult time moving this group in the running game. This could be a bounce-back week for Green Bay on this side of the ball.
The Packers' run defense had a difficult time when the Eagles stacked both of their offensive tackles on the same side of the formation. While I expect the Giants could use some personnel groupings with six offensive linemen, I don't see them duplicating what Philadelphia did to make room for McCoy.
Watching the Giants game from last week, I noticed they had a difficult time getting the Raiders'
Pat Sims
blocked. Sims is a big-bodied and powerful defensive tackle in much the same mold as the Packers' group. I think that bodes well for Green Bay this week.
And expect the Giants to have a difficult time blocking little-known
Mike Daniels
in the passing game. Daniels has taken over the
Cullen Jenkins
role -- a spot Green Bay drafted
Datone Jones
for in the first round -- as an interior pass-rusher, and he has excelled.
The Giants' defense is based entirely on great defensive line play. This is a deep group with a ton of important resources tied up in it, but it hasn't been an elite group. It is improving, however. Where do you see this unit right now and this week against the Packers?
Graziano:
Well, the sack numbers have come up. The Giants had only six sacks in their first seven games, but then got eight in their past two games. So they've moved from last in the league in sacks, where they spent most of the season, to a tie for 30th in that category. Odd thing is, of the eight sacks in their past two games, only four have come from defensive linemen. Safety
Antrel Rolle
has as many sacks (two) in the Giants' past two games as defensive end
Jason Pierre-Paul
has in their past 16.
The line has been very good, as I mentioned, against the run this year. But over the first seven games of the season, opposing quarterbacks did a good job of unloading the ball before the Giants' pass-rushers could stop them from doing so. Not sure they get the full test this week against Tolzien, but at some point we're going to find out whether the front four really has improved, or whether it has just been feasting on lesser competition.
Thanks again, Matt. Catch you online in one of our game chats soon, I'm sure.
November, 8, 2013
11/08/13
10:00
AM ET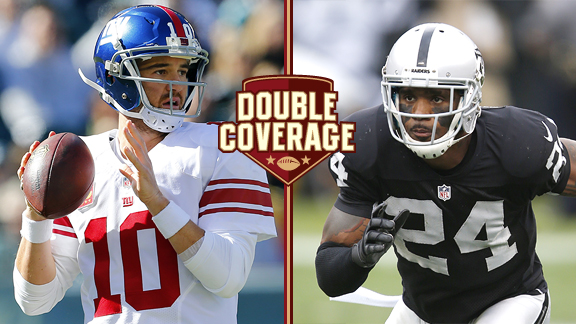 Getty ImagesEli Manning's Giants aim to maintain their momentum when Charles Woodson and the Raiders visit.
It will be a battle of teams looking to climb out of the cellar of their respective divisions as the 2-6
New York Giants
host the 3-5
Oakland Raiders
at 1 p.m. ET Sunday at MetLife Stadium in East Rutherford, N.J. The Giants have won two games in a row after an 0-6 start and are coming off their bye week. The Raiders just suffered their most embarrassing loss of the season, 49-20 at home to the
Philadelphia Eagles
.
Which last-place team will get the win Sunday at the site of Super Bowl XLVIII? ESPN.com Raiders reporter Paul Gutierrez and Giants reporter Dan Graziano break it down for you.
Dan Graziano:
Paul, I was a little surprised by how poorly the Raiders played Sunday. I knew they were a sub-.500 team, but I didn't think they were a terrible one. What was up with that defensive effort against
Nick Foles
and the Eagles?
Paul Gutierrez:
Dan, you're not the only one who was surprised by what the Raiders in general, and the defense in particular, put on the field against the Eagles. Everyone from coach Dennis Allen to veteran safety
Charles Woodson
wondered out loud if the defense got caught reading its clips from the week before. After all, the Raiders' D was playing lights out and was the team's strength, entering the game with the No. 10-ranked defense, despite 10 new starters.
Like boxing, styles make fights, and the Eagles' high-octane offense worked to near-perfection and dropped Oakland early and often. The Raiders were a step behind all game long, especially top draft pick
D.J. Hayden
, who was given the Elvis "Toast" Patterson treatment (I'm sure that name will elicit varied responses from Giants fans) by
Riley Cooper
and
DeSean Jackson
and gave up three completions to the two for a combined 139 yards and two touchdowns. In short, it was a complete meltdown by the entire defense, which had been feeling itself a little too much.
The Giants, though, seem to be heading in the opposite direction after that ghastly start. Do you get the sense they have righted the ship, or is it fool's gold after beating the hapless Vikings and then-hopeless Eagles?
Graziano:
It's unquestionably fool's gold. They beat the Vikings when Minnesota foolishly and inexplicably started an unprepared
Josh Freeman
at quarterback and beat the Eagles when they started a clearly injured
Michael Vick
and had to replace him with unprepared
Matt Barkley
. And it's not as though they looked especially good in either win.
Eli Manning
hit clumsy Minnesota defenders in the hands three times in that Monday night game and somehow still didn't get intercepted, and the Giants didn't score a touchdown in that 15-7 victory over the Eagles. They are a bad team with major problems at almost every position, and the fact that they've won two in a row after starting 0-6 doesn't make that go away.
That said, it's possible they'll get a gimpy
Terrelle Pryor
this week, right? (And maybe an
Aaron Rodgers
backup next week.) Pryor left against the Eagles with a knee injury. Do you expect that he'll play, and assuming he does, what kind of special problems does he present for a Giants defense that has been getting fat on the likes of Freeman and Barkley?
Gutierrez:
Pryor said after the game that his knee was fine, that treatment and ice and the like were all "precautionary," that his knee was not "wobbly" or anything like that. The Raiders were going to take him out of the game for those last two series of a blowout anyway. While Pryor did not speak at the facility Monday, he was walking around the locker room and was not wearing a brace. He should be ready to go.
Then again, if there is even the slightest hitch in his giddyup, that could spell trouble since his running game is his strength. The problems he presents defenses are not unique for a team like the Giants, who already face the read-option from Washington's
Robert Griffin III
(when healthy). But Pryor's combination of size and speed is what makes him unique, or did you miss his 93-yard touchdown run against the Pittsburgh Steelers in which he looked like he was coasting but actually was pulling away from defenders? Earlier in the year, the Raiders' coaches wanted him to run more to take advantage of his strength. Now, Allen said Pryor has to trust the process more, from the protection to his reads. This should be interesting to see how Pryor soaks it all in.
Then again, it will be interesting to see how the Giants' defense responds to Pryor. The Steelers and Eagles had some success in keeping him under wraps by putting a spy on him, challenging him to beat them with his arm. Would the Giants employ such a tactic and who would that spy be, or would they rather play him straight up?
Graziano:
It's a good question, though they don't seem interested in giving away the answer just yet. In the past year, they have played guys like Vick and RG III without a spy and have paid the price. Vick ran for 79 yards against them in the first half in Week 5 before pulling his hamstring.
If they do change it up and decide to spy Pryor, the most likely candidate would be linebacker
Jacquian Williams
, who has good sideline-to-sideline speed. They tend to like to use him to cover tough tight ends, but it's possible that the Raiders' receiving options will allow them to get everyone covered with their nickel-safety or nickel-corner package with Week 8 NFC Defensive Player of the Week
Terrell Thomas
covering the slot. That might free up Williams to spy Pryor, which I think would be a good idea. But the Giants can get stubborn at times, and it's possible they'll decide to play him straight up. I would like his chances of picking up yards on the ground on the outside if they did.
Manning hasn't thrown an interception in his past two games, but he still leads the league with those 15 he threw in the first six weeks. The Giants have been vulnerable to A-gap pressure due to the fact that they're using backups at center and right guard, and as a result, Manning has been uncomfortable in the pocket all season. The lack of a run game has hurt his play-action passing game too. Are the Raiders going to be able to pressure him better than they did Foles? Or will Eli have an easy day?
Gutierrez:
Using the past-is-prologue approach and sprinkling in the notion that hindsight is always 20/20, the Raiders simply have to put pressure on Manning. Allen acknowledged the Raiders did not bring enough pressure to disrupt Foles, and when they did, he simply rolled out and found a target downfield. The Raiders seemed to have learned their lesson, but we'll see. Against the Eagles, they went away from being their normal, blitz-happy selves by rushing just three at times and sitting back in coverage. Foles ate them up. And Foles is no Manning. (You can't spell "elite" without "Eli," right?)
I would expect defensive coordinator Jason Tarver to dial up the blitzes again and send anyone at any time -- unless the Giants start running a no-huddle, hurry-up offense to rattle the Raiders. Keep an eye on right defensive end
Lamarr Houston
, who leads the Raiders with four sacks but was slowed by a right hamstring issue against the Eagles. In fact, 11.5 of Oakland's 23 sacks have come from their front four.
The Raiders -- Hayden in particular -- had problems in coverage against the Eagles. Whom would the Giants deploy to take advantage of Hayden, who usually plays on the outside in nickel packages? Might the Giants put the physically imposing
Hakeem Nicks
out there?
Graziano:
Yeah, Nicks plays on the outside with
Victor Cruz
in the slot and
Rueben Randle
on the other side when they go three-wide. But Nicks hasn't been himself. He's still capable of outfighting defenders for the ball and could be a tough matchup for Hayden, but he doesn't seem able to separate anymore and has had uncharacteristic issues with drops. He won't admit it, but he's playing like a guy in his walk year whose long-term future is on his mind. It's been one of many problems the Giants didn't anticipate, and if he has a big game against the Raiders, it'll be his first. He still doesn't have a touchdown this season.
Anyway, nice chatting with you, Paul. Travel safely, and I look forward to seeing you at the game Sunday.
May, 17, 2013
5/17/13
12:32
PM ET
Charles Woodson
will continue to weigh his options and take another AFC visit out west.
According to NFL Network, the safety will visit with one of his old teams -- Oakland -- on Tuesday. And Woodson has received an offer from Denver according to NFL Network. The former Packers defensive back visited with the Broncos recently.
Carl Poston, Woodson's agent, told ESPN's Josina Anderson that the Giants "just put their toe in the water again for Charles Woodson" on Thursday. The Giants expressed an interest in Woodson earlier in free agency.
If Woodson, 36, still has something left in the tank and more importantly is willing to come for likely something close to the veteran minimum, the safety
makes sense for the Giants
for several reasons.
May, 16, 2013
5/16/13
12:25
PM ET
Charles Woodson
is one of the many veteran free agents still available, and the Giants are always in the market for veterans on the cheap.
Woodson's agent, Carl Poston, told ESPN's Josina Anderson that "The Giants have just put their toe in the water again for Charles Woodson."
If Woodson, 36, is willing to accept an affordable deal, the move makes sense. If healthy, Woodson would be an intriguing piece.
He could instantly be one Perry Fewell's top three safeties. He would provide the kind of veteran voice and leadership that the team had when
Deon Grant
was roaming around as the third safety. Woodson would immediately add to the leadership in a locker room that lost
Ahmad Bradshaw
,
Chris Canty
,
Osi Umenyiora
,
Chase Blackburn
,
Michael Boley
and
Kenny Phillips
this offseason.
And if he's still playing at a high level, Woodson could challenge
Stevie Brown
to start opposite
Antrel Rolle
. He could also provide the team with a veteran who can play corner if needed, be but my guess is he would be a safety and help cover if needed in certain packages or in case of injuries to other corners.
Woodson recently left a visit with the Broncos without a deal, according to the Denver Post. And he also reportedly has the Panthers and Raiders interested in him. So he might have options.
It remains to be seen just how interested the Giants are, but it certainly doesn't hurt to look.
Hightower update:
Another veteran free agent the Giants have been interested in is running back
Tim Hightower
. The Washington Post reports that the Giants and Redskins are interested in Hightower. The Post says that the Giants could meet with Hightower again in a couple of weeks, according to a source.
Hightower tore his ACL in 2011 with the Redskins and attempted a comeback, but was released last year in final cuts. If healthy, Hightower could provide the Giants with a third running back who can catch out of the backfield. At the moment, the Giants have
Da'Rel Scott
,
Ryan Torain
and seventh-round pick
Michael Cox
behind
David Wilson
and
Andre Brown
.
Tell us if you want to see the Giants go after Woodson and how you think he might help.
December, 1, 2011
12/01/11
5:24
PM ET
Usually, the plan is to prevent the opposing team from making big plays when they're on offense.

Sunday against the Packers, the Giants want to prevent Green Bay from making big plays -- when the Packers are on defense.

"What bothers me is their ability, you see a deflection, that guy's got it, the corner's jumping it, taking a chance," Giants offensive coordinator Kevin Gilbride said on Thursday. "They have some guys that are willing to gamble, take chances, almost trade off a big play for a big play, even when you are doing it right, you sometimes get surprised by some of the reactions of the defense. They are making a lot of big plays defensively and sometimes they've given up some plays, but they turn around and bite you wherever. We just can't afford that to happen to have a chance"

The Packers are one of the most opportunistic teams in the NFL, leading the NFL with 22 interceptions and 383 return yards on those interceptions. In fact, since 2008, the Packers lead the league in interceptions, interception return yards and interceptions returned for touchdowns.

In last year's game against the Giants, the Packers picked off quarterback Eli Manning four times and forced two other turnovers in a 45-17 victory. That game was the starting point of what has become a 17-game in streak for the Packers.

While Green Bay yields the third-most yards in the league this season, its defense has been able to come up with plenty of key turnovers to help it to its 11-0 start.

"I think sometimes what it looks like happens occasionally on both sides of the ball with terrific players they'll take some chances that maybe they shouldn't have played," Gilbride said. "These guys, if you throw them the ball they catch it. They don't drop it, they catch it and they return it. I have a feeling they're always trying to make big plays and some people have been fortunate to make some plays against them."

Gilbride complimented the Packers defense, calling them terrific, saying they have phenomenal speed and terrific pass rushers. He also praised the play of do-it-all cornerback Charles Woodson, specifically when he moves inside to blitz.

"They're good, they're very good," Gilbride said. "Hopefully we can make some plays on them."