New York Giants:

Christian Hopkins
July, 24, 2012
7/24/12
12:00
PM ET
As training camp approaches, we're counting down to camp by taking a look at the defending champions, position by position.

Projected starters: Bear Pascoe and Martellus Bennett.

Projected reserves: Travis Beckum, Adrien Robinson and Christian Hopkins.

New faces: Bennett, Robinson, Larry Donnell and Ryan Purvis.

Going, going, gone: Jake Ballard.

Player to watch: Bennett. The Giants made signing Bennett a priority in free agency. Bennett practically oozes potential. He has terrific size at 6-6. He has soft hands and nice athleticism. He is a good blocker. Bennett could be a terrific red zone target for Manning. The hope is Bennett will fulfill his potential now that he has a chance to start after backing up Jason Witten in Dallas. With Eli Manning and tight ends guru Mike Pope at his side, Bennett has a chance to shine. He just has to learn the new offense and put it all together.

Potential strength: Besides showing that he is an elite quarterback, Manning displayed the ability to make players better and develop unknown players like Ballard and Victor Cruz last season. Pope, the tight ends coach, is one of the best in the business so there's a good chance either Pascoe, Bennett, Hopkins or Robinson emerges into a viable option at tight end.

Beckum will be in that mix as an option in the passing game once he recovers from ACL surgery and is ready to play.

Pascoe enters camp as the starter and the Giants like how he can block, catch and play both tight end and fullback. But the job as Manning's new tight end target is there for Bennett to take.

Robinson, the team's fourth-round pick, may be a year away from contributing and is still learning the system and game. But if he truly is the "JPP of tight ends" as Jerry Reese labeled him, Robinson will be contributing in some form and flashing his potential by the end of the season.

It remains to be seen how many tight ends the Giants will keep. They carried three on the roster last season.

Potential weakness: Lack of experience. Pascoe has started 11 games in each of the last two seasons as a hybrid tight end/fullback but only has caught 22 passes in three seasons. Bennett has a total of 85 receptions and 31 starts in his four seasons with the Cowboys. Beckum has a total of 26 receptions in three seasons.

After those three, only Purvis has NFL experience among the remaining tight ends on the roster. Purvis played in 10 games last season in Tampa Bay and catching five passes.

Wild card: Robinson and Hopkins. With the job up for grabs, anybody could conceivably emerge so we are going with two wild card options. The Giants love Robinson's athleticism and raw potential. Robinson, though, missed OTAs as he finished up school. If he really is as athletic and gifted as advertised, Robinson could develop with Manning and Pope's help into a contributor this season if he can grasp the offense and game quickly enough.

Pope helped develop Ballard and Pascoe, relatively anonymous tight ends before, into starters. He could keep that streak going with Hopkins, a 6-5, 277-pound tight end that the Giants kept on the practice squad last season. Reese has been talking Hopkins up since just after the Super Bowl as an option to replace Ballard and the injured Beckum. He has some athleticism and hands as well.

Tell us what you think of the tight ends below.
July, 11, 2012
7/11/12
11:00
AM ET
With training camp at the end of the month, spotlight focuses the tight end position -- sure to be one of the most watched competitions in training camp.
SPOTLIGHT:
The tight ends
THE COMPETITION: Bear Pascoe, Martellus Bennett, Travis Beckum, Adrien Robinson, Christian Hopkins, Ryan Purvis
and
Larry Donnell
.
THE 411:
Last year, the Giants replaced
Kevin Boss
with
Jake Ballard
. This year, the Giants hope to find another big target over the middle for
Eli Manning
.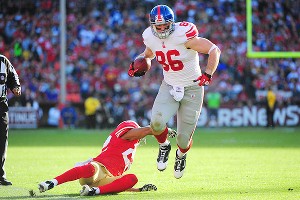 Kyle Terada/US PresswireBear Pascoe
Pascoe has the most experience of all the healthy tight ends. Beckum is still recovering from a torn ACL suffered in the Super Bowl and might not be ready to play when the season starts.
Bennett is the guy the team hopes will step into the role after signing him in free agency. But Bennett has to adjust to a new offense and show he can handle a bigger role and fulfill his potential. Bennett missed some time in OTAs due to a hamstring issue as the coaching staff wanted to see the tight end shed some pounds.
The Giants drafted Robinson in the fourth round, but he is raw and missed OTAs to finish up in school. He may be at least a year away from contributing, but if he is really the "JPP of tight ends" -- as
Jerry Reese
described him -- he'll show flashes and get better as the season progresses.
The Giants like Hopkins, who has been on the practice squad. He has shown flashes of good hands and is a big body at 6-5, 277 pounds.
WHAT THE COACHES ARE SAYING:
"Except for Bear, there is nobody that has done it before," offensive coordinator
Kevin Gilbride
said. "You are hoping to have Bear as a swing guy, a second tight end -- he could motion back and play the fullback position, give you what he has always given. you which is unbelievable toughness and somehow making plays that maybe you don't think that he should be able to make.
"He always seems to make [those plays] for you -- not necessarily as your starting tight end," Gilbride continued. "But right now he is the starting tight end. Martellus was out and just barely got back. Adrien Robinson missed [OTAs]. So right now we have a long way to go at that spot."
Gilbride, though, acknowledged that he thought Ballard could be a good blocker and perhaps an underneath target in the passing game before Ballard exceeded his expectations and became a bigger threat.
"You are hoping Martellus [steps up]. ... That is why he was brought here," Gilbride said. "You are hoping that Adrien Robinson down the road would be the guy. If not, Bear is going to be the guy.
"We have been able to do it in the past. We have to do it again."
CAMP PREDICTION:
Pascoe enters camp as the starter and may be used more in the passing game out of necessity if Bennett isn't able to get comfortable in the new system by the time the season opener rolls around.
Pascoe displayed an ability to catch balls down the middle in OTAs and minicamp, and the Giants could lean on him early on until Bennett works his way in and earns Manning's trust. Robinson might need this year to develop before becoming a factor.
Beckum's impact all depends on his health and when he will be able to come back. Also, it remains to be seen how much the Giants use Beckum. When he was healthy last season, he wasn't utilized a ton as they leaned more on Ballard and Pascoe with blocking in mind as well. The Giants might also bring Beckum along slowly off his knee injury –- as they should with an ACL injury suffered in February -- so he might not start contributing until a few weeks into the season, if not later.
Hopkins could be a dark horse since tight ends coach
Mike Pope
has been able to develop guys like Boss, Ballard and Pascoe. And because of that, you can't discount Purvis or Donnell either, but they could potentially end up on the practice squad.
While Pascoe may be the guy Manning trusts in the passing game early on, the Giants also can use fullback
Henry Hynoski
as a short-yardage passing option if Bennett needs more time to get comfortable with the offense.
Hynoski showed the ability to catch out of the backfield late last season. I think Manning will look to Pascoe early until he develops a rapport with Bennett or another tight end, and that gives Pascoe a step up on the competition and the opportunity to seize the job.
Tell us what you want to see happen at tight end below.
August, 5, 2011
8/05/11
3:11
PM ET
There's only one Baas in town -- and it isn't Kevin.

The Giants were dealt a devastating blow on Friday morning when they learned that tight end Kevin Boss had signed a four-year, $16 million contract with the Oakland Raiders.

(Center David Baas -- pronounced "Boss" -- is now the lone Boss left.)

The Giants currently have five other tight ends on their roster -- Travis Beckum, Ben Patrick, Jake Ballard, Bear Pascoe and Christian Hopkins -- but none of them possesses the type of offense skill that Boss displayed during his four seasons in New York. In 2010, Boss served as one of Eli Manning's most reliable targets, snagging 35 balls for 531 yards and five touchdowns.

"It sucks," Beckum, who is entering his third NFL season, said of Boss' departure. "Kevin's been here since my rookie year and he's established himself. Kevin and I were close. He taught me a lot of stuff.

"But it's nothing personal. Kevin knows I wish nothing but the best for him -- he has to do what he has to do, and that's in Oakland."

Said head coach Tom Coughlin: "The guys that are here are going to have to prove to us that we can continue and run the offense that we want to run, and if we have to make adjustments, well then we'll have to do it."

Beckum, who caught 13 passes for 116 yards and two TDs in 2010, should be elevated to the top spot on the depth chart. And the 24-year-old believes he's ready to step into that role.

"I'm ready to do whatever I have to do, whatever they ask me," said Beckum, who was featured in a lot of two tight-end packages with Boss last season. "Whether I'm coming out of the backfield, split out, at the 'Y' or in goal line sets; whatever they ask me to do, I'm willing to do it."

Coughlin feels that Beckum needs to become more consistent in 2011.

"We're continuing to develop Beckum into a more consistent player," Coughlin said. "He'll make a great play and then a not-so-great play."

Beckum thinks consistency will come with the additional reps he's slated to receive in both practices and games.

"I think that the more times I run a post route, the better I'm going to get at it, as opposed to running it one time and doing something else," Beckum said. "I think consistency is key and reps are crucial in that aspect."

Ballard, a second-year pro who is known more for his blocking ability, could conceivably have a greater role this season. He said he learned a lot from Boss during his rookie campaign.

"He works hard and he's smart," Ballard said of Boss. "He knows what he's doing on every play, and just the way he approaches the game is what I look at most."

Ballard believes the experience he gained in year one will help in year two.

"This year's camp is a lot easier for me," said Ballard, 23, who said he wants to become more of a two-way threat. "Now I can start concentrating on the little things."

Pascoe, who had nine catches for 72 yards in 2010, stepped in and filled in admirably at fullback after Madison Hedgecock went down with a injury. But the 25-year-old, now in his third year in the league, is only sitting in on the tight end meetings during training camp.

"I'm not sure right now [where I'm going to play]," said Pascoe, who like Ballard would be used the majority of the time on running downs. "I'm playing tight end and fullback. I'll play wherever they need me to play."

Pascoe said he's put on about five extra pounds coming into camp, but isn't concerned about it.

"Coming into camp you want to come in a little heavy," Pascoe said. "But when you work out, the weight tends to trim off pretty fast."

Coughlin alluded to the fact that the team could try to add a veteran to the mix before the start of the season.

"You're always looking for whatever you can to improve everywhere," Coughlin said. "So that's not gonna stop."

But for right now, the Giants are going to have to make due with what they have.

"With Kevin gone, there's a big void that needs to be filled, and all these tight ends are going to try to fill it," Ballard said. "We've got to get better everyday and we'll see where it goes from here."

Added Beckum: "People need to step up, especially when people leave."