New York Giants:

Coach's Big Decision
December, 15, 2012
12/15/12
7:52
PM ET
With
Prince Amukamara
sidelined this weekend with a hamstring issue, the Giants suddenly have a gaping hole in their secondary. Amukamara had arguably been the team's best player in the secondary this season, showing why the team drafted him in the first round last year.
Earlier this week, Giants defensive coordinator Perry Fewell said rookie
Jayron Hosley
will be the man to fill that spot on the outside, but a big decision is going to have to be how the Giants use Hosley during the game.


After getting off to a hot start this year, Hosley struggled in the middle of the season. He had a rough go against Dallas'
Miles Austin
, and then gave up the game-clinching first down against Pittsburgh. The Giants used Hosley as the nickel corner, and as to be expected, there were some growing pains.
This week, Hosley will be on the outside and have to match up with
Roddy White
and
Julio Jones
, two of the premier wide receivers in the league. They can give fits to any corner in the league, let alone a rookie. It's a tall task for Hosley, one he is embracing along with his defensive coordinator.
The Giants are likely to keep a close eye on Hosley, and that's where their decision comes in. How long a leash do they give him? Do they isolate him in coverage, as they would do with Amukamara? Do they change the coverages to try and help him? They're all critical decisions.
With Amukamara and safety
Tyler Sash
both out, the Giants are thin in the secondary. They only have five active corners and three safeties, so they won't have the opportunity to rotate in and out if anyone struggles. The Giants are going to need Hosley to step up and play well or it could be a long afternoon.
December, 2, 2012
12/02/12
12:47
PM ET
The loss of running back
Andre Brown
to a broken fibula is no small blow to the Giants.
[+] Enlarge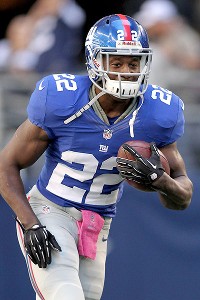 Tim Heitman/US PresswireDavid Wilson
Brown had 385 yards rushing and was averaging 5.3 yards per carry as a complementary back to
Ahmad Bradshaw
. And he was particularly effective in the red zone, with eight touchdowns -- tied for the team lead with
Victor Cruz
.
Is rookie
David Wilson
ready to step into that complementary role? And, is Tom Coughlin ready to give it to him? We'll find out Monday night.
Wilson has just 24 carries for 102 yards through the first 12 weeks of the season. We all know how explosive he looked during the preseason, but we all remember his fumble in Week 1 against the Cowboys, too.
Coughlin's biggest concern: Will Wilson be able to help protect
Eli Manning
when the pass rush is bearing down on him? Can he pick up the blitz?
Speaking of Bradshaw, back in 2007 -- his rookie season -- he received just six total carries through the first 15 weeks of the season. But in Week 16, with
Derrick Ward
out with an ankle injury, Coughlin finally gave Bradshaw his opportunity. In a 38-21 win over the Bills, Bradshaw got 17 carries and rushed for 151 yards -- including an 88-yard touchdown scamper.
Wilson is capable of big plays like that, too -- if he has earned the coach's trust.
November, 11, 2012
11/11/12
9:00
AM ET
The Giants' offense has struggled the last few weeks as the running game has failed to get going and quarterback
Eli Manning
has hit a midseason slump. Last Sunday against the Steelers, the Giants' offense could barely move the ball and was the culprit for the team's third loss this year.
As the Giants face the Bengals on Sunday, the big question will be: How do the Giants get their offense going? The Giants need a win to avoid heading into the bye with two straight losses, and getting the offense out of this slump would lessen some of the worries about the team.
One way could be to use the two-minute offense early. The Giants are an entirely different offense when they operate their hurry-up drill out of the shotgun, and that could be exactly what the team needs. A few quick passes to get Manning into a groove with his receivers could get the offense into a rhythm and put Cincinnati on its heels.
Another key could be involving
Hakeem Nicks
in the offense. Nicks is a premier receiver in the league but hasn't left much of a mark this season outside of his big game against Tampa Bay. He had just one catch last week against Pittsburgh, and it will be tough for the Giants to win when Nicks has one catch.
Some short slants or intermediate routes for Nicks to get him some catches could help, compared to just throwing him bombs down the field like they did last week. Nicks appears to still be limited by his knee and foot injuries, but he can still find other ways to get involved. The Giants should make an effort to get Nicks involved, which could also help
Victor Cruz
.
The Giants also seem to have stopped throwing to
Martellus Bennett
, and he could help open up holes in the defense. In the first three games, Bennett had a combined 185 yards. In the six games since, he has 189 yards. While Bennett is better as a blocker, he is a threat up the seam and can win matchups against linebackers. By involving him, it should only benefit the outside receivers.
Even though they've struggled, the Giants offense still is one of the top units in the league. They have the players and scheme to get it done, and will try to do it against a forgiving Cincinnati defense.
November, 4, 2012
11/04/12
9:00
AM ET
The Giants have already made their big decision for this week as they will re-insert
David Diehl
as the starting right tackle Sunday against the Steelers. Diehl will take the place of
Sean Locklear
, who had started the past six games since Diehl suffered an MCL injury in his right knee.
Giants head coach Tom Coughlin all but said the Giants are re-inserting Diehl back into the lineup because a starter can't lose his job due to an injury. Diehl has played as the team's extra tight end in jumbo packages the past three weeks, playing 25 snaps.
"We brought David along trying to make sure that he was okay, and that his strength was there, his confidence was there," Coughlin said Friday. "He started out in the same role that Sean will be in this weekend. That's where we are on that."
This decision is certainly going to be scrutinized if the offensive line struggles with this change. Locklear has played well in Diehl's absence and the team had its two best rushing efforts of the season with him as the right tackle. The line has also done well in pass protection with Locklear in there.
Diehl has certainly earned his role with the Giants for all he's done for the team over the years, but his play has slipped over the past two seasons. There could certainly be a healthy debate as to which of the two tackles is better at this point.
The Giants chose to go to their tested veteran for Sunday, and Diehl has shown over his career he can be trusted, playing a key part in helping the team to two Super Bowl titles. If everything goes smoothly, it's a decision that will rarely be mentioned. A tough game by Diehl, though, could lead to a few questions.
October, 13, 2012
10/13/12
3:00
PM ET
By
Mike Mazzeo
| ESPNNewYork.com
EAST RUTHERFORD, N.J. -- Giants defensive coordinator Perry Fewell said Thursday he likes linebacker Jacquain Williams' ability to match up with
San Francisco 49ers
elite tight end
Vernon Davis
.
But when asked about covering Davis on Friday, Williams responded, "that's not my role."
Regardless, the key to a Giants' victory this Sunday in San Francisco will likely be containing (since you can't stop) Davis -- and it's up to Fewell to figure out how to do so.
In last season's NFC title game, Davis torched the Giants for 112 yards and two touchdowns, but Big Blue was still able to prevail. The 28-year-old is coming off a season-high 106-yard receiving effort against the
Buffalo Bills
last week.
The Giants have had success covering tight ends in 2012. Only Carolina's
Greg Olsen
has gone off -- snagging seven passes for 98 yards in Week 3.
Looking at New York's roster, putting Williams on Davis seems to make the most sense. Williams covered the 49ers tight end in last season's regular-season game, but not in the playoffs. Williams certainly has the speed to keep up with Davis.
But maybe Fewell will decide to put one of his other linebackers on Davis with safety help from
Antrel Rolle
or Stevie Johnson over the top. Maybe he'll go with Rolle. Maybe he'll go with a mix of defenders, since the 49ers like to put Davis all over the field in different formations.
It's going to be intriguing to see just how exactly Fewell schemes against Davis.
October, 6, 2012
10/06/12
1:32
PM ET
By
Mike Mazzeo
| ESPNNewYork.com
EAST RUTHERFORD, N.J. -- The Giants forced no turnovers and recorded just two sacks in their 19-17 loss to the Eagles last Sunday night.
They likely can't afford their totals in those categories to be that low this Sunday -- even against the 0-4 Browns.
[+] Enlarge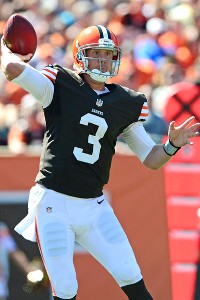 Andrew Weber/US PresswireRookie QB Brandon Weeden has thrown seven interceptions for the winless Browns.
Giants defensive coordinator Perry Fewell and coach Tom Coughlin must figure out how to make life miserable for Cleveland's rookie quarterback,
Brandon Weeden
. And they won't have rock-solid safety
Kenny Phillips
(knee) on the field.
"Containment has been an issue for us," frustrated defensive end
Justin Tuck
said earlier this week. "There's just certain things you can't do with the guys like
(Michael) Vick
and
Cam Newton
when you don't have Trel (
Antrel Rolle
) or you don't have KP (Phillips) back there.'"
Regardless, the Giants' defense needs to play with a chip on its shoulder and step up. Phillips won't be in the lineup, but reserve
Stevie Brown
played well in his absence in Philadelphia.
"To be put in that position and that type of situation, he really didn't have any major errors. He came in and he tackled well," Fewell said of Brown. "Obviously, we would've loved to have Kenny in there because we have some things that we like to do with Kenny specifically. (But) it wasn't that much of an alteration."
In his first four games, Weeden, 28, has thrown seven interceptions. The Giants must find a way -- whether it be with exotic blitzes, stunts or multiple coverages -- to force Weeden to make mistakes. And the Giants must capitalize off of them.
So far,
Jason Pierre-Paul
,
Osi Umenyiora
and Tuck have combined for 3.5 sacks. Even if they're seeing more attention than they ever have, that's not good enough.
"You know, anytime that you've had success and you haven't been able to build on that success early in the season, you're going to be frustrated somewhat," Fewell said. "When teams counter and do something to take you out of your game, you're going to be a little frustrated, but it's a long season.
"The thing we have to make sure is that we play within the framework of our defense, we play within the framework of the team. We're not selfish, we go out and play how we're supposed to play. When you whip somebody, you have to whip them and make a play. Again, we're going into the fifth game of the season. Those things will come, I'm very confident about that."
There's no reason Fewell shouldn't be. Still, this game is essentially a must-win for the 2-2 Giants. And with a brutal schedule on the horizon, their defense has to rise to the occasion and figure out how to make life miserable for Weeden on Sunday.
September, 19, 2012
9/19/12
1:59
PM ET
The Giants have a big opportunity to run the ball against the Panthers on Thursday night.
The question is, who will
Eli Manning
hand the ball off to?
Ahmad Bradshaw
suffered a neck injury Sunday against the Buccaneers and
has been ruled out for the game against Carolina
.
Now the carries will go to either
Andre Brown
or rookie
David Wilson
-- who have a combined total of 20 carries in the NFL.
My two cents? Continue to use Wilson as a change-of-pace back, as originally planned, and hand Brown his first NFL start.
Why? Well, the 25-year-old Brown
looked solid in place of Bradshaw
against the Bucs, rushing 13 times for 71 yards and a touchdown. He hit the holes hard, running north and south, and averaged 5.5 yards per carry -- not too shabby.
Plus, throw in the fact that the NC State product , a native of Greenville, N.C., will be playing in front of friends and family -- his motivation level will be sky-high.
Wilson's speed -- particularly his acceleration -- are jaw-dropping. He's a weapon, there's no doubt about that.
But the first-round pick is still getting his feet week -- evidenced by his fumble in Week 1 and his dropped pass in Week 2. Plus, can you trust him in pass protection yet? The answer is, probably not.
The Giants -- last in the league in rushing a year ago -- aren't off to a great start on the ground in 2012, either. After two games, they're ranked No. 24 out of 32 teams, averaging 88 yards per game.
But the Panthers have relinquished 146.5 yards rushing per game -- making them fifth-worst in the NFL in that category.
Everyone's talking about Manning's 510 yards passing on Sunday -- with 378 of them going to
Hakeem Nicks
and
Victor Cruz
.
But the Giants could win this game on the ground.
So go ahead and give Brown the chance of a lifetime.
Who knows? Big Blue may just have discovered a diamond in the rough.
September, 4, 2012
9/04/12
6:23
PM ET
Heading into the New York Giants' regular season opener against the Dallas Cowboys, we thought we'd take a look at a big decision head coach Tom Coughlin and his staff have to make, in terms of the gameplan.
The decision this week: Should the Giants focus on the run, or the pass?


On the one hand, the Giants finished dead-last in rushing last season, averaging just 89.2 yards per game on the ground. Running back
Ahmad Bradshaw
is expected to play, but has been suffering from a bruised hand. Meanwhile, quarterback
Eli Manning
threw for a career-high 4,933 yards last season, and he has a pair of wide receivers (
Hakeem Nicks
,
Victor Cruz
) who combined for 2,728 receiving yards and 16 touchdowns.
On the other hand, the Giants were able to rush the ball for more than 100 yards in each of their two meetings against the Cowboys last season -- both victories. Rookie running back
David Wilson
showed flashes of stardom in the preseason. And the Cowboys have vastly improved their secondary, at least on paper, with the additions of cornerbacks
Brandon Carr
(free agency) and
Morris Claiborne
(draft).
Our two cents? The Giants really need to try to establish the run in this game. The Cowboys' starting nose tackle,
Jay Ratliff
, has already been ruled out with an ankle injury. It is important for the Giants to be a more balanced team offensively in 2012, to keep opposing defenses on their heels. And it'd be nice to control time of possession and keep
Tony Romo
& Co. off the field Wednesday night, considering the Giants are dangerously thin at cornerback.
Prince Amukamara
will not play, meaning
Michael Coe
makes his first NFL start.
So, what do you think? Should the Giants focus on the run, or the pass, Wednesday night? Register your opinion below.