New York Giants:

Colin Kaepernick
September, 12, 2013
9/12/13
8:00
AM ET
Your daily morning check-in on news and notes about and of interest to the New York Giants:
The news of the day:
I wrote
this
on the
Eli Manning
-
Peyton Manning
matchup, which is something I just find totally fascinating. Maybe it's because I have two younger brothers and two sons, but the brother relationship is of great interest to me, and I think people have grown too blasÚ about just how wild it is that two brothers from the same family could grow up to be top NFL quarterbacks and play against each other three times. As someone with a TV camera said to Eli on Wednesday, you'd have a better chance of being struck by lightning.
To his credit, Eli said he understands that. "Obviously there are 32 starting quarterbacks in the NFL right now and one of the other ones happens to be my brother," Eli said. "I understand that is rare. I don't know how it quite happened. I don't think my parents know how it quite happened. It just worked out that way, but I do feel blessed that I get to play this sport and I know Peyton feels the same way."
Other Giants news includes
Da'Rel Scott
's knee injury, which
cropped up Wednesday
and leaves them potentially thin again at running back against Denver, even after the signing of
Brandon Jacobs
on Tuesday. We'll check in on that Thursday at practice, and we'll also check in on starting cornerback
Prince Amukamara
, who sat out Wednesday as he continued to deal with the concussion he suffered in Sunday's game.
Behind enemy lines:
The Broncos would like to have their secondary at full strength Sunday against a Giants team that had three wide receivers go over 100 yards in the opener in Dallas. But while top cornerback
Champ Bailey
is getting closer to returning from his foot injury, he
didn't practice Wednesday
and his status for the game remains in doubt.
Around the division:
We dispatched our nationwide team of NFL reporters to ask players around the league the question of the week: Do you think Chip Kelly's
Philadelphia Eagles
offense is sustainable?
Here's the result of the collaboration
(the sort of thing you can expect more of as the season goes on).
And
here's what I wrote
from the Giants' end of things about the radically changed division rivals down I-95.
Around the league:
Pretty
cool read here
from Jeff Chadiha on the NFL's young quarterbacks. He polled folks around the league and had them rank
Andrew Luck
,
Robert Griffin III
,
Russell Wilson
,
Colin Kaepernick
and
Cam Newton
on a variety of factors, including intelligence, accuracy and durability. I guess I'm not too surprised, because I always feel like memories in this league don't go back any further than six days, but it seems wrong that Newton ranks last so many times. He's got a year on all of these guys and has put up two monster seasons. I guess the beauty of it is, we'll all find out together.
July, 11, 2013
7/11/13
12:30
PM ET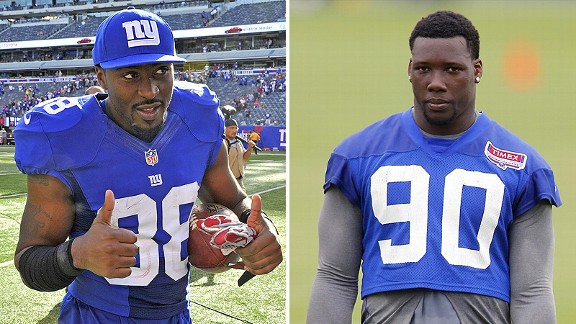 AP Photo, USA Today Sports ImagesGiants stars Hakeem Nicks, left, and Jason Pierre-Paul will be need new contracts in the near future.
The proverbial ink had yet to dry on
Victor Cruz
's
New York Giants
contract extension and people were already asking about
Hakeem Nicks
, who will need a new contract himself before the 2014 season begins and is likely going to cost more. This time next year, whichever way the Nicks situation has resolved itself, people are going to be asking about
Jason Pierre-Paul
, another young superstar who's going to need a long-term deal if the Giants want him to be part of their long-term foundation. And they're going to want to know what the Giants are doing about safety and cornerback -- two positions on which they've shown a desire to spend during the salary-cap era. Cruz wasn't the first sticky financial situation the Giants have encountered in recent years, and tons more loom on the horizon.
The issue that complicates all of these matters is the contract of quarterback
Eli Manning
, who is scheduled to cost the Giants $20.85 million against this year's cap, $20.4 million against next year's, and $19.75 million against the 2015 cap. The Giants are perfectly happy to commit such a large percentage of their cap to a quarterback who wins them a Super Bowl every four or five years, and justifiably so. Manning's deal is not out of line or regrettable. But it is an issue around which the Giants find themselves needing to work, and it is going to force some tough decisions in the next couple of years.
There's a real dichotomy developing between the teams that commit huge cap numbers to their established veteran quarterbacks (Giants, Broncos, Saints, Cowboys, Ravens, Packers ... Lions, I guess, now) and the newly minted contenders whose quarterback costs are low. Teams such as the 49ers, Seahawks and Redskins have some of the most talented quarterbacks in the league locked up for a small fraction of their cap costs.
Colin Kaepernick
is costing San Francisco $1.398 million against this year's cap and $1.63 million against next year's.
Russell Wilson
's cap cost to the Seahawks over the next three years is scheduled to average $817,302 per season.
Robert Griffin III
costs the Redskins about $4.8 million against this year's cap, about $5.76 million against next year's -- big numbers compared to Kaepernick and Wilson, but nothing compared to Manning and
Drew Brees
.
This is why the Seahawks can trade a first-round pick for
Percy Harvin
and sign him, why the 49ers can counter with an
Anquan Boldin
pickup, why the Redskins will be able to be active in free agency next year when their cap penalties are behind them. Having a franchise quarterback who costs less than 1 percent of the salary cap, as Wilson costs the Seahawks, is like finding free money when you're competing for players against a team whose quarterback costs 17 percent of the salary cap, as Manning costs the Giants. There's no quarterback in the league with a higher 2013 cap cost than Manning's.
Tony Romo
of the
Dallas Cowboys
is the only one who currently has a higher projected 2014 cap cost than Manning's. Romo, Brees and
Peyton Manning
are the only ones currently scheduled to cost more against the cap in 2015.
Such is the Giants' financial reality. Manning deserves his contract. They've built the team around him and he has rewarded them with remarkable durability, unassailable character and championship performance. But the fact of his contract means they have less money with which to build the rest of their roster, and that this annual cap crunch they face is going to remain an issue as long as Manning is their man.
There is relief to be had next year with the expiration of contracts such as
Justin Tuck
's and
David Diehl
's. But players such as
Chris Snee
,
David Baas
,
Mathias Kiwanuka
and
Antrel Rolle
carry massive 2014 cap numbers and probably all can't be kept. Each is a significant starter and would have to be replaced while Nicks and Pierre-Paul are lining up for their big paydays. The Giants have paid good money for defensive backs, believing the secondary to be a priority position. Can they continue to do that, or do they need to go cheap at cornerback and/or safety? How badly do they need
Damontre Moore
to develop as a pass-rusher so they can save money there in the coming years? Can they rebuild the offensive line on the cheap? They won't be able to answer all of those questions exactly the way they want to, and the decisions they make aren't going to come with much margin of error.
Again, they're not alone. Not even in their own division. The Cowboys deal with this same problem all the time, often as a result of decisions far worse than the one the Giants made to commit to Eli Manning. This isn't a criticism of the team, just a warning to its fans that things are going to continue to be tricky in the coming offseasons, and the Giants are going to have to rely more than ever on their ability to draft and develop players to fill gaps they can't afford to fill because of cap concerns.
Cruz should be flattered, honestly. He might not have ended up with the contract he wanted from the Giants, but the deal he got is significant. And because they know they can't pay everyone they want to pay, the Giants didn't offer it lightly. Cruz can take the Giants at their word when they say they value him and want him to be a part of their long-term plan. The deal they gave him proves it. They won't be able to make good on that promise to everyone.